This article is brought to you by Kabrita USA.
Weeds aren't toxic, but the sprays used to kill them usually are.
One of the most well-known weed killers is Monsanto's Roundup, which has been the subject of several lawsuits that claimed the manufacturer ignored claims that it is a carcinogen. Recently, one lawsuit settled for $289 million (but was later reduced to $78 million) while another lawsuit settled for $2 billion.
The most widely-used active ingredients in weed killers (herbicides) such as Roundup is glyphosate. Glyphosate is a key ingredient in Roundup and other herbicides such as Rodeo Herbicide and Ranger Pro.
Why Do Farmers Use Herbicides Like Roundup?
Farmers use herbicides because they allow crops to thrive without the threat of weeds taking over their entire volume. Even low doses of glyphosate have shown to stimulate plant and crop growth. In fact, glyphosate is so effective as a weed killer that it's not just farmers that use this handy yet toxic herbicide; it is used on residential lawns and gardens, forestry, or anywhere that weeds are competing for water.
Each year, 250 million gallons of these herbicides are poured over farmlands, golf courses, and even playgrounds. And, as you might guess, the problem with pesticides and herbicides like glyphosate is that they infiltrate our food systems, our air, and subsequently our bodies.
Now, before we go on, I want to clarify that herbicides and pesticides are different things. Pesticides kill a wide variety of unwanted things like fungus, certain pests and insects, and weeds. Herbicides, a type of pesticide, kills weeds and targets unwanted plants. Both can be extremely toxic, although glyphosate itself is an herbicide. Even though these terms are different, we'll sometimes use the terms interchangeably or simply say "pesticides" to cover both herbicides and pesticides.
How Do We Get Exposed to Pesticides and Herbicides?
Sources of exposure to chemicals like glyphosate can happen in a few different ways.
1. Inhalation: Breathing in the pesticide. Pesticides can enter your body in any of these three ways. Inhalation occurs if you breathe in air that contains pesticides as a vapor or even as small dust particles floating in the air. This sort of exposure commonly happens if you have a pest company come to your home to spray for bugs like roaches or spiders. It can also happen if you use a lawn company to spray your garden or grass. And as you might assume, your exposure might simply come from walking in a public park or greenway.
Related: How to Improve Your Indoor Air Quality
2. Ingestion: Eating foods contaminated with pesticides. Exposure through ingestion happens when you eat food or drink water that contains pesticides. Unfortunately, croplands are often saturated with pesticides especially glyphosate. Farmers spray it on crops like corn and soybeans that are glyphosate resistant or genetically engineered to be resistant (GMOs). They also spray it on wheat, oats, barley, and beans to help dry out the crops so they can harvest them sooner. These crops absorb those chemicals as they grow. This means that ingesting conventional produce can contain high amounts of pesticides.
3. Dermal exposure: Topical exposure on your skin. Dermal exposure happens when you have direct exposure to a pesticide, say, straight out of the spray bottle or through contact with a surface that has the pesticide on it. For example, lying down in the grass at a park.
We will all come into contact with pesticides throughout our lives. They are so widely-used, that the only important thing we can do for ourselves and our families is to reduce our exposure and make wise decisions about our environment.
The Harmful Health Effects of Glyphosate and Other Chemical Pesticides
As with all chemical and potentially toxic exposures, your exposure to glyphosate and other pesticides depends on the amount of exposure, the duration of that exposure, and how you are exposed. And perhaps even more importantly, the health effects of that exposure will depend on how vulnerable you are to that particular toxin. The more you are exposed to pesticides, the greater chance that they could impact your health.
Acute, Single Exposures: Acute exposure to pesticides can lead to pesticide poisoning. But of course, going back to the generalized formula, the degree of poisoning greatly depends on the particular circumstance.
General symptoms that could indicate acute pesticide exposure (after a single exposure) to the point of poisoning include the following:
Mild reactions: throat, eyes, or skin irritation (itchy, burning sensations), headaches, dizziness, loss of appetite, nausea, fatigue, nervousness.
Moderate reactions: vomiting, coughing, feeling of constriction in throat and chest, abdominal cramps, blurry vision, rapid pulse, excessive perspiration, profound weakness, trembling, confusion.
Severe reactions: inability to breathe, unconsciousness, increased rate of breathing, chemical burns.
Always contact poison control if you think you have been exposed to pesticides and are experiencing these symptoms.
Chronic Pesticide Exposure: Now, there is also chronic exposures to pesticides, which would include all long-term incidents or exposures. This is the area that draws the most concern because these are the exposures that might impact our overall health.
Many studies are split when it comes to just how concerned we should be. Examples of known chronic exposures to pesticides, including exposure to glyphosate, include cancer, birth defects, reproductive harm, neurological and developmental toxicity, and disruption of the endocrine system. Glyphosate has been a rising concern for many years now; in 2015 WHO named glyphosate a probable carcinogen and California followed their lead, adding it to Proposition 65.
Numerous studies have examined the connection between glyphosate and its interference with the gut microbiome. Glyphosate can act as an inhibitor to healthy, beneficial gut bacteria by creating an imbalance between pathogenic and helpful bacteria. These imbalances have been linked to several serious diseases like cancer, diabetes, and depression.
Now, a person's particular vulnerability to pesticides includes a few different groups. Children and babies are much more sensitive than adults because their immune systems are still developing. On top of this, children are messy, like to play on the ground, put their hands and toys into their mouths, and thus, increase their chance of exposure to pesticides.
Additionally, people with underlying health conditions such as asthma or immune compromised diseases are more vulnerable to health effects of pesticides. This said, even if you're not in a vulnerable group, any exposure is more exposure, and long-term low exposure as well as short-term high exposure can impact your health.
10 Simple Ways to Reduce Your Baby's Exposure to Glyphosate (and Other Chemical Pesticides)
Thankfully, there are simple ways to reduce your baby's (and your family's) exposure to glyphosate and other pesticides.
1) Don't spray toxic herbicides/pesticides on your yard or in your home.
Our largest source of exposure to pesticides usually comes from around and within the home. Babies and young children are especially at risk while they crawl on the ground, mouth toys and their hands.
Instead of spraying chemicals in your yard where you know your children will play, use organic herbicides and pesticides, hand-pull your weeds, and use natural pest control.
Note: if you do need to have your home professionally sprayed, make sure you find out what exactly they are spraying and look at the safety data sheet for the chemicals used, so you can understand the risks and take the proper precautions.
2) Find out if your HOA or management company uses chemical pesticides in your community.
If you live in a neighborhood or an apartment complex, you can reach out to your HOA and ask if they use any pesticides or herbicides that contain glyphosate on the neighborhood property. Ask exactly which products they spray, where they are sprayed, and when/how often they spray them.
Depending on where the chemicals are sprayed, you may want to avoid common areas such as parks and grass areas (at least on the days they have been sprayed). You can usually find little colored flags that have been planted that indicate that they have been sprayed. You may also be able to request that they not spray around your home.
If the HOA has your neighborhood sprayed regularly, you can consider petitioning for a change. Find out if any of your neighbors are also concerned about the use of these chemicals in your community, and use a template provided by Non-Toxic Communities (formerly known as Non-Toxic Irvine) to push for a change. Maybe your HOA will consider switching to organic herbicides (or hand-pulling weeds!)
Personally, I dealt with this in my own community where we have over 800 homes and an HOA that was insistent on spraying glyphosate. I gathered other concerned residents and together, we emailed the HOA a letter and attended several HOA meetings to raise our concerns and request that alternative weeding methods be used. It took several months but they finally agreed to using alternative products.
2) Talk to your neighbors.
If your neighbors spray glyphosate in their yard, I would urge you to start a friendly dialogue with them about the risks (especially to young children). You never know – they may be willing to avoid using it.
If not, hopefully, you can get them to agree to notify you before spraying so that you could at least stay indoors on the days that they spray their yard.
3) Feed your baby organic foods.
If your budget allows, try to purchase all organic foods for your little ones and make your own homemade baby food if possible. Organic farmers do not use glyphosate and do not use synthetic toxic pesticides; in fact, any treatment they do use will be derived naturally. That said, you should always wash your fruits and vegetables with baking soda to wash off pesticide residues before giving them to your baby.
If buying all organic isn't within your budget, you could prioritize buying organic options based on which foods typically contain more pesticide residues – aka the EWG's "dirty dozen" food list.
The Environmental Working Group has identified the dirtiest, most pesticide-ridden foods so that we can avoid the conventional versions and opt for organic in these cases. The most recent EWG report, published in March 2020, found that ninety percent of their samples of strawberries, apples, cherries, spinach, nectarines, and kale had two or more pesticides on them. Kale and spinach samples had 1.1 to 1.8 times as much pesticide residue by weight than any other crop tested. Yikes!
The dirty dozen list includes strawberries, spinach, kale, nectarines, apples, grapes, peaches, cherries, pears, tomatoes, celery, and potatoes.
EWG has also listed the "clean fifteen"—those items that contain the least amount of pesticide residues. So, if you need to buy conventional produce, these are the fifteen that are safest to eat.
The clean fifteen list includes avocados, sweet corn, pineapple, onions, papaya, sweet peas frozen, eggplant, asparagus, cauliflower, cantaloupe, broccoli, mushrooms, cabbage, honeydew melon, and kiwi.
5) Buy products that are certified glyphosate-free.
When it comes to feeding your baby glyphosate-free foods, you'll be so happy and reassured to find that companies who have received the glyphosate-free certification care enough to go the extra mile to give your baby glyphosate-free food and give parents complete peace of mind.
I want to highlight a really wonderful company, Kabrita.
Kabrita has gone above and beyond to create completely glyphosate-free baby formulas and foods. They have no added GMO ingredients and their certified glyphosate-free foods are gentle on your growing baby's body, while also offering substantial nutrients.
Kabrita offers high-quality glyphosate-free goat milk-based baby products such as their goat milk toddler formula, organic goat milk porridge, and snack puffs with goat cheese. These are especially good products to try if your little one has tummy troubles. Goat milk-based formula and foods are very easy to digest (much easier than cow's milk) while still offering quality nutrients to your baby.
One other thing I really appreciate about Kabrita's products are the prebiotics you'll find in their formulas. Prebiotics are shown to have anti-infection properties to support gut health, which can really help young, developing digestive tracts. Kabrita's formula adds galactooligosaccharide prebiotics (GOS), which help to stimulate the beneficial bacteria in your little one's belly.
A parent-approved brand by many! And one I really enjoy working with.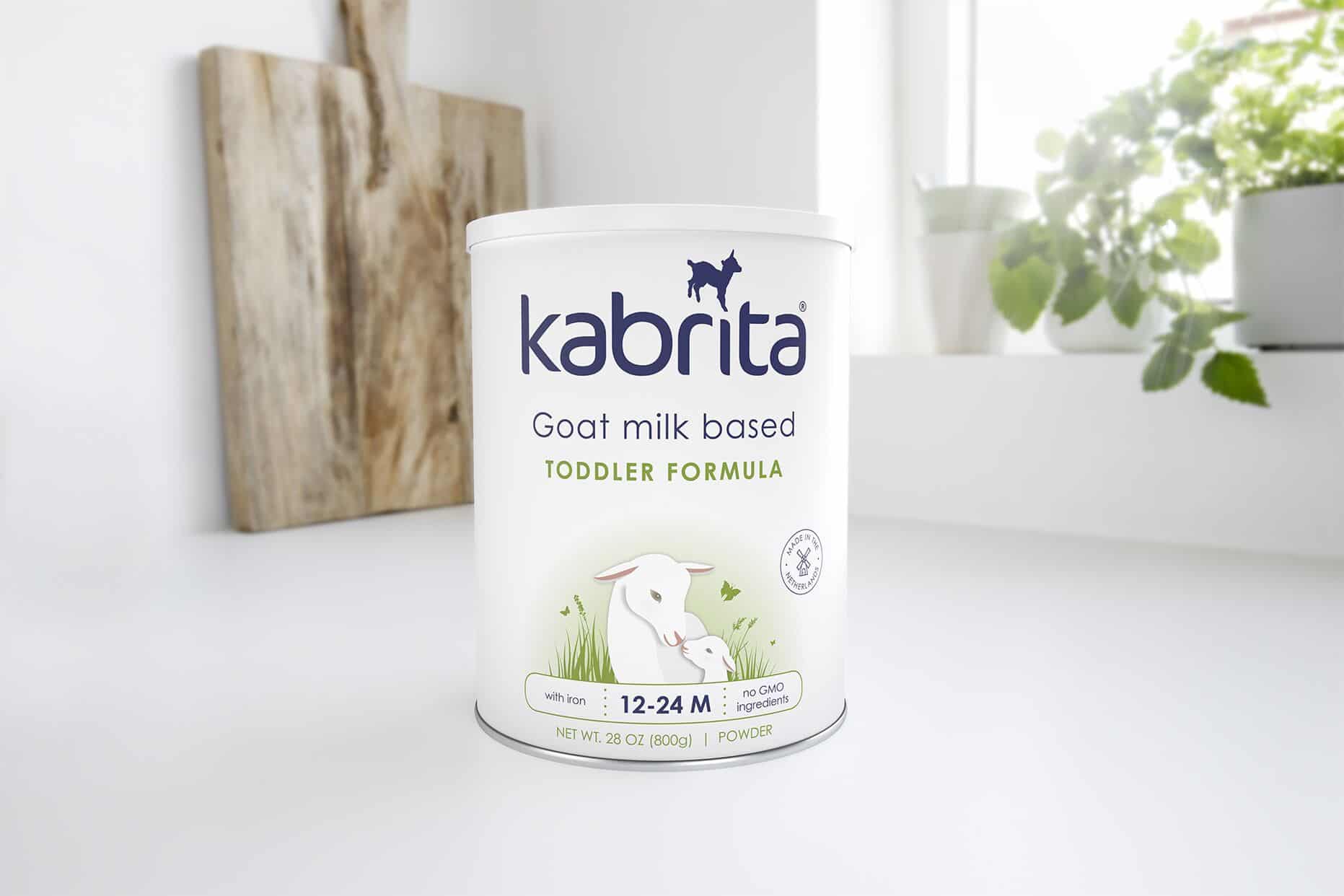 6) Give your baby probiotics.
There is more and more evidence that glyphosate attacks the good bacteria in our bodies, so the more we are exposed to it, the more important putting good bacteria back in our bodies becomes. Probiotics can do just that and help to balance the bacteria in the gut so that they can maintain a stronger immune system.
Probiotics can help keep your baby's gut bacteria in balance. I recommend giving high-quality baby probiotics and also suggest taking prenatal probiotics if you're breastfeeding.
7) Avoid most infant cereals.
Most grains are commonly high in glyphosate and other pesticides, so it's wise to skip the infant cereal. One significant fact is that the USDA does not test for all pesticides used in crop production. This includes glyphosate!
So, very high levels of glyphosate can be found in certain foods—most notably grains. So always opt for non-GMO, organic grains (like oats, wheat, etc.) when you feed grains.
EWG has done some great work on cereals commonly marketed to children and found that the majority are saturated in high amounts of glyphosate. It's certainly disappointing and a good reason to avoid them altogether.
However, if you prefer to give an infant cereal, Kabrita's organic goat milk porridge is certified glyphosate-free and organic. (It also comes in apple cinnamon.)
8) Use a picnic blanket.
When you're on public grounds, I would go ahead and assume that the grass has been sprayed with pesticides. I suggest bringing along a nice picnic blanket and keeping your baby on it to further shield him from the pesticides.
Also make sure to clean your baby's hands before eating. Instead of using baby wipes or hand sanitizer (which I don't use on my kids at all), I like to carry soap and water with me almost everywhere I go. If there's nowhere to wash their hands, I'll just wash themand rinse their hands with the water bottle.
9) Use a high-quality water filter.
While you might think your city or well water is safe to drink, I urge you to think twice. Many municipal water supplies might be clean but not quite healthy. Glyphosate can be found in groundwater as well as drinking water. In fact, EWG sited that glyphosate can be been found in many city utility water stations around the country. In-home water filters including active carbon and reverse osmosis systems are often very effective at filtering out pesticides, including glyphosate. We use an under-sink water filter and I highly recommend having one.
10) Avoid pesticide drift by not living near agriculture farm fields.
Large agriculture farms that use elevated spray equipment to spread pesticides over their crop lands, can produce airborne pesticide particles in the air that drift to nearby residences and schools. Scientists also point out that particles can evaporate into the air off of crops or plants even days after the initial spraying. It's best to avoid living near agriculture farms so that you don't have to deal with this potential issue.
If you do live near a farm with routine spraying, you can take some precautions to mitigate some of the risks. Try to find out when the farm sprays, and avoid going outdoors on the day of spraying. You can also make sure to keep your house windows closed on the day of spraying and a few days afterward to ensure that airborne particles don't get inside your home. Use a HEPA air filter and routinely wipe down areas outside of your home where your children play and eat.
The bottom line in all of this is to try to minimize you and your baby's exposure to glyphosate and other pesticides as much as you can given the health effects of repeated exposures. It doesn't have to be a big source of stress.
Hopefully these tips help you reduce your baby (and your family's) exposure to chemicals like glyphosate. If you found this content helpful, please visit our sponsor Kabrita and thank them for helping us provide this useful info!