Do you have a non-toxic mom in your life? One who reads labels and researches ingredients? One who cares about organic certifications and knows which chemicals to avoid?
It may seem pretty difficult to shop for her, so that's why I've put together this list of gift ideas for non-toxic moms. Whether you're shopping for her birthday, Mother's Day, or Christmas, she's sure to appreciate any of these gifts.
This list of gift ideas includes:
gifts that support her self-care routine
useful presents for new moms
thoughtful presents to show appreciation
helpful items to simplify her daily responsibilities
products that support her health journey
and non-toxic household items she's probably had her eye on.
Hopefully one or more of these gift ideas stands out to you! And in addition to a thoughtful gift, I know that I appreciate being complimented ("you're an amazing mom" always goes a long way) and I love getting extra help around the house (I'm always grateful when my husband cooks). Time and permission to focus on my own self-care? Those are priceless! (Hint: day spa gift card.)
If she loves her loungewear just as I do, she'll love Pact's cotton hoodies and leggings. I practically live in the classic zip hoodie and feel good holding the baby while wearing it because I don't have to worry about the chemicals in my clothing.
Pact Classic Zip HoodieBuy Now
Pact Women's LeggingsBuy Now
A beautiful organic cotton bath robe makes a great gift! She'll love that it's GOTS-certified.
GOTS-Certified Organic Cotton Velour BathrobeBuy Now
These cosleepers make a great gift because they help babies sleep better (ONLY for supervised daytime naps). And any new mom can appreciate that!
If she loves drinking her coffee or tea, get her this great set of glass coffee mugs (no lead to worry about!). Though they don't have a funny saying on them about #momlife, I promise you they're still amazing and will make a great and thoughtful gift. I have these mugs and the quality is high and I feel pretty fabulous when drinking from them 🙂
Anchor Hocking Café Glass Coffee Mugs, 16 ozBuy Now
An organic baby wrap is so helpful, especially during the newborn phase! For more options, check out my full guide to organic baby carriers.
Baby K'tan Organic Baby CarrierBuy Now
One of my all-time favorite baby products, the Baby Shusher is so helpful for calming your baby and getting them to nap when you're out of the house. This makes a great gift!
Baby Shusher Sleep Miracle SootherBuy Now
A major time-saving appliance, the Instant Pot is a must-have for all moms. It has completely replaced my slow cooker and I love knowing that it has a stainless steel interior.
Instant Pot 6 Qt.Buy Now
Indoor air can be up to 100 times as polluted as the air outside. If she's conscious about chemicals, she has probably been eyeing an Austin Air filter or Air Doctor. (You can read my AirDoctor review if you need more info!)
These are some of the top air filters available and getting one as a gift would make me smile big!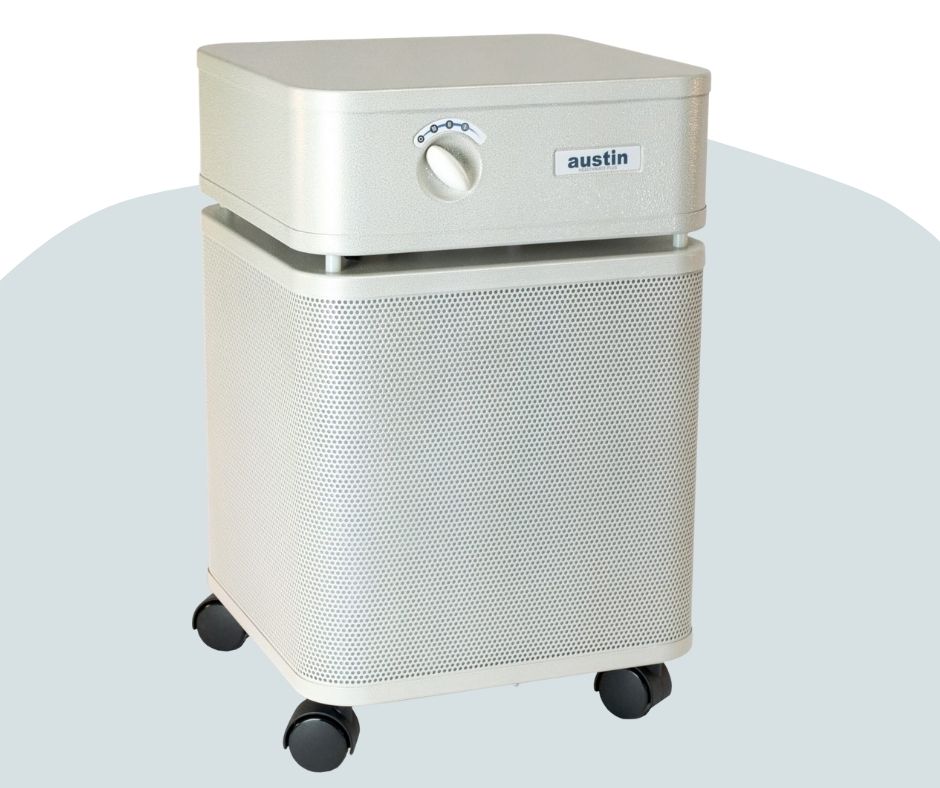 Save with my exclusive Austin Air discount code. Grab the code here!
A body pillow is an amazing gift idea, and that goes double for pregnant mamas.
Lifekind Organic Cotton Body PillowBuy Now
Like a French press, the Chemex is made from glass but what makes it stand out is that it uses a filter. This is a great alternative to a regular coffee maker (that contain plastic parts) and a French press (that doesn't use a filter).
Chemex Classic Series CoffeemakerBuy Now
Berkey's countertop filters are popular for a reason: they are effective at removing pathogenic bacteria, parasites, herbicides, pesticides, VOCs, organic solvents, and more. Berkey filters also reduce the presence of nitrates, nitrites, fluoride, and heavy metals. Use coupon code GENTLENURSERY5 for 5% off any Berkey Filter. (See more deals here.)
A juicer is a great gift that helps support her commitment to her family's health. This is the Omega MegaMouth juicer that I have and love.
Omega Juicers MegaMouth Vertical JuicerBuy Now
I love that this journal makes it so easy to jot down a thought about your day or something you're grateful for.
Mom's One Line a Day: A Five-Year Memory BookBuy Now
Though I haven't actually added a recipe to my wooden recipe box since my boys were born, I love having handwritten recipes. My plan is to start transferring my new recipes to my recipe box again one day.
Oceanstar Bamboo Recipe BoxBuy Now
Even if she's not into homeopathy yet, this would be a great gift because I can assure you she's probably thinking about looking into it. These kits are priced well and make a great gift for any natural-minded mom.
Dry brushing is an ancient practice of brushing your skin with a natural bristle brush before showering. It is one of my favorite ways to support the body's natural detox mechanisms.
Premium Boar Bristle Dry Brush SetBuy Now
These are so comfortable and convenient, especially if you have hardwood floors at home.
UGG Women's Scuffette SlipperBuy Now
This robot mop can sweep up to 1,000 square feet and mops up to 350 square feet in a single cleaning cycle. (This is on my wish list…!)
iRobot Braava 380t Robot MopBuy Now
Low acid, organic coffee is perfect for nursing moms who are looking for a gentler cup of coffee. Mommee Coffee is the brand I have used while nursing. It's especially great because if you prefer decaf, the caffeine is removed using a water processing method instead of chemicals like methylene chloride and ethyl acetate.
Mommee Coffee Low Acid Organic CoffeeBuy Now
A nice DSLR camera is a thoughtful gift for any mom who wants to take better photos.
Nikon D5300 Digital SLR Camera and Lens KitBuy Now
Did you find any great gift ideas for the non-toxic mom in your life?
---