Filling the Christmas stockings is usually the last thing I think about for the holidays. I tend to focus on the gifts that go under the tree that I basically overlook what goes in the stocking until the last minute.
Every. Single. Year.
When you have a baby, though, stocking stuffers can be a little easier. A baby is more likely to enjoy the act of pulling the gifts out of the stocking just as much as they would playing with the gifts inside.
Below, I've collected my favorite stocking stuffer ideas that are suitable and safe for your baby to open over the holidays. Sometimes, it's the smallest gifts that will light up your baby's face the most!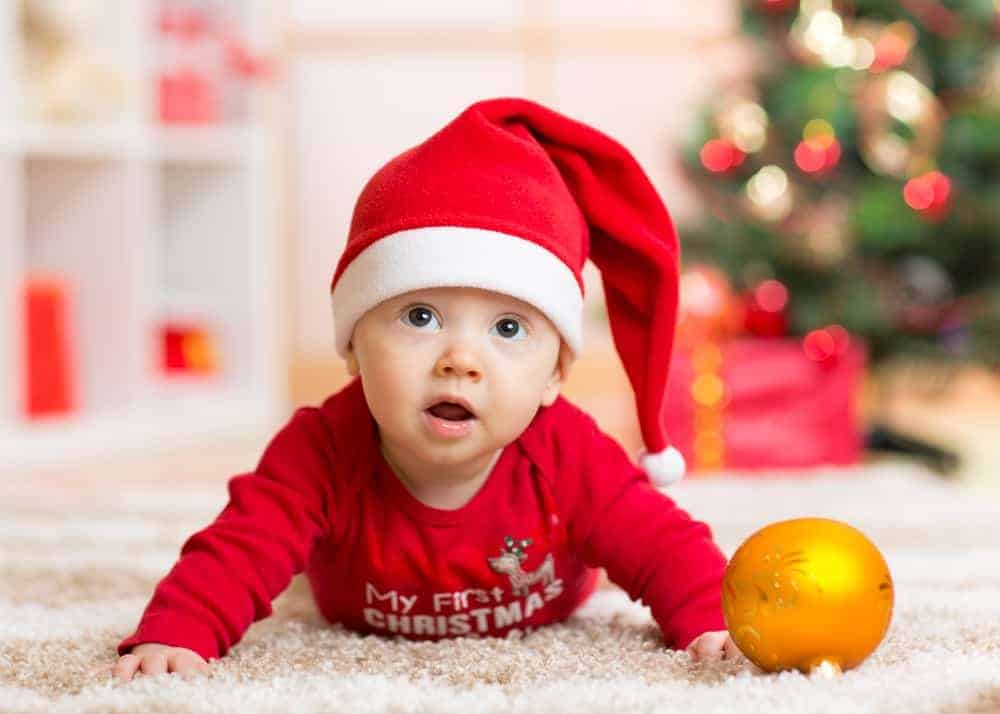 1. Teething Toys
Teething comes and goes all the time in that first year, so an awesome thing to have is a great teething toy. Plus, some babies just like to chew on things, which makes teethers a good option for them as well.
I recommend the Comotomo Silicone Baby Teether. It is made of soft silicone and is sized appropriately for babies.
It has multiple points for grabbing and chewing, making it a much more exciting toy than some of the other options on the market.
Buy on Amazon
For more baby teethers, check out my full review on the best and safest teething toys.
2. Clutching Toys
One of the most entertaining toys you can purchase for your baby is one that involves clutching. Honestly, even I find them to be interesting! They are SUCH cool little toys.
Babies are fascinated with using their hands as they learn how to pick up, drop, and set down objects, which is why clutching toys can be a huge hit! Anything they can grasp, manipulate, and investigate will keep them busy while helping them to work on their fine motor skill.
While there are many clutching toys out there, I recommend the HABA Magica Wooden Baby Rattle. This brightly colored toy encourages clutching and is interesting enough to hold a baby's attention. The balls are held together with elastic, which adds a fun layer of play.
Buy on Amazon
Related: The Best Non-Toxic Baby Toy Brands
3. Moccasins
Shifting gears to something more practical… Moccasins are a great option for baby shoes. Until babies are walking, soft-soled shoes are optimal for warmth, comfort, and protection— whether crawling, pushing, or standing.
They allow your baby's feet an optimal range of motion, allowing them to extend their toes freely without feeling constricted. The soft sole also encourages your baby to really feel the ground and learn proper balance as he learns to crawl, stand, and walk.
I recommend two moccasin brands…
Clamfeet brand offers many different colors and size options, and they are washable! With microsuede soles, they give your baby optimal protection and comfort. Their interior is lined with organic cotton, and they have a canvas exterior. Made in Los Angelos, these are the perfect, quality baby moccasin for indoor/outdoor use. Keep in mind, these are lightweight shoes and better for warmer months since they are made of canvas and cotton.
I also really love the soft soles collection by Freshly Picked. They are made of buttery soft leather and come in a variety of styles. Even ones that don't look like traditional moccasins.
Perfect for cooler months, the Italian leather will keep toes warm! Trust me, these moccasins will outwear multiple children and are ideal hand-me-downs. The elastic opening allows for super easy on-and-off so there's no parent-frustration when it comes to stuffing those cute chubby toes inside!
Buy on Amazon
Buy on Amazon
4. Beanies
If you live in a cold climate, a baby beanie is a good thing to have! I recommend the Moon and Back Hanna Andersson Beanies. They're unisex and made of organic cotton. They also come with mittens, which you may or may not use.
Buy on Amazon
5. Sensory Balls
Similar to the clutching toys, sensory balls are a reliable option for your baby's stocking stuffers. Babies love to roll, toss, and chase balls.
Some sensory balls offer different textures and colors like this brightly colored one by the Caaocho brand. I also love the OgoBolli teething ring tactile sensory ball. It's great for discovering hand-eye coordination.
For even more sensory fun, you can choose these Fat Brain Toy sensory rollers. This pack comes with three smaller sized balls. Each one has a different texture, so they are sure to keep your baby entertained for a while. These balls can also be squished, grasped, and chewed on safely.
Buy on Amazon
Buy on Amazon
6. Organic Booties
Booties are another way to keep your baby's feet warm – especially indoors! These basically act like slippers for babies. And they are especially good if you have one of those ninja babies who can take off socks in the blink of an eye.
I love the Zutano Lightweight Organic Cotton Baby Booties. These strap around your baby's ankle and snap closed, making it virtually impossible for your little one to fling them off. Warm toes are happy toes!
Buy on Amazon
7. Bath Toys
If your baby loves bathtime, then choosing some bath toys for their stocking is a fun idea! Most bath toys are relatively small, so you should be able to fit a few in your baby's stocking.
You do have to be careful when choosing bath toys. Many are not incredibly safe, and they can be made with toxic materials. You definitely want to do your research to make sure they are quality, non-toxic toys.
I have always liked bath toys from the Caaocho brand. They have a bunch of varieties that are all safe and non-toxic. For example, I like this whale. I also like the Ubbi Store, which makes similar toys. This cloud and water droplet toy is fun for most babies, on top of being safe and non-toxic. You can also read more about bath toys in my guide to non-toxic bath toys.
Buy on Amazon
Buy on Amazon
8. Books
One of the best things you can do is to build up your baby's library of books early on. And, Christmas is a perfect time to stock up on books because they can be a great stocking stuffer!
Not all board books will fit into a stocking, but you can find some baby books that are small enough to easily fit into larger stockings.
For example, this one is small enough for the average-sized stocking. I also love the Indestructible books. They can withstand all the wear-and-tear without falling apart. These are great for babies who might gnaw on books or try to rip the pages.
Buy on Amazon
You can also read my baby book guide for a variety of book titles to choose from. Just note their measurements or plan to wrap them up. Books are a great gift idea for your baby's first Christmas.
9. Organic Baby Pajamas
So, maybe you don't think pajamas are as fun as an interactive toy or book, but I assure you, your little one will appreciate some comfy, cozy jammies to play and sleep in.
There are a number of great brands and options out there. Burt's Bees Baby offers organic cotton baby clothing that is GOTS-certified, and long-lasting with great patterns and prints. I also love Hanna Andersson organic pajamas. They have bold colored pajamas that are really well-made. For more clothing choices, check out The Best Certified Organic Baby Clothing Brands.
Buy on Amazon | Burt's Bees Baby
Buy on Amazon | Hanna Andersson
10. WubbaNubs
A cute little pacifier makes another great stocking stuffer for babies.
These cute plush animals come with an attached pacifier, which makes it easier for your baby to keep the pacifier in their mouth.
Babies tend to really love having a plush cuddle on-the-go, and these are SO cute. If you're looking for pacifiers without the plush, read more about my favorite non-toxic pacifiers for babies!
Buy on Amazon
11. High-Contrast Flashcards
For newborns, high-contrast flashcards are really fun and stimulating. These cards feature high-contrast images and colors that support your baby's visual development and learning.
Of course, there are many out there that you can choose from, but I like the Banana Panda flashcards on a ring. Show your baby the pictures and talk about what they see! You might even see that your baby reaches for her favorites.
Buy on Amazon
12. Wooden Rattle
Wooden rattles are great grasping options for babies. They make noise and are usually much more durable than cheap, plastic rattles. Plus, you don't have to worry about dangerous toxins.
This Montessori-style rattle by Homi Baby is a good option. It comes in a few different natural colors, like maple and walnut, and it's made entirely out of wood without toxic paints, dyes, or sealers. Play a song and shake along!
These will fit perfectly in your baby's Christmas stocking.
Buy on Amazon
13. Toy Keyring
There is something so alluring about keys. Babies love to hear them jingle and dance. But of course, you should never give your baby your car keys to play with— they can contain lead and are probably pretty gross!
Luckily, there are some really great key toys that provide the same sensory experience. Babies love to grab, rattle, and mouth the keys.
I like the My First Keys by Green Toys. They're free of potentially harmful toxins and well-made. For a set of keys that are more similar to adult keys, you may want to try these stainless steel toy keys. Believe it or not, babies LOVE these.
Buy on Amazon
Buy on Amazon
14. Hair Bows and Bands
While your baby probably doesn't care about hair bows, these are a practical idea that can easily be fit into most stockings. Buy a few bows that match outfits your child currently has, or choose one that matches their holiday outfit.
There are tons of options out there. However, you may be interested in this particular set by Touched by Nature. These bows are organic and made with cotton and spandex.
Buy on Amazon
15. The Banana Toothbrush
The Banana Toothbrush is an adorable toothbrush/teether/toy. It is designed very similarly to a toothbrush, which helps to massage your baby's gums and help your baby learn good oral hygiene.
Made of flexible silicone, it is super soft. There are many different shapes and styles available including unicorns, sharks, and dragons.
This is a fun stocking stuffer idea for babies.
Buy on Amazon
16. HABA Shakin Eggs
These HABA Shakin Eggs are the perfect size for a stocking.
Each set comes with five different colored eggs, and each makes a slightly different sound when shaken. The variety is sure to help keep your baby interested and engaged—three of the eggs rattle, one jingles, and the other twitters. Most eggs require shaking, but the blue egg needs to be twisted.
Buy on Amazon
17. Crinkle Paper for Babies
If your baby loves crinkly noises, you may want to consider adding some crinkle paper to your baby's stocking. I particularly like this one, which is made with a 6-inch square of cotton crinkle paper and includes a beeswax sealed wood ring for teething. It is free of BPA and phthalates.
Buy on Amazon
18. Chewbeads
While Chewbeads may look like a teething toy, they're actually silicone links that are great to attach toys to strollers, car seats, high chairs, and other similar objects.
These are a great replacement for most plastic link toys, and are overall super popular with babies.
You can also use them to link up to your baby's favorite toy. They're particularly useful so that toys don't fall on the floor or get lost while on a walk.
Buy on Amazon
Happy Stocking Stuffing
I hope this stocking stuffer guide for babies helps you fill your little one's stocking full of useful and fun gifts! Enjoy all those sweet baby smiles as your little one discovers opening new presents! Merry shopping!
What did you decide to put in your baby's stocking? I'd love to know!