When your baby is teething, they need to relieve those sore gums! Here are the best teething toys for your little one.
Poor teething babies. Think about what teething actually entails… babies are born with 20 primary teeth sitting below their gumline just waiting to burst through. It can take days or weeks for a tooth to make its way through the gumline, and the process can be grueling and for babies. And, on top of that, they don't understand what's going on. Poor teething babies!
The teething process usually starts long before their first tooth cuts through; you might notice drooling as early as two or three months of age, although the first tooth might not appear until four to seven months of age on average. Every baby's teething timeline is a little different, so if you are concerned about your baby's teething progress, please ask your pediatrician . The teething process carries on through the toddler years with most kids having their full set of baby teeth by age three.
There are natural ways to give your baby some relief from teething, including some wonderfully made non-toxic teething toys. It's important to avoid most mainstream teething toys and stick with some key materials like natural rubber, wood, or silicone since these items go directly in your baby's mouth. We'll go over some of our favorites below.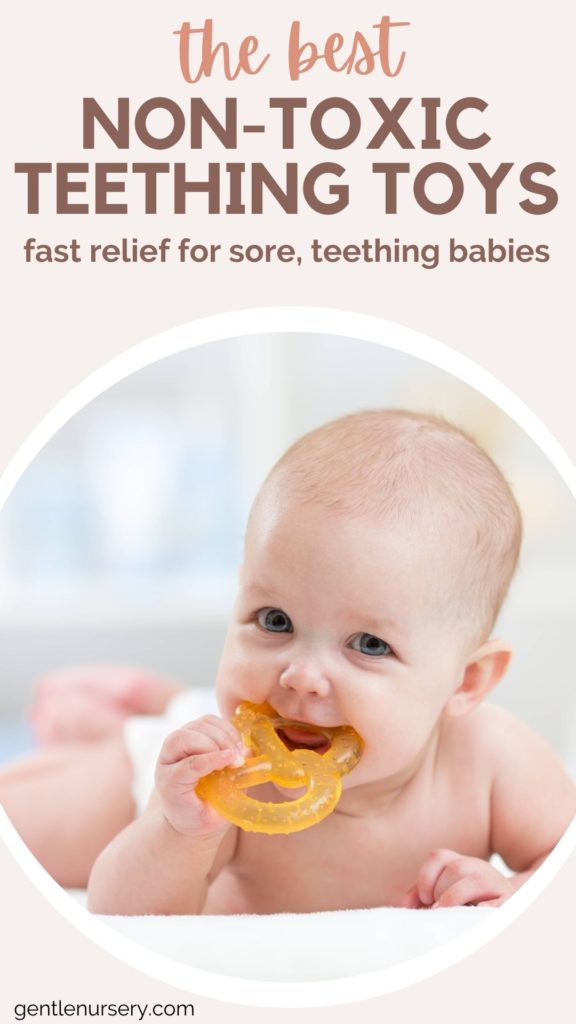 What to Look for in a Non-Toxic Teething Toy
When it comes to finding the best non-toxic teething toys, there are a few things you should keep in mind. First and foremost, you want to make sure that the toy is made of safe materials.
This means avoiding anything made of plastic or vinyl, as these can contain harmful and toxic chemicals. Avoid any that contain BPA/BPS (endocrine disruptors), PVC/vinyl (the most toxic plastic), fragrances, or phthalates. These harsh and harmful chemicals do not belong in or near your baby's mouth.
Safe, natural, and non-toxic teething toys are a definite must-have to help your baby when it's teething time. But, not all teething toys are created equal. When shopping for non-toxic teething toys, consider these safe, high-quality options:
Natural wood teething toys: Wooden teething toys are a great non-toxic option to help relieve your baby's teething aches and pains. Look for solid wood teethers with no finish or a natural vegetable-based finish.
Natural rubber teething toys: Harvested from the hevea tree, natural rubber is a great choice for teething toys because of its flexible and chewy texture and natural antibacterial properties. Not only is it a renewable resource, but it is non-toxic and almost entirely safe for babies. The only real concern I would have with using latex is the possibility of your baby having a latex allergy, though this is actually rare nowadays.
Silicone teething toys: Silicone teething toys are definitely the most popular and most common teething toys you'll come across. They're soft and chewy – and stimulating at the same time – but still give your baby the relief they need. Silicone is BPA-free and studies have shown that it does not leech, but when possible we recommend medical-grade silicone (and food-grade as a backup).
Cloth teething toys: Cloth, especially organic cotton, can be provide excellent teething and chewing support for your baby.
Teething toys made from these materials are safe for your baby to gnaw and drool all over them. It's also ideal to offer your baby different textures to help them when teething.
Another thing to keep in mind is the size of the toy. You want to make sure it's small enough for your baby to comfortably hold and chew on, but not so small that it poses a choking hazard. In general, teething toys should be about the size of your baby's fist.
Finally, you want to look for a toy that has some sort of texture to it. This will help your baby massage their gums and provide relief from the discomfort of teething. Look for toys with raised bumps or ridges, or ones that are made of a softer material like cloth or silicone.
Related: The Best Teething Hacks to Soothe Your Teething Baby
The Best Teething Toys for Babies
Now that you know what to look for, let's take a look at some of the best non-toxic teething toys on the market!
---
This is an all-time favorite teething toy made from natural rubber. Sophie the Giraffe and all of her friends are among the cutest natural teething toys on the market.
Another natural teething toy option is the Calmies Teether, made from natural rubber. The design of this makes it easy for little hands to grasp onto. Avoid this option if you are concerned about latex allergies.
Made by CaaOcho, one of our favorite toy brands, this natural teething toy is a great option for your teething baby. With different textures, it gives your baby different options for soothing their sore gums.
---
Natural wooden teethers are a great option if you're looking for a truly non-toxic teething toy. Maple Landmark is a trusted wooden toy maker, and this wooden teether is a trusted choice.
---
A go-to teething toy, the Comotomo Silicone Teething Ring is easy for babies to hold onto and the prongs easily reach the back of the mouth, which makes it great for molars (and front teeth as well).
Another one of our favorite baby teethers is the Moonjax teething toy, which is durable, odorless, and dye-free. Its unique design makes it easy for little hands to grip and allows it to be used from any angle.
Haakaa is known for making exceptional quality silicone products (including their amazing silicone breast pumps). Their silicone teething toy is no different. With bright colors and nipple-like shaped prongs, this is an excellent teether to soothe your baby.
The Mombella Mimi teether is shaped like a mushroom (sort of) but designed to mimic the feel and shape of mom's breast. So for teething babies, this can offer ultimate relief and comfort. For this reason, this is an excellent non-toxic teething toy for exclusively breastfed babies (though it can be used by any baby 0-6 months).
**Important Note** The first version of this teething toy has a design flaw that can cause a choking hazard. Please make sure that you only buy the new version of this product; you can tell that it's the new version of the mombella teething toy because it is all one piece. The original model of the mombella came in two parts that were glued together in the middle.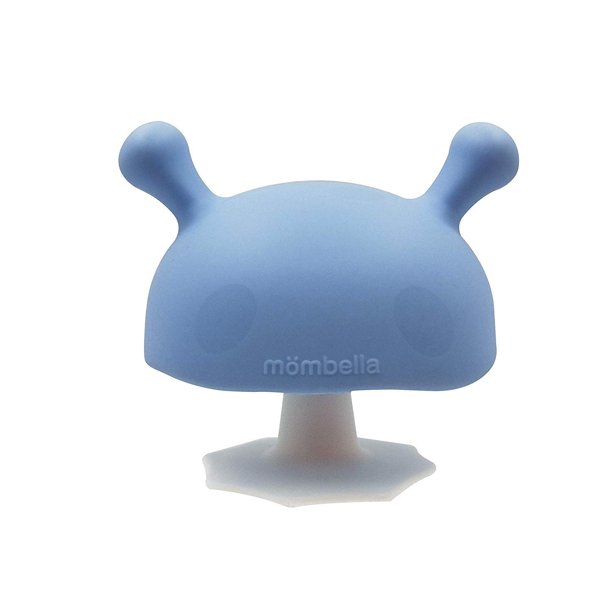 Another unique non-toxic teething toy is the Nipii Frozen Teether. It's like a pacifier but it has a spout at the back that you can fill with water, and then freeze. This gives your baby a cooling sensation on their gums, which has a very calming and soothing effect.
Made with food-grade silicone, the RaZbaby teething pacifier is all sorts of unique. The pacifier has different textures that your teething baby can rub their gums on for maximum relief.
If your style is more Montessori, you'll love this wooden teething ring. Made with 100% cotton fabric and wood, this non-toxic teething toy set gives your baby various textures to soothe their sore gums.
Made by another great wooden toy maker, Plan Toys' wooden teething rings are a trusted choice for a non-toxic teething toy. Featuring one main ring and six pastel wooden balls, this gives your baby plenty to play with and support their sore gums with. Plan Toys avoids the use of toxic chemicals in their products, including water-based dyes and organic finishes.
How Do You Know if Your Baby is Teething?
Here are some common teething symptoms to look for:
Your baby might be fussier than usual
Your baby's sleep pattern might be disrupted, and they may wake more frequently at night for a few days while cutting a tooth
Excessive drooling is almost always a sign of teething
Loss of appetite is common; your baby might not want to nurse or eat as much as they normally do
Biting helps babies relieve the pressure on their gums, and is a common sign of teething
Ear-pulling and cheek-rubbing can signal teething, though they can also be signs of other discomfort
Your baby may have one or more of these symptoms while they are cutting a new tooth. As always, be attuned to what's going on with your baby and you'll eventually get to know their telltale teething signs (and when to pull out their non-toxic teething toys)!
A Serious Warning About Teething Medication
I prefer not to give medication to my babies while teething; in fact, I don't really give them anything other than extra cuddles, frozen washcloths, and teething toys.
While you may be tempted to reach for a bottle of Tylenol or a numbing medication to ease the pain, both of these have actually been found to be harmful for babies and children. In fact, numbing medications have been in the news because of the problems they can cause; some contain benzocaine which can lead to a potentially fatal condition.
And in my opinion, Tylenol should be avoided at nearly all costs because it has been found to deplete the body of glutathione, an important antioxidant. For the body to be able to process acetaminophen, it uses high levels of glutathione, which puts undue stress on the liver and can actually lead to liver failure in babies and young children. (This is why I do not use or give my kids Tylenol or acetaminophen.)
Instead of stressing about these dangerous teething aids, try these options to ease the teething pain.
Use a cold compress. Freeze a washcloth or hold a small ice cube on your baby's gums. (Just be careful that your baby doesn't get a hold of the ice cube because that could pose a choking hazard.)
Give soft foods. If your baby has started solids, cold applesauce and yogurts can help ease gum pain as well.
Rub your baby's gums. Use a wet gauze pad to rub your baby's gums. The pressure will offer some relief.
Use amber teething necklaces. Amber teething necklaces are supposed to help with teething pain because they contain succinic acid, which serves as a natural pain reliever. Worn around your baby's neck, they are said to provide the pain relief needed during teething. There are varying opinions on whether amber teething necklaces are safe or not, and whether they actually relieve teething pain. I don't personally feel very strongly in either direction. If you want to try it out, consider the Baltic Wonder brand. Note: these are not for your baby to chew on, and instead are to simply be worn around your baby's neck while they are awake.
Give your baby teething toys. Allowing your baby to chew on a safe teething toy can help relieve some of the pain and pressure on their gums.
Related: 10 Genius Teething Tips & Hacks to Soothe Your Teething Baby
Final Thoughts
If you're a new parent, you know that one of the most challenging aspects of parenting is dealing with your baby's teething process. Not only are they uncomfortable, but they can also be quite fussy. This is why it's important to have some safe and effective teething toys on hand to help soothe your little one. We hope you found some great, non-toxic teething toys for your baby!
Teething toys can be so cute, but what matters most is that they are made from safe materials. I hope you've found this list of the best non-toxic teething toys helpful, and that you have a couple you'd like to try for your baby! Which ones did you choose?
---