Table of Contents

[Hide]

[Show]
In an ideal world, all toys would be safe and there would be no need for worry. There would be no toy recalls and no toys with unsafe levels of lead or BPA. Obviously, that's not the case and most toy manufacturers won't think twice about using PVC in their toys or paint sourced from China.
Since mainstream toys can contain toxic chemicals and heavy metals (and since babies put everything in their mouth), we as conscious parents must choose safer, non-toxic baby toys whenever possible I've put together this guide to some of the best manufacturers of non-toxic baby toys. This isn't an exhaustive list; for example, I've left off some companies whose toys I personally wouldn't buy (so I can't really recommend them to you!). And I'm sure there are other companies out there that meet my criteria that I haven't come across yet. But if you're looking for the safest non-toxic baby toys, this buying guide will be your map to finding fun and safe toys for your baby and toddler.
Toy Safety and Recalls
We can no longer assume that a product is safe just because it is being sold by our favorite big-box store. Products are recalled almost every day because of safety concerns, and there have been many serious toy recalls in the past decade. In 2008, 19 out of 172 toy recalls were due to unsafe levels of lead.
Think about that: 172 toys were found to be unsafe AFTER they had made it to store shelves, and 19 of those had unsafe levels of lead in them. (Just some of the toys that were recalled in 2008 were Elmo, Thomas the Train, Dora the Explorer, and Melissa & Doug toys.)
The great news is that the number of toy recalls has dropped significantly. In 2017, there were "only" 28 toy recalls and none of those have been due to lead.
Toys sold in the United States are regulated by the Consumer Product Safety Commission (CPSC), which has a long list of rules that toy manufacturers must follow to ensure the safety of their products. Toys for children ages 12 and under must be tested and certified to meet these toy safety standards by a third-party laboratory before they can go to market. The CPSC has taken a hard stance on phthalates in toys and has helped educate consumers about the dangers of flame retardants.
I love this. BUT we aren't in the clear; dangerous toys still sneak their way through this system for two reasons:
Reason #1: Toys made in other countries (such as China) carry a higher risk of containing illegal levels of chemicals and heavy metals. That's because many of these substances (such as lead) aren't as well-regulated as they are here in the United States. This is a serious concern. Not only because of the risks of heavy metal poisoning but because roughly 80% of toys are manufactured in China.
Reason #2: CPSC standards are good, but not good enough in my opinion. Toys can comply with CPSC regulations still contain heavy metals, BPA, or phthalates. Toys can still be made with PVC. Not all phthalates are banned in children's toys, and not every part of a toy must be tested to meet toy safety standards. It's complicated, and I'm learning more as I dive deeper into CPSC requirements.
Can You Realistically Avoid Plastic Toys?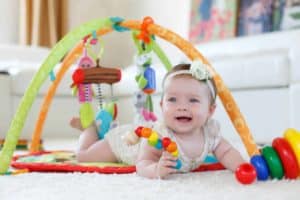 You might be able to avoid plastic toys while your baby is little. But it gets harder and harder as your baby gets older. Though you have the most control over the toys you buy, your child will receive toys as gifts. They will play with mainstream toys outside of the home. And they will be exposed to expensive marketing campaigns from the big toy manufacturers. Plastic toys are everywhere, and a lot of the popular toys your child will want as they get older will come from mainstream toy brands.
Personally, I try to follow the 80/20 rule and realize that mainstream toys are hard to avoid. I just try to limit the time my kids spend playing with these toys (which is easier when they are younger) and try not to let them put these toys in their mouths.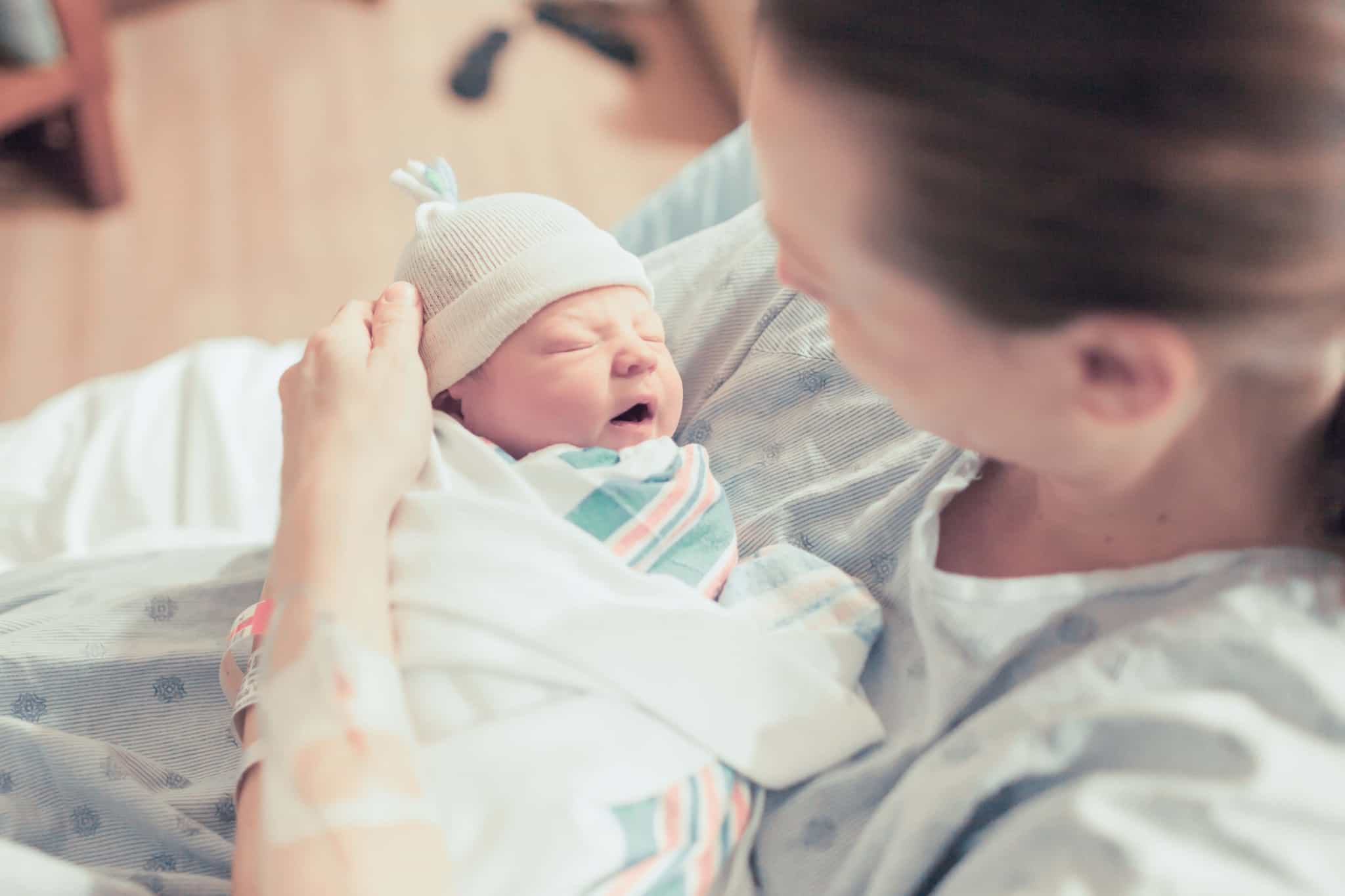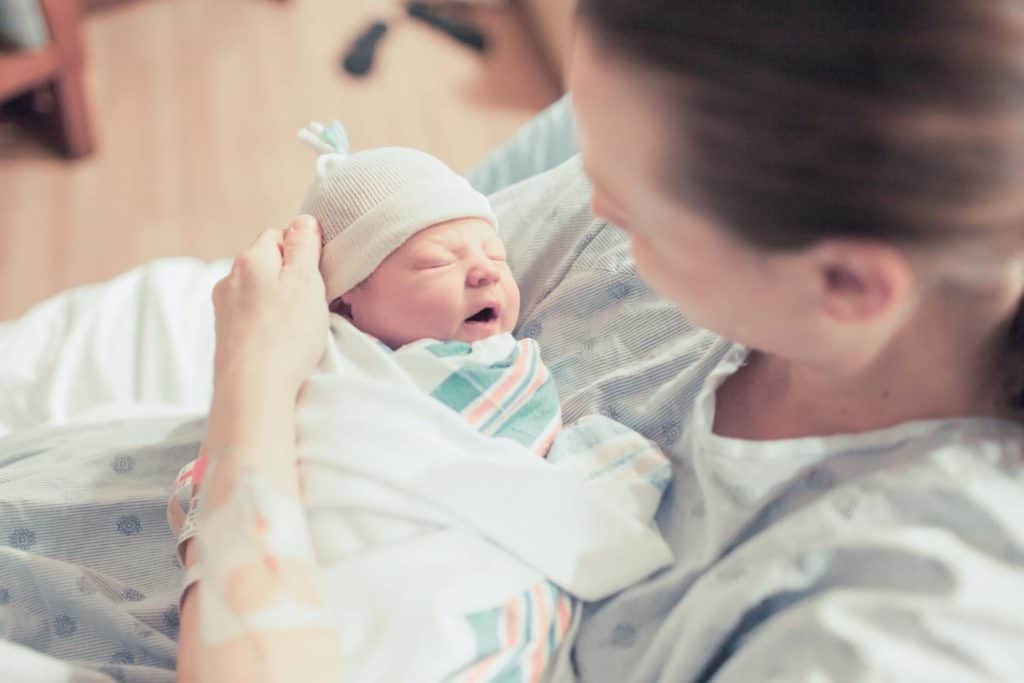 The Best Non-Toxic Baby Toy Brands
The safest toys are the ones that are made responsibly; the ones with little risk of heavy metal contamination and the ones made without toxic materials such as PVC, BPA, flame retardants, or phthalates. Here are some of the best non-toxic toy manufacturers! I've included:
Wooden Toys
Organic Stuffed Animals
100% Natural Rubber Toys
Safer Plastic Toys
Made in Thailand. PlanToys makes wonderful wooden toys that spark the imagination. We love playing with their unique, creative toys. PlanToys sends the message of sustainable play because of the materials it uses. Their toys are made in Thailand using trees that no longer produce latex. A chemical-free kiln drying process is also used to strengthen the wood used in the company's toys. And they only use organic pigments and water-based dyes.
Made from natural rubberwood trees
No-formaldehyde glues
Organic color pigments
Water-based dyes
Biodegradable ink and recycled paper
---
Made in Germany. HABA makes high-quality wooden toys that have a classic, "cheerful" vibe to them (as the company puts it). Their toys are so well-made and they should last you for years. And the great news is that the majority of HABA toys are made in Germany (but the bad news is that some of the toys, like the soft-bodied dolls are made in China). So, perhaps the best advice is to stick with the wood baby toys and steer clear of their dolls.
HABA is one of the only companies that use PEFC certified beechwood or maple, which means the wood comes from reforested trees. They also use non-toxic water-based lacquers, not paints. Their toys are well-made and resistant to wear and tear. They have a great selection of clutching and teething toys for young babies, as well as toys for toddlers and big kids.
Most wooden toys made in Germany
Sustainable wood
Water-based, solvent-free dyes
High-quality toys
---
---
Made in Germany. From dolls to wooden puzzles and stacking toys, this company is committed to making non-toxic baby toys. When you buy any of the toys from Grimm's Spiel and Holz you can be sure that none of them were made in China. All of the design work, assembly, and finish are done in Germany with just some woodworking outsourced to some European shops. The wood used in their toys is from alder, lime, beech and maple trees, and the colors and oils used are non-toxic. The fabrics on their dolls are Oeko-Tex certified.
The company is probably most recognized for its Waldorf-style rainbow stacking blocks. But they have a wide variety of blocks, stacking toys, teethers, and unique toys. Their toys can run on the pricey side, but the quality is very good and the toys will last a long time. I love their natural wooden baby rattle toy (pictured below) because I don't have to worry about toxic dyes.
Made in Germany
Toys are made from alder, lime, beech or maple
Non-toxic colors and oils
High-quality wooden toys
Designs that inspire creativity
---
Made in USA. Camden Rose makes some of the highest-quality wooden toys you can find that are still made in the USA. Their toys are highly imaginative and simple, but truly spark the imagination. Love!
Quality woodwork
Classic style toys that are Waldorf-based
Use beeswax and jojoba oil as finishes
---
---
Made in the USA. Let's hear it for another company with only U.S. made products! Uncle Goose makes a childhood staple…blocks. There is a variety to choose from – 62 different sets to be exact – including everything from ABC and number blocks to blocks with animals, planets, and bugs on them.
They even have blocks with the periodic table on them (though I got excited about this, I don't mean to recommend these for babies…for obvious reasons). Another great thing about Uncle Goose is that they make foreign-language blocks in 23 different languages including French, Thai, Chinese, and Danish; this is perfect if you are trying to introduce a second language.
If you are looking for non-toxic baby blocks, Uncle Goose is your go-to. And just know that whichever set you go with was hand-made with materials from around the Great Lakes area. Only non-toxic, child-safe inks are used (and are sourced from an American manufacturer), and no sealants are applied. The company doesn't recommend letting your baby use them as teething toys, but they are technically supposed to be safe if they do end up in your baby's mouth.
blocks in a variety of themes and languages
non-toxic inks paints sourced from the USA and tested for quality
high attention to detail
amazing quality and design
---
Made in China. While Hape makes high-quality wooden toys that will last for years, their products are made in China despite the fact that it is a German company. Their toys are made with natural materials such as sustainable wood or bamboo and are finished with water-based paints. I struggled with whether I should include them on this list, just because they are made in China. But we own several Hape toys and can attest to their quality, but I really wish they would manufacture their toys in a country with more reliable standards.
Creative designs
Well-made toys
Sustainable wood or bamboo
Water-based paints
---
Made in the USA. Bears for Humanity makes adorable organic teddy bears and organic stuffed animals, right here in the United States. Their stuffies are made 100% GOTS-certified cotton. A California mom started this company after realizing there weren't any organic teddy bears out there. What's even better is that for every bear sold, one bear gets donated to a child in need. And, they are reasonably priced for being organic – love that!
We have had a Bears for Humanity teddy bear for over two years now, and it has held up exceptionally well. I definitely recommend these for your little one. I feel comfortable allowing my toddler to sleep with his bear.
cute, organic teddy bears
GOTS-certified cotton
high-quality stuffed animals
---
Made in Egypt. Under the Nile makes organic baby toys and clothes using 100% organic Egyptian cotton by the company's fair trade partner in Egypt. No BPA, lead, or harmful chemicals are used in the making of its toys. Under the Nile was the first baby clothing company in the U.S. to be certified by GOTS.
You'll find Under the Nile products listed on my bathing and baby clothes guides as well. Overall, a great company that makes quality products.
GOTS-certified fabrics
No harmful chemicals used
Made in Egypt
---
Made in Peru, Vietnam, India, or other locations. Finn and Emma makes 100% organic baby clothes and also has a collection of toys. The company's toys are made from "fair-trade settings that focus on social and economic independence of people". Finn and Emma does use 100% organic cotton as well as eco-friendly dyes and real wood. They have some cute animal rattles, stroller toys, and teethers, but my favorite are their certified organic play gyms, which are a great substitute for the activity gyms made by Skip Hop or Fisher-Price.
organic and fair-trade
uses eco-friendly dyes
safer baby play gym
Made in France. In business since 1945, Vulli is most known for their ever-popular Sophie la Giraffe teething toy. Sophie and the rest of the Vulli line of toys are made with 100% natural rubber sourced from sustainable forests. The paints used are food-based paints, which are so natural and gentle they can actually fade over time. (This has never bothered me, personally.)
In addition to their Sophie teething toys (and there are now a few different types of them), Vulli also makes great toys for your baby's first year: rubber blocks, rubber balls, rattles, and more.
100% natural rubber
food-based paints
quality toys for babies
---
Made in Malaysia and other locations. Hevea planet is another company that uses eco-friendly materials like natural rubber and manufactures its products in Malaysia and Morocco. They have a very limited selection of baby toys; they are more widely known for their pacifiers, teething toys, and bath toys.
Natural rubber
No additives, BPA, or phthalates
Made in the USA. Can we get a big round of applause for toys that are all made in the USA? That's what you'll find at Green Toys, a California-based company that uses 100% recycled material. I'm so impressed by the amazing toys that they can make from recycled milk jugs! And proud they manufacture in the United States, keeping jobs here at home.
Green Toys is the only plastic toy manufacturer to make this list because they use safe plastics: #2 high-density polyethylene (HDPE), #4 low-density polyethylene, and #5 polypropylene. These are the plastics used to make milk jugs, yogurt containers, laundry jugs, plastic cups, and plastic grocery bags. Though this is still plastic, I am comfortable letting even my youngest play with anything made by Green Toys.
uses only safer plastics
made in the USA
bright, creative toys that kids love
---
Did you find some non-toxic toy brands for your little one? I hope you found some that you love!
You Might Also Like: