Have you been searching for the best shower filter? For so long, I thought this didn't exist. I saw countless options on Amazon and almost gave up before I found… the one.
Introducing the PureEffects PureShower Filter! In this article, I will walk you through why this is such an amazing choice for your shower filtration needs, as well as what you need to know before buying.
First, Do You Need a Shower Filter?
You do not need a shower filter if you have a high-quality whole-home water filtration installed in your home that filters out the chemicals in your local water supply. (Check out this guide to know which contaminants and chemicals are in your water supply.)
Otherwise, you likely do need a shower filter.
I get it: using a shower filter may not seem totally necessary. After all, you are not consuming water from the shower! But there are so many hidden health concerns contained in shower water.
As nice as it is to relax in a hot shower, the steam is something you inhale. And, all the chemicals and contaminants found in your water supply can enter the body pretty easily via inhalation.
Chlorine, which is used to disinfect water, can lead to upper respiratory issues and is often an eye and lung irritant. You may also know that when you mix chlorine with other matter it can create chloroform, a probable carcinogen that has effects on the nervous system and liver.
Even if these health effects are not the result of acute exposure, everyone showers regularly, and we should reduce our exposure to chemicals that have proven health effects. Studies have shown that one's intake of chloroform significantly increases while taking showers.
The list of chemicals in our water supply is already concerning enough when we drink them. When we add inhalation, heat, and the body's largest organ (our skin) into the mix, I hate to think how high our exposure rate increases.
And, as if that wasn't enough to convince you, your shower head can breed so much bacteria and fungi even if you clean it with some frequency. I can't say that makes me feel very fresh and clean after taking a shower, to say the least!
The Pure Effects PureShower Filter
After researching shower filters (aka scouring the web for one that filters out the real chemicals — chlorine, radon, and other VOCs), here's the one I chose. And the one I have installed in every bathroom in our home.
Meet the PureShower Filter by Pure Effects, the answer to your shower filtration woes.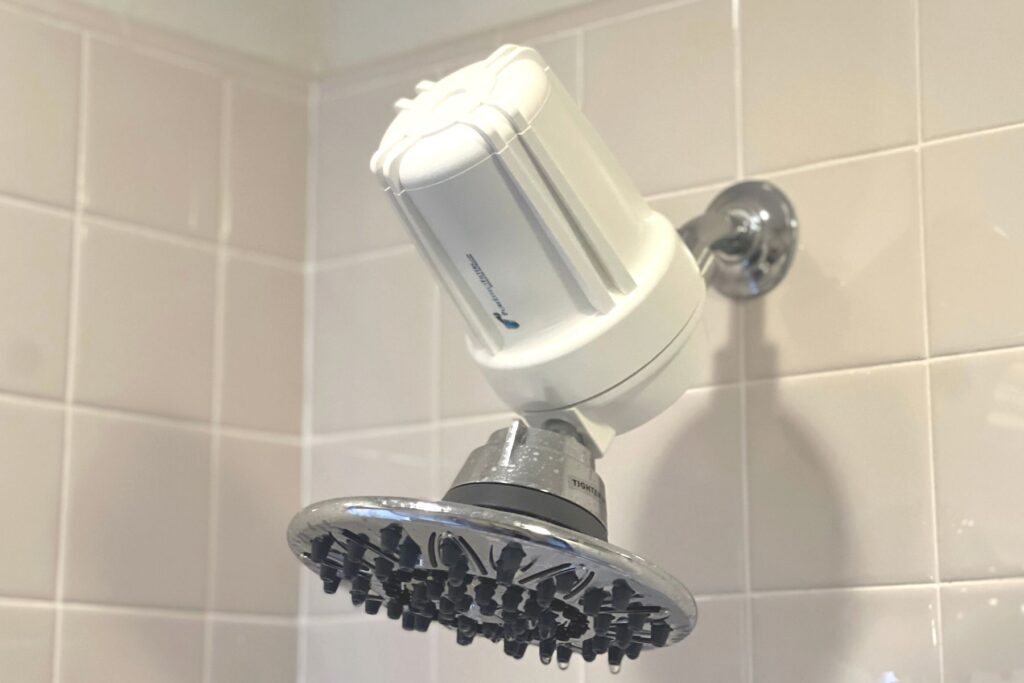 The PureShower Filter System is made by PureEffects, one of the best water filtration companies in the United States. If you have followed this site for long, you'll know that we chose PureEffects for our whole home and under-sink drinking water filters.
So it should be no surprise that we also chose their shower filters for our rental home.
Filtration Capabilities
PureShower is designed to eliminate a wide range of contaminants, especially those chemicals that disperse with water vapor. When you install this shower filter in your bathroom, your shower water goes through four intensive stages of filtration to effectively reduce and omit sediment, chlorine, bacteria, chemicals, and VOCs.
The evaporative chemicals that this shower filter is effective against:
Chlorine and chlorine byproducts
Radon
Iodine-131
Hydrogen Sulfide (That rotten egg smell)
VOCs (Benzene, Toluene, Methane, etc.)
Drug Residues
Disinfection Byproducts (Chloroform, THMs)
The system is easy to install and fits between the wall piping and the showerhead (my husband has installed ours every time with no hassle).
Note that no shower filter can effectively claim to filter out chlorine simply because the flow rate of shower water is too fast for effective filtration. So, look out for other brands that make fluoride filtration claims (can they back them up with third-party testing that they will share with you?).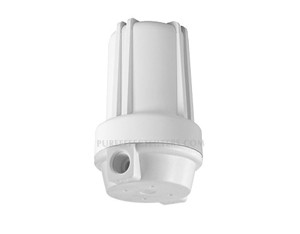 Buy on Pure Effects
We have the Pure Effects shower filter installed in every bathroom in our home. I love this filter because every time I've installed one, I can instantly notice an improvement in the feel of the water and my skin and hair after showering.
What to Know Before You Shop
Before buying the Pure Effects shower filter, there are a few things to know:
This is a heavy-duty shower filter. When filled with water, it weighs 5 lbs., so it's important to ensure you have a sturdy shower pipe in your bathroom.
Make sure that your shower head has a flange.
You don't need a separate shower filter if you have whole-home filtration installed in your home that filters out major evaporative chemicals in your water supply.
This is not your average "pretty" water filter. It's the real deal, and it looks like it.
Due to the size of the filter, it will push your showerhead out by a few inches. In one of our showers, where we have a handheld showerhead, this makes for a pretty tight fit. But again, it's worth it to me.
This is a shower filter only; it does not include a showerhead. (Choose any that appeals to you!)
Final Thoughts on PureShower
The PureShower shower filter is relatively inexpensive for the impressive filtration capacity it offers, so I definitely recommend making the purchase for your home. Remember: if you have a bathtub attached to your shower, you can also use the showerhead to fill up your bathtub.
Here's to healthy showers and baths for everyone in your family!
If you found this post on the best shower filter useful, save it for later!
You might also be interested in checking out our guide to the best air filters for your home, our guide to water quality testing, and our tips on how to drink more water.