Looking for healthy, non-toxic cleaning products for your home? By choosing the right cleaning products, you can live in a healthier environment with cleaner air and surfaces.
Cleaning products should be safe for us to use in our homes; their goal is to make our homes cleaner and healthier. Unfortunately, many popular household cleaners are full of dangerous toxins that may clean up dirt, but they can also pose health risks.
Whether you are inadvertently breathing in fumes or touching residues left on household surfaces, conventional cleaners can impact our health. It's frustrating and scary as we try to raise children in a world where chemicals and toxins lurk in almost every environment, including our homes!
Luckily, we manage what we bring into our homes. There are many cleaning products out there that are on our side! Brands that are conscious of our well-being and gentle on the environment definitely win. And, best of all, they still deliver good, sparkling clean results! The key to finding them is knowing what you're looking for!
The Dangers of Conventional Cleaning Products
We know that conventional cleaning products, such as Lysol or Clorox, can get the job done: they kill 99.9% of bacteria and viruses. However, there is a price to pay when you use these cleaners. Simply put, they aren't healthy for you.
In general, we know that conventional cleaning products pose many health risks including:
Hormonal disruption
Cancer-causing formaldehyde
Risk of congenital disabilities
Poisonings
Chemicals burns
Allergic reactions
Chemicals in Traditional Cleaning Products
Let's take a look at some of the common chemicals found in conventional household cleaning products. I promise you will want to take a closer look at what's in that cleaning bottle under your kitchen sink.
Phthalates
Known by the following names: Fragrances, Perfumes.
Phthalates are a group of chemicals found in plastics. You'll find them in many fragranced household products like dish soap, air fresheners, and multipurpose cleaners.
It's best to stay away from phthalates for several reasons. First, phthalates are endocrine disruptors. Exposure to phthalates can interfere with your endocrine system, which can produce adverse effects in various body systems including reproductive, neurological, developmental, and immune issues.
Cleaning agents that contain phthalates can put you at risk for exposure. Unfortunately, current laws don't require companies to list any scents in a product's ingredient list, so most of the time, phthalates aren't actually on the labels. That makes it pretty difficult for us to avoid them. My suggestion is to stay away from any product that contains the word "fragrance."
Triclosan
Known by the following names: Irgasan DP-300, Lexol 300, Ster-Zac, Cloxifenolum.
Triclosan is a strong antibacterial ingredient and prevents bacterial contamination. You'll find it in dishwashing soaps, toothpaste, lotions, and other personal care products. While this agent has some benefits (it fights gingivitis when used in toothpaste), it's also associated with hormone disruption. Triclosan is under current investigation and scrutinized for leading to antibiotic-resistant germs and impacting the immune system. As of September 2017, this ingredient cannot be legally used in hand soaps. But you can still find it in many other cleaning and personal care products.
Chlorine
Known by the following names: Sodium hypochlorite, calcium hypochlorite.
Chlorine doesn't sound bad. After all, isn't that what is in a swimming pool? It's certainly recognizable and found in many household cleaners like toilet bowl cleaners, scouring powders, mildew removers, laundry whiteners, and even tap water. You probably recognize it purely based on its odor.
But the health risks go beyond its unpleasant smell. It is an aggressive lung, throat, and skin irritant. And frequent exposure can lead to chronic respiratory problems.
Ammonia
Known by the following names: Ammonium, ammonium hydroxide.
Ammonia is recognizable both by name and smell. Found in an array of cleaners, you can find ammonia most commonly in glass cleaners. Ammonia evaporates quickly and doesn't leave streaks, which is why it's a common ingredient in window cleaners like Windex.
That said, ammonia is a strong lung, skin, and throat irritant. Increased exposure to ammonia can lead to asthma and other breathing problems. People who are frequently exposed to ammonia have a higher risk of developing chronic bronchitis and asthma.
Perchloroethylene or "PERC"
Known by the following name: tetrachloroethene.
Have you ever used a dry-cleaning solution, spot removers, or carpet cleaners? If so, the chances are you've come in contact with PERC. This neurotoxin is also a possible carcinogen. Acute exposure can lead to dizziness, headache, and nausea while long-term, chronic exposure can cause changes in vision, mood, and memory.
This particular chemical impacts us in a variety of ways. Those who live close to or work in dry cleaning facilities may come into contact with PERC via inhalation. If you wear drycleaned clothing, touching the clothing can expose you to PERC. While studies haven't been large enough to conclude that this chemical increases the likelihood of birth defects, it is under investigation. It is also a likely carcinogen. Just another reason to rethink what you use to clean with!
Quaternary Ammonium Compounds or "QUATS"
Known by the following names: distearyldimonium chloride, hydroxyethyl methyl ammonium methyl sulfate, and diethyl ester dimethyl ammonium chloride.
QUATS are antimicrobial agents found in fabric softeners and most household cleaners labeled as "antibacterial." Similar to triclosan, the overuse of QUATS breeds antibiotic-resistant bacteria. And we also know that QUATS can be a skin and respiratory irritant. More recent studies suggest that QUATS may be a culprit for many respiratory disorders, and those who are exposed regularly have a higher risk of developing asthma later in life.
2-Butoxyethanol
Known by the abbreviations EGBE and BE.
You can find 2-butoxyethanol in window cleaners, kitchen cleaners, and multi-purpose cleaners. You may be able to pinpoint it based on its sweet smell. 2-butoxyethanol is pretty potent and released into the air after spraying. Short-term exposure can lead to sore throats (from inhalation), but high levels of this glycol can cause narcosis, pulmonary edema, along with liver and kidney damage. Not something you want in your home!
How to Pick the Best Non-Toxic Cleaning Products
When you begin to look for a non-toxic cleaner, you never want to trust the labeling on the front of a cleaning container. Greenwashing is a problem, so you have to look beyond the phrases slapped on the container; they are pure marketing ploys. Many brands claim to be "natural" or "organic" without having any evidence to back up their claims. And the problem with this has only grown since the explosion of eco-friendly products on the market.
To make it easier for you to decide which cleaning products might work the best, I advise setting some criteria to narrow the selection. Here are some suggestions:
The cleaning products should fully disclose the ingredients in the product, even though not a legal requirement.
The product should have plant-based ingredients rather than petroleum-based ones.
The cleaning products should not contain artificial colors or fragrances. Essential oils are acceptable as a fragrance.
Cleaning products should receive an A or B rating on EWG's cleaning product database.
All products that have a refillable container or are considered ultra-concentrated should receive bonus points.
Cleaning products need to work and do what they are intended to do. There is no reason for eco-friendly products not to work as well as conventional ones.
Non-Toxic Household Cleaning Essentials
Here are the best non-toxic household cleaners that I recommend. They use clean ingredients that are safe to use around your kids and pets. Best of all, they provide accurate ingredients with transparent, truthful claims.
1. Branch Basics
Branch Basics offers one concentrate to use on everything. It's incredibly simple! They have a variety of cleaning bottles for various cleaning tasks. Choose the one you need for the job, and dilute the concentrate according to the measurement lines on the cleaning bottle. And you're ready to clean! Branch Basics creates a wonderfully streamlined cleaning process so that it's easy, affordable, and sustainable.
Non-toxic and GMO-free.
Plant and mineral-based ingredients.
Free of any harmful preservatives.
Fragrance-free (It's great for people with asthma, allergies, and chemical allergies).
Biodegradable cleaning bottle.
Not tested on animals.
And when I say you can clean your entire house with it, I am completely serious. Here are a few ideas on how to use Branch Basics to tackle all the cleaning tasks!
Kitchen: Use it to spray down counters, sinks, and ovens.
Bathroom: Clean the toilets, sinks, tubs, showers, and floors with this one cleaner.
Windows: Branch Basics will leave your windows streak-free, whether you're cleaning a window or a mirror.
Wood Surfaces: Yes, you can even clean wooden surfaces, including floors, with this diluted cleaner. You also can clean wood surfaces, such as bookshelves.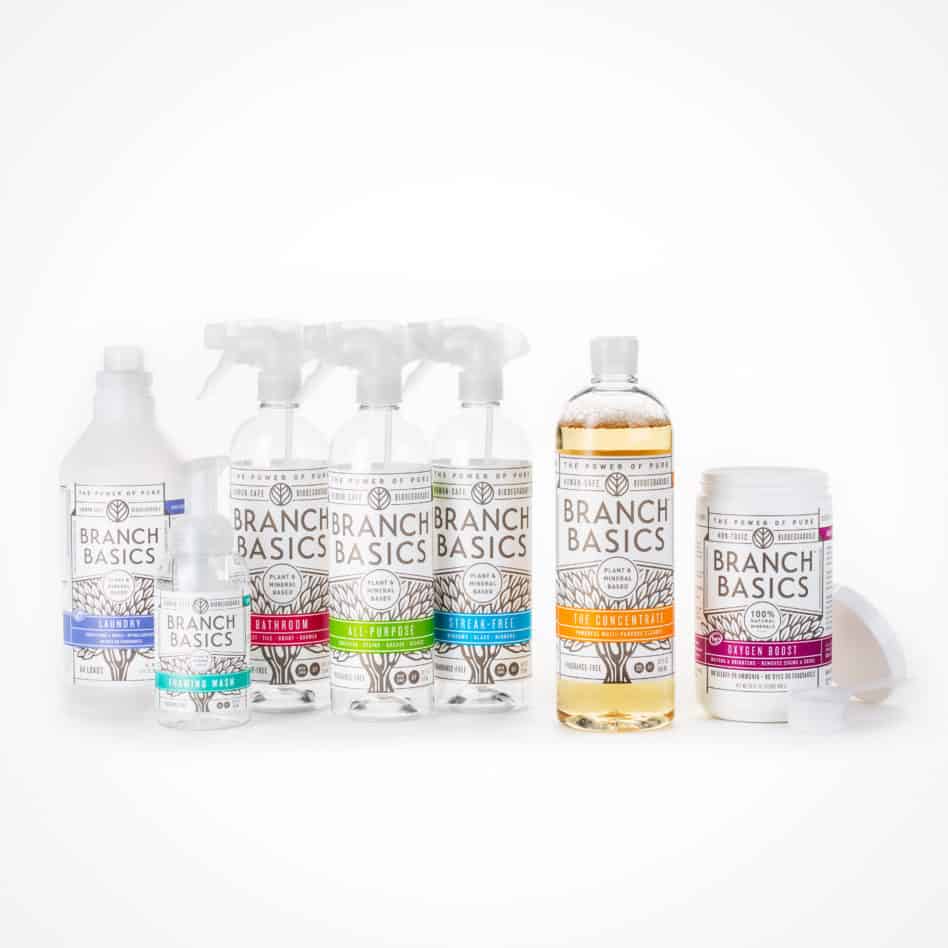 Buy on Branch Basics
2. Force of Nature
While I do love using natural cleaners, very few brands offer a natural disinfectant. And while my whole home might not need regular disinfecting, there are certain places I want all the germs gone. Force of Nature turns tap water, along with a capsule of salt, water, and vinegar, into a cleaner, deodorizer, and disinfectant. It's one of the most unique non-toxic cleaning products on the market.
Through the Force of Nature electrolyzer, salt, water, and vinegar are converted into two new ingredients: hypochlorous acid and sodium hydroxide. Together, these ingredients kill 99.9% of germs without the use of any toxic chemicals.
For those who are skeptical, Force of Nature is certified for use in hospitals, schools, daycares, veterinary clinics and is certified by the EPA. It is registered to kill the Norovirus, Influenza A, Salmonella, MRSA, Staph & Listeria. Better than bleach and much healthier for your family!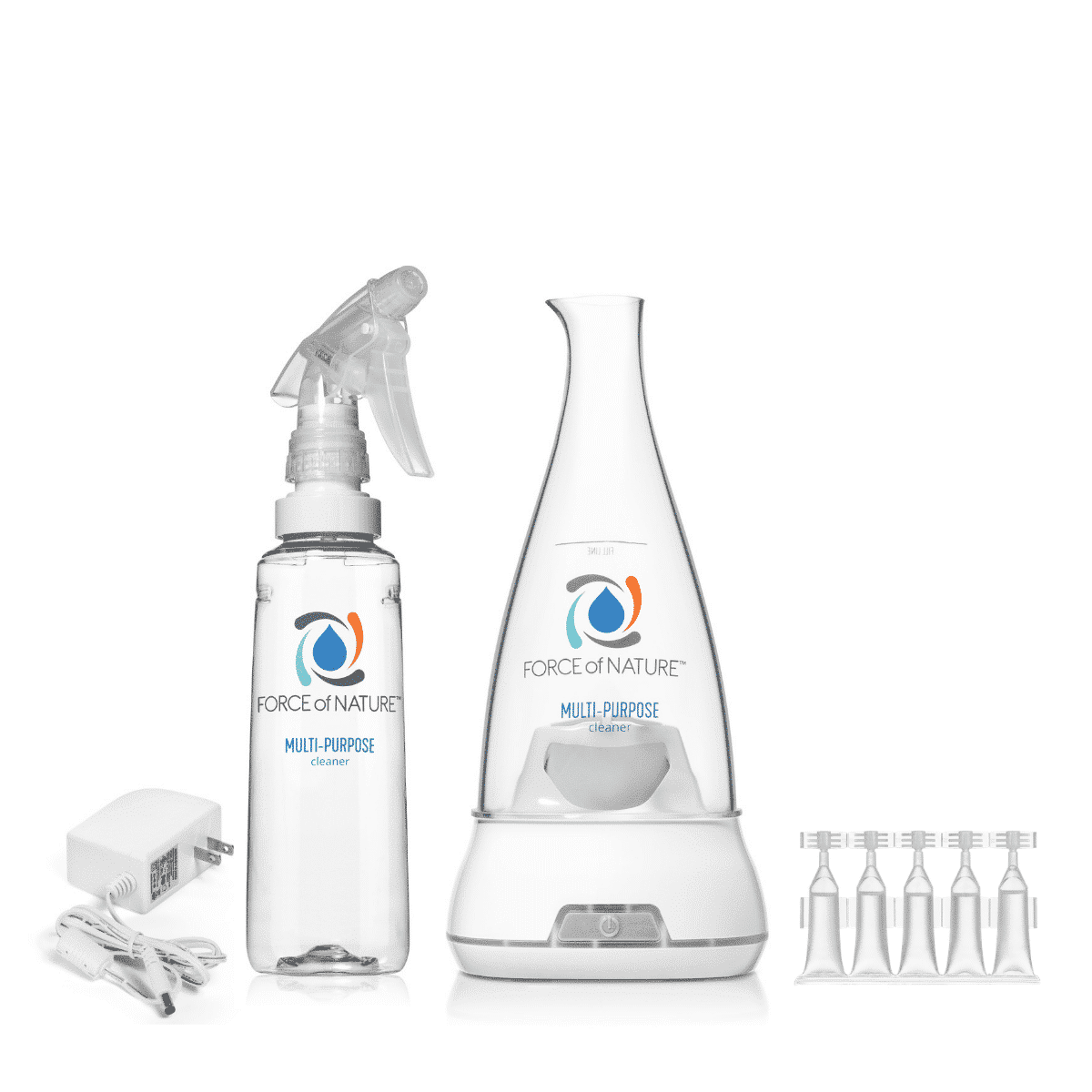 Buy on Force of Nature
3. Better Life
Better Life sells great plant-based surface cleaners. With this company, you don't have to compromise performance for safety.
Their line of products includes more than just an all-purpose spray. You can purchase soaps, lotions, floor, nursery, and even granite cleaners. All of their cleaning products have a complete list of ingredients used as well as where each ingredient is derived from. As you will see, every cleaning product has been formulated for safe, non-toxic cleaning in your home.
Buy on Amazon
4. Bon Ami
Bon Ami has been around since the dawn of time. OK, it actually dates back to 1886! It certainly is a staple for many and a very effective household cleaner. This cleaner only has a handful of non-toxic ingredients and they are all listed right on the product label:
Calcium Carbonate (Limestone)
Feldspar Powder
Sodium Carbonate (Soda Ash)
Sodium Bicarbonate (Baking Soda)
Alkylbenzene Sulfonic Acid (Surfactant)
These ingredients wash away germs, mildew, and other soils. It's particularly good on hard nonporous surfaces when you want to scrub something clean—and when you want something a little stronger than baking soda. You should note that this is not an antimicrobial cleaner so it doesn't kill viruses, bacteria, or mold spores on contact.
While there are no harsh chemicals in this product, some people do have skin/eye irritation. I suggest trying to use it in a small area to make sure it doesn't cause irritation.
Buy on Amazon
5. Baking Soda
Baking soda, also known as sodium bicarbonate, is a natural substance. It's simple, completely non-toxic, and a wonderful cleaning agent! Whether you want to deodorize your refrigerator or scrub your bathtub, you can use baking soda for the job.
Baking soda works by neutralizing both acids and bases. You can use baking soda in a variety of ways from scouring hard, nonporous surfaces like sinks and showers to sprinkling some down a drain to rid any odors. It's also effective on glass, chrome, steel, and enamel. Easy and inexpensive!
Buy on Amazon
6. Hydrogen Peroxide
Hydrogen peroxide breaks down into water and oxygen and can be used as an excellent non-toxic alternative to bleach. You will find hydrogen peroxide sold in the first-aid section of any pharmacy or grocery store, but I actually prefer to use food-grade hydrogen peroxide as it does not contain any stabilizers (which can sometimes contain traces of heavy metals).
Food-grade hydrogen peroxide is pure and perfect for cleaning your home or even your toothbrush. It is strong enough to kill most germs and viruses yet completely non-toxic and cost-effective. Simply spray the hydrogen peroxide, let sit for 10 minutes, and then wipe clean.
Buy on Amazon
7. Citric Acid
You might recognize citric acid as a preservative, but it's an acid compound naturally found in citrus fruits. It's safe, plant-derived, and biodegradable. And best of all, citric acid can kill bacteria, mold, and mildew.
It's great for general disinfecting and cleaning in bathrooms and kitchens. I know many people who say it's great at removing soap scum, rust, and hard water stains.
Buy on Amazon
8. Castile Soap
Castille soap is one of the best-known soaps in the non-toxic cleaning world. It's a plant-based soap made from vegetable oil, such as olive, coconut, palm, or other oils, and is highly soluble in water. The soap is made by mixing lye with oil and purified water.
Dr. Bronner's castile soap can be diluted in a variety of concentrations to clean your entire house. You can even use it to clean dishes and wash your hair (though I didn't love the buildup in my hair).
The great thing about Dr. Bronner's castile soap is that an entire bottle can easily last you a year.
Buy on Amazon
Get Ready to Clean and Sparkle!
Once you choose a cleaner or two that works for you, get cleaning! I promise your home with sparkle and your health will thank you! Remember, you don't need to change out all of your cleaning products at one time unless you're ready for that. Some people find it a bit overwhelming when they are replacing old, conventional cleaners with new cleaners. If you find yourself in this boat, I recommend choosing one or two cleaners to use in those spaces you clean most often (like your kitchen and bathrooms). Try them out and go from there! You might be surprised how easy it is to move from your conventional cleaners to natural cleaners for your entire home!
What is your favorite non-toxic household cleaner? I'd love to hear what you use, how you use it, and how satisfied you are with the results!