Prenatal probiotics can offer many benefits to you and your growing baby. Here's the ultimate guide to choosing the best probiotics for pregnancy.
When you're pregnant, your body goes through tremendous changes. Between the altering levels of hormones and a growing uterus that crowds your stomach, it's no surprise that your gut might not behave normally during pregnancy (hello, constipation and heartburn!).
This is often an indicator that your gut is struggling and not housing nutrients properly. The good news is that prenatal probiotics help to ensure better gut health. Often times, this can make a big difference!
We also know that prenatal vitamins are crucial during pregnancy. They help ensure your body is well-equipped to nurture the development of your baby. But how do you know those nutrients are being put to use inside your body?
Through my research, I've learned that our body's environment and ability to absorb the nutrients are just as important as the vitamins themselves. You need to be able to absorb the nutrients for your body to be able to use them.
When you have plenty of healthy bacteria in your gut, your body can do a better job of properly absorbing and distributing nutrients throughout your body. This creates the right balance and ultimately helps your baby get the nutrients they need in utero.
This article is your comprehensive guide to the best probiotics for pregnancy, postpartum, and breastfeeding. You will get to know the science behind probiotics, their proper use, and a review of the best prenatal probiotics on the market.
Our Top Pick for The Best Prenatal Probiotics
#1 Pick: Biomeology Prenatal Probiotics
Formulated by a doctor and a team of microbiologists, Biomeology Prenatal Probiotics contains six key strains to support you and your baby before, during, and after pregnancy. D-Lactate Free and Histamine Neutral and ships from a refrigerated warehouse.
The Science Behind Probiotics: How Do They Work?
Your gut is home to countless bacteria and fungi. Conservative estimates suggest that your gut might be home to trillions of bacteria. To put that into perspective, you have 10x more bacteria in your gut than your own human cells.
Startling, isn't it?
Your gut contains more than 500 species of bacteria and fungi, some of which are good and some of which are bad. The good bacteria and fungi are called probiotics. A healthy gut contains an abundance of these 'good bacteria'. These good guys keep the growth of 'bad or pathogenic bacteria' under check.
Not only do the probiotic bacteria help improve your gut health, but they are also crucial to your overall well-being. We have learned a great deal about these bacteria over the last decade. We now know that these bacteria improve the health of your heart, brain, hormones — all organs — you name it!
Probiotic bacteria are generally found in fermented foods such as yogurt, sauerkraut, and kefir. If you can't stomach these foods while pregnant, or if you just feel you aren't getting enough, another way you can boost the number of good bacteria in your gut is by taking a probiotic supplement.
Probiotic supplements are a blend of different varieties of good bacteria. These supplements improve the balance and diversity of bacteria in your body. This, in turn, causes the good bacteria to crowd out the harmful bacteria. This reduces the potential for infections and other health issues. Probiotics can also lead to a healthier digestive system, creating a friendly space for nutrients to absorb in your body.
The Best Probiotics for Pregnancy
My team and I have done a lot of research on the best probiotics for pregnancy and postpartum. Personally, I've set my standards high to find the best quality probiotics that I consider beneficial for mom and baby during pregnancy.
Buy on Amazon | Biomeology
Save 15% with Biomeology discount code GENTLE.
Biomeology is a brand of probiotics that is exclusively made moms for moms and children. This Prenatal Probiotic was designed to support you and your body throughout your pregnancy. With six key probiotic strains, these probiotics for pregnancy offer support for everything from gestational diabetes mellitus to morning sickness.
What's unique about Biomeology is that it contains probiotic strains that have been studied to reduce the incidence rates of baby eczema, food sensitivities, colic, and other gut-related health issues.
These high-quality probiotics are the best probiotics for pregnancy because they contain a high concentration of beneficial strains including Lactobacillus Rhamnosus HN001, which has been studied extensively for its benefits during pregnancy.
Made with no unnecessary ingredients or fillers, Biomeology features delayed-release capsules to ensure probiotic survivability. And each batch is purity tested for your safety.
I can say with confidence that I wholeheartedly recommend this product because I created it myself. After years of frustration and dealing with my son's eczema, this is the probiotic I wish I could have taken before, during, and after my pregnancies.
If you are looking for a powerhouse of a probiotic to support your body, optimize your gut health (and your baby's), and support your baby's health and development, this is the prenatal probiotic I want you to consider. It was meticulously crafted for you and your baby.
Strains: Lactobacillus Rhamnosus HN001, Lactobacillus acidophilus, Bifidobacterium bifidum, Bifidobacterium infantis, Bifidobacterium lactis, Bifidobacterium longum. Other ingredients: Microcrystalline cellulose and Delayed-Release Vegetarian Capsule.
---
Buy on Amazon | Hyperbiotics
PRO-Moms is an excellent choice for a prenatal probiotic because it comes with six targeted strains of bacteria. The variety of bacteria strains will possibly lead to a healthy flora in your digestive system. A unique combination of these six strains of bacteria helps to support glucose levels and ease digestion.
Another amazing benefit of the PRO-Moms is that the capsules are time-released, so you only have to take one capsule per day to get all the 5 billion CFU.
The company claims that its probiotic supplement is absorbed better than other brands. They use a patented control-released technology that helps to deliver up to 15% more healthy flora to your digestive system when compared to traditional methods. That means the pill is 15 times stronger than a regular once-daily probiotic.
PRO-Moms contains kiwi fruit extract, which is a unique but excellent source of fiber. No refrigeration is required for this supplement, which is nice but it does mean that they use a shelf-stable coating so that you can keep these probiotics at room temperature. Please note that this probiotic does contain guar gum, so if you are trying to avoid gums, you should choose another prenatal probiotic from this list.
Strains: Lactobacillus rhamnosus, Lactobacillus acidophilus, Bifidobacterium infantis, Lactobacillus fermentum, Lactobacillus plantarum, and Lactobacillus reuteri. Other ingredients: Kiwifruit powder (prebiotic), microcrystalline cellulose, hydroxypropyl methylcellulose, pectin¤, sodium carbonate, stearic acid, and guar gum.
---
Buy on Amazon
Pink Stork Pro is a great probiotic for mothers who have morning sickness. It's a supplement that is specifically created to help decrease nausea. Also, Pink Stork might help you have regular bowel movements and reduce the symptoms of heartburn.
With its six probiotic strains, it helps to stop harmful bacteria, such as H. pylori, which can give you an upset stomach. It contains eight billion CFUs, which is in the optimal range.
Strains: Bacillus Subtilis, Lactobacillus acidophilus, Bifidobacterium bifidum, Bifidobacterium longum, Streptococcus thermophilus, Lactobacillus bulgaricus, Lactobacillus paracasei. Other ingredients: Inulin (from organic Agave), FOS (fructooligosaccharides), Hypromellose (Vegetable Capsule), Calcium Silicate
---
Buy on Amazon | Just Thrive
Save 10% with Just Thrive discount code GENTLENURSERY through this link.
Just Thrive is a unique, natural probiotic created by experts from the pharmaceutical industry that switched lifestyles, finding their passion for natural health. They discovered the importance of gut health and the need for probiotics to support proper digestion.
Just Thrive is made from four strains of spore-based probiotics that are known for their ability to navigate through the gastric system. It's the only spore-based probiotic formula that aims to increase probiotic survivability so that the probiotics can successfully navigate your stomach's acidic environment.
Spore-based probiotics can take up residency in your gut, so this recommendation isn't for everyone. It is best to work with your care provider (a functional MD or naturopath, preferably) to determine if you will be a good fit for this.
Just Thrive is made in a US-based factory that uses all-natural, non-GMO ingredients. It doesn't contain any soy, dairy, sugar, salt, corn, tree nuts, or gluten. This supplement only contains 3 billion CFU, but because they are spore-based, that is actually very potent.
You take just one capsule per day, and each bottle contains a 30-day supply.
Strains: Bacillus subtilis HU58, bacillus indicus HU36, bacillus clausii, bacillus coagulans. Other ingredients: Cellulose (hypoallergenic plant fiber prebiotic), hydroxypropyl methylcellulose HPMC (vegetable capsule).
---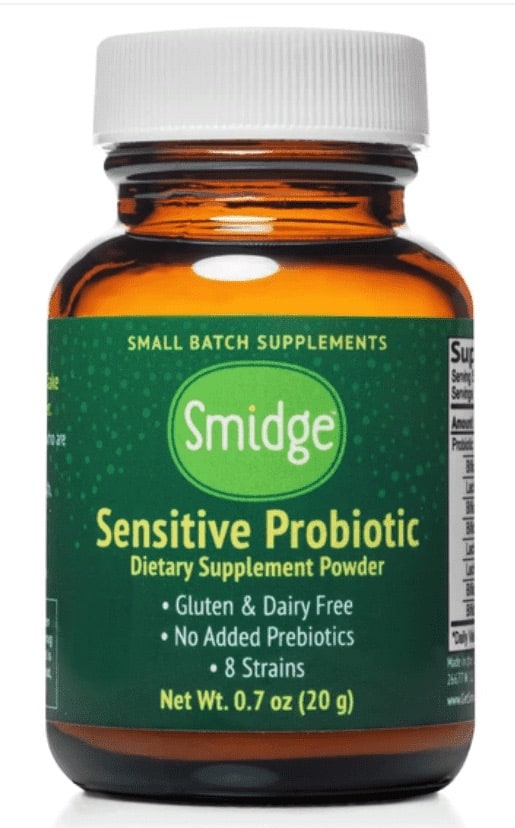 Buy on Smidge
Smidge created their probiotic powder for those who have sensitive systems. Its unique hypoallergenic formula helps to maximize the absorption of nutrients you get from both your prenatal and your daily diet.
The formula contains eight strains of human probiotics and 25+ billion CFUs per 1/32 teaspoon. It's quite a potent formula!
Smidge offers just the probiotics without any fillers or allergens. Best of all, it works for a lot of people, despite diet choices. It works for those who are on Paleo and Keto diets, gluten-free, soy-free, and casein-free. We know it doesn't contain any D-Lactate, maltodextrin, GMOs, fish, shellfish, peanuts, tree nuts, yeast, or corn.
---
Buy on Seeking Health
ProBiota Woman is a blend of ten different types of good probiotic bacteria that support female digestive systems. They formulate this probiotic supplement to target microflora and balance the pH for vaginal health. Pregnant women are especially at risk for yeast infections, so if you're one of the women that suffer from yeast infections, this would be a great probiotic for you.
These capsules contain 25 billion CFU (so definitely on the potent end of the spectrum) and are free of dairy, egg, fish, shellfish, tree nuts, peanuts, wheat, soy, and gluten.
Strains: (In a base of inulin derived from chicory root fiber) Lactobacillus acidophilus, Lactobacillus brevis, Lactobacillus rhamnosus, Lactobacilus gasseri, Lactobacillus casei, Lactobacillus salivarius, Lactobacillus plantarum, Bifidobacterium bifidum, Bifidobacterium breve, Bifidobacterium longum. Other ingredients: Vegetarian capsule (hydroxypropyl methycellulose, water), proprietary polysaccharide complex, and L-leucine.
---
Buy on Amazon
Pure Encapsulation offers a shelf-stable probiotic that is designed to support gut function and the immune system. Their special formula innovatively targets your gut by focusing on the development of GALT, which is lymphoid tissue that acts to protect your intestines from allergens. Through supporting healthy GALT, this probiotic protects the intestines and promotes healing.
It provides 5 billion CFU per capsule, containing six strains of bacteria. Both the CFU and number of strains in this supplement fall in an optimal range for effective results.
Probiotic GI is dairy and soy-free, along with peanuts, wheat, magnesium stearate, artificial sweeteners and colors, and hydrogenated fats. Please note that it does contain rice starch, in case you are trying to avoid rice-based ingredients.
Strains: Lactobacillus acidophilus, Lactobacillus salivarius, Lactobacillus casei,Bifidobacterium bifidum, Bifidobacterium lactis, and Streptococcus thermophilus. Other ingredients: Rice starch, vegetarian capsule (cellulose, water).
---
Buy on Amazon
Pure Therapro, like other probiotic supplements, aims to create a balanced ecosystem for your gut. In turn, it helps to reduce bloating and associated pain.
Each capsule contains 30 billion CFU and four strains of probiotics. One interesting way Pure Therapro ensures that the probiotic makes it to the intestine is by preserving the probiotics' viability in a sealed aluminum pack. The capsules can withstand stomach acidity and target the intestines for maximum effectiveness.
These capsules do not contain any wheat, gluten, corn, yeast, soy, animal products, dairy, shellfish, fish, shellfish, peanuts, tree nuts, eggs, and GMOs. Pure Therapro is manufactured in the USA.
Strains: B. lactis HN019, L. acidophilus, L. plantarum, B longum. Other ingredients: DRcaps Acid-Resistant Capsule (cellulose, water).
---
Buy on Amazon
Custom Probiotics has a great probiotic powder that has six probiotic strains with 250 billion CFU per gram. This one is especially beneficial for moms who are sensitive to food or chemical triggers.
According to the manufacturer, Custom Probiotics markets this probiotic supplement to those with immune issues and autism. Some research indicates that children on the autism spectrum have high D-lactate that leads to neurological issues. So, Custom Probiotics designed this supplement to be completely D-lactate free.
That said, it's also good for anyone who wants a higher CFU count to target specific health issues or just improve overall gut health.
This probiotic doesn't contain any dairy, sugar, gluten, soy, yeast, casein, artificial colors, flavors, preservatives. It also doesn't use any GMO ingredients.
Make sure that you read the directions and take the right amount daily. It only requires one dose per day, in normal circumstances. The powder is temperature stable for 2-3 weeks without refrigeration, but keeping it in the refrigerator is best for maximum potency.
Strains: L. rhamnosus, L. salivarius, B. lactis, B. bifidum, B. infantis, and B. longum. Other ingredients: none.
---
Summary: The Best Prenatal Probiotics
7 Things to Look for in Your Prenatal Probiotics
Before you decide on a prenatal probiotic, make sure that you talk to your midwife or OBGYN. Confirm that taking a probiotic is safe for your pregnancy before you start taking them.
Once you get the go-ahead to take probiotics, you want a quality product from a reputable company. Here are the top seven factors that you should consider before buying a probiotic product.
1) Look for a multi-strain product
Researchers are divided as to whether strain-specific or strain-diverse probiotics are better for health.
Your goal is to strategically use probiotics to improve your general health and improve the overall outcomes of your pregnancy. The best guess is to use a probiotic containing a variety of strains. Each strain has different qualities, so taking a probiotic with a range of strains means that you receive the benefits of an array of bacteria and won't risk introducing too much of one specific strain.
2) Choose a probiotic with strains that are beneficial for pregnancy
Another important thing to consider is the strains used in the probiotic. When it comes to the use of probiotics during pregnancy, the most useful probiotic strains can be divided into three main categories.
Lactobacilli: Lactobacilli are the most common probiotic strain in your gut and urinary tract (especially in women). You are most likely to come across certain lactobacilli species more than the others. Common ones include L. rhamnosus, L. acidophilus, L. reuteri, L. fermentum, L. plantarum, and L. brevis.
You can also find lactobacillus in yogurt and fermented foods, along with drinks, such as kombucha. Many people use Lactobacillus strains to help with yeast infections (which are common in pregnancy) and reduce the severity of colds or prevent them all together, which pregnant women are also susceptible to.
Also, lactobacilli are helpful in the management of mastitis, an inflammatory condition of the breast that pregnant women are most susceptible to during and after pregnancy. It also offers protection against the H.pylori infection that can be the reason for upset stomach during pregnancy. Finally, lactobacilli generally improve your immune health and prevent you from illnesses like cold and flare-up of your skin conditions like eczema and dermatitis.
Bifidobacteria: Another important probiotic species that you will come across is Bifidobacterium. The most common members of this group include B. adolescentis, B. angulatum, B. bifidum, B. breve, B. catenulatum, B. longum, B. infantis.
Bifidobacterium strains naturally live in your stomach and intestines Bifidobacteria primarily create a balance of bacteria in you gut and are good for constipation (an unfortunate yet prevalent issue in pregnancy) and general stomach upset from infection.
Saccharomyces Boulardii: This is a non-pathogenic yeast that helps with digestion and healthy bowel movements. It's a temperature tolerant, acid-resistant microorganism, and an essential player in the probiotic world.
One of the most prominent features is that it's antibiotic compatible, so it can help to relieve some of those terrible side effects when taking antibiotics during an infection or sickness.
Lactococcus lactis: This is commonly present in the vagina and digestive tract. It protects against diarrhea and vaginal infections.
3) Consider the CFU count
CFU stands for Colony Forming Units, which in simple terms is the number of bacteria in a given probiotic. An ideal probiotic for pregnancy contains around 10 billion CFU and not a high dose like 50 billion. You need to have a good amount of bacteria in each capsule to make a difference in your digestive system, but you also don't want to overdo it.
There are no clear recommendations as to how many CFUs pregnant women should take. Still, we can make a careful guess based on research. According to the Harvard School of Medicine, a good probiotic contains up to 10 billion CFUs of live bacteria.
While it's logical to think that "more is better", that's not necessarily true when it comes to probiotics. Introducing probiotics at studied doses is typically what matters most. And, many companies will beef up their CFU count with cheap filler probiotic strains that offer no benefit at all, which doesn't really mean much at all.
4) Consider whether you want a probiotic that also contains prebiotics
Some women prefer to purchase probiotics that also contain prebiotics. Prebiotics are food for the probiotics; they "feed" the good bacteria so they can colonize, grow, and work more effectively.
Products containing a mix of probiotics and prebiotics are called synbiotics. Research is quite clear on the fact that synbiotics can be more effective than probiotics or prebiotics alone. Great, right?
There are also important cases where it makes sense to avoid prebiotics. For example, if you have histamine issues or imbalanced gut bacteria (dysbiosis), you may not tolerate prebiotics as well as someone who doesn't have these issues.
If in doubt, always consult with your doctor before making a decision. And if you find yourself reacting poorly to a prenatal probiotic or synbiotic, you should stop using it right away.
5) Look at the list of ingredients and fillers
As always, check the full list of ingredients! Make sure you consider any dietary or allergen restrictions you have as well as unneeded artificial ingredients. Some probiotics are made using dairy, so if you are trying to avoid dairy while pregnant or nursing, make sure to check the ingredients list and look for an allergen statement.
You would be surprised to find some probiotics contain questionable ingredients—from artificial dyes to fibers that are hard to digest. Avoid any questionable or unhealthy ingredients when possible by choosing a clean prenatal probiotic.
6) Survivability is also an important factor
Look for a time-released capsule that helps to create a steady, controlled flow of the bacteria strains. This helps to create a balance in your body. It also helps to enhance nutrient absorption, distributing nutrients throughout your body. This is usually done through a delayed-release vegetarian capsule, though there are other methods.
It's also important to consider that the strains in the probiotic you purchase will actually need to be resistant to the low pH of the stomach as well as bile salts.
7) Consider the monthly price
Cost is always a consideration, and you should look at what it will cost on a monthly basis. Make sure you pick a probiotic that fits your budget. Ideally, you should be taking probiotics for the duration of your pregnancy and for the first year after birth. While there are always less expensive options available, you should consider the cost for the quality and potency when choosing a probiotic brand.
Are Probiotics Safe During Pregnancy?
Doctors and researchers agree that probiotics are safe during pregnancy. However, the research is still somewhat limited, so you will always want to check with your own doctor before taking probiotics during pregnancy.
According to the College of Family Physicians of Canada, probiotics are likely safe during pregnancy and lactation.
A meta-analysis is a type of study that critically evaluates a cluster of published studies. One meta-analysis looked into 8 different randomized control trials for probiotic use in over 1,500 pregnant females.
The meta-analysis concluded that there is no association between probiotic use and miscarriages, preterm birth or malformations. Probiotics also have no association with gestational age, birth weight, or any other adverse maternal or fetal outcomes.
Still, you should always consult your medical provider for personalized advice.
Pregnancy and Probiotic Benefits – A Look at The Evidence
That sweet baby growing in your uterus can put quite the strain on your entire body. Here are the main reasons to give probiotics a try during pregnancy and postpartum.
Probiotics Help Keep the Digestive System Healthy
Probiotics alleviate and prevent many of the not-so-pleasant side effects of digestive upset during pregnancy— particularly in early and late pregnancy when nausea and constipation are common. We know that probiotics help to keep the gut healthy; in turn, your digestive system can work more effectively, break down nutrients, and deliver them to both you and your baby successfully.
Probiotics are particularly effective when it comes to constipation. Research carried out the University of Amsterdam looked into the efficacy of a combination probiotic (containing bifidobacteria and lactobacilli) on constipation during pregnancy.
Results showed the frequency of opening bowels increased from 3 times a week to almost once every day. None of the women in the study experienced any side effects.
Probiotics Help to Fortify Your Immune System
Probiotics boost your immune system, which is undoubtedly compromised during pregnancy, and they can help to decrease the risk of becoming ill.
Although this study was not conducted in pregnant women, it did show that taking a probiotic drink with a blend of lactobacilli strains caused a significant decline in the risk of flu.
Probiotics Reduce Eczema and Atopic Dermatitis Risk in Your Child
Taking probiotics can help alleviate skin issues by improving texture, soothing skin irritations, and encouraging hydration. Research shows that probiotic supplements and fish oil taken during pregnancy can reduce the risk of children getting eczema by 22%.
In another meta-analysis, researchers looked into more than 3,200 cases of probiotic supplementation during pregnancy. The probiotics tested were mainly bifidobacterium and lactobacillus. They noted that probiotic supplementation during pregnancy was associated with a significant reduction in the risk of atopic dermatitis among infants.
Probiotics Can Support Your Body in Dealing With Bacterial Vaginosis
Probiotics may decrease the risk of getting yeast infections and bacterial vaginosis during pregnancy. Some studies show that probiotics can halt the growth of yeast and gradually help to restore your PH level.
Probiotics Reduce Adverse Outcomes for Women with Gestational Diabetes
One study found that regular probiotic use reduces the risk of adverse outcomes for women with gestational diabetes. These include reducing the risk of infant stillbirth, respiratory distress syndrome, and large-for-gestational-age.
For mom, the benefits include decreasing the risk of preeclampsia, type 2 diabetes postpartum, and cesarean section.
Promising Studies Show Probiotics May Help Reduce Autism Risk
One of the most interesting studies was done in 2018 at the University of Virginia on the relationship between the mother's microbiome and the development of autism in her offspring. The study explains that mom's microbiome plays a significant role in the development of autism spectrum disorders.
What I found most helpful was the focus on our diets: "The microbiome can be manipulated by changing what we eat, by consuming beneficial bacteria known as probiotics or even by transplanting fecal material from one person to another. This suggests simple ways we might prevent the development of autism."
These studies showed that an unhealthy microbiome in a woman could create problems, leading to the risk of neurodevelopmental disorders. However, because we know that the microbiome can be easily modified, we can potentially make these diet changes quickly to help restore balance.
So, this evidence means that taking probiotics might help to prevent the development of autism. In this study, researchers successfully prevented autism-like disorders in mice, which could mean prevention in humans! So promising!
Probiotics Might Help Alleviate Postpartum Depression and Anxiety
Postpartum depression is a common psychological condition in which the mother becomes depressed following the birth of her baby. In the U.S, one in seven women suffers from postpartum depression.
Groundbreaking research was conducted at the University of Auckland, New Zealand. It looked into the link between probiotic supplementation during pregnancy and its effects on the mother's mental health.
The results were amazing!
Fewer women using probiotics during pregnancy suffered from depression during the postpartum period. Also, the ones who did develop depression only suffered mild depression compared to the placebo group.
Probiotic Use During Pregnancy Can Affect Your Body Weight
You might be surprised to read this, but it is true.
Pregnancy is a period of immense hormonal and chemical changes in the body. Research suggests that due to an increase in the levels of inflammatory cytokines like IFN-y, IL-2, IL-6, and TNF, it has drastic effects on the balance of good and bad bacteria in your gut during pregnancy.
As a consequence, toxins leak out into your body and cause a decline in your metabolic health. This results in increased weight gain during pregnancy.
Want to reverse the pounds gained during pregnancy? Give probiotics a try.
Research conducted at the University of Turku, Finland showed that not only the maternal risk of gestational diabetes reduces by 34 percent with probiotic use but also the women taking probiotics are significantly more likely to gain less weight six months postpartum.
How Should You Take Probiotics During Pregnancy?
Before you start taking probiotics, make sure you read the directions and follow them accordingly for safety and efficacy. Generally, it is best to start slowly and work your way up to the complete dose.
Final Thoughts on The Best Probiotics for Pregnancy, Postpartum, and Breastfeeding
Probiotics are beneficial for most people, especially during and after pregnancy. All of the ones I've mentioned target issues specific to pregnant women and are formulated accordingly. Based on my research and experience, I have concluded that taking probiotics during pregnancy is a smart and healthy decision for most women. As always, make sure you discuss taking probiotics with your doctor before you try them.
Did you take probiotics while pregnant? If so, what benefits did you experience?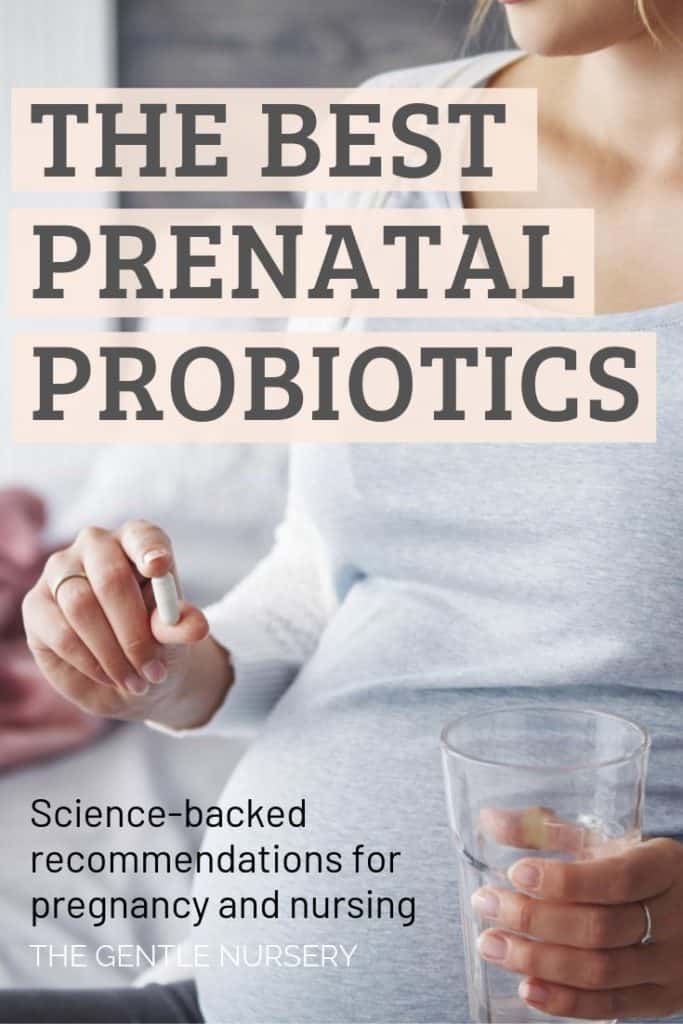 Want more support during your pregnancy?
Join PURE Pregnancy, my holistic pregnancy guide. Have your best, most prepared pregnancy… starting today!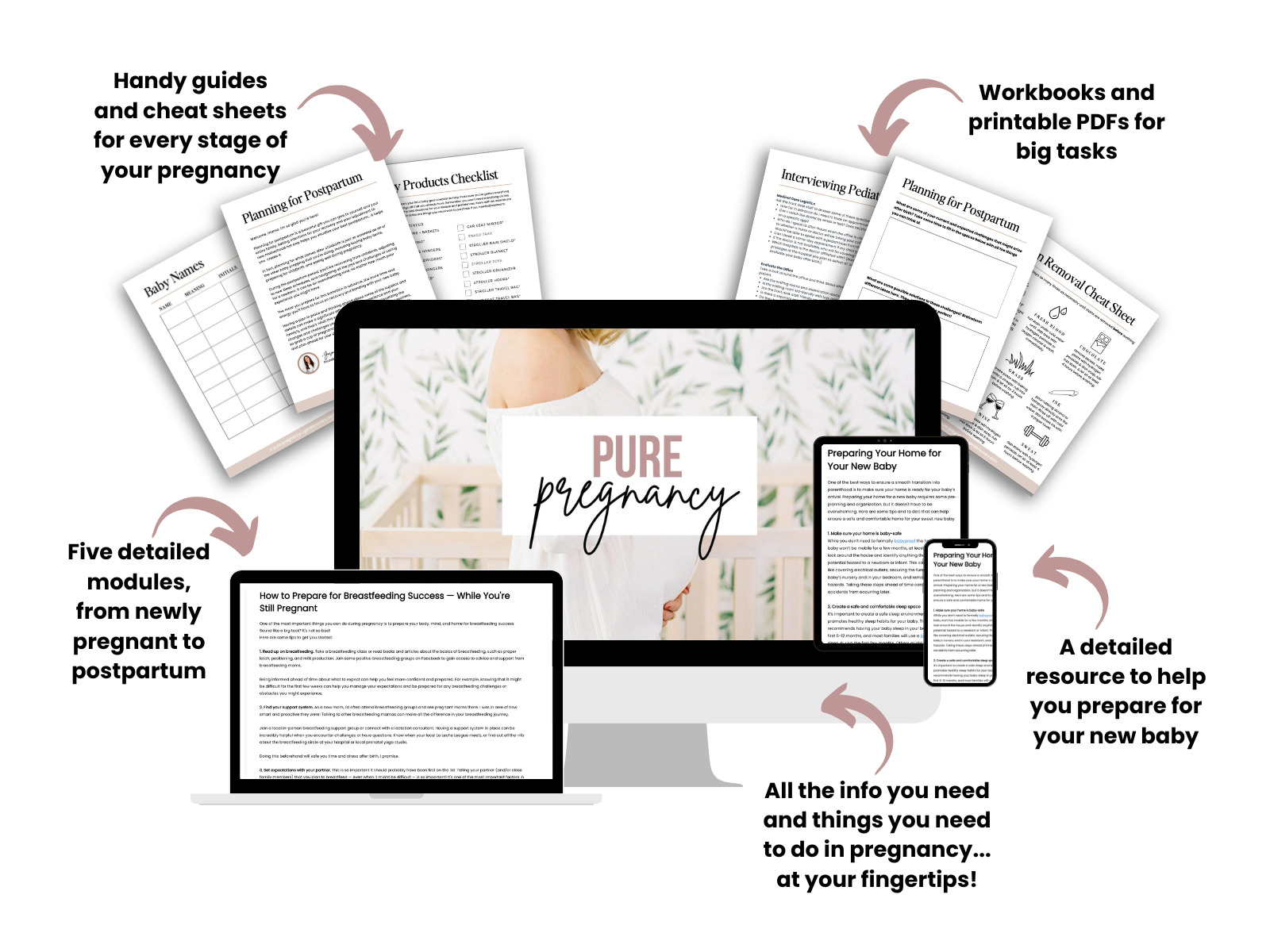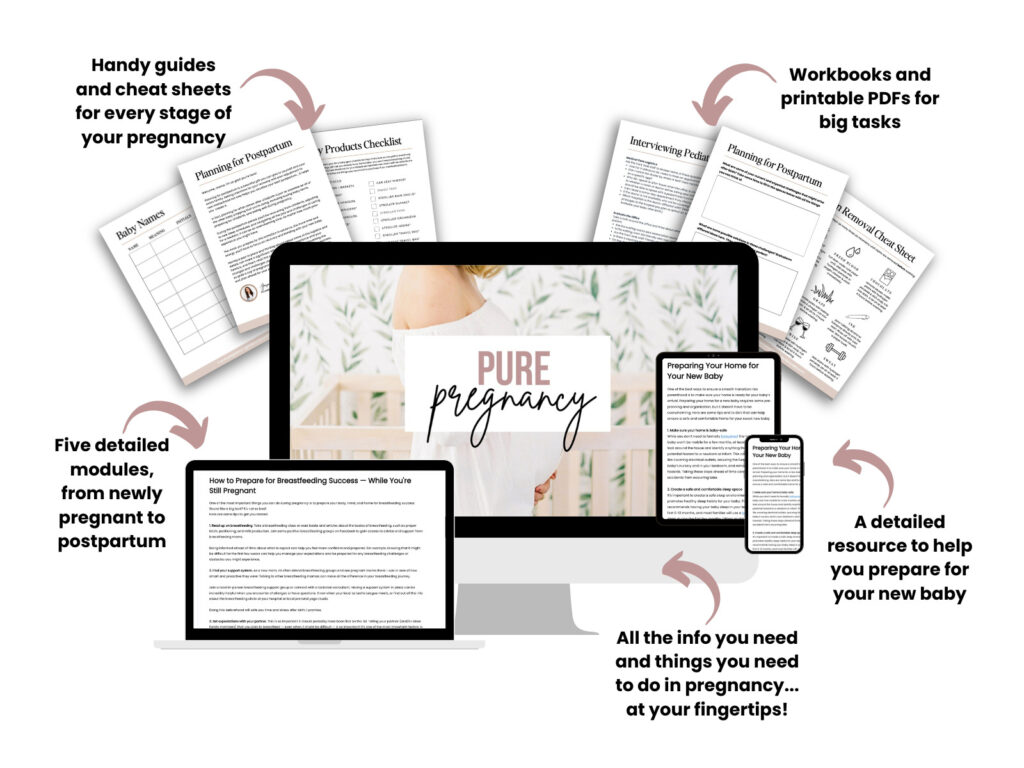 Learn More