Pregnancy hacks are the little tips and tricks one pregnant mama passes down to another.
Because, as much as pregnancy is miraculous, it also comes with its own set of challenges, including nausea, swelling, constipation, and everything in between. In other words, bump life is beautiful but some parts of pregnancy aren't so glamorous.
Of course, pregnancy and childbirth are 100% worth it, or I wouldn't be sitting here with two kids and thinking about more. After both my pregnancies, I discovered a few genius pregnancy hacks that seriously made my life a bit easier.
Let me share my favorite all-natural pregnancy hacks with you!
1. Keep high-protein snacks handy 24/7
Pregnancy hunger is real. And if you have nausea or morning sickness, you'll double want to avoid an empty stomach (an empty stomach triggers that nausea and makes it so much worse). So I recommend keeping snacks on your nightstand so that you can fight morning sickness before even getting out of bed.
Try eating a snack you can tolerate when you wake up in the morning to keep the queasiness at bay. I have heard some mamas rely on pretzels or crackers but I always found it more helpful to have protein in my system. (And in general, I try to consume a high-protein meal or prenatal protein shake within an hour of waking even when I'm not pregnant.)
So I kept everything from protein bars and trail mix to almonds or the occasional peanut butter sandwich on my nightstand and in my purse. And as my pregnancy progressed, I was ok with dried fruit, popcorn, or a banana. But in the first trimester especially, I really needed that regular boost of protein to help start my day.
2. Use body pillows for a better night's sleep
Sleeping on your side is typically recommended during pregnancy, and sleep can become even harder as you progress through your pregnancy. Try placing a pillow under your bump and put one between your knees for after added support and comfort. It doesn't need to be a pregnancy pillow, either. I personally only used a body pillow my entire pregnancy and it was heavenly.
I honestly used whatever body pillow I could find at my local Target (don't forget to buy a cover!) but in an ideal world I would have bought a luxurious organic body pillow.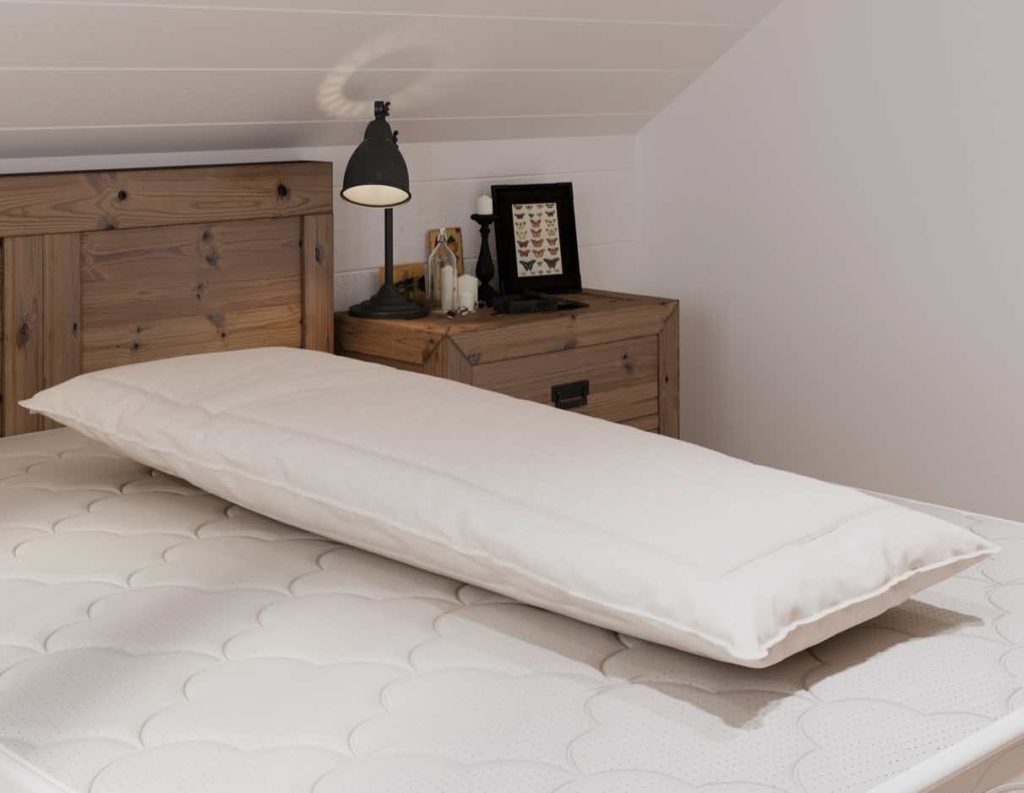 Buy on Lifekind
Related: 10+ Household Chemicals to Avoid During Pregnancy
3. Apple cider vinegar will knock out your pregnancy heartburn
Heartburn is a reality during pregnancy, and it can keep you up at night. Aside from staying away from spicy food, try drinking a bit of apple cider vinegar. It might not be that easy to stomach, but ACV is one of the easiest home remedies to get rid of heartburn. I like to dilute mine in water and take it as a shot.
The highest quality ACV you can take is Bragg's organic ACV with the mother. I've also seen a version at Trader Joe's but I'm always partial to Bragg's.
4. Magnesium can help with… everything
Pregnancy swelling, constipation, and insomnia are things most of us have had to deal with throughout our pregnancies. A straightforward solution is to soak your feet in Epsom salts or Dead Sea salt water. All you need is a large bowl or a bucket. Or do what I do and fill your bathtub with a couple inches of warm water, throw in a cup of Epsom salts, and soak your feet.
Another bonus is that magnesium is so useful during pregnancy. By taking an Epsom salt bath or soak, you're soaking up magnesium sulfate, which is so essential in the body that it is what hospitals give to try to stop preterm labor (of course, in much higher doses). So being on top of your magnesium intake during pregnancy is one of the smartest pregnancy hacks if you ask me! If you're not finding time to take a soak, try a magnesium oil spray instead.
Buy on Amazon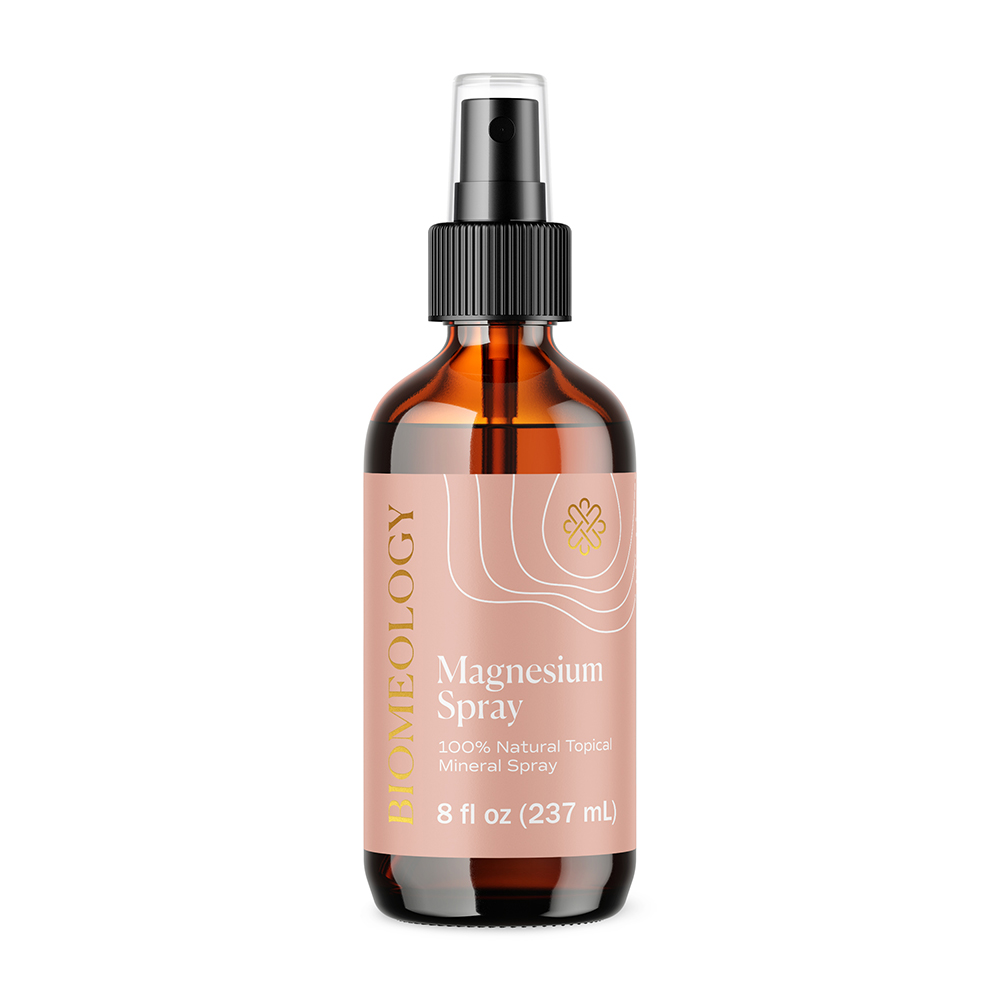 Buy on Amazon
5. Don't overlook your gut health during pregnancy
Your gut health during pregnancy is so influential to the health of your baby that it is wise to eat fermented foods (if you can tolerate them), take high-quality prenatal probiotics, and eat a diverse range of fruits and vegetables. Exercise helps too! Paying attention to your gut health during pregnancy can pay off in many ways, including passing off a better microbiome to your baby and reducing the risk of pregnancy complications.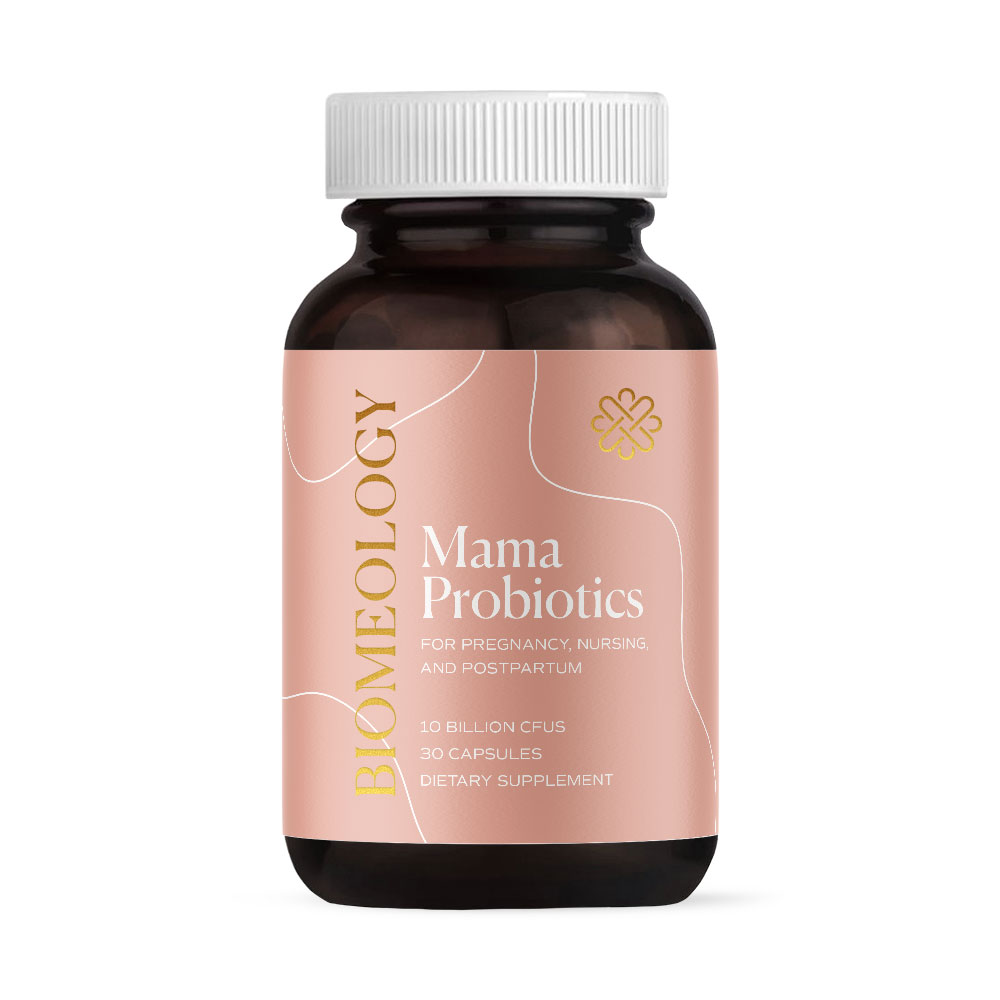 Buy on Amazon | Biomeology
6. Combat itchy skin with coconut oil or tallow balm
My stomach started itching a lot during my second pregnancy. I felt ridiculous, standing around, scratching my stomach but as my bellew grew larger and my skin stretched, it became really uncomfortable!
The solution was already things I had on hand — coconut oil, tallow balm, and good hydration. I slathered it all over my belly, and it helped keep all of the itchiness at bay. I felt so much better and definitely recommend moisturizing your bump if it starts to get itchy, as well as drinking lots of water.
Buy on Toups & Co.
7. Make your own cold packs for postpartum healing
One of the best pregnancy hacks I ever came across was the idea of making padsicles. These are basically maxi pads that are soaked in witch hazel, aloe vera, and other healing ingredients that you can wear the first few days after giving birth. They are fantastic for healing and soothing a sore or torn perineum and much more comfortable than the bulky cold packs the hospital would send you home with.
I recommend making about 20 padsicles for postpartum healing and storing them in your freezer until you're ready to use them.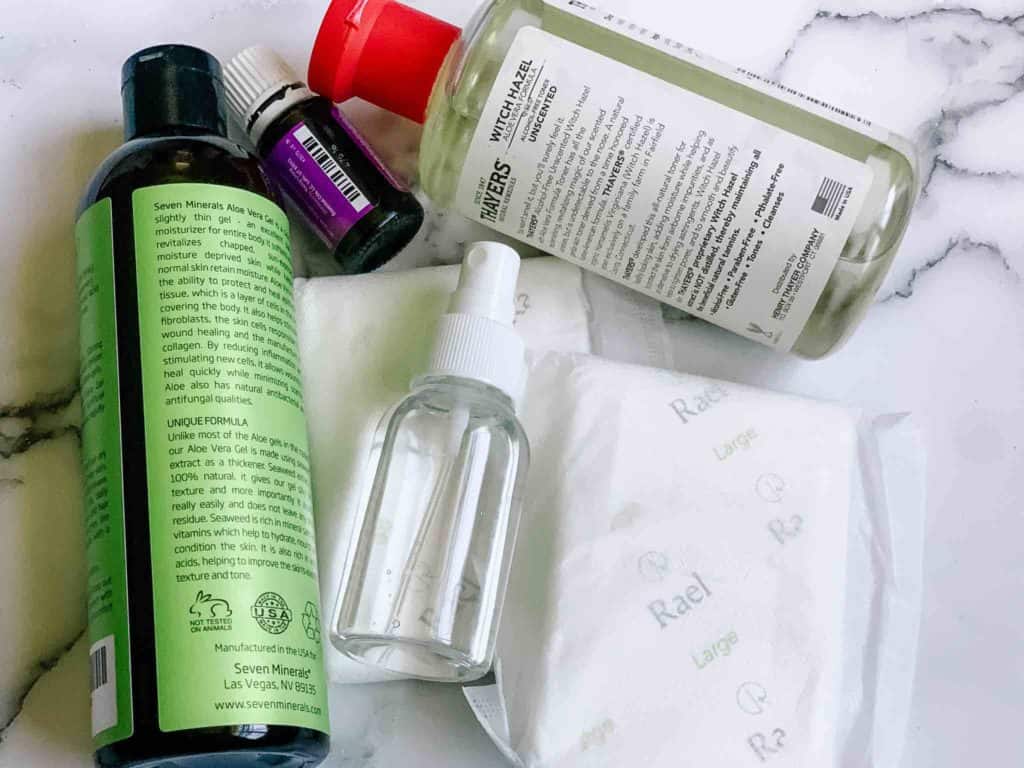 8. Hydrate, hydrate, hydrate — but not only with water
We've all heard how important it is to drink water during pregnancy. I mean, I practically walked around with my huge water bottle and refilled it multiple times each day. Definitely keep a water bottle with you at all times so that you can stay as hydrated as you can.
Buy on Amazon
Sometimes, drinking all of that water can be tedious. You want some different tastes in your life! So, stay hydrated by eating high-water content foods. Radishes, watermelon, and cucumbers are three examples of foods that will contribute to your hydration without actually requiring you to drink anything.
BUT, you may also want to mix up your beverages and sip on some other nutrient-packed beverages such as coconut water and meat or bone broth throughout the day. Coconut water is full of electrolytes and very hydrating. Not to mention, it's delicious!
Broth is going to be high in protein and nutrients, and it's also a great source of glycine which is a necessary amino acid. You can either make your own meat broth or heat up some premade bone broth from a trusted company like Kettle & Fire.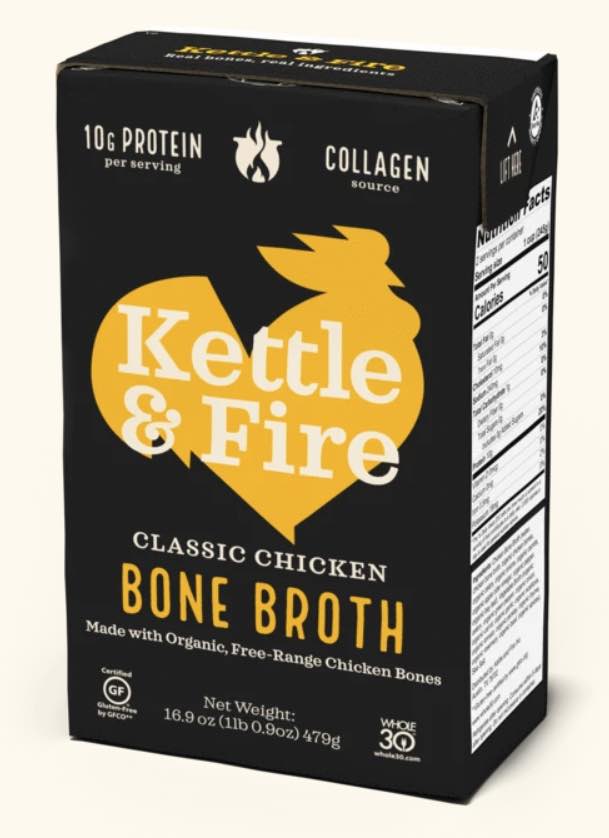 Buy on Kettle & Fire
9. Please BUY the maternity pants
I know that the internet will tell you to extend the life of your regular jeans with an elastic hairband or a belly band. These are great ideas for the first few weeks of your pregnancy. But, mama, I suggest switching into maternity pants the second you think you need them instead of trying to see how long you can avoid them.
Eventually, you'll need maternity pants, so get your money's worth. Plus, they're more comfortable and you are growing a human being so YOU DESERVE NICE PANTS!
Here are some great places to shop for maternity clothes — for all budget types:
10. Make ahead some freezer meals
As you get closer to your due date, you'll want to start thinking ahead to what you'll be eating after giving birth. During those first few weeks at home, life can be a total blur, and making dinner may not ever bubble up to being the top priority. This is where freezer meals can come into play! Make ahead some freezer meals for postpartum so that they'll be ready to go into the oven or on the stove — with minimal effort.
I also recommend adding in some dairy-free freezer meals and making note of some of your favorite restaurants for takeout. I literally have a note saved on my phone with a list of restaurants that we can order from. It's actually so helpful to have this list ready to go because I often remember restaurants I wouldn't have otherwise thought of.
11. Eat a banana daily during pregnancy
I used to wake up and have horrible leg cramps during pregnancy. Then, my mom suggested that I eat a banana, which seemed like a long shot. I heard that it worked, but I was skeptical. The leg cramps were so bad that I decided to give it a try. Sure enough, it worked. The potassium in bananas helps to ease unwanted leg cramps. Aren't all leg cramps unwanted? So, keep bananas on stock and eat one before you go to bed. It's a great pre-bedtime snack anyway!
12. Low on iron? Try this!
If you're low on iron you can do a couple of things to boost your levels aside from taking a traditional iron supplement (which may constipate you). Start cooking with cast iron and take dessicated liver.
Buy on Amazon
One of my least favorite things is organ meats. I just do not have the stomach for liver. But I benefit greatly from taking dessicated liver and I would definitely take it during pregnancy if I needed to up my iron levels. In the past I had taken Mega Food's blood builder but I would definitely use liver pills if I could do it over again. (Check with your care provider if you're anemic or can safely take these.)
Buy on Amazon
13. Plan ahead for your postpartum recovery
It's so easy to forget your own needs after having a baby, but postpartum planning shouldn't be overlooked. By creating a postpartum care kit for yourself while you're still pregnant, you can help set yourself up for postpartum success. Gather all of the recommended items and have them ready to go before you give birth; trust me, this will make a huge difference in your recovery, wellbeing, and healing.
While we're on the subject, let's give a shoutout to postpartum sitz baths, too. And if you plan to use one, shop ahead for a postpartum girdle. You'll be so much better off if you plan ahead!
14. Support your growing bump with kinesio tape
As your bump grows, you may feel some aches and pains in your back or in your pelvis. If it happens consistently enough, taping your belly with kinesio tape can be really helpful and provide extra support and relief.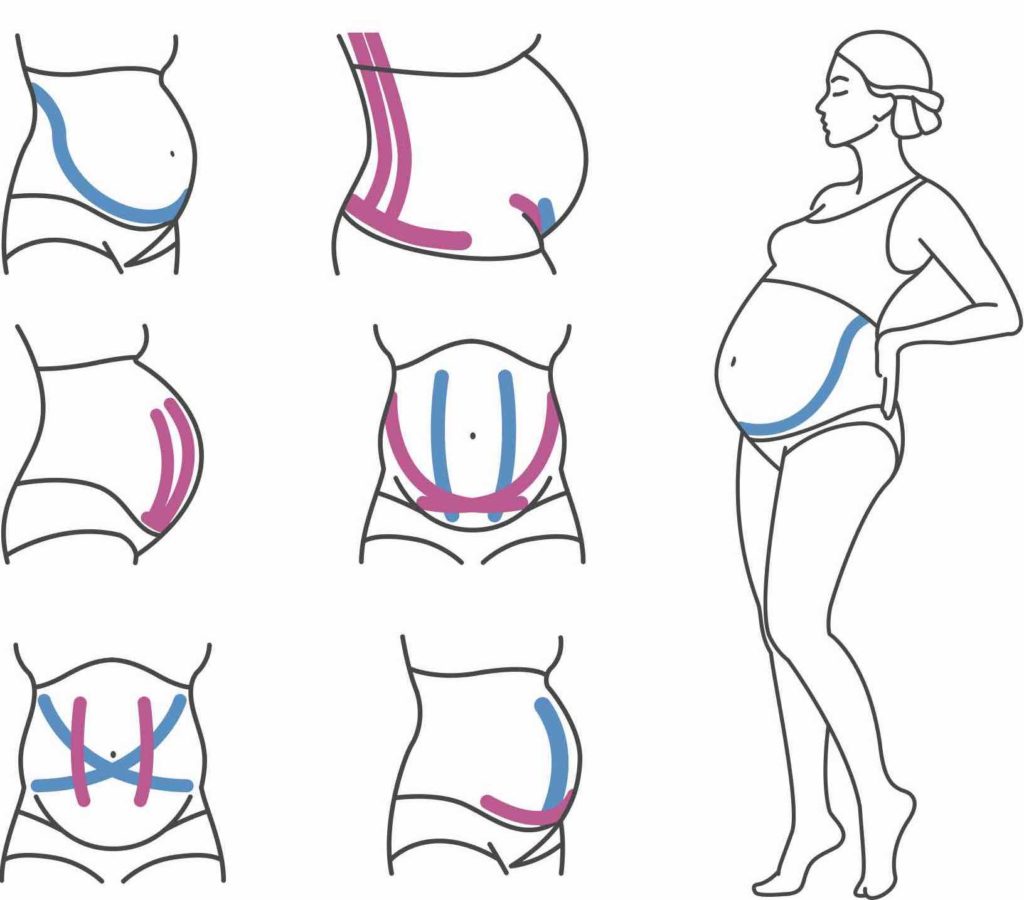 15. See a qualified prenatal chiropractor
I saw a chiropractor throughout both of my pregnancies and it was such a life-saver! Not only was it helpful with supporting labor (and getting labor to start) but it helped me so much with my pregnancy insomnia and general discomforts.
Try these pregnancy hacks, mama
Pregnancy is a lovely time in your life, but it can be tough at times. Trying some of these hacks for pregnancy can make your bump life just a bit easier. Whether you can reduce nausea or reduce the swelling in your feet, sometimes, all you need is a little help to make life easier and more comfortable.
You Might Also Be Interested In: