Constipation during pregnancy is unfortunately very common. Between hormonal changes and the increasing pressure on your colon from your growing baby, constipation can happen both early and later in pregnancy, making it just part of the journey.
While constipation can resemble a general feeling of being full or bloated, it can also lead to painful hemorrhoids and gas. Luckily, there are a number of natural remedies you can try for relief, many of which you can try right away!
What Causes Constipation During Pregnancy?
Constipation is a symptom that more than half of all pregnant women will deal with at least some point during their 9 months of pregnancy. It's defined as not having a bowel movement for more than three days, stomach discomfort and bloating, passing of hard stools, straining when trying to use the bathroom, and/or an incomplete feeling after a bowel movement.
In short, it's quite uncomfortable. And if you're here, you probably already have a pretty good idea of what we're talking about. The worst part is that persistent constipation can lead to even more uncomfortable (and common) pregnancy symptoms like hemorrhoids.
So why is constipation so common in pregnancy? The rising levels of progesterone in your body actually cause the muscles in your body to relax and ultimately, slow gut motility. Combine this with a growing baby that shifts your organs' positions and compresses the colon and you've got slower digestions, trapped gas, and a whole lot of discomfort.
Additionally, some women are more sensitive to the iron in their prenatal vitamins than others, and this iron can cause constipation issues. If this could be the case for you, and you don't have low iron levels, talk to your provider about switching to a prenatal with low, absorbable iron.
When Does Pregnancy Constipation Occur?
Constipation can (and often does) occur at any point during pregnancy, but for most mamas, it seems to be a hallmark of the first trimester. Between weeks 6 and 8 of pregnancy, your progesterone levels really start to climb, and constipation begins to creep in. Actually, a lot of mamas who think they have an early baby bump going on are actually just dealing with bloat thanks to all that progesterone!
And, as your pregnancy progresses, your growing baby puts increasing pressure on your digestive tract, which can cause pregnancy-related constipation to come and go throughout all three trimesters. Fun, I know.
Related: The Best Pregnancy Books for a Healthy and Mindful Pregnancy
10 Natural Remedies to Get Things Moving Again
Luckily, you've got a lot of options when it comes to addressing constipation during pregnancy. Some of these things can be used acutely during a particularly uncomfortable stretch of days, but many of them are things you can incorporate into your daily routine to keep constipation at bay.
Healthy, consistent habits are the cornerstone to relieving most pregnancy discomforts, and constipation is no different. So, without further ado, let's find out what you can start doing to keep things regular!
1. Start With Prunes
Prunes, which are dried plums, are known for their constipation fighting powers. In their whole form, they contain high levels of fiber and sorbitol, which has a laxative effect. Prune juice doesn't contain the same high fiber content as dried prunes, but the sorbitol is still super effective for most people.
Interestingly, the use of prunes and prune juice for constipation relief has been studied widely, and they are proven to be more effective than psyllium in managing constipation.
So, if you're dealing with constipation, experts recommend drinking a 6 to 8 oz glass of prune juice in the morning to stimulate a bowel movement. If you decide to eat prunes, shoot for 6 prunes (a complete serving). Remember to eat your prunes with a big glass of water for proper hydration.
2. Stay Hydrated
Hydration is absolutely key for combating constipation in pregnancy. With proper hydration, stools are softer and can pass through more easily. Warm liquids can also help stimulate a bowel movement, so turning to herbal teas and warm water might help even more. The current recommendation is 8-10 glasses of water per day. Constipation aside, hydration is important for supporting your growing baby, so drink up! One way to stay on top of your water intake is to always carry a stainless steel water bottle with you wherever you go.
3. Take a Prenatal Probiotic
When it comes to alleviating constipation and preventing it in the future, probiotics can be very effective! As you may know, research surrounding the benefits of probiotics is rapidly growing, and the evidence for digestive health is promising.
There have been two research studies that show the effectiveness of probiotics on pregnancy constipation. Both studies showed that pregnant women who take a probiotic daily had an increase in the number of bowel movements each week.
Of course, there are several other benefits to probiotics during pregnancy. Learn more about adding a prenatal probiotic specially formulated for pregnant and breastfeeding mamas.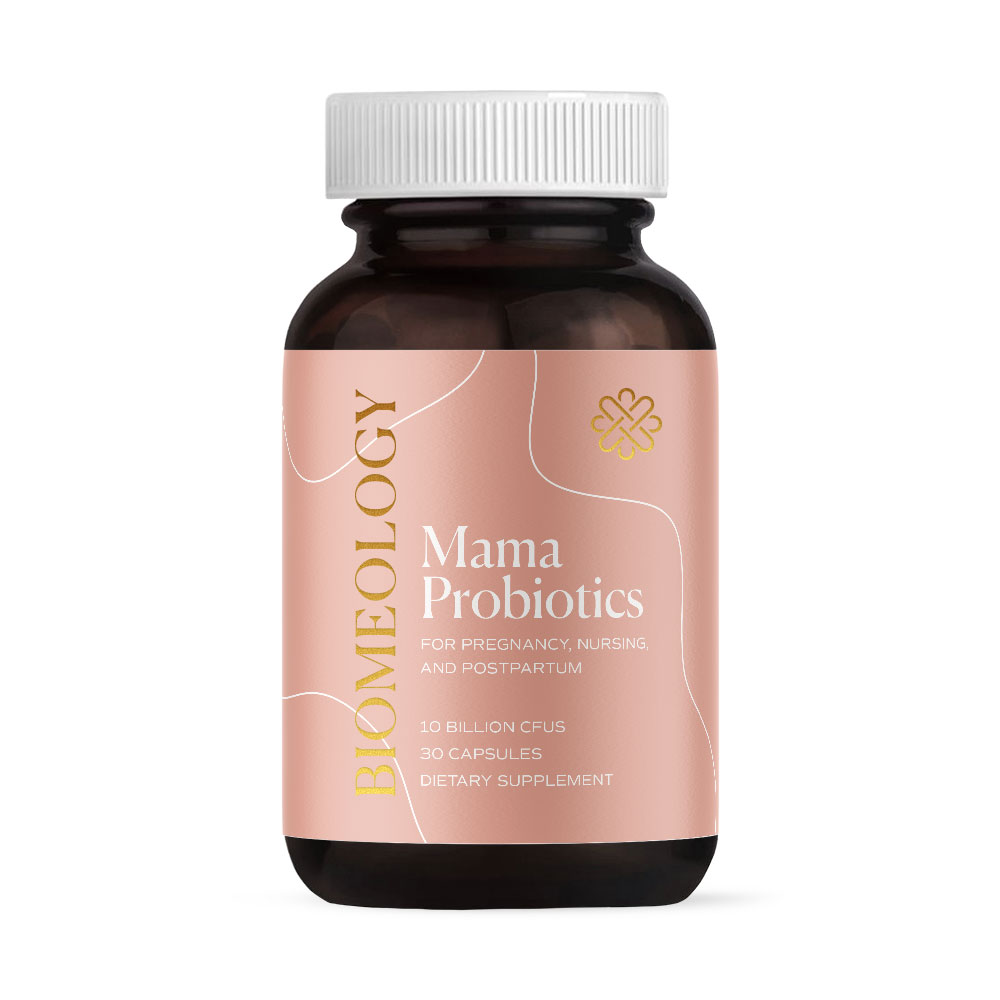 Related: Optimize Your Gut Health With Biomeology Prenatal Probiotics
4. Drink Warm Lemon Water
Warm liquids pack a double punch when it comes to constipation relief: they hydrate, and they work to stimulate a bowel movement. Before putting anything else in your body, try to sip on warm lemon water each morning.
I swear by this routine to promote regularity. The added lemon contains vitamin C, which works to pull water into the gut and may help to soften stools as well. It's definitely worth a try!
5. Put a Dash of Pink Himalayan Salt In Your Water
There is evidence that pink Himalayan salt can be used in water to relieve constipation. Sea salt has a diuretic effect that aims to clear out the colon. For most pregnant women, it's probably safe to try this natural laxative technique, but it's always best to consult with your provider just in case.
To try it, you should add 1-2 teaspoons of pink Himalayan salt to one liter of water. Then, drink the water in a short period of time, ideally on an empty stomach. It's said that when you do this, you will have multiple bowel movements and clear out your system.
6. Chiropractic Care
Chiropractic care is a wonderful supplement to standard prenatal care during pregnancy. Chiropractors who have trained to work with pregnant patients can effectively relieve tension in the muscles around your organs to improve gut motility and give you some relief.
7. Increase Your Fiber Intake
It's no secret that fiber is one of your best lines of defense against constipation. Focusing on a healthy diet during pregnancy is important for a number of reasons! We all want to make sure our babies and our bodies are getting everything they need during these nine months.
In addition to adequate nutrition for growing a baby, fruits and vegetables are some of the best sources of fiber out there. They also have high water content which helps with hydration, too. Experts recommend pregnant women aim for 25-30 grams of fiber each day.
8. Drink Coconut Water
While there have not been any formal studies, many people love their coconut water. It seems to be a powerhouse when it comes to addressing pregnancy constipation. Not only will it help you reach your daily hydration goal, but coconut water contains magnesium and other bioactive enzymes that can have a natural laxative effect.
9. Psyllium Husk
Adding a daily fiber supplement to your diet is a great way to promote regularity and avoid constipation. It can also help address an acute bout of constipation, too! Psyllium husk is a wonderful, natural fiber supplement that's safe to use during pregnancy.
The key to psyllium husk supplements is to make sure you are drinking lots of water when using it. Psyllium works to soften and stimulate your bowel movements. You can get psyllium husk in a powder form and add it to your water, juice, or smoothie.
10. Up Your Magnesium Intake
Magnesium works really well to support regularity and you can increase your intake in a few different ways:
11. Try a Gentle Laxative
If you are dealing with a particularly frustrating bout of constipation, you might need to use a treatment for acute relief. In this case, doctors will usually recommend the gentle laxative magnesium hydroxide.
This works to draw water into your bowel to soften and help the stool move through your intestine. Most women will feel relief within 1 to 6 hours of taking the recommended dose.
This is a gentle yet effective laxative. As long as you follow recommended dosage, you shouldn't have any issues with emergencies or accidents. Remember, this remedy is best used for isolated incidents of constipation. Use some of the daily suggestions on this list to promote regularity.
Related: 8 Reasons to Drink Red Raspberry Leaf Tea During Pregnancy
Constipation Relief is on The Way!
I know that constipation during pregnancy is a serious challenge. That full, backed-up feeling that comes along with constipation is even more frustrating when there's a baby growing in there, too! The worst part is that it happens to so many of us at all different stages of pregnancy.
The good news is that with these natural remedies, you should be able to find some relief. Try to incorporate some of these tips into your daily routine. Remember that one of the best ways to keep constipation away is healthy habits that target prevention!
FAQs
Got more questions about constipation during pregnancy? Read on!
Are over-the-counter stool softeners safe during pregnancy?
In general, some stool softeners are considered safe during pregnancy. As you might guess, medications are not long-term solutions to constipation. Lifestyle and diet changes will be your best bet. However, for acute relief, a stool softener might be a good way to go. Always talk to your doctor before taking any medication.
Can constipation hurt my pregnancy?
No, not normally. Generally speaking, constipation is just par for the course. However, if you have blood in your stool or are in pain, always reach out to your OB! That's what they are there for!
Can exercise help constipation?
Yes! Just general movement can help constipation. Whether you walk, stretch, or jog, getting your body moving can help your digestive tract stay healthy. It helps to stimulate the nervous system, which, in turn, can help the gut to work better.
What foods are high in fiber?
If you're looking to increase your fiber intake, definitely scope out the right foods! These include veggies (peas, broccoli, green beans, spinach), fruits (pears, apples, raspberries), legumes (lentils, pinto beans, black beans, chickpeas), and whole grains (brown rice, quinoa, barley).
What foods should I avoid if I'm constipated?
There are a few food types you might back off of or eat in moderation. Sometimes if you are eating a lot of foods high in calcium, this can contribute to constipation. This includes cheese, milk, and yogurts. Other foods include refined grains like white bread, cereals, and pasta; high-fat foods that are fried; and refined sugars found in sweet treats like cupcakes, cookies, and ice cream. All of these food types are hard to digest and can slow things down. While it's not necessary to omit these foods from your diet entirely, it's good to be aware and make adjustments as necessary.
How can I avoid constipation during pregnancy?
Preventative measures will always include diet and exercise. That said, sometimes you can't entirely prevent constipation related to pregnancy since it is primarily hormonally-driven. Thanks, Progesterone! The best thing you can do is live as healthy as possible, keep your body moving, and try some of the remedies listed above!
What other things can I do to avoid feeling bloated?
Even if you're not super constipated, pregnancy can make you feel gassy and bloated. Try sticking to mini-meals (small portions several times per day). Also, make sure you don't ignore or delay going to the bathroom. If you feel the need to go, go! Delaying can put unnecessary strain on your bladder and bowels. Also, don't forget those Kegels! You'll hear this preached throughout pregnancy, but especially if you deal with constipation.
Have another natural remedy for constipation I forgot? I'd love to hear from you below!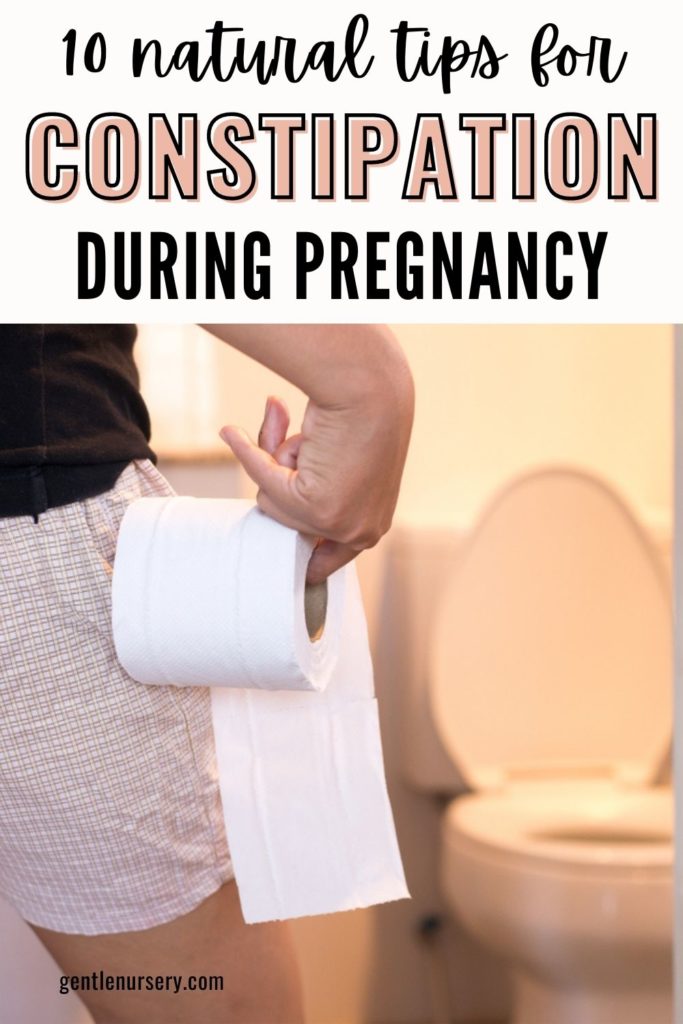 Want more support during your pregnancy?
Join PURE Pregnancy, my holistic pregnancy guide. Have your best, most prepared pregnancy… starting today!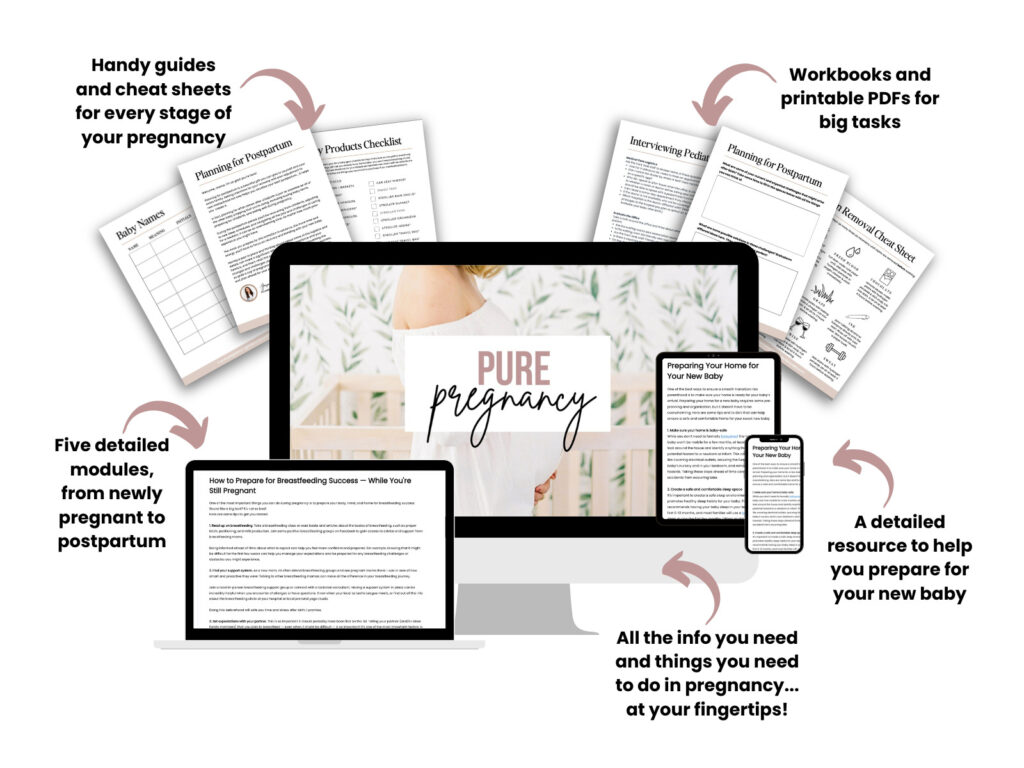 Learn More