You probably know that raspberries are antioxidant powerhouses. But you might not know that the leaves of the raspberry plants are also beneficial, which is why many women drink red raspberry leaf tea during pregnancy.
Loaded with vitamins and antioxidants, red raspberry leaves offer a host of health benefits for women of all ages and stages, including during pregnancy.
While using red raspberry leaf tea is a historic herbal remedy for women's health, it's more recently gained more interest among researchers and consumers. Studies show that red raspberry leaves have antioxidant, anti-inflammatory, cardioprotective, immune-boosting, and neuroprotective properties.
Red raspberry leaf tea is a very nutrient-dense herbal drink that is rich in vitamins B1, B3, C, E, calcium, iron, potassium, and magnesium.
The tea itself is made from the crushed dried raspberry leaves and makes for a soothing cup of tea. The one element of surprise by many is that red raspberry leaf tea does not taste like raspberries! It's more similar to black tea, which is still very good – just not fruity.
Note: It is not recommended that you drink red raspberry leaf tea until your second trimester.
Related: Pregnant? Optimize Your Gut Health!
8 Benefits of Red Raspberry Leaf Tea For Pregnancy, Childbirth, and Postpartum
Red raspberry leaf tea is recommended by midwives, herbalists, and other women's health providers for use during pregnancy. It's known to relieve menstrual cramps, lessen PMS symptoms, promote fertility, balance hormones, and improve reproductive health. It is also associated with an increase in breastmilk supply.
Most of the popularity around its use is specifically geared towards pregnancy, birth, and the postpartum period. The concept behind drinking red raspberry leaf tea is that it can tone and prepare your uterus for delivery. This results in more effective contractions and spontaneous labor, both of which prevent the need for medical induction, birth interventions, and unplanned c-sections.
Surprisingly, there haven't been a huge number of studies on this very popular herbal recommendation for pregnancies. Largely, recommendations are based on anecdotal but convincing evidence. And many women use it to benefit their pregnancies and deliveries in a variety of ways.
1. It May Shorten the Second Stage of Labor
A study published in the Journal of Midwifery Women's Health found that women who regularly consumed red raspberry leaves had a shorter second stage of labor than the control group. As a reminder, the second stage of labor is the pushing part, and anything that might shorten that is considered a win by most mamas!
2. Red Raspberry Leaf Tea May Prevent Preterm Birth
Another study on red raspberry leaf tea used during pregnancy found that women who consumed the herb during their pregnancies might have a decreased risk for preterm labor.
3. It May Prevent the Need for Artificial Induction and Naturally Induce Labor
Red raspberry leaf tea is probably most known for its potential to naturally induce labor. And research supports that! Mamas who regularly drink red raspberry leaf tea during their third trimesters are more likely to go into labor spontaneously. This means they are less likely to receive an artificial rupture of their membranes.
What's more, you can brew very strong red raspberry leaf tea once you reach your due date to try to initiate contractions and induce labor naturally. Anecdotally there is a lot of support for this method!
4. It May Lower the Rate of Forceps During Delivery
Researchers found that the use of red raspberry leaf is associated with a lower likelihood of the use of forceps or vacuum during birth. This is especially good news for mamas hoping to have a natural birth.
5. It May Decrease the Risk of Unplanned C-Sections
The same study found that mamas who consumed red raspberry leaf tea regularly during pregnancy had lower instances of unplanned C-section. While the study didn't explain why, we can hypothesize that it's because a toned uterus can contract more effectively and prevent the cascade of interventions that can occur during birth.
6. It May Reduce Pain During Labor and Postpartum Recovery
While this claim isn't supported by research, anecdotally red raspberry leaf tea can reduce the pain of labor and postpartum healing. The idea is that well-toned uterine muscles will make for a shorter, less painful birth.
Red raspberry leaf will also help your uterus contract back to its pre-pregnancy size after birth more effectively and aid in postpartum healing.
Related: 11 Powerful Birth Affirmations
7. It Helps to Balance Postpartum Hormones
Red raspberry leaf tea is commonly recommended by herbalists, women's health providers, and naturopaths to balance female hormones. In some cases, this is to promote fertility or ease symptoms related to PMS or PCOS, but it can also be effective after birth.
Postpartum hormones often put mamas on an intense roller coaster of emotions. Continuing to consume red raspberry leaf tea following delivery might help your hormones balance out more quickly.
8. And It Can Increase Milk Supply
Another benefit to postpartum consumption of red raspberry leaf tea is that it can be considered a galactagogue. It promotes lactation! Studies indicate that herbs purported as a galactagogue can help to increase your milk supply.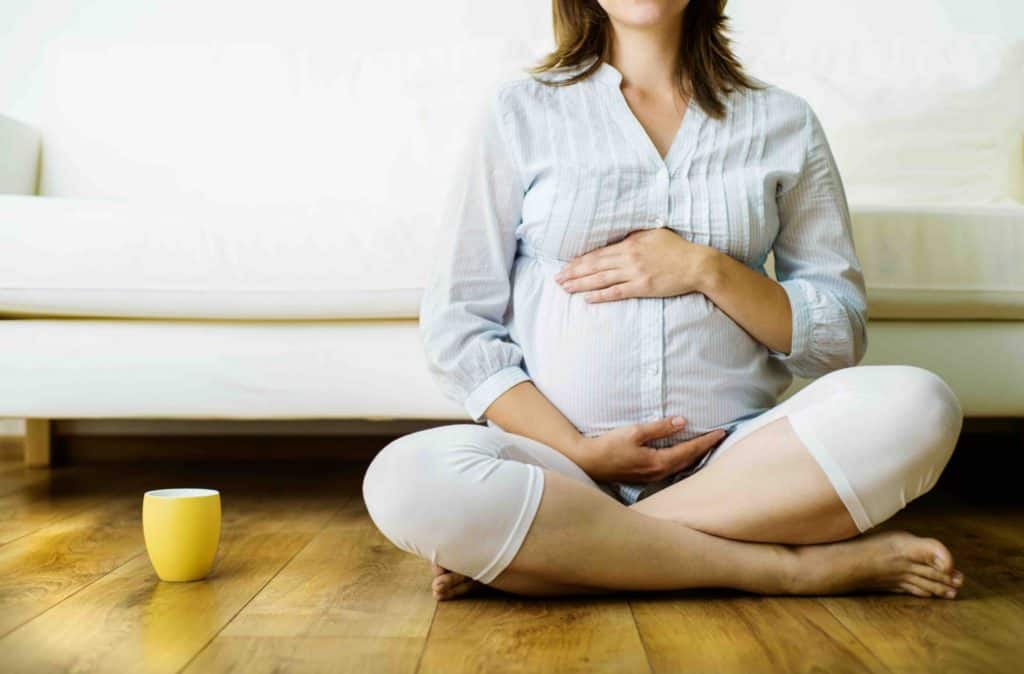 How to Use Red Raspberry Leaf Tea in Pregnancy
Most experts discourage the use of red raspberry leaf tea during the first trimester because there is the possibility of it stimulating contractions and causing a miscarriage.
However, you'd likely need to be drinking very large quantities of the tea for there to be a risk. That said, it's always best to err on the side of caution and hold off until the second trimester. That's when I personally start drinking my red raspberry leaf tea, and even then in controlled quantities.
Once you reach week 14 of pregnancy, and the risk of miscarriage decreases, it's usually considered safe to begin consuming one cup of red raspberry leaf tea daily. Before you do this, discuss your decision with your midwife or OB/GYN to get the thumbs up from your provider.
Beginning a ritual of a daily cup of red raspberry leaf tea will start toning your uterus and allow you to reap the other benefits of this super-tea. If you feel any cramping when you consume the tea, it's recommended to stop consumption and try again in a few weeks.
Some mamas wait until the third trimester just to be safe. Once you are in your third trimester, you can increase to two cups of tea per day until your due date.
How to Make Red Raspberry Leaf Tea
Use one tablespoon of loose red raspberry leaf tea for every cup of boiling water.
Allow the tea to steep for 10 to 15 minutes for maximum benefits.
You can sweeten your tea with honey or maple syrup.
Feel free to add a splash of almond milk, coconut milk, or any other organic creamer.
Once you reach your due date, you can make a stronger brew of red raspberry leaf tea to try to naturally induce labor.
The Best Red Raspberry Leaf Tea Brands
When choosing your red raspberry leaf tea, be sure you are not getting raspberry flavored tea. This is a different product and will not have the desired effect. It's best to opt for a quality organic, loose leaf tea to avoid any potential exposure to toxins.
You can choose to buy your red raspberry leaf tea in bulk and use a reusable tea strainer, or get pre-made tea bags for convenience. Here are three brands that I like and trust:
Buy on Amazon
This is an herbal blend containing red raspberry leaf, cinnamon, allspice, and hibiscus. This container contains 3.5 ounces or roughly 30 servings. Be sure to get a tea strainer to go with it! It's a bit of a splurge, but the blend is sure to be a delicious way to get your daily cups of tea in.
Buy on Amazon
This is a 2.2-pound bag of dried, cut, and sifted organic red raspberry leaf tea. That's a little over 35 ounces of tea (or roughly 300 servings!) This is your value option, mama! By buying in bulk you can continue to sip your tea postpartum and beyond. This option also requires a tea strainer.
Buy on Amazon
This tea contains only organic red raspberry leaves and comes conveniently packaged into 16 individual tea bags. This makes it easy to keep in your desk at work or take on-the-go!
Side Effects of Red Raspberry Leaf Tea Use in Pregnancy
While studies are very limited, one study concluded its safety during pregnancy. Red raspberry leaf tea is considered safe for pregnant women in their second and third trimesters and while breastfeeding. As a general precaution, I always recommend talking to your doctor before you start to drink herbal teas. However, there are a few potential drawbacks to be aware of.
It can have a laxative effect and stimulate your bowels. If you are already having issues with diarrhea during pregnancy, it might make matters worse.
It may cause noticeable uterine cramping. When some women begin drinking this tea, they feel cramping or in rare cases see spotting. If this happens to you discontinue use until later in pregnancy.
May trigger a miscarriage in early pregnancy. Because red raspberry leaf can stimulate strong contraction, it's generally advised to avoid it during the first trimester.
Related: How to Create a Birth Plan
Put the Kettle On, Mama!
Enjoy your cup of daily red raspberry leaf tea and reap all of its benefits! Remember to limit your intake to one cup in the second trimester and gradually increase the amount in the third trimester to help your uterus prepare for birth. And don't forget that you can continue using it after your baby is born to help promote uterine healing for a quicker recovery.
---
FAQs About Using Red Raspberry Leaf Tea in Pregnancy
When should you start drinking red raspberry leaf tea?
You can begin drinking one cup of red raspberry leaf tea per day as early as the second trimester. By the time you are 32 weeks, work your way up to two cups per day to get the maximum benefits for labor. Remember, it's never too late to start!
Does red raspberry leaf tea induce labor?
There is no hard and fast research that supports this claim. But anecdotally many women for centuries have sworn by red raspberry leaf tea as a natural and successful labor induction method.
Does red raspberry leaf tea cause miscarriage?
It's advised to avoid red raspberry leaf tea during your first trimester because of its potential to trigger contractions when consumed in large quantities.
Does red raspberry leaf tea soften the cervix?
While this hasn't been proven, red raspberry leaf tea has been used for centuries to soften and prepare the cervix and uterus.
Who should not drink red raspberry leaf tea?
The first answer is always talk to your doctor before you take red leaf raspberry tea (or any herbal tea!) as a good measure of precaution and guidance. Most doctors will recommend against using red raspberry leaf tea if you are expecting twins, you have a history of premature labor, you've had vaginal bleeding during pregnancy, your baby is in a breech position, or you have a scheduled c-section.
How else can you prepare for labor?
In addition to a daily cup of red raspberry leaf tea to prepare your body for labor, you can:
Eat 4-6 dates per day in the four weeks before you are due. Research shows that it promotes spontaneous labor!
Do daily stretches to promote optimal fetal positioning. Spinning Babies is an excellent resource for this.
Go for daily walks.
Stay well hydrated.
Take prenatal probiotics to help optimize your gut health.
Take evening primrose oil.
See a Webster chiropractor.
If you're already in week 40, be sure to check out my entire list of 18 ways to induce labor naturally!