Looking for a fun and exciting way to announce your pregnancy on social media? Here are 27 creative pregnancy announcement ideas to choose from!
Announcing your pregnancy on social media is kind of a big deal, right?
Whether you decide to tell everyone right away or wait until the end of your first trimester, announcing can seem like a momentous occasion. It makes it so real to announce the big news to your circle of friends and family.
Don't stress too much about *how* you make the announcement. Honestly, you probably care more about how you announce the big news than everyone else (though it's nice to make it special—I'm a total pinterest mom). Just remember that your loved ones will be too excited about the new addition to the family to be concerned about how you announce it!
With that said, it is only understandable that you want to start your journey into parenthood right by choosing the best pregnancy announcement. Below, we've brainstormed 27 unique ways to announce your pregnancy to your family and friends. While each person's announcement is going to be unique, hopefully, this list will give you some ideas to think about.
Before You Announce on Social Media
In today's day and age, digitally sharing your pregnancy on social media is a big decision. Once it's out there, the news will spread fast and everyone will know that you're expecting. It can be a wonderful way to get your news out there to friends and family that are more distant, and share this exciting milestone in your life.
The biggest advice I have when it comes to announcing on social media is to make sure you have told everyone you want to in person before putting it on social platforms. This includes sharing with your hubby, close family, best friends, and probably your employer first.
For this reason, you might wait to post to Facebook, Twitter or Instagram until you are really showing. Another benefit to this is that if you choose to learn the gender you can include it in your social media announcement.
Then, have fun with it! Some mamas choose to take a hilarious photo, some share an early professional maternity shoot, many like to use letterboards or ultrasound pictures, incorporate pets, or older siblings.
The good news? It's your news, and there's no right or wrong way to do it.
27 Unique Ways to Announce Your Pregnancy on Social Media
Here are some ideas and examples for how you can digitally announce your pregnancy to friends and loved ones on social media. Have fun with this!
1. Post your sonogram
Super simple yet classic. Everyone will get the idea when you post a photo of your sonogram with your due date. Mission accomplished.
This is probably the easiest way to go, but don't write it off because it's simple. You'll still cherish the photos, especially if you can talk your partner into being in the photos with you.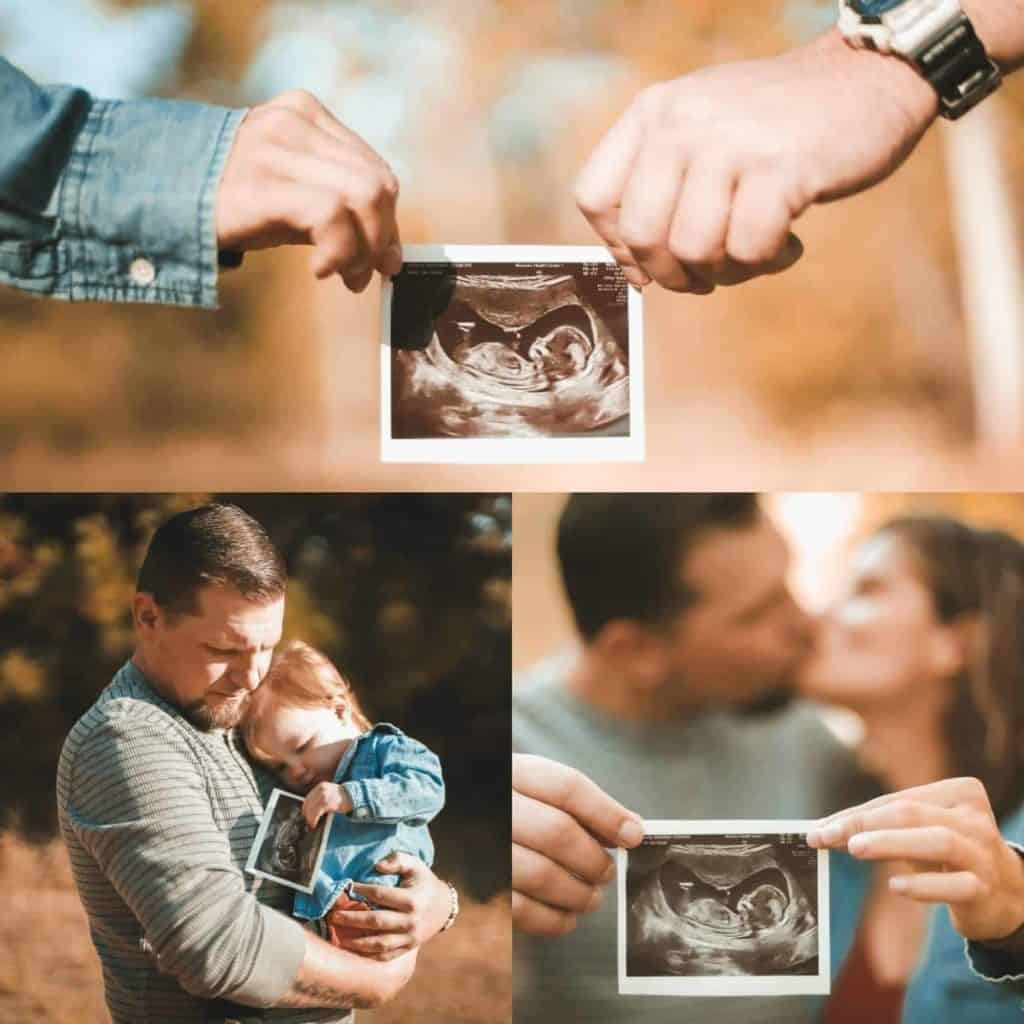 You can also tie in your own baby photos with your baby's sonogram.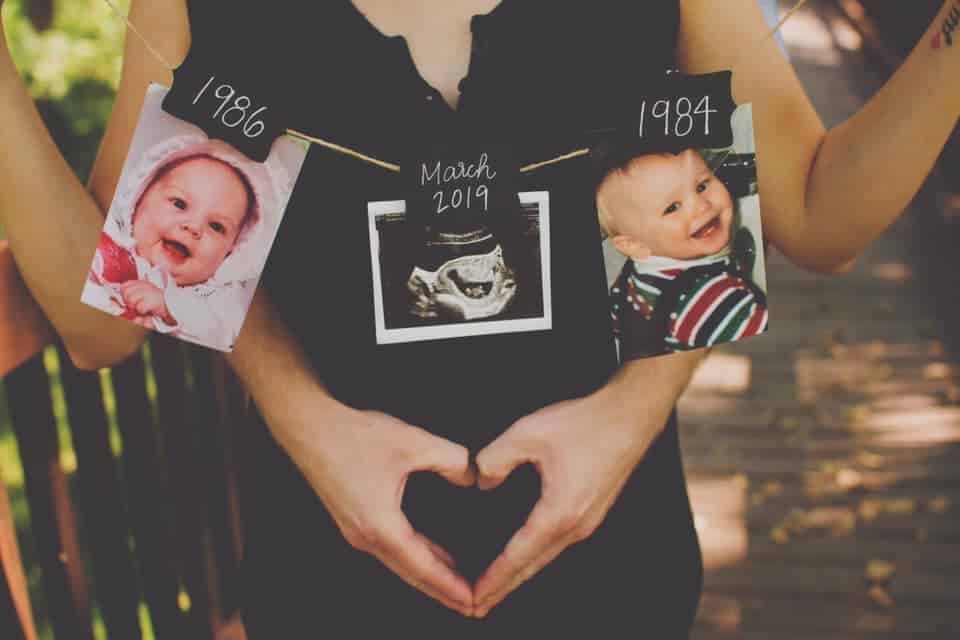 Or get the whole family involved in the sonogram announcement.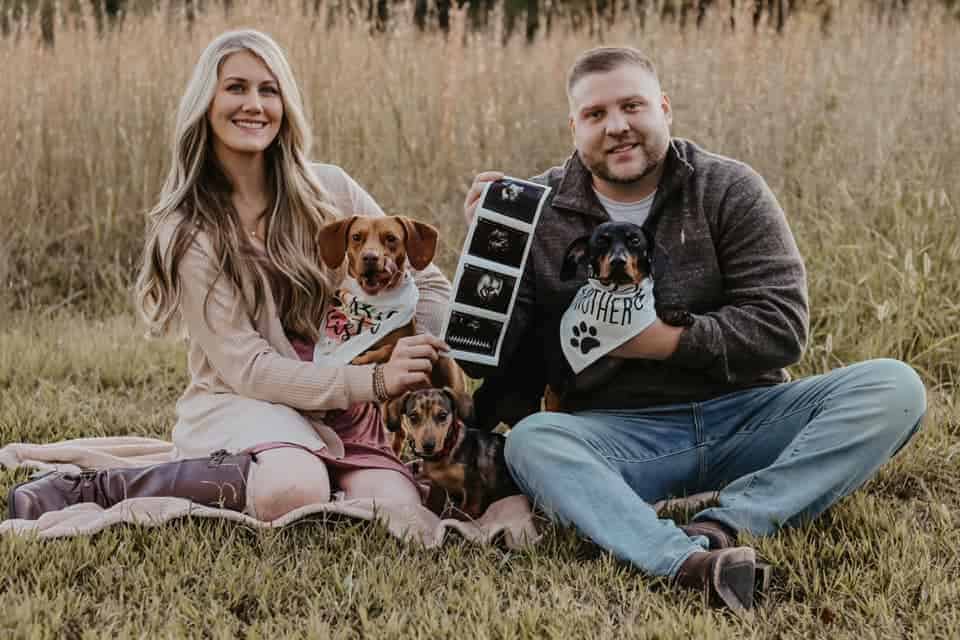 Be creative and tie in that it's a rainbow baby (meaning that this pregnancy comes after a prior loss).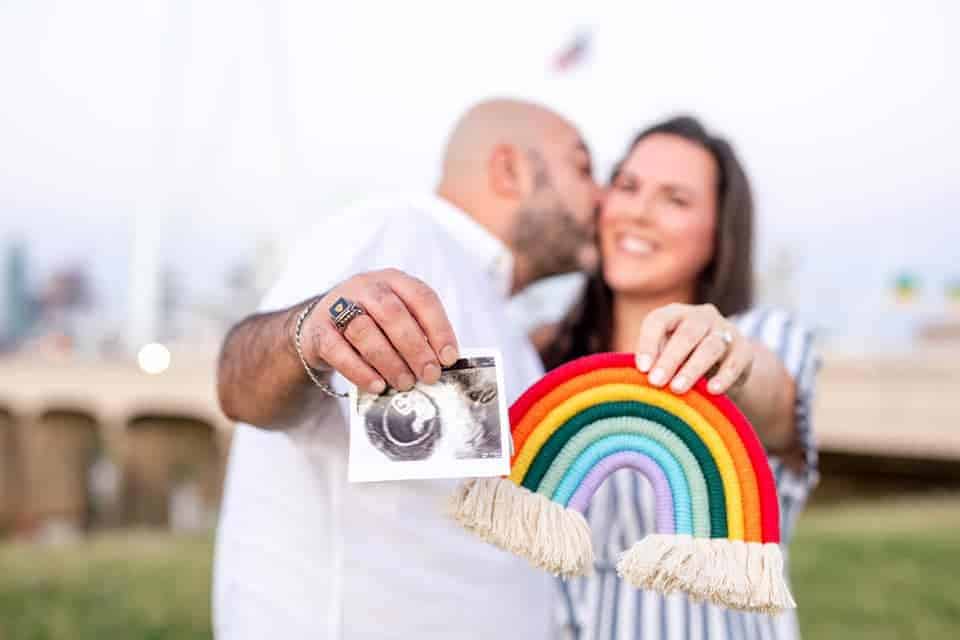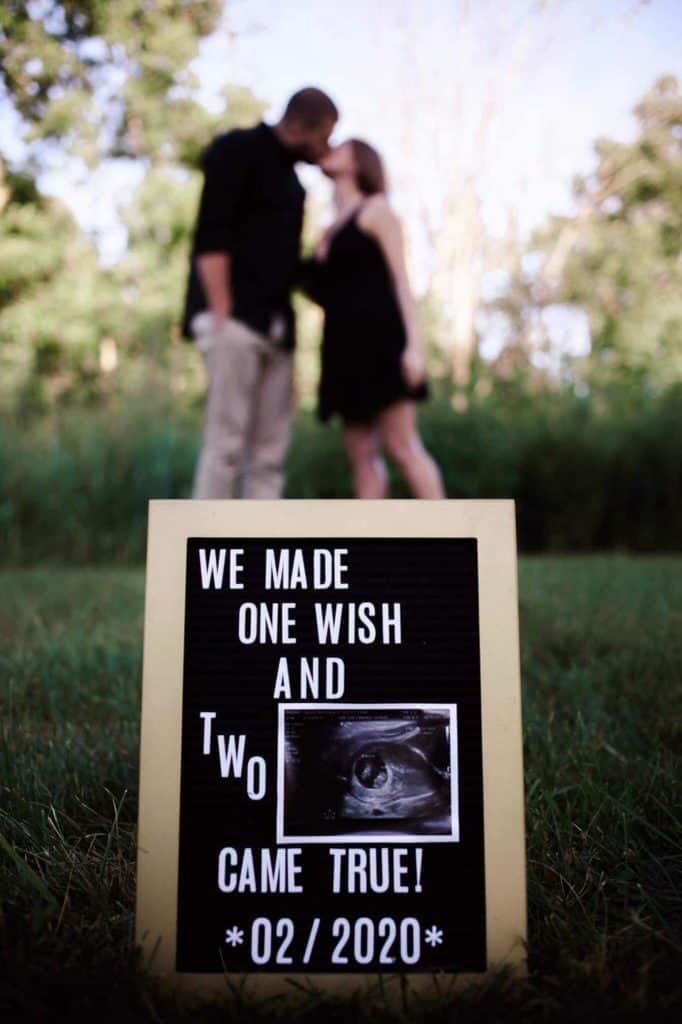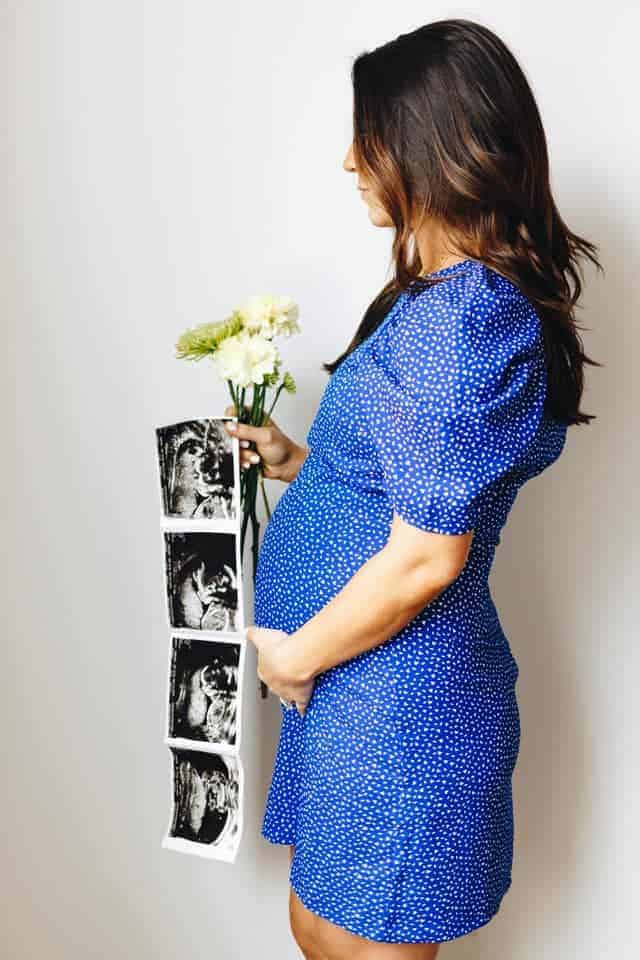 No matter how you choose to tie in your baby's sonogram, it's a surefire way to announce your pregnancy—especially on social media.
2. Take a photo with "BABY" balloons in the background
Grab some oversized "BABY" balloons and pose with your hubby or partner. You can even do some excited or silly photos. You'll cherish these photos for many years to come because they capture a sweet moment in time before you bring a new baby into the world.
I love how this couple got creative with a baby/taco theme.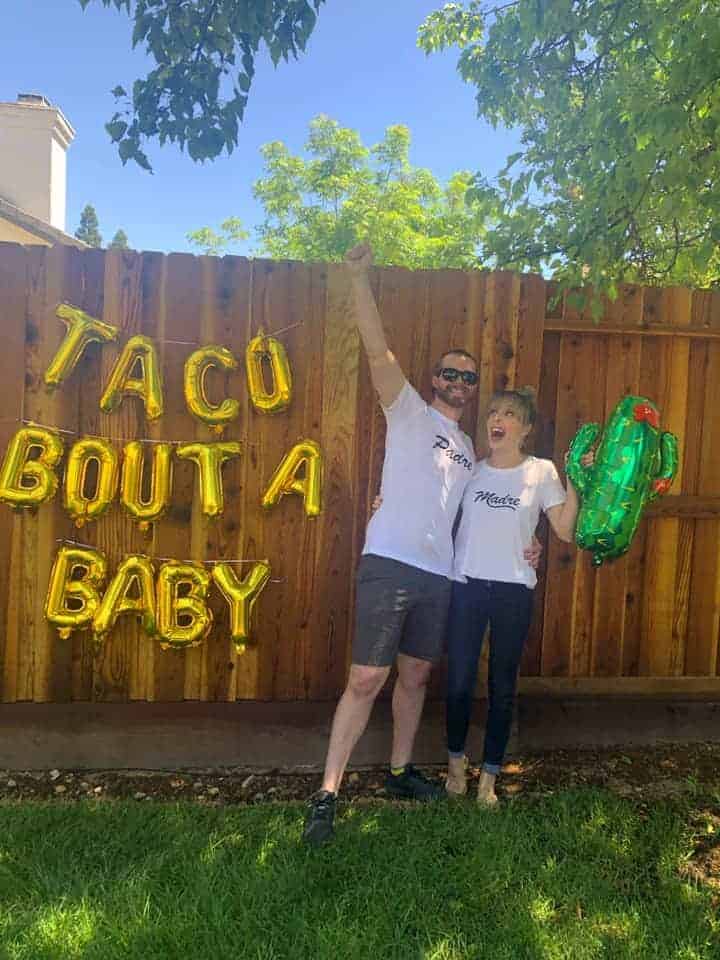 If you want until you find out the gender, you can also go with a "boy" or "girl" balloon in your pregnancy photo announcement.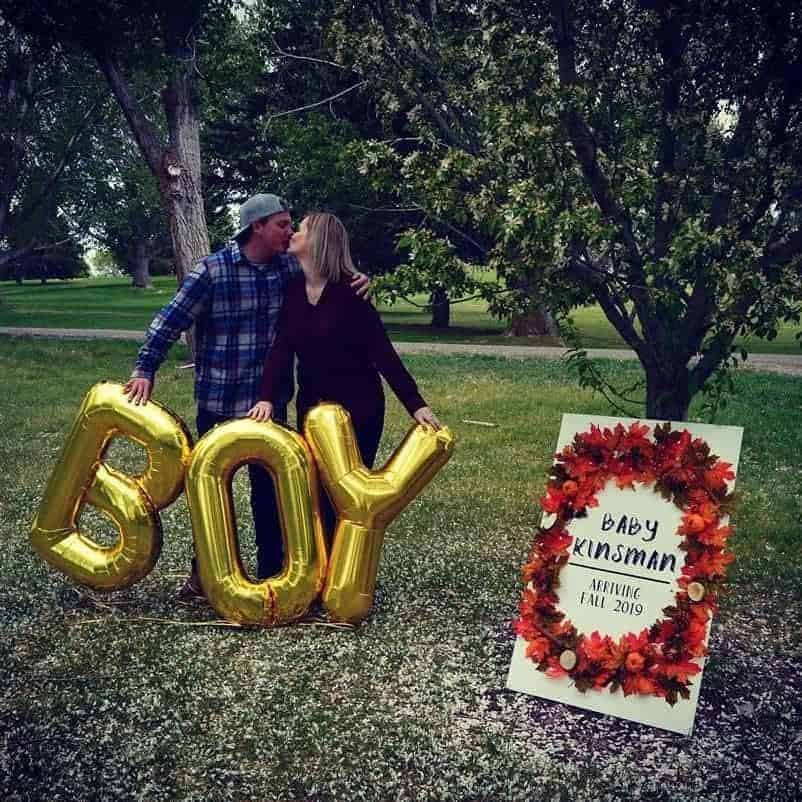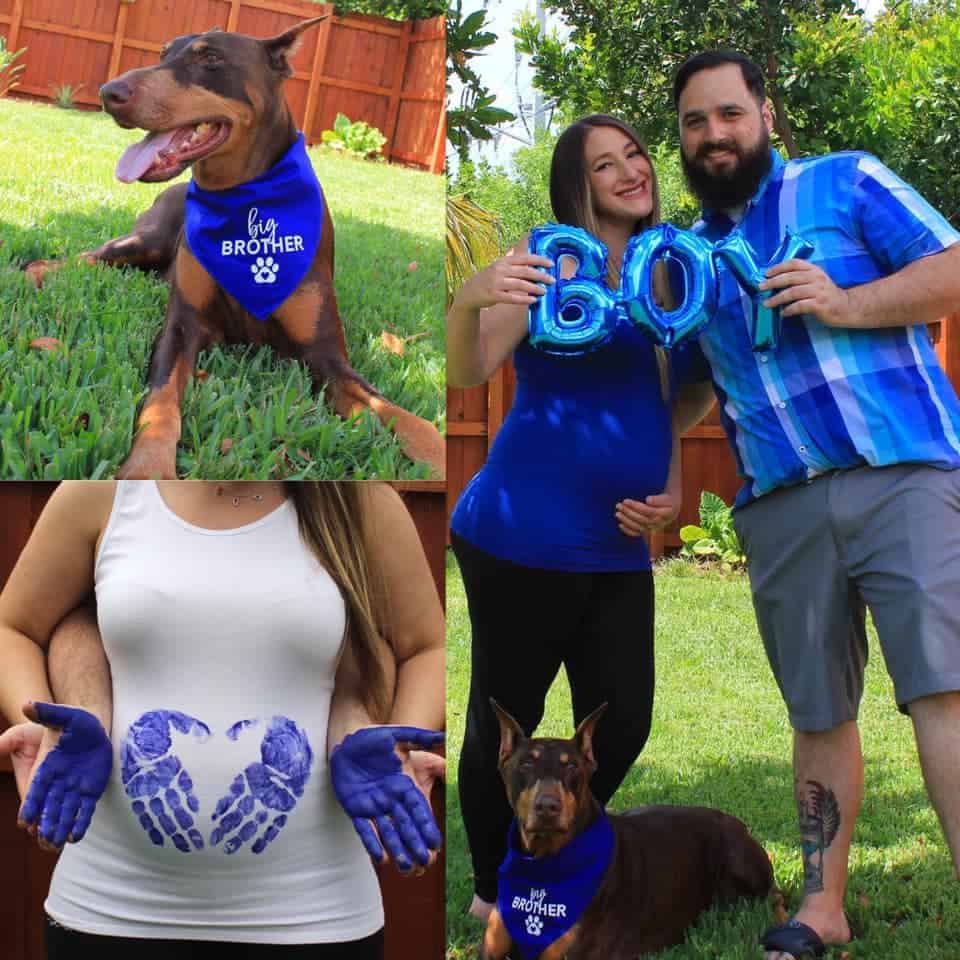 You can also ask your friends and family to guess "boy or girl?" with your balloons, too.
3. Pose with a cute pregnancy shirt
Snap a photo of yourself wearing a "mom to be" shirt. There's no mistaking that it's a pregnancy announcement (as long as people actually read the message on the shirt!).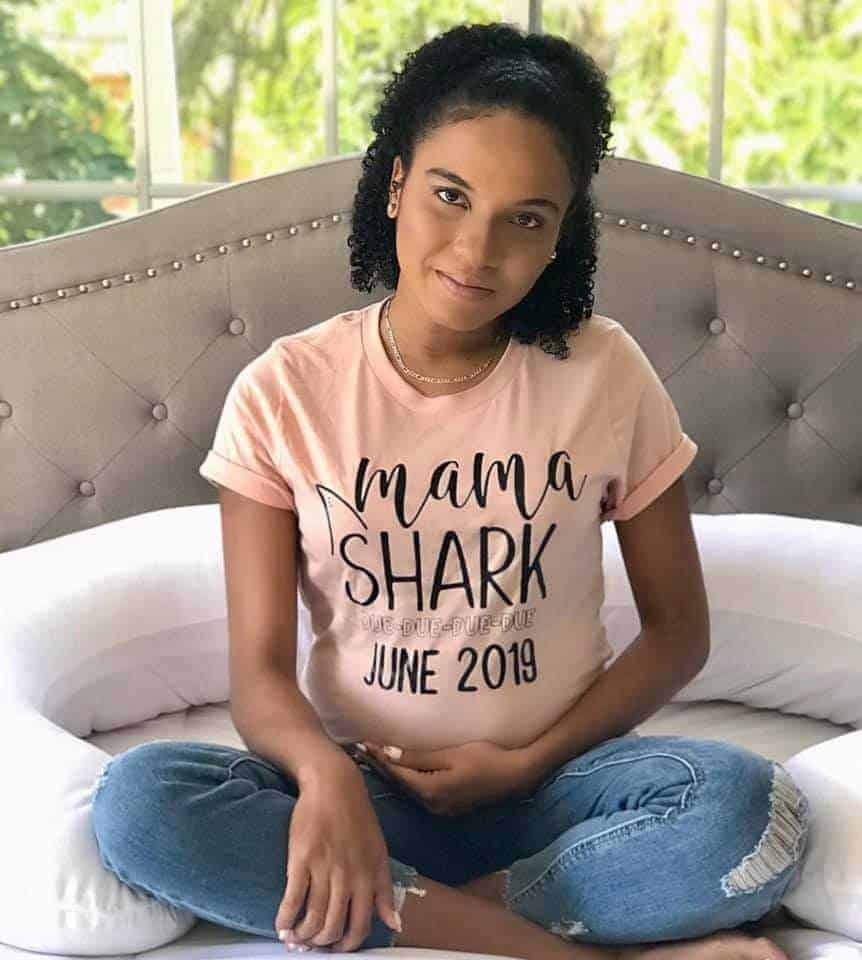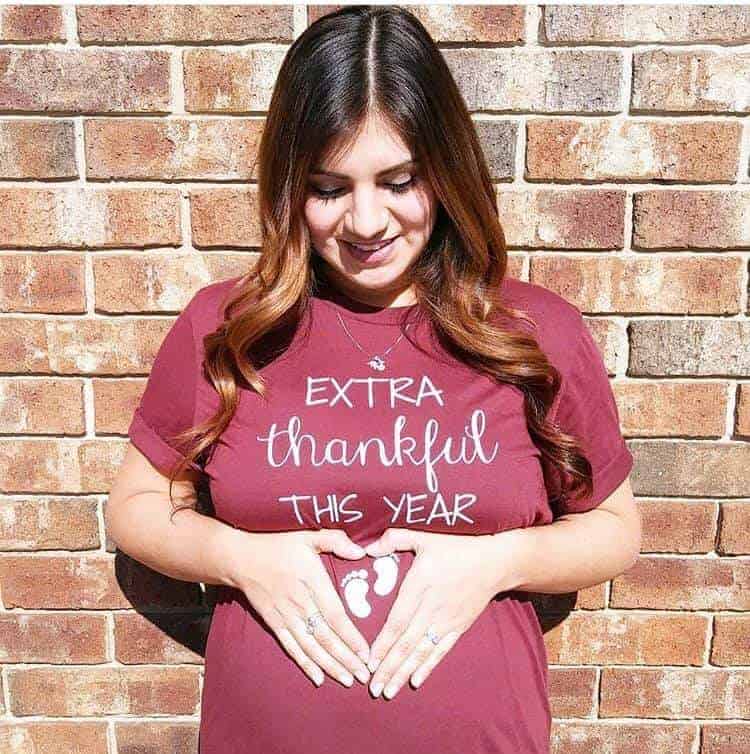 Even better if you can get dad to pose along with you—preferably while you're both wearing matching shirts.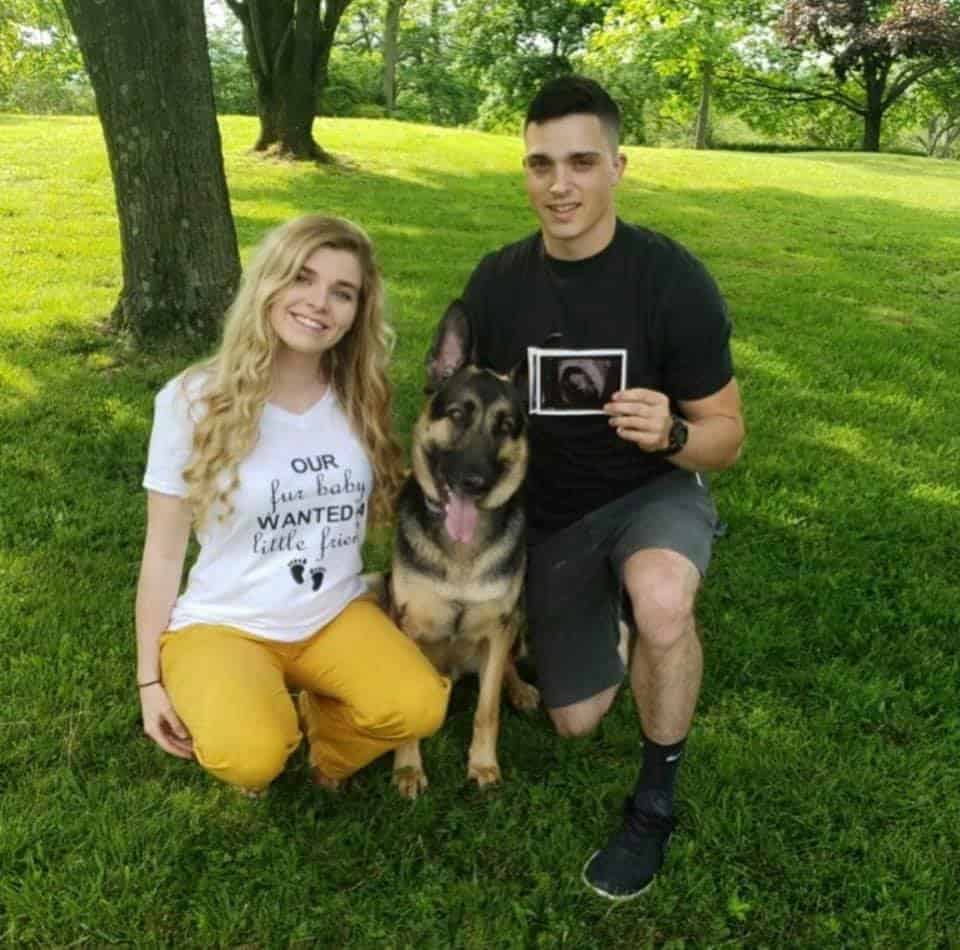 Here are some great pregnancy announcement shirts you can order from Amazon or Etsy:
4. Announce your pregnancy with a onesie
A onesie is an unmistakable baby item, so people will surely know right away that you're announcing a baby on the way. If you want, you can throw in a sonogram, a calendar with your due date circled, and other decorative elements.
Or you can just go with a cute pregnancy announcement onesie! See some of the links below.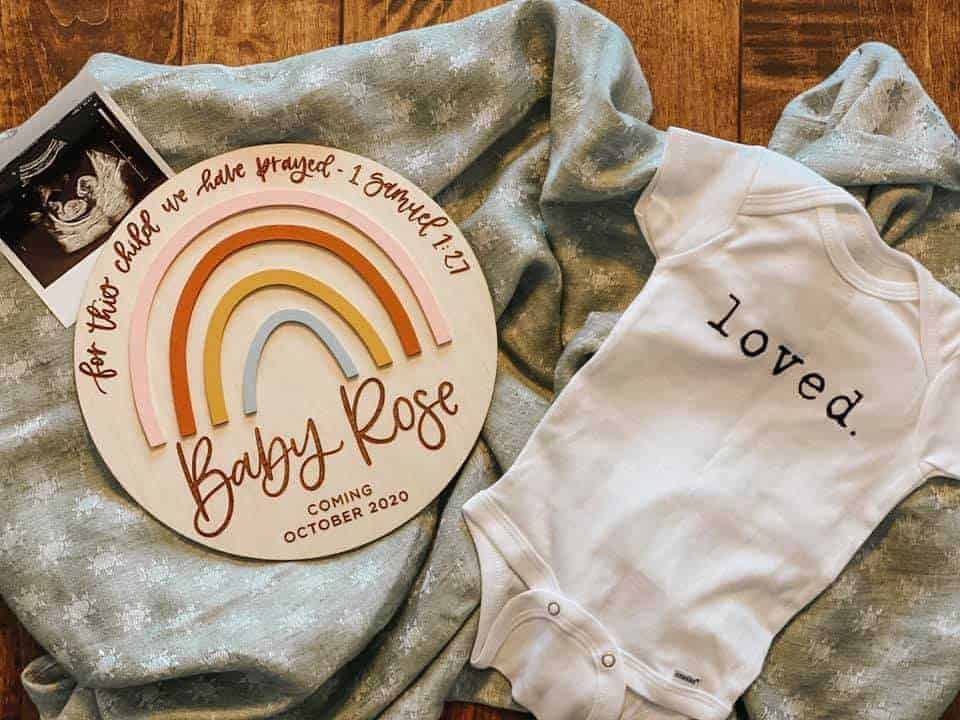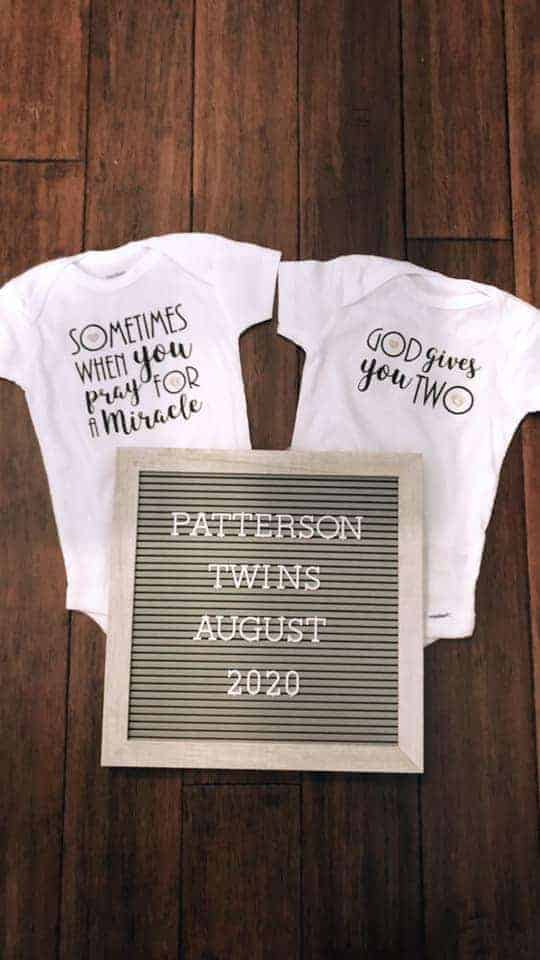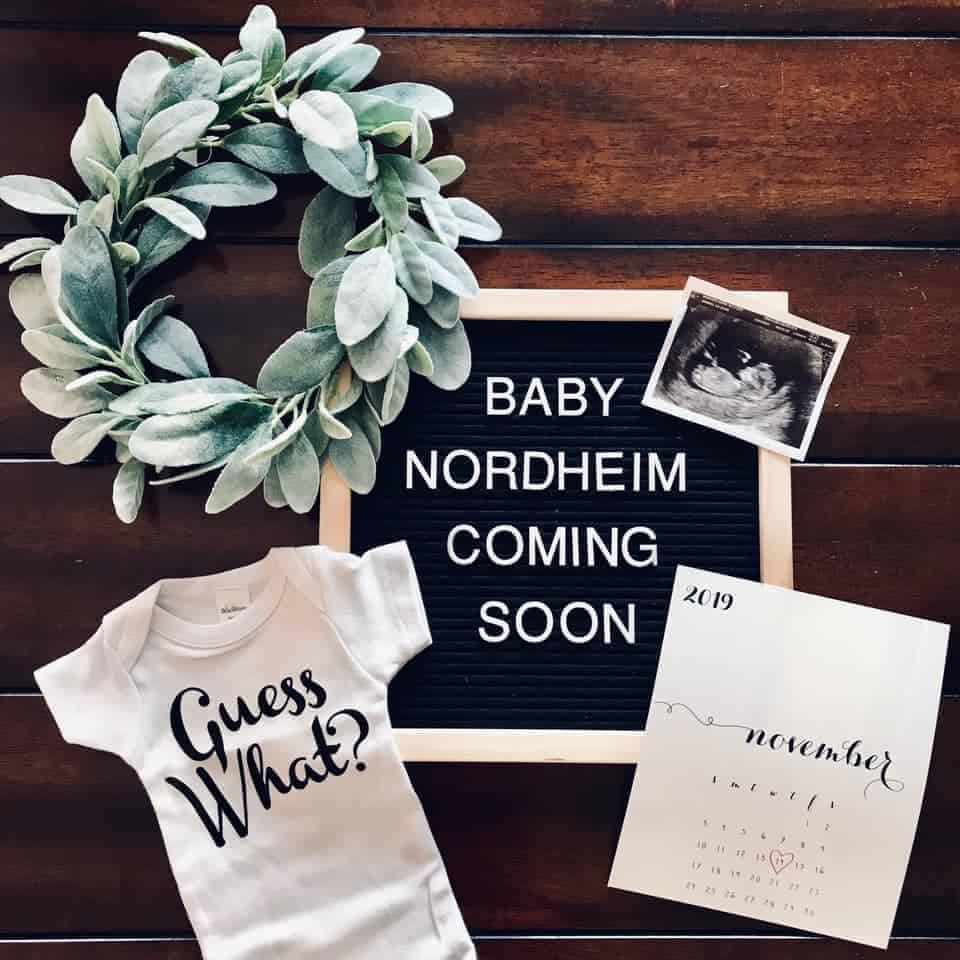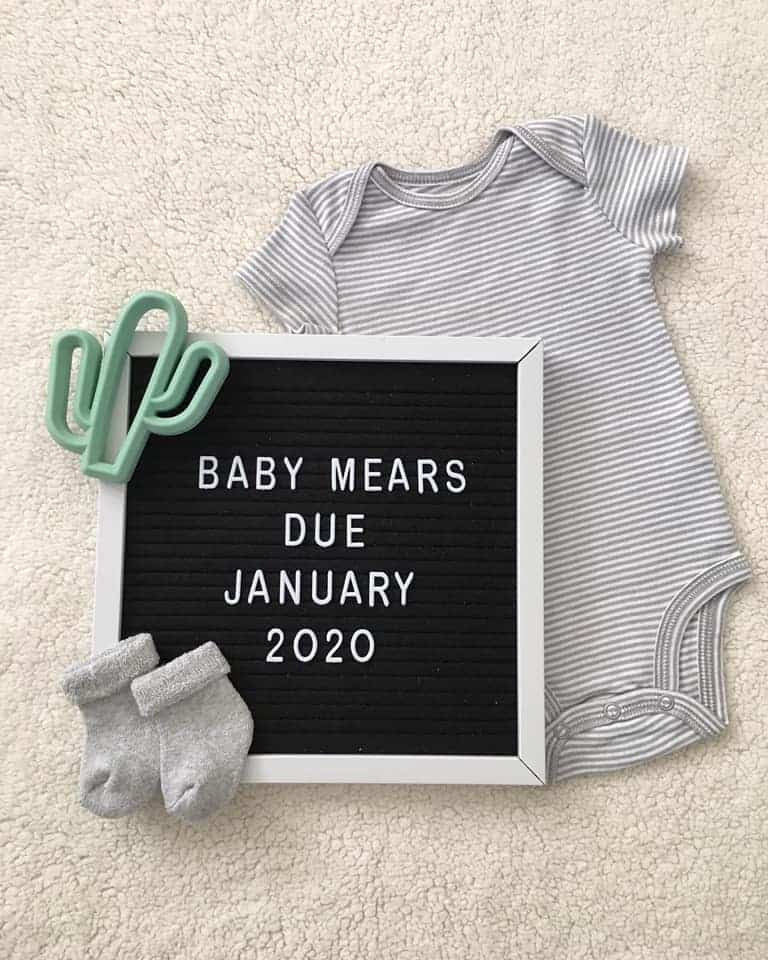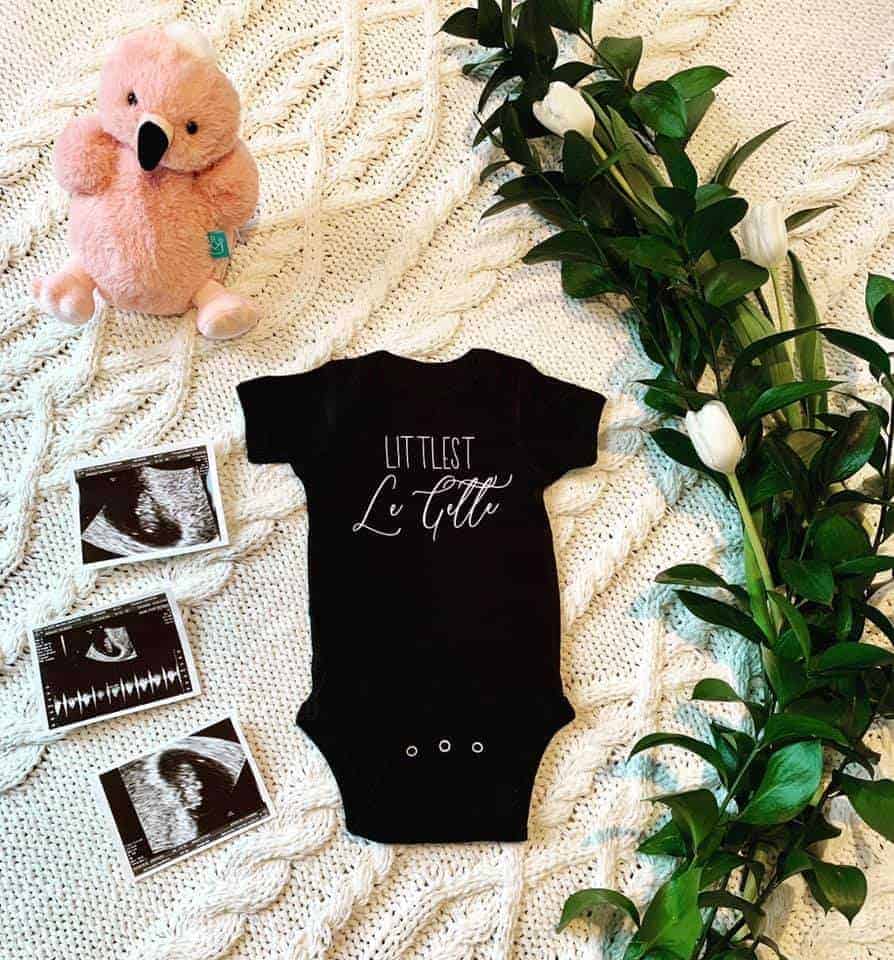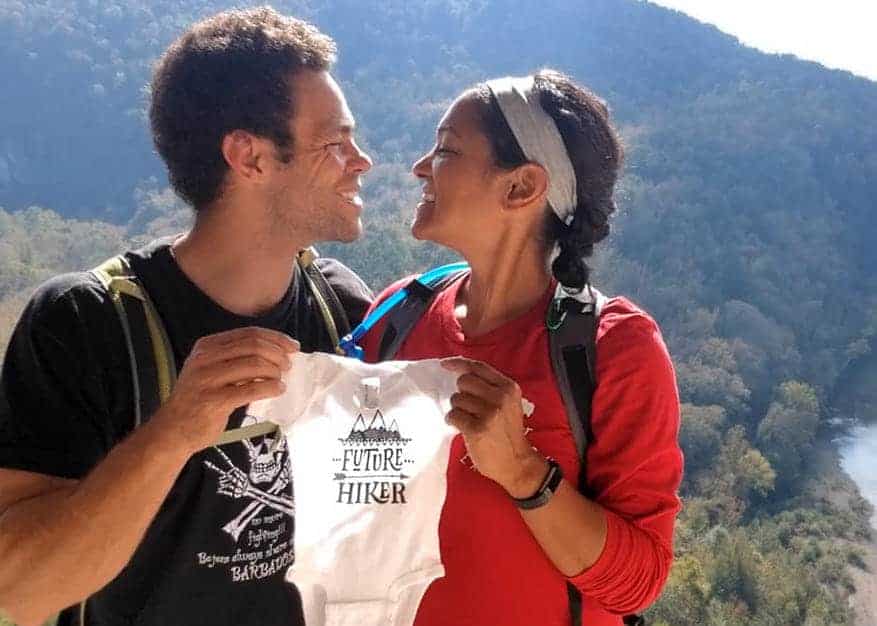 Here are some cute baby onesies you can use to announce your pregnancy:
5. Involve your older child(ren)
If you already have a child, you may want to include them in the pregnancy announcement. A funny way to do this is to play into the sibling rivalry theme. You can make a fake movie poster titled "Sibling Rivalry" or have your child hold up a sign that says something like "No longer the only child."
Or announce that your only child is getting a promotion. I've also seen some cute pregnancy announcements where a toddler gets an eviction notice on their crib. (Time to move on up to the big kid bed!)
Taking pictures of your oldest picking out baby toys is cute, as are pictures with baby dolls and words that say "practicing for the real thing"! If you have an older child, involving them with the announcement is a great way to go.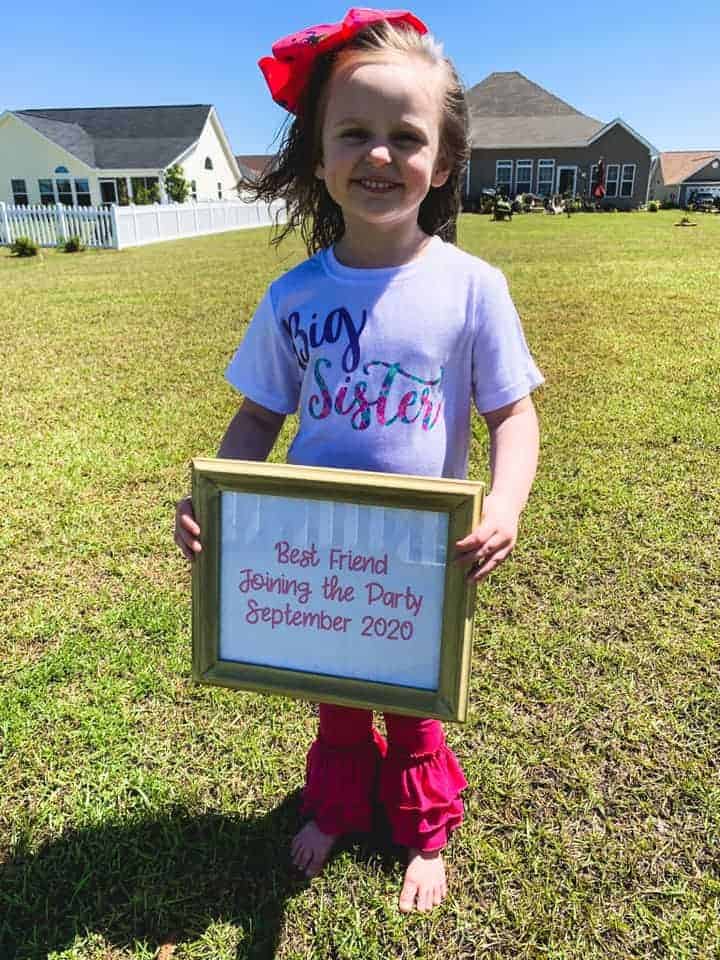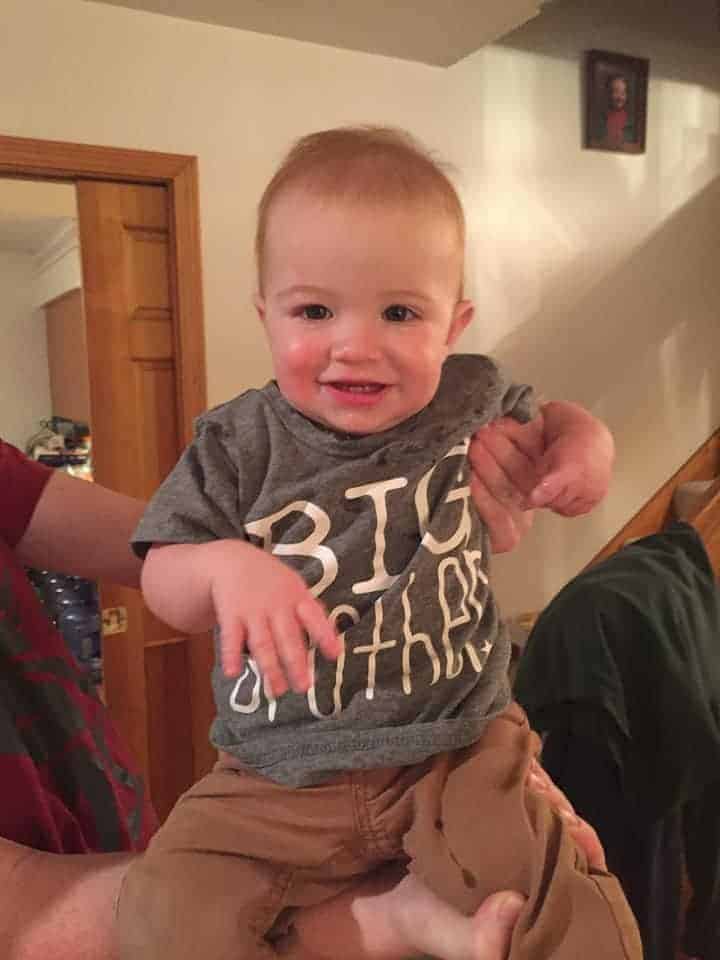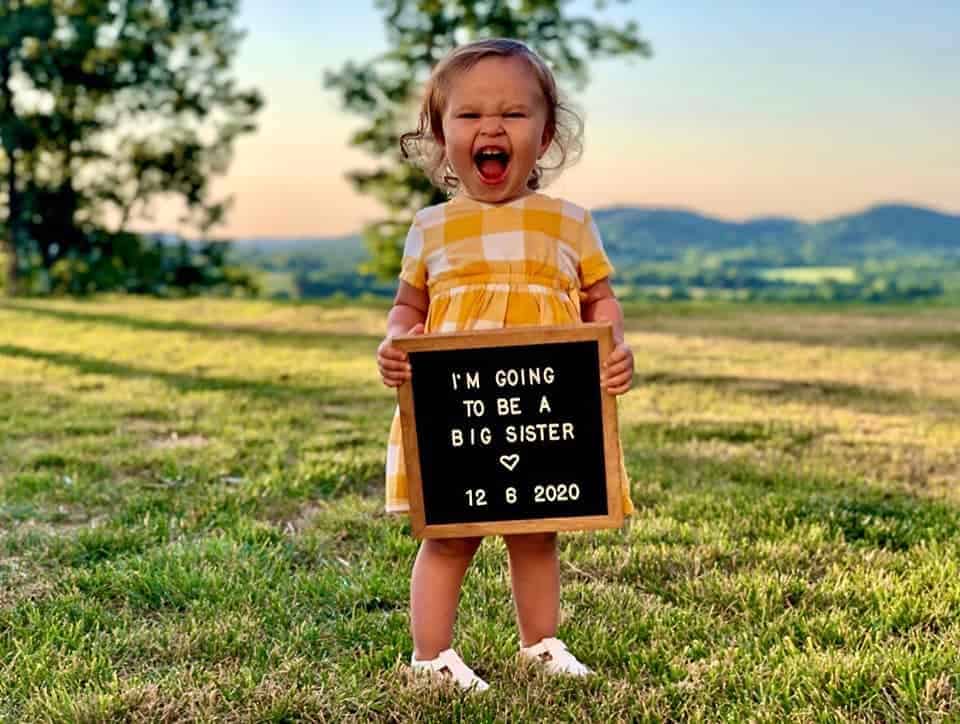 For those with a son and a daughter, you can announce your third baby as the "tie-breaker." This can be done with a simple sign or you can get your children to play along. Perhaps tugging on a rope with a sign explaining nearby?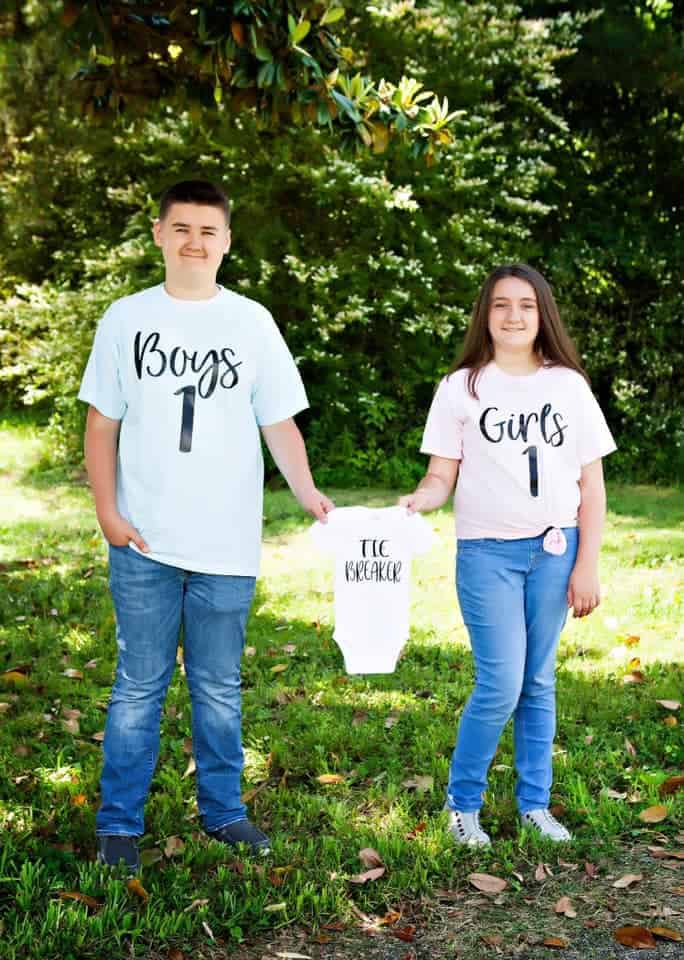 6. Order a pregnancy announcement from Etsy
If you are looking for a beautiful pregnancy announcement, you just may want to consider having it done on Etsy. I was thrilled to discover that there are editable pregnancy announcement flatlays that you can order. Some even allow you to upload your sonogram photo so that it is included.
(Mental note: this is 100% the way I would go. I would otherwise probably spend days planning my pregnancy announcement!)
Here are a few favorites from Paperly Prints. Check out all of their pregnancy announcement options.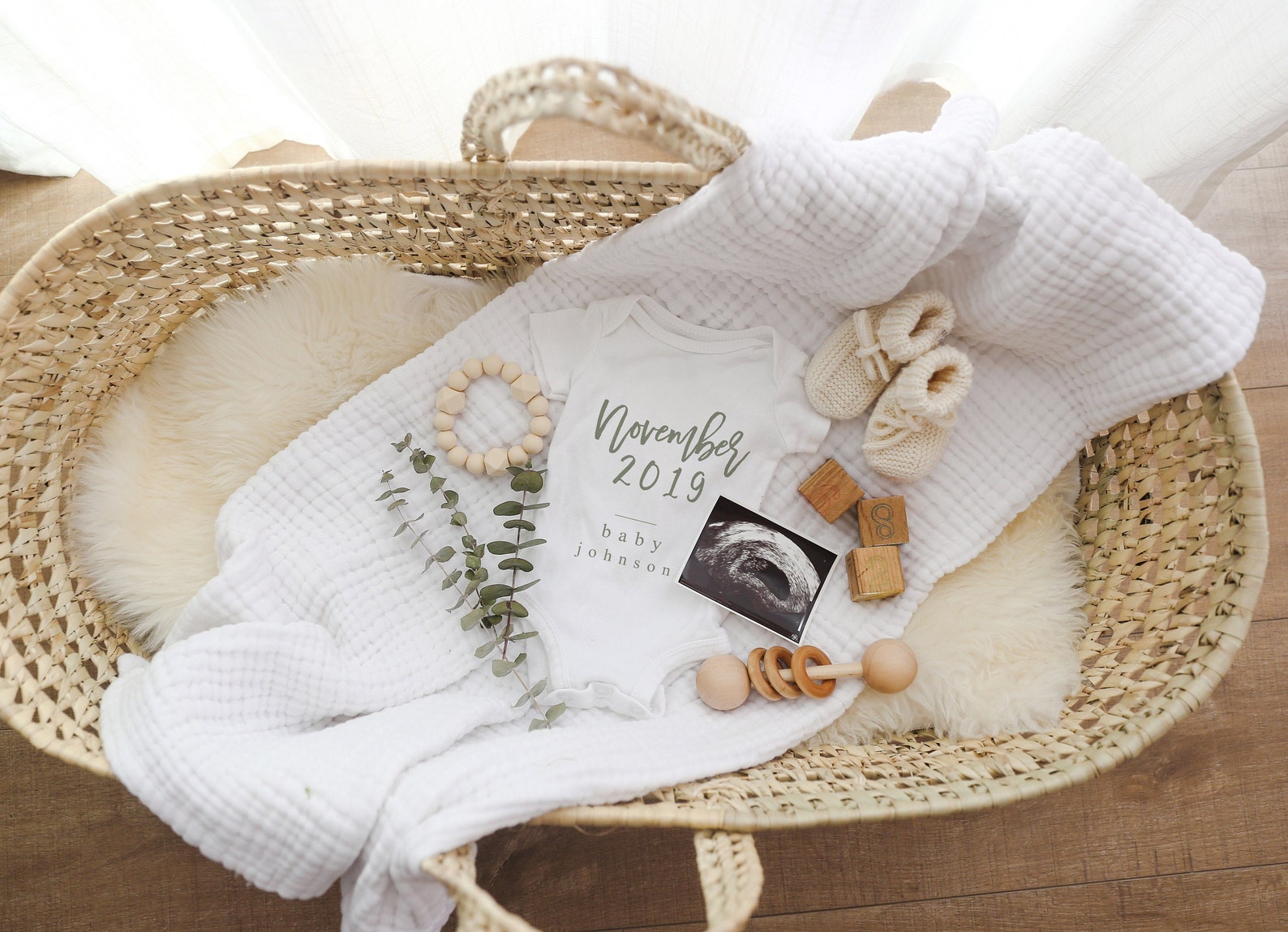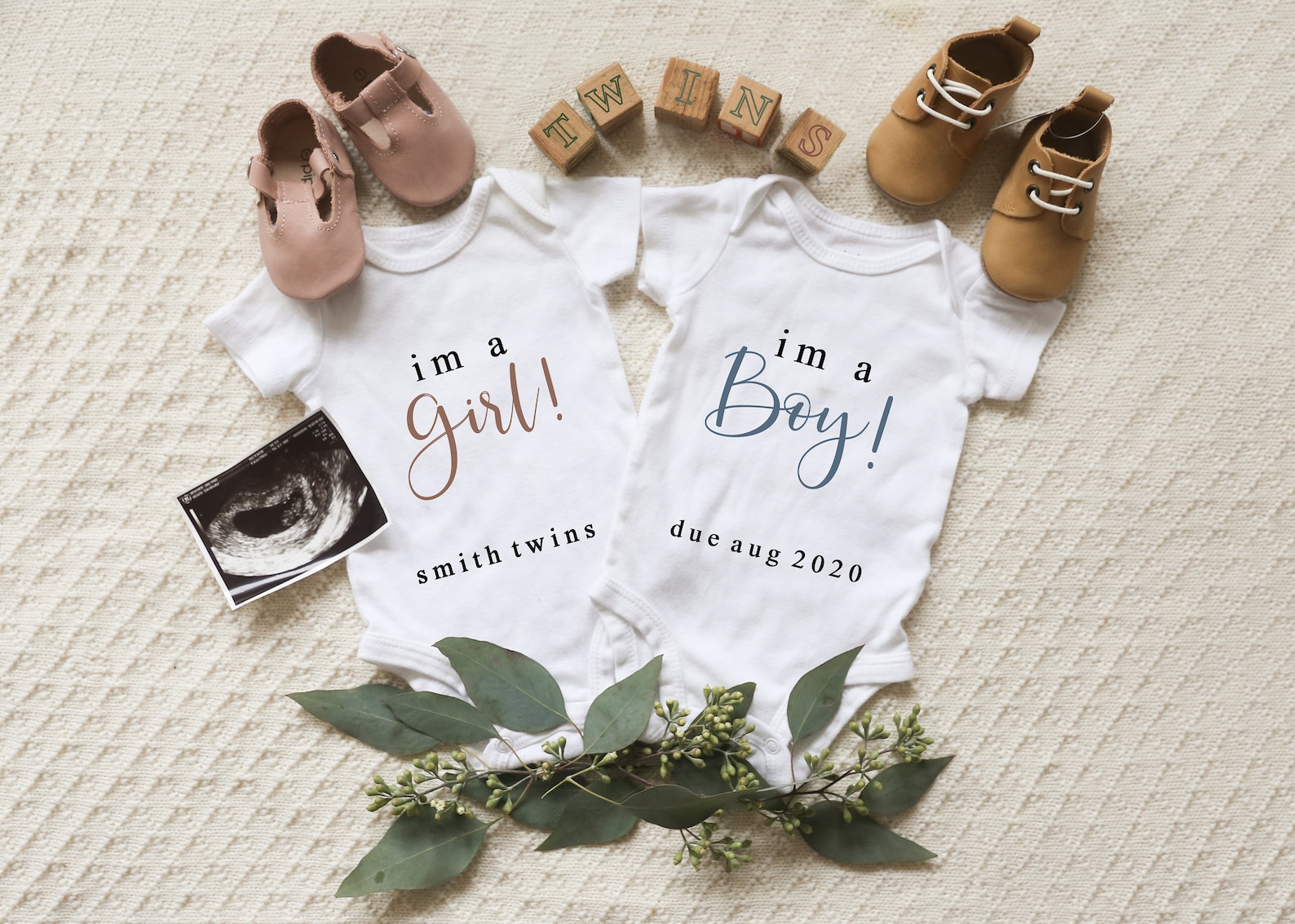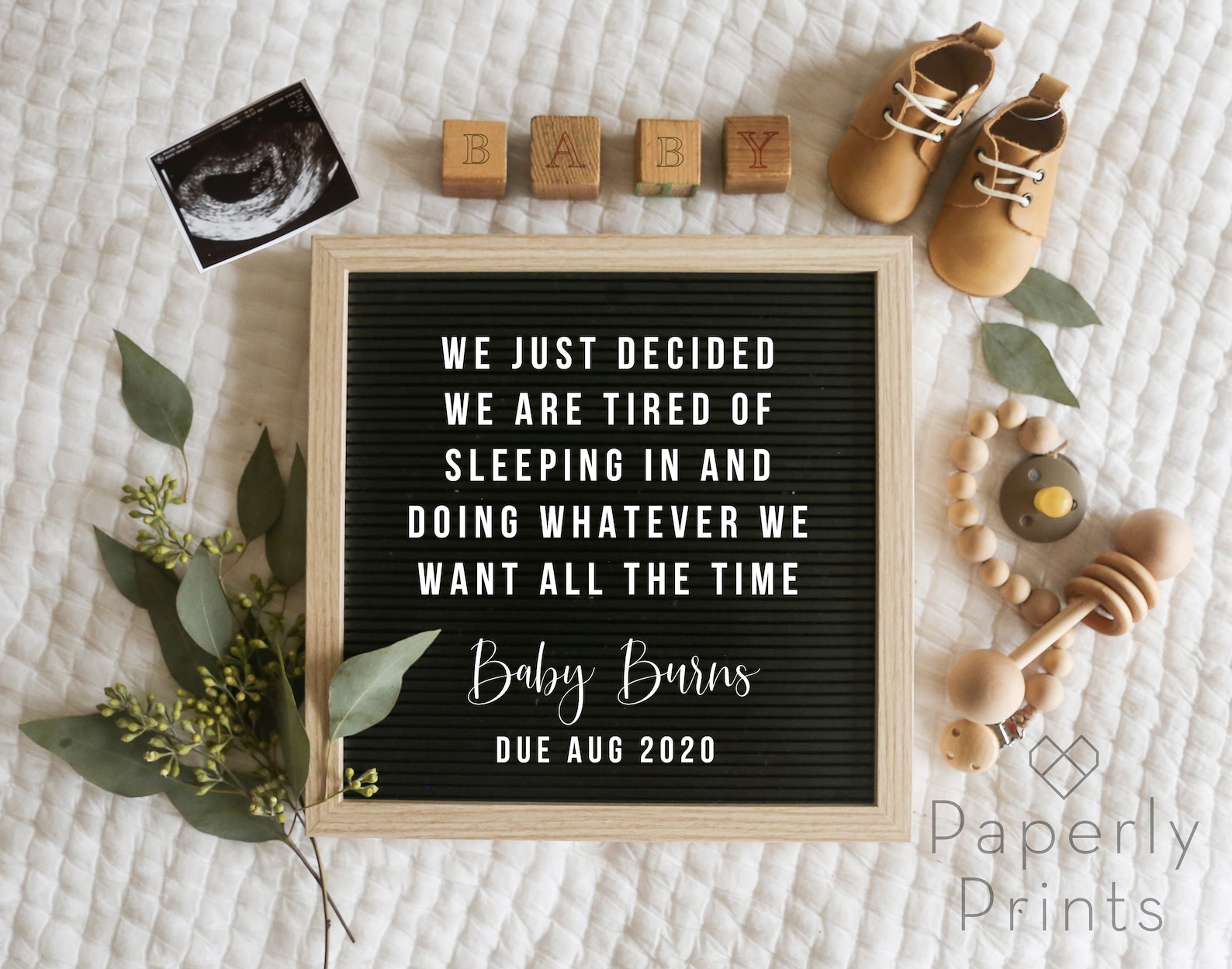 Print Affection also has some gorgeous options.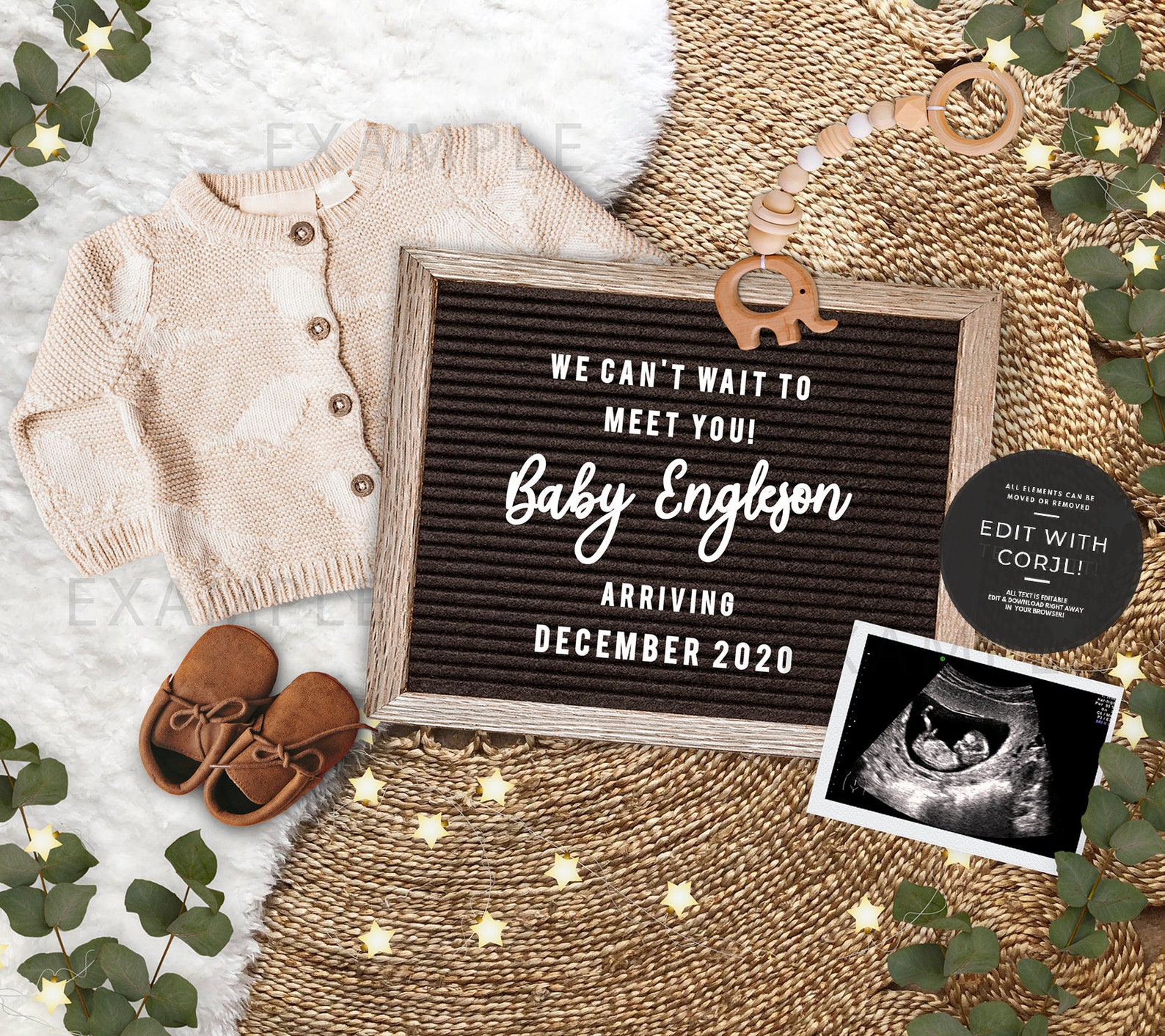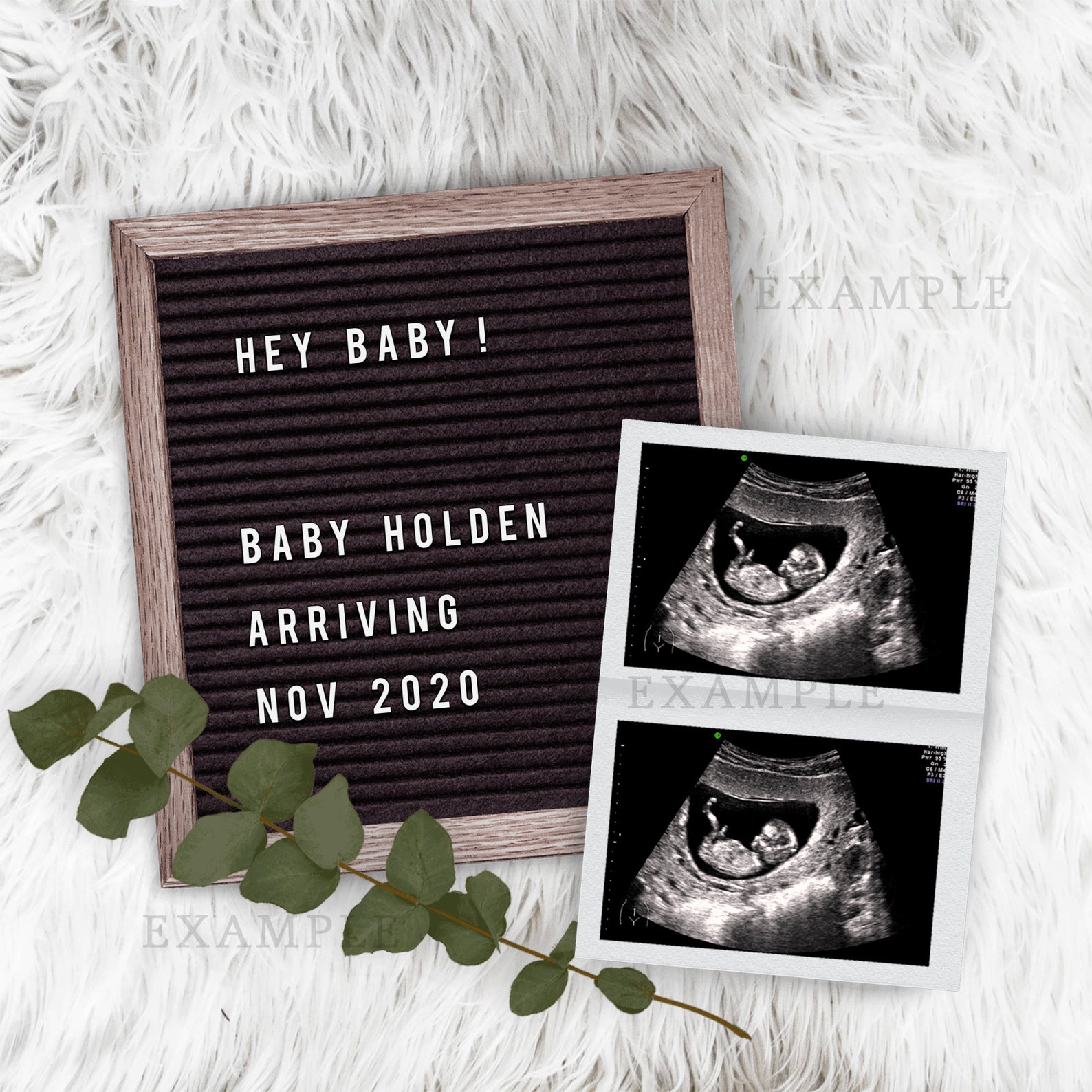 7. Creative? Make a movie poster announcement
Designing a movie poster for your pregnancy announcement is another fun option. However, there are many different ways you can take this theme, ensuring that your pregnancy announcement is unique. If you and your baby daddy are big Star Wars fans, you could go with that theme. Or you could go with something like Knocked Up. Pick something that suits your personality as parents.
Making a poster is also very easy. You need a creative photo and a title (likely something like "pregnant"). You can add your due date, too, if you'd like.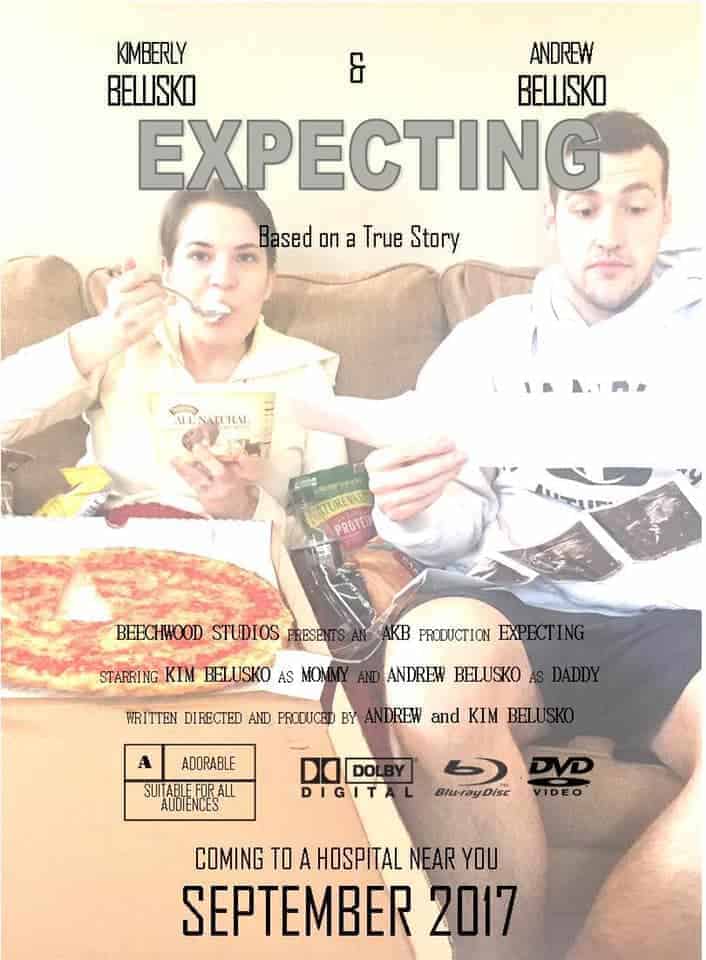 8. Stop, collaborate, and listen
For something cute and easy (because we all know how busy expecting moms are), an "Ice Ice Baby" shot is the way to go. Just have your husband grab two bags of ice and stand next to him! Easy peasy.
Bonus points if you dance to the song on Tik Tok.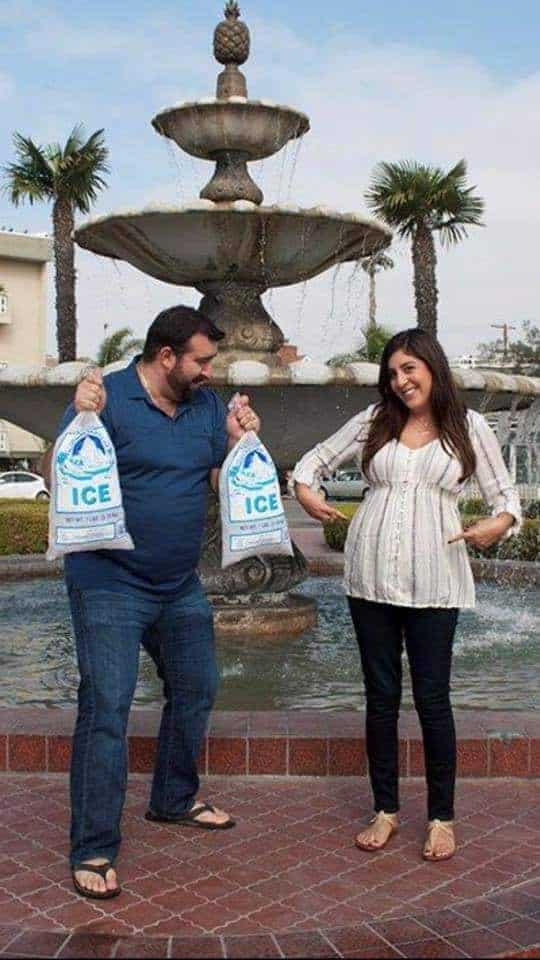 9. Go classic with the bun in the oven
You can take a picture of the oven, paired with a sign that says, "Bun in the Oven." We've seen cute additions like "with nuts" to designate the gender as well. Of course, that is if you know the gender of your baby yet! Most people announce before they know. However, it just depends on your timeline.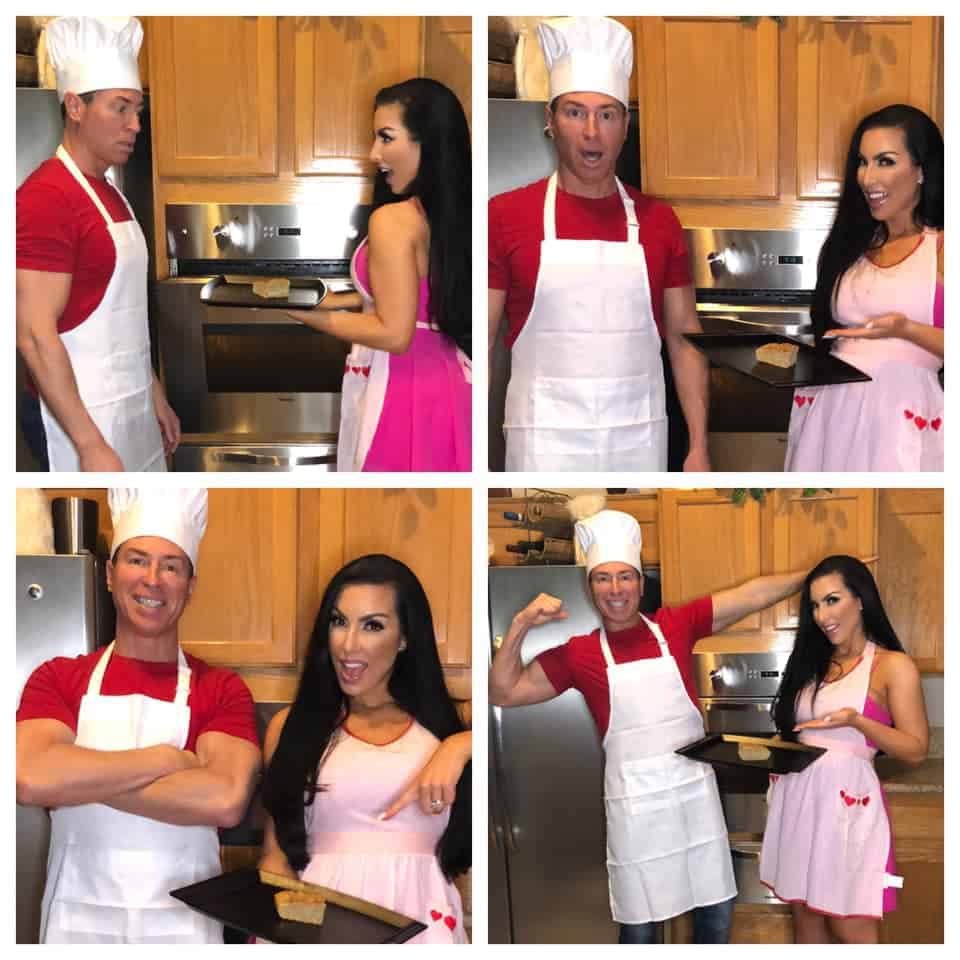 10. Mention how little you'll be sleeping
Babies are notorious for not sleeping. Even if your baby sleeps like, well, a baby, every two-hour feeding schedule is bound to take a toll on your sleep. Playing with this theme for your announcement is an easy (and widely understandable) option.
You can take a picture of your husband sleeping with a sign that says, "catching up on his sleep now!" and countless other variations.
This mama posted this cute pic of her oldest taking a nap with a caption that said sleep will soon be hard to come across.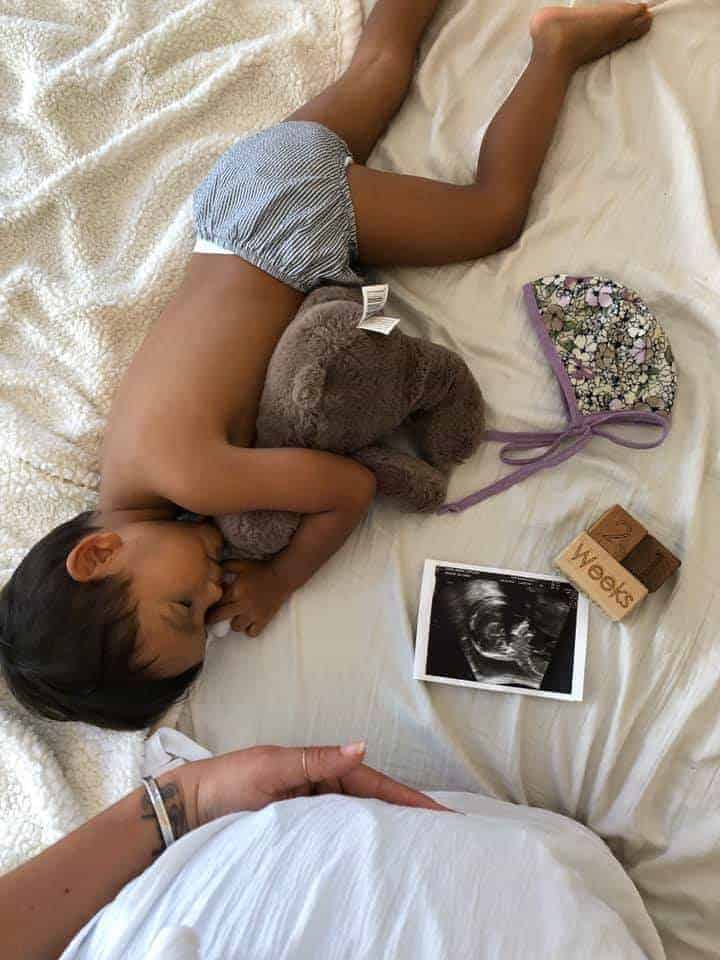 11. Make a sibling announcement… with your pet
Even if you don't have an older child, you can still make a sibling-style announcement with your pet! You can have them "read" a book or sit them next to a sign. Sibling announcements are quite common, but this is a fun alternative when you don't already have any older children.
This dog mama made a book cover that says "What to Expect When Your Humans Are Expecting". So cute.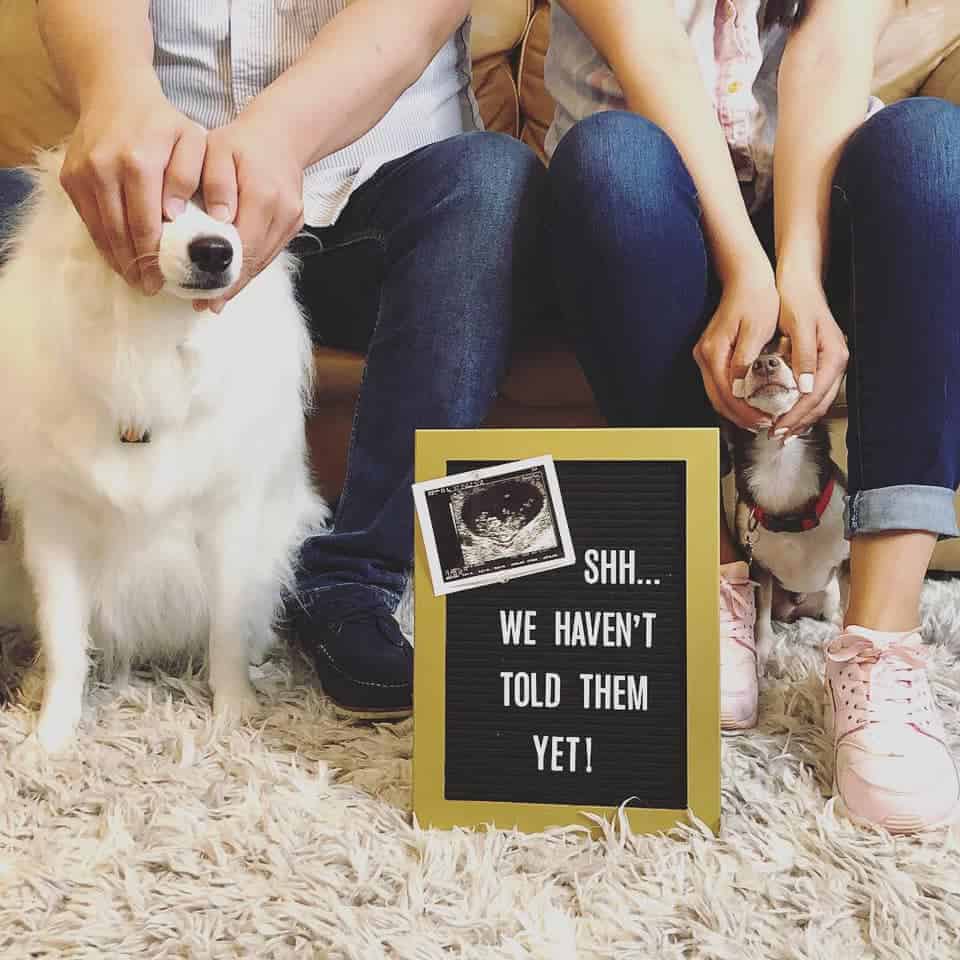 Every dog needs a baby… and every home needs a dog, too. <3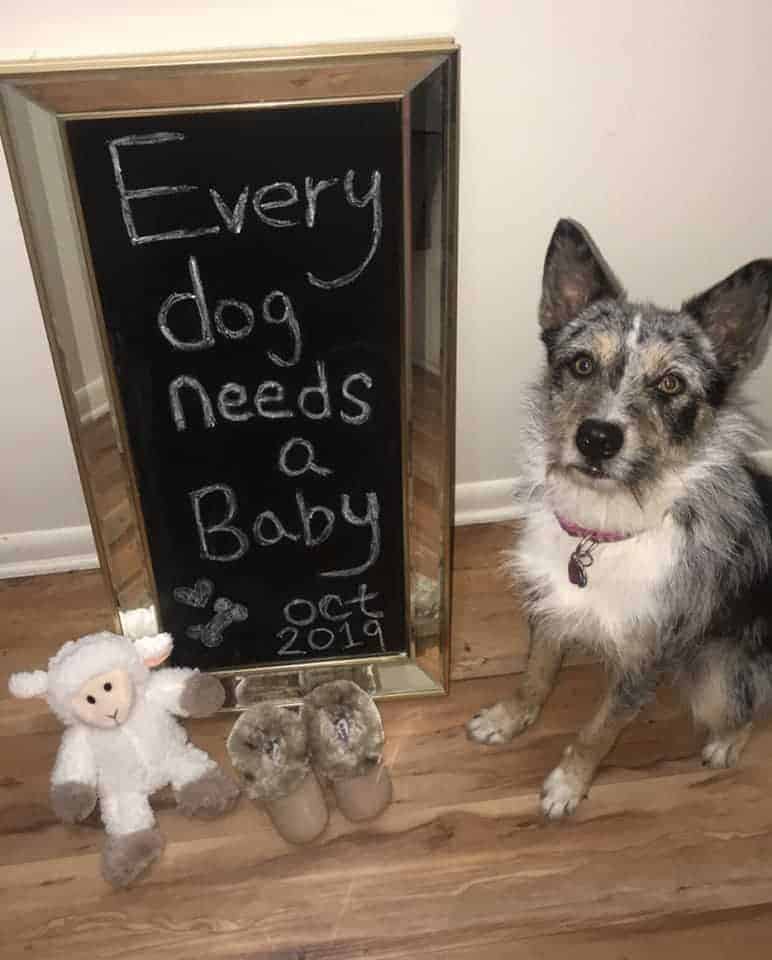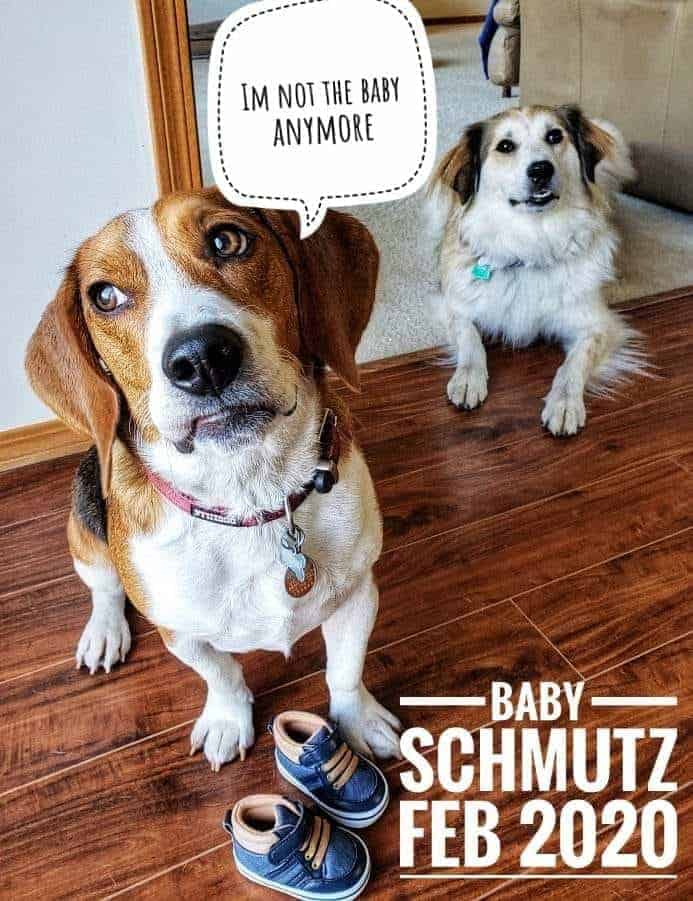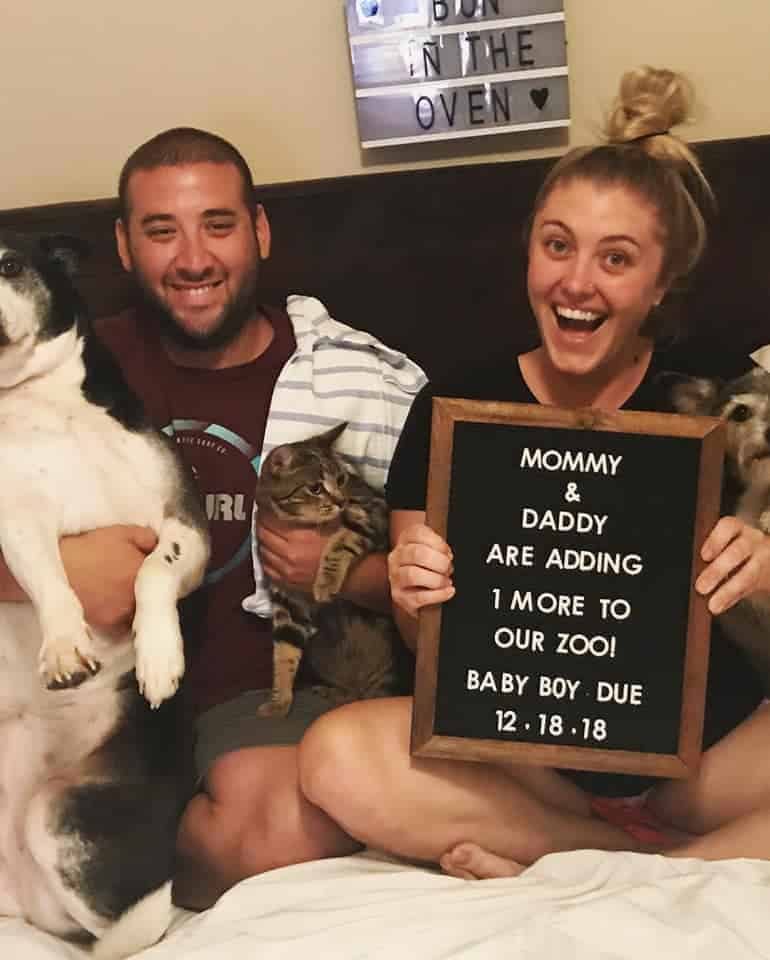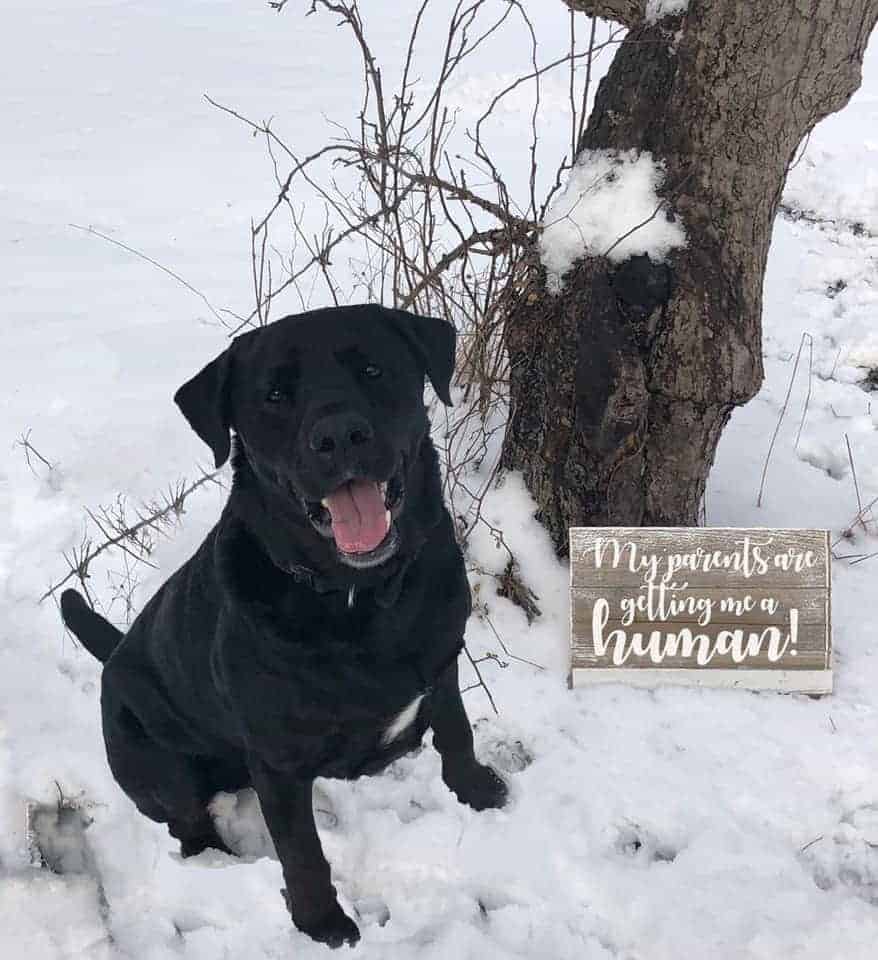 12. Bump ahead
Though they aren't the most common street signs out there, "bump ahead" signs do exist and are totally fun and appropriate for pregnancy announcements. If you can get ahold of one of these signs or know where one is in your neighborhood, a quick picture taken next to it can be all you need.
However, this can be a bit more subtle than other methods, so you may want to include a direct announcement in the description as well!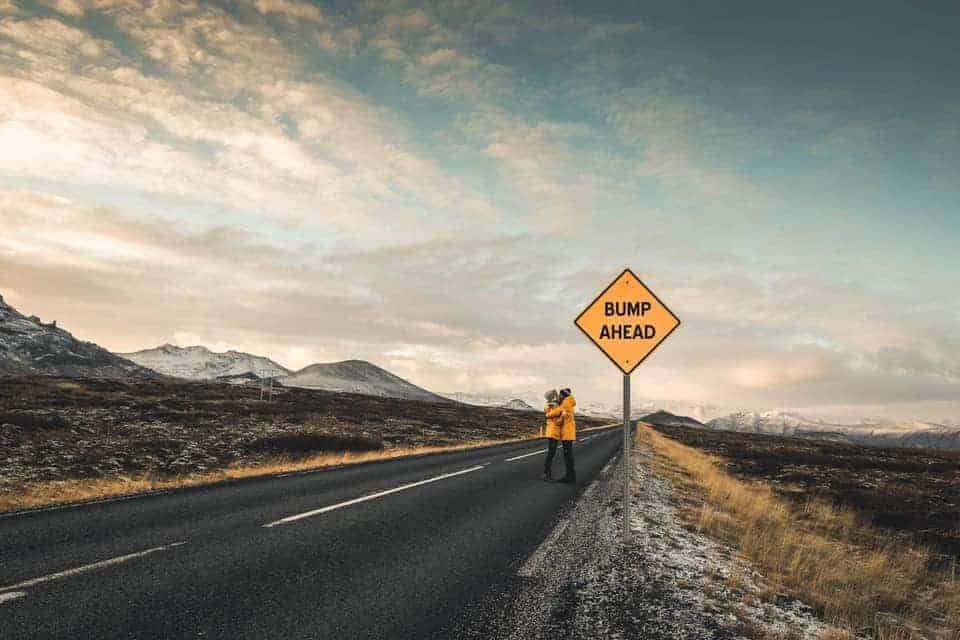 13. Announce how shocked you are to be pregnant
Hold up a pregnancy test, look shocked, take a picture. Or pose with your honey as you both look shocked.
This is another easy option and is a great way to involve everyone in the family. If you have multiple children, this is an easy and quick way for them to get involved in the announcement too.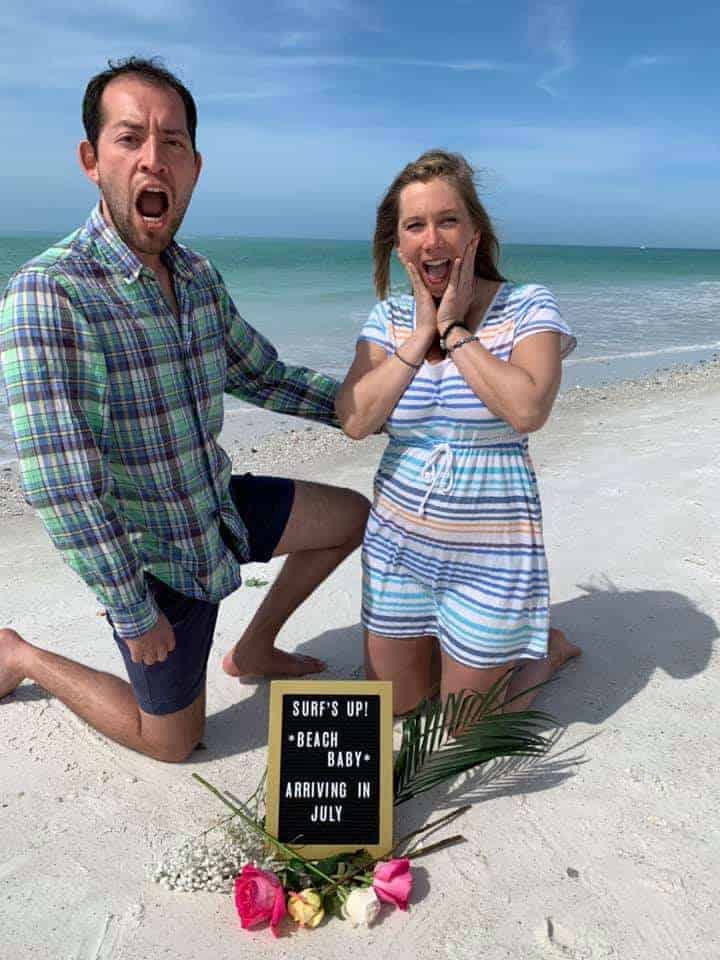 14. Announce around a holiday
If you're announcing around any holiday such as Christmas, Thanksgiving, Halloween, St. Patrick's Day, Valentine's Day, or honestly even national donut day, there are so many unique announcement possibilities for you to take advantage of.
For example, with Christmas, you can buy a "baby's first Christmas" stocking, grab a sign that says "I already got what I wanted for Christmas," snap a photo with a Christmas-themed baby book or hang some ornaments that announce your pregnancy. Take a pic in front of the Christmas tree with your hubby and a sonogram.
The winter season is a magical time of the year anyway. Making it more magical by announcing your baby with the theme of the season is a wonderful way to go!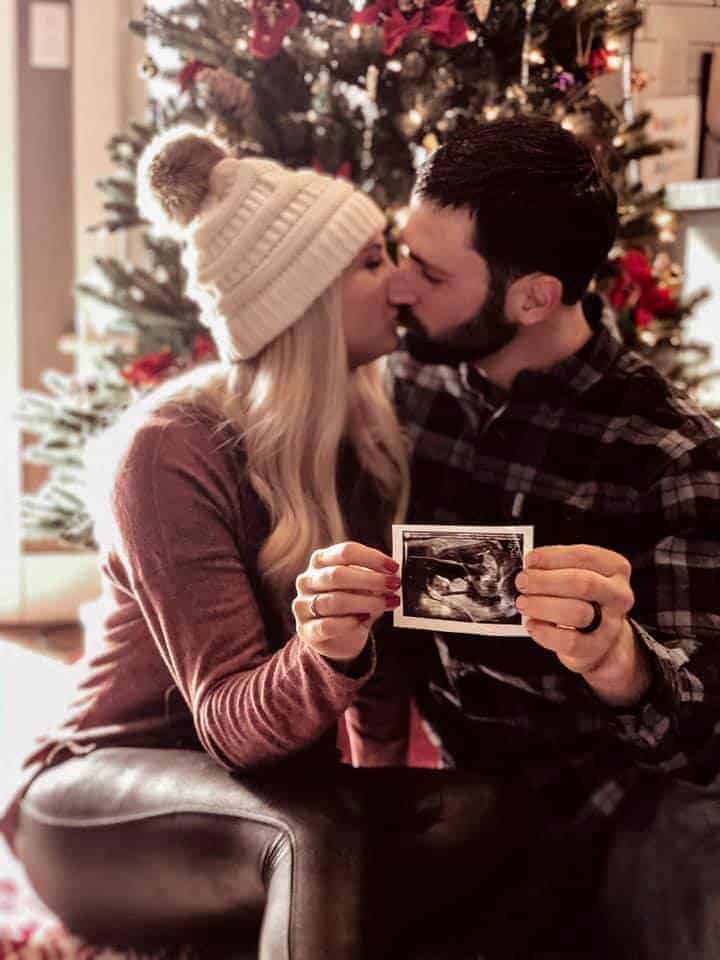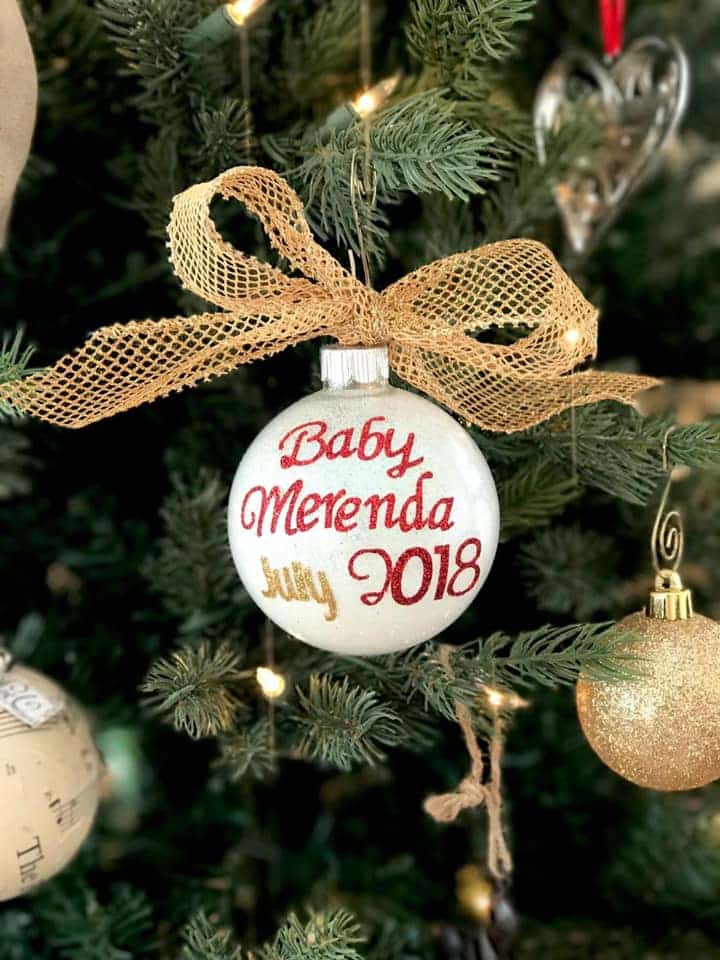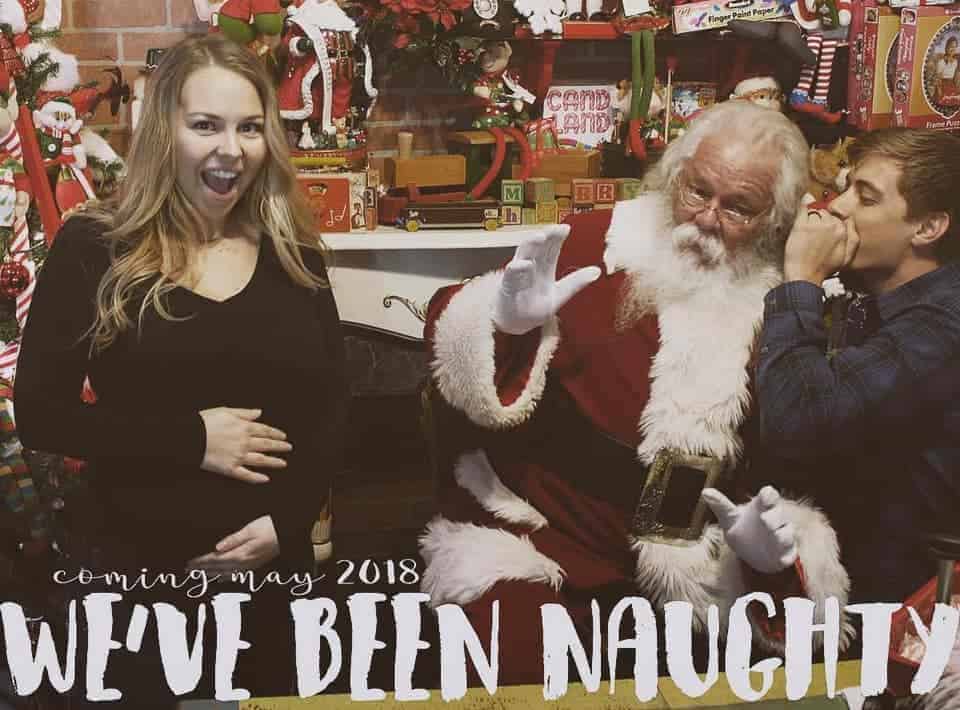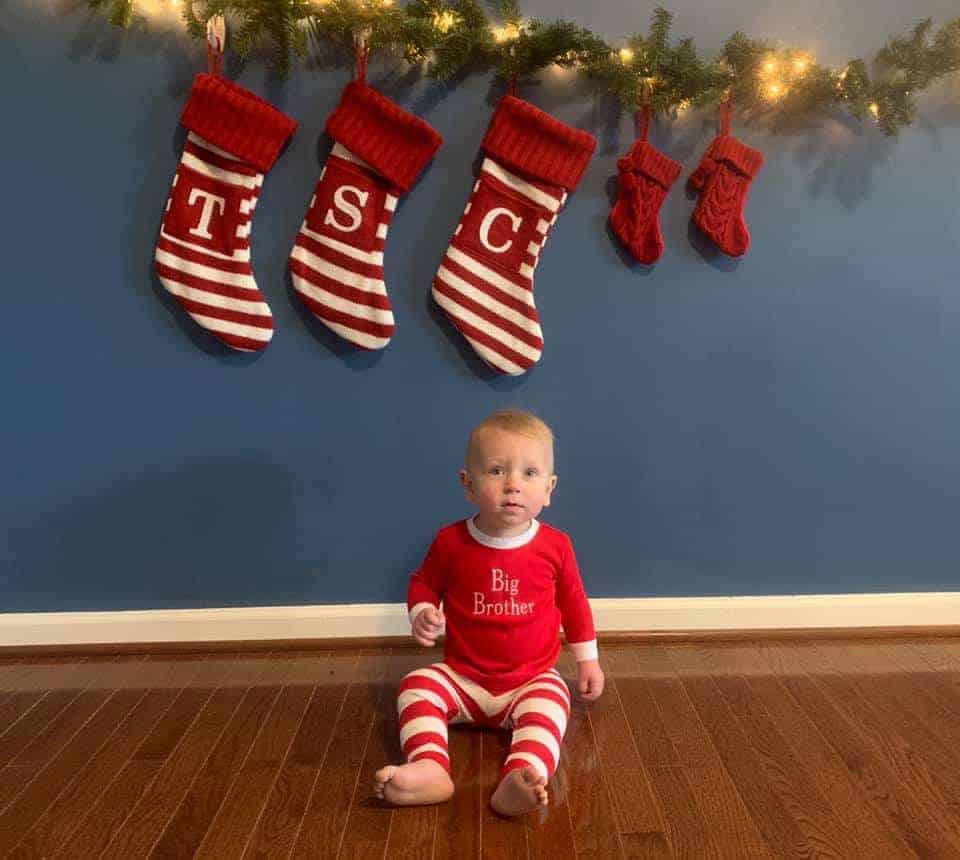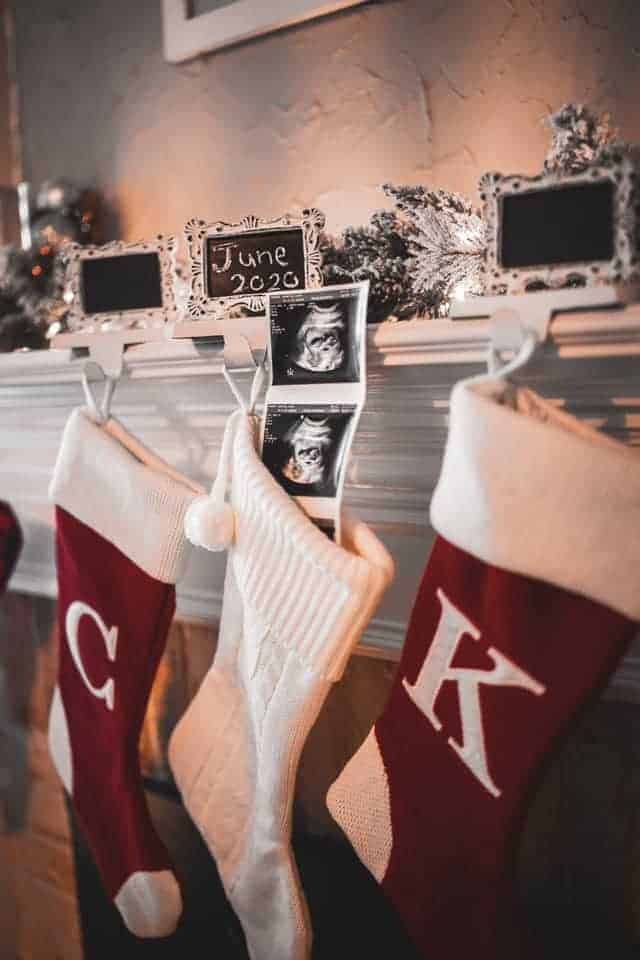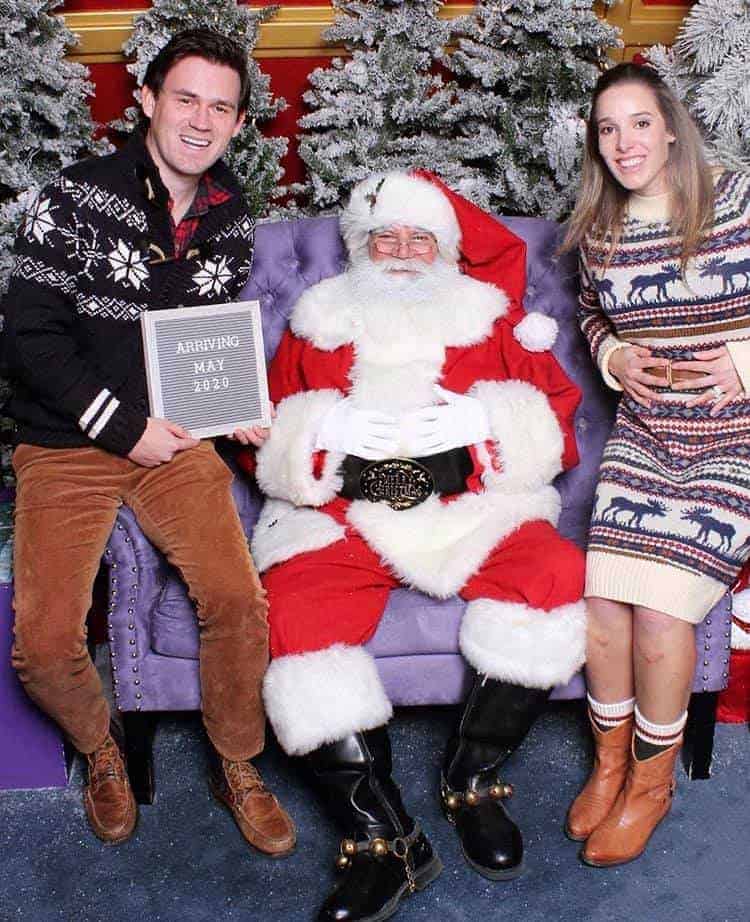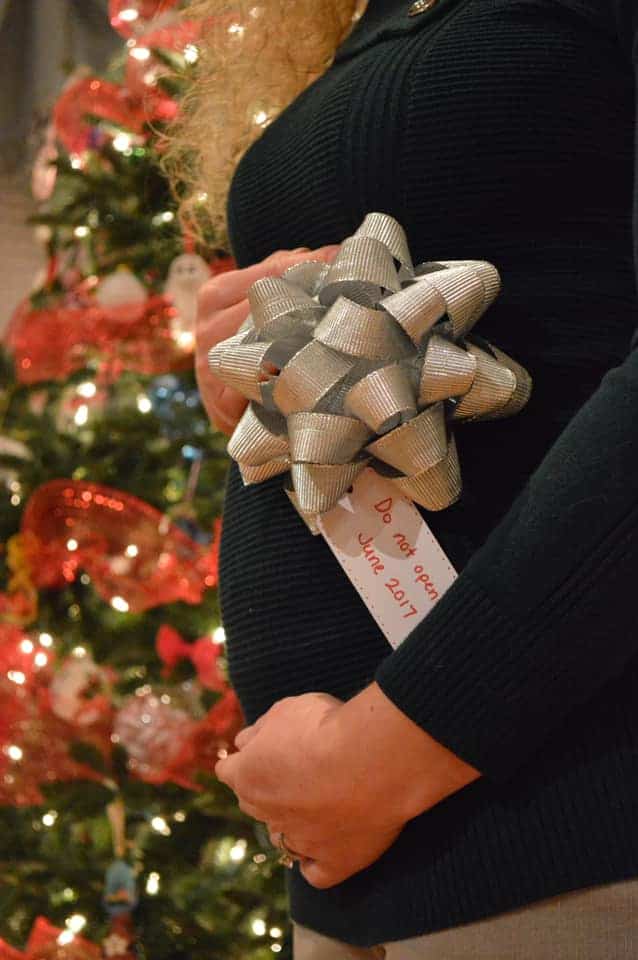 With Halloween, you can dress up your bump or take a photo of a few pumpkins and say "a little pumpkin is on the way". If you announce around Valentine's Day, you could say that you have a new sweetheart or Valentine on the way. Or for St. Patrick's Day you could talk about your good luck and good news.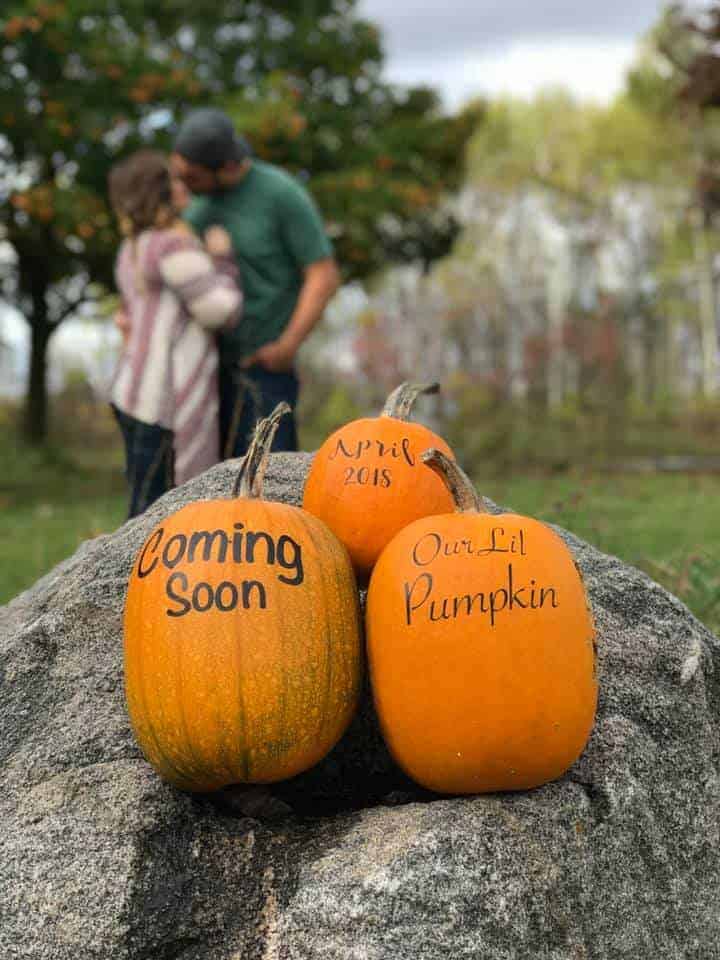 She's dressed as the Operation game for Halloween—with a baby in the belly.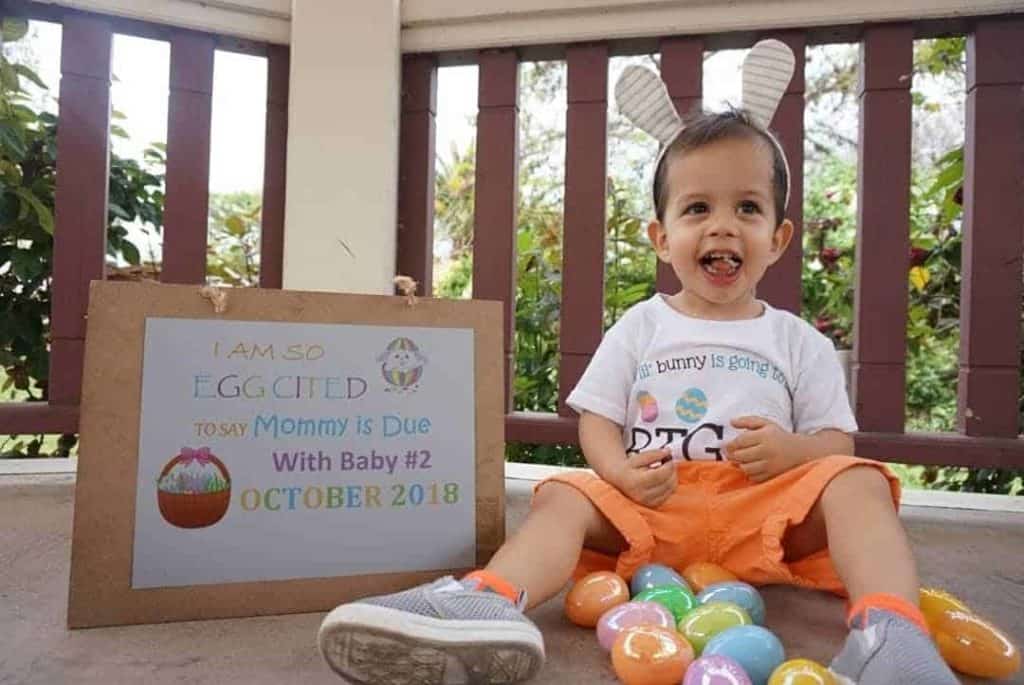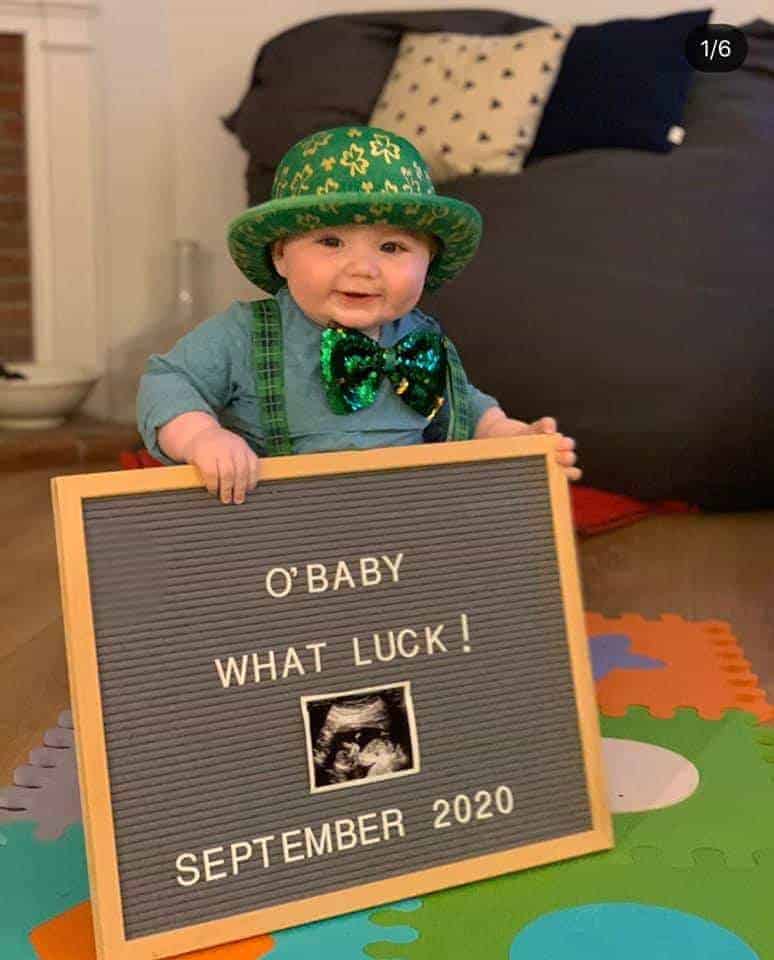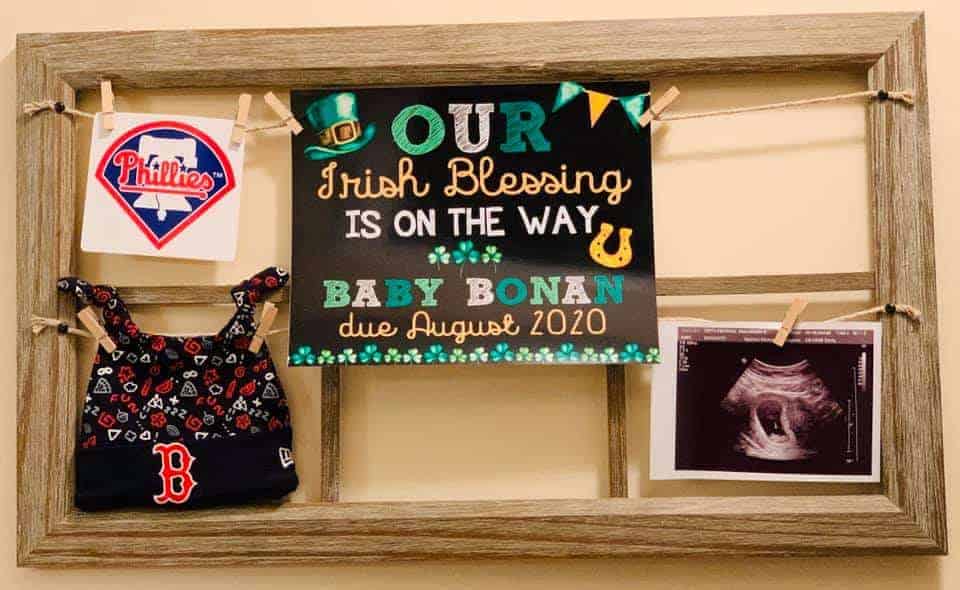 Think about what makes the holiday special or fun for you and your hubby and see if you can tie that into your announcement.
15. Go with a superhero sibling theme
If your child loves superheroes, dress them up as their favorite character and give them a sign that says, "Sidekick Coming Month/Year." It'll get your oldest excited about the new baby and get the point across quickly.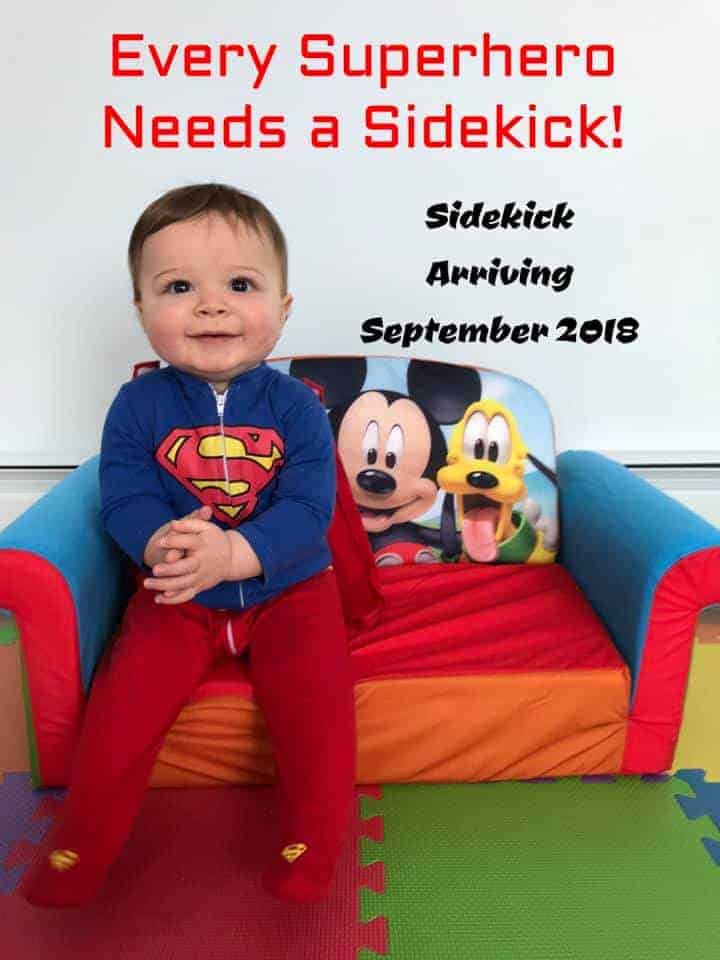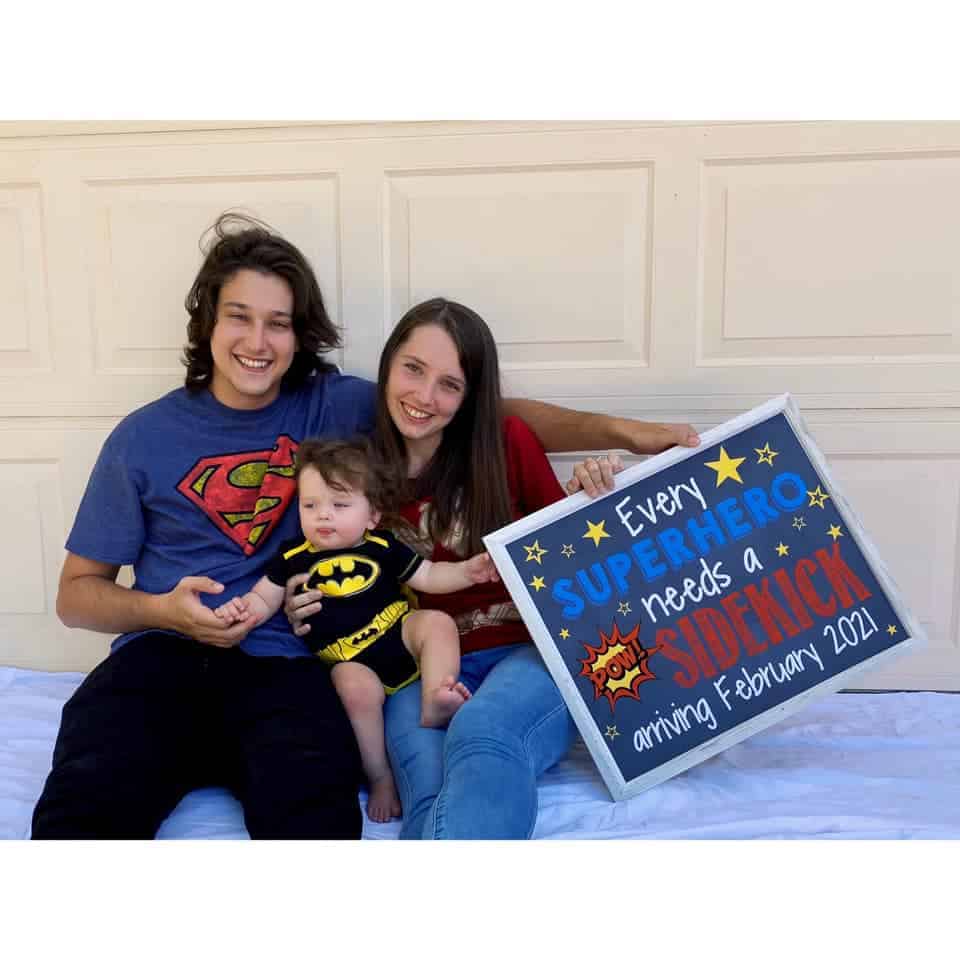 16. Consider another classic pregnancy announcement: baby shoes
There is just something about baby shoes that make them perfect for baby announcements. You can drape them on your belly, set them next to an announcement sign, or take a picture of them alone! Either way, they're a quick and easy announcement idea. Plus, you'll be able to use the shoes once the baby is born.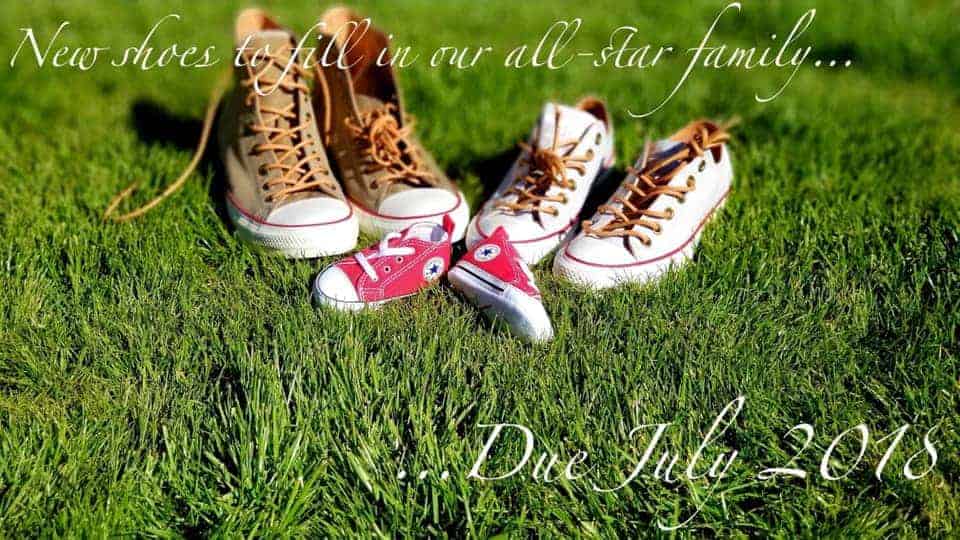 17. Say it with a sign
If you scroll through social media, you'll see that most announcements look perfectly styled. If it's too much pressure to have everyone posing in the right way and wearing the right clothes, just keep it simple. Or outsource it (see above).
If you decide to do this yourself, you can easily set up a letterboard sign announcing your pregnancy and then decorate the area around it. Baby shoes look very cute in this situation, as do things like flowers. Plus, you can do the whole photo shoot in your pajamas if you wanted to.
Or, just keep it super simple and write on a chalkboard or design something on your computer.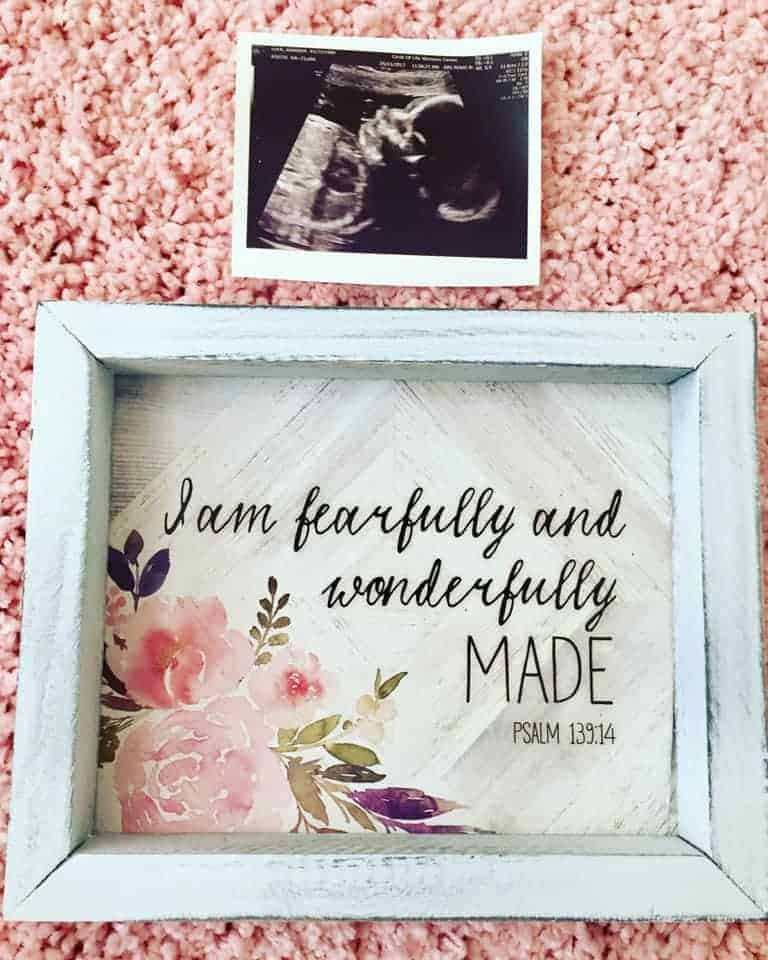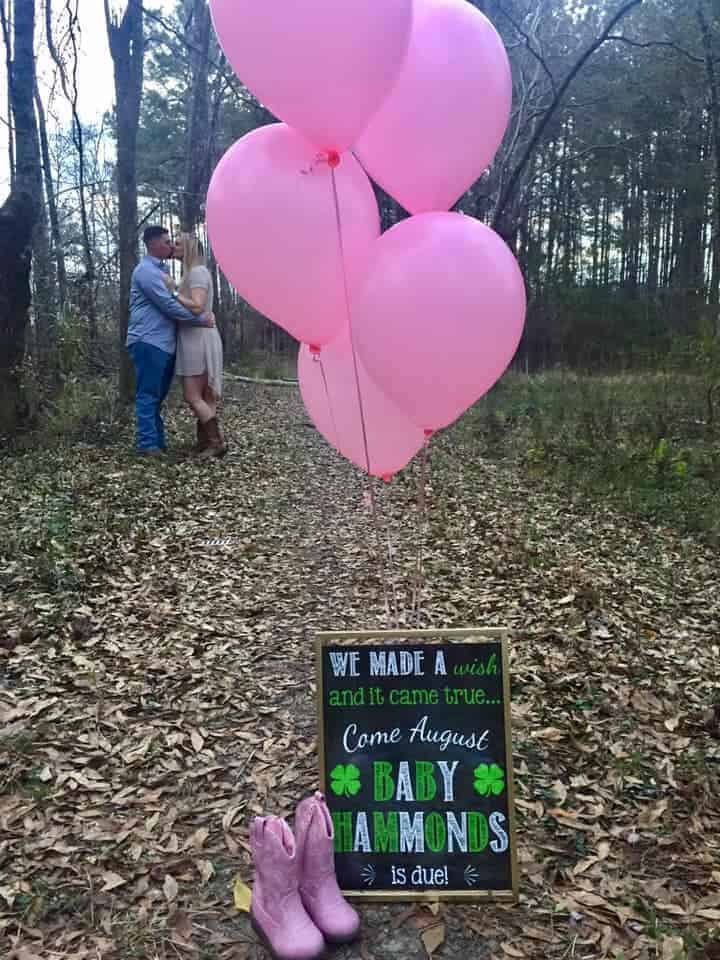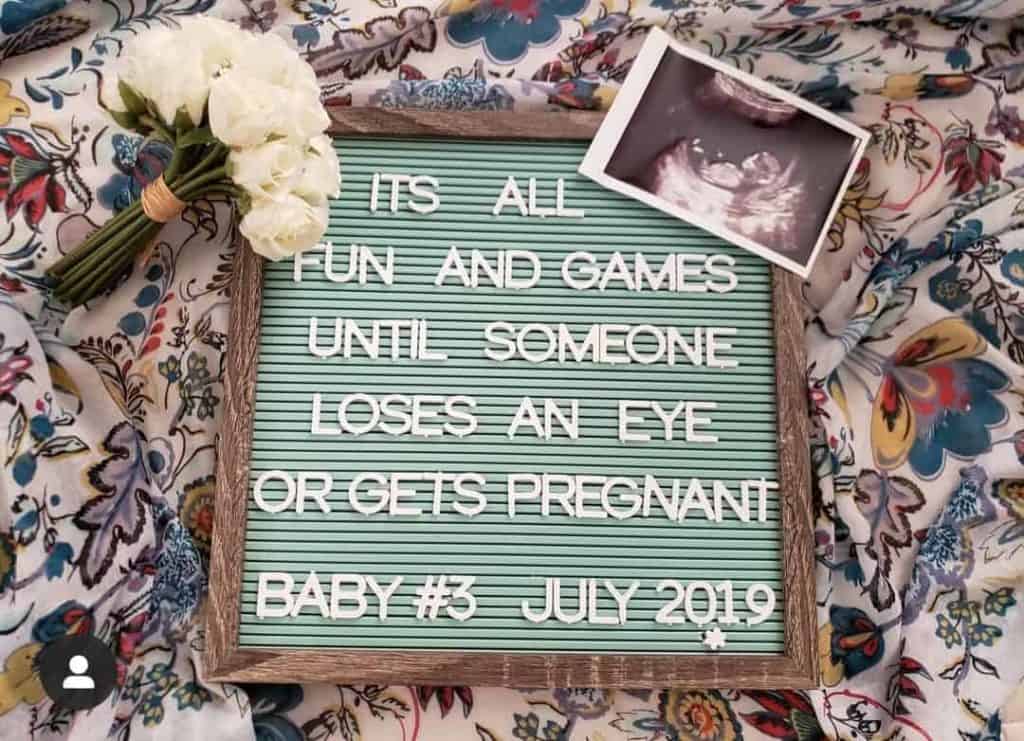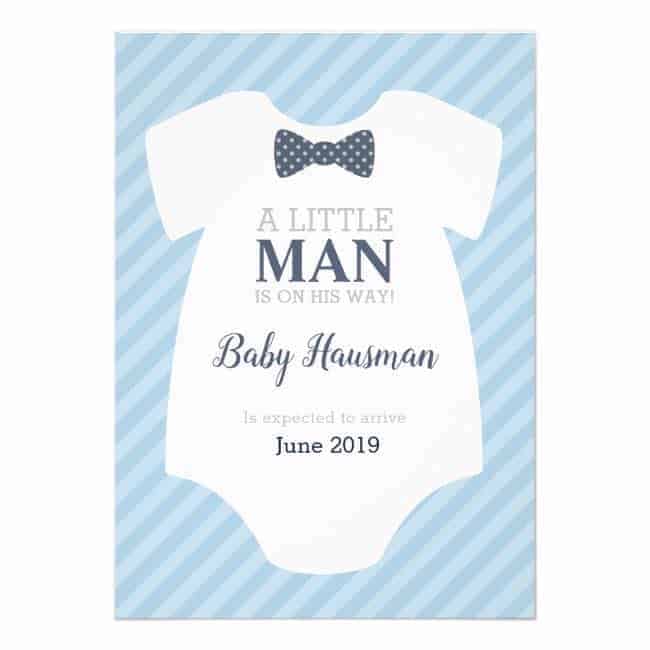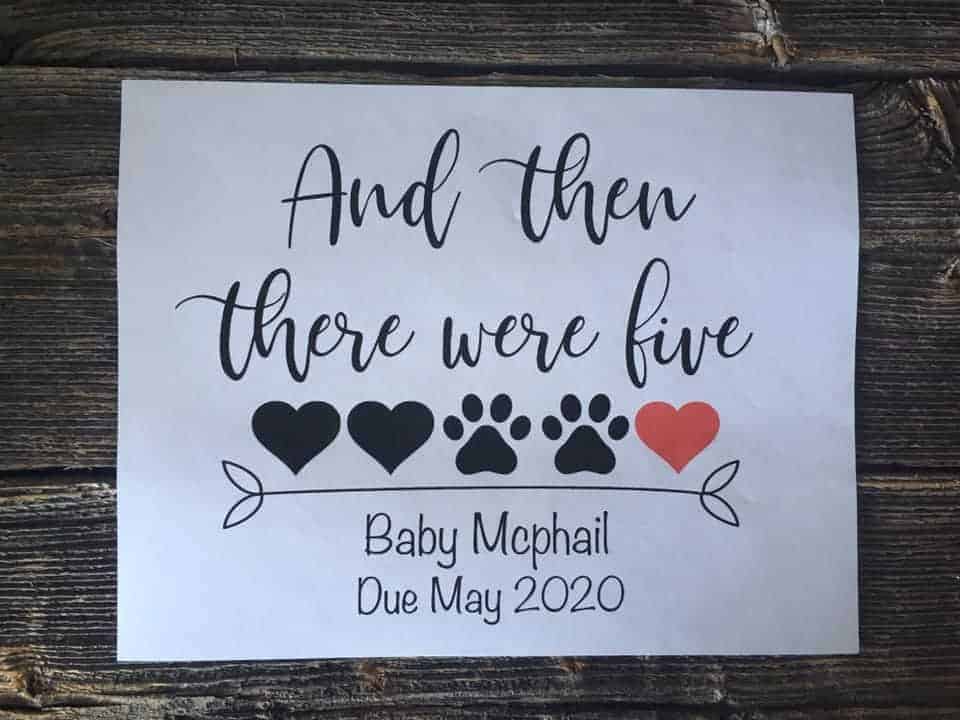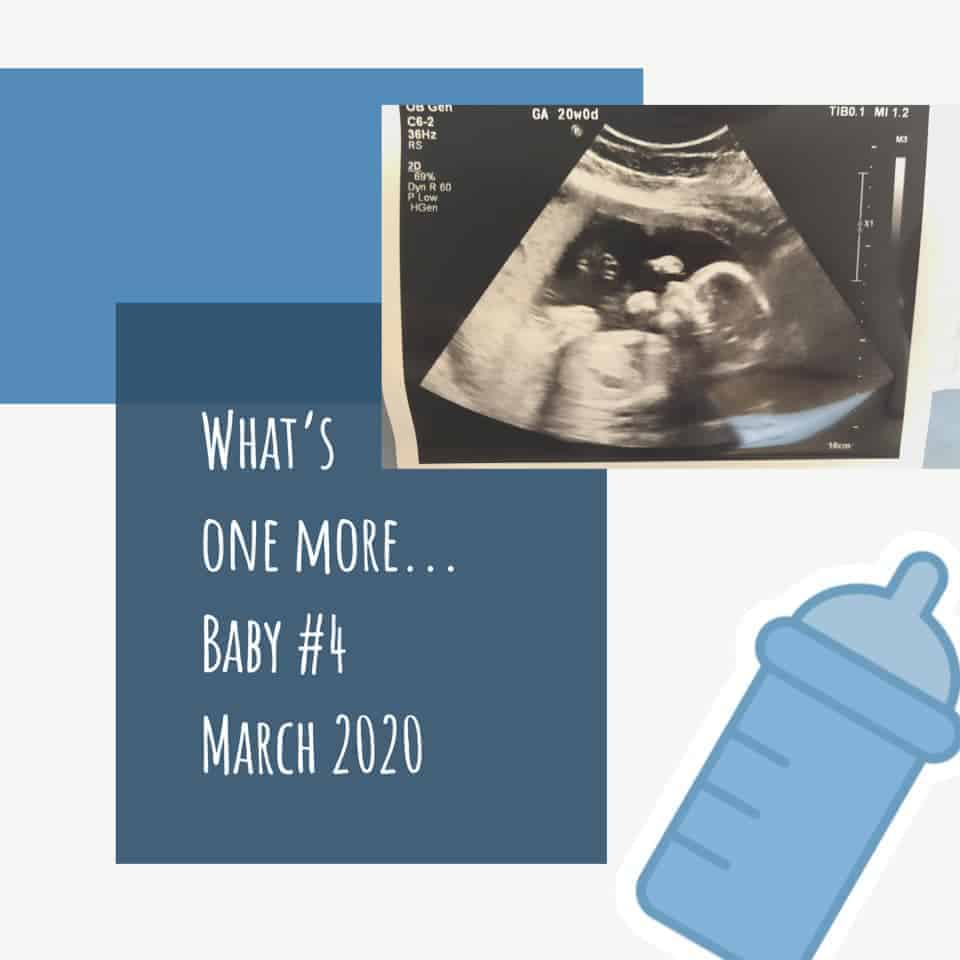 18. Go with a movie, company, or show theme
If you have a favorite show that you love, you can use it as inspiration. I've seen Harry Potter-themed announcements, as well as Star Wars-themed options.
There aren't many announcements out there based on TV shows or movies, so this is an easy way to ensure your announcement is unique and memorable. You can even get your pets and other children involved.
This is a great way to be creative!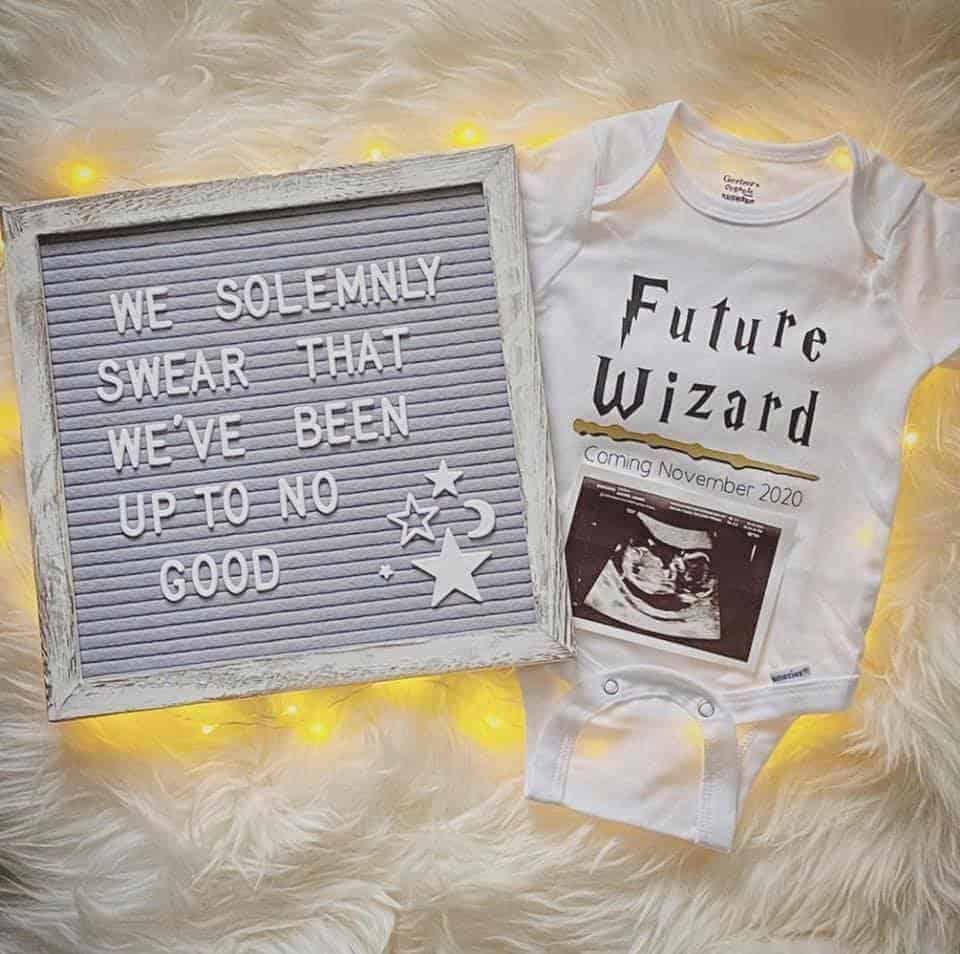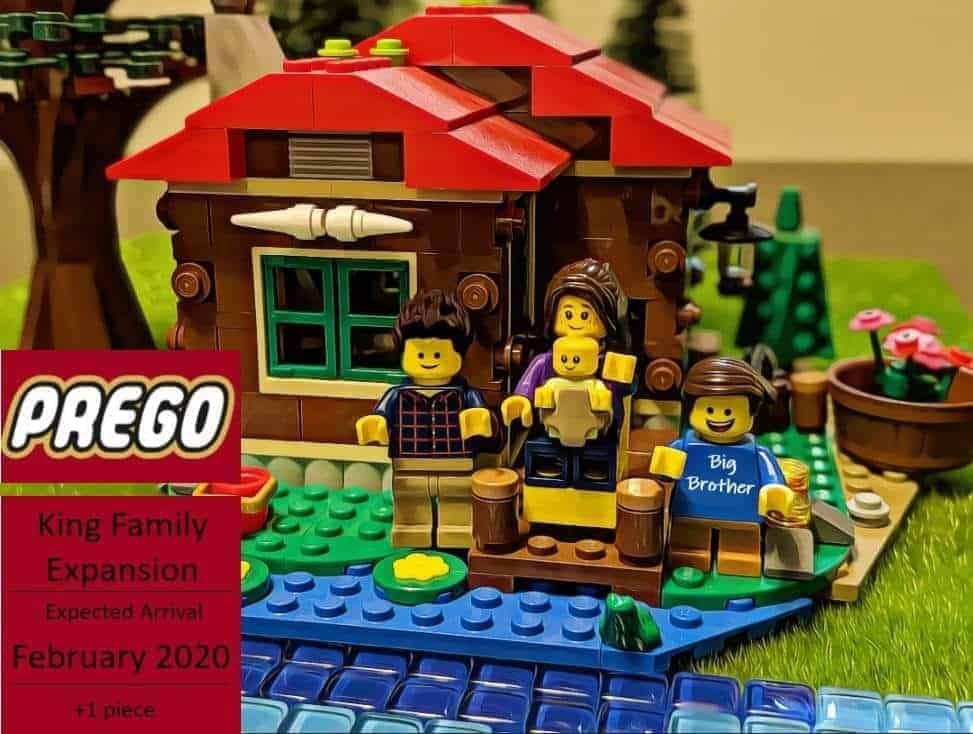 19. Cook up a "family" recipe
This is a play off the "bun in the oven" theme. However, if you can bake, you can make your announcement unique by adding letters on a pie or a cake.
Even if you can't bake, you can write your due date in flour or some similar material. If you love cooking, this is a unique way to announce your pregnancy.
You can also take a photo of yourself and your spouse in the kitchen cooking up a "family" recipe.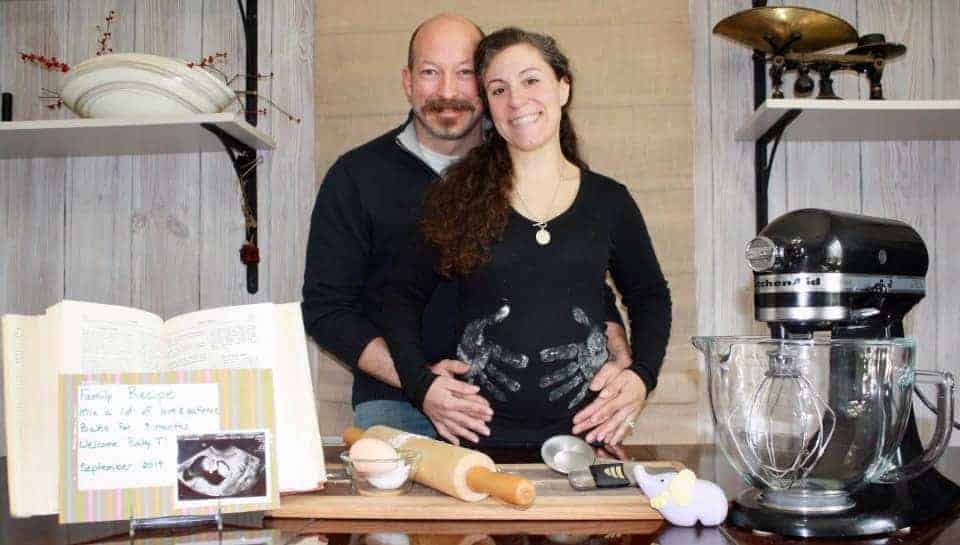 Or do this with your baby's older sibling using a "big sister" or "big brother" recipe. So precious!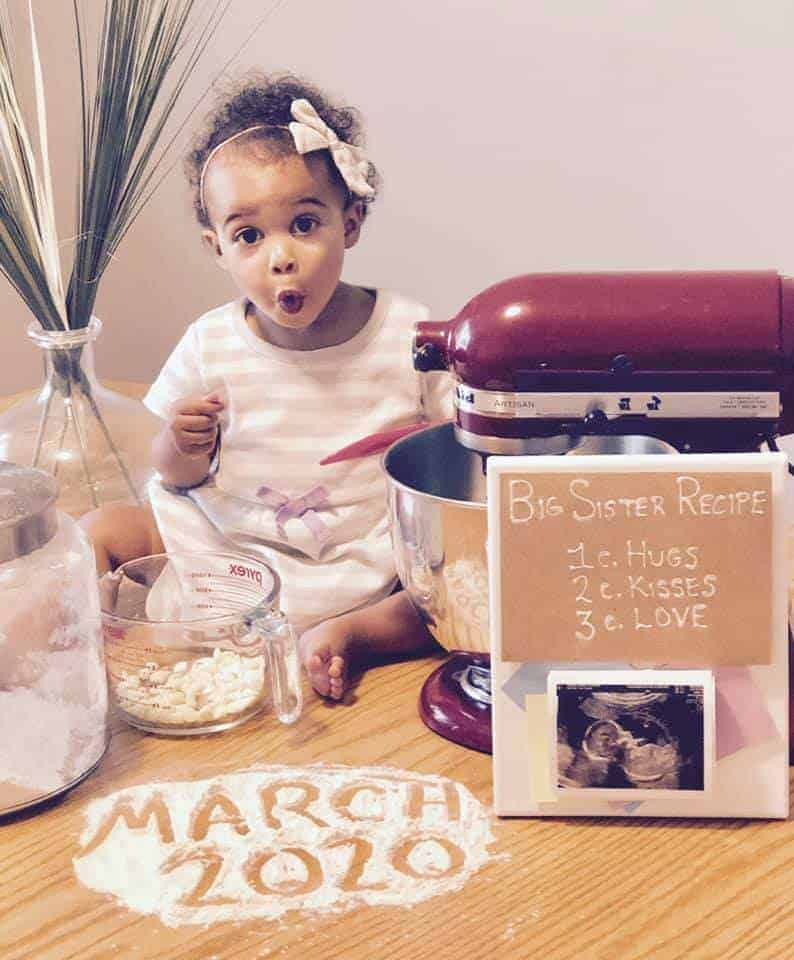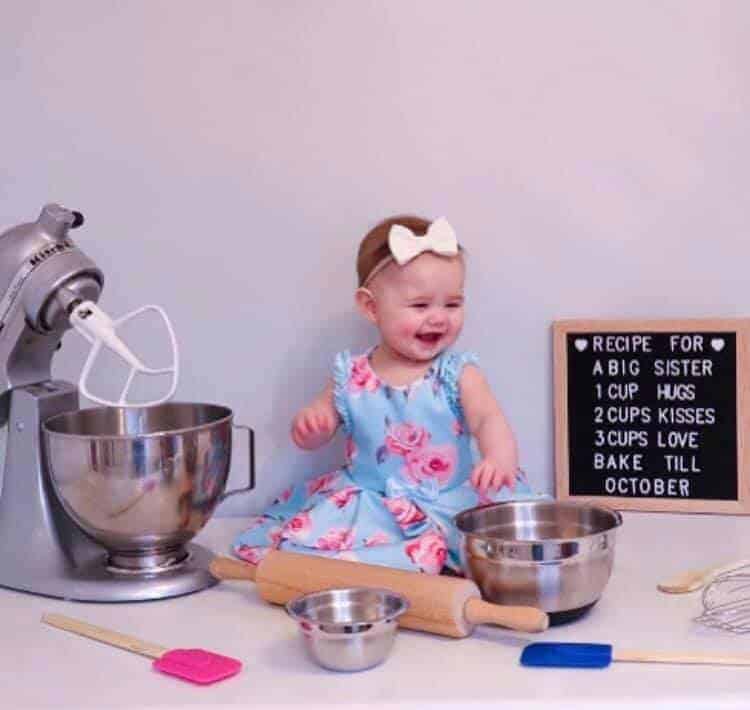 Note: The mom who posted this photo said that no one read the recipe and just commented on how cute the picture was. So you may want to be a little more overt with the "big sister" part or the due date like the pic above.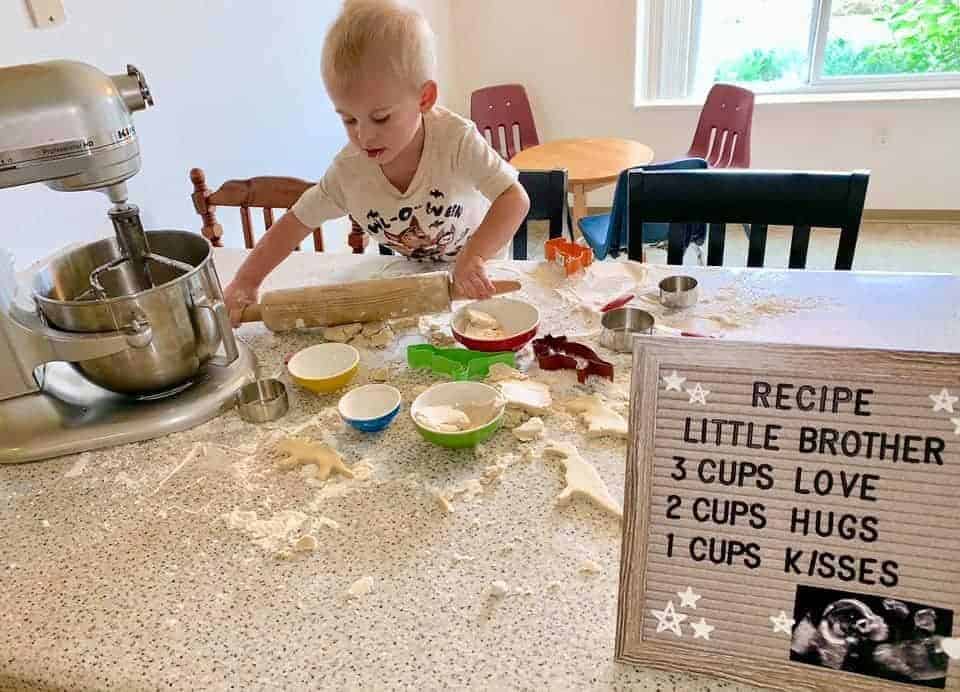 20. Write it out with sidewalk chalk
If you already have a little one (or even if you don't), you can announce the big news by writing it out on the sidewalk with non-toxic sidewalk chalk.
If you're especially artistic, this can be a fun way to design the announcement yourself and add a personal touch. Be creative with this!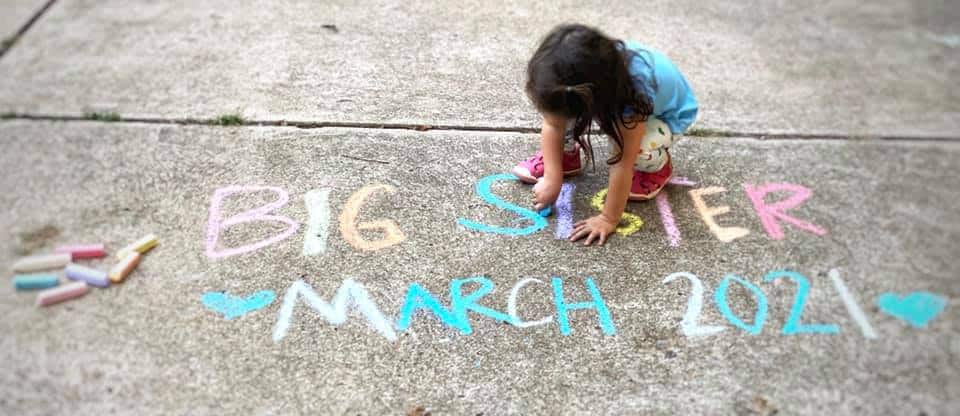 21. Let your personality shine
There's no family out there that's exactly like yours. That's why making the announcement personal to you and your hubby or partner is such a sweet way of announcing the good news to the world. Be yourselves and announce it in a way that only you two can.
Here's a cute couple that loves baseball. There's no doubt that their little one is coming into a baseball-loving family.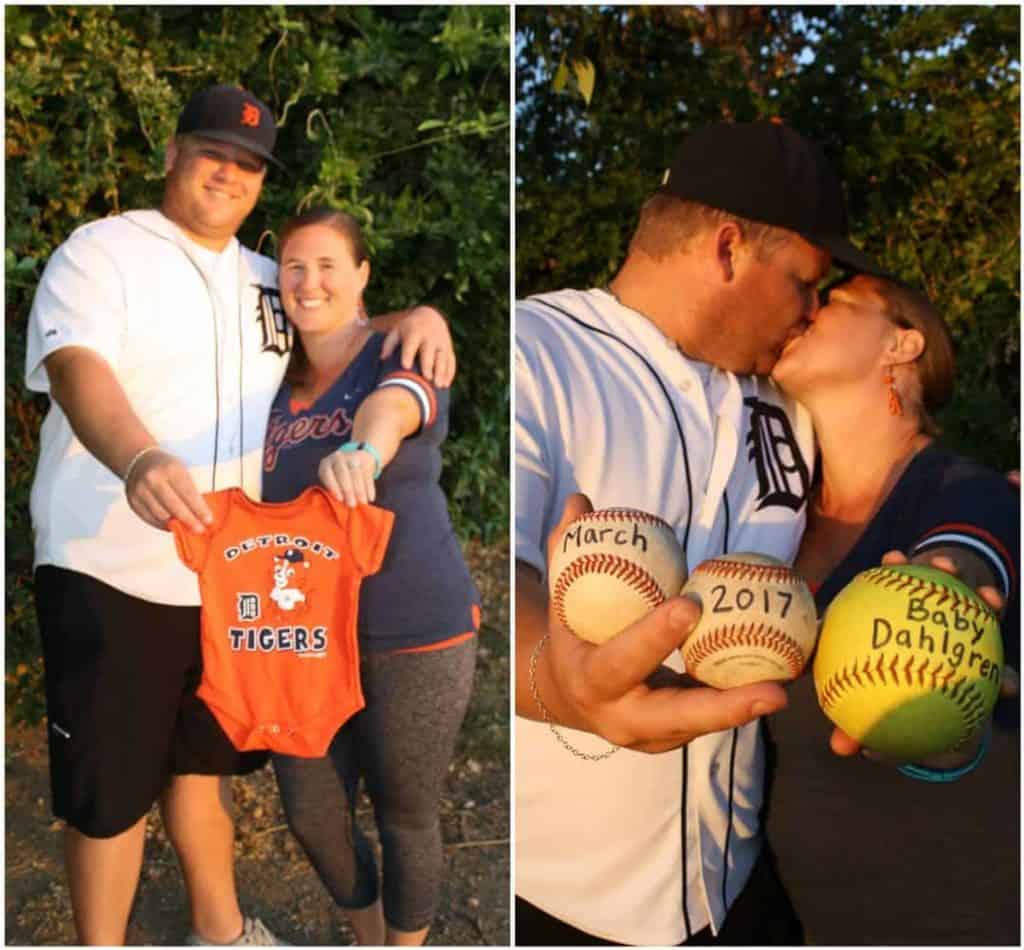 This music-loving couple not only had their wedding guests sign a guitar instead of a guestbook, but they also announced their pregnancy with a kid-sized guitar.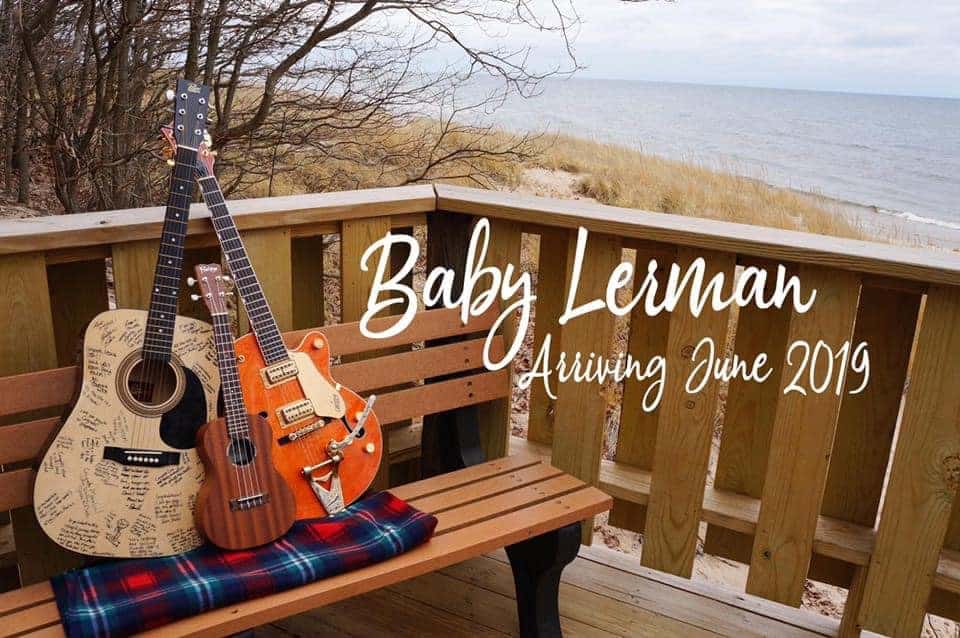 This couple took a sweet photo with mom and dad mugs.
This couple wrote a few lines of code announcing their pregnancy.
22. Announce that you're "eating for two"
Eating for two is another common pregnancy phrase, though you aren't eating double calories while you're pregnant. (In fact, you are eating much less than double calories, but that is a totally different conversation.)
However, it is still a fun theme to play with for your pregnancy announcement. You can take a picture of yourself eating, with the words "Eating for Two" on the picture. Or, you can make a fake menu titled "Eating for Two" followed by a list of your current cravings.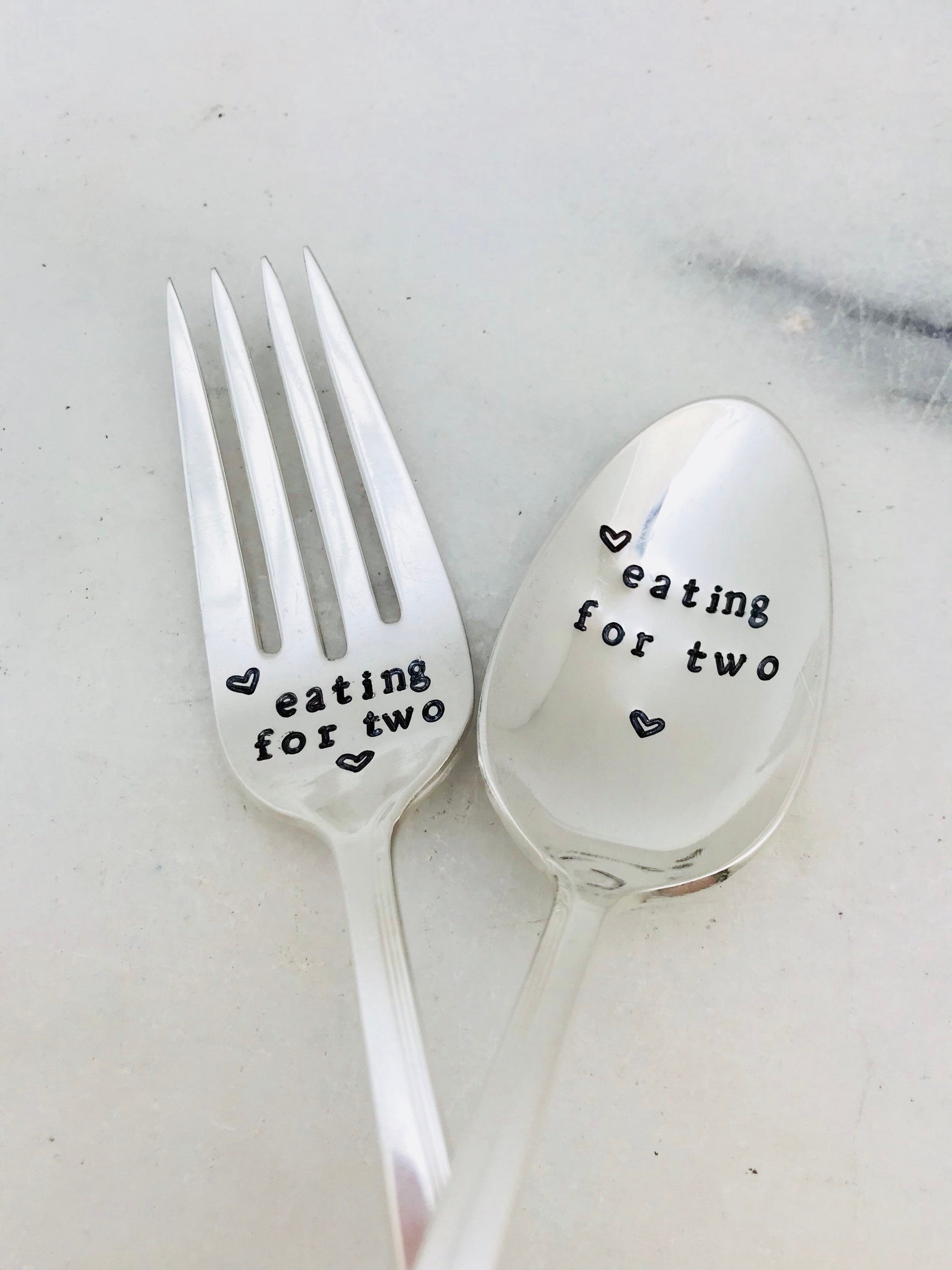 23. Baby on Board
"Baby on Board" signs are sometimes put on cars when you have a baby. You can also use these stickers or just the phrase to announce your pregnancy. You can get the words put on a shirt or hold up one of the car magnets (which you can then use on your car when the baby does get here).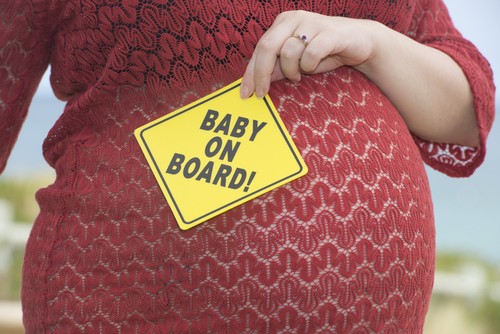 24. Toss out the alcohol
This is another fun pregnancy announcement theme. You can't drink while you're pregnant – this is pretty common knowledge. You can announce your pregnancy by putting a sign on a wine glass that says, "don't refill."
Alternatively, you could take a picture with your husband. Have him hold a glass of wine while you hold a glass of something else distinguishable, like a cup of milk or tea. Adding something like "switching out the wine until September" can bring the meaning of the picture into the open.
25. Shopping Spree
You need a lot of stuff for a baby. After you've collected cases of diapers and baby toys, snap a picture, and you've got your baby announcement. You have to do your shopping anyway, so you might as well get the baby announcement out of the way too!
26. If dad's a trooper, go with the Daddy Bump
This is an amusing theme that is also very memorable. If dad's up for it, put your husband in a dress with a fake baby bump, and dress yourself in his clothes! It makes for a hilarious photo that your family and friends are sure not to scroll past on Facebook.
27. Prego is another classic way to go
Prego is a familiar pasta sauce brand in the United States. Just add a "We're" in front of a Prego can, and you have another easy announcement. You can also combine this with the movie poster approach if you can't choose between the two.
A cute photo of you and your hubby with a jar of Prego is also fun!
Did you get some good ideas for how to announce your pregnancy? How will you announce?
Want more support during your pregnancy?
Join PURE Pregnancy, my holistic pregnancy guide. Have your best, most prepared pregnancy… starting today!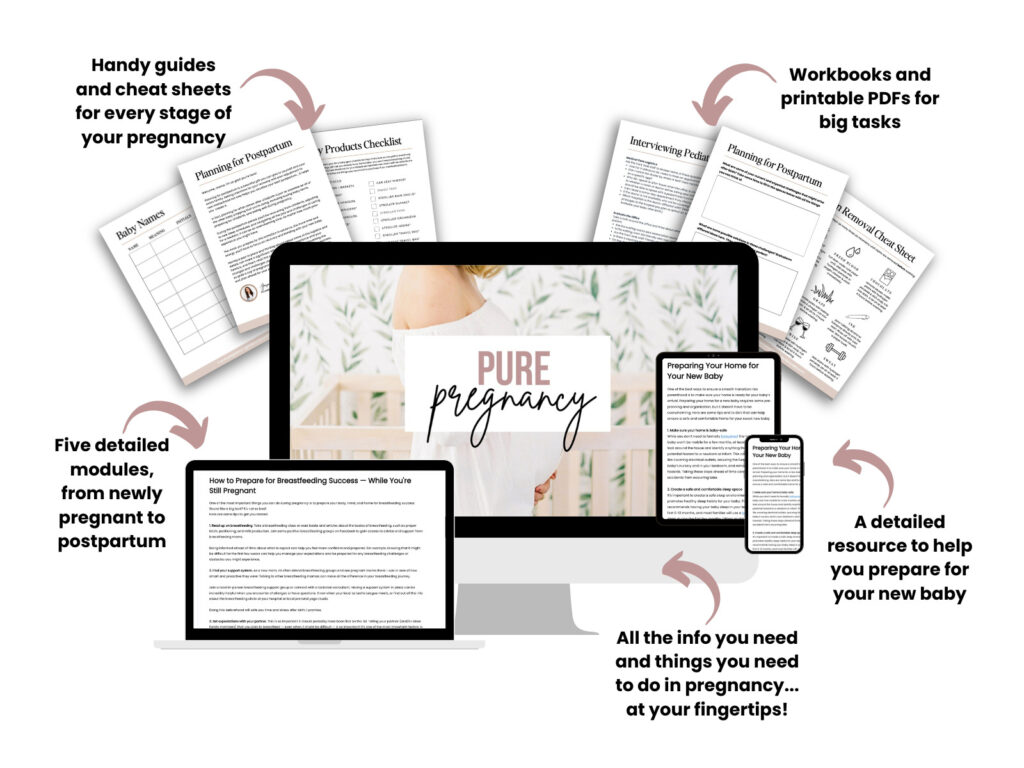 Learn More
If you found this article on pregnancy announcement ideas helpful, save it for later!