Throughout pregnancy, your body adapts to accommodate your growing baby. And while your belly expands, your internal organs also shift to make room. It's actually fascinating!
If you're like me, you may wish that our body would just snap back into its pre-pregnancy shape after giving birth, but it takes time for that to happen. Your body needs about two months for all the organs to return to their normal sizes. And you can continue to have high levels of the pregnancy hormone, relaxin, for up to five months postpartum. So it takes time for things to go back to normal.
As moms, I know it's easy to forget about ourselves when we're planning for childbirth and postpartum. And we don't often give enough thought to our own postpartum recovery. So, let's change that and let's make sure that you always remain a priority, mama!
One important thing you can do is to make sure you have some key postpartum recovery tools in your healing arsenal, including a postpartum girdle!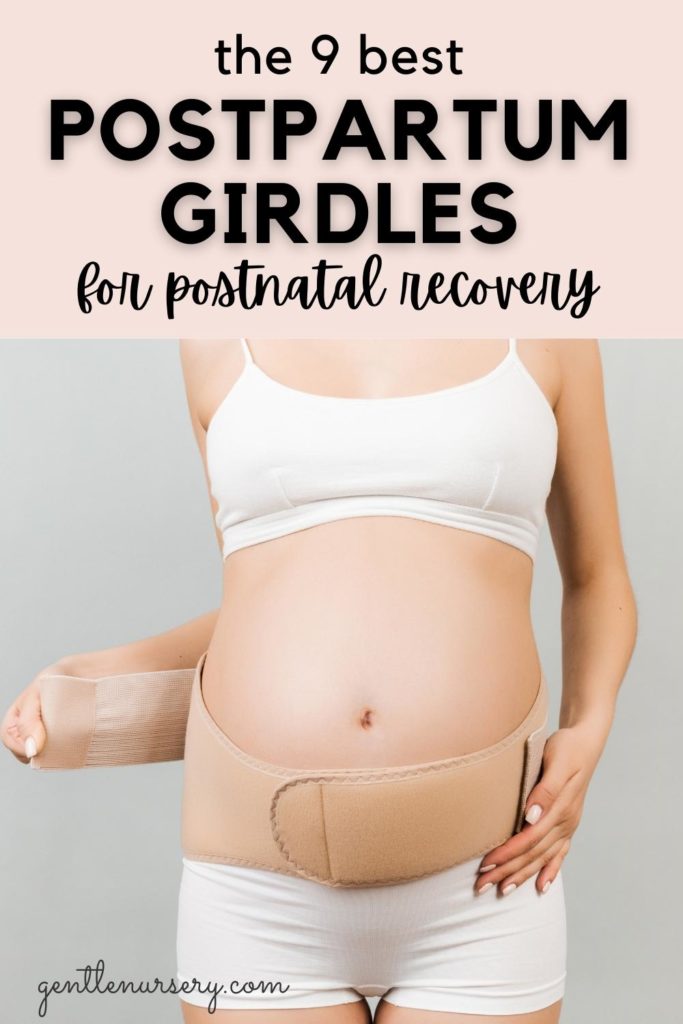 What Is a Postpartum Girdle?
A postpartum girdle is a form-fitting garment that wraps around the torso to provide abdominal support to women after giving birth.
Postpartum girdles are designed to be worn as early as a few days after a vaginal delivery (or 6-8 weeks for a c-section) and for up to 6 months afterward. Also referred to as belly wraps or belly bands, postpartum girdles help support the legs and the back and can relieve postpartum swelling and cramps. A girdle binds your abdominal muscles, uterus, and other organs to help support and compress these areas while they return to their normal position and size.
While postpartum belly bands might seem like the newest celebrity trend, abdominal binders have actually been used for a long time and have been proven to relieve pain after childbirth. For some women, postpartum girdles can help shrink their uterus and boost their confidence in their appearance after giving birth.
How and When To Use A Postpartum Girdle
Most new moms can wear a postpartum girdle to help with the healing process, whether they had a vaginal or c-section birth.
But as a precaution, you should always consult your doctor or midwife prior to wearing one. Chances are if you gave birth via c-section, your doctor will recommend that you use a postpartum belly wrap to help your stitches heal and allow your muscles to recover properly.
You should be able to wear a girdle for as much time during the day as needed, though it's a good idea not to wear one all day/everyday so that it doesn't cause your muscles to weaken. And thankfully, most girdles can be completely concealed and worn under your clothing.
It's really amazing how immediate you can feel the impacts. For me, it provided instant back support, which was very relieving. And of course, over the longterm, you will notice that after four to six weeks of wearing a girdle (more than four hours per day), it will help with postpartum shape as your abdominal area heals and returns to its original condition. That said, everyone's muscles respond differently to pregnancy and delivery, so be patient with yourself.
The Best Postpartum Belly Bands and Girdles for New Moms
When shopping for a postpartum belly band, remember that they're often also called belly wraps, abdominal binders, or girdles. They all have the same goals in mind: to support your abdomen and back, bind your abdominal muscles, and support postpartum healing.
A good postpartum girdle will be made out of durable and stretchable materials that are comfortable to wear, offer good support, and let your skin breathe. There aren't many organic girdles to choose from, but we will also include postpartum support underwear.
To help you choose the best postpartum girdle for you, here is a complete list of best ones currently on the market!
Buy on Amazon | Belly Bandit
Belly Bandit is one of the most popular brands when it comes to postpartum belly wraps. Made from polyester and latex-free spandex, the original Belly Bandit offers 9 inches of adjustability. Its material, the comfort it offers, and its moderately approachable price tag make this girdle a good choice. I used this after my first pregnancy and found it really easy and convenient to use. It's really straightforward and comfortable!
---
Buy on Amazon
This postpartum pelvic binder system has a unique add-on feature: a removable patch that can be heated or cooled to help with pain and swelling. And trust me, that can be useful! It also supports all sides of the pelvis as well as the pelvic floor, the abdomen, hips, and lower back. It does have a higher price point, so it's a good option to put on your baby shower wishlist or give it to someone as a useful present.
---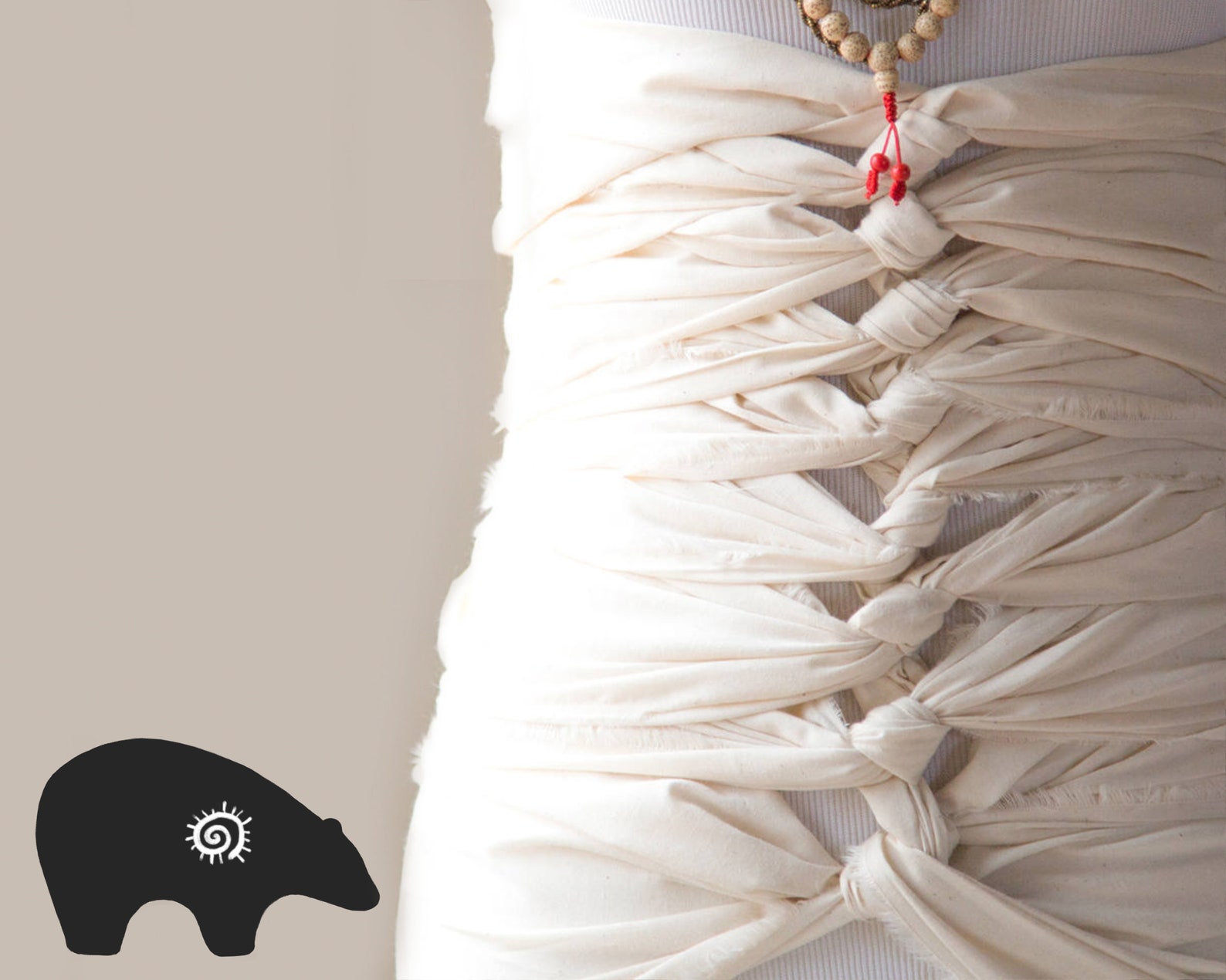 Buy on Etsy
Bengkung Belly Binding is a traditional Malaysian form of wrapping used to help new moms ease their postpartum recovery. This is a completely eco-friendly and beautifully-made wrap that uses binding to put pressure on your torso, helping you heal and repair diastasis recti. Though binding might seem complicated at first, you will get a hold of it quickly with the help of the included video tutorial.
---
Buy on Amazon
Both budget-friendly and practical, this is a 3-in-1 belly wrap set. It includes a belly belt, a waist belt, and a pelvis belt. This makes it suitable for women that have had either a vertical or horizontal c-section. The fabric is 80% polyester and 20% spandex, making it very stretchable and comfortable. It's nice that this wrap includes three separate wraps for your belly, waist, and pelvis, so you can customize and adjust each section as you need. I know a lot of moms that have used this wrap and loved it!
---
Buy on Amazon
Bellefit specializes in creating medical-grade adjustable postpartum girdles. Most often recommended for c-section patients, this corset gives complete support around your waist and pelvis, relieving both pain and swelling. It is made from proprietary fabric, MEDICALTEX, which is completely hypoallergenic. A good choice for c-section moms!
---
Buy on Amazon
If you are not a big fan of belly wraps, you can try support underwear. This high-waisted underwear will stretch over your postpartum belly to offer you light support. Made from 63% cotton, 23% nylon, and 14% spandex, it gives the perfect non-irritating stretch that is also c-section friendly. Note: these are handwash only and are a bit costly, but are nonetheless a good alternative to using a girdle.
---
Buy on Amazon
These postnatal tummy control underpants offer light belly compression. Made of 95% cotton and 5% spandex, these fit and feel like regular underwear. Many women find these extremely comfortable with just the right amount of support. Note these will not be as effective as a postpartum girdle. However, some women find them to be the perfect transition when you still want some support, but you no longer need full compression.
---
Buy on Amazon
This postpartum compression underwear is made for c-section mamas. The smooth high-waist and slight compression offer support without irritating your sensitive incision. Made of 92% nylon, these also have an inside silicone panel to protect your incision. These are very comfortable and stretchy enough that they can be worn up to 12 months postpartum.
---
Buy on Amazon
Yes, this is a suit, but it is an amazing recovery suit! The Marena Recovery Suit gives you complete central body support and medical-grade compression to your torso, hips, thighs, and calves. It can be used after many different kinds of surgical procedures, including vaginal delivery and c-sections. It may be more challenging to wear, but if you had a rough pregnancy and especially if you are dealing with varicose veins, this is a great way to help your body heal, reduce swelling, and increase circulation.
---
Final Thoughts on Postpartum Belly Wraps
I hope this list of the top 9 postpartum belly wraps, support panties, and girdles was helpful and that you found one or two that you'd like to try. Personally, I'd buy both a set of support panties and a belly wrap to see which one felt more comfortable for me.
And a final thought I want to share with you. After your baby is born, it may take time to adjust to your postpartum body. I know it can be easy to pull at the skin (I still do this) or feel frustrated that we still look pregnant three days after giving birth, but the fact that your body created, nourished, and birthed your baby is an incredible accomplishment and miracle. Try to remember this, and take pride in everything you have done! Your body will catch up eventually. Hugs, mama!
Related: How to Heal With a Postpartum Sitz Bath
FAQs About Postpartum Girdles
Still have some lingering questions about postpartum girdles? Read on!
How long should you wear a girdle after giving birth?
Always ask your doctor or midwife! In general, manufacturers recommend you wear a postpartum girdle or belly band for up to 12 hours per day for the first 6-8 weeks. If you feel like you want to wear it more or less, that's fine, just talk to your care provider. It's all about your body's needs. A good rule of thumb is that you should be able to move around freely while wearing it. If it feels uncomfortable, try a different size or talk to your doctor to rule out any health-related discomforts.
When is it too late to wear a postpartum girdle?
A postpartum girdle should be worn within the first six months after delivery. This is when your body rapidly changes to adapt to its non-pregnant state. After six months, the girdle can continue to offer posture support, especially if you've had significant abdominal muscle separation, but it won't help reposition organs or bind your muscles.
Do postpartum girdles help with diastasis recti?
Yes! If you are dealing with diastasis recti, a postpartum condition where your muscles have separated down the middle to create a gap, you will love using a postpartum girdle. The best girdles will bind your abdominal muscles together while they heal, helping to close the gap. Keep in mind, if you have severe diastasis recti, you should talk to your doctor about physical therapy and at-home exercises.
Will a postpartum girdle help me lose baby weight?
While a postpartum girdle is pretty good at helping your muscles return to their normal sizes and positions, it won't influence how quickly you shed the baby weight. That said, sometimes the baby pooch you might think of as baby weight is actually diastasis recti, a separation of your abdominal muscles. Postpartum girdles do help correct this.
Keep in mind that if a postpartum girdle relieves pain or other postural discomforts, that may keep you more active which will help you lose some of your baby weight! Remember, don't push weight loss in those early postpartum months. It took your body 9 months to gain the weight and it will take time to lose the weight again. Give your body time to recover and heal.
Who should avoid wearing a postpartum girdle?
Not all women will be cleared to use a postpartum girdle. Your doctor may not want you to use one, especially if you have a cesarean incision that isn't healing properly or you experienced specific health conditions like preeclampsia. You should always consult your doctor before you wear a postpartum girdle!