Postpartum sitz baths offer amazing benefits to help your body recover and heal from labor and delivery. Use this guide to help you set up the perfect sitz bath for a speedy recovery!
Labor and delivery are certainly not easy—you just pushed a baby out! So, it's no surprise that birthing takes its toll. The early postpartum weeks can be a big period of adjustment and recovery. Sitting down might be uncomfortable; even walking can be a challenge. Whether your perineum stayed intact or you had some tearing during delivery, all postpartum mamas require a bit of self-care to help the healing process along.
If you ask me, a postpartum sitz bath is actually one of the most important things you can do to facilitate a quick recovery. The sitz bath is an easy, non-toxic way to help ease inflammation, pain, and swelling while naturally promoting the healing process.
Of course, always check with your doctor or midwife before you take a sitz bath for their official OK!
What is a Postpartum Sitz Bath?
A postpartum sitz bath is typically a shallow basin filled with warm water and other soothing and calming ingredients that is meant to clean and relieve pain in your perineal area. It will also help to reduce swelling and clear hemorrhoids.
7 Reasons a Sitz Bath Helps With Postpartum Healing
Here is a look at why the postpartum sitz bath can be a powerful way to heal after birth and take care of yourself… so that you can take care of your new bundle!
1. Cleans the perineum. After delivery, you will experience postpartum vaginal bleeding. This is also called lochia. For about two weeks (or sometimes longer), your body excretes all of the extra blood, mucus, and tissue that was used to nourish your baby in-utero. If you had a vaginal delivery, you might also have some tearing, swelling, and bruising. Because of all of this trauma, this area is susceptible to infection and should be kept as clean as possible.
Your doctor will likely tell you to avoid using any soap for a few weeks, primarily because soap can dry out the areas that are trying to heal, including your stitches themselves—ouch! Thankfully, the sitz bath is the perfect way to keep the area clean.
For an extra healing boost, you can also prepare the postpartum sitz bath with antimicrobial and antibacterial herbs such as lavender, yarrow, and chamomile.
2. Reduces Pain. The most obvious reason to take a postpartum sitz bath is that it significantly reduces the pain from a vaginal delivery. Studies prove that routine sitz baths will greatly help to relieve pain and even decrease infection rates for women following delivery. Whether or not you had tearing, birthing a baby does its damage. Personally, I was very uncomfortable during the first few postpartum weeks, and soaking in the sitz bath was so much more comforting than I thought it would be!
3. Speeds Up Healing. Postpartum sitz baths help to increase the blood flow to the area. When you increase blood flow to an area, you also increase oxygen, immune cells, and basically all of your body's machinery to help reconstruct tissue, helping to speed up the healing process. Less pain for less time!
4. Reduces Swelling. The swelling of the perineum is very common following vaginal delivery. A sitz bath can help to reduce inflammation, soothe perineal muscles, and calm the swollen and bruised areas.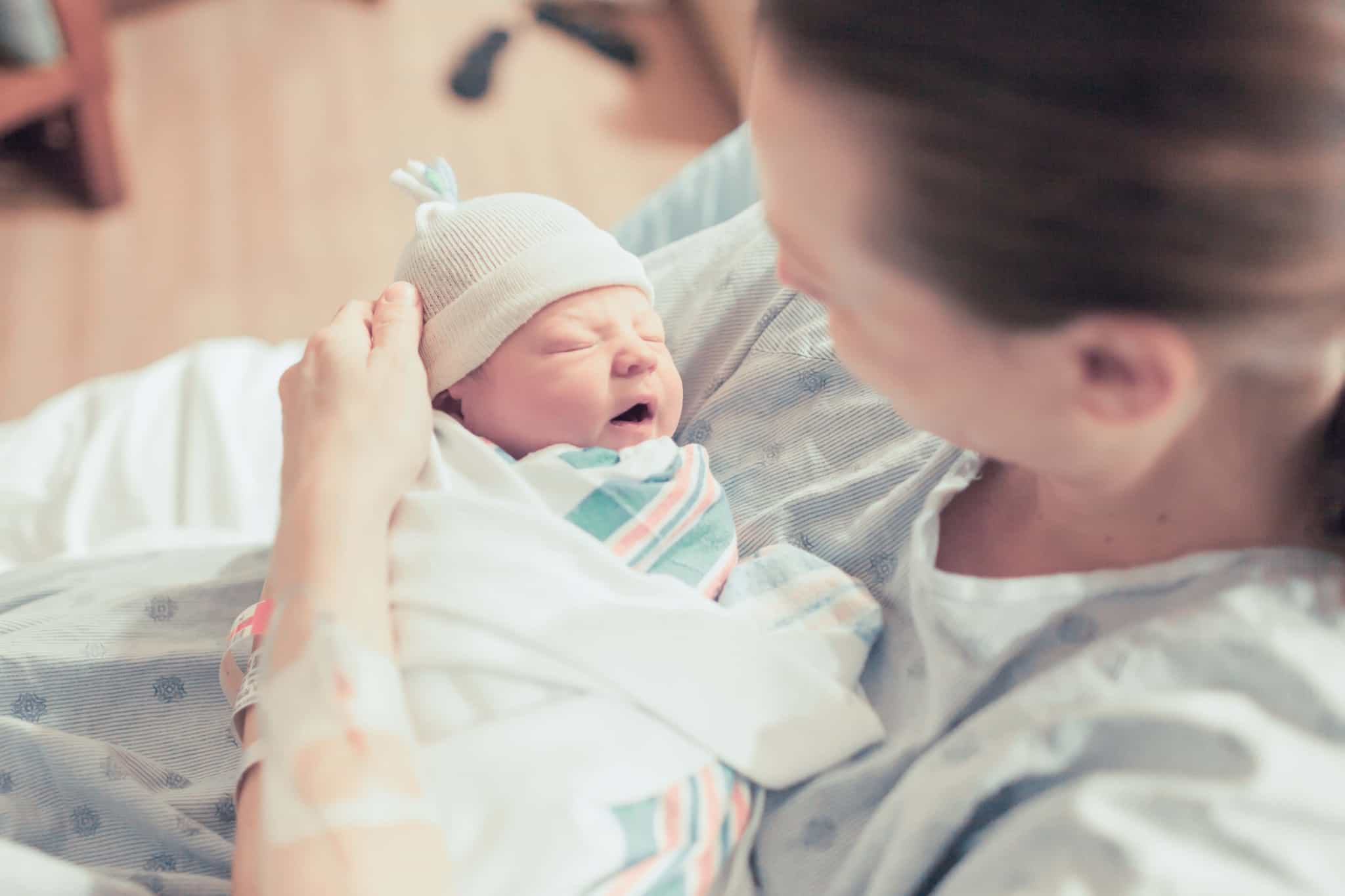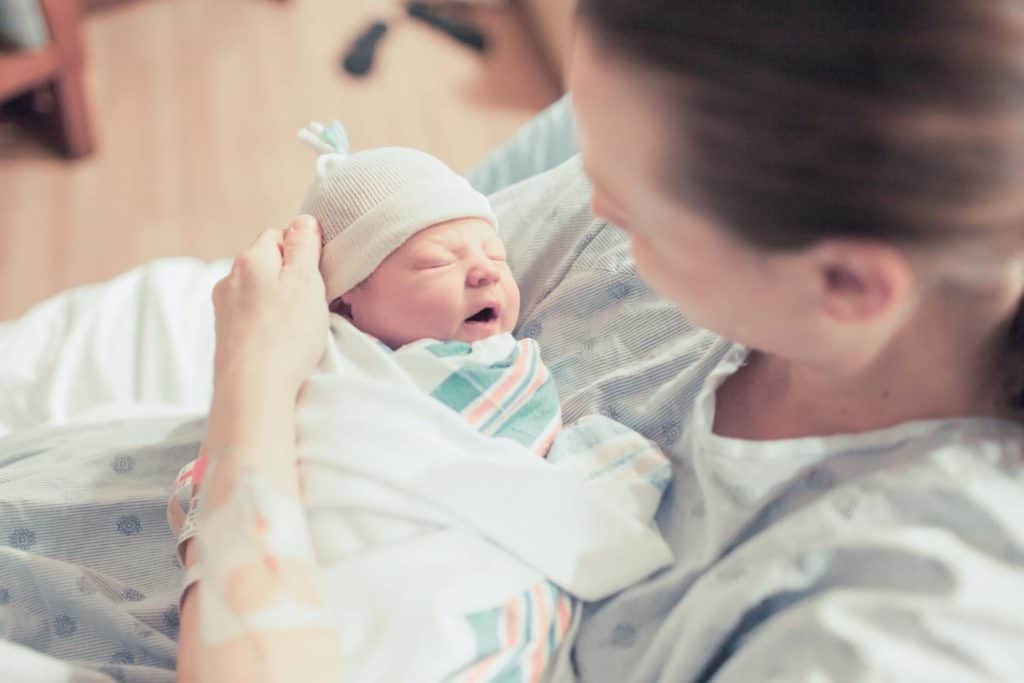 5. Dissolves Stitches. It can be unpleasant to have stitches in your lady area. At first, they might feel like they are tender and sore, and then, as the healing process advances, they might begin to feel tight and itchy. Taking a sitz bath can help to dissolve those stitches faster while also relieving any discomfort.
6. Helps You Relax. Motherhood can be exhausting, especially in the first days after birth. Taking a sitz bath can help you have a little bit of time to relax in some peace and quiet while taking care of yourself! The fourth trimester is all about readjusting as a family, and taking care of your baby, and yourself.
7. Only Takes a Few Minutes. A sitz bath doesn't take long to prepare or complete. If you can just take a few moments each day to have one or two sitz baths, you'll be surprised how much better you feel in a short period of time. And, best of all, it's a completely non-toxic remedy!
Related: How to Make an All-Natural Postpartum Care Kit
There Are Three Ways You Can Use Sitz Baths
There are a three types of sitz baths, and all of them are effective. Pick the best one for you based on your timing and space constraints. Not every day is the same, so I suggest having as many options as possible available to you: the sitz spray, the sitz bath kit, and a bathtub.
If you are having a busy day, go for the spray. If you're dealing with swelling or pain and need a soak that isn't a huge time investment, use the sitz bath kit. And if you have some extra time whether it be at the end of a long day or your little one is taking a long nap, go for the soothing bathtub!
1) Use a Sitz Bath Spray
One of the easiest ways to get the benefits of a postpartum sitz bath without spending as much time soaking is to use a sitz spray. Sitz sprays consist of herbs like calendula and witch hazel. No soaking is required! All you have to do is spritz a few sprays on your perineum throughout the day. The best times to use a sitz spray are after you use the bathroom and after you shower.
Each sitz spray is a little different, but most often you have two choices with this one. You can spray directly on a pad or padsicle. This is an easy thing to do when you're using the bathroom. Just spritz and be on your way! Another option is to use the spray directly on your perineum. This will give a stronger sense of pain relief.
While you can make your own sitz bath spray, you can also purchase premade sitz sprays. A few choices I like include:
Buy on Amazon
This sitz spray is made of three all-organic herbs: yarrow, witch hazel, and uva ursi. In addition to these herbs, the spray includes grain alcohol, water, and two essential oils (grapefruit and lavender).
Buy on Amazon
This cooling sitz spray includes lavender oil and peppermint leaf oil along with cucumber extract, water, and vegetable glycerin. What's kind of neat about this one is that the sitz spray is inside an inverted spray bottle. It can be quite helpful to be able to spray upside-down!
2) Use a Sitz Bath Basin On the Toilet
Another choice is a sitz bath kit. This is essentially a plastic basin that sits over your toilet. Most hospitals provide postpartum women a sitz bath seat to take home, so you might be familiar with it. You fill the attached bag with water, hang it up on a nearby hook or shower rod and let gravity draw it into the bowl. Some people feel this option is a bit complicated since it involves a bag and tubing, but it's a great option if you like to soak in warm water without having to take a full bath (or don't have a bathtub in the first place). And you could even just fill the basin with water directly if you'd prefer not to deal with the tube.
This is also a great option for taking a sitz bath even when you don't have a bathtub in your home. You can just use this over the toilet seat, making this a really easy and convenient way to get the healing benefits of taking a sitz bath.
Buy on Amazon
The sitz bath kit will sit right over your toilet seat, so it's very convenient. It just might take a little practice figuring out how to set it all up. Always make sure to start with a clean plastic basin.
Fill up the included bag with warm water.

Note: it's important to keep the water warm and not hot!

Lift up the toilet seat and set the clean basin onto the top of the toilet bowl.

Put the water bag on a hook, shower curtain, or wherever it will hang

at a higher elevation than the seat.
Add some Epsom salts if you'd like to. (If you'd like to add herbs, just make sure to boil them in hot water, let the water cool, and strain it before pouring it into the basin.)

Sit on the seat allowing the water to soothe the perineum. This should take about ten to fifteen minutes.

When you are done, use a clean towel to pat dry.

Make sure to clean the sitz bath with soap and hot water after every use. This step is important because you don't want bacteria to grow in the basin; this would put you at increased risk for infection. Make sure to hang-dry the tubing and bag as well.
3) Take a Full Sitz Bath in The Tub
The most relaxing option is to use a bathtub for a sitz bath. This involves drawing a shallow bath and having the time to fully soak in a tub for a period of time. That said, it's an excellent choice when you're feeling tired, run-down, and just need a little extra TLC.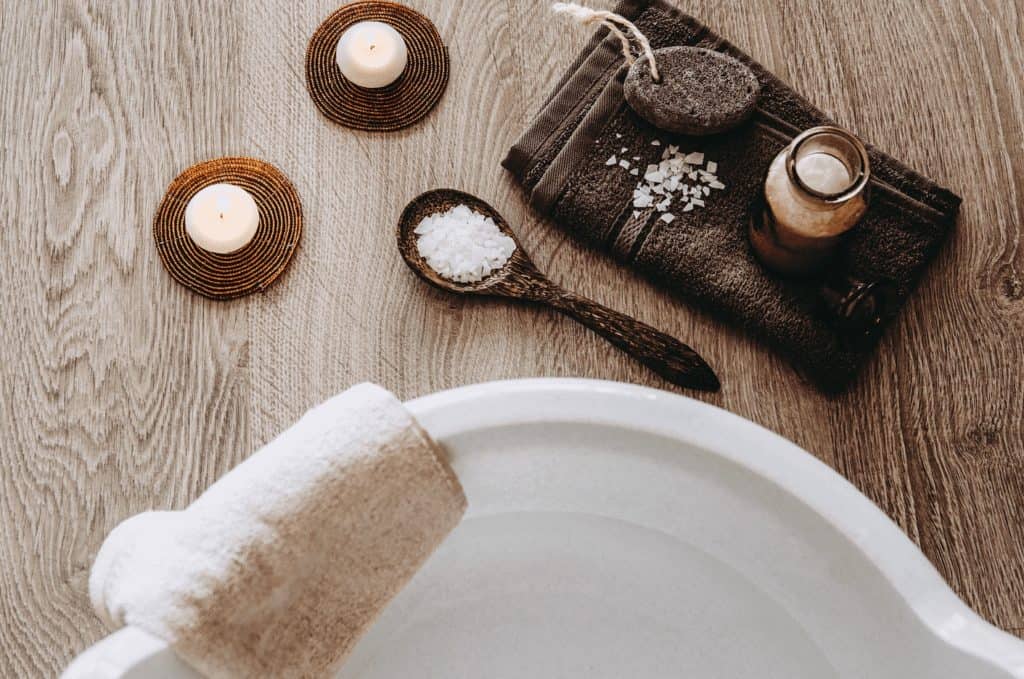 How Do You Make a Sitz Bath in the Bathtub?
To take a sitz bath in your bathtub, follow these easy instructions.
Step 1: Prepare any herbs or mixtures beforehand (optional)
If you plan to add herbs to your sitz bath, you'll first need to boil them in water for about 5 minutes. (Much like making a cup of tea.) Then, once they have cooled down, they'll be safe to add to your sitz bath.
You can also skip this step if you don't plan on adding any herbs to your bath or if you're in a rush and just want to soak in some bath salts.
If you want an herbal bath, there are plenty of options! You can either use a premade herbal sitz bath mix or make your own. Dried lavender is a great choice because it's not only soothing (and smells wonderful!), but it's antimicrobial, antibacterial, and promotes healing. Another herb you might want to try is calendula, which has very strong skin healing properties, so it's great to help heal any tearing. Red raspberry leaf is also a great option and known for its postpartum healing properties.
Buy on Amazon | Earth Mama Organics
Buy on Amazon
Remember that this step is optional and you don't have to use any herbs if you don't want to.
Step 2: Make sure your bathtub is clean
Before making a sitz bath in your bathtub, first make sure your bathtub has been freshly cleaned. Even though it seems like an unnecessary step, it's crucial to have a clean basin to avoid infection.
Step 3:
Fill the bathtub with a few inches of warm water
You want to be able to soak up to your hips. Note: You can always take a full bath if you want to!
You can choose cold or warm water for your sitz bath depending on your needs and preferences. Avoid hot water as it can actually make pain worse. Even though you might like your shower at a volcanic temperature (I know I do), it's not the best for healing. Hot water can actually be too strong and make your stitches and delicate skin tight, itchy, and dry—not optimal conditions for healing.
Surprisingly, cold water doesn't feel like the obvious choice for a bath because who really wants to sit in a tub of cold water? It's far from the most comfortable choice, but evidence shows us that a cold sitz bath provides more pain relief.
Moms who had episiotomies or tearing during childbirth find cold water particularly helpful. (I had a second degree tear with my first baby and cold water and frozen padsicles were so soothing.) It offers more pain relief and works better to decrease the swelling. So, if you're struggling with pain and swelling, give the cold water a try.
Most women prefer warm water because it's more comfortable and relaxing. Midwives suggest warm or lukewarm water between 98℉ and 105℉. Warm water helps to promote healing, encouraging more blood flow and circulation around the wound, but it won't help as much with the swelling as cold water.
Step 4: Add your choice of herbs and other ingredients
I love that sitz baths are fully customizable! While you can just use warm or cold water, you can also mix in some other ingredients to help you heal faster.
In addition to some of the herbs listed above, other sitz bath ingredients include salts that work amazingly well to decrease pain and irritation. Epsom salt is a magnesium sulfate compound known to reduce swelling and itching. Magnesium can actually be absorbed through your skin to help release serotonin and reduce stress hormones as well. If you don't like Epsom salt, Dead Sea salt is a great alternative. It's antibacterial and a good source of minerals that promote healing. Himalayan salt is also a good option and a powerful detoxifier that acts similarly to other salts by reducing swelling and pain. In fact Himalayan sea salt contains many minerals that are great for your body after birth.
Buy on Amazon
Buy on Amazon
Buy on Amazon
Other ingredients to consider are those that have antimicrobial and anti-inflammatory properties. Witch hazel is one that you might already use on your padsicles, but it also works for your sitz bath. It can really help reduce inflammation. Similarly, aloe vera can be added to your sitz bath to soothe your stitches; it's very hydrating so that your skin and stitches do not dry out and cause further irritation. I also have had some luck with coconut oil. Coconut oil contains lauric acid, which has antimicrobial properties. It's also super hydrating to help your perineum heal without irritation.
Buy on Amazon
Buy on Amazon
Keep in mind, these ingredients can be combined, used alone, or not used at all! I know some days you might feel like you want a relaxing herbal blend, and other days might be simple Epsom salt and water. Experiment and find what works for you. And if you'd like some sitz bath recipes, keep scrolling for my favorites!
Step 4: Soak for 15-20 minutes
Plan on spending 15-20 minutes taking a sitz bath. It's going to be much more effective if you stay in the bath for up to 20 minutes because anything too short won't give your body a time to reap the benefits of the sitz bath.
This is a great time to meditate (or just focus on your breathing), catch up on an episode of your favorite show, or read something. Or, really, you could do nothing during this time.
Easy DIY Sitz Bath Recipes
Finding sitz bath recipes is something that I enjoyed. Here are a few simple, easy choices.
Simple Epsom Salt Sitz Bath
Truthfully, Epsom salt is so beneficial that you can't go wrong with this one. And it requires no preparation, so it's really mom-friendly.
Add ½ cup of Epsom salt to your sitz bath basin. Gradually, as you fill-up the basin with warm water, the Epsom salt will dissolve.
Soak for 10 to 20 minutes.
Healing Sitz Bath
This sitz bath is more like a healing padsicle in your bath.
Add ¼ cup Epsom salt, 2 TBSP witch hazel, and 3-5 drops of lavender essential oil.

Fill with warm water and soak for 10 to 20 minutes.
Herbal Sitz Bath
The easiest way to make an herbal sitz bath is to make a blend that has strong healing properties. Keep in mind, this requires a little preparation, but I promise it's so worth it!
Choose your bath herbs.

You can find premade herbal blends on the market or you can use your own dried lavender and some of the other ingredients I listed above, for example. I like to use about 2 oz. of each herbal ingredient. For example, 2 oz. of lavender blossoms, 2 oz. of calendula, 2 oz. of chamomile, and 1 cup of Epsom salts.

Put the ingredients into 2 cups of boiling water and let simmer for 10 minutes.

Cool and strain.

Add the cooled, strained herbal water into the basin of your sitz bath kit or your bathtub.

Soak for 10 to 20 minutes.
Take Sitz Baths Regularly to Support Your Postpartum Healing
The postpartum period is hard, no matter what. I look back on those weeks after bringing my babies home, and I can clearly remember just how uncomfortable I was: you're trying to take care of a baby, heal, and sleep. It's not easy, but don't forget yourself.
If you still have questions, read on to find answers to frequently asked questions about postpartum sitz baths!
When can I start taking sitz baths?
Most doctors recommend waiting at least 24 hours after delivery to do a sitz bath. Typically, you're still under the care of your doctor for the first day or two after labor, so you can just wait until you get home to start a sitz bath routine.
How do I disinfect a sitz bath?
It's always wise to keep your sitz bath as clean as possible whether it's your bathtub, a portable sitz bath kit, or even the sitz spray bottle. After birth, you essentially have an open wound – even if you didn't need stitches. To avoid infection, you want to keep the basin you're soaking in free of bacteria.
The best way to clean your sitz bath is with dish soap and hot water. Make sure to use a clean dishcloth or washcloth to really scrub the basin. You can also use any other non-toxic cleaning products you would use to clean the bathroom. Just keep in mind strong chemicals can irritate your skin, so personally, I like to stick to tried-and-true soap and water.
How long should I sit in a sitz bath?
Most midwives suggest that you sit in a sitz bath for 10 to 20 minutes one to three times per day. Talk to your OB or midwife to see if they have different suggestions or instructions to tend to your perineal area. Some women do so daily, while others only have the time to do it two or three times per week.
It can seem like a lot of time but remember that healing is crucial for your health during the fourth trimester. Newborns are notoriously sleepy during this period, so take advantage of that time!
Can I take a sitz bath while pregnant?
Absolutely! The perineum feels stretched and even swollen during pregnancy as well, so go ahead and take a sitz bath whenever you'd like. I always recommend sticking with plain water, Epsom salt, or sea salt while pregnant and to ask your doctor before incorporating any herbs. Just make sure the water is not too hot and you're not overheating at any point.
When should I take a postpartum sitz bath?
Any time of day is fine! You'll want to try to take a sitz bath one to three times per day, so try to space the baths apart for optimal comfort throughout the day.
How many weeks postpartum should I keep taking sitz baths?
This is totally up to you and how you feel. Some women only do them for a week or so after birth. Other women may need or want to do them for several weeks after delivery. This is mostly determined by what your delivery experience was like and how quickly your body is healing. If you're experiencing a lot of swelling and pain, keep doing those sitz baths until you feel better.
Are there any risks associated with using a sitz bath?
There are not many risks associated with postpartum sitz baths except for the risk of infection, which is why it's important to keep the basin very clean. Make sure to clean the basin before you do every single sitz bath. It can seem like a lot of cleaning, especially if you're doing three per day, but it's crucial to avoid infection.
Another risk is overheating and skin irritation from hot water. A postpartum sitz bath should not be piping hot and you typically are only covered with the water from the hips down, so you should not encounter this issue if you're taking a proper sitz bath. Just make sure the water isn't too hot!
What should I do with my baby while I'm taking my sitz baths?
This is an excellent question and one that comes up a lot – especially if you're doing three sitz baths per day. Keep in mind that sitz baths are not full baths and don't even require you to take off all your clothing to do them if you're using a portable sitz bath kit.
I personally suggest doing a postpartum sitz bath as soon as your baby has fallen asleep. Gently place your baby in the bassinet and take your sitz bath. If you want your baby to be close by, bring the bassinet in the bathroom with you – or keep it right outside the door. And if you have another little one in your house, you can try to time it around his or her nap time, or simply bring him in the bathroom with you while you soak. It's always wise to bring along a book or toy to keep older ones occupied!
I hope you've found this guide to postpartum sitz baths to be helpful! If I could tell you one thing about postpartum healing – it's that you should take a sitz bath! Enjoy, relax, and take care of yourself, mama.