One thing I definitely recommend to all pregnant mamas is to make your own DIY padsicles.
These homemade cold packs are absolutely genius and a must-have for your post-childbirth recovery because they can help soothe the postpartum pain, swelling, and irritation you experience after birthing your baby.
And I want you to know about them because I had no clue just how useful a padsicle could be. In fact, I didn't even hear about them until *after* I had my first baby. Thankfully one of the nurses in my hospital told me that I should make some, and they turned out to be extremely helpful and comforting. I used them for the first few days after giving birth and was so thankful I made them when I got home from the hospital.
So, please trust me mama and make a few of these DIY frozen postpartum pads before your due date. I recommend making them while you're still pregnant and storing them in the freezer until you need them.
Then, after you've had your baby, especially if you have a vaginal birth, you can use them for the first 2-3 days for pain relief.
I also suggest that you grab as many of the perineum cold packs as the nurses will give you from the hospital because they work very well. But, they are pretty bulky so I suggest that you make your own homemade padsicles.
It's easy to make frozen padsicles by following these easy instructions, and you can make about 20 of them in 15 minutes. They should be in every mama's postpartum care kit. They're very cool and soothing – you will thank me for this later!
What Are Padsicles?
A padsicle is a frozen maxi pad (or even an adult diaper) that has been soaked with a soothing and healing combination of ingredients such as aloe vera, witch hazel, and essential oils. Padsicles are all-natural, homemade versions of the medical ones that you receive in the hospital after giving birth.
Also known as witch hazel pads, padsicles can help with a mother's postpartum recovery, healing, and pain relief.
What You Need to Make Padsicles
1 | Chlorine-Free Maxi Pads
For best results, get some thick and durable overnight maxi pads. I recommend using chlorine-free unscented overnight pads. They work just as well as any other maxi pads but don't contain chlorine, or its harmful byproduct dioxin.
(For the same reason you would buy chlorine-free diapers for your baby, you should use chlorine-free sanitary pads because they are healthier and safer for you — especially at a time when your body needs to heal.) You can also use adult diapers if you prefer.
I think Rael Pads are the best maxi pads on the market right now. (They're also fantastic for ongoing postpartum bleeding after you've had your baby, which can last up to 6 weeks.)
2 | Witch Hazel
Witch Hazel (an extract from the witch hazel shrub) is a natural, soothing skin remedy that helps reduce inflammation and heal wounds. It naturally has anti-inflammatory properties, which makes it such an important ingredient in this padsicles recipe.
The most important thing when choosing your brand of witch hazel for your DIY padsicles is to avoid any brands that contain alcohol, which could further cause irritation on open wounds. (Ouch, right?)
It was a little tough to find an alcohol-free version, but I found this alcohol-free witch hazel that is free of fragrances and parabens. It's not perfectly clean – it is organic but may contain preservatives. And thankfully, you aren't using much of it. You can also use this organic witch hazel, but it does contain 14% alcohol, which isn't ideal.
Buy on Amazon
3 | Organic Aloe Vera Gel
Aloe vera is another wonderful, natural soothing treatment for irritated or damaged skin. Be sure to buy organic, such as the Seven Minerals Aloe Vera Gel, that contains cleaner ingredients.
Buy on Amazon
4 | A Small Spray Bottle
Any spray bottle will do, and you'll only use this to spray the witch hazel onto the pads. Instead of spending $5 on a spray bottle, I just grabbed the one that came with my travel bottles.
Buy on Amazon
5 | Essential Oils (Optional)
In this padsicle recipe, using an essential oil is completely optional. But if you would like to use them, you can add 2-3 drops of lavender essential oil and/or organic frankincense oil to your witch hazel spray bottle. This can help reduce swelling and inflammation.
I like a few different brands, including Plant Therapy and Rocky Mountain Oils. I like to use a few drops of lavender oil but this is your personal preference, mama. You don't have to use any oils if you prefer not to.
Buy on Amazon
6 | Freezer Storage Bags
Get 1-2 freezer bags or some plastic wrap to store the padsicles in your freezer. I kept it simple and just used a couple zip-lock bags.
How to Make DIY Padsicles for Postpartum Healing
Follow my simple padsicle recipe step by step that hundreds of moms have used. These are truly the best and I love to see all the pics so tag me @thegentlenursery.
Step 1: Unfold the Maxi Pads
Open each maxi pad, but leave the pad attached to its wrapper. Make sure not to expose the adhesive on the wing tabs.
I recommend making about 20 padsicles in small batches of 4-5 at a time.
Step 2: Add the Aloe Vera Gel
Add about 1 tablespoon of aloe vera gel to the entire length of the pad and smear it. Trust me – you'll appreciate this because of aloe's soothing and natural healing properties! You do not need to add any to the wings.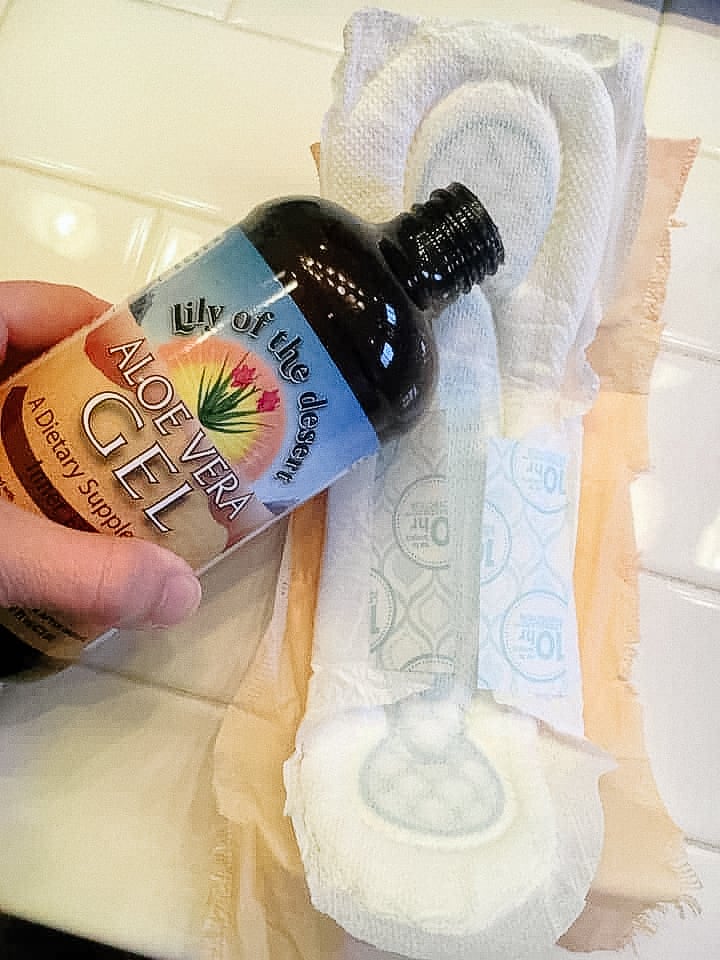 Step 3: Add the Witch Hazel and Essential Oils (Optional)
Fill the spray bottle with witch hazel. Add 2-3 drops of lavender oil or frankincense oil, if desired. Spray the maxi pad with the witch hazel spray bottle.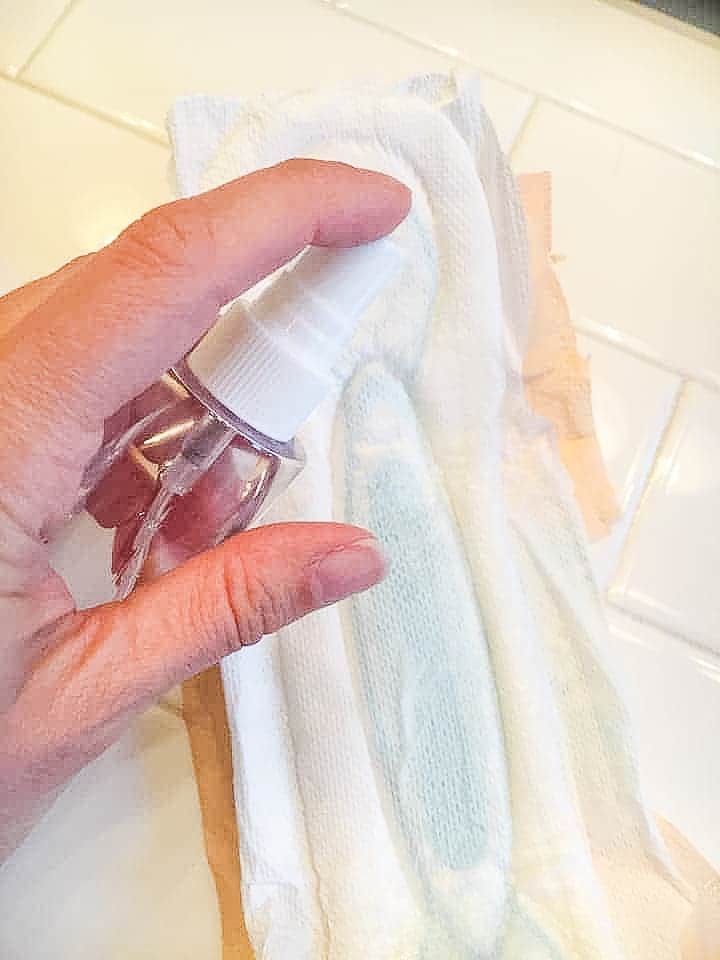 Step 4: Pack and Store Your Padsicles Individually
Refold the pad in its original wrapper and either insert it into a plastic freezer bag or wrap it individually with plastic wrap or parchment paper. You don't have to use small baggies for each individual cold pack; you can fit several of these into a gallon-size freezer bag and grab them as needed.
Just be sure to pack each padsicle in its own wrapper.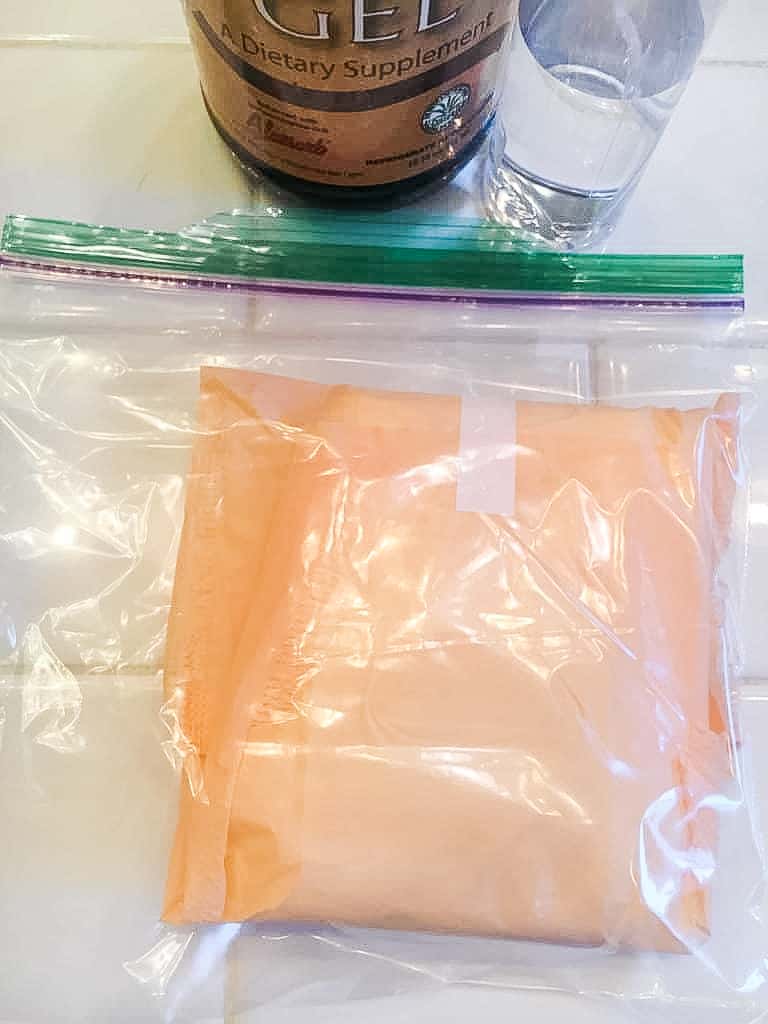 Step 5: Freeze Your Padsicles
Store them in the freezer and use as needed during the first 2-3 days after giving birth. Remove one padsicle from the freezer at a time, and use until it's no longer cool or soothing or until you need to switch out the pad.
And that's all! Now you have made padsicles and you're all set to use them after birth. Use them as needed for cooling, soothing relief, mama. I wish you a wonderful, positive birth experience and a quick recovery postpartum.
Want more support during your pregnancy?
Join PURE Pregnancy, my holistic pregnancy guide. Have your best, most prepared pregnancy… starting today!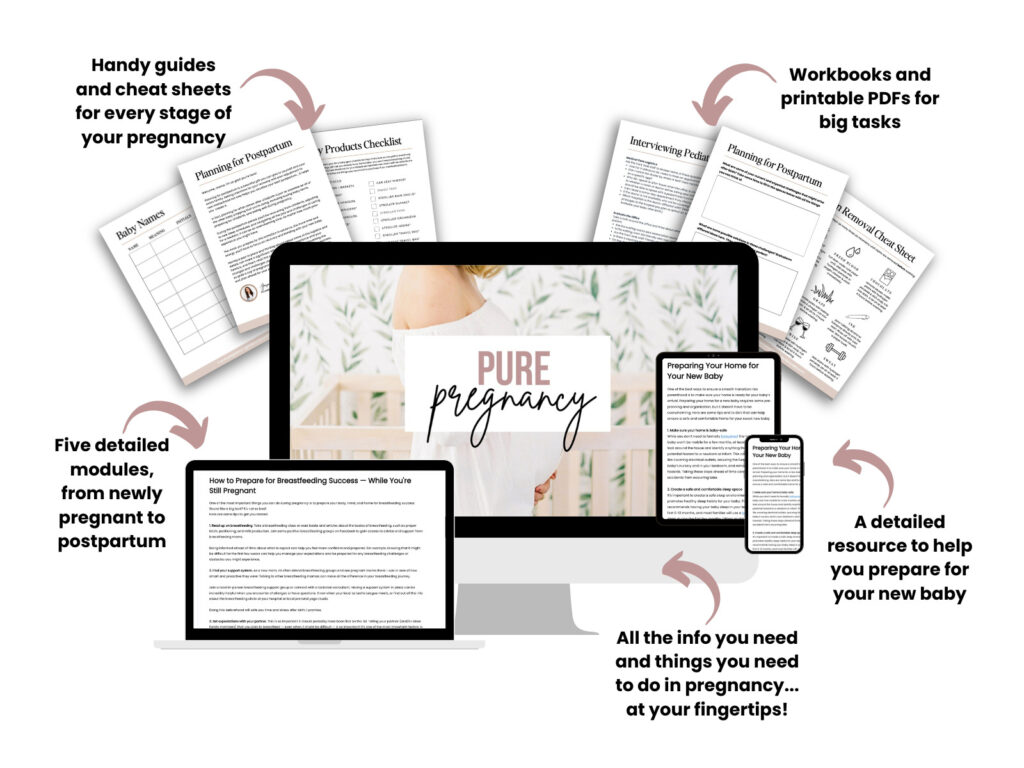 Learn More
Frequently Asked Questions
When should I make homemade padsicles?
It's best to make your padsicles during your third trimester or about a month before your expected delivery date.
Why should I make homemade padsicles?
Homemade padsicles can be an easy and natural way to help soothe your perineum (the area between the anus and the vulva) after having your baby. The ingredients in these DIY padsicles help soothe the pain from tearing during childbirth, episiotomies, stitches, hemorrhoids, and swelling.
And one of the nicest things about these is that you are simply adding some soothing natural ingredients to a maxi pad. So the pad serves two purposes… it not only is there for postpartum bleeding, but it's also soothing and helps reduce inflammation.
Related: Postpartum Must-Haves
How many padsicles should I make?
I recommend making about 15-20 postpartum padsicles. Though you won't know exactly how many you'll need, it's helpful to have enough for the first few days after giving birth.
Do padsicles really work?
Yes, I can say from experience that DIY padsicles were a real lifesaver for me! Witch hazel is the key ingredient in homemade padsicles. Witch hazel is a natural, soothing herbal remedy that helps reduce inflammation and soothe pain. After giving birth, you might experience soreness and bleeding. Using frozen witch hazel-infused padsicles can support your perineum for 2-3 days after giving birth. Lavender is also a very soothing ingredient in our padsicle recipe!
How long do you use padsicles?
Most midwives will recommend using padsicles for the first few days after giving birth. Beyond this period, your body will actually not benefit as much from cold therapy and you may want to try a sitz bath instead.
Do I need them if I have a c-section?
It depends on your individual birth experience. You may still benefit from using padsicles after a c-section, especially if you had a long labor. It is best to make your padsicles during pregnancy so you'll have them if you end up needing them.
Can I buy premade padsicles?
Yes, if you're unable to DIY your own homemade padsicles, you can buy the same disposable perineal cold packs the hospital uses. They're not going to be as natural as making your own, but they are still super helpful, especially if you need fast pain relief. There are also some reusable cold packs you can find online, including these made by Frida mom, if that's easier than making homemade ones.
---
Did you find this article on padsicles helpful? You truly can make your own homemade perineal ice packs and get them set up in the freezer in just a few minutes following this simple step-by-step guide.
Need more new mom resources? Check out my guide to creating an all-natural postpartum care kit. Prep for your postpartum sitz bath.
And check out my birth plan template, positive affirmations for childbirth, what to pack in your hospital bag, and list of the most important rules for visiting a new baby (share that article with your friends & family).
SaveSave
SaveSaveSaveSaveSaveSaveSaveSave