Taking a trip with your little one (and even older children) can be an absolutely amazing experience. But as with anything involving a baby, there are certain things to consider before you head out on your next vacation! Here are my best tips for staying in a hotel with your baby.
1. Set up a comfortable sleeping environment.
For many mamas, the most challenging part about being away from home is getting their baby to sleep. Of course, you'll need to bring a safe sleeping space for baby, like a non-toxic travel crib, but I recommend taking it a step further. It's also a good idea to pack a nightlight, sound machine, and if your baby is really sensitive to light — some large black trash bags and painters tape. If you're really desperate to help your baby sleep, you can create makeshift blackout curtains with the trash bags to help your baby sleep better away from home.
Although part of the fun of being on vacation or traveling is that your routine gets disrupted. So my recommendation would be to not stick to the "at-home" routine too much. Try not to be too rigid; be flexible and who knows, you may even end up having to bedshare temporarily while you're traveling. I know I tried to use travel cribs with my oldest but he just wasn't having it, so we ended up bedsharing.
2. Find out what baby gear your hotel or Airbnb can provide.
If you are staying in a hotel or Airbnb, contact your host directly ahead of time. Many can provide you with a travel crib or even a full size crib for your baby. Some Airbnbs may have even more gear than that. Hotels are also usually able to arrange for a mini-fridge with a freezer to be in your room if you are pumping and need to store milk during your stay.
3. Consider renting baby gear.
There are services that rent baby gear in many cities and large suburbs across the country. You can rent things like travel cribs, car seats, strollers, and high chairs to make your stay easier and help you pack less. This is especially helpful if you are flying to your destination.
4. Bring dish soap and a drying rack.
One of the smartest things I did on a trip with my oldest when he was baby was to bring my own dishwashing soap and supplies with me. I brought a travel drying rack that was such a simple upgrade — it was amazing.
Even though the hotel we stayed in had only a tiny sink, I was still able to wash my baby's straw cup and pacifiers… and have a clean and safe place to allow them to dry. I know it's a simple thing, but it really made a difference for me. And not having to stress about this made the trip a lot easier.
5. Bring a carrier and a stroller.
When possible, I recommend bringing a baby carrier and a stroller on your trip. You never know which you will wind up using, and it's better to have the option than not. You also know your baby, your lifestyle, and preference so use this is a guide. Considering the destination is also helpful. If you are going to a city and plan to use public transit, a carrier might be way easier than a stroller. But if you're staying in a small, walkable town or neighborhood, a stroller might be better.
Also consider how and where you will store your stroller while you're in your hotel room or rental. If you're short on space and your baby is ready for them, umbrella strollers fold down very easily.
6. Utilize a diaper bag backpack.
Often when you're traveling with baby, you'll be out and about more than you are at home. Backpacks, or specifically designed backpack diaper bags are great for this. It leaves your hands-free and helps you stay more organized and prepared. When traveling, I always opt for a backpack instead of my typical diaper bag.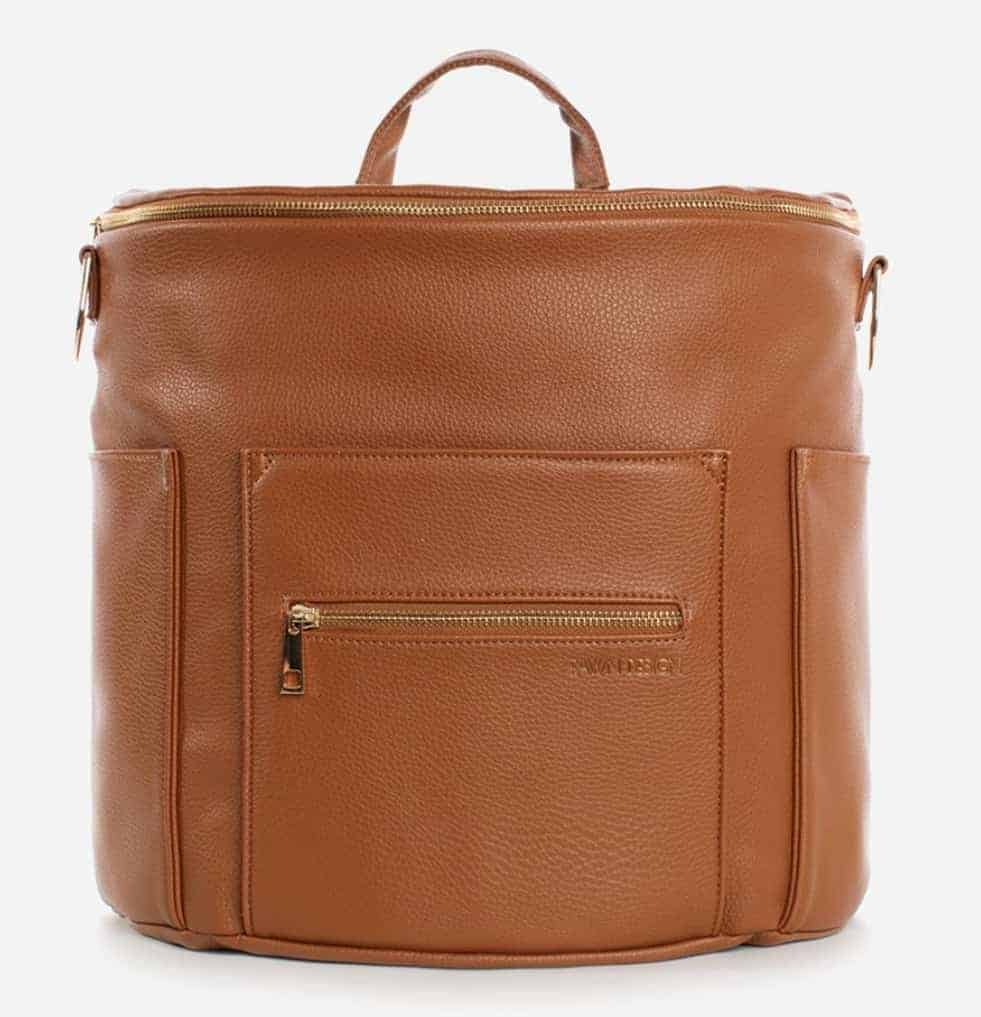 Buy on Fawn Design
7. Ask your hotel for a high chair.
One of the coolest things we did when visiting Maui was ask the hotel to send up a restaurant high chair to our room. It was so helpful… not only for mealtimes but it also served as another place for us to put the baby when we couldn't hold him. It was so easy and useful!
8. Skip bath time or shower with your baby.
At home, you may have an elaborate bathtime and bedtime routine. But if you're staying at a hotel or AirBNB, you probably won't have the opportunity to go through your entire routine every night. In fact, vacationing or traveling is a perfectly good opportunity to do less and step away from your daily routines. For bathtime, you can even just skip the bathtub and rinse your baby off in the shower with you. (It helps if your hubby can take the baby from you so that you can exit the shower separately.)
9. Make it comfortable for your baby.
While traveling with your baby can be stressful for both of you, it's important to keep in mind that there are certain things that they will do no matter where you are. For example, if your little one is accustomed to falling asleep with a certain sound or song playing in the background then this routine shouldn't change while on vacation. Planning ahead by bringing a sound machine with you, or even a radio will help you ensure that your baby is able to fall asleep easily in unfamiliar surroundings. Or if your little one has a favorite stuffed animal or binky, bring those along with you.
10. Find the nearest Target or grocery store.
While bringing items such as bottles and formula are important, it's just as valuable to bring along items that will help you change diapers quickly – such as a changing mat, wipes, and even diaper rash cream. Bringing along items that are familiar or comforting to your little one is likely going to make the trip much more enjoyable for both of you.
At the same time, you don't want to overpack for your trip. Bring along all of your baby's care necessities but plan ahead and find out how far the nearest stores are. Not only is this helpful for packing, it's also useful in case you need to run out and get something for your baby while you are on your trip.
Have a Great Trip!
By planning ahead, you can really make an Airbnb or hotel stay with your baby a total success. Just be flexible and know that it's totally okay for things to change and to veer from your normal day-to-day routine at home with your baby.
Need some more tips? Visit our guide to airplane travel with a baby or tips for taking a road trip with your baby.