If there is one piece of sleep advice I can give to other parents, it is to create a sleep routine for your baby. There is nothing quite like settling in with your baby to a sweet bedtime story, a little lullaby and cuddles before tucking him in for the night.
If you create a sequence of bedtime rituals for your child, it will set you and your baby up for restful nights of sleep, and more importantly, create good sleep habits for your childhood and beyond.
When Should You Start a Bedtime Routine?
You can start a bedtime routine pretty early on — I would start when your baby is a month or two of age. But it's good to acknowledge that in those early days and months, your baby probably won't stick to the routine too closely. And you will probably need to tweak the routine as they grow out of the newborn stage and into infancy.
You may not even have a full-blown bedtime routine to start; newborns fall asleep pretty easily! But you might notice that your newborn goes to sleep best with a very simple routine. For example, a newborn routine could include a clean change, clothing change, a sweet song, and then breastfeeding to sleep.
While it might seem pointless to create a routine for a new baby knowing that it will change fairly quickly, know that even a newborn can begin to create positive sleep associations through a routine. So, no age is too young! The most important part of all of this is to remember that you are laying the foundation for your child's future sleep habits.
As your baby gets older, stays awake for longer, he will need help winding down for sleep. This is where a bedtime routine becomes more important. Around three or four months old, your baby will have better adjusted to life outside the womb, and the difference between days and nights will become more evident.
You'll notice that your baby stays awake for longer stretches during the day, takes regular naps, and stays asleep for long stretches at night (if not the entire night!). This is when sticking to bedtime at the same time every day becomes incredibly useful. They rely on the routine to go to sleep and give them a predictable sense of security and comfort. A routine for an older infant will probably include more rituals than during the newborn stage. You can include things like bath time, brushing teeth, brushing hair, baby massage and lotion, story time, breastfeeding, and a song.
How to Create a Bedtime Routine
Creating a bedtime routine is something you want to think about and plan for. There are a few considerations to take into account when putting together a routine.
1. What Time Should You Start a Bedtime Routine?
One of the most important elements of any good bedtime routine is having the time for it! Now, it's not always easy figuring out how much time you need for baths, diaper changes, jammies, brushing teeth, etc. It's a long list of to-dos! I always suggest working backward to design your bedtime routine. This will help you figure out how much time you will need for bedtime rituals you want to include.
Start with the time you'd like your baby to fall asleep. This is a very important first decision. I suggest monitoring your baby and watching for sleep cues. You will probably find that your little one starts to yawn, wipe his eyes, or space out a bit around a certain time each day. That's bedtime!
Take that time and then work backwards to figure out what time you should start your bedtime routine. Factor in how long it takes to have a bath, dry off, put on a diaper and jammies, brush teeth, and any additional rituals like stories, songs, or prayers. My advice: be very generous with your estimates so that you're not rushing!
2. How Long Should Your Baby's Bedtime Routine Be?
But equally, don't make your bedtime routine a super long event. One of the early mistakes I made was to draw out the bedtime routine. I'm talking like 90 minutes… that is way too long and anyone (myself included) would get irritable. Make it quick but effective. Keep it to 30 minutes or less.
3. Choose the Right Bedtime Rituals
I've mentioned that you must stick to the routine, but as part of that, you must choose rituals you want to do every night with your child. These should be things that both you and your baby/toddler find calming and relaxing. You will want to keep it short and sweet in order to ensure that the routine is something you can do daily.
Here are some things you can include in your bedtime routine:
Give your baby a bath. The object is to get clean, but also wind down and relax before bed. Don't make it a high-stimulation event. A couple of bath toys are fine, but don't let bath time turn into a day at the water park. You don't even need to use baby shampoo every day; babies don't really get too dirty!
Diaper change and baby massage. After bath time is a perfect time to get your baby into their jammies. If you have a little time, you can also do a short baby massage. I liked to massage their feet and tummies.
Sing some sweet bedtime songs: Choose some baby songs that your little one knows or likes to bob his head to. Some of my favorites are Twinkle Twinkle Little Star, Goodnight Sun from Daniel Tiger, and Skinamarinkydink.
Read a bedtime story. Bedtime is when we get our best reading done at my home. I love sitting down in the glider with my little one and reading a sweet story or two. (Don't overdo it because you just want this to take up a few minutes.) For great book recommendations, check out the top 25 baby books and best children's bedtime stories.
Breastfeed or give a bottle. If you nurse your baby to sleep, this is the perfect end to your bedtime routine because your baby will probably fall asleep on the breast. If not, you can give a bottle or nurse at the beginning of your bedtime routine… whichever your baby responds better to. However, if breastfeeding before bedtime is not working for you and/or your baby, don't feel compelled to include it.
Share your favorite part of your day. Babies thrive from hearing their loved ones speak, so talking about your day together is a wonderful thing to include in your baby's bedtime routine. For example, I would often summarize our day by saying things like, "I had such a wonderful day with you! I loved going to the park and spending my day with you. And you tried broccoli for the first time today — yummy!"
Family prayer or huddle. Our family bedtime prayer has always been one of my favorite bedtime rituals. If you pray, this is a great time to involve your little one and send them off to bed with some sweet blessings. If that's not for you, maybe this would be a good time to have dad come in and give your baby a sweet kiss before bed or a family hug. Make it personal for you.
A bedtime routine is important, but there is no one model that will suit every family. We all have different schedules, and babies have different needs, so it's okay if your routine differs from any of the examples you see here or in real life. The key is to find what works for you. Ultimately, whatever works for you and your family will allow you to establish bedtime traditions that can be enjoyed together for years to come.
4. Stick to Your Bedtime Routine
The one main rule to creating a routine is just that: it's a routine! To get the benefits from it, you have to stick to it. Every night for the most part, you should do each of the rituals you've mapped out. The only way your baby or toddler will be able to build good sleeping practices is for the parent to reliably offer those associations, in the same way, every night.
The Benefits of a Bedtime Routine
Young children and babies thrive on routines and consistency. Being able to predict "what comes next" actually instills confidence in a child from a very early age.
When you create a routine for your baby, your baby will begin to familiarize and eventually remember the sequence of events leading up to sleep. So, when your baby starts getting tired, having a predictable bedtime routine that includes one predictable task after another can stabilize the household and offer tremndous benefits for everyone.
A Sleep Routine Gives Your Baby Sleep Cues
Having a sleep routine will give your children sleep cues, prompting them to gradually wind down on their own. Some one and two-year-olds might understand that when the sky turns dark or the bedroom curtains are drawn, it is time for sleep. But most babies and toddlers have no clue it's bedtime when 7pm rolls around.
And if your kiddos are anything like mine, they are probably horsing around at that hour rather than yawning. (OMG, why does my hubby always think this is the perfect time to play and rile them up?)
So, to encourage them to settle down, let their little bodies feel ready to settle down, I have used bedtime routines since day one! The bedtime routine you create gives your baby concrete cues that night time has begun and sleep is right around the corner. Or, for your energetic toddler (or even a big kid) like my own, a bedtime routine will help initiate the negotiation of bedtime. And, let me tell you, the work that it takes to create a bedtime routine is so worth it.
Sleep associations are incredibly strong. And having a signal for stories, cuddles, songs, warm blankets (or whatever rituals you decide on) will lead to something your little ones look forward to. Instead of resisting bedtime, a routine will help to facilitate a natural winddown before they drift off into dreamland.
A Bedtime Routine Creates a Sense of Security
For young children, knowing what comes next can create a feeling of security and comfort. As they get older, they look forward to getting ready for bed. This gives them a sense of predictability, and with that, a deep sense of comfort and relaxation. These are precisely the feelings that will help your baby get to sleep. And, when your baby is relaxed and feels comforted, they will certainly fall asleep more easily and likely, stay asleep for longer periods of time!
Time to Enjoy Each Other
Bedtime routines are good for parents, too. Emotionally, it can be good to have a special time set aside for activities like bath time, storytime, and lullabies. Isolated time to focus solely on your baby or toddler is refreshing and so good for our hearts. And, as your children get older and more independent, having a special time to reconnect at the end of the day as part of their bedtime routine can be invaluable for your relationship.
I've always loved our bedtime routine because it was a great time to involve my husband. When my babies were little, he would help with the bath or changing their diaper and then we'd read a story together and finish with a family prayer. Really fun memories!
My oldest son started school recently, and when I ask him what he does during the day, his answers are typically very vague. Somehow, he never seems to remember anything he did all day long! But when I lie down with him for snuggles at bedtime, it's a totally different story. That's when he opens up and starts talking about his day – the good, the bad, his worries, his triumphs. So whether you have a baby, toddler, or a young child, bedtime can be valuable time to enjoy each other and celebrate the end of each day.
And More Sleep for Everyone!
Last but not least, creating a bedtime routine helps your little one actually sleep well. Not only does more sleep yield happier babies (and parents), but more sleep has a direct impact on your baby's physical and mental development.
Studies show that infant sleep is essential for proper brain development. Most of your baby's brain development actually only occurs during sleep. This is when synapses are formed to make countless neural connections and allow for further growth of the neurosensory systems and structural brain development.
Final Thoughts on Creating a Bedtime Routine
Helping your little one drift off to dreamland through a bedtime routine is not only good for your baby's development and your little one's quality of sleep, but it's good for your emotional connection to your own child. Take some time to map out a routine that works for you and try it out! But remember to be flexible. As your baby grows and changes, so will your bedtime routine. The key is to have a routine in the first place! I promise many nights of good sleep (and so many good bedtime stories) are ahead!
Do you have a bedtime routine for your little one? What is your routine? I'd love to hear about it!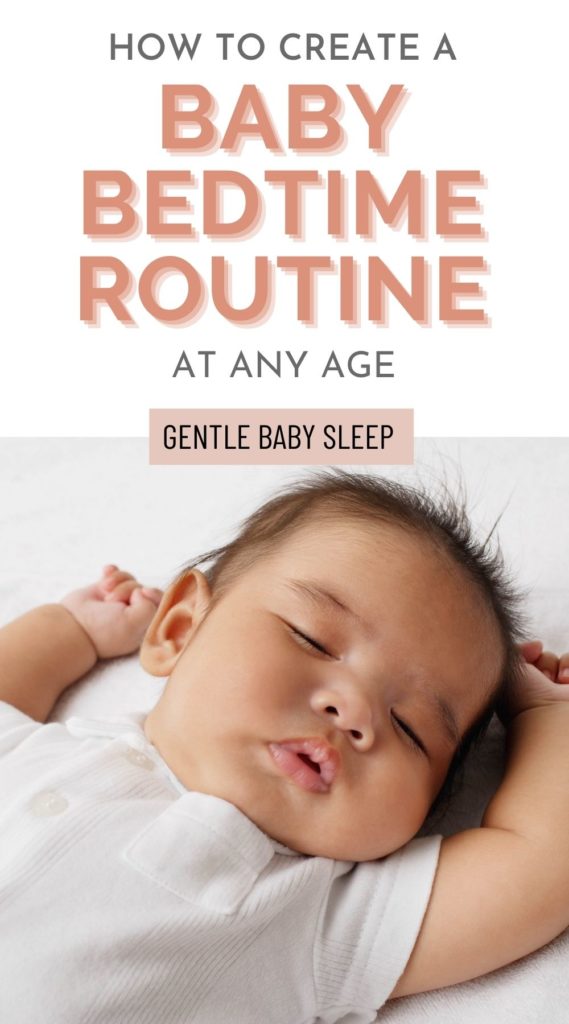 Keep Reading: