For at least the first year of your baby's life, carting around diapers, wipes, pacifiers, sippy cups, and snacks will become part of your regular routine.
Some mamas find that a regular tote bag or diaper works just fine, but there's a reason that diaper bags are as popular as they are. Diaper bags can make leaving your home with a baby so much easier because of their design and the storage compartments for your baby items.
And if you're frequently on-the-go, sometimes it makes more sense to be hands-free when you're on the move with your baby. I know that I've struggled with toting around the diaper bag while holding my baby at the same time. Or I would attach the diaper bag to the stroller but as soon as I removed my baby, the stroller would tip over. Every. Single. Time.
Enter: the diaper bag backpack. Wearing your diaper bag comfortably on your back? Yes! No more shoulder pain? Yes! A stroller that won't tip over? Yes!!
Diaper bag backpacks are a great way to go, especially if you have more than one baby or toddler to chase after. (Mom of two boys speaking here!) They free up both of your hands, and if designed well, are very versatile worthwhile investments! Some of the diaper bags on this list are just simply gorgeous and stylish enough to be used for years after you need a diaper bag.
What to Look For in a Diaper Bag
When shopping for a diaper bag, there are a few key things you want to look for.
The diaper bag has to be comfortable. Yes, comfort first! Make sure that when you wear the bag, it fits you well. It shouldn't overpower you, nor should it be so small that you can't access the zipper without contorting your arm into a version of a yoga pose. So, try it out! Make sure the straps are adjustable. Wear the bag on your back, swing it over to unzip and reach in. Put heavy and lightweight items in it and see how it feels! It shouldn't cause you any back pain. And it should feel like you can wear it comfortably for a couple of hours at a time.
Consider the design and compartments. This includes the outer aesthetic, materials used, and the organization of the bag. You will cart around all of your baby essentials, so make sure it's organized in a way that works for your lifestyle.
How easy is it to clean the diaper bag? You want to make sure you can wipe out the bag with a damp cloth from time-to-time. Carrying everything from baby food to dirty diapers, it needs to be easy to clean!
Find one made from safer materials. Since you carry your baby's most personal items in a diaper bag, make sure it's made from safe materials. Skip the vinyl/PVC, phthalates, and BPA. You'll also want to make sure the materials are good quality. Check the seams, zippers, and overall durability of the bag. Even once your baby or toddler has stopped wearing diapers (around 2-3 years old, but it all depends on your family), you will find that a good diaper bag backpack comes in handy to pack toys, water bottles, and spare clothes when you are going outside to play!
Consider the style. Let's be honest. Style is a huge factor when choosing a diaper bag. Find something that complements your style. After all, you'll be using it a lot and you may not need (or want to) carry a purse as well. So definitely use your diaper bag to make a style statement and help you feel and look your mama best when you step out of the house.
The 10 Best Diaper Bag Backpacks for Parents on the Go
When you're heading out the door with your little one, a diaper bag backpack can make life easier. Bring along everything you need in a convenient backpack that packs all the compartments you need for your baby items. Here are my top 10 best diaper bag backpacks.
---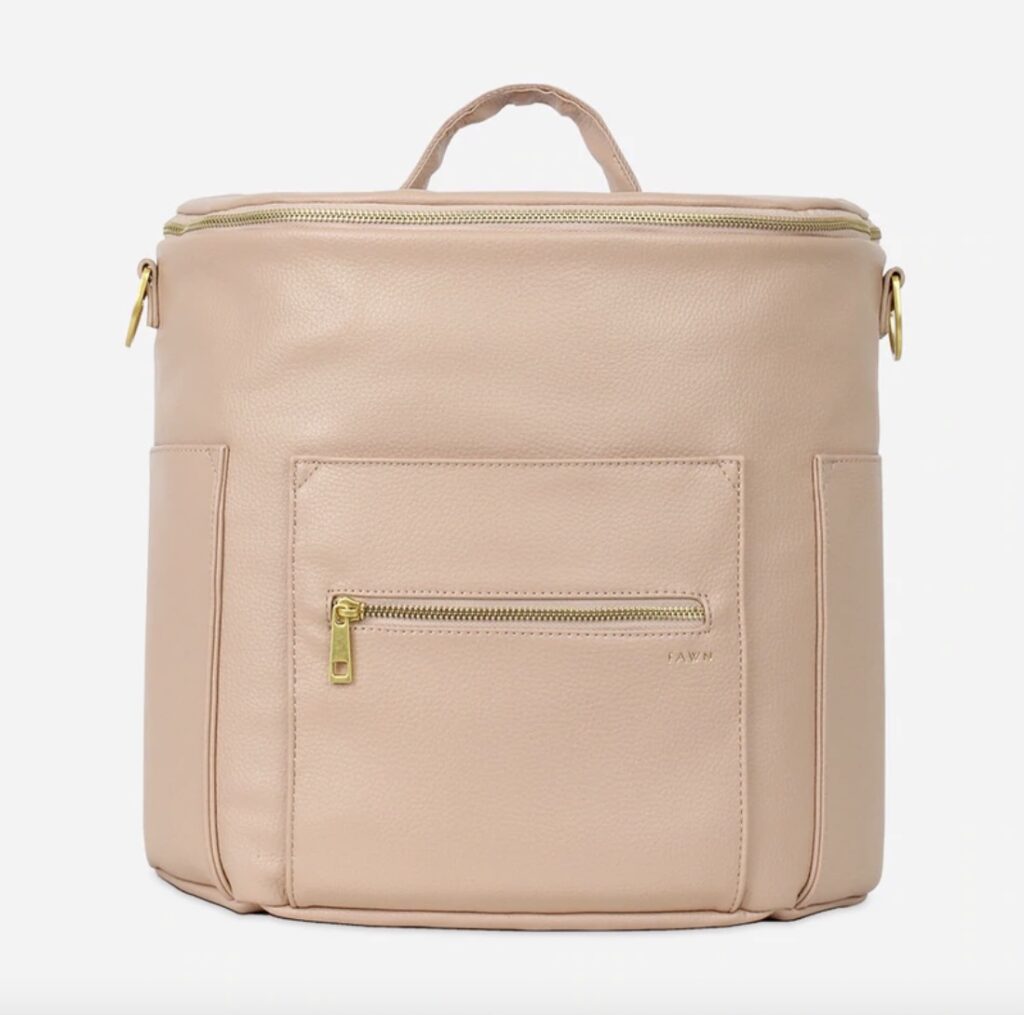 Buy on Nordstrom
If there ever was such a thing as the perfect diaper bag backpack, it would be Fawn Design's original diaper bag. It is designed in such a way that makes it very spacious—it will literally hold everything you can possibly bring along with you. But at the same time, it falls in a place on your back where you barely feel the weight. It is SO comfortable!
Fawn Design's original diaper bag backpack comes in many colors, including soft pink, light gray, and even light blue. It also comes in a beautiful mini version if you are looking for a small bag. This premium leather bag backpack is quite pricey, but I honestly used mine for almost 4 years, so it's really worth the investment. Otherwise, this makes an excellent gift for an expecting mama or something to add to your registry.
The diaper bag has six interior and six exterior pockets for maximum organization, and the straps can work as a backpack or change to carry messenger style. The material is made from animal-friendly faux leather, all BPA, PVC and lead-free. And it is easy to clean with a damp cloth.
Another thing I love about Fawn Design is that their products will work for all stages of motherhood—they make so much more than diaper bags. I really love Fawn Design!
Now, the only downside of this diaper bag backpack is that it is a bit on the heavier side: it weighs 4 pounds so it can be a little uncomfortable for those women who are shorter or who will carry heavy things in the bag, like baby bottles. But as I said above, you won't feel the weight like you would with another backpack or a tote bag. Just keep this in mind when considering the bag. Otherwise, I think you will equally fall in love with the Fawn Design diaper bag backpack.
---
Buy on Amazon
Another great option is the diaper bag backpack from Freshly Picked. They offer a wide range of diaper bags and backpacks, but I personally love this particular diaper bag backpack because it's stylish and versatile. There is also a mini version of this diaper bag.
At first glance, this bag looks like a regular backpack, but the bag fits quite a lot inside and has eight pockets in total, plus a practical handle on the top.
Made from quality vegan leather with a wipeable and stain-resistant nylon interior lining, you don't have to worry about messes! In all, this diaper bag is made to last you a long time. It can even be used as a regular backpack once you stop needing a diaper bag.
Buy on Amazon
This is another diaper bag backpack that has nice lines, comes in beautiful colors, and is so convenient! In comparison to the Freshly Picked backpack, this one is a bit more of a diaper bag than a multifunctional backpack mainly due to its organizational structure.
The Itsy Ritsy bag is made from vegan leather and polyester lining. The bottom of the backpack is made from rubber, which makes it easier to keep clean. Overall, it is small and well-organized. It zips open from side to side with four internal pockets, and four external pockets – perfect for all the items you need on-the-go! It comes with a changing mat, too, made from an easy-to-clean vegan leather.
---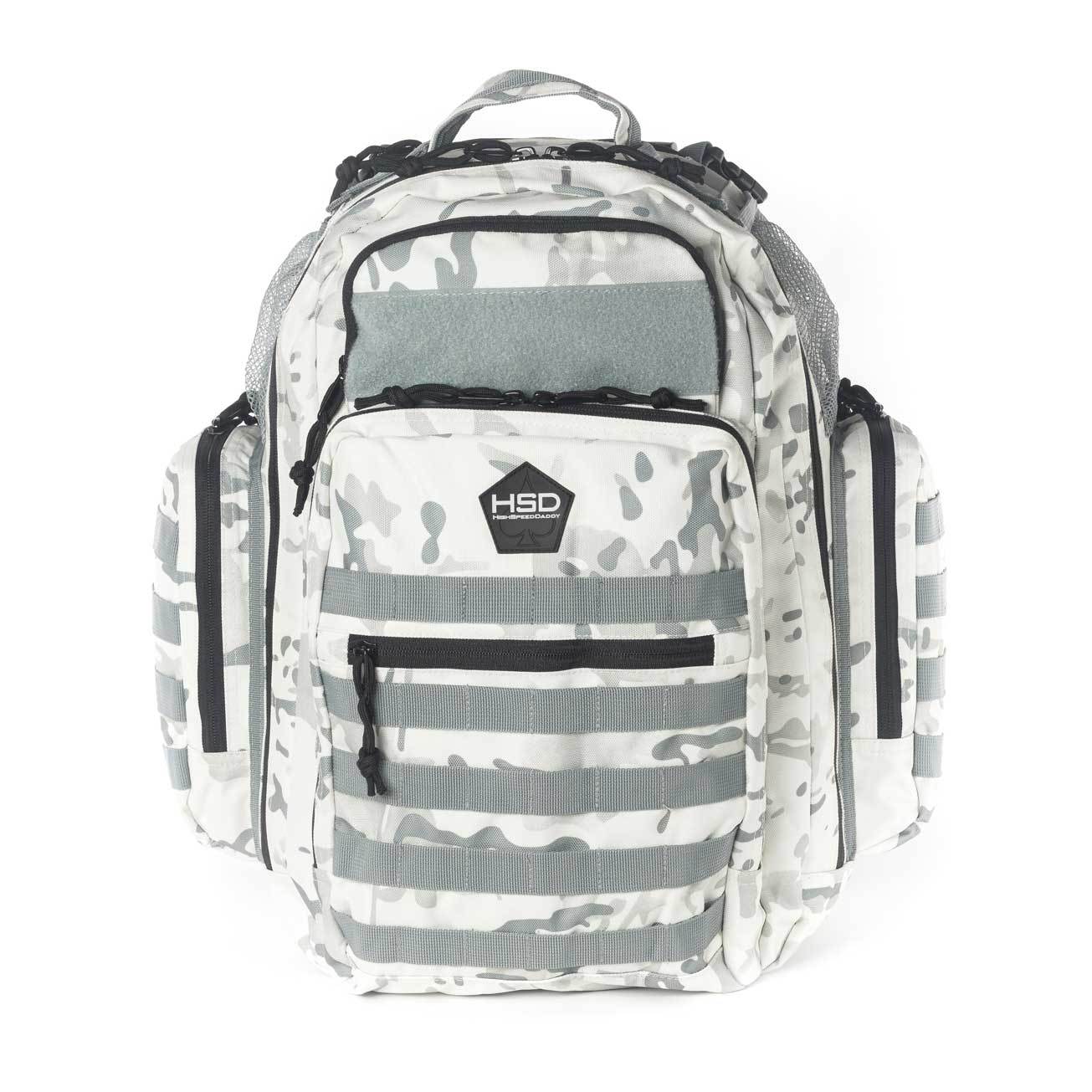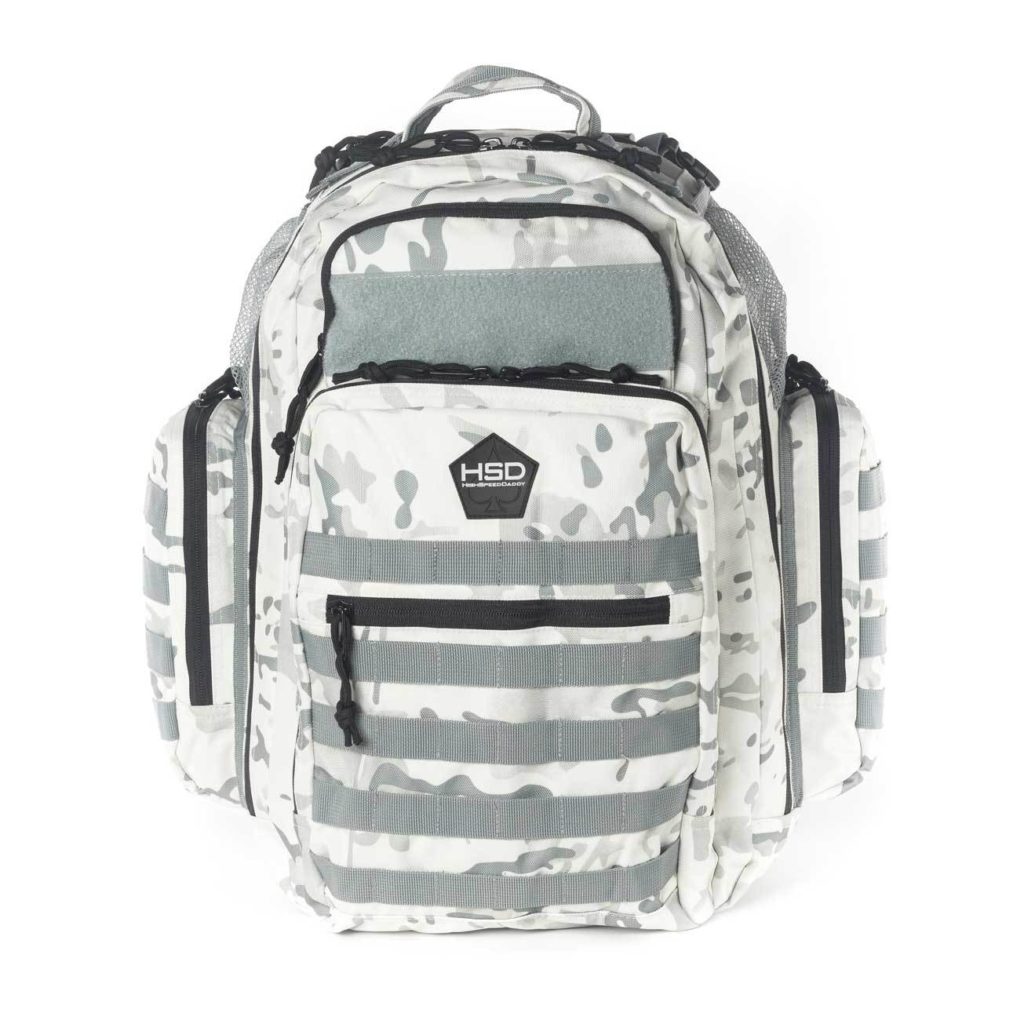 Buy on Amazon
File this under daddy. High Speed Daddy's diaper bag backpacks were designed with the founders' military experience in mind. These multifunctional and tactical diaper bags are perfect for the dad — or mom — who is on the go and wants a sleek and highly functional diaper bag backpack.
These daddy diaper bags have tons of compartments and lots of storage space for all of your baby essentials. They're perfect for dads who want a diaper bag that reflects their own style and they also make a great gift for new dads. The material is extremely durable and this backpack will give you years of use, even after your little ones are done wearing diapers.
Buy on Amazon
The Mokaloo diaper bag backpack is a wonderfully modern design that suits both parents. Its large size has as many as 13 pockets in total yet only weighs 1.65lbs.
The material it's made from is durable and waterproof oxford fabric, and the straps on the backpack are both adjustable and breathable. Another big plus is the fact that it holds a USB charging port so that you can take long walks with your baby without worrying your phone might lose battery power.
What I also love about this backpack is its affordable price for a quality bag.
---
Buy on Amazon
This diaper bag backpack is a large capacity bag, capable of packing your baby's necessities for a weekend getaway. The price is not too high for this purpose. That said, some may find it too large for everyday use, especially if your routine involves a lot of walking.
The bag has a large holding volume, which is great if you have more than one kiddo! It has double compartments that are easy to merge into one when needed and it is equipped with 18 pockets, which help keep things very well organized.
The bag is made from a strong polyester fabric which is waterproof and durable, so you don't have to worry about any spillage seeping throughout the bag. The manufacturer also offers 30-day free exchange as well as after-sales service support, which is a nice way of helping customers make the most use of their product.
---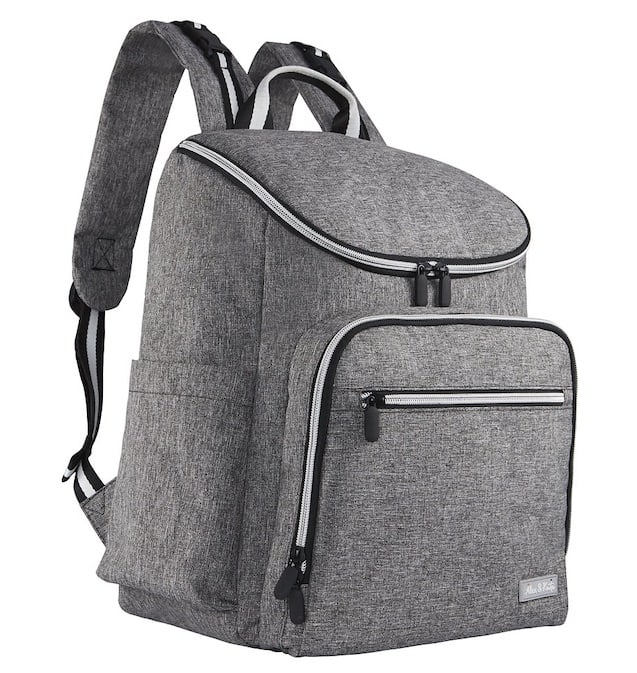 Buy on Amazon
This one is another version of the modern backpack diaper bag for the whole family, but it comes at the most affordable price of them all.
The backpack is made from durable oxford polyester and is extremely lightweight (about 1.5lbs).
On the back and shoulders, you will find extra padding for optimal comfort as well as built-in stroller straps. The inside has insulated pockets specifically for baby bottles or sippy cups. And it's big enough that you can fit a laptop inside and use the handy USB charging port. It seems like the manufacturer has really thought of everything!
---
Buy on Amazon
When it comes to a stylish diaper bag backpack, it doesn't get more approachable than this. The brand calls this type a backpack and a tote, a two-in-one. It's quite versatile! The bag is really lightweight (1.4lbs) and has many pockets that help you access your things easily.
Made of waterproof oxford fabric and is machine washable, the bag comes in a huge variety of colors and patterns so you can find one that you truly love! The brand gives its customers 2 years of quality-free replacement, which is a huge perk if a zipper fails you or something unexpectedly rips!
---
Buy on Amazon
This beautiful bag is handcrafted from 100% vegan leather and resembles an old, vintage backpack style. Its unisex design will make this bag easily shareable with your other family members.
Despite appearances, this bag has a large capacity, which I find is a big plus! It has as many as 15 pockets and can fit 3 large bottles, not to mention all your baby's other essentials. It also includes a changing mat for changing diapers on-the-go.
The bag can be easily washed in your machine and it dries fast, so it will be ready for use in no time!
---
Buy on Amazon
This is a large baby diaper bag backpack made for carrying all of your baby's essentials. What's nice about this diaper bag backpack is that it comes with two additional packing cubes for easier organization. One of the cubes is insulated for baby bottles and one is mesh, which is great for snacks or clothing. The bag can be carried in your hand, on your shoulders, or attached to your stroller.
The backpack is made from polyester (phthalate and PVC-free), and it's machine washable. All in all, it's one of the most practical diaper bag backpacks for the whole family!
---
Buy on Amazon
Another diaper bag backpack from the Skip Hop brand I would recommend is this Greenwich model. It is a very simple and stylish bag, fits a lot of baby items, and can be used for multiple purposes. You can take it to work or to school, use it during day and night, and wear it as a cross-body messenger bag or a backpack.
It's not as well-organized as the Forma model, but it's still quite spacious and very comfortable. It's designed to equally distribute the weight you're carrying across your shoulders for maximum comfort.
The material it's made from vegan leather, so it's super easy to clean. It is pricey, so I would recommend thinking of this bag as a perfect gift for new moms-to-be!
---
Diaper Bag Backpack FAQs
Have more questions about buying or using a diaper bag backpack? Read on!
Is a diaper bag necessary?
You don't necessarily have to use a diaper bag to carry your baby's things around, but they are made for a reason. Diaper bags are crafted with babies' and parents' needs in mind with all the pockets and pouches you need to store your baby things. While a diaper bag may not be totally necessary, most parents choose to use one for this reason.
How long do you use a diaper bag?
It depends on you and your lifestyle, but most parents use a diaper bag (even if it doesn't contain diapers) until your child is around 4 years old and in preschool! You can use the diaper bag for so many things, from diaper essentials and extra clothing to snacks and water bottles. A bag that organizes specific to your little one's needs is a huge help.
That's why it's important to invest in a durable, quality diaper bag that can evolve as your children grow over the years.
What should you pack in a diaper bag?
You can think of your baby's diaper bag as a kind of pared down version of the nursery. You'll need everything your baby needs at home + a few extras! We have a handy diaper bag checklist that you can download and refer to, as well.
What are the benefits of a diaper bag backpack?
Diaper bag backpacks come with two adjustable straps to wear on your back and distribute weight evenly across your shoulders. Overall, this puts less strain on your back than a tote or messenger style bag and is more comfortable to wear over longer periods of time. And you can't underestimate how great it is to have both hands free when you have your little ones in tow!
What should I look for in a diaper bag backpack?
As mentioned before, there are some important things to look for in your diaper bag backpack. I personally put comfort first. This includes adjustable straps and padding, especially if I'm planning to carry heavier items or fill the diaper bag to the brim (like I often do). I also think the structure and organization of the bag is an important consideration. Make sure you have enough pockets to keep items separate.
Also take into consideration the safety and quality of the bag's materials. How easily can you clean this diaper bag? Beyond this, other considerations might be to see if the diaper bag comes with a travel-size changing pad and insulated compartments. I also think it's worth checking to see if the bag stands up on its own for one-hand accessibility.
I hope this helped you with choosing the best diaper bag backpack for you and your little one!