Humidifiers are a must-have for babies. They help to alleviate cough and cold symptoms and offer a host of other benefits for your little one!
When your baby comes down with a cold, there's not too much that you can do to help them feel better. While your mommy or daddy instincts might tell you to run to the pharmacy, cold medicines are not for babies. In fact, there's not a lot you can really do to treat a cold medicinally. Aside from some extra cuddles and a nasal aspirator, the only other must-have is a baby humidifier. These things are miracle-workers when it comes to helping your little one feel better – a must-have for your baby's nursery!
But before you add a humidifier to your baby registry or add just any humidifier to your cart on Amazon, take a look at the varieties of humidifiers on the market to figure out which one is best for your family. I've put together a guide to help you make the best choice!
---
The Best Humidifiers for Babies
Having a humidifier is excellent for both your health and the health of your baby. Whether you want to kick that cold faster or add moisture to the dry air in your home during the wintertime, one of these eight humidifiers will get the job done. Take a look at the features included in each humidifier to find the perfect one for you! These are consistently rated highly by reviewers, and they meet all the specifications I would personally look for. They are also all cool-mist humidifiers, as recommended by most pediatricians.
The Crane humidifier has a sleek look and it comes in a variety of colors to match your baby's nursery. It works really well and is my top recommendation — however, you do need to be willing to clean it pretty much daily.
The tank holds up to a gallon of water, and it uses vibrations to produce a steady cool mist that relieves all those fun cold symptoms. Crane also added a really useful 360-degree lid that lets you direct the mist wherever you need it the most. It's a very quiet unit that can run for up to 24 hours of continuous use at a time.
The only potential downside to this humidifier has been brought to my attention from other users. Some have noted that letting it switch to auto-off causes it to turn on and off several times, which burns out the motor faster. I have had three of these humidifiers and have never had this happen. But, just in case — consider turning it on and off manually to save the motor from potential burn out. Also, note that this humidifier is best used in small rooms. Typically, this works perfectly in a nursery.
I also suggest checking to see if your water is on the soft or hard side. If your water is super hard, it can damage the humidifier. If this is the case, consider purchasing distilled water to use in the humidifier or just plan on replacing your humidifier more often.
Pros: holds up to one gallon, doesn't require a filter, can run for 24 hours, has a 360-degree lid, and is super quiet.
Cons: requires daily cleaning and can be hard to clean.
---
---
Buy on Amazon
The Tekjoy humidifier offers excellent bang for your buck. It's reliable, has a 2.5-liter tank, and can run about 10-16 hours. Even if you crank up the humidifier to the highest setting, it runs for 6-8 hours, so it still works for most of the evening!
Like many of the humidifiers I've chosen for this guide, Tekjoy has three mist settings: low, medium, and high, so you can adjust the level very easily. It also offers three auto-off timer settings: 4 hours, 8 hours, and 12 hours.
One huge advantage is that the Tekjoy humidifier is super easy to clean. The size makes it easy to fit under a small bathroom sink faucet, which is incredibly helpful when it comes time to clean! It also comes with cleaning brushes, so you can be sure you get into every nook and cranny. On top of the reservoir, Tekjoy added a convenient handle. (Sometimes it's the little things that make a mama happy.)
Tekjoy comes in eight different colors. You can use it as a night light even with the humidifier itself turned off and you can also keep the night light off at night with the sleep mode. The Tekjoy is a bit on the smaller side, but it does work for a nursery. If you wanted a humidifier for a large room, I don't suggest picking this humidifier.
Pros: does not require a filter, offers multiple settings, easy to clean, and has auto shut-off.
Cons: a smaller humidifier that will not run continuously through the night; might be best for a small room.
---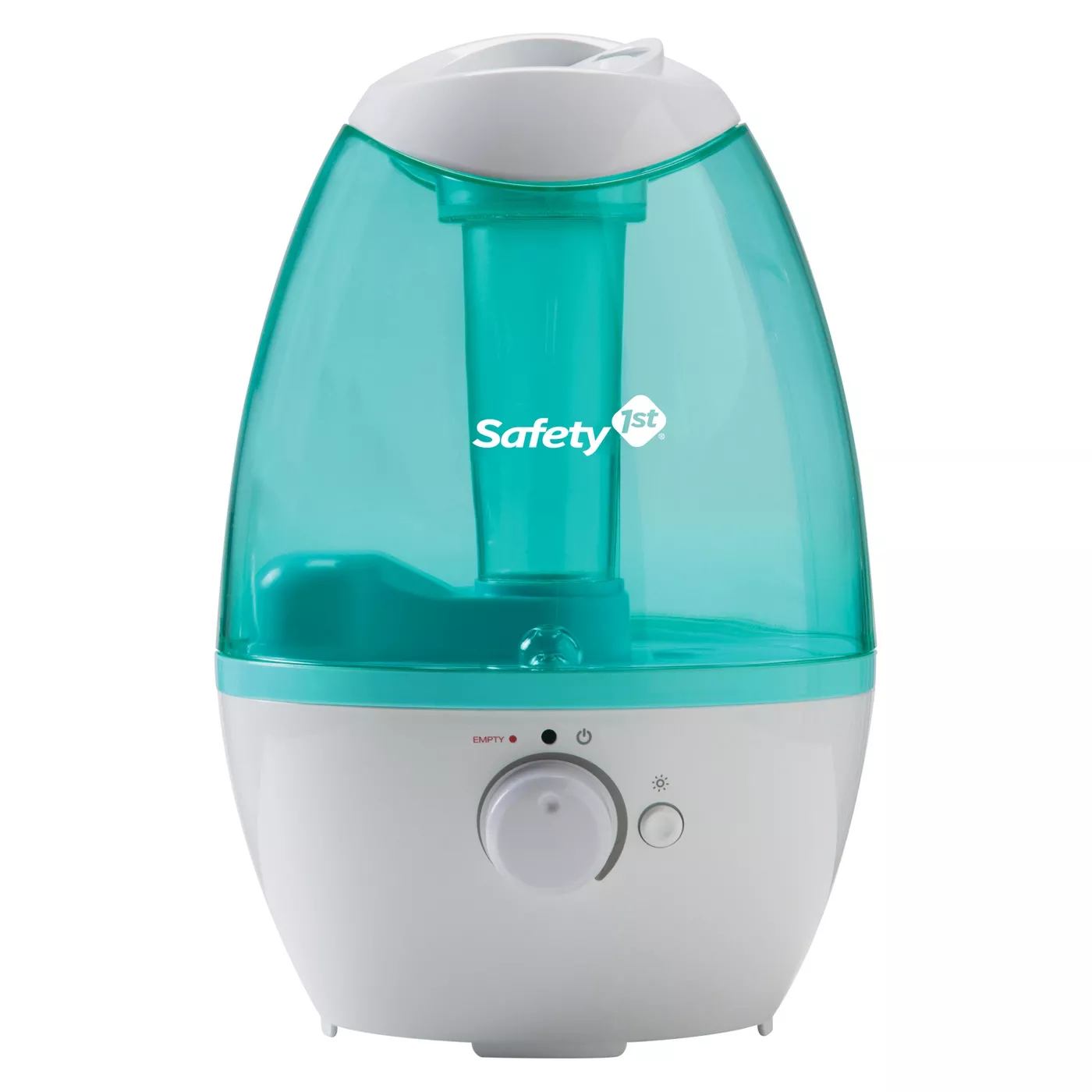 Buy on Amazon
The well-known baby brand, Safety 1st, also sells a great humidifier. Their Soothing Glow Cool Mist Humidifier helps add moisture to the air and it doubles as a nightlight. It's honestly the perfect glow: not too bright, but enough to make sure you don't trip over toys during those fun 3 AM wake-ups.
It does offer a good amount of run time, too. It holds 3 liters, which is less than a gallon, but on the lowest setting, you can run this humidifier for 32 hours. That's more than enough! Of course, you can expect to refill more often on the higher settings.
Filling up this humidifier is easy, and it has a nice whisper-quiet operating volume, so you won't even notice it's running most of the time. Overall, Safety 1st added all of the right features. With no filters, a 360-degree rotating nozzle, and an excellent night light, I can't complain, especially since it's very budget-friendly.
Pros: does not require a filter, has a 360-degree nozzle, is easy to clean and very quiet!
Cons: does not hold as much water as some of the larger humidifiers.
---
This Dyson humidifier is a solid choice, but buyer beware, this is a Dyson… which means it comes at a higher price point than most other humidifiers. You do, however, get a lot of extra features with this one!
This humidifier is a "smart" device and it uses a remote control to give you plenty of flexibility and convenience. It monitors the temperature and moisture in the air to keep a healthy environment throughout the whole room (love this feature!). It's AAFA certified, so it's great for those who have asthma or allergies, and it has the Parent Tested Parent Approved seal of approval.
It's a bacteria-free humidifier that uses ultraviolet light technology to be sure no mold or bacteria grows in the humidifier. It's engineered to run up to 18 hours continuously, and it has a sleep timer for automatic cut-out. If you're worried about noise, the Dyson is the world's only Quiet Mark accredited humidifier.
There is so much to love about this humidifier especially if you're using one year-round. Dyson uses a Patented Air Multiplier that distributes humidified air evenly, providing whole room humidification. This humidifier can work at any speed you would like; there are ten different speed settings. And the tank size is 3 liters, making it one of the bigger choices on the list.
The price is the biggest downfall here. At several hundreds of dollars, the Dyson White Silver humidifier is for those who are serious about using a humidifier.
Pros: uses UV technology to kill bacteria, monitors the temperature and moisture in the air, runs for 18 hours, uses a remote control, and has a 3-liter tank.
Cons: is large and expensive compared to other humidifiers.
---
Buy on Amazon | Everlasting Comfort
Everlasting created a filter-free, cool mist humidifier that can cover an ample space, up to 400 square feet. Depending on the setting used, it can run up to 50 hours because of its six-liter tank.
I had to add it to the list because it's one of the few humidifiers that also has a diffuser for essential oils. It's not a cheap diffuser like you find on the market everywhere nowadays. You add the essential oils to a tray, and then the fan circulates the oils into the mist, giving you a clean, pure-smelling aroma. That said, I recommend being very cautious about using essential oils around children. If you do, you must only use baby-safe essential oils and limit their usage.
Everlasting also added safety features, such as the auto shut-off that turns off the humidifier when no water is detected. You'll find plenty of other features that you want, such as a 360-degree rotating nozzle and adjustable mist streams. Everlasting also added a night light to the unit.
Even though it has a wide opening for refilling, you have to take out the tank, flip it upside down, and fill it from the bottom. It can be a bit cumbersome and annoying to refill. And the other thing I don't love about the design is that you can't view the water level as easily as you can with other humidifiers that have a clear tank.
Pros: has a 6-liter tank, does not require a filter, safely diffuses essential oils, and can run for 50 hours.
Cons: can be hard to clean and difficult to refill.
---
Buy on Amazon
Out of all the humidifiers on the list, the URPOWER has the most beautiful designs. One of their designs even has a wood grain look to fit into any of your existing decor around your home. Plus, the small, compact design makes it a practical pick. It will easily sit on a dresser.
URPOWER is another choice that lets you add aromatherapy essential oils, making it a two-in-one choice. I'm definitely a fan of versatile products! The humidifier has four timer settings, so you can customize the duration that you need to use it each time. It doubles as a night light, offering seven different colored lights that can be turned to bright or dim lighting.
It is one of the smaller humidifiers on this list, holding only a quarter of a liter. It circulates a very fine mist. So, it might not last all night, depending on the setting you select. It does have an auto shut-off feature for when the water runs low.
Pros: doubles as an essential oil diffuser, is affordable and quiet, and has some subtle design options so it blends in with your decor.
Cons: only works for about 6 hours, only holds 200 mL of water, and you cannot view the water level in this humidifier.
---
Frida Baby's baby humidifier is definitely one to consider, but FYI it has some mixed reviews and that's why it rounds out the bottom of our list. It's actually a 3-in-1 that includes a diffuser, nightlight, and humidifier. So you can likely get some extended use out of this item since it serves more than one purpose.
This baby humidifier is designed to be easy to clean and easy to fill, but some users complain that the spout is too small for cleaning. Either way, you should definitely use filtered or distilled water to reduce mineral deposits and to help keep it as clean as possible.
The Benefits of a Baby Humidifier
Using a humidifier can help alleviate your baby's cold or cough symptoms. Adding moisture to the air in your baby's room can improve cold symptoms by:
Thinning mucus in the nasal cavities

Soothing a dry throat

Reducing the severity of cough

Moistening the nasal passages to promote faster healing
Using a humidifier can offer preventive benefits, too. You don't need to break out the humidifier only when your kiddo is sick. In fact, keep it out all year because it has so many additional preventative health benefits.
Studies show that adding humidity hinders airborne viruses' ability to travel. This means by adding moisture to your air, you are also preventing colds and other viruses that spread throughout the year.
Using a humidifier can resolve dry air issues. Many people don't even know they are suffering from symptoms related to dry air and that the trick can be as simple as turning on a humidifier. Dry air can cause several health issues such as:
Dry skin
Nasal and sinus irritation
Sore throat
Snoring
Chronic cough
Respiratory infection
Asthma flare-ups
Nose bleeds
But when using a humidifier, you do have to be careful not to allow the humidity in your home to get too high, and you also want to make sure that you are not creating a wet spot in your home that can develop mold.
Using a humidifier can also provide white noise to help your baby sleep better. One added benefit of using a humidifier is that most of them produce low levels of white noise, which can be helpful for prolonging baby sleep.
What Do Humidifiers Do for Babies?
Simply put, a humidifier adds moisture to your indoor air. By adding moisture to the air, humidifiers increase humidity and help your baby breathe easier. Whether your baby has a cold or you just live in a dry climate, creating an optimal level of air moisture will help your baby in so many ways!
What Kind of Humidifier is Best for Babies?
Let's take a look at some of the key considerations when deciding on the best baby humidifier.
Cool Mist vs. Warm Mist Humidifiers
When you're hunting for the best humidifier for babies, you'll find cool mist and warm mist options. Both types of humidifiers add moisture to the air and they're both useful. By the time the air makes it into your baby's nasal passages, cool mist and warm mist are pretty equal.
However, that doesn't mean both are good choices for babies. Many pediatricians, including my own, recommend exclusively using cool-mist humidifiers due to safety. Warm mist humidifiers have steam vaporizers that heat the water so hot that it could easily burn a child. That's not worth the risk when a cool-mist humidifier offers the same benefits without any burn risks. Go for the cool-mist humidifiers!
Evaporative vs. Ultrasonic Humidifiers
Two types of cool mist humidifiers exist: evaporative and ultrasonic. Both have pros and cons.
If you're great at remembering to do something each day, an ultrasonic humidifier is a good choice. You need a daily maintenance schedule because these humidifiers need frequent cleaning. However, they're quieter, use less energy, and tend to have a sleek look.
If you don't like something that requires daily maintenance, evaporative humidifiers require less hassle. Evaporative humidifiers don't need daily maintenance, so they stay germ-free without frequent cleaning. Most evaporative humidifiers use filters that need to be changed every few months, but keep in mind that means a higher running cost overall. And some of the filters may have an antibacterial coating, which I personally am not thrilled about or comfortable using around a baby.
How Do You Monitor The Humidity in a Room?
If you're thinking about getting a humidifier, you will want to make sure you maintain the proper humidity level in your home. Ideally, the humidity level in your home should be kept between 30 and 50 percent.
Without monitoring the humidity in your home and in the room you are using a humidifier, you risk over-humidifying the room, leading to mold growth, dust mites, and harmful bacteria (a larger health risk to your baby). So, let me stress the importance of this: monitor the humidity anytime you are using a humidifier. (And as a general rule, it helps to know the moisture levels in your home, too.)
To monitor the humidity in a room, you can either buy a humidifier with a built-in hygrometer or buy one separately. A hygrometer, sometimes called a humidistat, is a humidity monitor for your room.
If you buy a hygrometer separately, you will see that there are many models out there. This is the hygrometer I suggest as it's simple, battery-operated, and can be placed anywhere in your home.
Buy on Amazon
Additionally, you want to make sure not to allow the area around the humidifier to become damp or wet, so it's best to keep the humidifier on a high surface in your baby's nursery.
Taking Care of Your Humidifier
Of course, as with any home device, you've got to give a humidifier some love. Humidifiers do require a daily cleaning because dirty humidifier tanks are a breeding ground for bacteria and mold. No matter what type of humidifier for babies you purchase, you eventually have to clean it out. It's particularly essential when you leave it in your baby's room.
I always try to create a cleaning routine so that I can stick to it. If you're unsure how to clean your humidifier, definitely check out the manual. All humidifiers are a little different, but here are some general tips for cleaning it.
1) Replace the water daily
Every day that you're using a humidifier, empty the tank and base. Let them air dry or use a clean towel to wipe dry. Then, refill the tank with fresh water (or distilled water) when you're ready to use it again.
2) Deep clean the humidifier every 3 to 7 days
How often you need to deep clean your humidifier depends on what type of humidifier you have. Ultrasonic humidifiers need to be cleaned more often, but even evaporative humidifiers should be cleaned every week.
Here are the general steps to deep clean your humidifier. You should also check your specific humidifier's manufacturer manual for further cleaning directions.
How to clean your humidifier:
Turn the unit off and unplug from the wall.

Pour out any water left in the tank and add two tablespoons of white vinegar to a half-liter of water.

Add this solution to the humidifier tank and give it a good shake. Then, let it sit for 20 minutes.

Repeat this process for the base and leave for 20 minutes as well.

Rinse thoroughly, several times, until any scent of vinegar is gone.
3) Change the filters regularly
Though none of the baby humidifiers on this list use filters, you should know that some humidifiers require the use of a filter. If you end up buying a humidifier that requires a filter, check to see what the manufacturer recommends when it comes to how often to change the filters in the unit. Definitely keep up with their recommendations so that you're not spreading bacteria throughout the air in your home. (Note: I do not recommend any humidifiers that require a filter because they are harder to maintain and usually have an antibacterial coating.)
FAQs About Baby Humidifiers
Hopefully by now you've chosen a humidifier. But if you still have questions about using a humidifier for your baby, keep reading!
How close should I place the humidifier to my baby?
A humidifier does not need to be close to your baby for it to work. Just keep it in the same room – preferably within 6-10 feet. In fact, it's important to keep the humidifier away from your baby's reach. You don't want your baby yanking on cords, or touching the humidifier – especially if it's a warm mist humidifier. The best place to set the humidifier is away from your baby and away from walls and furnishings where the air can flow freely around it without the humidity attaching and accumulating on a specific surface.
Can I use tap water in my baby's humidifier?
It's best to use distilled water because it has lower mineral content than most tap water. Tap water can contain a high mineral content, which promotes bacterial growth and can release other water contaminants into the air. If you do use tap water, make sure to use a high-quality water filter.
Can humidifiers make coughs worse?
If you do not follow proper cleaning and maintenance, then yes, the humidifier can make coughs, allergies, and respiratory issues worse. If you do not clean your humidifier correctly or regularly, it can grow bacteria and release it into the air. If you clean the humidifier with chemicals rather than water and vinegar or mild dish soap, those same chemicals can leave a residue and be released into the air. Also keep in mind that mold and dust mites thrive in humid conditions, so it's important not to over-humidify your room.
Is a humidifier good for baby eczema?
Yes, using a humidifier for baby eczema can actually help keep your baby's skin moisturized. If your home has really dry air, it can definitely irritate eczema and make it worse. Keep in mind, a humidifier will not cure eczema or even treat it, but it will help keep your baby's skin retain moisture.
I found that this was one of the most helpful things I did to help clear my baby's skin. I definitely recommend using a humidifier for little ones with eczema.
Do humidifiers help with allergies?
In general, a humidifier may soothe symptoms related to dry air, like soothe your nasal passages. If you have allergies to indoor dust, a humidifier could make things worse if you don't keep it clean and closely monitor the amount of humidity in your air. Make sure to keep humidity levels between 30% and 50% for optimal conditions.
Do humidifiers purify the air?
No, humidifiers only work to humidify the air in your home. They will not clean the indoor air. You must use an air purifier to clean the air of dust, mold, or other allergens and contaminants.
Do humidifiers kill germs?
No, humidifiers cannot kill a virus or cold germs in the air, but the good news is that some studies indicate that humidity can influence the flu's ability to spread. Humidity above 40% makes it harder for the flu to spread. While these studies are not conclusive by any means, it can't hurt to have a humidifier as long as you keep it clean and follow maintenance instructions.
I hope you found the best baby humidifier for your baby's nursery! They can be so useful.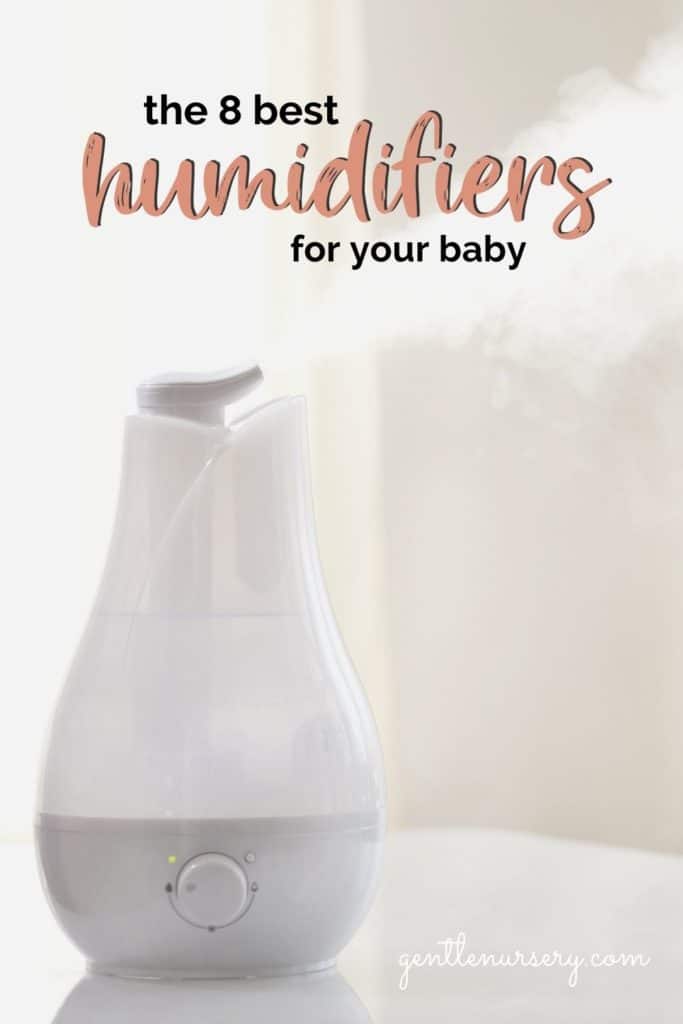 You Might Also Like: