Putting together your baby registry is a process in and of itself, and it can be really fun and exciting. It can also easily consume weeks or even months of your pregnancy. I want to make it easier for you. My goal is to help you create your baby registry and choose the best baby products for your family, while enjoying your pregnancy as much as possible. (And to me, that means spending less time researching baby products.)
That's why I've put together this baby registry checklist. Go through the descriptions below, and be sure to download the planning spreadsheet.
I often hear people say that all you need is a bed, a car seat, a baby carrier, baby clothes, and breastmilk. While I'm in search of a minimalist lifestyle myself, I don't think it's rational to think that you and your baby will thrive without some of the essentials and conveniences on this list.
I've designed this baby registry checklist to give you the most options, and some of the items listed won't even be needed until your baby is 6 months or older. But, those first 6 months will pass by so quickly that you'll be needing a high chair before you even realize it.
So my advice is this: if you are having a small baby shower, register only for the essentials. But if you are having a larger baby shower, or you have extra generous friends or family members, go for the full baby registry.
Where Should You Register?
For the best variety, my recommendation is to register with Amazon. You can't beat the convenience and the great customer service. The perks are pretty enticing too, with a free welcome box, 15% completion discount, free 2-day shipping, and freebies for Prime members.
Aside from Amazon, you may also want to register with Target, Buy Buy Baby, or Pottery Barn Kids. I like registering with Amazon and one other store, just to give my baby shower guests some options. For a full breakdown, plus info on all the perks you get with each different store, see my article on the best baby registry sites.
How To Use The Non-Toxic Baby Registry Checklist
Before you dive into the non-toxic baby registry checklist, please note the following:
The goal of this article is to give you a checklist to work off of. I've included *some* product recommendations below, but please read the full articles for the whole scoop. This is only the at-a-glance version. In each linked article, I go into a lot of detail about why a product is recommended, and also give you some additional information that will be helpful in making a decision. Also, not every item on this list below is non-toxic, and these guides (when available) will usually help clarify that.
This is a LONG list, and I am by no means suggesting that you need everything included. (Please don't buy every single thing on this list!) It's a list of everything you might possibly need or want on your baby registry. It's up to you to determine what you want to have and what you want to omit. I try to help you make that decision by explaining what a product is for, and offering my recommendation.
Below, you'll find a link to download an Excel version of the checklist. I recommend downloading the spreadsheet and using that checklist to track the items you want to buy or register for. It also has columns for tracking your budget and your actual spending, and a handy pivot table too. (I love spreadsheets.)
The Non-Toxic Baby Registry Checklist
1 | Car Seats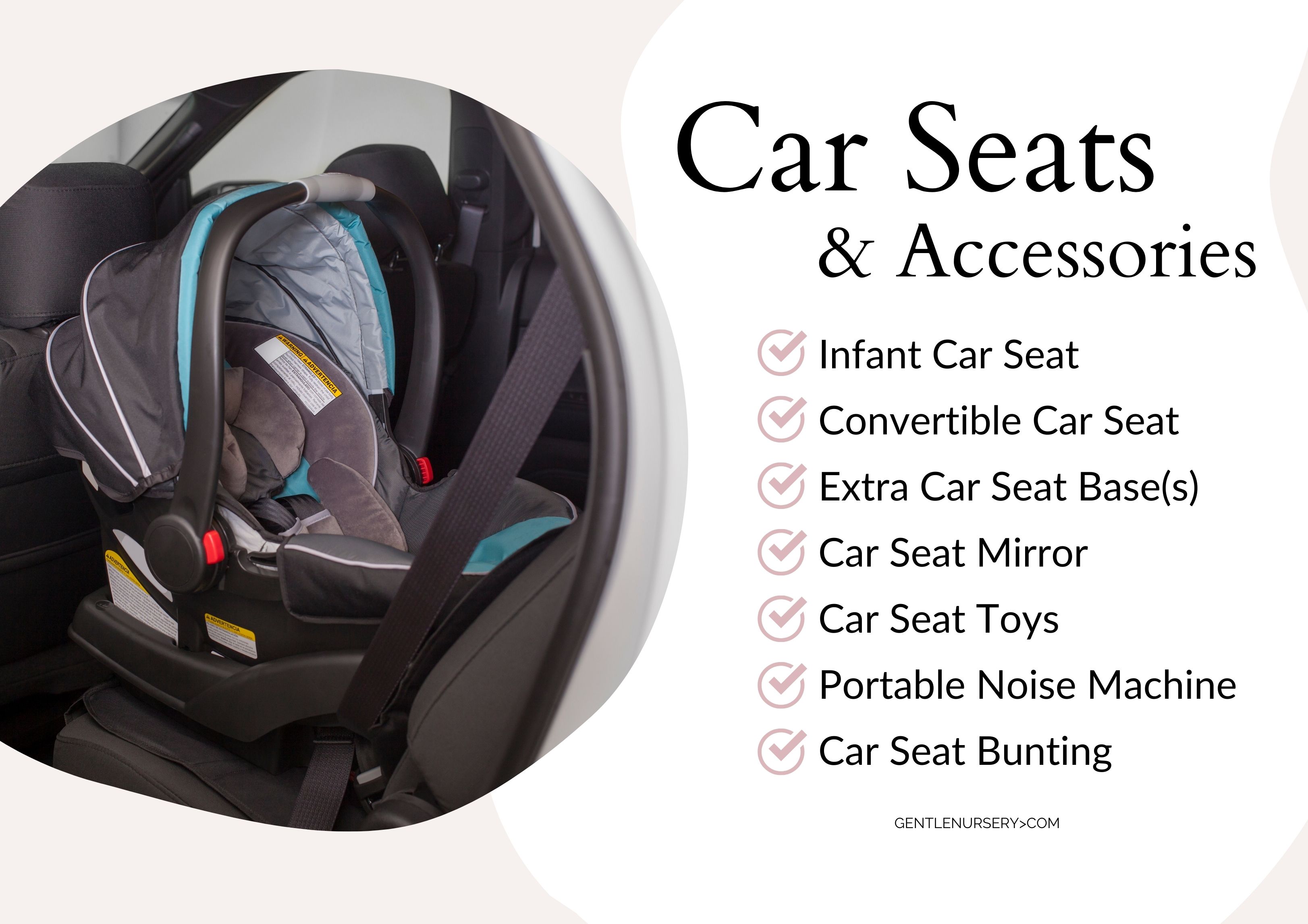 I like to use an infant car seat for the first 6 months, and then switch to the convertible car seat. Some families start with a convertible car seat from the very beginning. Choose what works for you, but be sure the car seat brand you choose is on my list of non-toxic car seats.
Infant Car Seat: I recommend investing in a non-toxic car seat with side-impact protection. Choose any infant car seat from my list of non-toxic car seats. My favorite is the UPPAbaby Mesa in Henry (or Jordan), which was the first car seat made without any flame retardant chemicals. Another great option is the Nuna Pipa Lite.
Extra Car Seat Base: This will be handy if your baby will travel in more than one car. A car seat base can only be used with an infant car seat, and they are not interchangeable between brands. For example, if you buy a Maxi-Cosi car seat, you must buy the corresponding Maxi-Cosi car seat base if you need an extra base (car seats will come with one base).
Convertible Car Seat: Some families prefer to skip the infant car seat and use a convertible car seat from day one; I prefer to use an infant car seat for a few months. I recommend that you add this to your registry since it's a pricey item, and you'll be needing one sooner than you realize. There are so many great ones to choose from! We have a Britax Advocate ClickTight and previously had a Clek in Mammoth.
Car Seat Mirror: I have been using this car seat mirror and have been happy with it. It attaches pretty securely, so I don't worry about it coming off.
Car Seat Toys: To help keep your baby entertained during car rides, I recommend car seat toys that can attach to the car seat. Finn + Emma makes organic car seat toys.
Portable Noise Machine: Babies tend to cry in the car seat. Nothing helped to calm my baby down more than this travel white noise machine; it also helps with getting him to sleep while we are out. It is a must-have! I keep it in my purse at all times.
Car Seat Bunting: If you live in a colder climate, you may want to use car seat bunting to keep your baby warm. (It isn't safe to leave jackets or outerwear on your baby while they are strapped in the car seat, so this is a safe alternative.)
2 | Strollers
I recommend choosing at least one stroller for your registry, if not two. I mostly use a full-size stroller for the first year or so, and then switch to the umbrella stroller because it is lighter and more convenient to use.
Full-Size Stroller: If you are getting an infant car seat, you'll want to buy a stroller that is compatible with your car seat to make it a "travel system". That means you can attach the car seat to the stroller. Otherwise, if you aren't getting an infant car seat, you can choose any stroller from my non-toxic strollers list. I have the UPPAbaby Cruz and the Mesa car seat (and am happy with them), but I do love how easily you can fold down the Britax and City Mini strollers with only one hand.
Stroller Frame (optional): If you don't think you need a full-size stroller, you can use a stroller frame instead. It's lightweight and attaches to your car seat. Some car seat manufacturers make their own stroller frames; if yours doesn't, you can get the Baby Trend.
Umbrella Stroller: Once your baby begins to sit up unassisted, you can start using an umbrella stroller! I love umbrella strollers because they are so lightweight. My favorite is the UPPAbaby G-LUXE stroller.
Jogging Stroller: For active mamas, a jogging stroller might be a good item to register for. The two non-toxic options I have found are the BOB and the Bumbleride. They can be a little bulky, but they are a good replacement for a full-size stroller if you don't mind the bulkiness.
Stroller Organizer: Some strollers come with their own; if not, you can buy any brand. Find one that has a lot of ratings and will contain your phone, a drink, and a couple other items. I like the Britax and Ethan & Emma stroller organizers.
Stroller Hooks: These are helpful for hanging shopping bags. I recommend having at least one stroller hook for your stroller.
Stroller Toys: Finn + Emma makes organic car seat toys that can also attach to your stroller.
3 | Baby Gear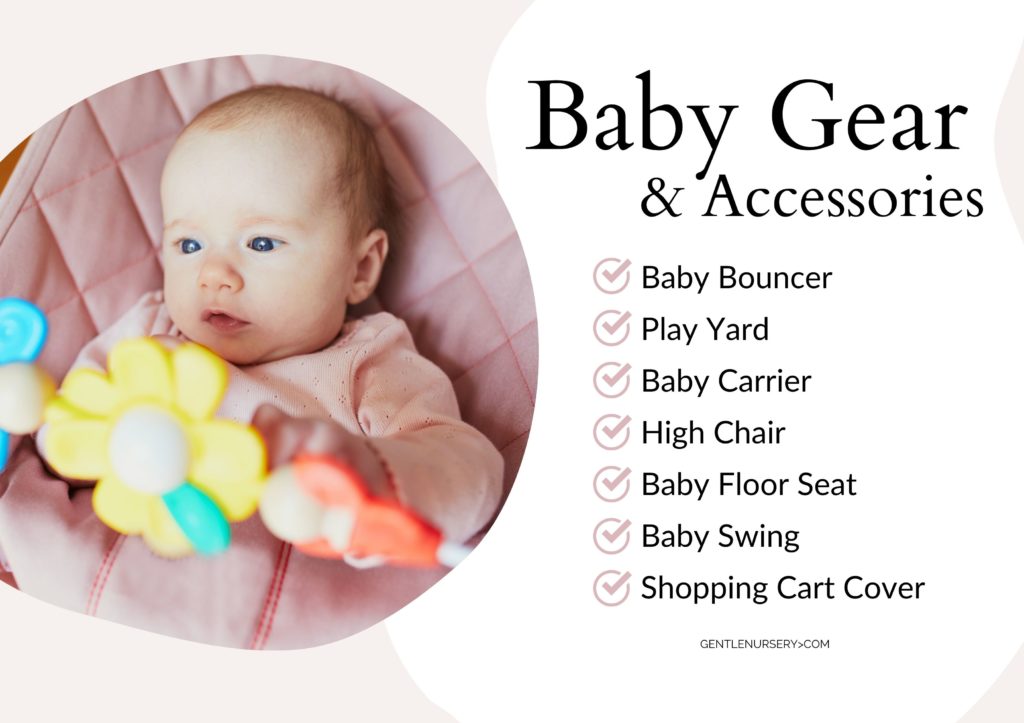 These items are perfect for baby shower gifts, so you'll definitely want to add these to your registry.
Baby Bouncer: I can't live without a bouncer during baby's first few months! They're so useful during that stage where your baby is still unable to sit up unassisted. I love the BabyBjorn Bouncer but I sometimes wish I had the Nuna Leaf. But be sure to check out my full list of non-toxic baby bouncers.
Travel Crib/Play Yard: An absolute must-have! Pick a good, non-toxic baby play yard like the Nuna Sena Aire.
Mini Play Yard: For smaller spaces, you may want to use a mini play yard. For example, I have a regular-sized Nuna Sena, but I use the Sena Mini in my bathroom to keep the baby safe and contained while I am getting changed or taking a shower. (Don't worry, he gets plenty of floor time, too!)
Play Yard sheets: If your play yard doesn't come with sheets, don't forget to buy at least one extra.
Baby Carrier: Another essential item for all new moms, a baby carrier will be a life-saver. Finding the right carrier for you can be a process, but I like using a wrap like the Moby or K'tan while my babies are newborns. Then I switch to a soft-structured carrier.
High Chair: Your baby will be using a high chair faster than you know it, so I recommend registering for one. We have this high chair and love it, but there are some other great non-toxic high chairs to choose from.
Floor Seat: Baby floor seats help keep your baby stay in a sitting position, but they should not be used before your baby can sit up unassisted. Make sure to use the kind linked here and not the regular Bumbo seats, which do not provide proper support.
Baby Swing: Optional in my book, a baby swing is one of those products that parents either use a ton or not at all.
Shopping Cart Cover: Not essential at all, but I like to use a shopping cart cover until my baby is about 12-13 months old. If you don't mind polyester, Skip Hop makes a great one. Otherwise, try using a nursing cover that doubles as a shopping cart cover.
4 | Nursery
When it comes to choosing the large items of furniture that will be in your baby's nursery, it's important to buy non-toxic and organic whenever possible.
Crib: We love our Romina Furniture and I think this is the best of the best out there. But if it's not within your budget, there are other great brands of nursery furniture to consider. Check out the full guide to non-toxic baby furniture. (It's your call as to whether you add the crib to your registry.)
Dresser: Optional. You can use the dresser to store your baby's clothes and diapers, and also as a changing table. I use the top drawer as the diaper station (it holds diapers, wipes, washcloths, rash cream, and more).
Crib Mattress: This is the most important item that you will buy for your baby since your baby will spend thousands of hours sleeping on their mattress. It's essential to avoid mainstream/traditional crib mattresses. Instead, I recommend investing in an organic crib mattress (click that link for a comparison of the top mattresses). I love Naturepedic and the Emily Natural Crib Mattress. Definitely add this to your registry! And be sure to register for gift cards on your Amazon baby registry; in case you don't receive the mattress as a gift, you can put your gift cards toward the cost of a non-toxic baby mattress.
Waterproof Mattress Pad (2-3): If you are buying a non-toxic crib mattress, you will need at least two waterproof mattress pads (since most non-toxic mattresses won't be waterproof).
Crib Sheets (3): Organic crib sheets are a must, and the good news is they're easy to find and affordable. I like Burt's Bees Baby's crib sheets, but you can also check out these other organic sheet recommendations.
Crib Skirt: Optional. A crib skirt is more about style than anything else. It's completely up to you if you'd like to register for this.
Changing Table: Optional. If you don't have room for a dresser, you could put the baby's clothes in the closet and get a changing table instead.
Changing Table Pad: I recommend the Naturepedic changing pad but I know it can be out of budget for some. Here's my guide to the best changing table pads.
Changing Table Covers (3-4): I recommend having 3-4 changing table covers, since they can get messy pretty easily. We seem to always have one in the wash, so I like having extras.
Rocking Chair/Glider: It's important to get a non-toxic glider or rocking chair that doesn't contain toxic flame retardants. The good news is that they're somewhat affordable. Check out my guide to the best gliders to find the one that best matches your nursery.
Bassinet: What your baby sleeps on during their first 4-6 months matters. Choose one of these non-toxic bassinets. We had the Halo Bassinest and were happy with it. Other options include Moses baskets and co-sleepers that allow the baby to sleep right next to your bed.
Bassinet sheets: Be sure to get organic sheets if possible.
Cosleeper: The two most popular are the Dockatot and the Snuggle Me Organic. We used the Snuggle Me and it has been wonderful. (Though they are very popular, they are not safe for unsupervised sleep. We only used ours as a lounger or for fully supervised naps. Check with your pediatrician before using one.)
Baby Monitor: Avoid dangerously high levels of electromagnetic frequency by choosing one of these low-emission baby monitors. And use a monitor as little as possible.
White Noise Machine: My secret to better baby sleep, a white noise machine is a must-have! The best on the market is the Marpac Dohm, but I do recommend a couple other machines in my guide to white noise machines.
Humidifier: This is a must-have. You'll get a lot of use out of this when your baby isn't feeling well, or if you live in a particularly dry area. We use this one, though I am on the hunt for one that is easier to clean and you can also check out my full guide to the best humidifiers for babies. Be sure not to get one that uses an antibacterial filter, because it those are treated with unnecessary chemicals.
Laundry Hamper: You'll be doing a lot of laundry, so make sure to have a hamper you're happy with.
Mobile: Optional, but I think all babies should have one. I like this high-contrast mobile because it is visually stimulating for newborns.
Storage Baskets: Nursery organization is an art. Buy or register for storage baskets based on your nursery setup, and your personal sense of style. These polypropylene baskets from Target are a great find, and a safe plastic to use. Bonus: they are made in the USA.
Baby Clothing Hangers: Target sells baby clothing hangers at an affordable price. I don't stress too much about the materials.
5 | Diapering Essentials
Anything that comes in direct contact with your baby should be gentle and non-toxic.
Diapers: Choose from eco-friendly, chlorine-free disposable diapers or organic cloth diapers. Or, a combination of the two! Our favorites are Healthynest and Kudos diapers.
Wipes: We use Water Wipes, but I also carry some Honest Wipes for wiping peanut butter and apples off my toddler's hands when we are out. Gentle baby wipes are an absolute must. (Speaking from experience; we have had eczema reactions due to some of the ingredients in other brands of baby wipes.)
Diaper Bag: Definitely register for a diaper bag! There are so many options out there. Here are some of my favorites: Freshly Picked and Fawn Design. Check out my complete guide to the best diaper bags and the best diaper bag backpacks.
Diaper Pail and Liners: No matter what kind of diapers you're using, you'll need somewhere to toss your dirty diapers. I recommend the Ubbi stainless steel diaper pail. If you're using disposable diapers, you can use regular trash bags; if you're using cloth diapers, you'll want a wet bag.
Diaper Rash Cream: There are lots of great choices! I like Earth Mama Organics and you can also check out our other diaper cream recommendations.
Cloth Diaper Spray: You'll need these if you are going to use cloth diapers. Be sure to check out my cloth diapering 101 guide.
Wipes Warmer: Completely optional! We didn't plan on getting one, but ended up with this one.
6 | Baby Bath Time Essentials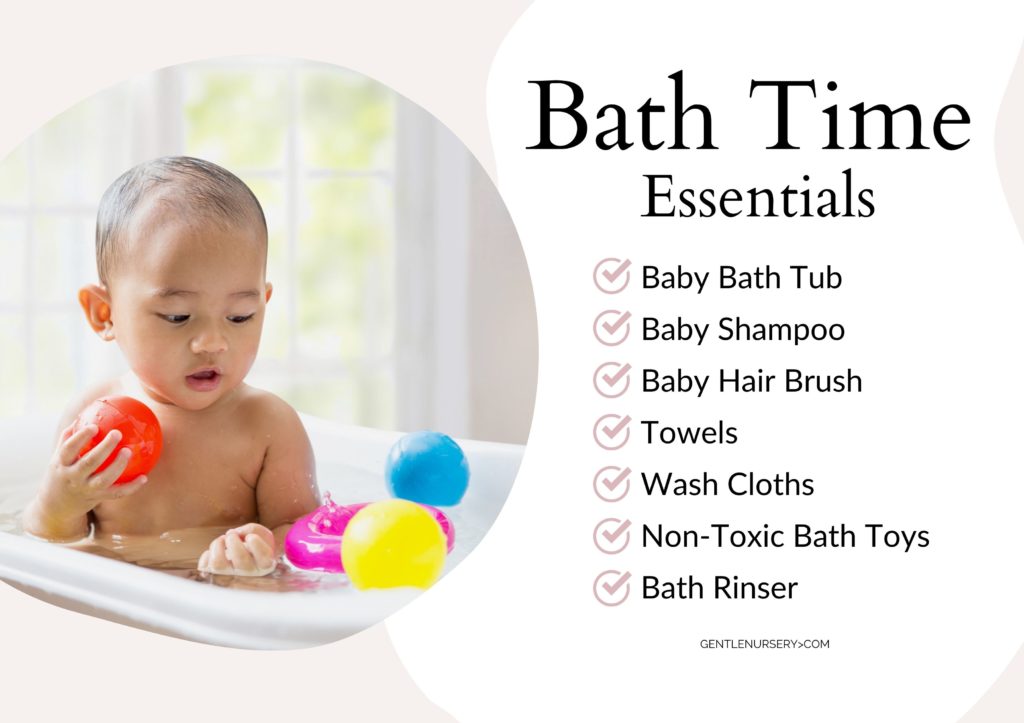 Bath Tub: Make sure to register for a baby bathtub that doesn't contain BPA or phthalates. This one is great, although a bit large.
Baby Shampoo/Body Wash: Babies don't need much soap, but if you prefer to use some I like Earth Mama or one of the brands listed on our guide to baby shampoos.
Baby Hair Brush: These are so handy! Try this hairbrush made with natural bristles.
Towels: Organic cotton hooded towels are great for babies. Try these from Natemia or check out the full list on our bathtime essentials guide.
Wash Cloths: Similarly, organic cotton washcloths are the best for your baby.
Bath Toys: It's a great idea to register for bath toys since your baby will be playing with them before you know it. Both my boys are currently playing with these rubber bath toys. Check out my complete guide to non-toxic bath toys for more suggestions.
Bath Toy Organizer: Keep your baby's bath toys dry, clean, and put away with a bath toy organizer.
Bath Rinser: We use this one from Skip Hop and have been happy with it.
Bath Faucet Cover: This helps prevent bumps and bruises. We use this one from Skip Hop that matches our bath rinser.
Bath Kneeler: While these are optional, you may a bath kneeler useful.
Bath Mat: An all-natural rubber bath mat is perfect to prevent slips and falls once your baby starts using the regular bathtub.
7 | Medicine & Baby Care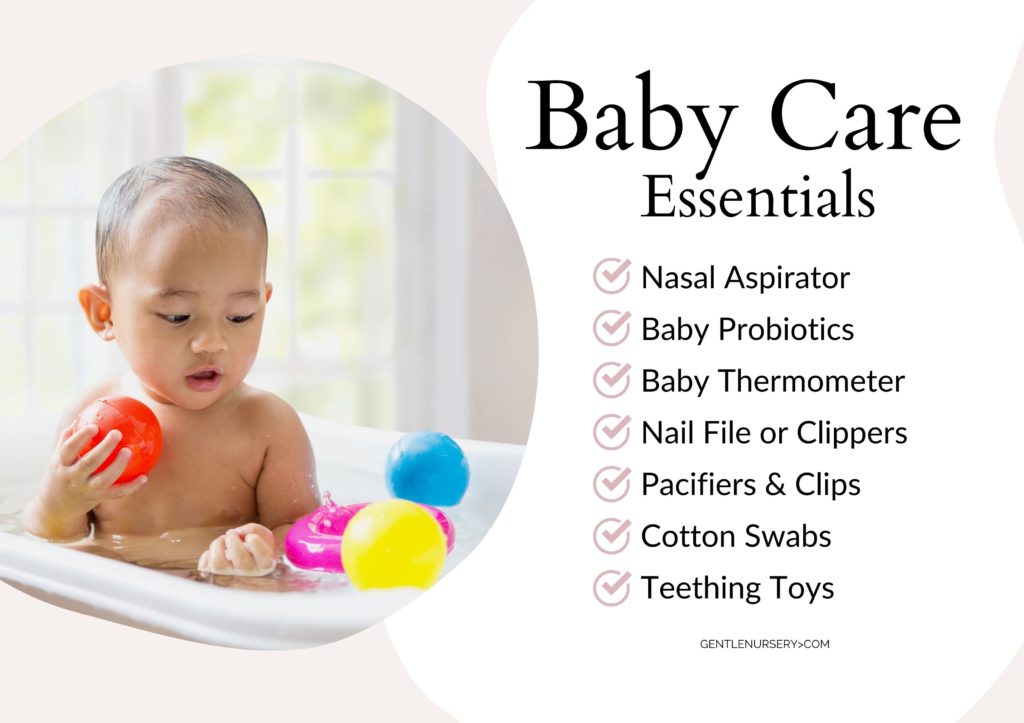 These items don't need to be added to your baby registry, but definitely can be. It's up to you! For a full list of options, and more info on each of these items, please check out my natural baby care list.
Nasal Aspirator: Definitely the Nose Frida, but if this makes you squirm, I have listed some other options on my guide to nasal aspirators.
Saline Nasal Spray: This isn't a must-have, but if you do want some on hand I recommend these drops.
Gripe Water: I recommend the Wellements brand, but not all babies will need gripe water.
Baby Probiotic: There are lots of great options, including Biomeology Infant. Check out my guide to the best baby probiotics for more information.
Multi-Purpose Salve or Ointment: Instead of petroleum jelly, try Babo Botanicals All Natural Healing Ointment, Maty's All Natural, or Burt's Bees Multipurpose Ointment.
Children's Benadryl: It's wise to keep some Benadryl on hand in case of an allergic reaction. Ask your pediatrician for the correct dose based on your baby's weight at every doctor visit.
Baby Thermometer: Rectal thermometers work best, and I have been happy with the Vicks Rectal Baby Thermometer.
Cotton Swabs: Johnson & Johnson makes safety swabs that work well for cleaning little ears and keeping them safe.
Nail Clippers or Scissors: The best one I have found (and I've used many) is the NailFrida. It comes with a nail file, too.
Pacifiers: There are so many great pacifiers that don't contain any plastic. Some of my favorites are Natursutten and Soothies. Check out my full list here, and expect to try a couple of different pacifiers before you find the one your baby likes.
Pacifier Clips (2-3): If you are using pacifiers, be sure not to forget the pacifier clips! Honeyed and Ulubulu make great paci clips.
Cold Compress: This isn't an essential item to have at first, but it will come in handy. The Green Sprouts Cold Calmpress works great and the cute design helps when your little one has an owwie. It may be made from phthalate-free PVC but I don't stress it too much because of how infrequently we use it; you can always place it in a paper towel or plastic baggie if you are worried.
Medicine Dispenser: Most medicine will come with a dispenser, but you may want to have one like the Munchkin Medicine Dispenser on hand.
Teething Toys: Definitely add these to your baby registry, including Sophie the Giraffe, Comotomo Silicone Teether, and teething jewelry. (Plan on having more than one teether for your baby; 2-3 is a good idea.) I also have a full list of non-toxic teething toys.
8 | Baby Clothing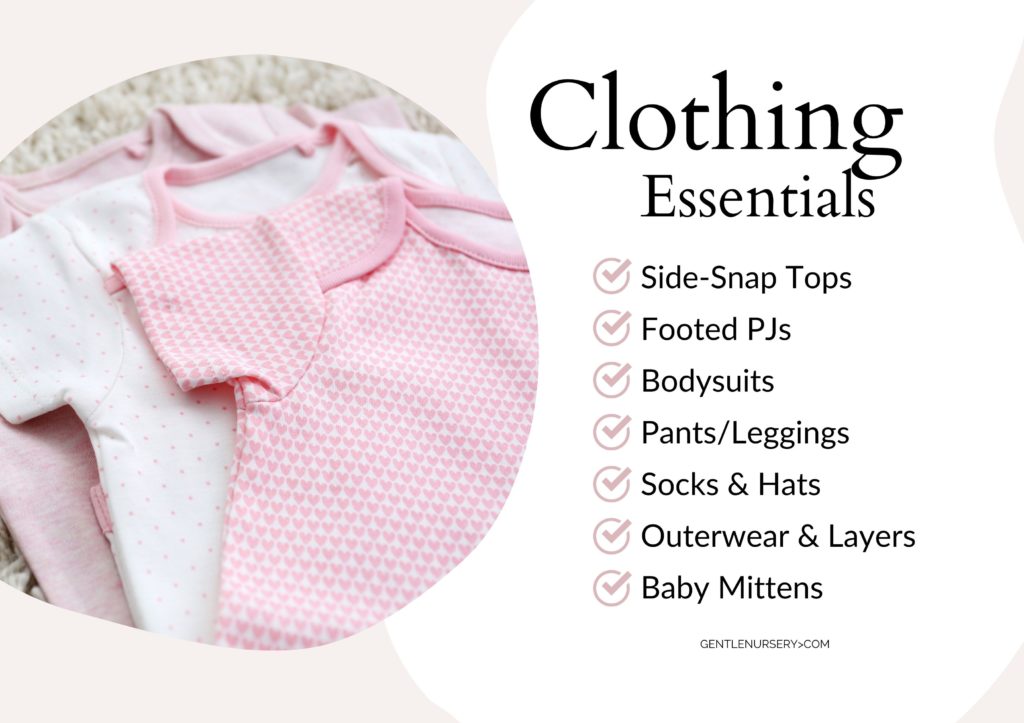 Avoid exposing your baby's skin to synthetic materials and pesticides by only buying 100% organic cotton baby clothes. Anything else can be too harsh on a baby's sensitive and developing system. Check out my full guide to the best certified organic baby clothes and shop these excellent organic baby clothing brands: Burt's Bees Baby, Lamaze Organics, Colored Organics, and Hanna Andersson. If you're having a large baby shower, you may also want to register for baby clothes in larger sizes such as 3 months, 6 months, and 9 months.
Side-Snap/Kimono Tops (4-6): These are best for your baby's early days, before their umbilical cord stump falls off. Look into these organic side-snap tops.
Footed PJ's (5 or more): These are very useful for sleep and play.
Sleeping Gowns (2-3): These are optional, but they do make middle of the night diaper changes easier.
Baby Bodysuits (5 or more): Your baby will wear a lot of these, so I prefer to stock up.
Pants/Leggings (5 or more): Be sure to have enough pants or leggings for your baby to wear with their bodysuits/onesies.
Socks (5 or more): Babies have cold feet, so baby socks are useful.
Hats (3 to 5): Recommended if you live in a colder climate or keep your home on the cool side.
Outerwear (1-2): We live in Los Angeles, so I like to have at least a sweater or hoodie on hand. If you live in a colder climate, please be sure to dress your baby accordingly.
Shoes (optional): Baby shoes are just for fun, and not necessary at all.
Newborn Mittens (2-3): Baby mittens are great for preventing scratches (i.e. before you gain enough confidence to start clipping your baby's nails).
Laundry Detergent: Molly's Suds is the way to go! But if you would like more info, or some other options, check out my guide to the best baby-safe laundry detergents.
9 | Sleepwear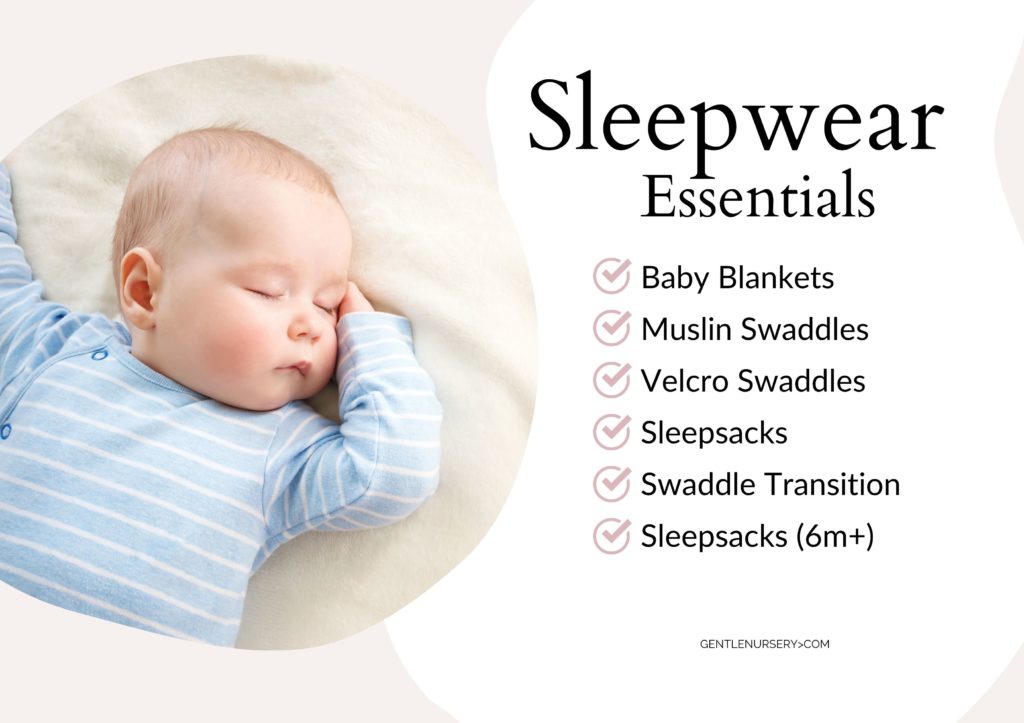 You won't need all of these items from the very beginning, but they make great baby shower gifts so I encourage you to register for them. And they'll come in handy sooner than you realize! For more detail and other product recommendations, be sure to check out my full guide to baby sleepwear.
Baby Blankets (1-3): There are so many nice baby blankets out there! I encourage you to get one that is 100% organic cotton.
Muslin Swaddle Blankets (4-5): Even if you don't end up using these for swaddling, you can still use them as receiving blankets. They are very handy, so I encourage you to have a few of these on hand at any time. I recommend these organic muslin swaddle blankets.
Velcro Swaddle Blankets (2): Velcro swaddles are the way to go! They are very easy to use and make middle of the night changes so much easier. We used Swaddle Me's organic swaddles and were very happy with them.
Halo Sleepsack (1+): I recommend getting at least one Halo Sleepsack. They make great swaddles (especially for taller babies), and also help with the transition out of the swaddle.
Swaddle Transition Suit: There are two sleepsuits that are the most helpful for transitioning your baby out of the swaddle: the Merlin Sleepsuit and the Halo Sleepsack. Check out our full guide to transitioning out of the swaddle for more options.
Sleep Sacks for 6+ months (2): After you stop swaddling your baby, use a wearable blanket over your baby's PJs. Some good options include Burt's Bees Baby and the Woolino.
10 | Bottle-Feeding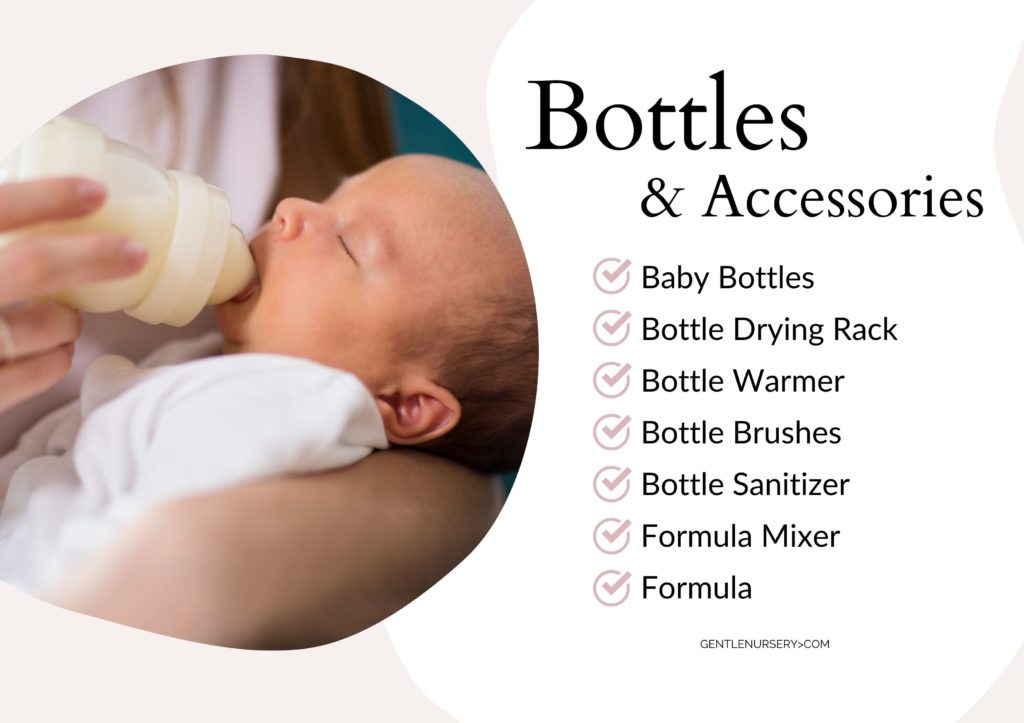 For a full guide to non-toxic baby bottles and supplies, check out my guide to baby bottles and accessories. And for baby formula recommendations, check out my guides: best organic baby formula, goat milk formula, and hypoallergenic infant formula.
Baby Bottles: Finding the best baby bottle for you isn't as simple as choosing the most popular glass baby bottles. It usually takes a little trial and error, so I encourage you to register for two brands of baby bottles. If you plan to use baby formula, opt for a wide-mouth bottle. I like Philips Avent Bottles but you can check out my other recommendations on this guide to the best glass baby bottles.
Bottle Drying Rack: To allow your bottles to fully dry after hand washing or removing them from the dishwasher, a drying rack is recommended. I like the OXO Tot Rack.
Bottle Warmer: You can either use a bottle warmer or heat bottles under warm running water. If you prefer to use a warmer, consider the Philips Avent Bottle Warmer. For more options, check out my guide to bottle warmers.
Bottle Brushes: This is something that new parents often forget to buy. Be sure to have one or two of these on hand in your kitchen. I like the Munchkin brushes.
Bottle Sanitizer: I don't recommend getting one of these unless absolutely needed; most babies don't need their bottles sanitized before each use.
Formula Mixer: If you will be using baby formula, you might want to get a Baby Brezza. However, I don't fully recommend this product because the water chamber is made from plastic.
11 | Breastfeeding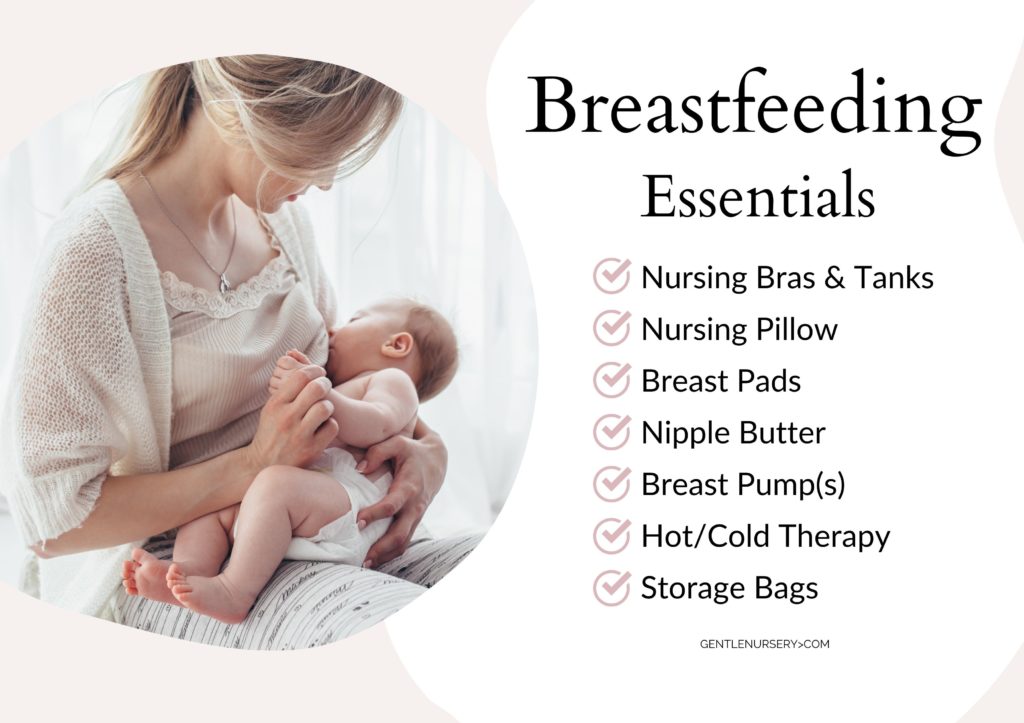 To help set yourself up for breastfeeding success, check out my list of breastfeeding essentials for new moms as well as my guide to the best breast pumps. Not all moms feel comfortable registering for breastfeeding accessories; it's completely up to you!
Nursing Bras (3-4): My favorite nursing bra is from Cake. Kindred Bravely also makes great nursing bras.
Nursing Tanks (3-4): These are a must for those early days of nursing. I use these from Target.
Nursing Pillow: There are a few great organic nursing pillows available, but my favorite is the The Nesting Pillow.
Nursing Cover: I have tried many (including the infinity scarves) and I still believe the best brand is Bebe au Lait.
Breast Pads: These are a must and will be very helpful, especially in the first couple of weeks of nursing. I ended up using these organic washable pads and they have been wonderful.
Hot/Cold Therapy Packs: These are a must! I use Bamboobies. Be sure to have these on hand in case of engorgement. They bailed me out more times than I can even remember.
Nipple Butter: I am partial to Earth Mama Organics and Motherlove. Nipple butter *saved* me when I was nursing my second baby the first couple of weeks. Or check out my full guide to organic nipple creams.
Electric Breast Pump: Both Medela and Spectra are very popular and effective brands.
Manual Breast Pump: I would choose my manual breast pump over my electric pump any day! I love the Medela Harmony.
Silicone Breast Pump: More a milk-catcher than an actual pump, silicone breast pumps are amazing little devices! I have the original Haakaa but there are lots of knock-offs that work equally well.
Hands-Free Pumping Bra: If you plan to pump, a hands-free pumping bra is a must. It allows you to pump both breasts completely hands-free. The PumpEase pumping bra is made from organic cotton.
Breastmilk storage bags: Breastmilk storage bags are the most convenient method for storing and freezing breastmilk, but I don't like using them because they are made from plastic. Consider how you feel about this and if you decide to get them, I like the ones from Medela or Lansinoh.
4 oz. Mason Jars: If you prefer to avoid plastic breastmilk storage bags, you could store breastmilk in 4 oz. mason jars (perfect for freezing) or 8 oz. mason jars (for refrigeration).
Burp Rags: Both of my sons have had reflux, so our burp rags got plenty of use. I like using prefold cloth diaper inserts as burp rags because of how thick and absorbent they are.
12 | Feeding Your Infant and Toddler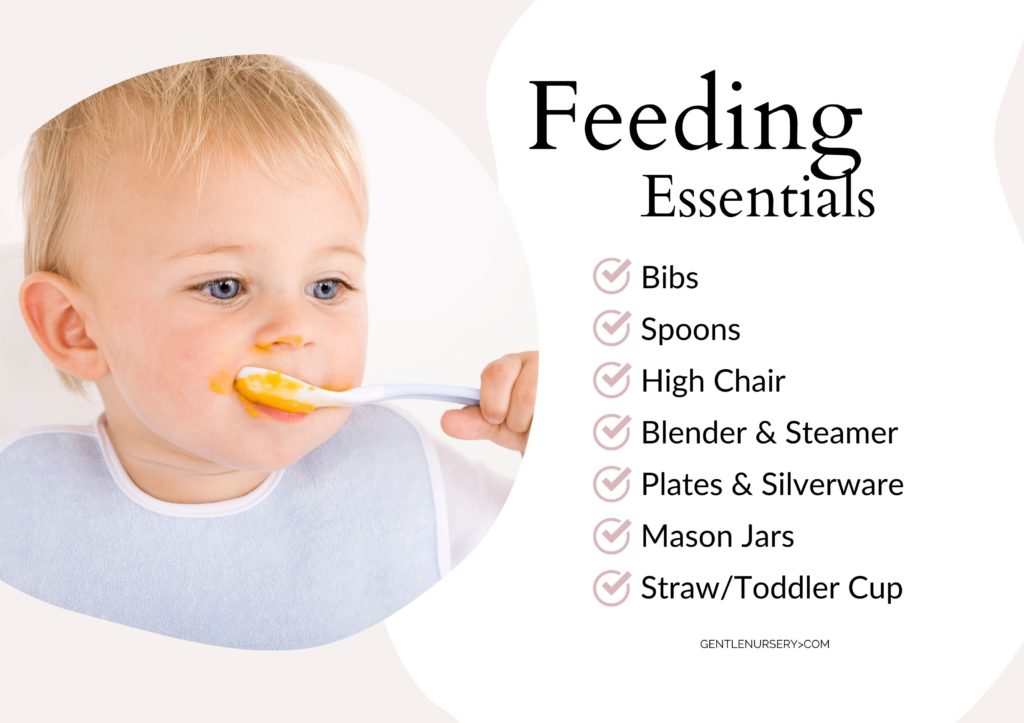 Though it's a cliche, trust me when I say that babies grow up fast. Before you know it, you'll be introducing solids and giving a toddler cup or straw bottle. Do future you a favor and choose some of those products now, before your baby arrives. And if you're having a big baby shower, why not add these items to your registry as well?
Bibs: Whether you plan to follow baby led weaning or feed purees, your baby is bound to get a little messy while eating. Silicone bibs are great, and I also like these from green sprouts.
Baby Blender: If you plan to feed your baby purees, please try to make them at home as much as possible. It's very easy and takes little time if you have an efficient blender. For larger batches, I prefer to use my VitaMix; for smaller batches, I like to use a personal blender.
Steamer basket: A steamer basket also comes in handy when making your own baby food.
Mason Jars for Storage: These 4 oz. mason jars are the perfect size for storing purees.
Toddler Plates: I like using stainless steel toddler plates. We have four of these and they have been a big hit. We also use these heavy-duty stainless steel bowls from Caveman Cups. They are such high quality!
Sippy/Straw Cups: Read my full article on sippy cup alternatives to see why sippy cups are not good for your baby's development. My personal favorite straw cups are the Pura Kiki single-walled bottles.
Toddler Cups: For toddler cups, we recommend either an open cup or a straw bottle once your little one has learned how to use an open cup. We have lots of non-toxic sippy cup alternative recommendations for you to choose from, depending on your child's needs.
Toddler Silverware: We went through a little trial and error with silverware. Finally, we ended up trying the OXO Tot fork and spoon set and absolutely love them! We will never go back to any other brand of toddler forks and spoons.
13 | Playtime and Learning
Books and baby toys make great baby shower gifts, so be sure to register for ones that you would actually want to receive.
Activity Gym: Lovevery's play gym is really popular with my readers and I also really like this one from HABA. (See more play gym options.) You can place them on a blanket underneath the activity gym, or use a non-toxic play mat.
Play Mat: Choose from one of my top non-toxic play mats.
Baby Books: Start building your baby's first library with my list of the top baby books. Some of my absolute favorites include When the World Was Waiting For You and I Love You Because You're You. We also have a guide to the best bedtime story books, which are great for reading during your baby's bedtime routine.
Baby Toys: Your baby won't need much to play with as a newborn, but one day you will notice that they are just ready to play and can't get their hands on enough toys. I definitely recommend registering for your favorite baby toys. Check out my list of the best non-toxic baby toys and register for some of the toys I've listed there.
Bath Toys: Check out my guide to the best non-toxic bath toys to find your favorites.
FREE Download
This spreadsheet is designed to help you plan and track your entire baby registry! It also helps you keep tabs on your baby product expenses. Enter your email below to download the file and then make your own notes as you review the product suggestions in the article.
---
And, that concludes the non-toxic baby registry checklist!
I truly hope you aren't feeling overwhelmed. Remember, this checklist includes every single thing you might possibly need in the first year or so, and not only what you actually need. If you're a minimalist, for example, you might choose only half of these items. If you live in a small apartment in a big city, your checklist will look a lot different than a mom living in a suburb with tons of space in her home.
Find what works for you and don't overwhelm yourself and your home with baby product clutter.
Keep Reading: