Whether your baby is dealing with a cold or seasonal allergies, clearing the mucus out of that cute little nose is essential. I promise it's not nearly as difficult as it sounds!
A good nasal aspirator will have your congested baby feeling better in seconds. The key is finding the right tool for the job. I've rounded up the best baby nasal aspirators to help you with this important task!
This article has been reviewed for accuracy by Dr. Gina Jansheski, M.D., FAAP
What is a Nasal Aspirator?
A nasal aspirator is a helpful tool used to relieve your baby's congestion from colds, allergies, or even teething. An aspirator gently and effectively reduces the amount of mucus in the nasal passages so that your baby can breathe, eat, and sleep better.
Related: How to make GOOT garlic oil ointment (fave natural remedy!)
The Best Nasal Aspirators for Babies
There are many great nasal aspirators that get the job done efficiently and cleanly. You'll find three different kinds of nasal aspirators on the market:
Oral-suction aspirators: manual aspirators that use parent-powered suction
Electric aspirators: aspirators that use battery power (or other power sources)
Bulb-syringe aspirators: the old standby that we grew up with
They all work a little differently, and we'll go over the pros and cons as well as the best nasal aspirators in each category below. First up are oral-suction aspirators, which have become very popular (maybe even trendy?) in recent years.
Oral-Suction Aspirators
Also known as "snotsuckers," oral-suction aspirators are relatively new to the market and already have parents raving. And while it might look somewhat questionable, I promise, these aspirators are both very easy to use and effective! And they're usually easier on the wallet than electric aspirators, which is also nice.
When using an oral-suction aspirator, you control the suction yourself. You start by gently placing the little tube into your baby's nose. And on the other end of the tube, there is a mouthpiece that you suck on to create the suction that clears your baby's nose. These aspirators come with a filter and a stopper to make this method clean and hygienic.
Buy on Amazon
You've probably heard of Nosefrida; this is the original oral-suction-powered aspirator. Many parents consider this to be the very best one on the market because it's gentle and perfect for newborns.
Fridababy kept both comfort and size in mind when they designed this aspirator. The tubing is small enough so that even the smallest of babies won't have any issue with it. The level of suction power is also customizable because it's completely powered and regulated by you. Inside the tubing, a disposable filter and a stopper inhibit any cross-contamination between you and baby, so you don't have to worry about getting a funky mouthful of mucus. The filters help make this a hygienic solution, and best of all, a pretty easy cleanup! I usually remove the tube and hand wash it in the sink. Sometimes, I need to insert a bottle brush to clear it out fully.
Pros: It's easy to clean, uses disposable filters, is free of BPA and phthalates, and is manual.
Cons: The pieces can disconnect a little too easily, and it's a one-size-fits-all aspirator—it isn't adjustable.
Buy on Amazon
Munchkin is a mainstream brand for many baby items, including their Clear Nose Baby Nasal Aspirator. This oral-suction nasal aspirator is similar to others I've recommended for a couple of reasons.
While it doesn't use filters, it has an internal chamber to collect boogers and reduce any contamination risk between you and your baby. The unit is clear, so you can make sure it's working as you use it.
Also worth noting is that this aspirator also grows with your baby. Munchkin includes three different sized aspirator tips: small, medium, and large so they're always comfortable for your little one. They also included a clear storage case to keep all of the parts together and clean. A nice touch!
Pros: Comes with 3 different sized tips, is easy to clean, and the clear design lets you see what's on the inside.
Cons: You may have to use more forceful suction when using this compared to other suction-powered nasal aspirators.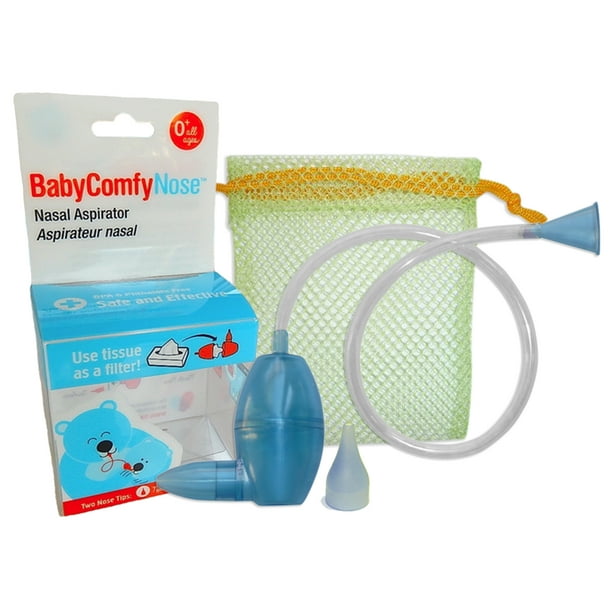 Buy on Walmart
Replacing the filters in oral-powered nasal aspirators can become expensive, especially if your child has frequent colds or allergy problems. That's why the BabyComfy can be a great choice! It has an innovative design that lets you use regular household tissues as a filter.
BabyComfy includes two different sized tips. The first is designed for newborns or small babies. The second is the standard tip, so you can switch them as your baby gets older. For cleaning purposes, the BabyComfy can be sterilized in the dishwasher and stored in a mesh bag when not in use.
Pros: Dishwasher safe, requires no filters, and is gentle and effective. Different size tips grow with your baby.
Cons: It may be hard to get suction, and it can come apart.
Electric Nasal Aspirators
Electric nasal aspirators are battery-powered and designed to make it a little easier for parents. To use this one, you place one end of the aspirator into your baby's nostril. Then, with a press of the button, the aspirator automatically suctions the mucus out of the baby's nose. This makes it nice and easy!
Buy on Amazon
The Nosiboo is one of the easiest electrical powered nasal aspirators to clean. ENT (ear, nose, and throat) specialists created the Nosiboo with a unique design that is very easy to use.
The only part of this aspirator that you need to clean is the head! It disassembles easily, and all you need to do is run the head under running water. I love that you don't have to deal with multiple pieces or try to scrub out nooks and crannies.
We also like that the Nosiboo has multiple settings so that you have some control of the suction power. Altogether, the design makes this job quite a bit easier!
Pros: It's easy to clean, electric, and it has a cute design that appeals to babies.
Cons: It can be loud.
Buy on Amazon
The Braun Nasal Aspirator is a great electric aspirator. It has an ergonomic design that allows you to suction from any angle. And it's easy to clean – the tips and reservoirs are dishwasher safe and can be hand-washed.
It also features two adjustable nasal tips and two suction levels, making it perfect for both infants and toddlers and for different uses. Lower suction can be useful for mild colds, but there are definitely times when you will need higher-powered suction. Braun added two different suction levels—high and low—which is really helpful. You pick the level that you want to use, and both are super quiet. (Though some parents say they could use a third, even higher level, of suction.)
Also included is a handy carrying pouch for clean storage.
Pros: It's dishwasher safe, easy to clean, has good battery life, and has two suction levels and two nasal tip sizes. Babies seem to respond well to it, too.
Cons: It may not be as powerful as other aspirators, but the two power settings give you options.
Buy on Amazon
Some of the electric nasal aspirators on the market don't work well for tiny babies. The Ravifun Electric Baby Nasal Aspirator, however, is great for newborns. It comes with two different sized tips—one tip is very small, and the other is better suited for older babies.
There is a lot to love about this aspirator. It's reliable, easy to use, and quiet. The tips are made with BPA-free silicone, so they're comfortable. Another nice feature is that one button controls the five power levels of suction. You can operate it with one hand and pick which suction level matches your baby's needs. The electric-powered aspirator charges using a USB charger, so there's no need for batteries!
Pros: It comes with two silicone tips, offers five suction levels, is easy to clean, great for newborns, and USB rechargeable.
Cons: It can fill up fast so it may require more frequent cleaning.
Buy on Amazon
I love OCCOBaby because it is made for every age and every stage. It adapts from babyhood to toddlerhood. This is an electric-powered nasal aspirator that is compact and has a customizable fit.
OCCOBaby comes with multiple sized tips so that it can grow with your baby. It also comes with a long-reaching tip for harder-to-reach places, which can be key when your baby is suffering from a more severe cold. All of the tips are made of reusable and cleanable medical-grade silicone.
I like the dual operating options as well; it can run on batteries, or you can use the included oral-suction tool, which can be really useful!
Pros: Has a compact design, can run on batteries or oral suction, and includes multiple tips.
Cons: It doesn't have the strongest suction power.
Bulb Aspirators
Bulb aspirators are the kind of aspirators that most hospitals use to clear your baby's nasal passages right after birth. Bulb syringes usually have a rubber bulb on one end and a narrow tapered opening on the other side. They sort of look like a small silicone turkey baster.
To use a bulb aspirator, you start by squeezing all the air out of the bulb and then gently place the tip of the aspirator into your baby's nostril. Carefully and slowly, you release the bulb to create a vacuum suction. This gently extracts mucous from your baby's nose.
Once you have relieved your baby's congestion, remove the aspirator from his nose, and you can clean out the aspirator by squeezing it into a tissue.
Because of their design, bulb syringes often accumulate mold. Many parents have moved away from using these for this reason, though you still may find disposable ones in use at the hospital or your pediatrician's office. However, the brands listed below have made changes to the design of their syringes to address this issue.
Buy on Amazon
The Innovo Twister Bulb is an innovative bulb-style aspirator that has a bunch of features I love. Innovo uses 100% hospital-grade silicone, so it's flexible, soft, and resists the growth of bacteria, mold, and fungus. Because it's made of silicone, it won't hurt your baby's nose either, which will hopefully mean no tears!
I like that the Innovo is clear, so you can see exactly what's happening and if you're successfully clearing your baby's nose. Most importantly, it comes apart in two pieces, so cleaning the inside is a breeze.
Pros: Made from clear silicone so you can always see what's inside. It's easy to clean, reasonably priced, and comes with a warranty.
Cons: As a bulb syringe, it has low suction, and the tapered end may be too narrow for toddlers.
Buy on Amazon
The BoogieBulb features the tried-and-true classic bulb syringe with one significant improvement: it's completely cleanable. Once you use it on your baby, you can open up the bulb to clean, dry, and sanitize it. Plus, it's dishwasher safe. This addresses the common concerns about mold growing in bulb syringes.
BoogieBulb is sold in multiple sizes, but they all do need to be purchased separately. All of them are made of hospital-grade latex. And while it's not a big investment, this one does come with a lifetime warranty, which I think adds a nice touch.
Pros: Comes apart to clean and dry and is dishwasher safe.
Cons: You don't have control over the suction power, and it may come apart when you're using it. You also have to buy different sizes separately.
---
How to Pick the Best Nasal Aspirator
When you want to buy a nasal aspirator, here are a few things that you should take into consideration.
Ease of Cleaning: As with any baby tool, you want it to be easy to clean and hygienic. Make sure the nasal aspirator you choose for your baby can be cleaned thoroughly—especially any part that is in direct contact with your baby. It's best if the aspirator can be disassembled. For some models, disposable tips and filters are also essential!
Materials: Next, look at the material of the aspirator. The part that comes into direct contact with your baby should be made of a material that won't harbor bacteria. Silicone is the standard choice because it's flexible and comfortable, but it is also a sanitary medical material. Other materials include polypropylene or other plastics.
Size of Nasal Tip: You may want an aspirator that has interchangeable tips to accommodate different sizes. Babies grow, and so do their little noses! You'll probably want this useful gadget to last from the newborn stages through toddlerhood.
Strength of Suction: The power of suction that works for one baby might not work for another. Congestion amounts vary, and so will your baby's tolerance. Consider an aspirator that lets you change the strength of the suction needed.
How to Use a Nasal Aspirator
Babies may fuss and cry when you use a nasal aspirator. It can be uncomfortable, and some babies may need to be held securely so they don't grab the device or turn over. Even though it's not the most comfortable experience, it can really make a difference when your baby is congested, and when used correctly, it won't hurt or harm your baby.
And they'll feel a lot better afterward when they can breathe! (For this reason, I like to only use an aspirator if I can tell that my baby is struggling to breathe or nurse effectively because of their congestion. I try not to use these just to clean out routine boogers that aren't causing any significant congestion.)
Here are a few tips for using nasal aspirators:
Use an aspirator before feedings; this helps them breathe better while eating.
Don't use a nasal aspirator more than 2–3 times per day, or it might irritate the lining of your baby's nose and cause nosebleeds.
Always clean the aspirator thoroughly to avoid bacterial growth. If you use an unclean aspirator, your baby could get an infection.
Start with Saline Drops
You always want to use a nasal aspirator the correct way. Many doctors recommend using saline drops/spray first. This added step helps to loosen mucus in your baby's nasal passages so that the aspirator is more effective.
Infant saline drops or sprays send saline into the nasal passages to break up and loosen the congestion. To do this, you'll want to grab a few tissues, the saline drops, and a comfortable and secure spot for your baby to lie down.
Gently tilt your baby's head back. You can do this by placing one hand on his forehead to carefully angle his head back just enough that the drops will go into his nose rather than out. I like to do this while my baby is lying on my lap.
Very gently place the tip of the saline dropper a little way into one nostril and squeeze the bottle softly so that about two small drops of saline fall into the nostril. Don't be surprised if this makes your little one cry a bit.
Place the tip of the saline drops into the second nostril, and squeeze two drops of saline into your baby's nose using the same gentle motion.
Wipe the tip of the saline bottle clean with a tissue or an alcohol swab if your little one is sick.
How to Use an Oral-Suction Aspirator
Put the mouth end of the aspirator to your lips and hold it in place.
Then, put the nasal end into your baby's nose, creating a seal.
Gently suck through your mouth to create a vacuum.
Once your baby's nose is clear, you can take the tube out of your baby's nose. Then, you can blow out to expel the mucus into a tissue, if needed.
How to Use an Electric Aspirator
If applicable, select the desired suction level. If you aren't sure, always pick the lowest level and increase the suction as needed.
Carefully place the tip of the aspirator into your baby's nose. Make sure it's inserted far enough that the outer edges of the nostrils touch it to create a seal, but not so far as to damage or disrupt the nasal membranes.
Press the button to turn on the suction.
Release the button when finished. Make sure you don't use the suction for more than just a few seconds.
Clean the filter or empty the mucus according to the user's manual.
How to Use a Bulb Syringe Aspirator
Squeeze out any of the air left inside of the aspirator, and hold it compressed. (Always squeeze the air out first before inserting the tip of a bulb syringe into your baby's nose. Never squeeze air into your baby's nose.)
Gently place the tapered tip into your baby's nostril. Make sure it's far enough that the outer edges of the nostrils touch the end of the syringe to form a seal.
It can be helpful to push the other nostril closed gently while attempting to suction your baby's nose. This helps increase the suction.
Slowly and gently release the bulb. This vacuums out the mucus into the bulb.
Remove the syringe from your baby's nose. Squeeze the bulb to expel mucous into a tissue.
Clean according to manufacturer directions.
FAQs About Nasal Aspirators
What can I do to improve my baby's nasal congestion?
In addition to saline drops and a nasal aspirator, there are a few things you can do to help improve your baby's discomfort with congestion.
Use a humidifier: You can use a cool-mist humidifier in the baby's room to create more moisture in the air. This makes it easier for your baby to breathe, especially in the wintertime.
Keep your baby well-hydrated: Nurse your baby often, or offer formula or water as age-appropriate. Keeping your baby hydrated will help flush out the mucus and keep his immune system working well.
Keep the indoor air clean: Since babies have sensitive airways, I always recommend getting an air purifier to remove irritants from your baby's environment. And it goes without saying, but you (and all other adults who will be around your baby) should not smoke cigarettes, marijuana, e-cigarettes, or anything else.
Bath: Try to give your baby a warm bath. This might relieve some congestion and, at the very least, help to calm or relax your little one.
Related: How to Give Your Baby an Epsom Salt Bath
What causes my baby's nose congestion?
There are so many reasons your baby might suffer from congestion. This can include colds, allergies, dry air, weather/temperature changes, or other viral infections. Other more serious causes could include the flu, bronchiolitis, or pneumonia.
How do I know if my baby's nose is congested?
You may notice the following symptoms when your baby is congested:
noisy breathing
difficulty sleeping
difficulty when feeding
coughing
a runny nose
sniffling
Is it OK to let my baby sleep with a stuffy nose?
Babies under 3 months of age will only breathe through their noses, so they likely won't sleep (or eat) great when they are congested. Consult your doctor on this, but I always liked using a nasal aspirator before putting my baby to sleep when he was sick.
If your baby wakes fussy from congestion, you may need to use the nasal aspirator again. This will help them feel comfortable and allow them to breathe freely for a little while. Don't be surprised if you have to use it a couple of times throughout the night when your baby is sick. Consider putting a cool-mist humidifier in the bedroom, as well. Remember to follow safe sleeping practices even if your baby has a cold.
At what age do babies breathe through their mouth?
Babies will begin to breathe through their mouths at around 3 to 4 months old. Before this age, they can only breathe through their noses, which makes it crucial to have a nasal aspirator on hand.
Should I wake my baby to suction their nose?
Unless advised by your doctor, you most likely don't need to wake up your baby if he's congested to suction his nose. Most babies wake up pretty frequently when they are congested. If your little one wakes up fussy, you can try suctioning her nose to help her sleep better.
When should I take my baby to the doctor for congestion?
I always suggest calling your baby's doctor whenever you have concerns. That's what they are there for! In general, you should call your pediatrician if: your baby has a fever along with congestion, your baby is having trouble breathing and is not eating/drinking much, your baby isn't having the usual number of wet diapers, or your baby has asthma.
Which nasal spray is best for babies?
Saline drops designed for infants are the only nasal solution you should use for your baby. Never use saline spray intended for adults.
Why does my baby sound so congested?
Newborns, in particular, might sound congested even with the slightest bit of inflammation. Keep in mind there may be residual amounts of fluid left in their sinuses after delivery, which can make your little one congested. All infants have super small nasal passages. Any inflammation, mucous, or swelling can cause congestion. If he sounds congested and seems very fussy and uncomfortable, go ahead and use the nasal aspirator. If he isn't fussy and doesn't seem bothered by it, you probably don't need to use the nasal aspirator at all.
Why does my baby's congestion get worse at night?
Because babies have narrower nasal passageways, it makes them far more susceptible to the effects of congestion. And lying down can make congestion worse. Mucus builds up and basically has nowhere to go—and babies cannot wipe or blow their noses, so it just sits there. Poor babies: imagine if you were laying down and couldn't wipe or blow your nose when you had a cold.
How do you tell if a baby is struggling to breathe?
Signs may include: a change in color (blue- or pale-colored lips), labored breathing, rapid breathing, use of the extra muscles of the chest or neck (you can see them sucking inward), or wheezing. If you have any reason to think your baby is struggling to breathe, immediately take him to the ER or call 911, depending on the urgency of the situation.
Final Thoughts on Using Nasal Aspirators
Always make sure to follow the instructions for the nasal aspirator you choose. They all work a little differently. Main takeaway: make sure you have one of these little miracle tools on hand! Remember, your baby cannot blow his nose into a tissue yet (and won't be able to until he's a toddler), so he'll need your help when he is congested. Choose one that works for you. And while you might see a few tears, using a nasal aspirator can help your baby feel better, sleep better, and eat better in a matter of seconds—so worth it!
I hope your baby feels better soon and you get that cute little nose all clear!