If you want to do something amazing for your baby, learn how to give a baby massage. It's a very simple but meaningful thing that you can do for your little one. And the best part? It's super easy to learn and you can even do them during a diaper change or after bath time.
What Are the Benefits of Baby Massage?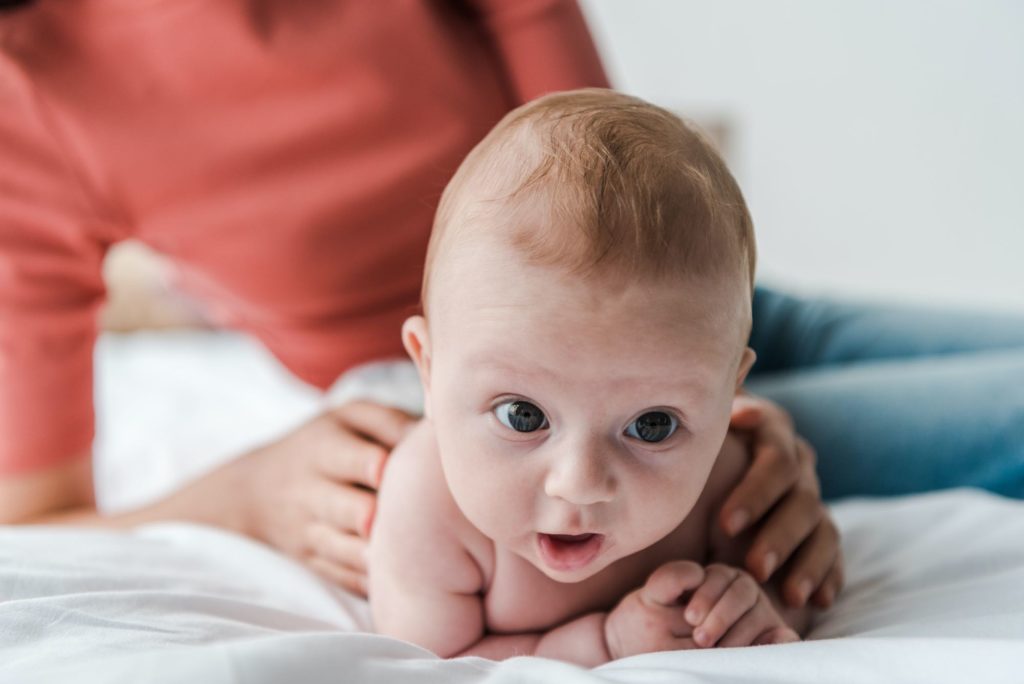 Have you ever noticed how quickly your baby calms down when you pick her up and give a big hug? All that wailing comes to a quick halt with a little affection. In fact, the power of touch is one of the most influential ways babies interact with the world around them. Our little ones depend on our touch to feel a sense of comfort and stability, which is why baby massages are so effective.
In addition, a baby massage can help ease your baby's tiny body from things like digestive upset and gas, improving circulation, and can possibly even help your baby recover after birth. Don't underestimate the power of physical touch. Even if you have a baby baby who never cries or seems uncomfortable, you can still give baby a massage as part of your normal routine.
Baby massage strengthens the bond between parent and child.
When you gently stroke your baby's skin, it releases the hormone, Oxytocin. This "feel good" hormone gives you the feeling of love and connection– and in this case, between you and your baby.
During this special time, you will soothe your baby, hum a little song, and chat all while making eye contact; and your baby will likely coo, smile, and relax. It's through this bonding time that promotes the development of confidence and trust between you and your baby.
It soothes and relaxes your baby.
While it might seem obvious that a massage soothes and relaxes your baby, it might not be as apparent as to why this happens: Massaging actually has a calming effect on your baby's central nervous system.
So, when you stroke your baby's little legs and tummy, it's actually causing your baby's breathing and heart rate to slow down allowing him to fully soften and unwind. If you're stuck in an exhausting circuit of fussing, sleep deprivation, and physical exhaustion, baby massages are a great way for you and your baby to regain calmness for both you and your baby.
Baby massage can help relieve digestive problems.
As you might know, babies can have a really difficult time with their bellies. Their digestive tracts are brand new— often their little bodies are still figuring out how to work correctly without causing them discomfort. But inevitably, most babies will feel a little tummy trouble such as acid reflux, gas, or constipation. Luckily, giving a baby massage naturally helps to speed up the digestive processes — moving trapped gas down the digestive tract, improving digestive motility and alleviating these discomforts and pains. (If your baby is having any of these issues, I also recommend looking into high-quality multi-strain baby probiotics.)
Giving a calm baby massage can help improve baby sleep.
This should be the number one reason why you give a baby message if you're desperately sipping your coffee as you read this: sleep, beloved sleep. If your little one is having trouble sleeping, giving her a message helps to raise the serotonin levels in the body and decrease cortisol (the stress hormone). In turn, this helps your baby wind down and sleep more soundly.
Interestingly, giving regular baby massages can help with weight gain.
Infant massage helps increase growth-promoting hormones. Studies show, particularly with preterm infants, massage can help a baby gain weight. The more a baby is touched, the more he thrives.
Tips Before You Get Started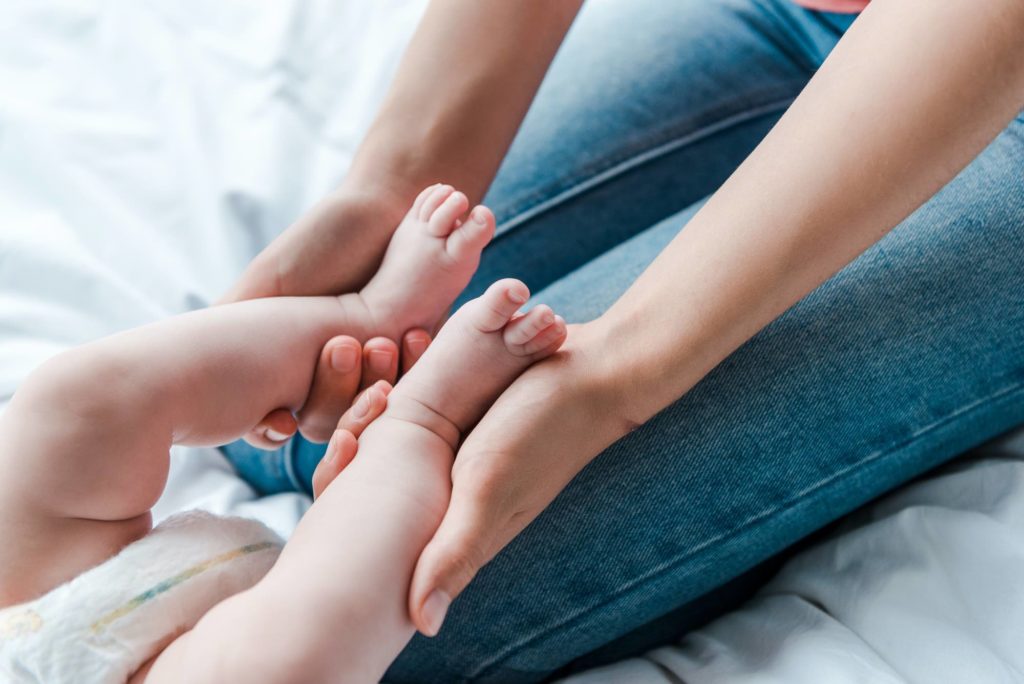 Before starting the baby massage, here are a few important tips to follow.
Be gentle. Your baby needs a soft, sweet touch. Not a firm or hard touch. Infant massage should be comforting, calming, and gentle — not uncomfortable for your baby. If your baby seems uncomfortable (or tired or hungry), discontinue the massage and try again another day. This should be a positive experience.
Check your thermostat. If it's a bit chilly, you may want to turn up the heat for the duration of the message so your little one doesn't get too cold.
Use the right massage oil. Make sure you're using an organic/non-toxic massage oil for your baby. I suggest organic, unscented oils or lotion. I have listed some wonderful massage oils below.
Choose a good time for the massage.The best time to massage your baby is when he is well-rested, fed, and alert but quiet. An ideal time is to incorporate it into your baby's bedtime routine, before or after a bath.
Find a safe surface. Sit on the floor with a yoga mat, or on the bed with a towel spread out in front of you. The towel will help soak the extra oil/cream and avoid staining your carpet or bed.
Undress your baby to his diaper. You can leave your baby's diaper on to prevent any accidents and then place him on the towel/blanket in front of you.
Note the direction of your strokes. When you massage away from the heart (shoulder toward the hand, for example) it is a relaxing motion for your baby and best for before sleep. However, stroking toward the heart (hand toward the shoulder) is more stimulating and better for active and alert time.
How to Massage Your Baby
Now let's look at the step-by-step approach to properly massaging your baby, so you can confidently massage your baby and make it a part of your regular routine.
Step 1: Get permission. (Yes, permission.)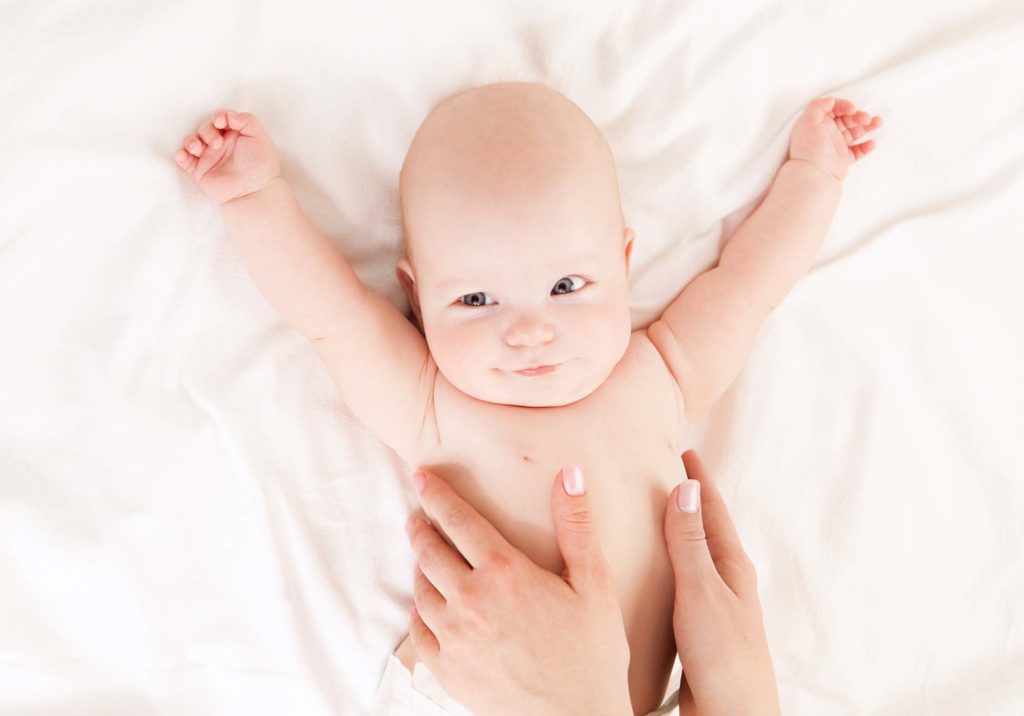 Be positive and enthusiastic when giving your baby a massage for the first time. And it's important that you massage your baby when she's ready for it. A simple way to check her readiness is to take a small amount of massage oil on your hands and rub it on her tummy. If she cries or starts whining, it's a signal for you to stop and try another time. If she doesn't show signs of resistance, you can go ahead and start the massage.
Eventually, your baby will start recognizing when it's time for a baby massage. Maybe because she'll recognize the space you're using or the bottle of massage oil.
Step 2: Massage your baby's feet and legs.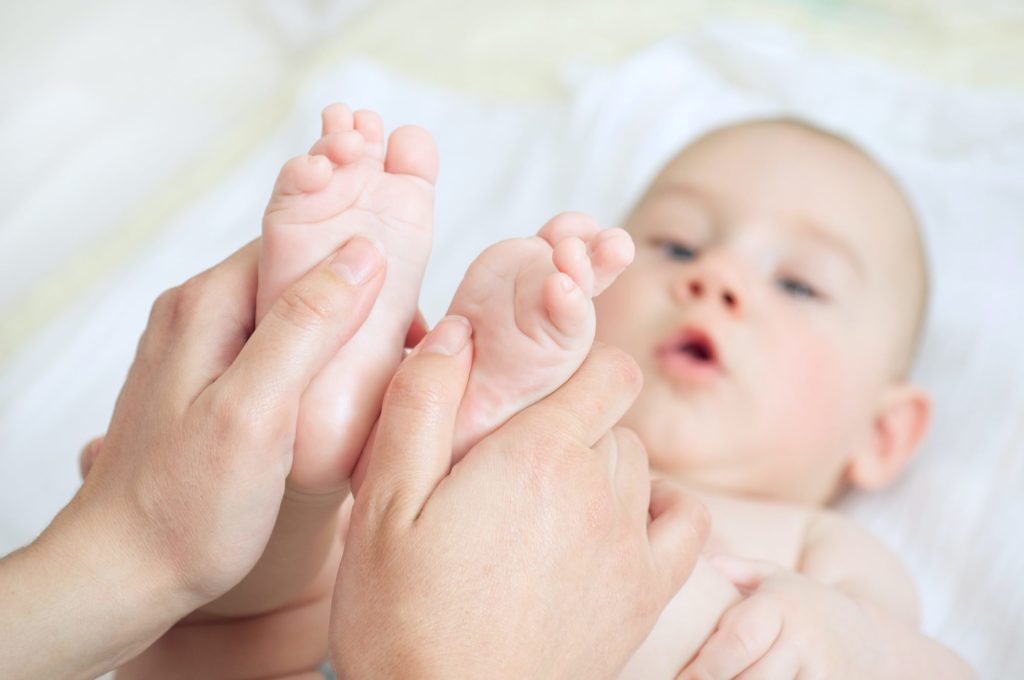 Start the massage with your baby's feet.
Take a small amount of oil on one of your hands and place your baby's heel in your other hand. With your thumb, make small circular strokes starting at the heel, moving along the soles of his feet all the way up to his toes.
Slowly make your way up to the ankles and then extend the massage up to the thighs. Make gentle but firm strokes on each leg from foot to thigh and then back down the thigh to the foot.
Step 3: Massage your baby's arms.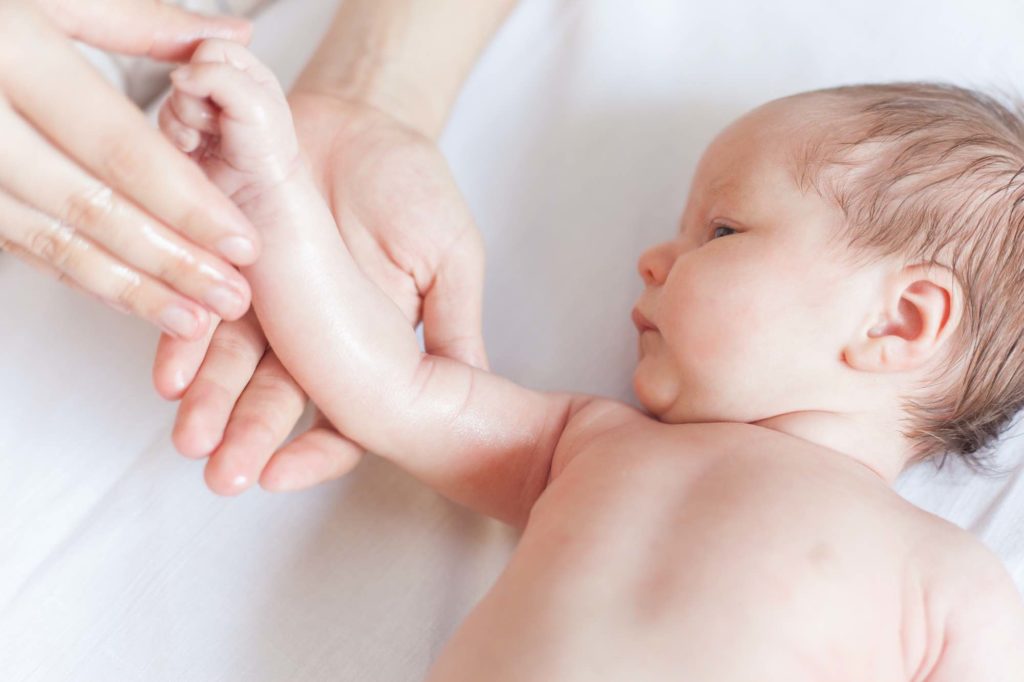 Start with the baby's hands, making circular motions on the palms. Move to the baby's fingers making small strokes and ending with the tips of the fingers. Next, move to the back of the hand and massage using straight strokes from wrist to fingertips.
Slowly make your way up from the wrist to the forearm and then upper arm; massage the entire arm using gentle circular motions toward or away from the heart.
Step 4: Massage your baby's chest and shoulders.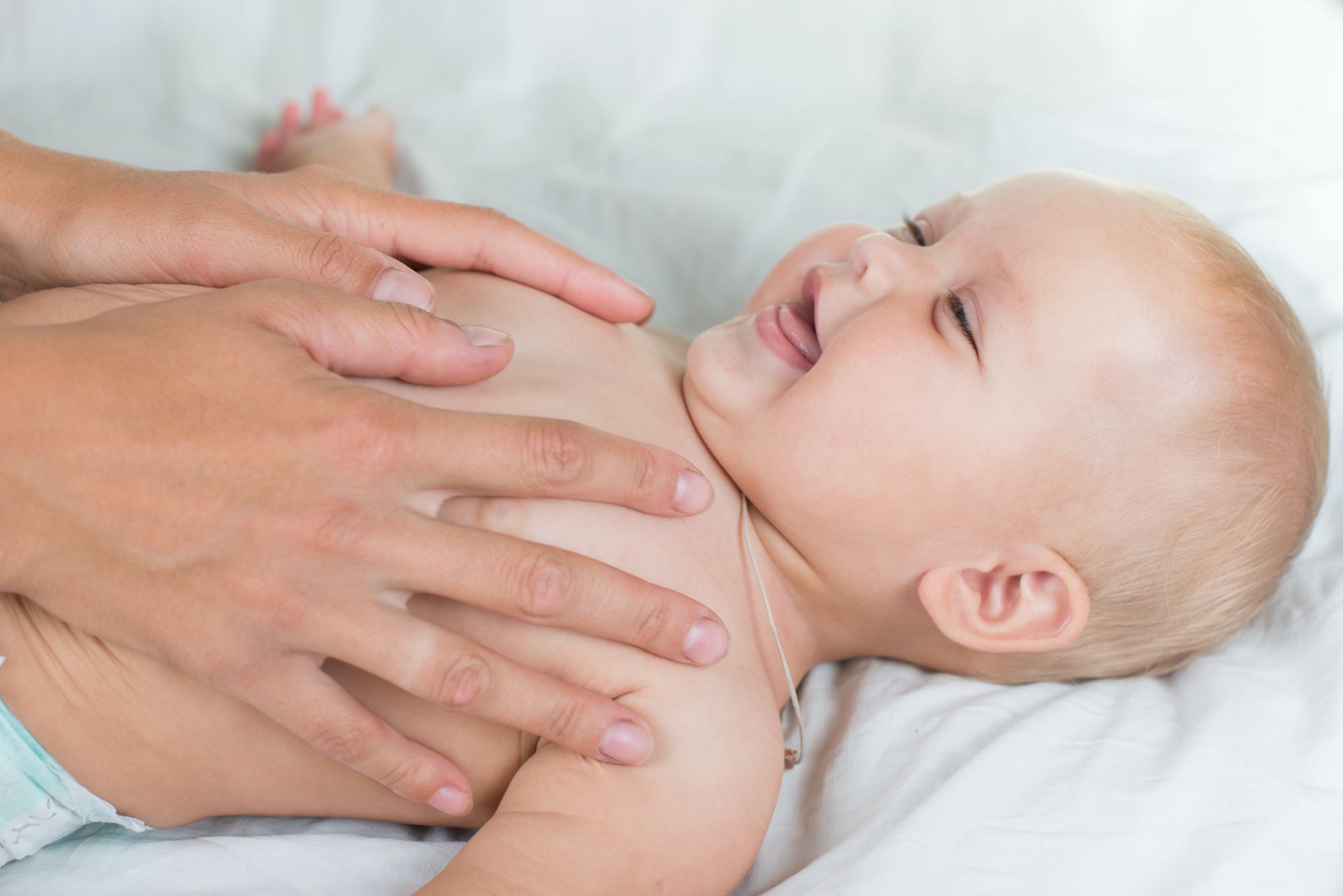 Place your hands on the right and left shoulder and make small strokes by moving your hands towards your baby's chest. Next, place your hands on your baby's chest and make outward, straight strokes as if you were smoothing out a blanket.
Step 5: Massage your baby's tummy with a clockwise, circular motion.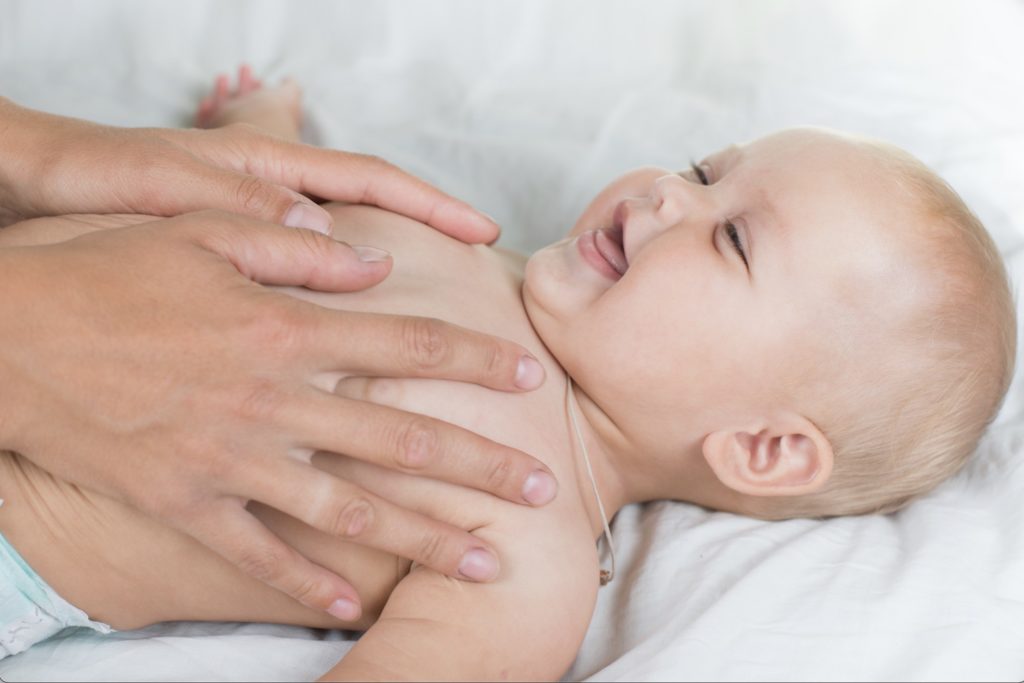 The tummy is a delicate area, so it's important to remember to not apply any pressure when massaging. Start at the top of the tummy where the chest bone ends. Make clockwise circular motions with your palm all across the tummy, down to the belly button.
And with your non-dominant hand, you can also gently touch your baby's belly in a downward motion while making the circular motions with your other hand. All you need are soft strokes here.
Step 6: Massage your baby's face (but not their head).
Babies tend to squirm around a lot, so it can get a little difficult massaging the baby's face. Start by using your fingers to slowly massage along the outline of your baby's face, starting from the forehead down to the chin. Next massage the cheeks using gentle circular motions. Do not massage your baby's head since babies still have a soft spot.
Step 7: Massage your baby's back.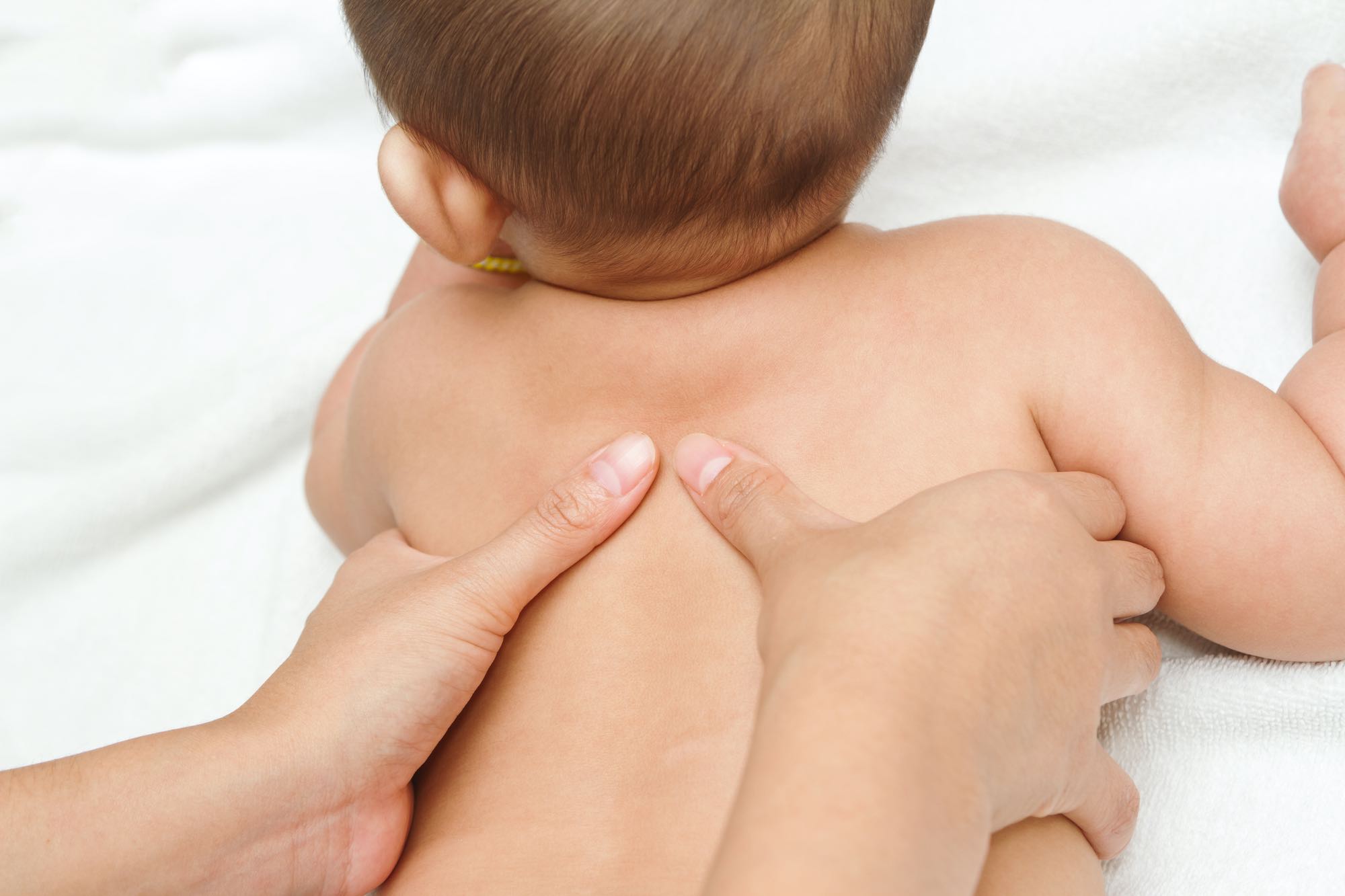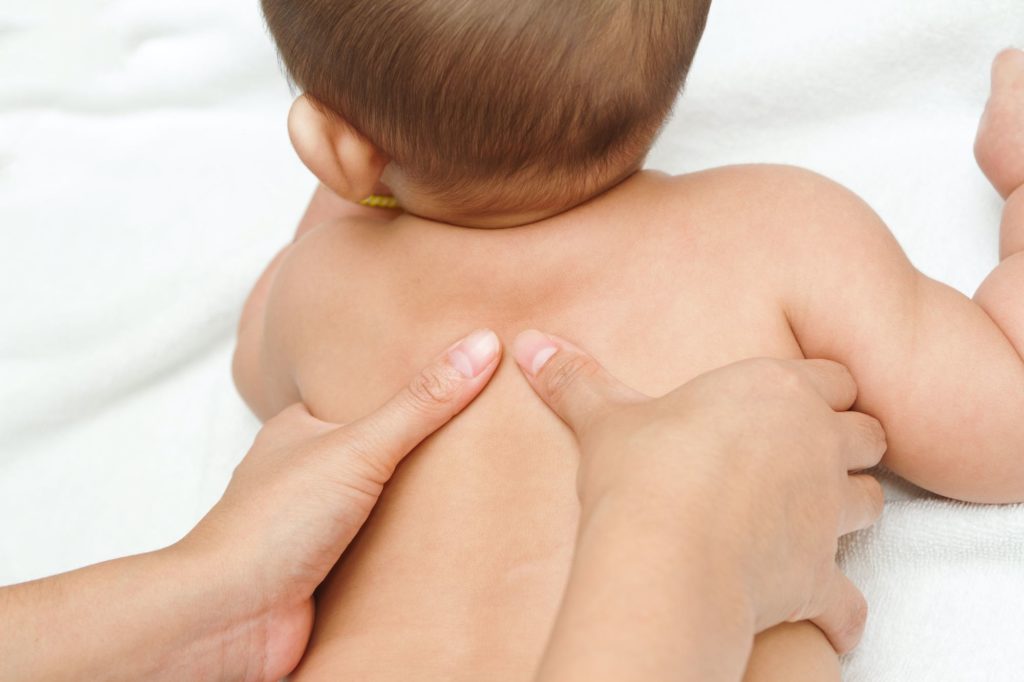 Put your baby on his tummy with his arms outstretched in front of him; it's fine if he is propped up on his elbows practicing a little tummy time. Start by placing your fingers on his upper back. Make circular, clockwise motions while making your way down the back.
Next, place each thumb or your index and middle finger on either side of the spine (not on the spine) and gently make your way from the upper back to the lower back. Repeat this motion a few times.
Baby Massage FAQs
Here are some commonly asked questions about infant massage.
When Can I Start Massaging My Newborn?
It's best to wait until your baby's umbilical cord stump has fallen off before giving an infant massage. However, if you're ready to start before it has fallen off, you could begin at any time that you're comfortable after birth. Just be sure to avoid the belly button area and don't allow any massage oil near it as well.
Should I Massage My Baby Before or After a Feeding?
It's best to give your baby a massage when they aren't hungry or tired. Time out the massage so that your baby has all of her needs met (clean diaper, isn't tired, and isn't hungry) so that she can enjoy the massage.
If you practice Eat-Play/Activity-Sleep, you could give the massage after feeding your baby because you won't be putting her down to sleep right after a feeding. (It's best to give it a little time to allow her to digest, first.) But if you nurse to sleep (including naps), you'd have more luck giving a calming massage between changing your baby's diaper and putting her down to sleep.
Should I Massage My Baby Before or After a Bath?
Whether you give your baby a massage before or after a bath is purely up to your preference. You can massage your baby after the bath if you'd like. (Just be aware of how much massage oil you are using on your baby.) Or if you'd prefer, you could give the massage before bath time. Either way, a baby massage is a great part of a bedtime routine (even if it just happens once a week).
Which Oil is Best for Baby Massage?
Personally, I try not to use too many extra products on babies. But if you do decide to use a massage oil, it's important to choose a product that is organic and free of added fragrances.
Make sure you always test the oil on your baby's skin a few days before you give the first massage. Just take a drop of the oil and rub it on a small area of your baby's skin to make sure your baby's skin doesn't have any adverse reactions.
Here are the two best baby massage oils to consider:
Buy on Amazon | Earth Mama
This massage oil from Earth Mama is calendula-infused grapeseed oil. It is unscented and does not contain any nut oils, which can be a good choice if any nut allergies run in your family.
Teak Naturals Organic Jojoba Oil
This cold-pressed, unrefined, and organic jojoba oil is a wonderful carrier oil that can honestly be good for the whole family. This oil is easily absorbed and has wonderful antioxidant properties. A great choice to protect your baby's sensitive skin.
Have you tried giving your baby a massage? What effects did the massage have on your little one?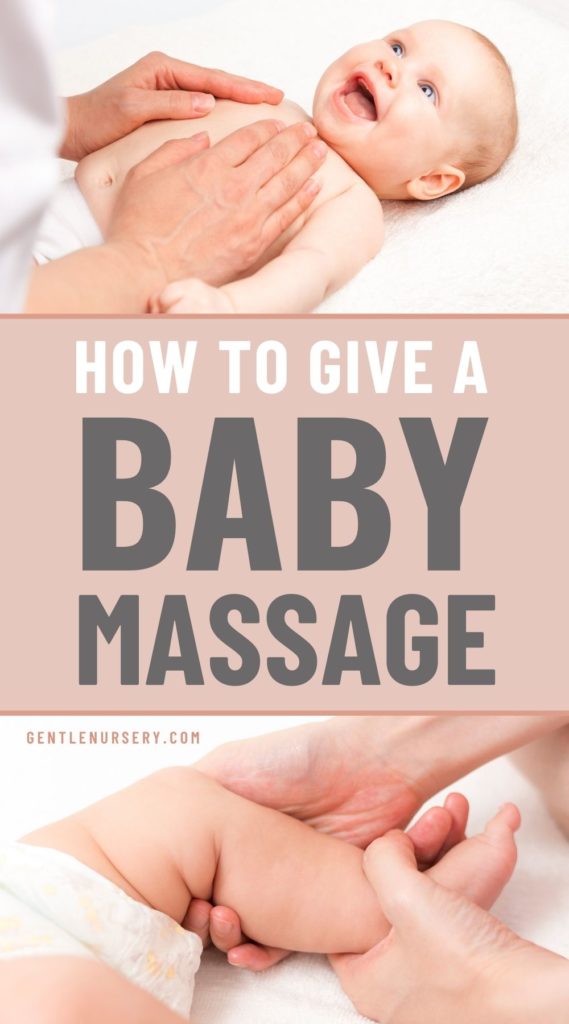 You Might Also Like: