As a mom, health and safety are always my top priority when it comes to deciding which products I want to bring into my home. So it's probably no surprise that my standards are extra high when I'm shopping for nursery furniture for my babies.
I want total piece of mind that the furniture I'm bringing into my baby's nursery is safe, non-toxic, and won't offgas any dangerous fumes. I want to know that it's responsibly made.
I also want stylish nursery furniture that will fit in with the rest of my home. I want the nursery to be a place that feels welcoming and peaceful, and the style, design, and decor have a lot to do with that.
That's why I was thrilled to discover Romina Furniture. Romina is one of the few companies that truly meets all of my standards. That's why it was a no-brainer for me to choose their solid-wood cribs and dressers when shopping for my nursery. I consider them to be one of the best nursery furniture brands out there and my top recommendation for your baby's non-toxic nursery furniture.
7 Reasons I Chose Romina Furniture for My Baby's Nursery
There are a few key things you'll want to look for when buying nursery furniture for your baby. And as you can imagine, I did tons and tons of research when shopping for our nursery furniture. Here are all of the things I love about Romina — and all of the wonderful reasons that you'll also love Romina Furniture!
1) Romina Only Uses Solid Hardwood Construction
First and foremost is that Romina Furniture only uses solid wood in their furniture pieces. They carefully select the best European beech trees and don't use any cheap composite materials like MDF, particleboard, or chipboard. (It's not easy to find solid-wood cribs and dressers these days. Most companies aren't willing to pay a premium for these materials.)
When choosing your baby's bedroom set, it's so important to ensure that the furniture pieces are constructed from solid wood. You'll see that some furniture companies will cut corners by using chemically-treated wood products like MDF. Unfortunately, these composites can release harmful toxins like formaldehyde and a gamut of VOCs (volatile organic compounds) into your indoor air. In addition to headaches, lung irritation, and nausea from VOCs, formaldehyde components are potent and have been associated with a multitude of serious health issues. I always recommend avoiding these wood types, especially in a baby's nursery.
That has no place in our homes, but especially not in the nursery where your baby will spend hours and hours playing and sleeping. So for me, the #1 reason I love and recommend Romina Furniture is that they only use solid wood; you won't find any MDF, particleboard, veneers, or any other cheap materials in their pieces. This ensures that only natural materials are used in their manufacturing process.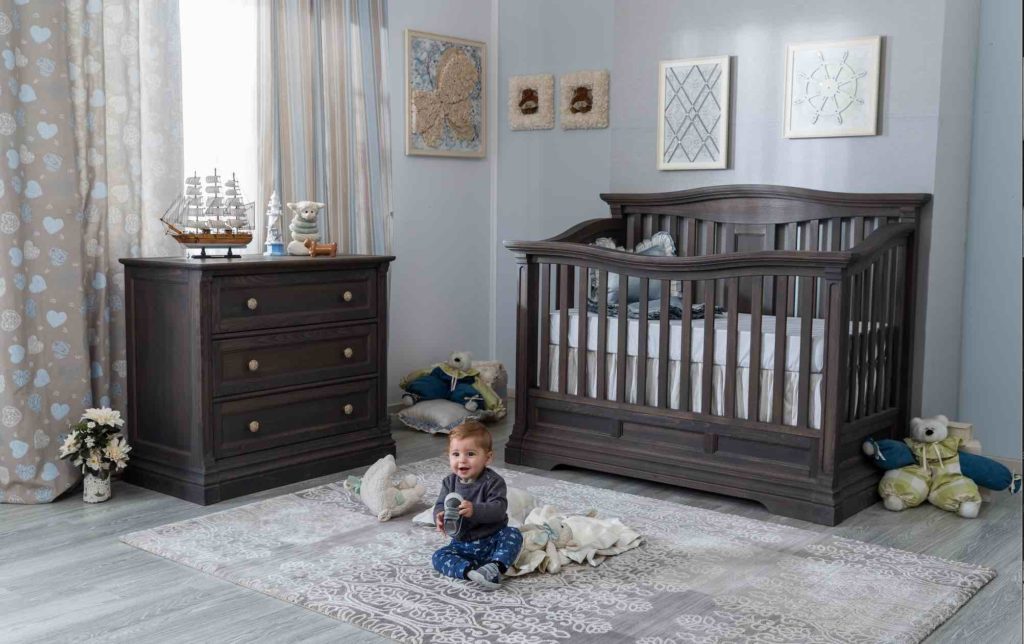 2) Romina Only Uses Water-Based Non-Toxic Finishes
In business since 1991, the well-known Romanian brand has worked hard to perfect its manufacturing process over the years. And they have gone above and beyond to ensure that their customers receive the highest-quality, non-toxic furniture.
Many furniture brands also cut corners by using paints and finishes that also emit toxic VOCs/fumes. Definitely avoid these for your baby's nursery! Buying furniture that is free from high levels of VOCs is essential especially for your baby's new immune system. Infants are much too sensitive and immature to handle potent chemicals in their indoor environment.
This is another reason I really appreciate Romina Furniture. They rely on traditional methods to hand-finish their furniture. So you definitely won't find solvents or chemicals used to harden any lacquer. Their nursery furniture is made with 100% organic finishes and glues, including water-based stains, water-based paints, and organic oil washes (as opposed to petroleum-based paints). All of their materials are completely safe even for the most sensitive babies.
Additionally, the entire product line is tested every three months for emission levels. This regular assessment ensures that there are no VOCs, phthalates, formaldehyde, lead, or other dangerous chemicals making their way into any of their products.
3) All Romina Furniture is Greenguard Gold Certified
When buying nursery furniture, I prefer pieces that are Greenguard Gold certified. This certification means that all products meet the strictest criteria for chemical composition. Greenguard certified products are tested for over 10,000 chemicals and VOC emissions, and Greenguard Gold products are proven to emit even fewer VOCs than the standard Greenguard products.
I always tell parents that Greenguard Gold certification is extremely important for household furnishings, especially cribs and nursery furniture. Children are far more sensitive than adults to the effects of indoor air pollution from furnishings. Having this certification will give you peace of mind knowing you aren't adding pollutants to your home. After all, your little one will spend a large portion of their early years sleeping and playing in their nursery.
All Romina Furniture products are Greenguard Gold certified and are regularly shown to meet or exceed the standards of the Consumer Product Safety Commission. Together with their commitment to only using solid wood and non-toxic finishes, this is so incredibly important.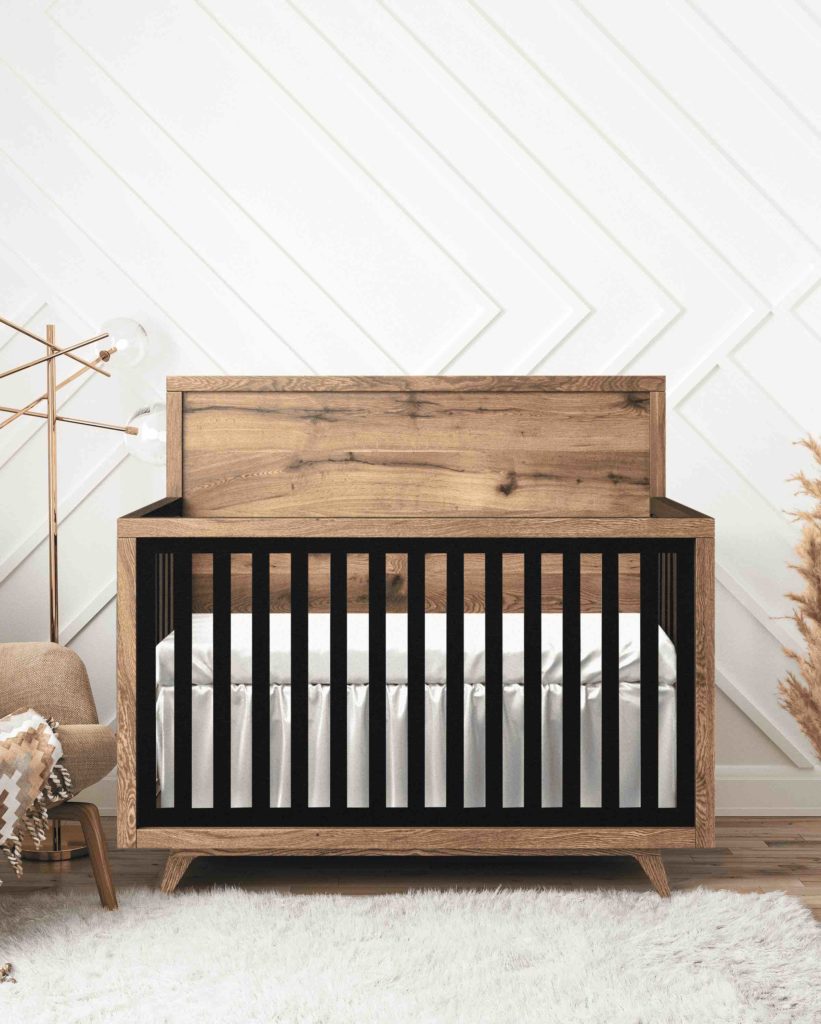 4) Their Pieces Come With Important Safety Features
When choosing nursery furniture, safety features really matter. And this is another area where Romina sets itself apart from other furniture companies. All of Romina's products are designed to be sturdy and stable. I also love that they take extra precautions with their safety features.
You'll receive anti-tipping hardware so you can secure taller pieces to the wall. And you'll also find soft-closing drawers – these are magical! Believe it or not, this is one of my favorite things about our Romina Karisma dresser. It has six hydraulic soft-closing drawer glides, so there was never a single finger pinch in almost seven years! And the drawers are guaranteed for 80,000 cycles or approx. 70+ years.
Another safety feature that makes a big difference is the anti-detachment drawers in both nightstands and dressers. For diaper changing stations, Romina offers an attachable changing tray with an attachment kit (it's so useful and worth it!). You just secure it to one of their dressers. And the tray itself has raised sides to help keep your baby more secure when you're changing diapers.
5. Their Commitment to Eco-Friendly Manufacturing
Romina is committed to being environmentally responsible.
Romina Furniture products all use beechwood that has been harvested in Europe in compliance with the European Treaty for Forest Re-Harvesting. So, for each beech tree that is cut down, five saplings are planted in its place, significantly reducing the risk of deforestation.
Romina is also committed to minimizing waste. They use precise measurements so that each piece of wood is cut with as little excess as possible. Any leftover wood is actually used to make Romina's packaging, or for heating their facilities. And Romina further sets itself apart from other manufacturers by making and using its own environmentally-friendly ethanol.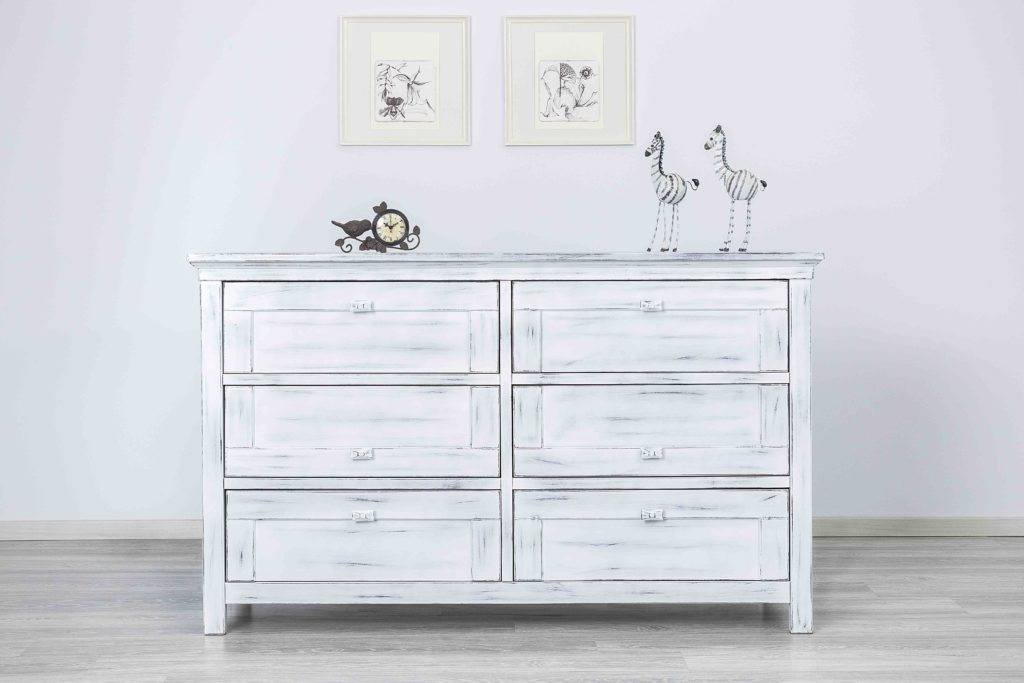 6. The Longevity of their Furniture
At the time of writing this article, I have had my Romina Karisma furniture for almost 7 years in my kids' room. The dressers have held up exceptionally well and they still fit the theme and style of the kids' room even though they aren't babies anymore.
As for the cribs, there are two main types of cribs you can choose from: classic and convertible. Classic cribs will convert into a toddler bed or a toddler day bed with an optional conversion kit.
For even more flexibility, Romina also carries a selection of 4-in-1 convertible cribs. Although slightly more expensive, the main advantage of a 4-in-1 crib is that you can adjust it from crib to toddler bed to daybed using a conversion kit, all the way up to a full-sized bed! Although buying this type of Romina crib can feel like a significant expenditure, it's an investment that your baby can use for their entire childhood.
If I could do it over again, I would buy one of their convertible cribs that can be converted into a full sized-bed. I bought the classic Karisma crib, which can be converted into a toddler bed but not into a full-sized bed. In hindsight, this would have been a good upgrade but I was trying to be economical at the time. (View Romina cribs here.)
The crib itself did have an excellent resale value, though, and I am so pleased with how well it held up after two babies. It was in like new condition after over five years of use. The quality and attention to detail are really unmatched.
7. Made in Romania
When shopping for our nursery furniture, I was exclusively looking at furniture made in Europe or North America. This was very important to me because it gave me confidence that the materials were good quality. I was very happy to see that Romina is manufactured in Romania.
Shop Romina's Nursery Collections
In addition to their commitment to high-quality materials, I personally think that Romina's nursery pieces are stunning. And can I be honest here? This really mattered to me when I was shopping for nursery furniture. I wanted a beautiful nursery… that was also not going to contain harmful chemicals.
Romina Furniture has collections ranging from classic designs to more modern, minimalist pieces. Each collection comes with a wide variety of cribs, nightstands, dressers, bookcases, and armoires.
Karisma Collection
The Karisma collection's fresh and elegant designs are easy to pair with other nursery pieces. It offers a subtle a blend between classic and modern designs, and has clean lines. This is the collection that I chose and I still love it to this day, several years later. The cribs are gorgeous and the dressers are really elegant and timeless.
Check out some of my favorite pieces from the Karisma Collection:
Imperio Collection
With a beautiful craftsman style, the Imperio Collection features paneled boards and pedestal bases. It has a soft and classic feel that brings flair and elegance to your baby's nursery.
Browse the Imperio Collection:
New York Collection
As you might guess, this collection features sleek and modern looks. It's also perfect for smaller nurseries. And with beautiful laser-cut appliques (which are optional), you also have some standout two-tone options. A really stunning set for a vibrant, modern nursery!
And if you decide that you would rather have the New York collection's sleek aesthetic without the laser-cut add-ons, you can also use the New York line for a nursery with a more clean and modern aesthetic. The entire collection is quite versatile.
Browse the New York Collection:
Uptown Collection
These pieces have a wonderful mid-century vibe and use mixed materials to give a nice casual but chic feel. Verging on minimalistic in style, the Uptown Collection is perfect for smaller spaces and contemporary aesthetics. I think this looks amazing in solid white or black but there are 7 finishes to choose from.
Take a closer look at the Uptown Collection:
Ventianni Collection
The pieces in the Ventianni collection are strikingly bold. You'll see nice clean lines and some amazing two-tone color combinations to choose from. This is a gorgeous collection for someone looking to add statement furniture to the nursery.
Take a look at the Ventianni collection:
How to Customize Your Romina Furniture Pieces
Part of the beauty of choosing Romina Furniture is that the pieces are made to order. This means that you can customize your furniture with your choice of finishes and hardware.
When browsing Romina Furniture, you'll see that there are up to 20 different finishes and options to customize your pieces with accent colors (depending on which item and collection you are shopping). When buying any case pieces such as a dresser or nightstand, you will also be able to customize the handles.
And as you can see from some of the photos above, the pieces themselves are made with all sorts of subtle colors and wood tones, so you can really customize your nursery according to your taste and your nursery design.
Ordering, Delivery, and Shipping
Romina Furniture is made to order, so most orders take 10-12 weeks for manufacturing and an additional week or so for shipping to your location from Romina's US warehouse. So be sure to plan ahead!
Orders over $975 qualify for free curbside shipping. And Romina offers a three-year warranty against manufacturing defects. If you have any trouble, they can replace or repair your furnishing during the warranty time period.
Romina Furniture For the Win
When it comes to guaranteeing that all the items in your nursery are of the finest quality for your baby, Romina Furniture is quite possibly the best furniture brand that I've encountered. Their furnishings are well-made, stylish, and most importantly, non-toxic. They certainly check the boxes (and more!). I hope you love your Romina Furniture as much as I do!