When it's time for a big kid bed, it's important to choose from the best organic toddler mattresses for your child. Avoid common toxins and off-gassing with these top picks for a big kid bed!
Looking for the best organic kids mattress? While you might be tempted to opt for the cheapest, most waterproof big kid bed on the market, purchasing a big kid mattress isn't that simple. Not only do you need to make sure the bed is supportive for a healthy growing child, but you also need to make sure that the mattress is made of non-toxic and organic materials and is comfortable for your little one.
Sleep is crucial for a growing child. It's important for their health and development, so as parents, we want to do everything in our power to ensure we provide our children with a comfortable and supportive bedtime routine, bedroom, and most importantly, mattress to facilitate good, healthy sleep.
Luckily, I've got you covered with this toddler mattress guide! I've done a tremendous amount of research on the best mattresses for children, from toddlers to older kids. So, when it's time to transition from the crib to a big kid bed, you will know all the key considerations to make when choosing a healthy and supportive mattress for your child.
*Save 10% or more on these mattresses with my exclusive discount codes
Your Toddler's Need for a Good Night's Sleep
The first thing to remember: children need sleep and lots of it!
While we know that we all benefit from a good night's sleep, children, in particular, require the most sleep. Studies have shown that kids who regularly get an adequate amount of sleep are overall healthier: they have improved attention, behavior, learning, memory, and overall mental and physical health. That said, if your child does not get enough sleep, those same studies show that lack of adequate sleep can lead to obesity, mood changes like depression, and high blood pressure.
Studies also show that children need different amounts of sleep based on their ages. For example, young children ages 3 to 5 need 10 to 13 hours of sleep while older children require 9 to 11 hours.
My point: your child needs a good mattress to sleep well. And sleep is important for growth, health, and mental wellbeing. Your investment in your child's mattress isn't just a material necessity but something that your child's health relies on.
Types of Toddler Mattresses to Choose From
One thing parents don't often consider when mattress shopping is that your child will use this mattress for many years. During that time, your child will continue to grow and likely change the way he/she likes to sleep (side, stomach, back). So you definitely want a mattress that will support your child during all the phases.
Because all mattresses are made a little differently, it's good to know what the main differences are so you can figure out what type of mattress you want to narrow in on. You have several options:
1. Crib Mattresses
Yes, your toddler can continue to use their crib mattress through toddlerhood. This is something many parents decide to do because it extends their use of the crib mattress for several years.
To do this, you would either convert your baby's crib into a toddler bed by removing one side rail (see the manufacturer's instructions for your specific crib, and make sure it's designed to be convertible) or by buying a toddler bed frame that fits a crib mattress and simply using your crib mattress with that. If you have a two-sided crib mattress, you can flip it to the toddler side for extended use (this would be the softer side).
So this is definitely an option for your toddler, but you can also upgrade to a twin bed or full-sized mattress. (If you decide you need a crib mattress, check out my full guide to the best crib mattresses.)
2. Innerspring Mattresses
Firm mattresses typically have an innerspring core composed of steel coils. They also have various foams and other fiber types on top and around those coils.
This type of mattress is a common choice because they offer a firm feel and plenty of support. The innerspring provides that bounce you feel if you sit on a mattress. It's great in that it provides strong support and does not sink. This might be a particularly good option if you have a young toddler transitioning to a big kid bed.
Of course, not all innerspring mattresses are firm. They often have "medium-firm" options, too, which can be good for young children who don't weigh a lot. A firm to medium-firm innerspring mattress will give your child good spinal alignment while they sleep. Note that some innerspring mattresses can have a plush topper to make them softer. I steer parents away from these simply because they won't be supportive enough.
Now, there is some level of concern around EMF (electromagnetic fields) in coil-spring mattresses. Research shows that electromagnetic radiation could suppress the immune system and promote cancer. But this is still highly debatable, and I personally don't let that stand in my way of having an innerspring mattress, especially when buying from a brand that individually wraps their coils like the brands recommended here.
3. Natural Latex Mattresses
Natural latex comes from the Hevea brasiliensis tree. It's naturally hypoallergenic and resistant to mold, mildew, and dust mites. While it is a great natural alternative to synthetic foam, some children can have reactions to latex. Make sure your child does not have a latex allergy before purchasing a latex mattress. I haven't included latex mattresses on this list, but if you are shopping for one, here are a couple of good options to consider:
4. Hybrid Mattresses
A hybrid mattress can be a great choice. They have an innerspring coil system in the core of the mattress but can have some kind of foam (I would only go with latex) on top to give it a little more cushion. As mentioned, I personally avoid petroleum-based foams, so opt for latex if possible.
5. Polyurethane Foam Mattresses (Avoid These!)
I always recommend avoiding polyurethane foam, soy foam, and vegetable-based foam. If I could shout it from the rooftop, I would.
Polyurethane foam is very flammable and treated with toxic flame retardants. But even these other types of "eco-friendly" foams, even if plant-derived, are simply polyurethane foam mixed with other ingredients. All foam mattresses (even soy, Certi-Pur, or other types) will off-gas, and can disrupt sleep and can even have health consequences.
So, avoid polyurethane foam and memory foam mattresses. Generally speaking, foam is not recommended for a young child's sleep space (or even an adult's).
Buy Certified to Avoid Greenwashed Mattresses
I know it's appealing to buy the Certi-Pur mattress or the inexpensive twin mattress because it's so affordable and the claims they make seem great (it's free of "harmful" flame retardants) — but it's cheap for a reason.
Warning: These manufacturers often cut corners and use harmful chemicals (including flame retardants and heavy metals) in their mattresses. Many of these mattresses even come with a Prop 65 warning on them, so keep that in mind when deciding which mattress to buy for your toddler or big kid.
So, as with buying a crib mattress for your baby, it's important that your toddler's mattress is made with organic materials. The mattress brands I recommend here are all GOTS-certified organic, including the materials used and the final product as well.
You'll find a lot of mattress companies that call their mattresses "natural", "green", or "eco-friendly", but these phrases have no meaning because they aren't regulated. Some companies even use these phrases when only one of their materials is natural or organic. For example, companies often use the word "organic" when marketing a polyurethane foam mattress that simply has an organic cotton cover.
So stick with the certified organic toddler mattresses listed here and you'll know that you have made a good choice. Price-wise, they may be more expensive than an inexpensive twin mattress you'd find at a big box store, but this is truly an investment in your child's health. And all of these shops now offer financing through Affirm and other stores, so you can make monthly payments if needed.
The Best Organic Toddler Mattresses
Now that your little one is ready to make a switch from the crib to a big kid bed, it's time to find the right mattress! These are listed in order of price, from low to high. All are good options.
1. Eco Kids Mattress by Avocado Green
This is a great hybrid mattress made just for kids! Composed of both pocketed coils and GOLS certified organic latex, this is a great breathable mattress made without toxic chemicals. You won't find flame retardants or polyurethane foams. It even has the MADE SAFE non-toxic seal for safety. This mattress is Greenguard Gold Certified and Formaldehyde Free Certified by UL Environment, so you can be sure that the mattress has been rigorously tested and held to very high safety standards.
The steel coils are made in the USA (Los Angelos!) and provide breathable support for kids. The organic cotton ticking is simply organic cotton without any other fillers, and the organic wool makes for a great natural flame retardant.
One thing I really like is that the latex features open cells so it's incredibly breathable. If you have some hot sleepers in your house, this mattress will prevent kids from overheating! This mattress is recommended for kids ages 12 and under. It has a lower profile, perfect for lower bed frames, bunk beds, and trundles.
Buy on Avocado Green Mattress
2. The 2-in-1 Organic Twin Mattress by Naturepedic
I love Naturepedic mattresses! And, they make awesome kids mattresses that are perfect for the transition from a crib to a big kid bed.
The 2-in-1 twin mattress has a quilted organic cotton finish on one side and a waterproof surface on the other. This design is great for younger children who may need something waterproof while they potty train or could use that reassurance! It's also super handy to have a side you can flip to if your other mattress cover is in the washing machine.
The mattress has an innerspring core and wonderfully thick organic cotton layers on both sides of the springs. The mattress is then encased in an organic cotton fabric with organic cotton fill. You'll find a waterproof surface on the other side, which is made of organic cotton fabric and a PLA comfort layer. PLA is a synthetic fiber made from non-GMO sugarcane that actually meets food standards and is used for food packaging! The waterproof side of the mattress features an organic cotton fabric with an LDPE waterproof coating (no vinyl!).
Naturepedic has very clean materials. They use only U.S. grown and certified organic cotton as filling for their mattresses and buy directly from USDA certified sources.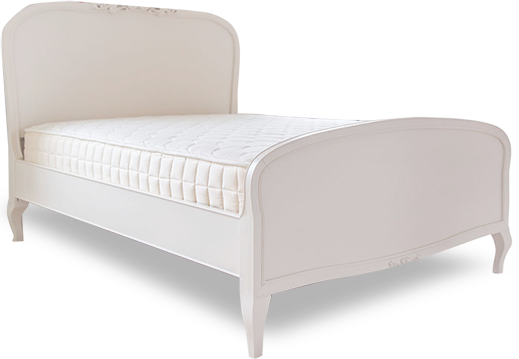 Buy on Naturepedic
3. Eco Mattress by Avocado Green
Similar to the Avocado Eco Kids Mattress, this one has all the same great materials. It just has a higher profile and a thicker latex layer. You can still expect the same supportive pocket coils, a reinforced interior, and a supportive perimeter edge. It's just 10 inches high versus the 7 inches profile you will find in the kids' version. You will also find 2 inches of Dunlop organic latest (versus 1 inch in the kids' mattress)
Again, the Avocado mattresses are all breathable and made without toxic chemicals. This is a great option for older children or younger kiddos who may want a higher-profile bed.
Buy on Avocado
4. Kiwi Green Mattress by MGM
This affordable mattress is a super popular hybrid child mattress. It's designed with both innerspring coils and layers of latex for a firm but cozy feel.
It is made of 682 pocketed coil innersprings and hypoallergenic materials like GOTS certified organic cotton, organic wool, and GOLS certified organic Dunlop latex. Like most non-toxic mattresses, these are made without chemical flame retardants or polyurethane foam, so you can be sure this is a healthy option. The GOTS-certified organic wool batting actually acts as a natural flame barrier.
What I really love is that there are two options with this mattress. You can get a one-sided mattress or a two-sided option. The two-sided is upholstered on both sides so you can flip the mattress and extend its life with rotation. The one-sided mattress is simply upholstered on one side. Regardless of the type of mattress you choose, you should rotate and turn the mattress every one to three months.
Buy on My Green Mattress
5. Pure Echo by My Green Mattress
This is a great latex-free option! It provides firm support with a pocketed coil innerspring and is great if your kiddo is a back or stomach sleeper. While it does not have latex, it does have heavy cotton batting that acts as a super comfortable layer just above the coil innerspring. The very top layer is completed with a comfortable quilted GOTS-certified organic cotton and organic wool that is naturally flame resistant.
Buy on My Green Mattress
6. Verse Organic by Naturepedic
Another one of the best organic toddler mattresses is the Verse Organic Mattress by Naturepedic. A more plush version of their kids' mattresses, the Verse is likely to last your child for several years.
This innerspring mattress is made with organic cotton fabric, organic wool batting, and 7″ encased coils. The Verse has a slightly firmer feel than the 2-in-1 mattress, along with a truly luxurious quilted finish on top.
Buy on Naturepedic | Buy Buy Baby | Pottery Barn Kids
7. Organic Twin Mattress by Happsy
Happsy features certified organic and environmentally-friendly products. None of their mattresses contain chemicals, adhesives, flame retardants, or foams. I find their mattresses to provide excellent support.
Their twin mattress is made of an organic cotton outer fabric with organic cotton filling. In the inner core, you will find 8 inch pocketed spring coils topped with 2 inches of GOLS certified latex and organic wool batting. Note that all Happsy products meet the organic and non-toxic requirements of the Global Organic Textile Standard (GOTS), and they also meet the requirements of MADE SAFE, so you can be sure they meet very rigorous standards to ensure you are giving your child a safe and healthy mattress to sleep on!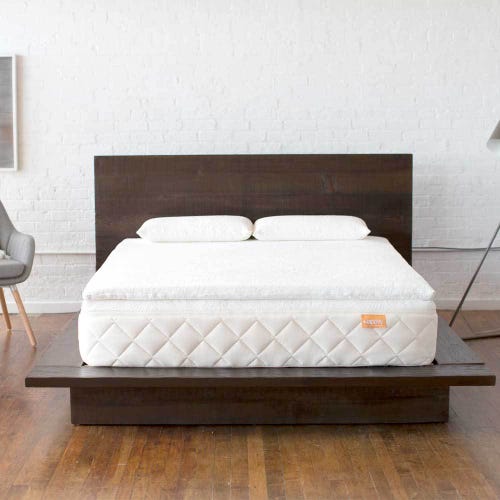 Buy on Happsy
8. Natural Escape by MGM
This is actually the mattress my oldest son uses because he got so used to cosleeping in my bed. It's a very luxurious mattress, but some kids love it, too!
The Natural Escape is a medium-firm mattress that has pocketed spring coils similar to the Kiwi, but these are enhanced for additional support in important areas like lumbar support and a strong mattress edge. You'll also find a solid three inches of GOLS certified organic Dunlop latex for a firm but comfortable sleep. The top of the mattress is made of organic cotton and wool to provide both breathability and natural flame resistance.
Buy on My Green Mattress
Sleep Well, Little Dreamer!
With any one of these organic toddler mattresses, your toddler will sleep well, making the transition from a crib to a big kid bed easier and more comfortable. And, of course, you can be rest assured that you're giving your child a safe and healthy night's rest without introducing toxins into their sleep environment. I hope this guide helps you find the perfect toddler mattress for your child!
Which toddler mattress did you choose? I'd love to know in the comments below!
These articles might also be helpful:
Best Montessori Floor Beds for Toddlers
Why My Green Mattress is One of the Best Organic Mattress Brands
The 15 Best Organic Crib Mattresses for Babies
The Best Organic Mattresses for a Healthier Night's Sleep
The Best Waterproof Crib Mattress Pads for Babies and Toddlers