If you're planning on having a natural birth, it's important that you plan for success ahead of time with more natural ways to manage labor pain.
This goes double if you're planning a natural birth in a hospital where epidurals and other forms of pain-relieving drugs are readily available.
Here are nine things you can do during labor to help you relax and power through your beautiful natural birth. At first glance, these relaxation methods may seem quite simple, but they are very safe and effective in encouraging a healthy and smooth physiological birth.
1. Create a relaxing atmosphere
The environment you're in during labor is very important. It contributes to not only your state of relaxation (or stress) throughout the birth but also your overall birthing experience.
That's why choosing to labor at home for as long as possible is a great choice!
If you plan on having a natural hospital birth in a hospital setting, making the birthing room "yours" is key. Birthing rooms in hospitals are generally cold, clinical, and filled with beeping machines.
Not only that, but the environment is unfamiliar and not quite conducive to feeling calm and centered during birth.
Bringing things to transform the space into one you are comfortable with is important.
Blankets and pillows from home, battery-operated candles, an essential oil diffuser, etc…
Small changes to your birthing room can transform from a basic space into a birth sanctuary conducive to an amazing birthing experience — and can be great for keeping your stress level down during labor. This alone can contribute to a calmer birthing experience.
2. Breathe
Breathing is key during labor. Doing it too quickly activates your body\'s fight or flight response which triggers the production of adrenaline, which can slow or stall your labor.
Breathing in a controlled manner is a powerful way to manage labor pain, as it allows your entire body to relax as you ride the waves of your contractions.
It also encourages your body to produce labor hormones such as endorphins, to help you cope with the intensity of labor naturally.
3. Let go
In my opinion, one of the things that plays a major role in actually going through with having a natural birth, is the mind.
Once you\'ve accepted the fact that you\'re going to have a natural birth and that it does come with a certain degree of intensity, it\'ll be much easier for you to let go and embrace the process, and relax.
4. Take in one contraction at a time
Worrying and being stressed during labor takes a lot of mental energy which can negatively affect you physiologically.
The more you look at that clock, the more you think about when it's actually all going to be over, the more you're stressed and on edge. Relax and conserve that mental energy and channel it towards birthing that baby.
5. Move around
Contrary to what is often shown on TV, laying down on your back during labor is detrimental to your birthing experience.
Moving around during labor is a very effective natural way of relaxing and coping with labor pain.
Whether it's swaying your hips, leaning over your spouse or doula, being on all-fours, or even hopping into the shower, these are great ways to manage pain during labor and to help your baby further descend into your birth canal.
6. Hire a doula
Need some extra help managing labor? Hire a doula! A doula is a great asset to have as a part of your birth team.
Aside from providing pregnant women with informational and emotional support during pregnancy, they also provide physical support, which is crucial during labor.
From rebozo sifting to double-hip squeezes, doulas can suggest various methods of relaxation that can help you better manage labor pain naturally. Studies have found that women who are supported by doulas during labor have better birth outcomes.
7. Vocalize your way through contractions
Digging deep and finding your voice during those powerful surges is a very effective way to relax during labor. Vocalizing in deeper tones is highly effective as opposed to screaming, which can make you feel out of control and make it more challenging to relax and manage labor naturally.
8. Apply counterpressure during contractions
Counter-pressure during labor is an effective way to help you relax as it relieves labor pain.
It's usually applied in the small of the back, using the heel of a hand. Sometimes even tennis balls are used.
Anything that is smooth with a curve can be used to apply this pain-relieving pressure.
If your birth partner gets tired (it can be very hard on the arms!), perhaps a nurse can assist you, or you can even do it yourself.
If you have a tennis ball, place it right between you and a wall and push your lower back into it during contractions.
9. Visualize your end goal
Visualizing yourself holding your precious bundle of joy can help you embrace the process and power your way through natural birth.
Keeping negative thoughts out of your mind and focusing on the bigger picture will also help open up your body physiologically by encouraging the production of all the necessary labor hormones needed to provide you with a smooth delivery.
Taking it one contraction at a time is important, but when you need a boost of confidence and energy to pull through, visualize your end goal.
I hope you found these natural birth pain management techniques to be helpful!
Take the Guesswork Out of Labor With My Natural Birth Toolkit
Are you worried you might forget all of your labor prep and info… during labor?! Grab The Natural Labor Playbook, your ultimate labor cheat sheet for natural-minded mamas for only $7!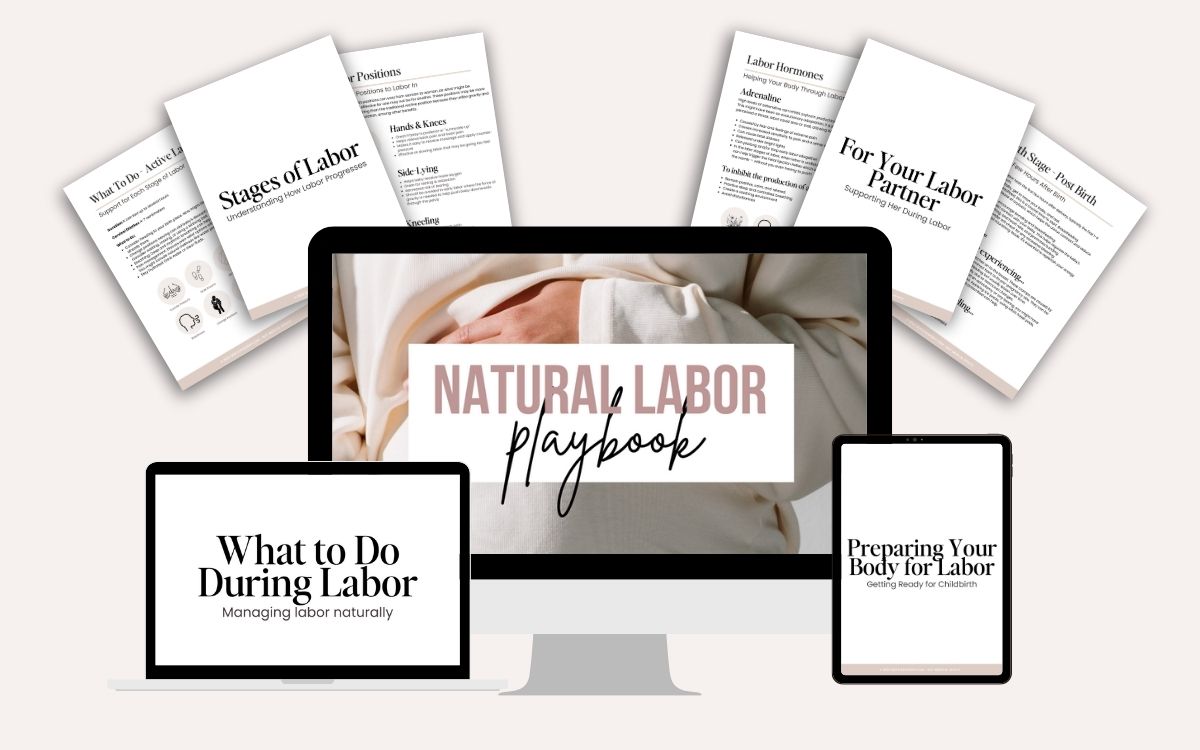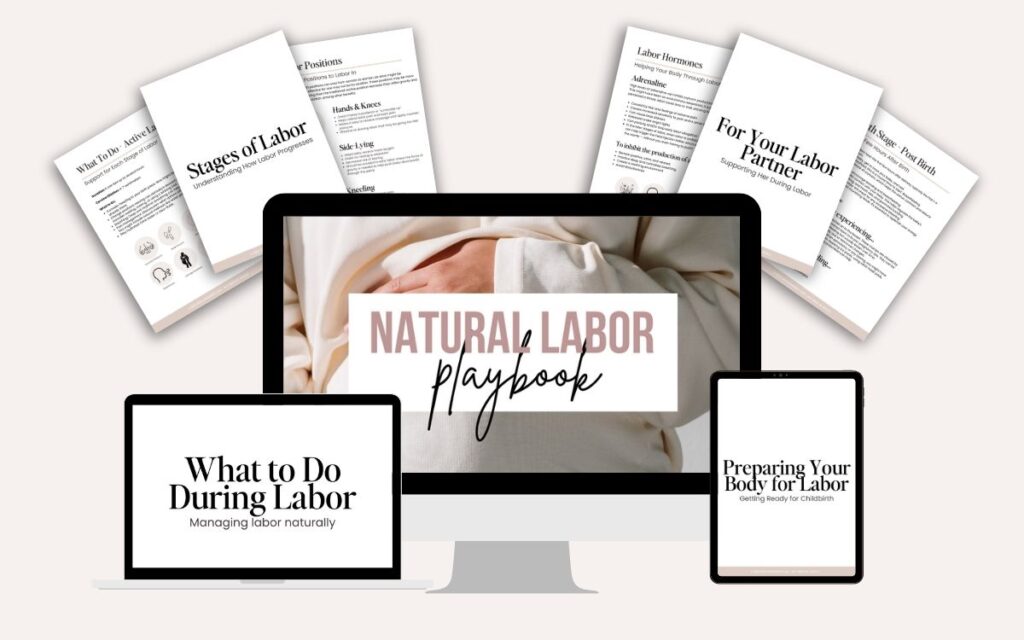 Learn More