Babies and children develop rapidly and need proper nutrition to be healthy and strong. Dairy provides an excellent source of nutrients to help children meet their caloric needs for proper development. And while some children do not drink milk due to taste or preference, it's important to note that there are many milk alternatives you can explore. Among these is camel milk!
Historically, camel milk has been a popular source of nutrition across different cultures. In fact, camel milk is the closest milk to human milk and has been used as a breast milk supplement around the world.
Many parents in the United States are now turning to camel milk for their babies and toddlers because it's incredibly tasty and healthy.
The Camel Milk Difference
As you might guess, there are not many camels in the United States.
For reference, there is one camel for every 18,000 cows. They are anatomically and physiologically adapted to desert environments, so you find most camels in dryer regions of the world. For centuries, camel milk has been used in the Middle East, parts of Africa, Asia, and parts of Russia as a breastmilk supplement. But it's increasingly popular in the United States because camel milk has so many health benefits when compared to other types of animal milk.
Camel Milk Encourages Glutathione Production
Glutathione is a powerful antioxidant in your body. Low levels of glutathione can lead to a multitude of health conditions, and our bodies only possess a finite amount for use against inflammation and oxidation. Glutathione isn't easily absorbed through oral delivery, so supplementing isn't typically recommended unless it's in a liposomal form. Using camel milk is a natural way to increase glutathione.
It Contains Beneficial Strains of Oligosaccharides
Helpful oligosaccharides play a vital part in your digestive health by decreasing gut permeability. They help to nourish and support a healthy microbiome and play a vital role in immune function. Certain studies have indicated that oligosaccharides found in camel milk not only benefit an infant's gut but they also promote brain development.
It Offers Huge Benefits for the Microbiome
Your microbiome is one of the most important aspects of your body. The microbiome affects your metabolism, immune function, and brain chemistry.
Camel's milk is high in potent immunoglobulins, which is a powerful immune-boosting substance. The immunoglobulins in camel milk are actually much smaller than human immunoglobulins. Some researchers think that these smaller immunoglobulins are why camel's milk is able to reduce the effects of autoimmune diseases and allergies. It's also a natural probiotic that assists the growth of healthy bacteria in your digestive tract.
It Contains Rare Proteins
Camels are unique mammals, and their milk contains powerful proteins. Some of the components of camel milk include lactoferrin, immunoglobulins, lysozyme, and cytokines. These proteins help to support your brain, digestive system, and immune system.
Additionally, camels don't contain proteins that lead to lactose intolerance in humans. Camel milk doesn't contain A1 casein or lactoglobulin, so it can be a good choice for people who struggle to digest lactose or A1 milk.
Similar to Breastmilk
In some regions of the world, camel milk has long been used as a substitute for breast milk. It has similar components as the human colostrum needed to boost a baby's immune system. It also contains other nutritious components found in human breast milk like lysozyme. This enzyme helps to stop bacteria from disturbing the membranes of cells and helps to maintain the healthy gut flora of breastfed babies.
Related: The Best Probiotics for Babies and Toddlers
Shopping for Camel Milk
Camel milk is becoming more and more popular in the United States, so we are seeing more availability. However, in the past it was hard to locate and some brands would sell out for long periods of time. Check with each of these companies to see their availability.
1. Desert Farms Camel Milk
Desert Farms has been my personal go-to brand for camel milk. I like that they offer their milk in a variety of formats — freeze dried in powder form, raw or pasteurized, and frozen or fresh. This gives you a lot of options for how you use the camel milk. The bottles are really convenient, and I personally just preferred the freeze dried powder.
They source their camel milk from farms in the United States. All in all, I trust Desert Farms and think you can't go wrong with this brand. They are also always innovating, including selling a camel milk-based ghee and kefir drink. Great company!
2. Camel Culture Milk
Also made in the United States, Camel Culture is another great option for buying camel milk for your children. Camel Culture is sourced from a family-run farm in Missouri that now has over 150 free-range camels. Their farm adheres to organic farming practices, which is wonderful because it gives you peace of mind in serving their products.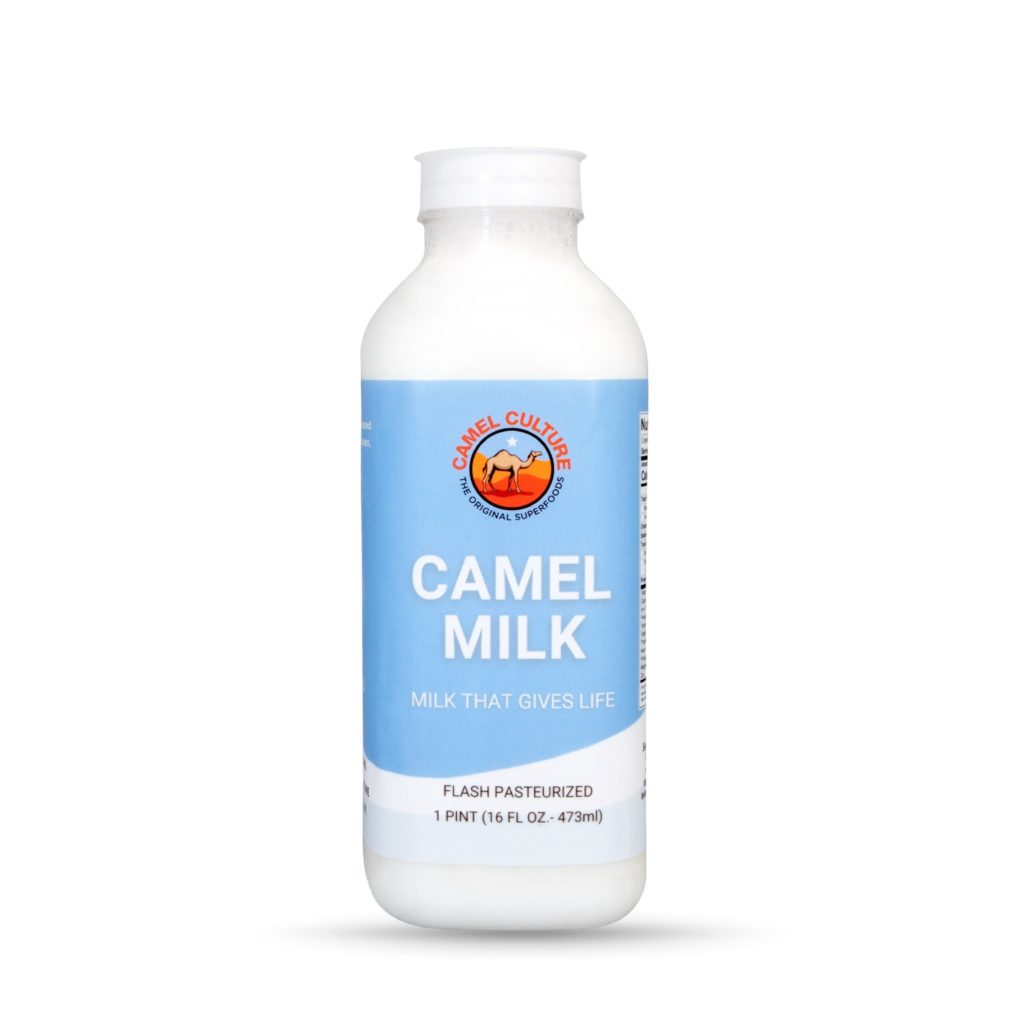 3. Aadvik Camel Milk
Aadvik is another camel milk brand that's available in the United States. Sourced from India, Aadvik is the country's first camel milk brand. I like that they do not use preservatives or additives, but otherwise I haven't personally tried this brand. They sell both bottles and the camel milk freeze dried powder, which is great for sprinkling into your baby's food and drink.
What's In Your Glass of Camel Milk?
So, how does a glass of camel milk stand up next to a glass of cow's milk? Before making the switch, or even introducing camel milk as an occasional supplement, you'll want to make sure this alternative fulfills all of the dietary needs that your little one.
Protein: Protein is readily available in camel milk. Gram for gram, you receive the same amount of proteins from camel's milk as you do from cow's milk. Children need about 0.5 grams of protein per body pound. So, a 30-pound toddler needs, on average, 15 grams of protein. One cup of camel milk contains around 5 grams of protein.
Fats: One of the main differences between cow's milk and camel's milk is that camel's milk is significantly lower in fats. There is only 2 to 3 percent fat in a glass of camel's milk. Kids do need fats in their diet, especially toddlers. Fats should make up quite a portion of their diet, but the key is healthy fats. If you plan to use camel's milk for your little one, make sure you provide other options for fats in their daily diet. One interesting fact about camels milk is that the milk is completely homogenized with naturally occurring omega-3 fatty acids. So, you can freeze and thaw the milk without it changing nutritional composition. Also, it doesn't curdle or clot-like cow's milk!
Carbohydrates: You receive the same amount of carbohydrates in camel's milk as you do from cow's milk. The difference is how the milk impacts your blood sugar. They're different because camel's milk is higher in insulin. That improves your ability to absorb it, making it a suitable choice for diabetics.
Vitamins: The goodness doesn't stop there! Camel milk contains high amounts of potassium, magnesium, copper, zinc, iron, B vitamins, and vitamin C. These benefits make it nutritional superior when compared to cow and goat milk. In fact, camel milk contains much more iron and vitamin C than cow milk.
The Benefits of Drinking Camel Milk
So, all of these amazing facts about camel milk make the case for giving it a try pretty convincing. Still not sure if you want to give it a shot? Let's take a look at the benefits of camel milk and why you need to drink it.
It's Great for Diabetics
Cow's milk can be problematic for diabetics because it's high in carbohydrates and fats, which makes it difficult to maintain a proper blood sugar level. However, camel milk is different, and some studies show that camel's milk could actually improve diabetes.
It doesn't cause a rise in blood sugar like other forms of milk. Studies show that camel milk can help to reduce blood sugar and decrease insulin resistance by 30 to 35 percent in both type 1 and type 2. It also can improve lipid profiles, making it a good choice for those with type 2 diabetes.
It Supports the Body's Natural Defenses
Camel milk is the closest comparison to human breast milk because of its immune-protecting substances. As mentioned, camel milk has high levels of immunoglobulin A and enzymes such as lysozyme and lactoperoxidase. These enzymes are particularly helpful against fighting infections in the body. More research is needed, but early research suggests that it may possibly have therapeutic benefits.
It Supports a Healthy Response to Allergies
We know that camel milk is an option for those with lactose intolerance because it has different proteins in the milk. However, some researchers believe camel milk may also have the ability to reverse allergies. Some preliminary evidence shows us that camel milk may also reduce allergies because of its immune benefits.
It Contributes to Heart Health
We know that olive oil is great for your heart because it contains monounsaturated fats, such as oleic acid. Camel milk contains those same monounsaturated fats, as well as A2 beta-casein, which is different than A1 casein.
Some evidence shows that A2 might be beneficial for your heart. Also, the fatty acid profile in camel milk is beneficial for your heart and maintaining proper cholesterol levels.
It May Reduce Oxidative Stress
We know that autoimmune diseases are rampant right now. Camel milk may help support the body against autoimmune disorders of all kinds by reducing oxidative stress, and may be helpful in supporting children on the spectrum.
How to Introduce Camel Milk
Camel milk should not be consumed in mass quantities, like in a bowl of cereal or a glass before bedtime. It is best introduced very slowly, in small amounts at a time. I personally like to get the freeze dried powder, which allows me to mix that into my kids' meals and smoothies without them really noticing.
The Bottom Line about Camel Milk
Camel milk has been a valid choice for thousands of years for those in different areas of the world. It's a great, nutritious option that can outweigh other milk options depending on your baby's needs. Most babies and toddlers find it easier to digest because it doesn't contain A1 casein, too.
Ready to give it a try? Check out Desert Farms or Camel Culture, two of the best brands in the United States. You can trust their camel milk!
FAQs
Here are a few commonly asked questions about camel milk.
Where can I get camel milk?
You can't stumble in your local grocery store and hope to find camel milk, and camel milk won't be competing for shelf space anytime soon. Camel milk is rather expensive, and it isn't regulated by the same laws. You want to make sure you find a reputable source that ships to your home. One such brand is Desert Farms, which ships to the continental US and Canada. Camel Culture is also a great option for buying camel milk.
What does camel milk taste like?
Camel milk has a distinguishable difference from cow's milk, but most people say that it doesn't taste strange. It is a bit saltier in my experience, and it doesn't have that grassy flavor that is associated with goat's milk.
Is camel milk a replacement for breastfeeding or infant formula?
No — you should look into with your child's pediatrician before making any changes to his/her diet. The AAP recommends recommends breastfeeding as the best choice for optimal health and development.
Can I refreeze my camel milk?
Yes, if you have frozen camel milk, you may refreeze it. Freezing and refreezing do not change the nutritional content of the milk. Note that the texture of the milk may change after freezing/refreezing. Simply stir it up and it will be back to its original creamy texture.
Are there any side effects of camel milk?
If your camel milk is raw (unpasteurized), it can contain bacteria that are harmful to human health. It is a good idea to purchase pasteurized or partially pasteurized camel milk as the heat will kill off any harmful bacteria that could cause food poisoning. Additionally, camel milk should not be consumed in the same way Americans consume cow's milk. It should be taken in small doses, added to foods and drinks in small amounts. Over time, you may build up a tolerance, but it is best not to start with a full glass of camel milk.
Keep Reading: