This article was written with contributions from childcare consultant Kelli Janysek
Most parents will agree that finding good child care is no easy task. A nanny is someone that you let into your home and your family to care for your child. They're responsible for protecting your child and supporting their growth and development.
Hiring the right nanny is crucial; you want to find an amazing nanny who will respect your wishes and your home and treat your children like they were their own.
It can be tricky to find the right caregiver for the job, whether you find a daycare or hire a nanny. But there's a lot that you can do during the interview and hiring phase to hire the right nanny. In this article, we'll cover how to hire a good nanny in seven simple steps.
Step 1: Make a List of Your Requirements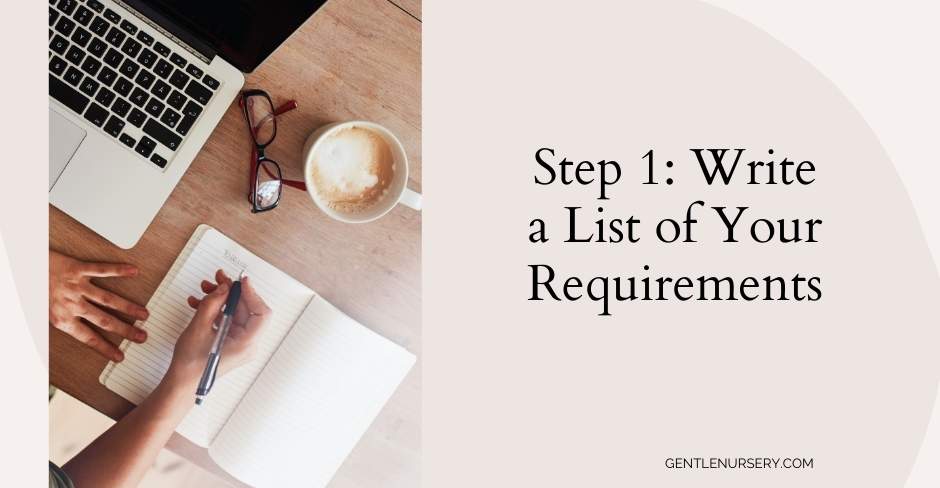 Before you even start to look for job candidates, the first step is to create a list of things and qualities that are important to you. Think about what you're looking for in your ideal candidate.
What kind of schedule are you looking for? Is it full time or part time?
Does your nanny need to be available on weekends or to work late some nights?
How many years of experience nannying are you looking for?
Are you looking for a caregiver who has prior teaching experience?
Are you looking for someone who has nannied for twins or infants before?
Are you looking for a nanny that speaks a second language?
Do you need someone with training in special needs?
Does your ideal nanny practice gentle parenting?
Do you need someone with specific certifications?
Make a list of non-negotiables and keep this in mind as you start talking to candidates. Create a detailed job description including hours, duties, and compensation. Outlining your job requirements and expectations is not only a good hiring exercise for you, but it will also be helpful to your candidates.
Step 2: Find Candidates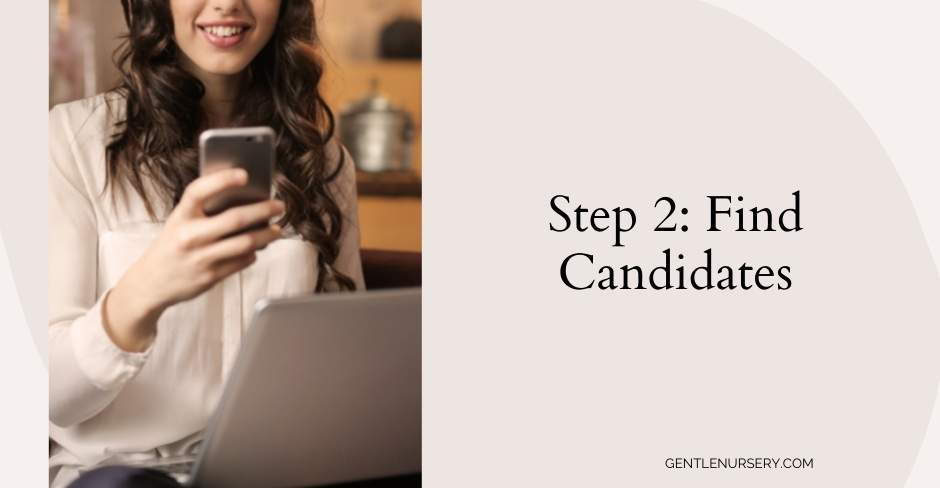 Once you've given some thought to what your ideal candidates would be like, the next step in hiring a nanny is to compile a list of potential job candidates. There are a few common routes that parents use to find nanny candidates.
Ask for Personal Referrals
The first step in finding a nanny is to ask your network for personal recommendations, which usually yields the best results. Talk to your friends and family about who they use as a nanny or if they know anyone who is a nanny. Ask your pediatrician and even your child's teachers.
Other moms in your local area will be a goldmine for information. You might even find a family nearby that has a great nanny and is open to doing a nanny share of some sort; for example, you might only need a nanny two days a week while the other family needs the nanny on the other three days. Always start by asking your personal network for referrals.
If you're at the park and you see a nanny who impresses you, you could always ask if she works full time or part time for her current family. Never poach someone else's nanny, but if you're looking for someone part time, and she's looking for extra hours, you may have just found yourself a terrific nanny. Add her to your list of hiring prospects and schedule a phone interview to discuss the details.
By asking around, you'll not only get information on potential candidates, but you'll also get some tips on who to avoid as a nanny candidate. For example, there are local Facebook groups that serve as nanny watchdog communities. Join all of the nanny groups in your local area that you can find.
Word of mouth is the best place to start. Just remember that every family manages their household and raises their children differently. When asking for recommendations from those close to you, first consider if that is someone you'd feel comfortable mixing business with. Occasionally, childcare relationships do not work out, and it can become a sore spot between friends or family members employing the same nanny.
Post a Job Opening Online
In addition to looking for personal referrals, it's a good idea to post a formal job opening online. In addition to expanding your search for job candidates, writing a detailed job description is a great hiring exercise. It helps to write out what you are looking for in a nanny, including your expectations, the job requirements and qualifications, and the position's responsibilities.
If you hire someone from a job posting, be sure to run thorough background checks and check ALL references. Seriously — call each and every one of them.
Some popular online job boards that you can use include:
Care.com — Sign up for Care on their website or download the mobile app. You can start browsing nannies in your local area almost instantly and view ratings and reviews from their previous clients. They also offer background checks and motor vehicle records for employers to view as well.
SitterCity — SitterCity is an online job board where you can find nannies, babysitters, tutors, and more. Check out detailed job profiles and read reviews and ratings on potential nannies. SitterCity handles over 400,000 connections yearly between parents and nannies/sitters. Download the app or post an opening on their website to begin looking for a nanny.
Local Job Boards and Groups — Local job boards and Facebook groups are also an option if they are available in your area. Oftentimes major metro areas, as well as individual suburbs, will have Facebook groups dedicated to moms and/or childcare. You might be able to find a nanny job board in your city as well. Posting a job ad in these communities can provide firsthand recommendations from other local moms. Make sure to do your due diligence, and run your own background checks and motor vehicle history on anyone you consider hiring through this route because anyone posting in these forums is not vetted.
Consider Hiring a Placement Agency
If you'd rather not source the candidates yourself, you can hire a local agency. An agency will ask you several questions to get to know your family, understand your needs, and then match you with potential job candidates.
An agency can also handle payroll and help with any issues that might arise down the road with the nanny you hire. Please note that nanny agencies vary widely in quality and cost. Be sure to research your local nanny agencies thoroughly before deciding to hire one.
Step 3: Schedule Phone Interviews with Applicants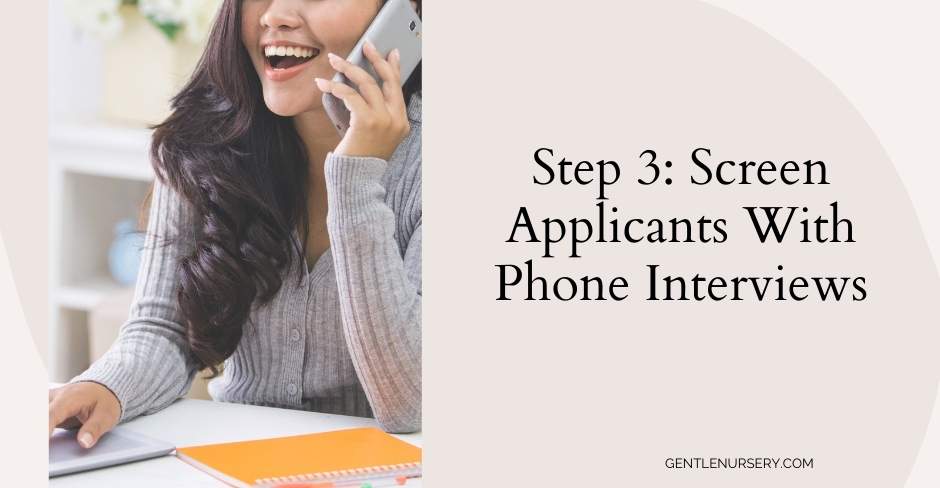 Once you've compiled a list of candidates, the next step would be to conduct phone interviews.
A phone interview can be somewhat brief, but it is the first step in determining if the candidate would be a good fit for you and your family. If the phone interview goes well, schedule an in-person interview with this candidate.
Pay attention to how the conversation flows and if their personality matches well with yours. Just because a candidate looks great on paper does not always mean you would love having that person in your home every day.
If it is evident from the phone call that your personalities clash, or it's simply not a good fit, it is not worth continuing to an in-person interview. Thank them for their time and conclude the call.
What to Ask During a Phone Interview
During your phone interview, there are a few important details to cover, including:
Their level of experience, including previous jobs, certifications, and education
Requested pay rate
Their schedule and availability
These topics of discussion will help you narrow down your list of candidates right away.
During the call, be sure to give the candidate a general overview of the position and your expectations. Let them know if you are looking for a part-time or full-time nanny.
A phone interview is also a great time to talk about your family and your lifestyle; for example, you might have more children than she is comfortable watching or she may not be available to travel with your family.
Save yourself time by covering these topics when you interview prospective caregivers by phone.
Be sure to cover any other "must-know" topics such as a strict food diet, food allergies, or the fact that you have a fragrance-free home. Talk about any religious or cultural practices that might play a factor for a nanny.
Do any of your children have special needs? Be sure that the nanny is comfortable with her ability to handle a child with special needs.
You might also want to briefly discuss your parenting style; for example, if you practice respectful parenting or are a Montessori home.
It's also important to ask prospective nannies about their training and education. You want a candidate who is highly qualified for your childcare position.
A few things that you can ask include:
Are you trained in CPR or first aid?
Have you taken classes in childcare? Are you willing to take any additional courses if necessary?
What is your education level?
Are you fluent in any other languages besides English?
Covering these topics briefly during a phone interview can help you weed out many nanny candidates who wouldn't be a good fit for your family. That way, you can save yourself and the candidate time by not scheduling them for an in-person interview.
Step 4: Invite Qualified Candidates to In-Person Interviews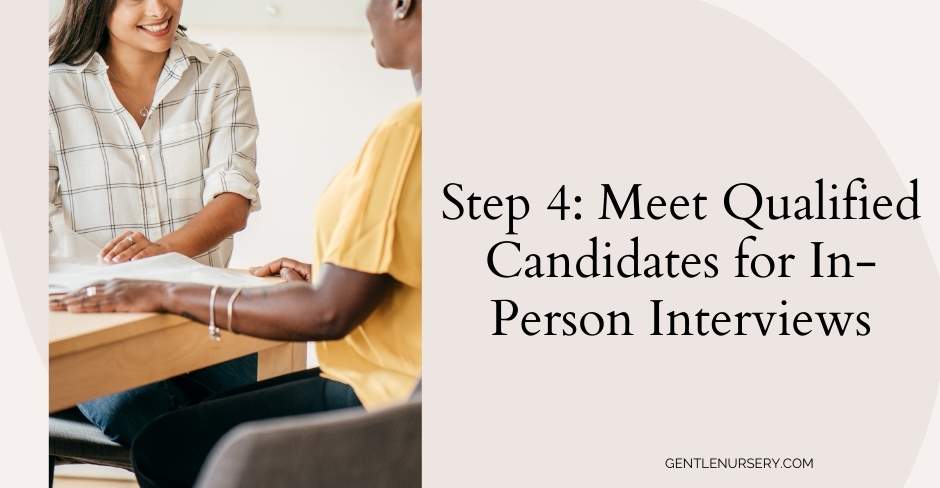 After you've held phone interviews and narrowed down your list of candidates, the next step would be to schedule an in-person interview with your remaining candidates.
By this point, you should already know that a candidate is a relatively good fit based on the requested pay, availability, and personality/style. You should have a sense that you could hire this person based on your phone interview and their application. Now, it's the time to dive deeper into the position, your expectations, and their capabilities and experience to make the final hiring decision.
Before the interview, have each candidate fill out a job application form. Ask them to bring a completed application form with them, and have them provide you with their driver's license.
Interviewing a nanny in person takes time. Plan about 45-60 minutes for each nanny interview, and be sure to have each of your interview questions prepared ahead of time.
If you end up liking a candidate, you might want to conclude the interview with a 10-15 minute trial playtime with her and your baby. If you do not want to move forward with a candidate, skip this step.
Note: In-person interviews can be done in your home or in a neutral location like a Panera restaurant or Starbucks. If you prefer to conduct your interviews away from your home, you should schedule a time for each nanny to meet your children at a later date.
Describe The Nanny Position in Detail
Your in-person interview is also the time that you want to describe the position in detail. You should be able to answer any questions that she has about the job. Prepare your thoughts and make note of your expectations about the nanny job ahead of time.
These are the things that you should tell her about:
Start date: When are you looking for the nanny to start work? Will you have a trial date before formally extending the offer to someone?
Hours of work each day: Be clear about the work schedule, and be sure to clarify that you need an on-time start each day.
Work expectations: Be clear on the duties and responsibilities your nanny will have relating to the children and the house. For example, do you expect her to fold laundry or do household chores while your baby naps? Who is responsible for cleaning the kitchen after meals? Will she make meals for your child? What things do you expect her to do?
Routines that you expect to be kept: Do you expect the nanny to take your child to swimming lessons, playgroups, library trips, etc.
Salary: Discuss her expectations about pay and clarify how she will be paid. Also consider things like sick days, bonuses, and time off. Know the average pay rates in your area and be prepared to respond to the candidate's salary request.
House rules: Set expectations about your house rules. Is she allowed to bring visitors to the home? Do you have a smoke-free and fragrance-free home, and what does that actually mean? Do you want her to keep her cell phone off while she's with the baby? Is she allowed to have play dates with people you don't know?
Health and medical: Be clear about any medical circumstances and what that would require of her. If your child has special needs, make sure that the candidate knows and is adequately trained.
Use of car: Will you be providing her with a car to use, or will she need a separate car seat for her car? What kind of errands or appointments will she need to be responsible for?
Live-in: If you're hiring a live-in nanny, you'll also want to describe and show the living accommodations. Talk about when she can use the kitchen and other communal areas of the house. Are meals provided for her? Is she allowed to have friends over to visit?
Optional: You may also want to discuss salary and benefit specifics, but this could be handled later on when you're extending a job offer to a candidate.
Paid Time Off/Vacation Days: How much paid vacation time will she receive? What is your sick policy?
Holidays: Is she required to use her vacation days when your family is away on vacation?
Benefits Package: You can cover this more formally when you make an offer, but if you are going to extend any employment benefits, you should know what these are ahead of time.
Questions to Ask When You Interview a Nanny
During the in-person interview, you want to use this time to hear about the candidate's personal experiences as a nanny. Use this time to assess their knowledge and mindset about childcare, as well as to dive into their past experiences.
The best interview questions are open-ended and prompt informative answers. Your questions should start with "what, when, why, how, or where." These types of questions avoid just getting yes or no answers.
Here are the best questions to ask when you interview a nanny. Try to stick to this list as best as possible, and understand that these questions are designed to give you the deep insight you need to choose the right candidate for your family.
Take notes as each candidate answers these questions because it will be hard to remember who said what after you've held several nanny interviews. Print this list out and make a copy for each candidate, and take notes underneath each question.
Some of these are two-part questions. Ask the first question, and then use the second question as a follow-up once the candidate has asked the first question.
Why did you choose a nannying career?
What are your favorite activities to do with a child my (son/daughter's) age?
What are your favorite and least favorite nanny responsibilities?
Why are you the best candidate for this position?
What are some of the rules you've had in other households that you think worked well? What policies haven't worked well?
Would you ever be able to work evenings or weekends?
How do you plan a typical day? Walk me through an example of how you'd spend a day with my child.
Have you ever had to handle an emergency situation? If so, explain the situation and what actions you took.
Tell me about a bad experience or an issue that came up with one of your families. How did you resolve the problem?
Can you give me examples of unexpected issues that have come up in your previous jobs and how you and your former employer worked things out?
How do you like to receive feedback and input on your job performance? Are you open to changing things based on my feedback?
How would you feel if I brought up something I felt strongly about and wanted to be handled in a certain way? If I couldn't see a way to compromise, could you work with that?
How do you handle a crying baby or tantruming child?
How would you keep my baby/child safe?
What do you know about sleep for babies/children at my son/daughter's age?
What do you do when the baby is sleeping?
How do you occupy children my child's age during the day, and what type of items/materials do you need to do so?
Do you have any experience with potty training? How do you potty train a child?
Let's talk about discipline. What are your personal preferences and beliefs around child discipline?
If our roles were reversed, what would you look for if you were hiring a nanny?
Is there anything else I should know about you as a candidate?
Look at the candidate's resume and ask questions about one or two of her prior employers. Ask about the kids, what she enjoyed doing with them, and why she left the position. Ask if she is still in touch with the family and find out what a typical day looked like for her.
If you'd like to print these questions out and use our free application form, enter your email in the signup box below for free access.
Don't feel limited by these questions, either. You also want to get to know the potential nanny, so feel free to ask her to tell you about herself, her proudest accomplishments, and anything else that you think is important.
For example, we had to ask one of our nannies not to wear perfume on the days she worked for us because her fragrance was very overpowering and gave me a headache. It was something I had to address during the interview (before I extended a job offer), and it was never an issue after that because I brought it up from day one.
Also, this person will spend a lot of time in your home, so make sure to get a good read on them.
Do they respect personal and work boundaries?
Do they seem like they are responsible in their personal life?
Do they seem to have stable relationships, such as with a significant other, friends, or their family?
No need to be blunt and ask these questions, but do stay alert for context clues that an unhealthy relationship or poor personal responsibility could affect the interviewee's job performance and your level of comfort with him/her being in your home.
Think about it this way: Do you want to return home from work to negativity and complaining, or do you want to deal with a nanny's personal life spilling over into your home and family life? Nanny and family relationships typically become very personal, which means her personal life can affect your family. Make sure you are comfortable with the quality and content of a candidate's character, as well as her professional life.
Once you're both satisfied with the interview, you can bring it to a close. Let the nanny know the next steps. Indicate that you might need a few days to decide, especially if you have other interviews. Let her know the contact method and when you'll contact her with those decisions.
If you are pretty sure you want to offer her the job, it's best to make it clear immediately if you think she might be going to different interviews. You don't want to miss the opportunity to employ a good nanny! Don't commit quiet yet, but let her know you think this is a good fit and you'd like to move forward quickly with the rest of the hiring process.
Note: Things You Can't Ask During a Job Interview
Even if you aren't a business, remember that you are conducting a formal employee hiring interview. That means you need to follow legal guidelines when it comes to the questions you when interviewing a nanny.
There are some questions you cannot ask a candidate, such as:
Age
Religious Views
Race or Ethnic Background
Sexual Orientation
Marital Status or Future Marital Plans
Disabilities
Arrest Record
Avoid these topics altogether. Stick with the types of questions we've listed above, and keep the interview process professional.
Step 5: Check References and Conduct a Background Check
It's easy to want to skip this step, but this is one of the most important aspects of hiring a qualified nanny for your family.
Call Each Candidate's References
Ask each candidate for your nanny position to provide a list of past and present references. (This can be done easily through the job application form.)
Important: Make sure you speak with each of their references. There is so much that you can learn and uncover from calling a candidate's references, and this is not a step that you should skip.
Ideally, each nanny reference should provide at least two recommendations, but the more, the better. Do not skip this step. You must call and check references, and make sure you actually speak to each of them. This is an essential part of hiring a good nanny.
Ask specific questions about the nanny. Don't ask yes or no questions, such as if they liked the nanny. Instead, ask what they liked about the nanny or ask how she treated their child. Try to be specific so that you can learn as much as you can about the person you're thinking about hiring.
Ask questions such as:
When did they work for you?
What was their hourly pay rate?
How old were your children at the time?
What worked well with this nanny? What didn't work well?
Was she punctual?
Did she respond well to your feedback or direction?
Why did they leave the position?
Would you hire this nanny again?
Conduct an Extensive Background Check
Once a candidate's references check out, and if you want to move forward with them, be sure to conduct a thorough background check.
Do not feel bad or guilty about conducting a background check. And do not skip this step — for anyone, ever. When you are choosing someone to care for your child, it's important to verify that they have a clean record and are capable of caring for your child in a safe and professional way.
Also, if you're using a placement agency, do not rely on the background check they provide. Instead, be sure to run your own background check and check references.
Before moving forward with a candidate, be sure to run thorough background checks including identity verification, motor vehicle record checks, criminal background checks, sex offender registry checks, abuse and neglect records, and education verification. You'll need written permission from the candidate, as well as her drivers license, social security number, and address to complete a background check.
If you're using a service like Care.com or SitterCity, they make it easy to run background checks on a candidate. Otherwise, you can run a background check on your own. Here are some reputable sources that offer these services:
Look Up Your Candidate's Social Media Accounts
It's also smart to check your candidates on social media. The image they present of themselves on social media can be very telling and sometimes the complete opposite of who they present themselves as in an interview.
Checking their social media profiles is a quick and easy way to rule out any red flags that might come up later on.
Step 6: Schedule a Trial Run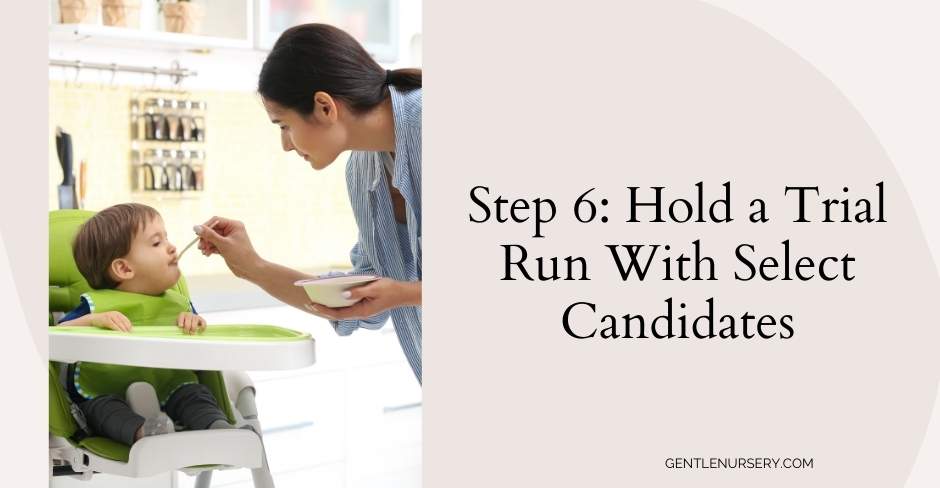 After you've interviewed a few candidates and done your background research, it's time to schedule a trial run with any final candidates. A trial period is usually one or more days of paid nannying work where you can assess the compatibility and really see how the nanny interacts with your kids. It's also a great time to see how well the relationship works for your family.
Here are a few tips for making the most of your nanny trial run:
Be clear with the nanny that this is a trial period and outline your expectations normally, as you would for a regular nanny.
Plan to be there to oversee the nanny on the first day or during the first couple of hours of the day. Help her get acquainted but give her room to do her job, even if you're home.
Have the nanny do the typical activities she would do during a regular day. This helps you see how they handle naptime, mealtimes, playtime, discipline, and anything else that might come up during the day.
Set up a camera to monitor the nanny while you're gone — but be sure to let her know that you have cameras in your home. This can give you peace of mind and help you see how the nanny interacts with your kids when you're not around.
Make sure to pay the nanny their agreed-upon pay rate for the trial run. Since this is a short-term trial run, the pay you agree upon might be different than the final hourly rate you agree to for ongoing work. Pay your nanny the time worked. A trial run is not a free trial.
Ask your kids how they liked having the nanny around at the end of each day. Their feedback can be helpful in deciding whether or not to hire a nanny.
A trial run helps you ensure that the nanny is a good fit for your family before making things official and extending a formal job offer. If the trial run went well and you feel that this candidate is right for the position, you can move forward to the job offer stage. If not, you can either address any open issues that came up during the trial run or move on to other candidates.
Either way, it's best to let the candidate know where they stand after the trial run. If they aren't moving forward in the hiring process, thank them for their time and let them know you went with a different candidate. If you don't feel good about a candidate, it's better to start the hiring process over at stage one (sourcing candidates) than to hire the wrong person.
Step 7: Hire Your New Nanny!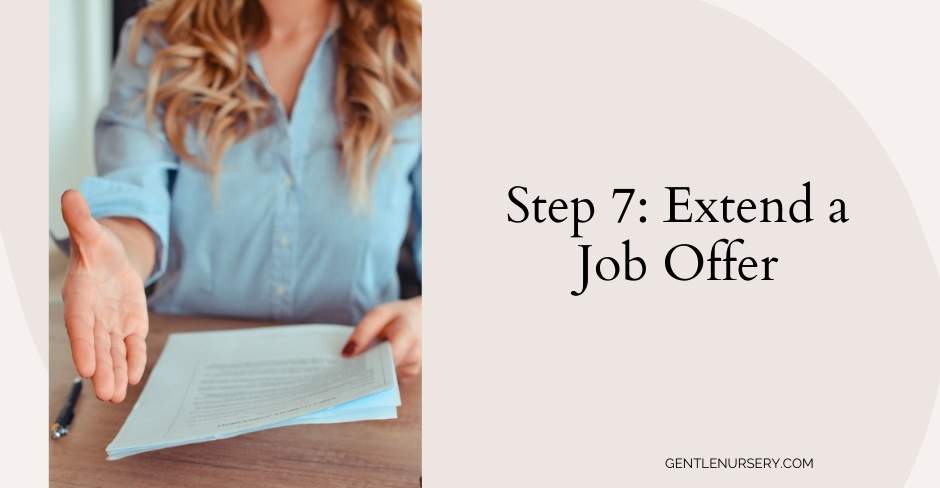 After you've done a thorough background check and you've completed a trial run with a good candidate, it's decision time. If you're ready to hire a candidate, call her and let her know you'd like to offer her the nanny position.
Over the phone, share your excitement and let her know that you can't wait for her to start. And then send her all of the details, including an employment contract and a W-4 form, by email. Your payroll service might have some additional forms for her to fill out.
Ask her to complete these documents and send them back to you (or you can utilize a digital signing service like HelloSign) to formalize her acceptance of your offer.
Congratulations — you've just hired an amazing nanny!
How to Have a Successful Relationship with Your New Nanny
Everyone wants to have a good relationship with their nanny. You don't want to have a negative experience, and neither does the nanny! Here are some tips for having a successful relationship with your nanny.
Be Clear About Expectations
Setting expectations and requirements upfront is essential for any relationship and job position. Be sure to discuss all of the important details with her as soon as possible. For example, if you don't want her to plan play dates with parents or nannies she meets at the park, make sure that she knows that.
Let her know that she needs to arrive at your home at a specific time and how you expect her to handle your child when they're crying. If you want her to put your child to sleep in a certain way, make sure that's also known.
If you're using nanny cams, make sure to let your nanny know that you have cameras in your home. Do not try to hide this from a nanny.
Be as specific as possible with your nanny, and set expectations as early in the relationship as possible. Don't let issues linger. Try to address any issues the same day or as soon as possible after they come up.
Things will definitely come up later on, so just be sure to address issues as soon as possible. It's also okay to adjust your rules and expectations as time goes on. Don't hesitate to bring up issues or give feedback to your nanny just because you didn't mention something on day one.
Sign a Formal Work Agreement
Both of you should sign an employment agreement that lays out your employment terms and policies. Once again, being upfront is so crucial to success. List out all of your requirements and expectations so that issues don't come up down the road.
This document should include everything from hours worked, compensation, how expenses are handled, and expectations such as light housekeeping or meal prep for your child.
Keep in mind that just because you don't currently foresee encountering scenarios like travel, overnights, multiple children, etc., it doesn't hurt to discuss these topics from the start. After a nanny has been with you for a few years, you might find you like the idea of them traveling with you. This opens up a conversation about expectations, pay, and negotiations all over again, which are often harder to navigate once a very personal relationship has been formed.
Be Open to Feedback
The nanny you hire should be open to receiving feedback and making changes to suit your family's needs. At the same time, make sure you are open to receiving feedback and doing things a little differently sometimes.
An experienced nanny who spends a lot of time with your child might be able to have some vital insight into your child. She could have useful information or ideas, and she may not do everything the same way you would. Be sure to value her input and suggestions as well!
Treat Your Nanny Well
Your nanny is an integral part of your family dynamic, and she cares for your precious children. Nannies should be treated well and shown that they are valued and respected.
For example, a lot of times, parents will ask whether they should provide food or snacks for the nanny. If you're wondering whether or not she should be allowed to eat the food in your home, err on the side of valuing her and her contribution to your household. This is a good opportunity to treat your child's caregiver well. Take it a step further and ask her what kind of snacks she likes, and be sure to keep some of her favorites in stock.
Another thing to consider is whether you'll give her perks such as bonuses or gifts for the holidays. Remember: you're hiring this person to care for your child. Treat her well, but of course, don't allow yourself to be taken advantage of.
Discuss Payment Upfront
Being paid correctly and on time is essential to a nanny, just as crucial as it is for any employee. Set up a payment schedule and select a payment method, and don't stray from this schedule. Other items can wait on your list.
Include the payment schedule in the employment contract that you both sign. And make sure to pay on time and through the agreed-upon payment method.
Most professional nannies prefer to be paid legally, as nannying is their legitimate profession. It can seem daunting to take this on, but there are payroll systems that work with families who employ nannies. They will walk you through every step and also guide you through the legalities.
For example, it is illegal for a nanny to be paid less than the minimum hourly wage, to be paid salary, or to be a 1099 employee. According to the IRS, nannies are domestic household employees and are to be paid hourly and with a W2. SurePayroll and Homework Solutions are two of the most used companies in the nanny industry. Gusto is also a great and easy-to-use payroll service. As a household employer, you will need to register a federal employer identification number (EIN) as well.
Knowing the legal side of the nanny industry benefits your family. Professional nannies with the background, education, and experience most families desire want to be treated and recognized as professionals. They also need to lease cars, buy houses, and have proof of employment and income.
Many professional nannies will decline offers from good families purely because they aren't receiving industry standards that professionals deserve. Don't lose out on quality candidates because paying in cash or writing a check is easiest.
Final Thoughts on Hiring a Nanny
Choosing a nanny for your children is no easy task, but once you find the right person, they can truly become part of the family. Every hour spent on the nanny hiring process will be worth it because it helps you narrow down your potential nannies to "the one".
Trust the process, and good luck with the nanny search! I hope this advice has been helpful as you work on hiring a nanny for your precious little ones. Always remember to trust your instincts and take good care of your little ones.
Shop This Post
If you found this post useful, pin it for later!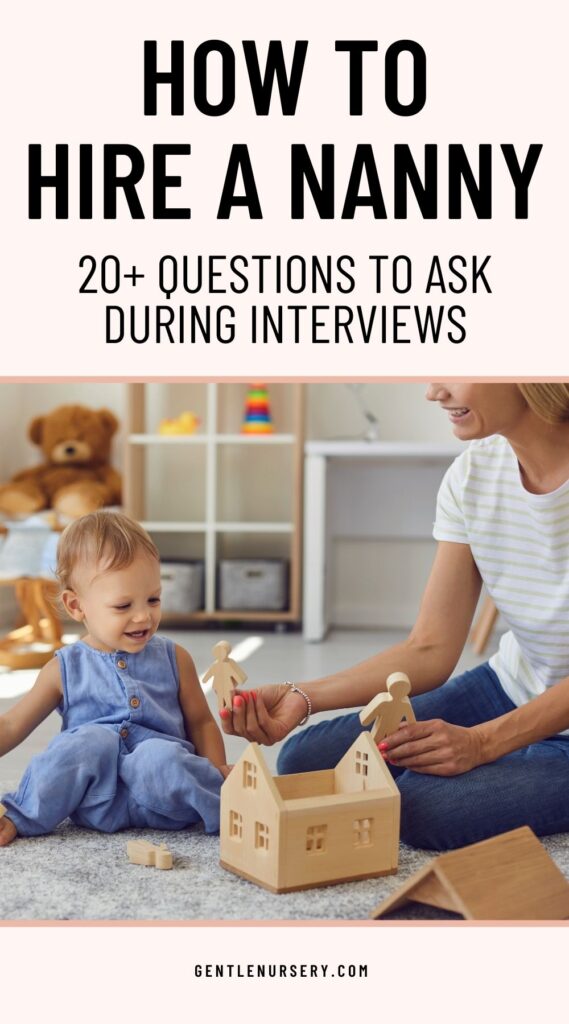 You might also want to read: