So, your baby's ready for a play gym, but you want to skip baby gear items with music and flashy colors. That's where the Lovevery play gym truly shines; it's a play gym with simple toys and play stations to keep your baby engaged and having fun.
Some people think that baby music and flashing colors are needed to keep an infant's attention, but that's far from the truth. Pediatricians and children development specialists all agree that kids don't need those things — they need different textures and colors to look at and observe.
Enter Lovevery.
They sell unique toys geared towards the developmental stages of your baby as they grow, and their play gym is no exception. It's one of the best play gyms for babies, and my readers love it. In addition, it's known for being high quality and utterly adorable.
Parents often wonder if it's worth the investment.
I know I had the same questions and wonders, but until I tried out their toys, I can say with confidence that Lovevery is worth the investment. Let's dive into everything about this play gym and why it's a great option.
Design and Specs of the Lovevery Play Gym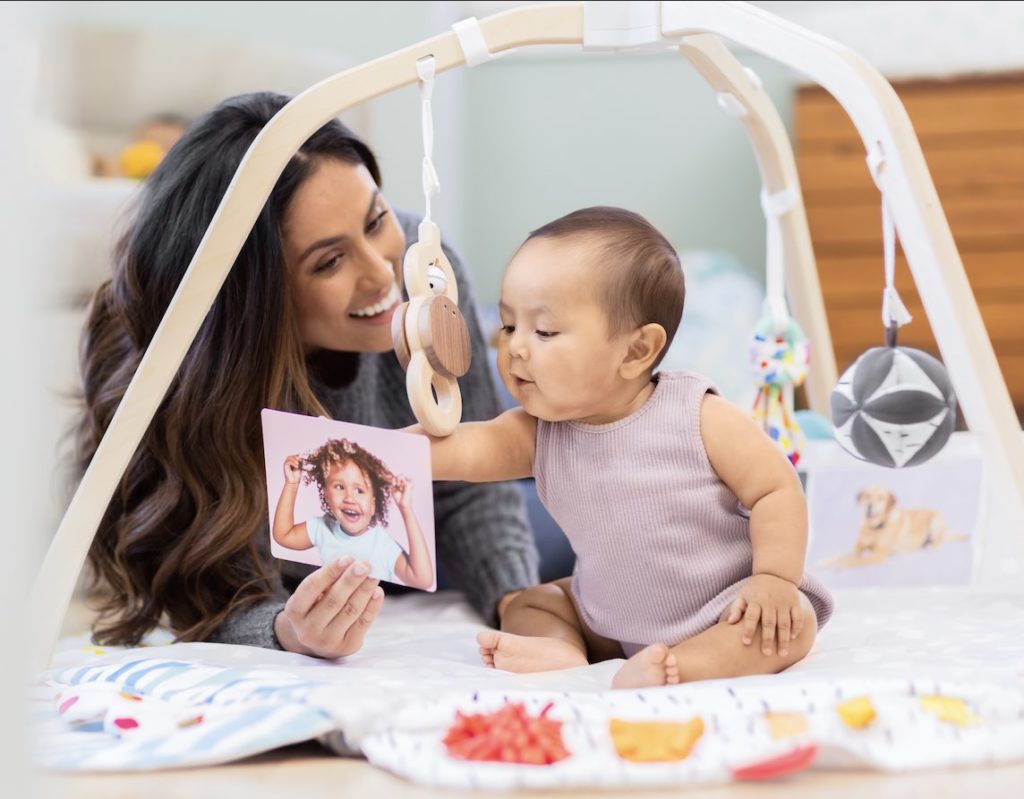 The Lovevery play gym has three wooden arches that measure 20 inches high at the peak so that older infants can sit underneath it still. In addition, it comes with a little cover to turn the play gym into a tent. Love this!
Lovevery added three hanging toys from the arch: a fabric ball, a wooden noisemaker, and an organic cotton teething ring with crinkly fabric. They also give you three plastic pieces that you can hang pictures from to add more stimulation for your infant.
There are five tummy time stations with different activities for your infant to enjoy, like a mirror, play ribbons, and crinkly fabric. I love this! These play areas are perfect for infants, and they have tons of things for babies to enjoy. Babies also love the different pictures added to the fabric and the fun textures.
You can fold up each section to encourage your baby to focus on one area at a time. Again, you don't want your baby feeling overstimulated or overwhelmed by options.
When all the tummy time mats are unfolded, the play gym measures 4 feet across, the perfect size for your infant to roll around and play.
One thing to note is that while this play gym is made from a polyester blend, it's not dryer-safe. You can put it into a washing machine, but it needs to be air-dried. That's a con for me because I like tossing everything into the dryer, if possible. However, I just took mine and hung it over the railing of our stairs and this worked just fine. I'm just a little impatient.
Despite not being dryer friendly, the material used is smooth and cool to the touch.
Lovevery Play Gym's Five Developmental Play Zones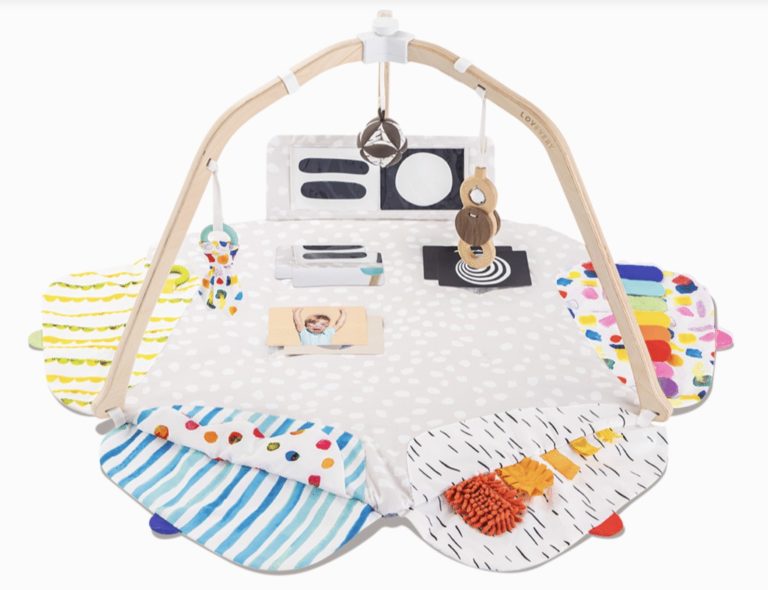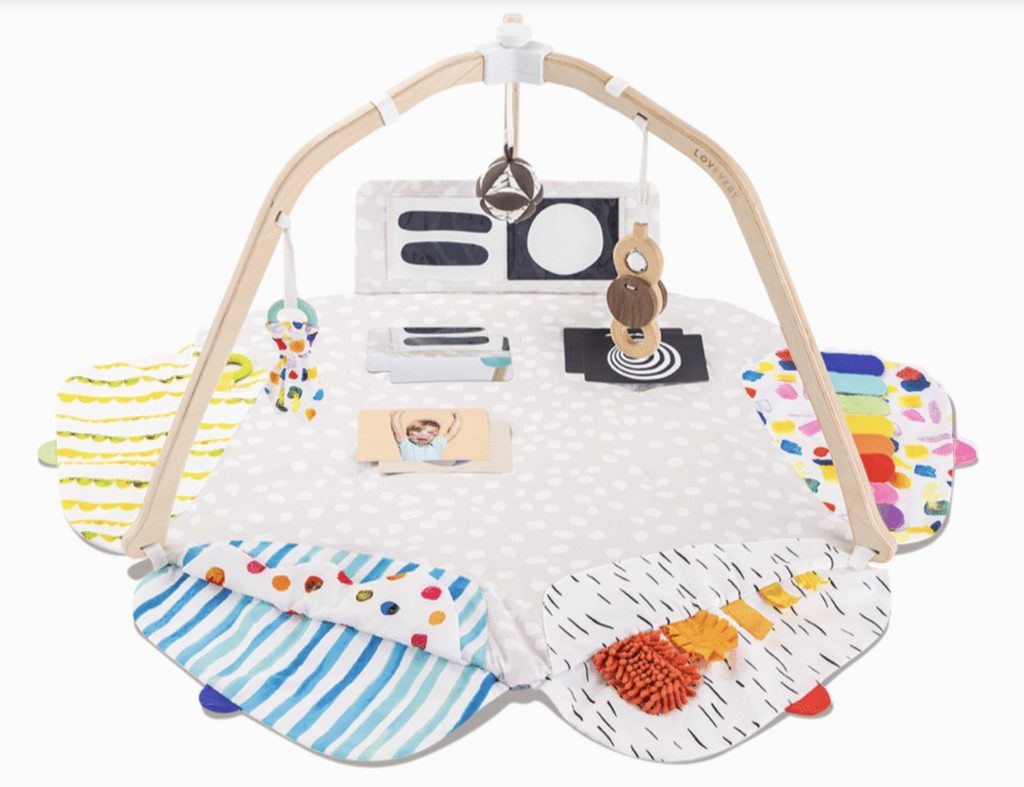 One of the biggest selling features of this play gym is the five development zones that can be hidden and revealed to extend the learning experience.
The first zone has interchangeable black and white cards with different patterns that help support your baby's vision development.
The second zone works on visual development as well. A baby's vision changes as they get older, and they will find the different colorful tabs on the mat.
The third zone encourages your baby to reach and touch. It features different colors and textures, the perfect place for your baby to practice fine motor skills.
The next zone teaches babies cause and effect because when he kicks or presses different things, they make sounds. Trust me, babies love this!
The last zone has a silicone teether that you hide in a built-in pocket. Babies love hide and seek; it helps them develop an understanding of object permanence. They learn that objects exist when you don't see or hear them.
Lovevery put a lot of work into creating development play zones that genuinely help your baby develop, and I like that you decide which elements to show. Too much stimulation is never a good thing for babies, and only showing one or two at a time helps keep your baby from getting overwhelmed.
Why I Love the Lovevery Play Gym
Compared to other play gyms, the Lovevery Play Gym is definitely different. It has a higher price tag and a minimalist design, so you might wonder if it's worth paying the price for this.
This play gym has led to hours and hours of play, so personally, I think that it's worth the price. Here are a few of our favorite things about this excellent baby play gym.
1. The Arches Feel Sturdy
Unlike many other play mats, I find that the wooden arches on the Lovevery Gym feel sturdy and durable. I'm confident that the Lovevery gym will last for years to come, and if you want to have more kids, that's a factor to consider.
You're probably familiar with the flexible tubing arms if you've used other play mats, but those aren't very durable. I had one playmat from a popular brand with soft arches, but the way it was designed, I was always subconsciously worried that they would fly off the playmat. The wooden arms won't collapse on the baby, and they're sturdy.
2. The Developmental Play Zones
The different play stations for tummy time are a big hit for my kiddos. It's a unique design created by child development experts consulted by Lovevery, and it shows.
Each station has something that your infant will enjoy, like different textured fabrics. My baby spent more time on his tummy than ever before, and I credit that to the various stations keeping his attention so well.
The developmental guide tells you about each station and how to use them. One station is called the "making sounds" zone, and it's perfect when your child starts to realize that their actions cause a reaction. Your baby will learn that kicking makes noises.
That's just one of the zones!
3. The Included Guide is Helpful
Lovevery includes a yearlong developmental guide with the purchase of their play gym; I love this guide. It helps parents understand the age-appropriate play and show them how to get the most out of this play gym for an entire year.
4. The Play Gym Encourages Movement and Focusing
Since this gym doesn't have all the crazy music or flashing colors, I find that my baby moves around more rather than spending all their time laying and staring at the lights hanging overhead.
5. It's Taller for Older Infants
One of my complaints about buying play gyms for babies is that you only get a few months' worth of use before it has to be put away because they're too old for it. That's not true for the Lovevery Play Gym.
Compared to other baby play gyms, this one has a taller gym, so your baby can play on it while seated. Then, you can use the included tent cover for the wooden arches. Toddlers love tents, so this is the perfect way to get more use out of this play gym.
6. They Use Many Non-Toxic Materials
I love seeing organic cotton toys and teething rings on the Lovevery Play Gym. When I bought my oldest a play gym, the toys were all polyester. And I didn't think it was such a big deal but as he started mouthing the toys, I quickly started to regret my purchase. While I don't think everything is 100% non-toxic (the mat itself is polyester), they do use quality materials when and where it really counts.
The Not-So-Ideal Things
Everything has negatives to it, so let's talk about some things I don't like about the Lovevery Play Gym.
You can't adjust the hanging toys: I don't like that you can't move the hanging toys; this is my biggest complaint to be honest. The toys are attached using slots, so you can't change their positions or heights.
It's relatively expensive: Compared to other baby play gyms, the Lovevery is relatively pricey. It does do a lot, though, so it's kind of like multiple toys or items in one.
It's larger than other play gyms: OK, this can be a pro or a con. But if you live somewhere that space is limited, like a small apartment, then the size of the playmat could be a challenge. It takes up a lot of space, which might be okay if you have the space for it. Otherwise, when the mat zones are closed, it measures 24" x 38" x 43", but when all the zones open, it measures 24" x 50" x 47".
Where to Shop: The Lovevery Play Gym
You can shop at Lovevery's website directly (and this is also an easy way to add on the Play Kits subscription as well) or you can order from your favorite big box store.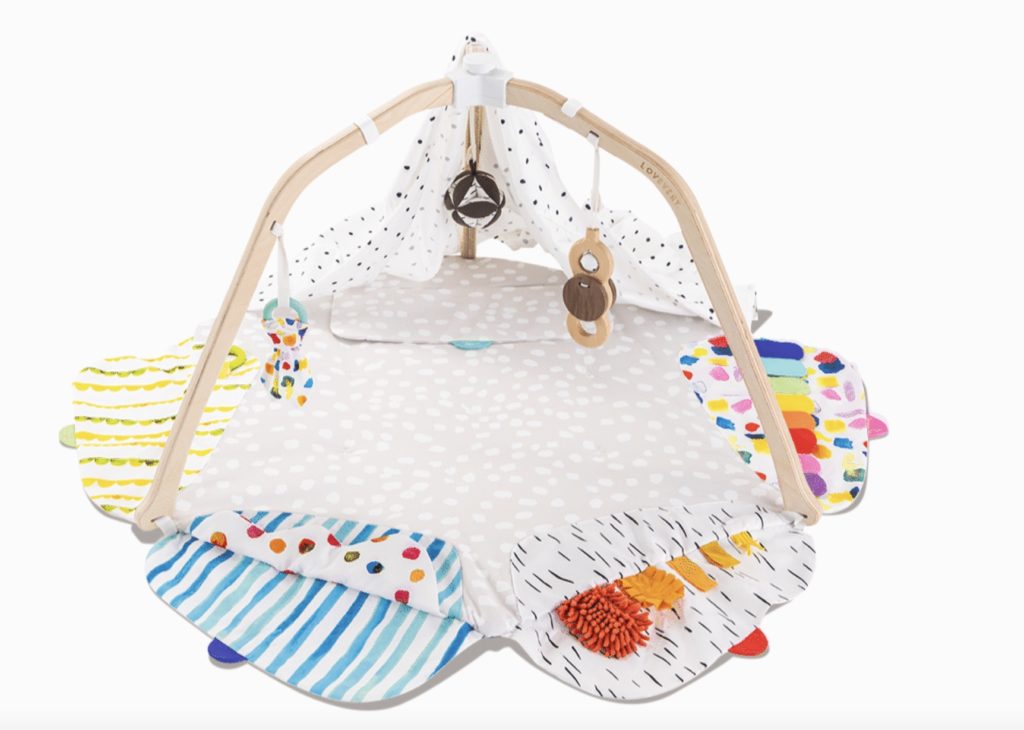 Buy on Lovevery | Target | Amazon
When Can You Start Using the Lovevery Play Gym?
Parents can start using the Lovevery Play Gym in the first weeks of their baby's life. It's recommended for the first year for ages 0+. It's perfect for tummy time, and doctors recommend you begin tummy time as soon as your baby's umbilical cord stump falls off.
Is The Lovevery Play Gym Worth The Cost?
Let's talk about the cost of the Lovevery Play Gym.
This playmat costs around $140, considerably more expensive than other mats on the market. For many people, that price tag takes it right out of the running because it's more than they can afford, but if you can afford the price, here are some of my thoughts.
The quality of this play gym is superb. It will last for years, and as someone who has more than one child, that matters. Most play gyms only last through one child, in my experience, before the tubing breaks.
The resale value of this mat is excellent. I personally love to sell things that my kids aren't using anymore, so I've seen these mats sell for up to $100 used. Most listings are between $60-80, though, and I think that's a fantastic resale value.
You can extend its life. The addition of the tent cover means you can use this mat for a year or longer.
Overall, I think this play gym is worth the cost based on the overall quality and longevity of this product.
Final Thoughts
If you're considering a new play mat for your baby, the Lovevery Play Gym is an excellent option for your baby. Despite the higher price tag, it's a well-designed mat that helps your baby grow and develop, and it will last you for a year or longer for each child. Don't forget that the quality means you can use this for multiple kids!
And if you like the quality of Lovevery's Play Gym, definitely take a look at their Play Kits. The Play Kits is a subscription box that delivers Montessori-inspired toys and play items to your door, based on your baby's age and development. They are fantastic!
Keep Reading: