This article was sponsored by Kabrita USA.
One of the most common questions I get asked is what I think of goat milk formula. And it's a good question—goat milk formula is a wonderful choice to consider if you're trying to choose a formula for your baby or toddler. But I feel like not enough parents know enough about it.
Whether your baby has a cow's milk protein sensitivity, experiences regular digestion issues, or you're just looking for alternate nutrient-dense baby formula, goat milk formula may be a good option for your little one. Goat milk formula has earned a reputation for its quality and nutrient content, and for being a closer, natural alternative to breastmilk.
Kabrita is a wonderful company that I've partnered with before to bring you the best advice on how to reduce your little one's exposure to glyphosate. And now I'm excited to share more about Kabrita's goat milk formula and why moms are raving about it.
Why Kabrita?
Kabrita is a trustworthy brand that has put so much thought into their manufacturing process and into creating a high-quality goat milk formula. The company is well-known for its high standards, commitment to transparency, and focus on community.
Kabrita is also run by moms! I love that they empower like-minded parents to seek out informed choices for baby formula options. And I think their formula is the perfect recipe for a natural, safe, and nutrient-dense choice.
Kabrita Goat Milk Formula Powder is made in The Netherlands with no GMO ingredients. Often, moms turn to Kabrita when their baby or toddler isn't tolerating traditional cow's milk formulas.
My friend Adrienne said that she chose Kabrita for her baby after realizing she needed to supplement. After a couple of days of using Kabrita formula, her baby started gaining more weight and overall was a much happier baby (and a better sleeper!).
After struggling to find a formula that worked for her son, my friend Denise tried Kabrita. Within a few days, her son was crying less and also had less gas than when he was on cow's milk formula. She chose Kabrita over other formula brands because she wanted a baby formula with no GMO ingredients that would also be gentle on her baby's tummy.
One of the mamas in my Facebook group, Ashley, turned to Kabrita when she wasn't producing enough milk and also needed to supplement. She said the thing she loved about Kabrita was that she didn't have to try multiple formulas like her friends did. She chose Kabrita and it worked well from day one because of how gentle it is.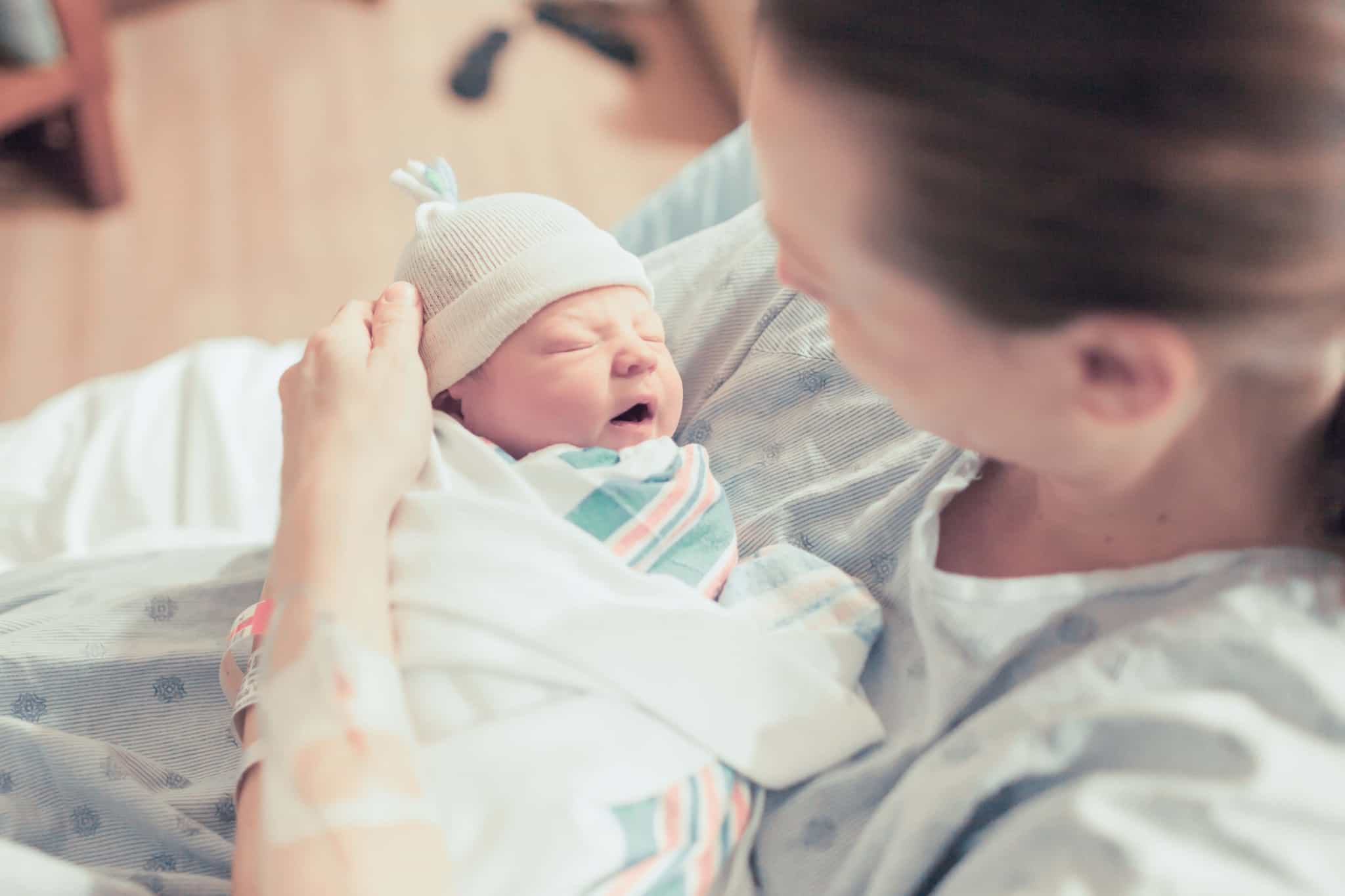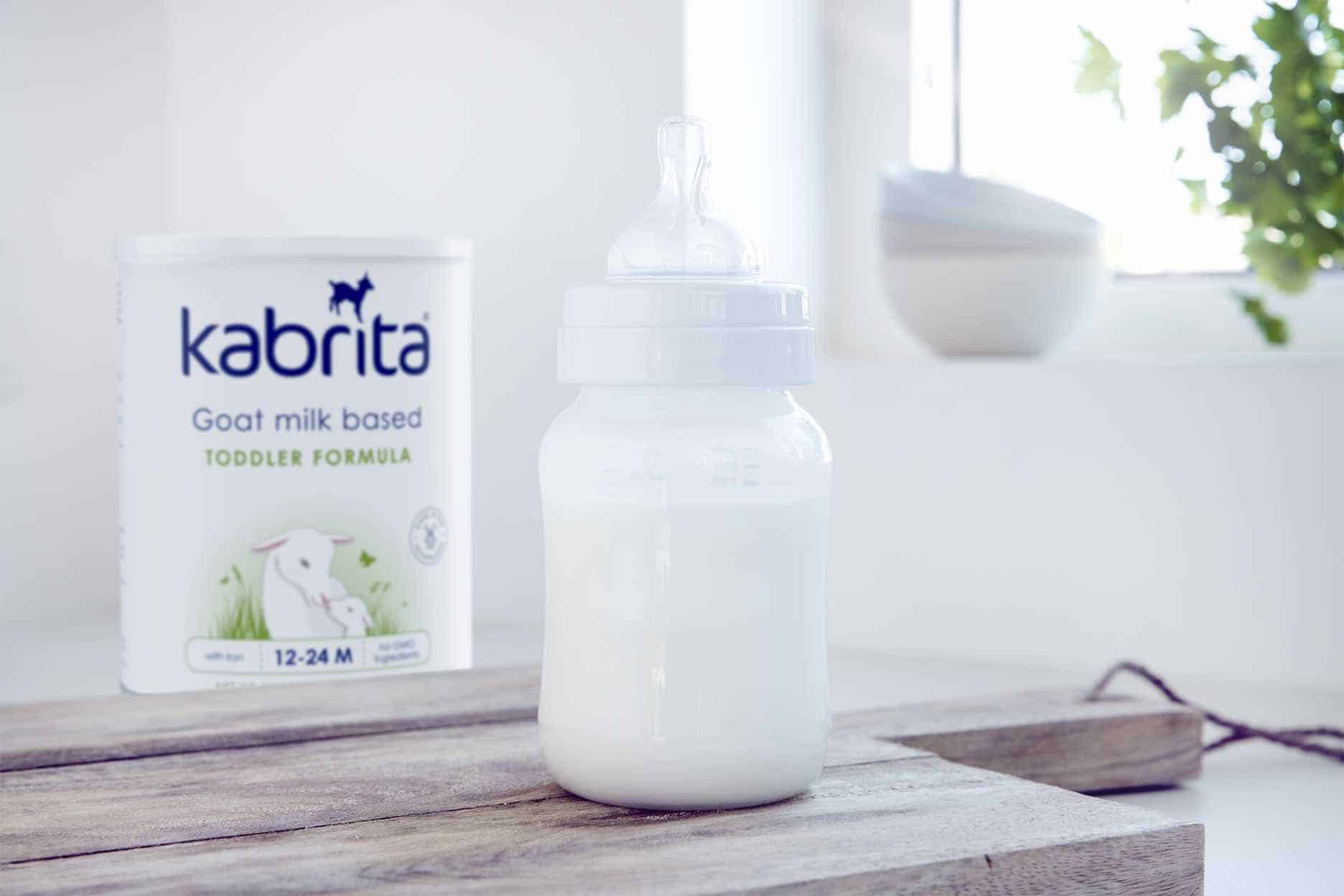 4 Reasons Moms Love Kabrita Goat Milk Formula
Goat milk formulas are designed to provide optimal nutrition to promote growth and meet the needs of a young child's digestive system. Of course, all goat milk formulas, like any other formula, have added vitamins and are fortified with minerals (in addition to few more perks!) Kabrita USA stands out for its formula purity, its nutritional makeup, and a few extras that truly boost its health benefits.
1) Kabrita Goat Milk Formula is Gentle
Goat milk formula stands out in several ways and has certainly gained a good reputation for its health properties and nutritional benefits for babies and toddlers.
Digestibility
One of the more prominent elements that set goat's milk apart from cow's milk is its digestibility. Goat milk is significantly easier for your baby's tummy to break down. When goat milk proteins reach your little one's stomach, they produce smaller, softer, and looser curds. This breakdown is extremely similar to how breast milk proteins operate— they are very easy and quick to dissolve into the intestines. Think: less spit-up and belly aches, and a happier baby.
Fat
Goat's milk has a higher concentration of fats and a higher proportion of short and medium-chain fatty acids. This makeup means your baby's immature digestive system can better absorb more good fats.
Protein Composition
The protein composition in cow's milk and goat's milk is actually very similar. This is why it's not recommended to give goat milk to babies who have a diagnosed milk allergy, but it may be an option for those who have a cow's milk sensitivity. Some of the proteins in goat milk are not present in cow's milk, so the proteins in goat milk formula may be different enough that your little one might tolerate it better than a cow's milk formula.
While goat milk does contain the same total amount of casein as cow milk, the type of casein is actually different. Cow milk has a greater amount of Alpha S1 Casein, which may be more difficult for babies and toddlers to digest.
2) Kabrita's Nutritional Profile is Made for Little Ones
Kabrita Goat milk formula is fortified with 22 vitamins and minerals including vitamin D, iron, choline, and B12. In addition, the formula contains fatty acids, DHA and ARA, to promote a healthy brain and nervous system.
The extra perks in Kabrita's goat milk formula include added prebiotics for digestive support. Goat milk already naturally contains gut-supportive prebiotic oligosaccharides, too. These may function in a similar way to those found in breastmilk by stimulating the growth of beneficial bacteria in the gut and improve gastrointestinal problems.
While nothing can mimic breast milk, Kabrita stays very close to its makeup. Like breast milk, the main carbohydrate is also lactose. As mentioned, Kabrita also uses a complex yet striking balance of casein to whey protein ratios to resemble breast milk and keep digestion easy on your baby's tummy.

3) Kabrita Formula Has No GMO Ingredients and is Certified Glyphosate-Free
Kabrita uses Dutch goat milk, non-GMO according to EU standards, and it is the only formula to be certified as Glyphosate-free, which is a huge benefit!
Glyphosate is a key ingredient in herbicides used all over the place, from residential lawns to agriculture farms. Unfortunately, this herbicide is completely toxic yet it infiltrates our food systems, our air, and subsequently, our bodies.
Believe me, this is not something you want to have in your baby's formula. There are countless possible harmful health effects from exposure. Chronic pesticide exposure can lead to birth defects, reproductive harm, cellular damage, neurological and developmental toxicity, and disruption of the endocrine system. Of course, our children are the most sensitive demographic, which makes it that much more important to make sure that it's not in their food or baby formula.
4) Kabrita is Perfect for Picky Eaters
Kabrita is perfect for toddlers! Toddlers are known for making airplanes out of their noodles and slingshots out of their vegetables. Food often provides hours of entertainment, and quite frequently more of it ends up on the floor than in your little one's belly. This is why it can be super important to supplement their diet with a reliable, nutrient-dense formula that will fill in all the gaps. Adding in a formula like Kabrita's goat milk formula can help ensure that your busy toddler still gets the important nutrients he needs to grow and develop properly.
Kabrita's formula is specially formulated to meet the demands of a little one's growing body and brain. They add in some crucial key nutrients that toddlers are often missing from their diet, especially if they are picky. These include:
Iron
Iron-rich foods aren't always the most popular on your baby or toddler's plate. And if your baby is only on formula, they certainly need iron in it! It's an essential mineral. Iron makes red blood cells that oxygen throughout the entire body. If your little one does not have enough iron, it probably also means he doesn't have enough red blood cells. This condition is known as anemia and can impact proper growth and development.
Pediatricians recommend your baby under 12 months of age have 11 mg of iron daily, and toddlers ages 1-3 should have 7 mg daily. So, if your little one isn't eating much meat or dark leafy greens, supplementing is going to be important. Kabrita Goat Milk Formula contains 3.12 mg of iron in 8 oz of formula.
Calcium
Your toddler needs to start building up calcium stores for strong bones, teeth, as well as nerve and muscle function. And while cow's milk is an excellent source of calcium, you can also find it in fortified goat milk. With every 8 oz of Kabrita goat milk formula, your tot will have 141 mg of calcium.
Vitamin D
Vitamin D, goes hand-in-hand with calcium. The only way your body can properly absorb calcium is by pairing it with vitamin D so that your bones can grow strong. If your little one is vitamin D deficient, it can lead to brittle bones and increased risk for breakage and fracture.
You might also know that vitamin D is essential for proper immune function and neuromuscular development. While spending some time in the sunshine can do a toddler good, it's not always indicative of proper vitamin D levels. The AAP recommends 400 IU of vitamin D. Kabrita contains 93.6 IU for every 8 oz of formula.
DHA and ARA
DHA (docosahexaenoic acid) and ARA (arachidonic acid) are fatty acids commonly found in breast milk, fish, and eggs. Together, DHA and ARA help support the central nervous system and most specifically, the brain and eyes. Studies have shown that DHA also supports a healthy immune system, reducing the incidence of respiratory illnesses in infants in their first year of life.
Since DHA is naturally found in fish and (low amounts) in eggs, you probably won't be surprised to know that the average toddler only receives about 25% of the recommended DHA. Because the brain is rapidly developing during the first two years of your baby/toddler's life, it's crucial that your little one gets these important nutrients.
Kabrita has fortified their goat milk formula with DHA and ARA to maintain a balance that is consistent with breastmilk (23.5mg per cup). Kabrita's DHA source is Crypthecodinium Cohnii oil (also known as algal oil). It's both organic and not GMO (of course!). And they use ARA from Mortierella alpine oil, which has been approved by the FDA for use in formula.
Prebiotics
You may have heard about probiotics, but prebiotics are often overlooked yet play a crucial role in optimal gut health. Prebiotics are non-digestible fibers that probiotics use as fuel to keep healthy bacteria in the gut. Together, they aid the digestive system, immune system, and cardiovascular system.
Some babies and toddlers might actually get some portion of their daily allotment of prebiotics through foods like legumes, avocados, bananas, whole grains, yogurt, or asparagus. But for those babies not on solid foods and for the more preferential toddler, Kabrita has added prebiotics to support your little one's digestive system.
Kabrita uses a specific prebiotic known as galactooligosaccharide, which beneficially stimulates the good bacteria in the colon to help maintain gut health in your tot.
Here are the Kabrita goat milk formula ingredients at a glance.
Another way Kabrita is great for toddlers? Their goat cheese snack puffs are delicious! You can order a sample through Kabrita's free trial (just pay shipping). My kids love them.
We Love Kabrita
I have worked closely with the company for some time now and really appreciate their values and commitment to making top-notch products. Though I breastfed my kids without needing to use baby formula, I would not have hesitated to choose Kabrita for my boys.
I know many mamas who are happy with Kabrita and the fact that it is Glyphosate-free is a huge plus! Not to mention the fact that it's gentle on sensitive tummies.
If you'd like to try Kabrita, you can order a free sample of the formula (only pay $4.99 S&H!) or order a can. The cans come in 14 oz and 28 oz sizes. Use my code GENTLEKABRITA to save 10% on your order!
FAQs About Kabrita Formula
Do you have more questions about Kabrita's formula? Read on!
Is Kabrita formula safe for infants?
You'll notice that Kabrita's formula is called Kabrita Goat Milk Toddler Formula. This is because the formula has not been through the FDA evaluation process that is required for infant formula in the United States. However, it meets FDA nutritional requirements for infant formula. If you're thinking about using Kabrita for your baby, the company recommends that you work with your pediatrician to discuss your baby's nutritional needs and the available feeding options.
Is goat milk formula good for babies?
As mentioned, goat milk formula has a lot of benefits for babies, most notably its easy digestibility. When your baby digests goat milk, the goat milk protein forms a smaller, looser curd, making it easier on your little one's tummy. Goat milk formula may be an option for families looking for an easier-to-digest option or for those babies with cow's milk sensitivity.
Is goat milk formula better than cow's milk formula?
Goat milk formula is a good option for some babies and toddlers due to its digestibility and nutritional content. But of course, cow's milk formula can still be a good choice for babies. As moms, we have to figure out what is right for our children and some babies thrive on cow's milk formula while others may struggle to digest it. It's best to speak to your child's pediatrician to find the best fit for your little one.
What are the symptoms of a cow's milk sensitivity?
If you're unsure if your baby has a cow's milk sensitivity, you can look for some common symptoms. These include increased gas, diarrhea, constipation, eczema, recurrent ear infections and/or reflux. Always talk to your child's pediatrician if you're seeing these symptoms regularly. If you're breastfeeding, you may want to remove all dairy and casein from your diet for at least a month to help it clear your system and your baby's.
What are the symptoms for cow's milk allergies?
Cow's milk allergies will look a lot different than cow's milk sensitivities. An allergic reaction is often more severe and similar to other common allergic reactions including hives, wheezing, vomiting, and blood in stool. Definitely call your pediatrician or 911 if you think your child may be having an allergic reaction.
What kind of milk is most like breastmilk?
No other type of milk can replicate breast milk because it's dynamic and can change its composition based on the baby's needs. However, there are important differences between cow's milk and goat's milk in terms of digestibility. As mentioned, cow's milk has a higher amount of alpha S1 casein proteins; this contributes to a larger, firmer, and denser curd formed in the tummy. With less alpha S1 casein, goat milk protein forms smaller, softer, and looser curd in the tummy that is easier to digest.
How do you prepare Kabrita goat milk formula?
To prepare the goat milk formula, you will need water, formula, and a bottle.
1. Pour warm water into a clean baby bottle or sippy cup. Kabrita suggests that you pour the water before the baby formula powder for accuracy.
2. Add the same number of scoops of powder as you did ounces of water into the baby bottle or sippy cup. For example, 6 oz of water would need 6 scoops of baby formula.
3. Put a tight lid on the bottle or sippy cup and shake it up until the powder is fully dissolved.
Note: For food safety, you should store mixed formula in a sealed container and refrigerate it. You must use the mixed formula within 24 hours. If you have already used part of the bottle, you should discard the rest of it and not save it for later.
How do you order Kabrita goat milk formula?
You can order a free sample of the formula or order a can. Be sure to use my code GENTLEKABRITA for 10% off your order!