My Green Mattress creates high-quality organic mattresses at a fair price. With some of the best certifications in the industry, My Green Mattress practically checks all boxes for when you're shopping for an organic mattress for yourself or your kids.
My Green Mattress (MGM) is a family-owned mattress company that owns their own GOTS-certified factory in Illinois. Since 2007, MGM has been making organic crib and adult mattresses and this brand is one of the most popular mattress brands among my readers.
As the happy owner of two mattresses from My Green Mattress, and an affiliate of the company for over four years, I feel especially qualified to write this detailed My Green Mattress review.
Given the company's commitment to making quality organic mattresses on a budget, and my great experience working with them, they've made it to my list of the top 10 organic mattress companies and best organic crib mattresses for babies.
And I can confidently say that very rarely does a company come along that makes quality products at an affordable price, and MGM is definitely one of those rare and special companies. If you're shopping for a new mattress, My Green Mattress offers exceptional value and quality and should definitely be on your list of organic mattress companies to consider.
Natural Escape Mattress
Our Top Pick! The most luxurious and comfortable of MGM's mattresses, the Natural Escape is made with breathable cotton, latex, and wool. It has just the right level of firmness and is truly one of the best organic mattresses you can buy.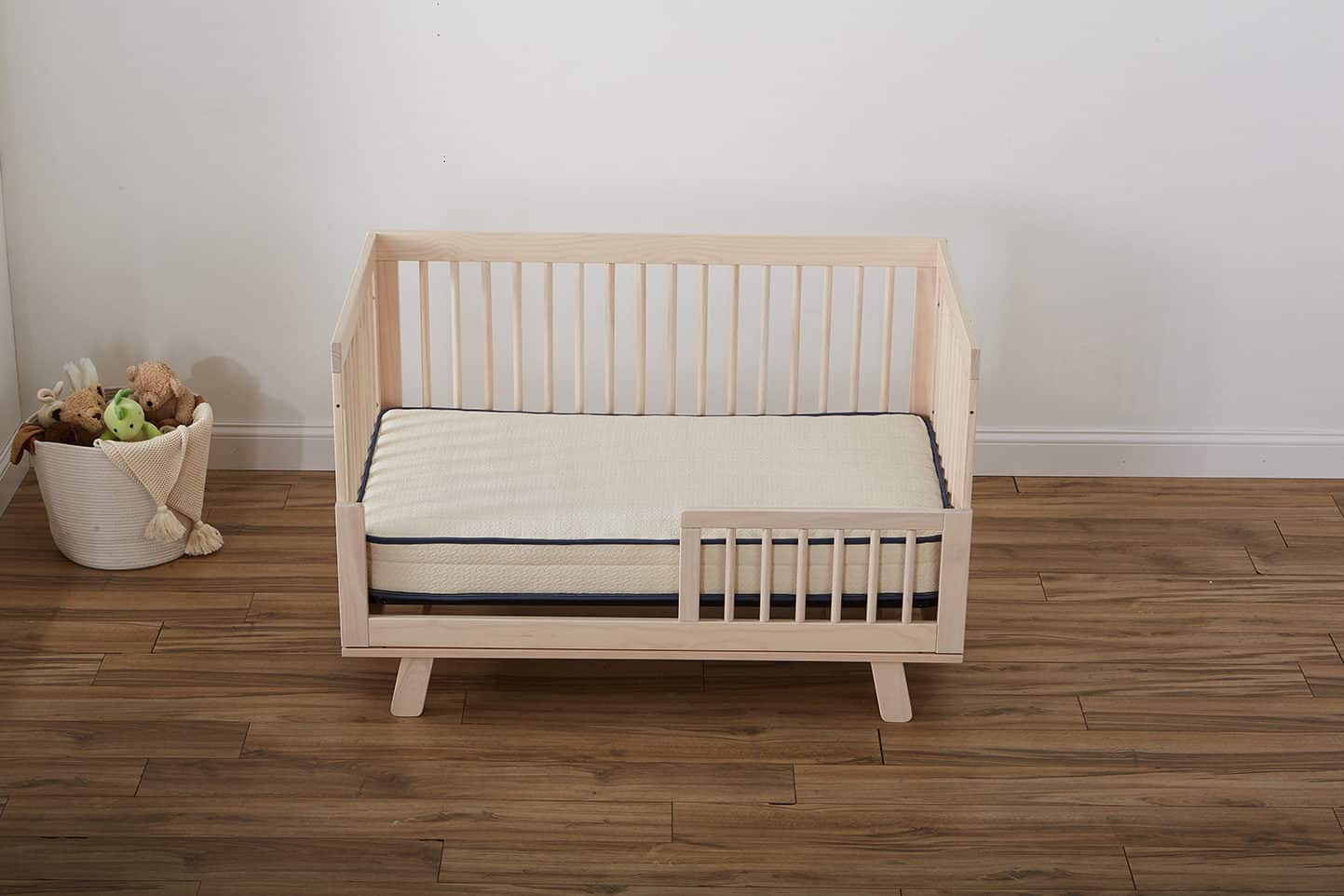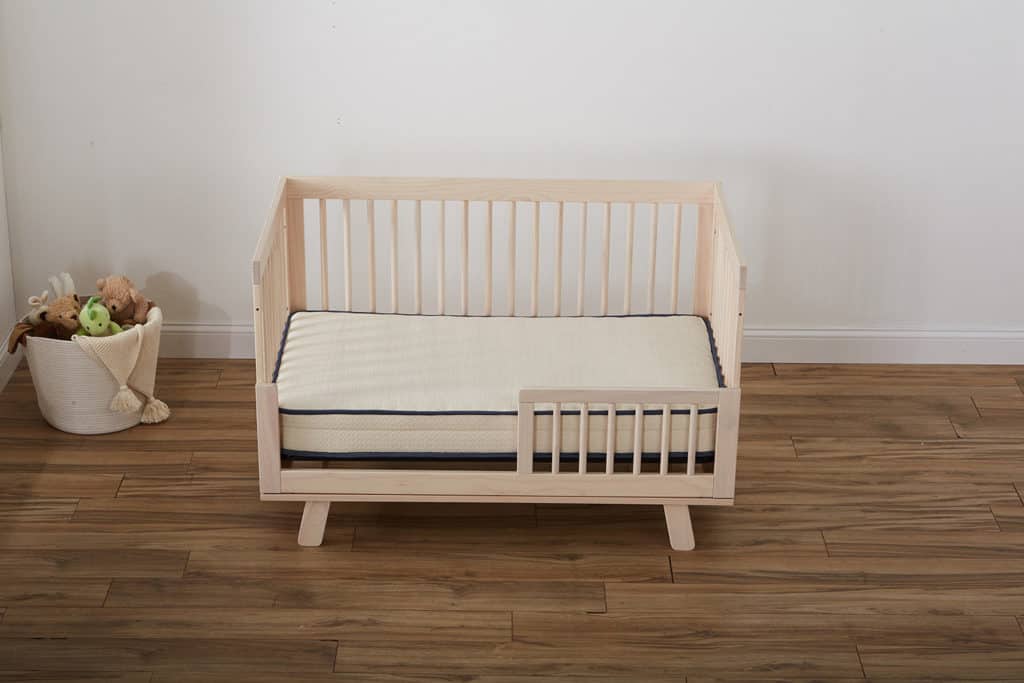 Emily Organic Crib Mattress
The Emily Crib Mattress by MGM is our pick for the best organic crib mattress. The Emily is GOTS and GOLS certified organic and made in the USA.
Certified organic and non-toxic
No flame retardants or PVC
Firm and safe mattress
Why I Personally Chose My Green Mattress
When buying organic mattresses for myself and my kids, I chose My Green Mattress for a few key reasons:
The materials are organic and high-quality. I also love that the mattress is GOTS-certified and GREENGUARD gold certified.
The pricing. My Green Mattress sells their mattresses at an affordable price. I definitely wasn't looking to spend $3K or more on a non-toxic mattress.
The 100-night guarantee eased my concerns with ordering a mattress over the internet without trying it out in person. And it has a 20-year warranty.
I have a great relationship with the company and they have earned my trust.
Given the company's generous return policy and how much I wanted one of their mattresses I decided to go for it. And after having my Natural Escape mattress for several years now, I am still thrilled with my purchase. It is very firm and comfortable at the same time. And it feels good knowing we are sleeping on safe materials. Even my husband said it's a great mattress and you know that a skeptical hubby's endorsement means a lot!
So now I recommend their crib and adult-size mattresses with even more confidence. My Green Mattress is a great company and they make quality products.
My Green Mattress: 5 Mattresses to Choose From
My Green Mattress offers five wonderful mattress for you to choose from. My personal favorite (and the one I sleep on) is the Natural Escape! I truly can't recommend this mattress enough. But read on to learn more about each of their mattresses and decide which is the best for you.
My Green Mattress's top of the line mattress, the Natural Escape is a luxurious but firm mattress. This is the mattress I sleep on, and co-sleep on, and I love how firm it is. And I'm not even someone who likes firm mattresses! But once I switched over from a soft, toxic mattress to my Natural Escape, I noticed how much better I felt in the mornings. Most of my backaches and neck pain disappeared once I started sleeping on a firmer mattress. So I'm definitely a firm-mattress fan now 🙂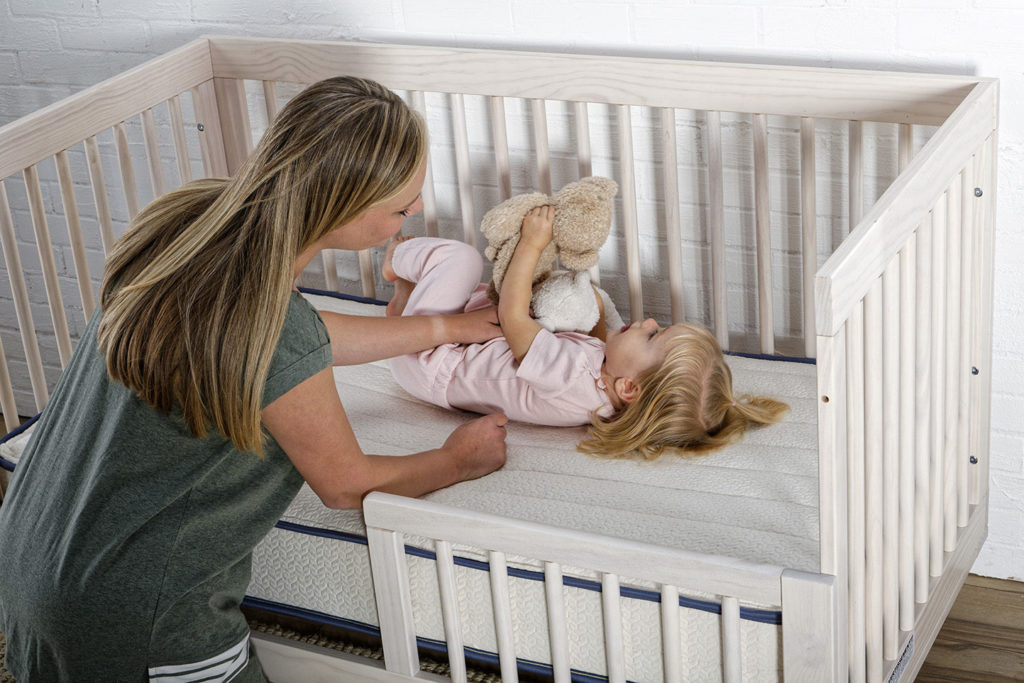 One of my reader favorites, the Emily Organic Crib Mattress is an excellent organic mattress at an affordable price. The Emily is made with the finest organic materials, including GOTS-certified cotton, coconut coir bound together with GOLS-certified latex, and natural wool. It features 150 heavy gauge innerspring coils and is double sided. For more info, you can also read my detailed Emily Crib Mattress review.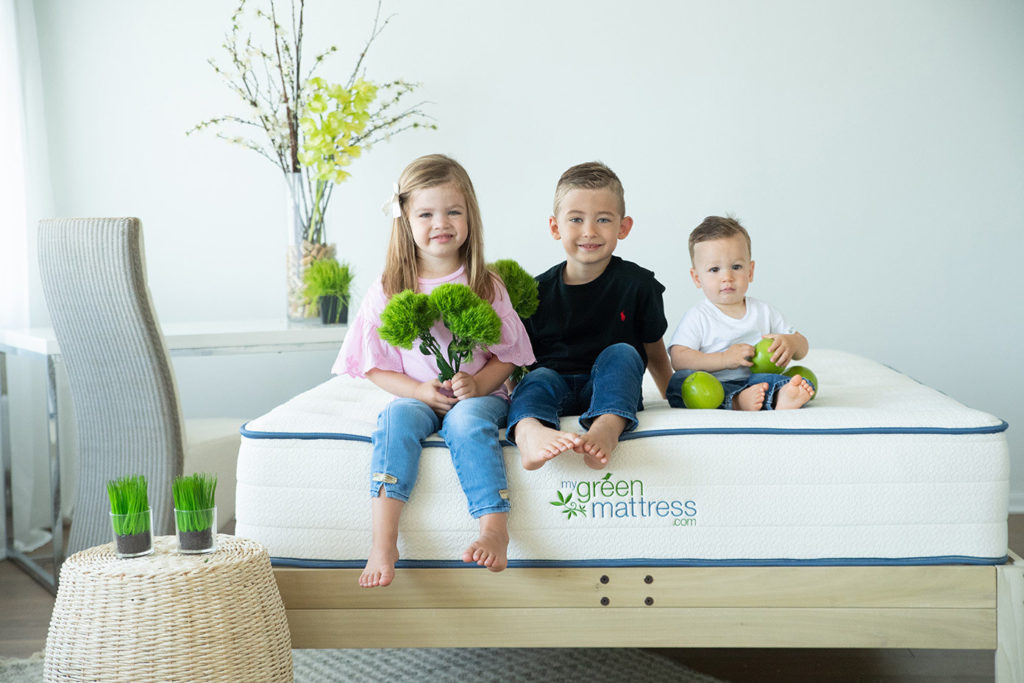 The newest addition to the My Green Mattress family, the Kiwi Green Mattress is the most popular choice for children's beds. Similar to the Pure Echo (and about the same price) but made with less cotton, the Kiwi Green mattress has added layers of pure GOLS-certified latex and delivers a more comfortable night's sleep.
This bed is perfect for a big kid bed or a guest room – or even a shopper who's on a budget. We have one of these in the kids' room and it is so plush and comfortable! I would say it is firm without feeling hard and it's priced really well, especially for an organic child's mattress.
4. Pure Echo Mattress — a latex-free innerspring mattress
The Pure Echo is MGM's budget innerspring mattress that's also great for kids rooms, guest rooms, or shoppers on a tight budget. It is an innerspring mattress made with an GOTS-certified organic cotton cover, natural wool, and organic cotton batting. If you're stuck deciding between the Pure Echo and the Kiwi mattress, I would lean toward the Kiwi because it is going to be more comfortable than the Pure Echo. However the main difference is the use of latex, so if you need to avoid latex for any reason, the Pure Echo would be a good choice for you.
If you are looking for an all-latex mattress, the Hope Latex Mattress is a great choice for you! Get this mattress if you are looking for a plusher bed without polyurethane foam or those questionable "gels" commonly found in memory foam mattresses.
Choosing the Right MGM Mattress For You
Here are all the My Green Mattress options at a glance to help you choose the best organic mattress for you.
| | | | | |
| --- | --- | --- | --- | --- |
| Mattress | Materials | Firmness Rating | Price Point | Best For |
| Natural Escape Mattress | Innerspring mattress made with organic cotton, organic latex, and organic wool. | Medium-Firm | From $999 | Adults and children wanting a premium, luxurious night's sleep. |
| Kiwi Green Mattress | Innerspring mattress made with organic cotton, organic latex, and organic wool. | Firm | From $699 | Big kid bedrooms or buyers on a budget. |
| Pure Echo Mattress | Innerspring mattress made with organic cotton and organic wool. | Firm | From $789 | Buyers on a budget or anyone wanting a latex-free mattress. |
| Hope Latex Mattress | 100% GOLS-certified Dunlop latex | Medium-Firm | From $999 | Anyone wanting to avoid coils or looking for an all-latex mattress. |
| Emily Crib Mattress | Organic wool, organic cotton, coconut coir, and organic latex | Firm | $259 | Babies and young toddlers. |
MGM Mattress Dimensions
MGM also sells latex mattress toppers, waterproof mattress covers (which we have and love – they are so soft!), and organic cotton sheets.
And when you're trying to choose the right size mattress, here are the mattress dimensions of all My Green Mattress beds.
| | |
| --- | --- |
| Twin | 38″ X 74″ |
| Twin X-Long | 38″ X 79″ |
| Full | 53″ X 74″ |
| Full X-Long | 53″ X 79″ |
| Queen | 59″ X 79″ |
| King | 75″ X 79″ |
| California King | 71″ X 83″ |
| Emily Crib Mattress | 27.25″ X 52″ |
4 Great Reasons to Choose My Green Mattress
In addition to the great mattresses you can choose from, you'll love the company behind the mattresses and their commitment to great quality and wonderful customer service.
1. My Green Mattress Uses Only the Best Materials
My Green Mattress makes organic mattresses on a budget, and since they sell direct to consumer, they pass the saving on to their customers. Their mattresses are made with such fine materials as:
GOTS certified organic cotton
Organic cotton
GOLS certified Dunlop latex
Eco wool
All My Green Mattress products are handmade in the United States at the company's factory in La Grange Highlands, Illinois.
2. They Offer a Generous 120-Night Sleep Trial Guarantee
When it comes to buying a mattress online, I understand that it can be a little intimidating. You don't know exactly what to expect because you haven't touched the mattress or laid on it in a store.
Feeling apprehensive about making such a big purchase sight unseen is totally normal. I felt that way too!
But what gave me comfort was My Green Mattress's 120-Night Trial period. They allow you to return or exchange your mattress within the 100-night period – so long as you've given the mattress a chance for 30 days. So after you've slept on the mattress for 30 days, you're free to return or exchange the mattress within the trial period.
There are some limitations to this trial, so be sure to read the most up-to-date policy on their website. Some mattress companies will only give you a store credit, so this policy is fair and generous to the customer, in my opinion.
3. The Pricing Can't Be Beat — And They Offer a Flexible Payment Plan
The benefit of buying a new bed can definitely make for better quality sleep, but why spend more when there's a more eco-friendly and affordable option? An organic mattress will cost you about the same as a traditional one. The only difference is that an organic bed needs to be replaced between every 12 and 20 years, rather than every eight or so like conventional mattresses.
So in addition to being a great investment, an organic mattress from My Green Mattress is an affordable purchase for your home. Buying a non-toxic mattress can be a big investment for anyone, so I like that My Green Mattress also offers a payment plan option through Affirm. If you'd like to pay for your mattress and other accessories on a payment plan, you can select this option at checkout.
4. My Green Mattress Delivers to Your Door
Your mattress will be delivered straight to your doorstep, usually within two weeks of your order. It is compressed and rolled up and you can simply open the package and your bed will expand to its full size.
While this will provide you a big cost savings on delivery, I personally would have appreciated the option of paying a little extra for white glove service. For us, this was especially challenging because we live in a two-story home and ordered a California King mattress.
It was also hard because we didn't think to bring the box upstairs to the master bedroom before opening it. So it was hard to transfer the 140-pound mattress upstairs.
Lesson learned: be sure to bring the box to the bedroom before opening it.
Airing Out the Mattress
Some MGM mattress models may contain more cotton and wool than others, so you may notice an "earthy" smell. Some people do and some people don't. Some mattresses have it and some don't.
The Kiwi mattress was actually designed to contain less cotton and wool for this reason. So you can rest assured when buying the Kiwi mattress.
When we received our Natural Escape mattress, my husband opened it and immediately noticed the odor.
So we let the mattress air out for a few days and thankfully, the odor did go away. (During this time I assure you that my husband thought I was crazy and told me that we had to return the mattress. But the odor went away – 100%!)
It just needed to be aired out for a few days.
And now, over one year later, I can attest to the fact that my Natural Escape mattress still has absolutely no odor.
It's just a short-term issue, and truly one that I don't worry about too much. I would rather smell wool and cotton for a few days than breathe in flame retardant chemicals while I sleep.
About My Green Mattress
My Green Mattress is owned by Tim Masters, who is truly devoted to making the best mattresses possible. He grew up working as an apprentice the Quality Sleep Shop in La Grange Highlands, Illinois and eventually went on to buy the entire company. He launched My Green Mattress as an extension of the brand.
Tim is a mattress guy, through and through and it is obvious when you speak to him just how devoted he is to making the best mattresses he can. He confessed to me that he loves to take apart mattresses and tinker with them so that he can build the best mattresses for his customers – and I believe that you can tell when you sleep on one of their mattresses!
After his daughter, Emily, suffered from allergies and eczema, he and his wife, Cindy, learned firsthand the importance of avoiding harsh chemicals. (I can attest to that!) So, the Emily Organic Crib Mattress was born.
The company also offers an expansive line of adult and children's mattress.