Do you ever feel as if the days run together with chores and responsibilities? And feeding everyone — 3 times a day. Plus ALL the snacks, omg.
Then you find yourself so frustrated, yelling at the kids, and feeling like you never get a second to think or rest? And suddenly you realize you aren't a fun and happy mom anymore? You're "that" mom. The overwhelmed mom.
No one envisions motherhood as an unhappy experience, full of crying (from everyone), screaming (from everyone), and a never-ending task list that looms over your head. Even if that's your reality right now, that doesn't mean you can't figure out how to be the fun and happy mom just like you always wanted.
I can tell you from experience that I have found myself in a motherhood rut many times. It's not a good place to be, and there is so much guilt on your shoulders when you feel like you aren't enjoying your kids as much as you could/should be.
It's like, you know that years will fly by, but each day seems to drag and repeat itself the next day. Everyone tells you that you'll look back on these days and miss things, but you wonder how in the world you could miss feeling so overwhelmed and drained.
Welcome to the motherhood rut. I've been here. And there's a way out.
Most Moms are Overwhelmed to Some Degree
Everyone has a crazy task list, and every mom will tell you that her kids cry and scream and whine and ask for nacks 342 times a day. No matter where you are in your parenthood journey, you can rest assured that some other mom is walking the same trail as you.
You aren't alone.
But I think that you also want more — for yourself, your kids, and your family as a whole. You want better.
You don't want to look back on these days and realize that you were in survival mode the entire freaking time. It's one thing to be in survival mode after a big life change (moving, having a baby, etc.) But you and your children deserve for you to thrive, to not "just" be trying to survive.
I've been in your shoes and I knew that I had to make some changes in my life and parenting when my oldest son called me "the yelliest mom".
So, let me share with you what I did to stop being a hot mess and to once again regain my sense of self and balance as a mom. It's been a journey of a few years that has ebbed and flowed, but I finally feel like I can share some tips that actually work.
Let's Explore Why You're Overwhelmed
The first step to feeling less overwhelmed as a mom is understanding the overwhelm. There are three main reasons people feel overwhelmed:
Too many choices or tasks, and not enough time in the day;
Feeling too much responsibility because of trying to please everyone else but themselves; and
Feeling like they are not in control.
And basically, motherhood feels like all three, 24/7 at times. But it doesn't have to.
Let's simplify and add structure and boundaries so that you don't have to feel so overwhelmed. Motherhood can actually be simple and enjoyable.
How to Stop Being An Overwhelmed Mom
You can be the mom that you want to be. We just need to simplify some things and breathe energy back into your day.
Most importantly, I want you to remember that even the happiest moms on the block have unhappy moments. You might have an off day or be close to losing your temper; those things are normal.
But what you need are some changes to get back on track. I'm going to share with you some of the most essential tips that I learned when I knew I wanted to become a happy mom again. This works – I'm serious!
As a side note before we get started: it's also important to do a gut-check on whether you are possibly dealing with postpartum depression or anxiety. That's not the same as what we're focusing on in this article, though some of these tips may also be useful to you if you are.
1. Make a list of what's not working.
Here's an exercise that should take no more than 10 minutes.
Take out a blank piece of paper and draw a line down the middle. On the left column, write down all the things that are weighing on you.
All the things that feel like problems or stressors. The issues and relationships that feel stressful to you right now. Keep writing until you're finished.
Then, take stock of what you've written and try to find a hidden theme. Are most of your issues related to one or two things? Are most of your issues related to one area of your home? Or a particular activity? Find a pattern if you can and try to dig to the root of the issue.
On the right column, brainstorm any possible solutions or things you can try to address the problems you've identified. And this is a fantastic place to start.
Sometimes just the simple act of identifying a problem can help you to find an easy solution. For example, you might realize that you're always having to replace or refill your child's cup of water. Well, if they're old enough, you could put the cups within their reach or provide a step-stool that allows them to fill their own cup.
Or another issue you might have identified could be with the laundry. You're always overwhelmed with laundry and it seems endless. OK, you'll probably benefit from having a better system around doing laundry, and maybe decluttering some clothing. Or hiring someone to do your laundry and clean your home 1x per week. Find the solution that's right for your family.
We just want to identify issues and brainstorm possible solutions. Then, when you can, take swift action and get to work on these! You'll be surprised at how far this one step takes you.
2. Reset your expectations.
As moms, we sometimes put too much pressure on ourselves and our kids. We feel like we need to be perfect, doing ALL the things, but that's totally unreasonable.
It might seem like someone else has the perfect kids or the best-behaved kids, but they don't show us their shortcomings. No one is perfect, even if they like to pretend that they are. It's easy to browse everyone's highlight reel on social media but there's so much more happening behind the scenes that you'll never know about.
So, take a hard and honest look at your responsibilities right now. And maybe don't feel pressure to make the perfect dinner totally from scratch each night. (Hint: Trader Joe's now has organic ravioli and they cook in like 5 minutes!)
We all deserve a pass, and some night's it's okay to toss something into the Instant Pot that might no be your usual choice. It's even okay to order some pizza if you need a break.
You don't need to have an HGTV-inspired house. Speaking of the house, it doesn't have to look like a showroom every minute of the day. You have young children so that's really unlikely.
Your mental health matters so much more than striving for "perfection"!
For me, this means I don't decorate my porch for every holiday. And I don't have my digital photos organized (yet). And I only have 1/2 of my house looking tidy at a time. (For some reason, it's either the upstairs or the downstairs… and they are never tidy at the same time. It's like whack-a-mole!) And some days, I don't get out of my "workout" clothes at all. And I'm ok with it all.
3. Say yes only when you really want to.
Do you ever realize that we put so much on our plate, and we pass on that rushed or stressed feeling to our kids?
Are you possibly doing too much right now? Overextending yourself because you want to help others? It's good to say no! In fact, one of the best ways to honor yourself and your needs is by saying no more.
My favorite way of framing this is that anytime you say YES to something you don't really want to do, you're saying NO to yourself.
So when someone invites you somewhere or asks you to participate in something, take a moment and think about whether it is good for you. And, I would go so far as to say that you should really be asking yourself "why should I do this?" and trying to convince yourself that making a commitment is the right thing for you right now.
Another bake sale at the school?
Do you *really* need to be team mom again or can you be someone's right hand woman instead?
Do you even want to go to that girls' night where everyone just ends up bashing their husbands?
Do you need to take on every single project that comes up at work?
Does this opportunity align with your goals?
Are these even people you want to be spending time with?
Find good reasons to say YES before you jump in and commit. And if it helps, you can always respond with "Thank you for the invitation! I'll check our calendar and get back to you." Or, "That sounds lovely! Let me check with the sitter/my husband/etc." And then politely decline or accept, depending on what you choose.
Evaluate your priorities and what matters the most. It's helpful to write them down on a piece of paper, starting with the most important. Then, work your way down. If something towards the middle is stressing your family out, it's a good idea to take a step back.
Before you commit to anything, make sure you look at your calendar. I highly recommend that you keep it updated all of the time. That way, if someone asks if you can do something next Wednesday, you know if you can or not.
I use my iPhone calendar to keep track of appointments and I use a project management tool to manage all of my projects, business tasks, and goals. I also use a hardcover journal for keeping track of my thoughts and ideas.
4. Keep your kids' activity schedules simple.
Piggybacking off of #3, let's take this one step further. One of the best things I did for myself was cut down my commitments to keep a simpler schedule. Then, once I had done that I was able to create block schedules for myself and the kids. Game changer!
Keeping a simple schedule is the best route, but it can feel hard when you have multiple kids. When you have more than one child who wants to participate in activities and sports, finding the right balance is tricky.
It's a good idea to set boundaries. For example, maybe your children don't both need to be in two different activities at the same time. Many parents subscribe to the idea of having one sport or activity per season per child unless two kids are in the same thing together at the same time.
If you have babies and toddlers, this can look like only going to Gymboree or music class 1-2 times per week instead of having an event and play date set up for every day of the week.
Rushing your kids from place to place isn't always what's best for everyone, even from such a young age. Kids need to have time at home so they can play outside and have dinner as a family instead of balancing too many activities. Evidence shows us that having family dinners has many benefits, such as preventing excessive weight gain, improving social-emotional health, and helping kids deal with bullying.
5. Step back and regain perspective.
Sometimes we get so wrapped up in our own schedules and to do's that we don't even realize what matters anymore. I know that sometimes when I've been stressed to show up somewhere on time, I've gotten so unreasonably stressed out. And it's so silly!
So, when you're in a situation that makes you feel stressed with your kids, try to regain perspective by asking yourself, "what's the worst that will happen if _________?"
What's the worst that happens if you're 5 minutes late to church service? You might get side eye from a couple people. You're still welcome anyway.
And if you're ten minutes late to dinner at your in laws' house? Will everyone survive?
Does anyone else care if you don't go grocery shopping today? What can you make for breakfast tomorrow to hold you over? Or can you spring for grocery delivery and just save yourself the 90 minute trip?
So, try to reserve your feelings of rushing or stress for the times when it really matters. And usually, it doesn't. I'm not saying you shouldn't be punctual; that's a virtue of course. But it's usually not worth stressing over, especially when you have kids.
Give yourself grace with this.
6. Get time to yourself.
You need alone time to feed your soul. You can't pour into your kids' glasses each day if your glass is empty.
What works best for me is waking up early, well before the boys wake up. If I'm up around 5am a couple of days a week, I have a couple of guaranteed hours to myself before anyone else wakes up. And this is when I am the most productive. You don't have to wake up this early though!
I like to start my morning with some reflection and affirmations, and sometimes a prayer. Then I usually make myself a cup of organic coffee or my favorite coffee replacement drink. And I'll usually just start working (it's my most productive time of the day). If I am not working, I'll journal and work on my goals or do some personal planning.
I also like going to the gym and using the gym's kids club for a 30-45 minute workout. It's so refreshing!
Some other ways to get alone time include:
Keep your little ones busy. Find an activity that your little ones can safely do without supervision in a safe or nearby space while you drink a cup of tea/work/meditate/etc. Some ideas include a sensory bin or building blocks.
Use screen time strategically. I've always timed out my kids' screen time to when I need to work or get something done for myself.
Hire a babysitter you can trust. When you can run errands, shop at Target, go out with a friend, or just get a coffee by yourself, you'll feel a sense of renewal after being away from your littles. Every. Single. Time.
Find pleasure in little luxuries. Ok, maybe you have a newborn or aren't able to get away as much as you'd like. Find little ways to treat yourself and practice more self-care. Another example is a mani-pedi or a short 15 minute chair massage at the mall. Little treats are nice too; you don't have to be gone from home for hours at a time to enjoy alone time.
Getting time to yourself is crucial for your overall happiness and wellbeing. Even if you just start with a short window of time!
7. Spend regular time with your hubby.
Next, it's so vital that you spend time with your partner. Don't feel bad about spending your children to bed earlier than your friends might. Studies show that kids do better with early bedtimes anyway. So make it a habit to spend time regularly with your partner!
8. Go outside often.
Getting outside feels so good. Take a walk, go to a park with your kids, sit outside and read a book while the kids play, or get a coffee. Breathing in fresh air feels so good, and it can boost your morale.
At the end of a particularly busy day, one of my favorite things is to go outside barefoot and stand on the concrete or walk through the grass in our backyard. This is called grounding and it's wonderful because it helps you release any pent up stress and rebalance.
And having playdates with other moms is a great way to get outside. Call a friend and see if they want to meet you and your kids at a park or a trail. It's always nice to have a change of scenery.
Don't forget that regular exercise is good for your mood. Research proves that exercise can improve your mood, in particular, those with mild to moderate depression. So, don't just sit on the sidelines. Get out there and play with your kids or take a walk by yourself.
9. Assign chores and responsibilities.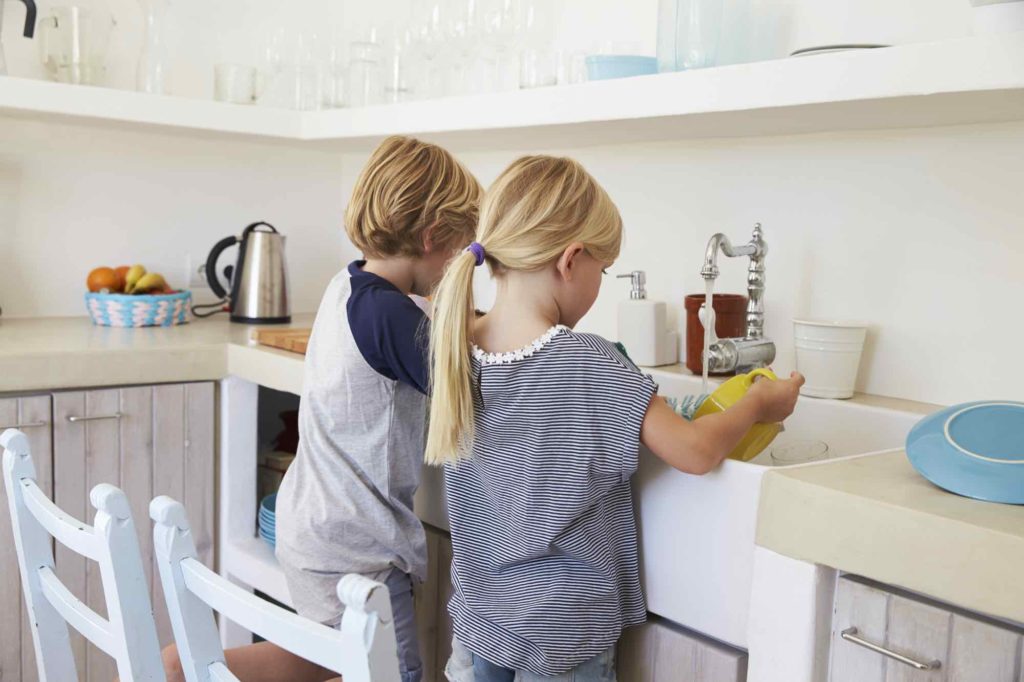 I have a simple rule – if you live in the house, you contribute. That seems simple enough, right? We start with simple tasks when our kids are two-years-old. They can pick up their toys or pick up the dirty clothes on the floor. As they get older, their chores expand.
Something that I've learned is to give your kids the benefit of the doubt and let them try new tasks. Your older kids might be more capable of cooking than you realize, especially with direction and monitoring. Plus, cooking is a skill that everyone should have.
If you're like me, having a messy house causes anxiety. A bit of a mess — like toys on the floor — is okay, but I don't want a house that is full of messes everywhere.
What I've found to work best with my kids is to give them set responsibilities in different parts of the house. For example, one of my boys is responsible for opening and closing the shutters every day. It's predictable and he does it without asking now.
10. Outsource what you need to.
Speaking of chores, have you considered outsourcing some of yours?
I don't think it's reasonable to expect one person (you) to be able to do anything and everything skillfully. If you find that you are spending a disproportionate amount of time doing one or two tasks, it might be worth outsourcing them.
For example, I am the world's worst house cleaner. I mean, I can wipe down the counters and whatnot but my brain is too ADHD to be able to actually clean the toilets, showers, and floors on a regular basis. So I don't even bother to try. We have a housekeeping service clean the house 1-2 times per month and it's wonderful for me because I don't have to stress about something that I'm just not good at.
Do you need someone to help pick up your kids from school in the afternoon? Or maybe a mommy's helper to come to your home a couple of times a week?
Are you spending every weekend working on a DIY project that may not be the best use of your time or money?
Could you have someone deliver your groceries for you every now and then?
Is there anything you could outsource to an expert right now? How much time and energy would that save you?
11. Give yourself permission to have a hobby, outlet, or side gig.
When you talk to really happy moms, you might notice that they have interests and activities outside of being a mom. That doesn't mean they all are going places all the time and leave their kids with babysitters every day. No.
Instead, it might be your friend who is a superb gardener and spends time each week gardening. You might get some fresh flowers or veggies as well – score!
Your other friend might be invested in a volunteer program for young moms, bringing dinners once a week. Another fiend might love crafting, and she has the talent to sell what she makes as extra income.
Another mama you met has a side hustle and makes an extra few hundred dollars a month selling products she uses and loves. And this mama here (I mean me!) started this blog as an outlet and it has been going and going for 5+ years.
What all of these women have in common is that they understand they aren't just isolating themselves in the role of "mom". While being a mother might be the most important job you have in your life (I know it is for me, and I've held many important job titles), it's not the only part of you.
You are an individual underneath of it all. You are a person who has individual likes and interests, hopes, and dreams. Maybe before having children, you were climbing the corporate ladder. Or you were an artist. Or you owned a small business.
Don't ignore the need to have something else in your life. It's perfectly fine (eh, I should say "wonderful") for you to pursue interests that have nothing to do with your kids. That might be reading, watching shows you love, listening to podcasts, crocheting, painting, or running. Or starting a side gig. Or a book club.
Find something that makes your heart happy, even if it's just a Netflix show that you binge while washing dishes and when the kids go to sleep for the next week. Or if you want to start a side hustle, why not sell clean-crafted wine or non-toxic makeup?
12. Spend quality time with your kids.
We're all busy, but taking time out with your kids is crucial. Make sure that you tell them each day that you love them. Tell them how proud you are of them. Words matter.
But it's also important to connect each day and spend quality time with your kids. It can be hard to put down the task that you're trying to complete (story of my life!). You want it done, but it's important to remember, at times, that your kids can't wait because they're growing up.
Ok, I'm not saying this to guilt you or talk you into avoiding housework. Instead, be intentional with your time, and try to find pockets of time to spend with each of your kids. That can be as simple as making sure to read each child a story at bedtime or play a board game with your daughter.
Instead of listening to the radio in the car every day, talk to your kids. My kids like to make up silly stories on car rides. I start by saying the opening sentence for the story, and then we take turns adding something to it. It's a great way to have some fun while heading to the store.
Plan movie nights for your family and game nights. It might sound silly, or your kids might say it's cheesy. However, they'll eventually become used to Tuesday board game nights or Thursday pizza and movie nights. You might find that they even remind you or hold you accountable.
13. Pay attention to your own nutrition and wellbeing.
In addition to some of the important self-care that we've covered, it's also important to pay attention to your physical wellbeing and nutrition. Sometimes you can feel like an overwhelmed mom simply because you aren't getting your nutritional needs met.
In fact, it's really easy for this to happen after pregnancy because of all the changes your body goes through to nurture and birth a baby. And then the adjustment period afterwards can take its own toll.
Make sure you aren't physically depleted.
Nourish your body with good, clean foods.
Eat enough calories every day, especially if you are breastfeeding.
Exercise, even if it means working out at home with your baby.
Take clean supplements made for motherhood. Biomeology's Grass-Fed Prenatal Collagen is a wonderful supplement that helps you get more of your needed protein intake during and after pregnancy. This is easy enough to add into your morning coffee, into your oatmeal or soups, into bone broths, or even into your daily smoothie.
For general nutrition support, you should keep taking your prenatal vitamins throughout your childbearing years. And for your gut health and general wellbeing, taking a daily probiotic made for motherhood is also a great idea. Keep up with your fish oil as well!
14. Focus on the positive.
We all know that we get more of what we focus on seeing in life. If you only focus on the negatives, that's all you'll see in your life. If you focus on the positives, that's what you'll see in your life. Don't focus on what was the worst part of your day; think about what is the best part of your day.
You can encourage this in your children, too. Ask them what the best part of their day was, and make sure it becomes a habit. Start a notebook where everyone lists the best part of their day in it. You can keep a gratitude journal where you make a list of three things every day that made you smile. (I like to do this in the notes app on my phone!)
This is an example of training your brain. You're training your brain to pay more attention to the happy things in life. Everyone has bad things that happen or moments in their life that make them frustrated.
Instead, keep things in perspective. You're alive and happy, and you have a family. Sometimes, you have to stop and look at the big picture.
You've Got This, Mama!
I want you to be happy with yourself and where you are. To enjoy motherhood and to even feel like you're rocking it.
Things might go wrong from day to day, but you deserve to have peace and happiness in your soul. That conveys over to your kids. You might get upset with them at times, but you continually try to do better. You try not to spread your stress and frustrations to your kids.
Do you feel like you're more in control of your situation? Take it one step at a time.
Keep Reading: