As a mom, I know all too well the feeling of being drained and trying to do it all.
You're up every couple of hours to feed your baby and then by the time you fall back asleep, it feels like they wake up again. And your baby's daytime naps seem like they're getting shorter and shorter.
It's normal to want to be everything for your baby and to do it all, like taking all the milestone pictures and fitting in swim lessons. You want to be the fun mom you always dreamt of becoming. I definitely do.
And you want to help encourage your baby's brain development with the most stimulating activities and spend quality time playing together and reading to your baby every single day. You research and research every product before you would even consider using it on your baby.
Mama, you're doing it all. But sometimes you also feel like you need a moment to breathe.
The first few weeks and months of motherhood can be intense. After all, it's a major life transition and a huge adjustment period for you, your baby, and your entire family. Even months (or years!) into it, motherhood can feel like a constant state of transition and adjustment where you're still getting the hang of it.
It's really easy to fall into the trap of making everything about the baby, but you matter too. Even Dr. Sears, who is a big proponent of attachment parenting, calls for "balance" for the parent as one of the pillars of the parenting style. So you know that even in the most child-centric parenting style (even if you don't follow it yourself), balance is key. It means not giving up yourself and your needs completely in the name of being a mom. (This is the parenting style I follow, instead of strict attachment parenting, by the way.)
As women, we're conditioned to prioritize caring for others over ourselves, and caring for a small baby is exhausting and all-encompassing, but (please forgive me for the cliche), you can't pour from an empty cup.
I personally went so far into mom mode that I allowed my body to get depleted, tapped my adrenals, and went into a constant state of dysfunction. I let myself go because I was drowning. Running my business while caring for my kids and trying to help one baby clear his eczema. And trying to be a loving wife and good homemaker at the time, on top of everything. (Oh and did I mention, we moved one week before my second baby was born? Yep!)
I finally realized it when I could drink an entire pot of coffee by myself and would still feel exhausted and drained. That's not how I wanted to be. That's not healthy!
So I've definitely been there — drained and needing a breather — and I've thankfully been able to restore myself. Coming from one frequently empty cup to another, I want you to try following these tips for self-care to keep your cup filled on a daily basis.
These aren't tips like "have a spa day" or "hire full time help". These are practical things you can do every day or every week, as well as routine things you should do like continue taking your vitamins. This is my list of self-care for new moms — my ideas for you.
1. Put on fresh clothes every day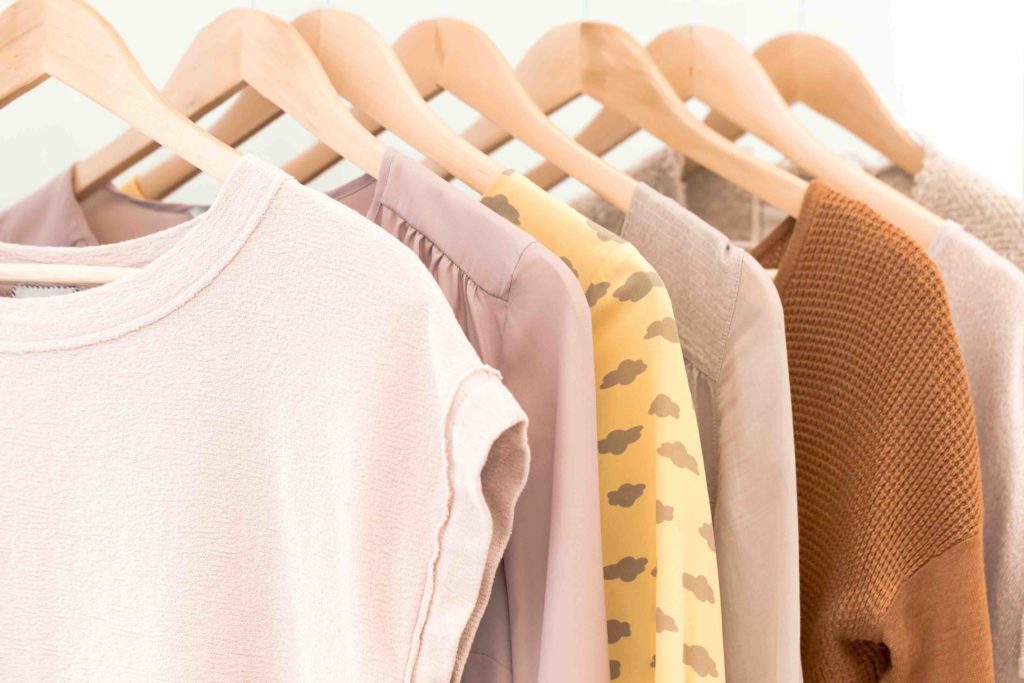 The stereotype of a new mom is someone who hasn't showered in a week, hair pulled back in a messy bun (and not the cute kind you see on Instagram), wearing leggings and a t-shirt covered with spit-up. There is some truth to this stereotype, as I'm sure we have all been there (or we will find ourselves wearing some version of that outfit at some point in the not-so-distant future).
I have been there. And if you're in the first month or so of postpartum, you're ok to stay in your nursing tank and yoga pants. You totally have every right to!
But it doesn't have to become your everyday uniform. I've found that the clothes that I wear can directly affect my mood – when I stay in my pajamas all day, I can't seem to find the motivation to do anything other than sit on the couch. I feel bad about myself and I also stress out about what my husband thinks and the kind of impression I am having on my kids. (Holy cow, isn't that a lot of pressure to put on myself?)
But when I make an effort to get dressed every day, wash my face, and slap on some mascara, I feel a lot better. And when I take it up a notch and put on my real clothes (not just "more stylish yoga clothes") and put on a little bit of makeup, and have styled my hair, I feel so much better about myself and have a better outlook on life and my to do list. I feel ready to take on the enormous to-do list that I have built up.
So, my first self-care tip for new moms is to make it a point to get dressed every day, even if it's just leggings and a clean t-shirt. It can go a long way, even if you aren't going anywhere.
Feeling frumpy? Whenever I feel this way, I like to work with a stylist to upgrade my wardrobe. Services like Stitch Fix are budget-friendly ways to refresh your style. And I love these services because they always get me to think and dress outside my comfort zone.
Postpartum bodies are hard to dress — it's a fact. We spend so much time focusing on maternity clothes, but many moms don't realize that it can take a while before you're feeling up to wearing real jeans with a zipper. I found that I appreciated leggings and yoga pants with a high waistband that offered extra support to my newly shrinking belly. Pair them with a nursing tank, and a cozy cardigan if it's cold out or you'd like to cover up a bit more.
A lot of new moms also find that maternity pants and jeans work well as postpartum pants as well. Again, I like the style with the high waist panel because you can pull it up over your belly and it kind of helps support and hold things in place as all of your organs settle back in to their pre-baby positions. (Alternatively, you can use a postpartum belly band for added support.)
---
2. Take a shower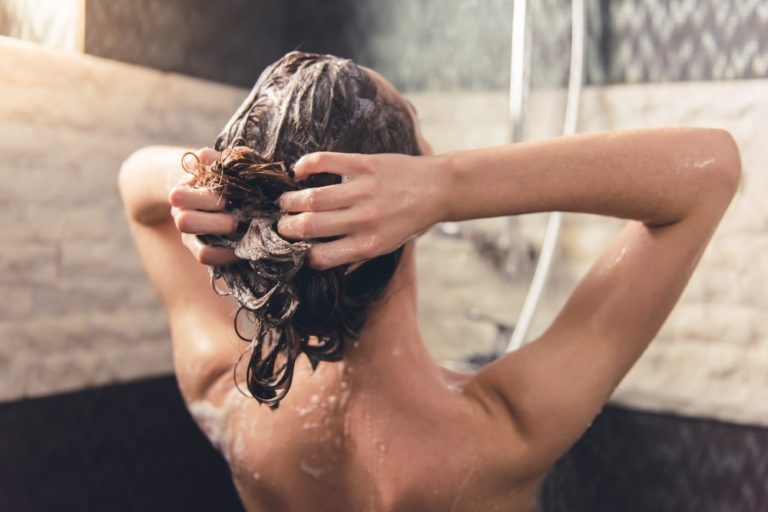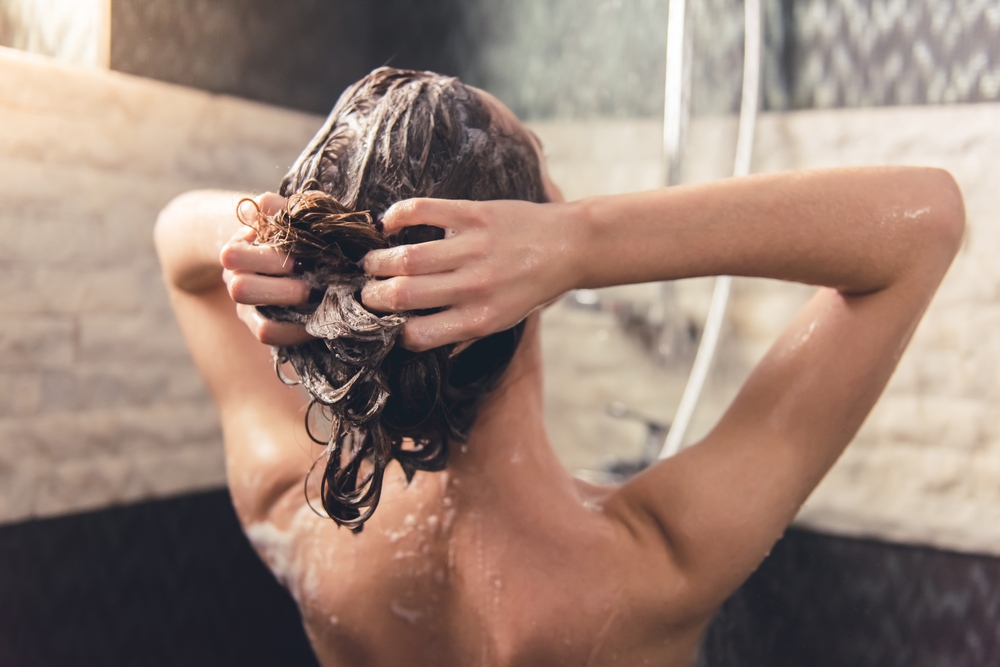 This is another one of those things that sounds so basic, but the reality can be a different story. If you've got relatives staying with you or if your hubby is home, knowing that someone is there to keep an eye on the baby makes it a little easier to slip away for fifteen minutes to shower.
If you are home during the day by yourself, it can be a little more challenging, but it's still important to try. You can of course grab a quick shower while baby is napping, but I would always worry that I wouldn't hear the baby cry over the shower if he woke up. If that sounds like you, then you can bring the baby in to the bathroom with you, too. I used to bring the baby bouncer in to the bathroom and strap my baby in while I showered. It also helped that I have a glass shower door and he could see me through the glass.
(It's not recommended to leave your baby in a bouncer or swing for long stretches of time, but there's nothing wrong with using it for a few minutes here and there to let you do something hands free.) When you step out of the shower and put on some clean clothes, it offers such a psychological boost (must be the negative ions in the water!). It's like you're starting fresh even if it's the middle of the day. Don't feel like you have to shower first thing in the morning either. Whenever you can manage to make it happen is good enough.
But do make sure it happens. And if you find yourself in this position, simply announce to your husband or partner that you are getting in the shower and he needs to watch the baby. Please don't ask if you can shower (I'm totally guilty of having done that and realized how ridiculous it was — you have a right to shower, mama!).
---
3. Take care of your postpartum body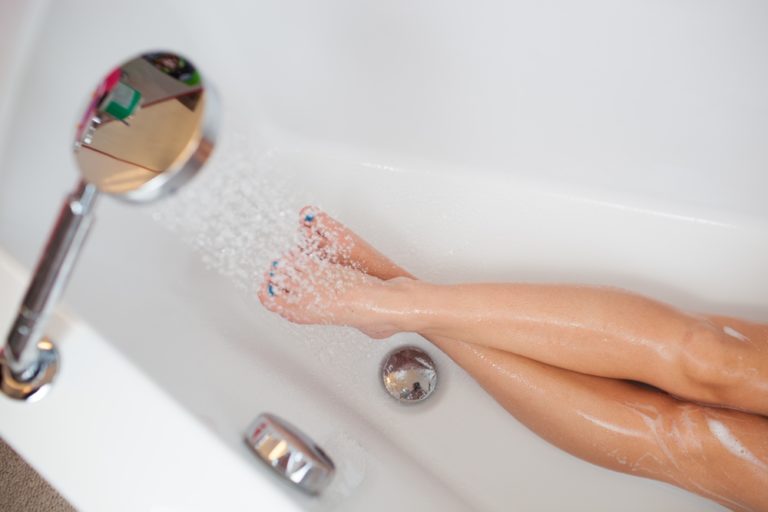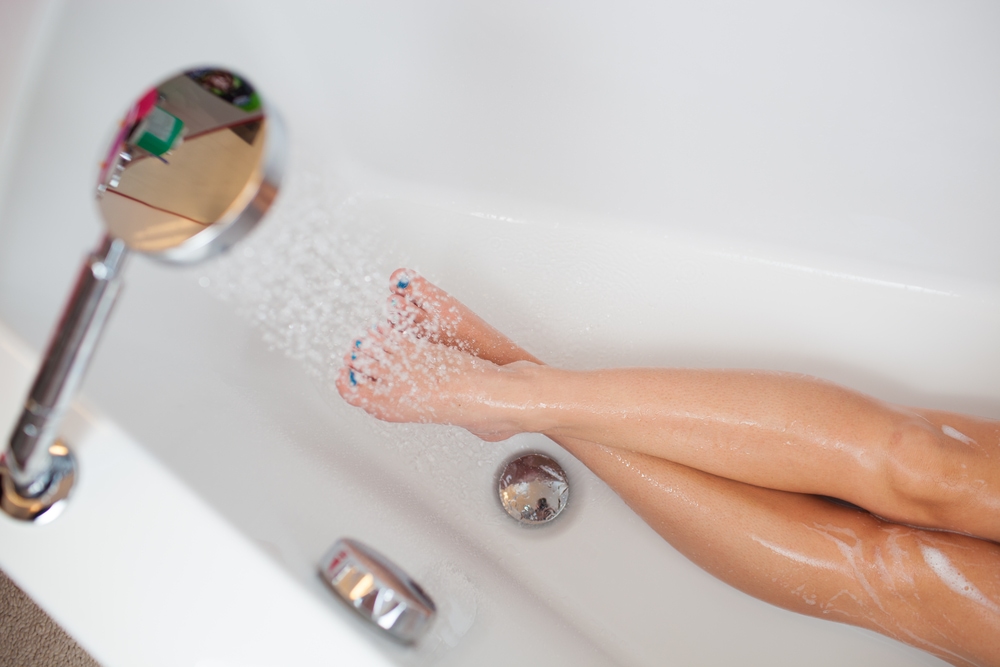 It's so common for moms to get wrapped up in baby prepping that they pay little attention to their own healing after childbirth. But your body will need an opportunity to recover, too. So if you've just had a baby a few days ago or even if it has been a few weeks or months, it's important to allow your body a chance to heal.
In case you didn't know it, you are a superstar.
Your body just birthed life, and you mama, are to be celebrated. I know you probably don't feel like yourself right now, but I want you to be thankful for your strong, beautiful, amazing body. The body that nourished, grew, and birthed your child. You are amazing.
So let's show some love and care for your body. Eat well during postpartum, take time to do some sitz baths, and make some padsicles if you're just a couple of days postpartum. Definitely stock up your postpartum care items.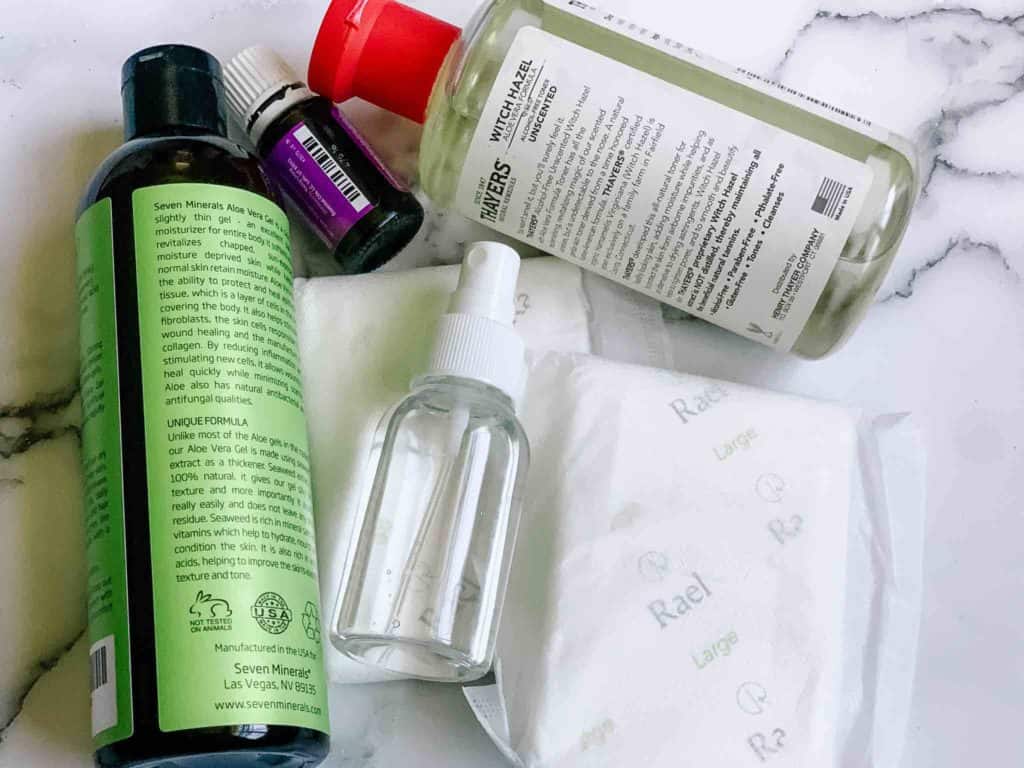 ---
4. Take a nap, mama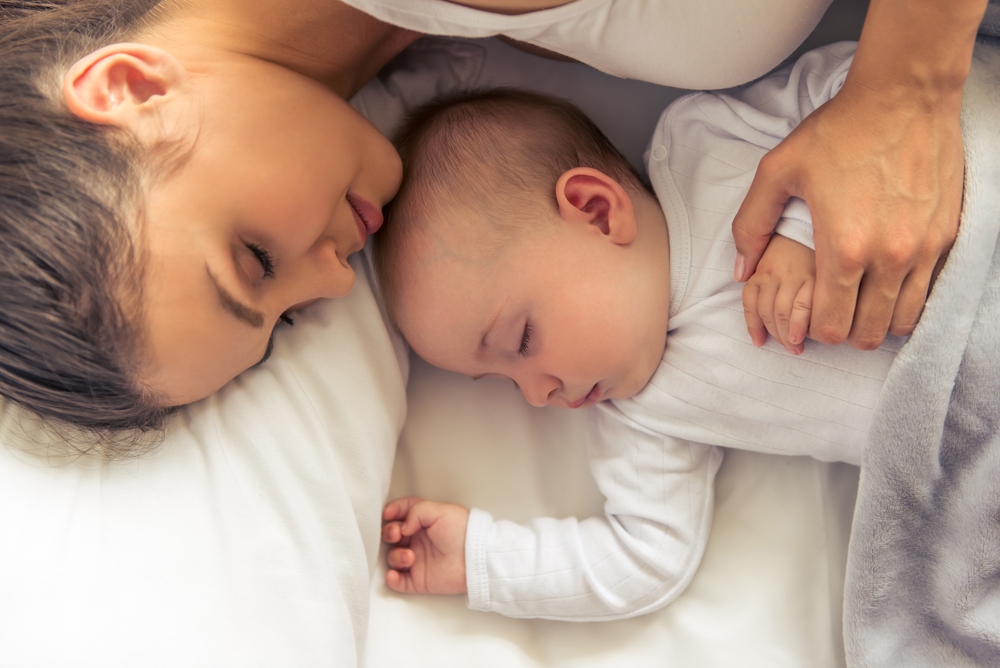 "Sleep when the baby sleeps" — this is the most infuriating advice, I know. But I have to say it because at least one time that your baby is napping, you should also try to get some rest. Just once a day, ok?
I know, you're thinking about your super-long to do list and all the chores that need to be done. Or maybe you'd rather just scroll your feed or sit in a quiet room all by yourself for 20 minutes.
Figure out what you need and prioritize accordingly, but don't forget about your sleep needs. And if you're running on empty, then by all means sleep when baby sleeps. Or sleep in while your hubby helps. But if the laundry is piling up and you need a clean shirt without spit-up on it, then do the laundry. If you just need to take a mental break and enjoy the quiet for a few minutes before baby wakes again, then do it.
But every once in a while, when your baby is napping or during that long stretch of sleep when they first go to bed, please get some rest yourself. Sleep deprivation hit me really hard with my first baby. I know firsthand how difficult it can be! So please, rest up a bit when you have the chance every now and then!
---
5. Get your body moving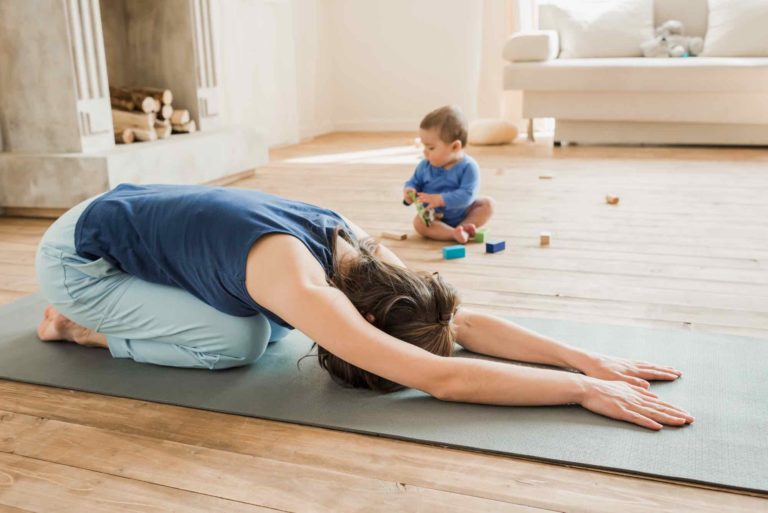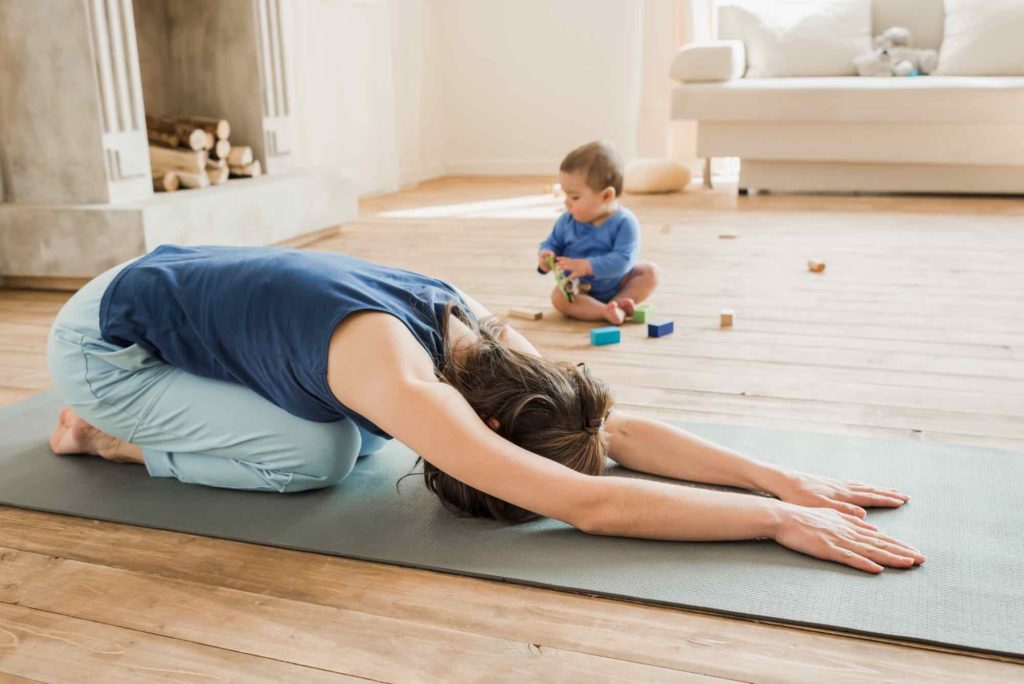 This isn't about fitting in to your pre baby jeans (which might not ever happen, even if you lose the weight – everything moves around in there, and lots of women find the shape of their hips permanently widened). Getting out for a walk is about more than just taking care of yourself physically, but emotionally, too.
Start small with a walk around the block or to the park, or even a walk around Target. And when you're feeling up for it you can try longer trails. Getting some fresh air and scenery can have a huge impact on your overall mood.
When you're ready and cleared for exercise, try to make a regular habit of it. Even if it's just a few minutes of exercise every couple of days with your baby in the carrier or lying next to you, it'll do wonders for your mood and wellbeing.
---
6. Eat well and keep taking your supplements
After pregnancy, your body needs replenishment. That goes double if you're breastfeeding. So make it a priority to eat regular meals and get enough calories in each day. Start your day with a protein shake and eat and snack throughout the day.
Keep taking your prenatal vitamins, fish oil, magnesium, prenatal collagen, and prenatal probiotics so that you help your body replenish. We want to make sure that your body and mind adjust to new motherhood well and to reduce any risks of postpartum depression or anxiety.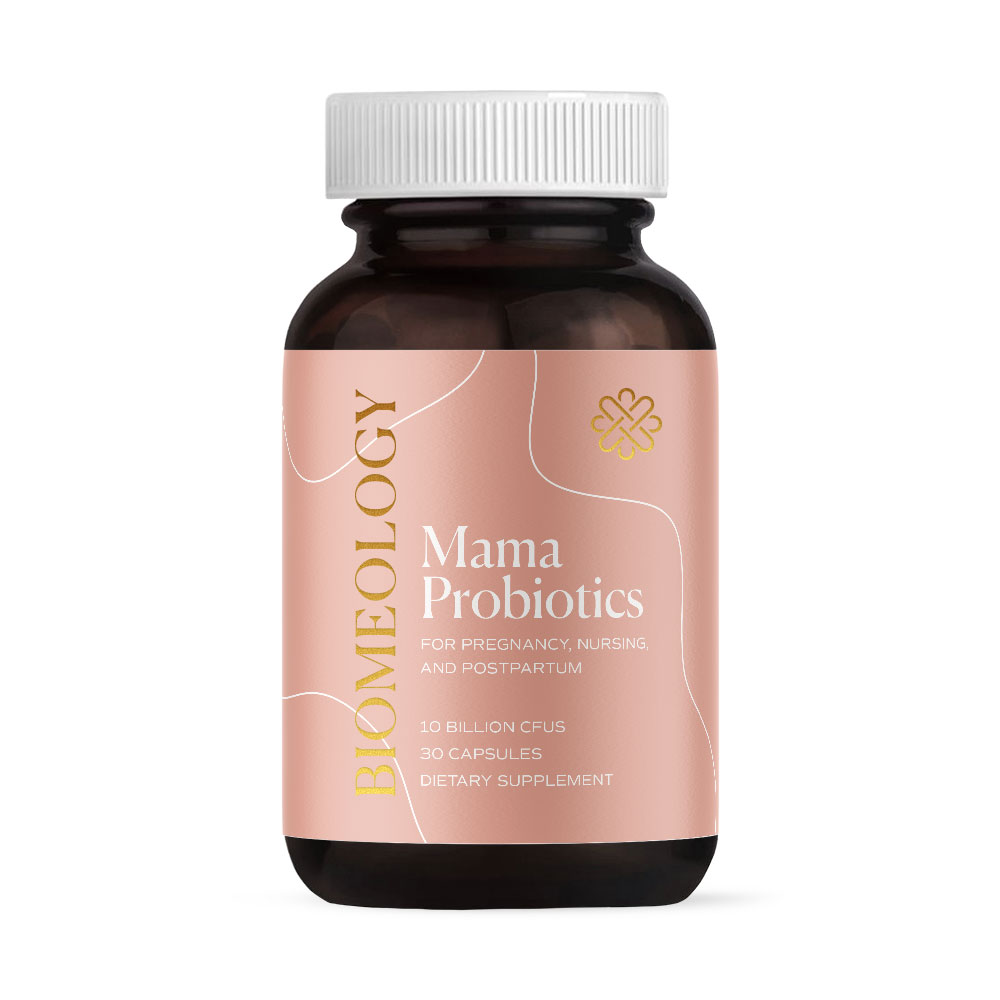 ---
7. Connect with friends and meet other moms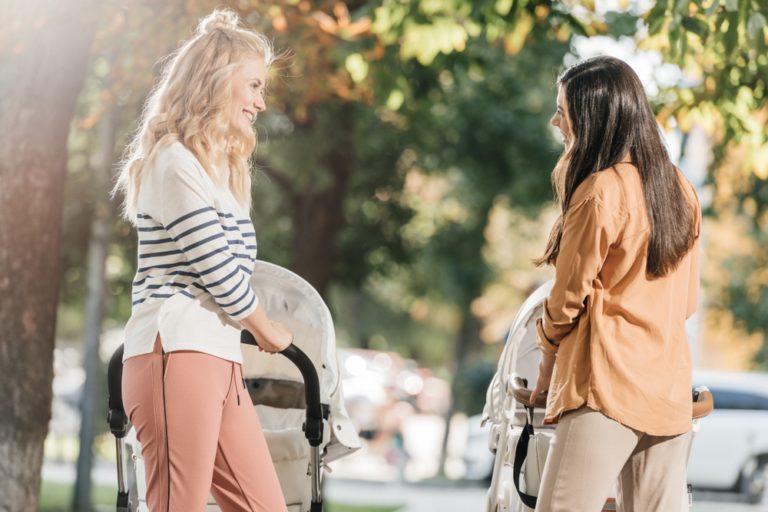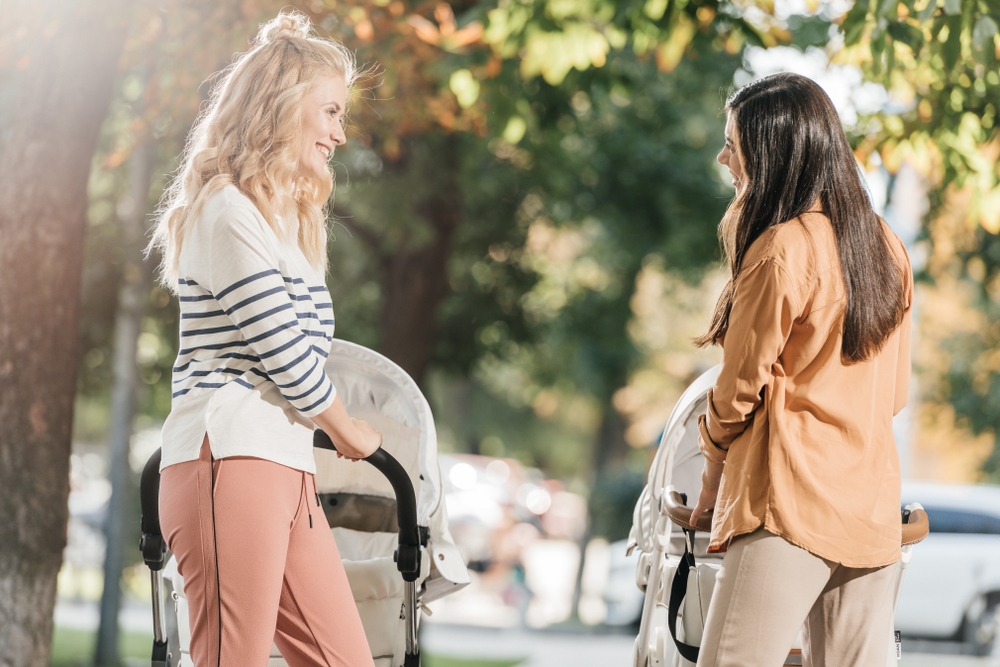 If you have a good circle of friends, reach out and say hey. Plan to get together or call them on FaceTime.
I also strongly recommend that you try to meet some mom friends. There are so many wonderful things to be gained from meeting other moms who are going through the same baby phase as you are. I encourage you to join some local mom groups on Facebook. I've made so many wonderful "internet friends" and I've met some of them in real life and they have turned in to genuine friendships. So online is a good place to start!
Online mom groups are awesome because you can access them any time of day – reading and posting there is a perfect activity for those hours you spend sitting in a chair feeding your baby at all hours of the day – but real life friendships can be a valuable outlet too.
I remember being so nervous about making mom friends, but the payoff is worth it. Say hello and if you hit it off, casually offer her your number in case she'd ever like to get together for a playdate. Parks and baby classes like Gymboree or mommy and me are great places to meet like-minded mom friends.
And as a side note — if you find that your old circle of (presumably kid-free) friends doesn't seem to hold space for you anymore, or doesn't really fit quite right, you could find that you have a lot more in common with your new friends.
---
8. Treat yourself to quality skincare and beauty products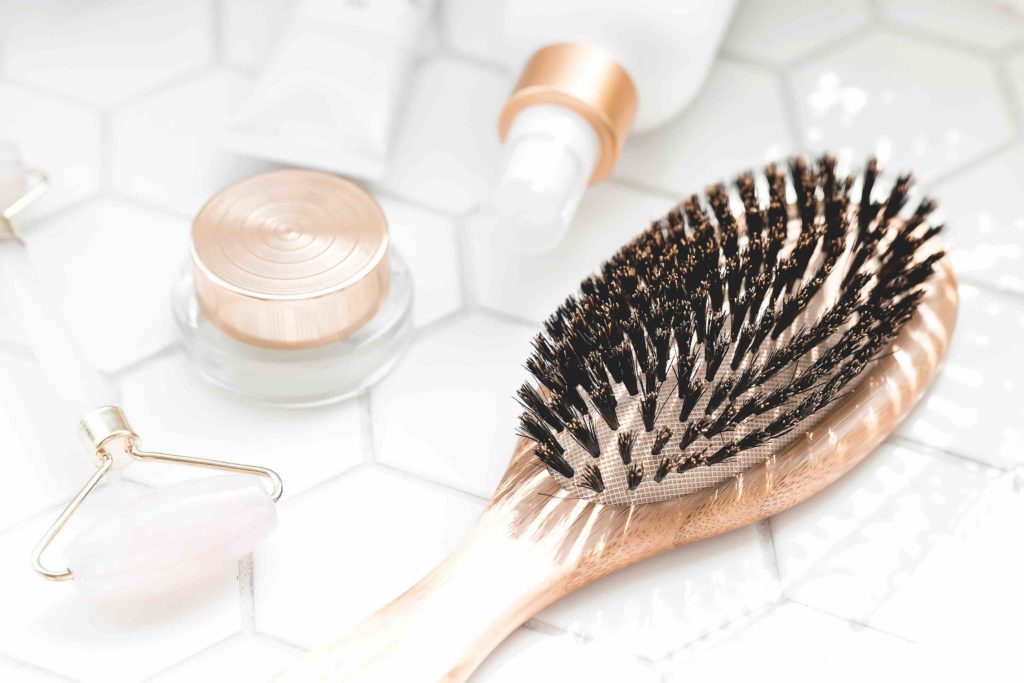 A good moisturizer, serum, and facial scrub will go a long way. Find a brand that you love and that works well for your skin and make it a goal to tend to your skin a couple of times per week. Moisturize daily morning and night, and try to exfoliate in the shower or at least a couple of times per week.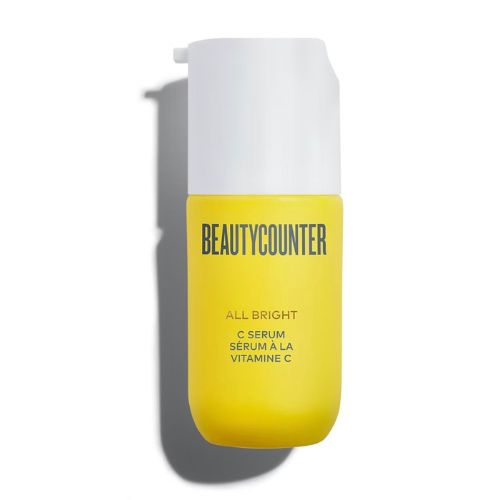 And this charcoal face mask is EVERYTHING. It's so good I buy it in bulk. Everytime I use this, my skin looks healthier, brighter, and more supple.
And if you are a makeup fan, be sure to check out my guide to clean makeup brands and my Beautycounter favorites list. Of course, if you have the time to go to a spa or get a massage, by all means go for it! If not, I like to look to more affordable luxuries like nice skin care.
---
9. Take time to write out your thoughts and goals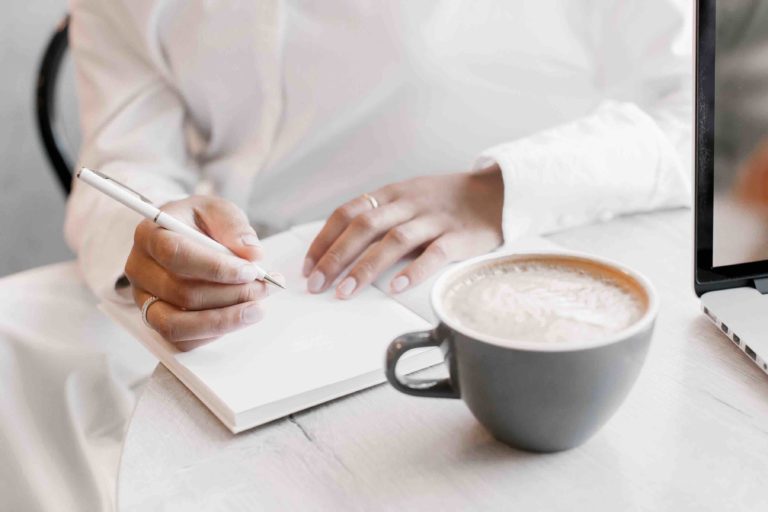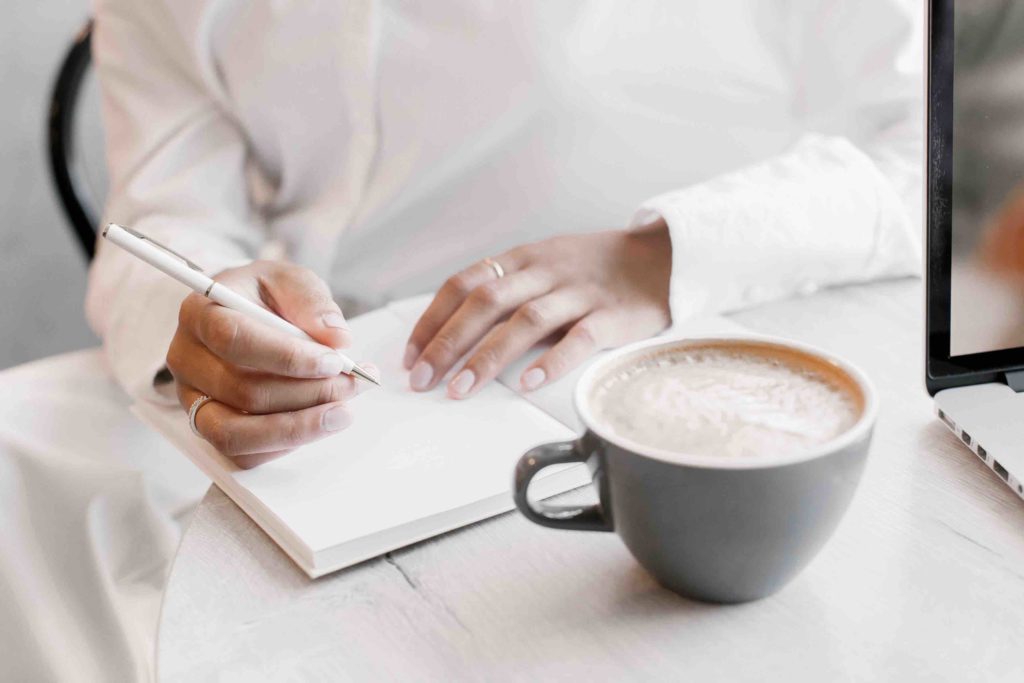 I don't journal in the traditional sense of the word anymore, but I do like the idea of having a mini-journal either on the notes app on your phone or a nice hardcover journal.
Write things like:
What are you planning to do this month?
What do you need to work on?
What are you having for dinner this week?
What are 3 things you are grateful for?
What's your daily schedule?
What are your goals?
I love writing down my goals and reviewing them regularly because it helps me keep my priorities in order and reminds me what I should be working on. At the same time, I found it incredibly useful to have a "baby schedule" when my little ones were babies. Even just knowing that I had a routine of putting dirty clothes in the washing machine before going downstairs for breakfast systematized my household tasks and made it much easier to stay on top of things.
---
10. Do something that reminds you of your pre-baby self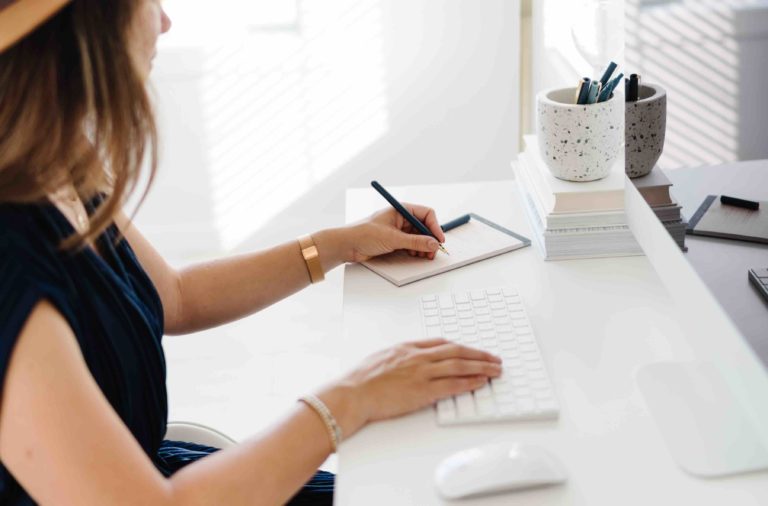 Before you became a mom, you were a woman with her own plans and interests. Don't forget who she was. What interested you?
This has probably been the hardest piece of advice for me to follow because when you see that tiny little person you created, you want to make them your world. Being a mother is the most incredible thing in the world, but let's both remember to keep our interests alive, whether it's something as simple as binge-watching Real Housewives or crime dramas, or pursuing something you've always dreamt of achieving, like writing a novel.
My outlet was blogging. That's right — this blog started as a hobby and it helped me get through some rough patches in my transition to being "mom". For some mamas, they find that starting a side hustle, selling on etsy, or joining a direct-selling business is the right thing for them. I support all of these ideas (except for the pushy MLMs of course), especially if you went from being a full-time corporate employee to totally shifting gears and staying home with your babies. Like I did.
---
11. Schedule time for yourself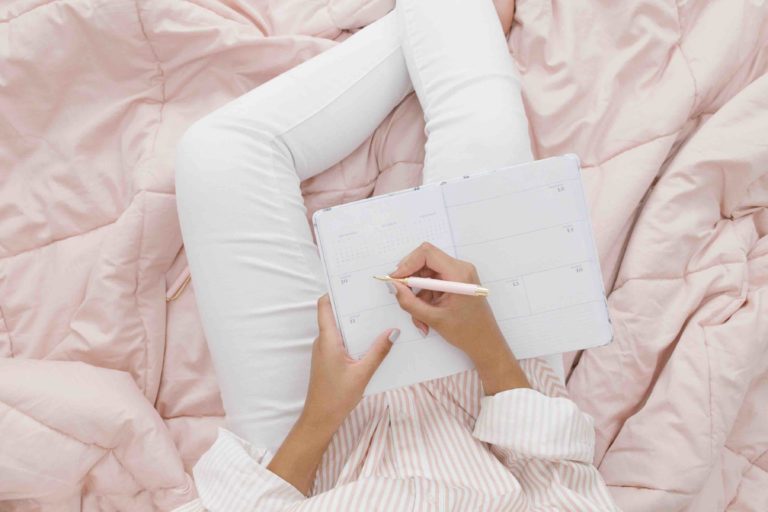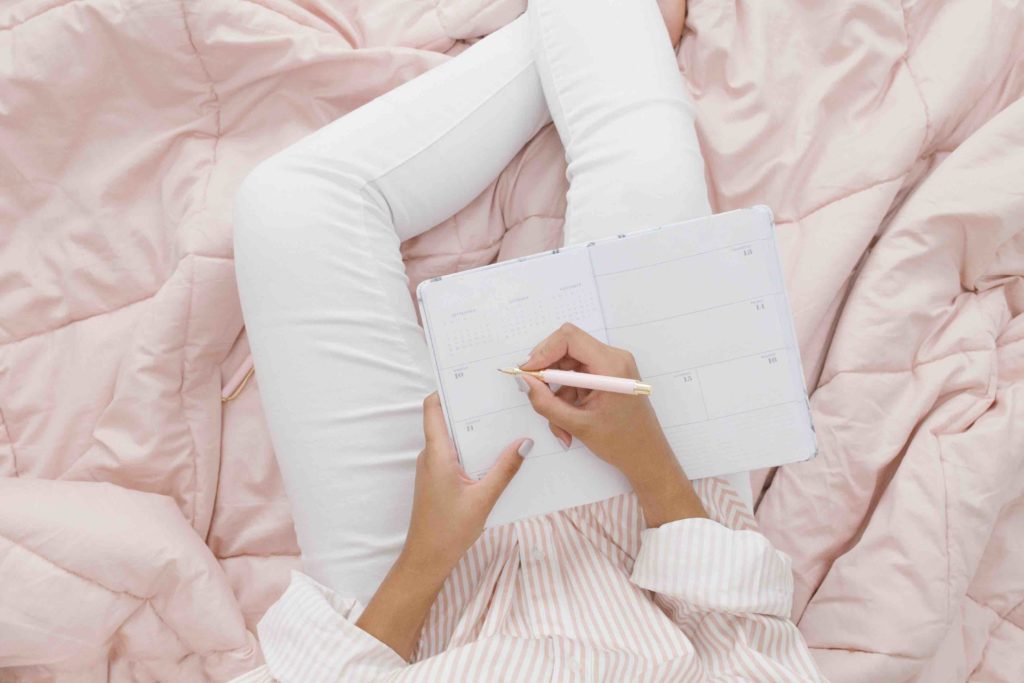 Every Tuesday, Thursday, and Saturday, you go for a jog. Or every Monday afternoon, you'll do a grocery run by yourself. Every other Thursday, you'll have lunch with your bestie. On Wednesdays, you do pilates. Whatever it is — make arrangements for you to do your own thing! (But probably not all of these things…lol.)
---
12. Start dry brushing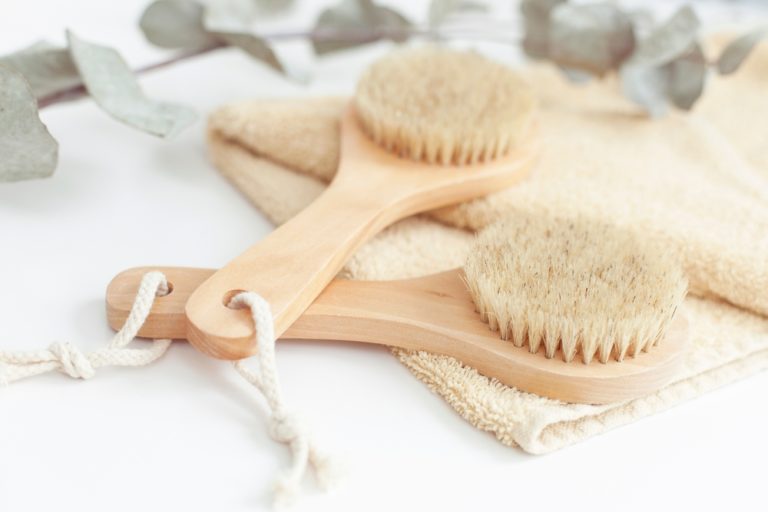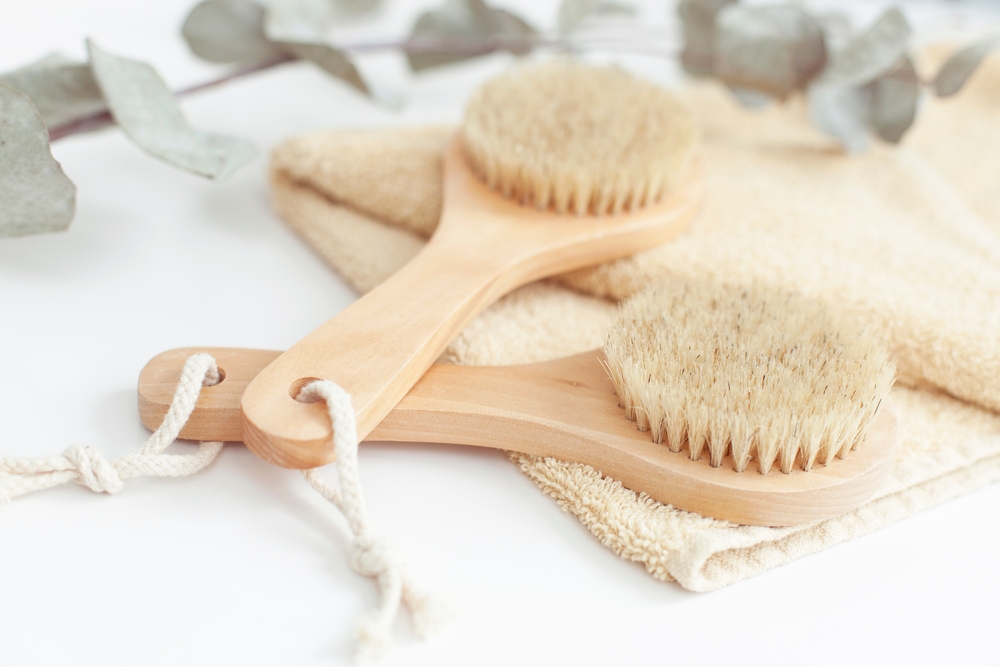 This is one of my favorite self-care ideas for new moms. In fact, it is one of my favorite self-care acts in general. Dry brushing before you take a shower helps stimulate your lymphatic system, which supports your body's natural detox pathways. It's a great and healthy way to help your body do its thing and it feels amazing and lifts your mood.
Simply use a dry brush with natural bristles before you shower, starting from your feet and moving up to your chest. Sweep in upward motions, brushing vigorously. When you reach your belly, sweep in a downward motion. Dry brush this for about 1 minute before your shower and try to do this regularly. Instant mood booster!
---
13. Make yourself a nice cup of tea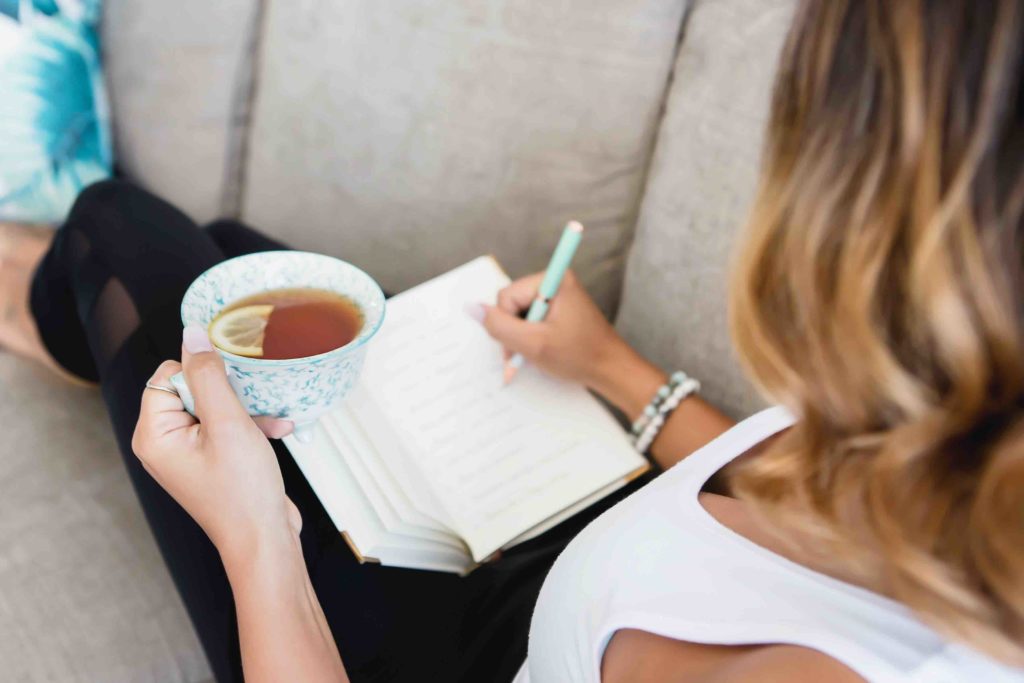 After having a baby, a nice cup of red raspberry leaf tea can do wonders. So make it a habit to drink a nice cup of tea every day to help support your hormonal balance and overall wellbeing.
---
14. Outsource time-consuming tasks
For the first few months postpartum, you might find that some tasks just take more time than usual. These are the things I love to outsource.
For example, I would love for you to have a cleaning crew come to your home once a month and tackle the cleaning for you. It's just not realistic to expect that you'll be able to maintain your cleaning schedule while caring for a new baby. So, if this is even remotely an option, splurge on a cleaning crew.
For reference, I live in Los Angeles where a cleaning crew costs about $90 for a 1,500 square foot house and about $150 for a 3,000 square foot house. And the hours I save by outsourcing this (not to mention, I'm a terrible cleaner) are worth so much more than the expense.
Other options include ordering food from a local personal chef (it's not as expensive as you might think!) or having some help with your older children (mother's helpers in their teens or early 20s are great). Or if you're running a business while caring for a newborn, maybe this is a good time to hire a virtual assistant or outsource some of the tasks that you just aren't getting to.
---
---
15. Listen to podcasts and read a book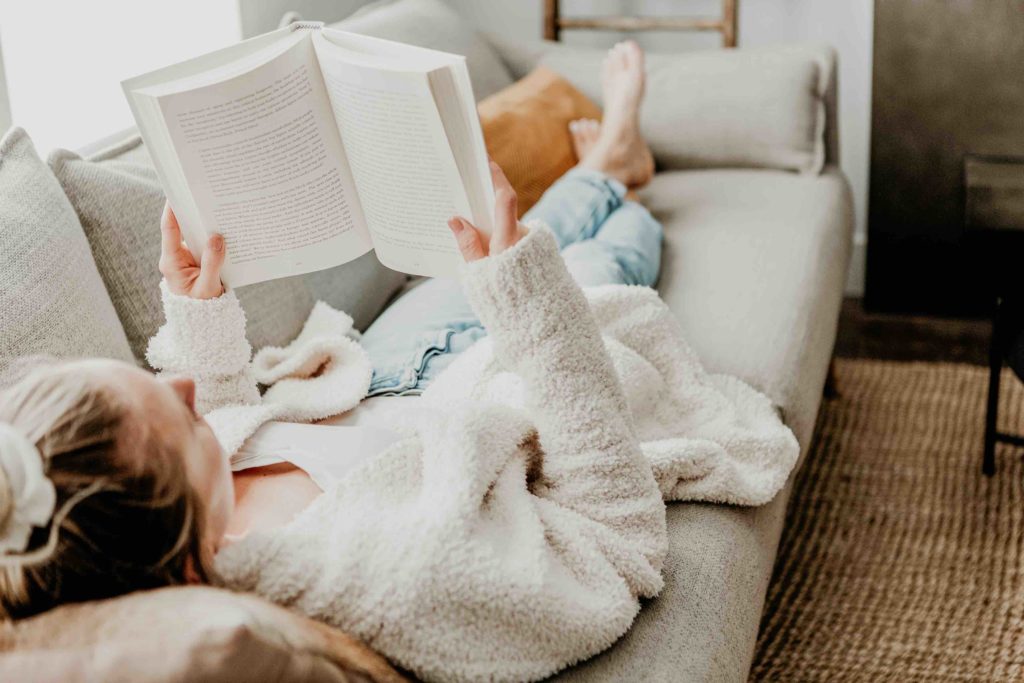 Podcasts and audiobooks are great because you can listen to them while caring for your baby and expand your mind at the same time. Find podcasts that suit your interests and subscribe, mama!
Equally, I found it helpful to have some ebooks ready to read on my Kindle app or a nice printed book to read in the mornings. My favorite categories are business and self-care books but occasionally I like to dip into some fun fiction. Choose what inspires you!
Related: Get a free 30-day trial at Audible
---
16. Buy yourself some flowers
Spruce up your home with a beautiful floral bouquet. Having a beautiful floral bouquet of tulips, peonies, or hydrangeas makes me feel calm and happy and a little more fabulous and put-together like Blake Lively. But seriously, flowers can brighten up any room and lift your mood.
If you're more of a plant person, you can also spruce up your decor with some beautiful indoor plants.
Make self-care part of your routine
The newborn phase is all-encompassing, so don't feel bad if you aren't doing "all the things". Social media only gives us everyone else's highlight reel, so it's not fair to yourself to expect that you can do everything all the time. You do you, and go at your own pace. And allow yourself some grace for not being perfect according to social media standards. We're all hot mess moms to some degree, at one point or another, and we all have different support systems and resources available to us. So don't compare yourself to someone else and be fair in what you expect from yourself.
People often ask me how I get so much done while being a busy mom. This always makes me laugh because all I ever see is everything on my to do list that I haven't gotten to yet. Isn't that funny? You're doing great and what matters most is a happy mom and happy baby.
Try to fit some of these small acts of self-care into your week and make it a routine. And as your baby grows, your opportunities for self-care will increase and you'll find more balance. Promise!
Related: Self-Care Tips for Pregnant Mamas