Natural Diaper Rash Creams. Babies have sensitive skin, which can make them susceptible to developing redness, soreness, scaliness, and tenderness – otherwise known as diaper rash. Diaper rash can be caused by skin irritation, allergies, or infection. While they can range in severity, diaper rashes are usually uncomfortable for babies and requires immediate attention. One of the first lines of defense for a diaper rash is to use a calming diaper cream.
I only recommend using an organic or natural diaper rash cream because most mainstream brands are made with toxic or unhealthy ingredients. Babies are especially vulnerable to any toxins they are exposed to, since their bodies are not yet fully developed and they can't eliminate toxins as effectively as a healthy adult can. Continued exposure to toxins can lead to chronic illnesses that can have a profound effect on your child's life; long-term exposure to toxins may lead to learning, developmental or even behavioral disabilities. For this reason it's important to choose safer, non-toxic baby products whenever possible.
This definitely applies when it comes to any products that make direct contact with your baby, like a diaper cream. When choosing a natural diaper rash cream for your baby, look for certified organic ingredients, and avoid petroleum-based products, as well as BHA, sodium borate, fragrance, and any parabens. These toxins can cause endocrine disruption, organ system toxicity, reproductive toxicity, allergies, and immune system toxicity.
It's still a good idea to have a natural, organic diaper cream on hand in the event of diaper rash or redness on baby's bottom. I would recommend only using it when you see redness or diaper rash, rather than slathering some on after every diaper change.
How to Minimize Diaper Rash
Some helpful tips for dealing with diaper rashes, and minimizing your baby's chances of developing diaper rash:
Use non-toxic diapers. If you invest in eco-friendly diapers, you'll find that your baby won't get many rashes and you'll only need to use the diaper cream on occasion. Mainstream diapers, even those that are elemental chlorine-free, may cause redness and other reactions.
Change your baby's diaper frequently, so they don't sit in a wet or dirty diaper too long.
Use baby wipes sparingly, preferably only when your baby has pooped.
Let your baby's bottom dry completely before putting on a new diaper.
Experiment with using a thin layer of organic coconut oil or breast milk before using a diaper rash cream.
Give your baby a daily probiotic to help support their gut health.
Despite this, your baby may still get redness or rash on their bottom. For this reason, it's a good idea to have some natural diaper rash creams on hand.
Related: How to Give Your Baby a Gentle Detox Bath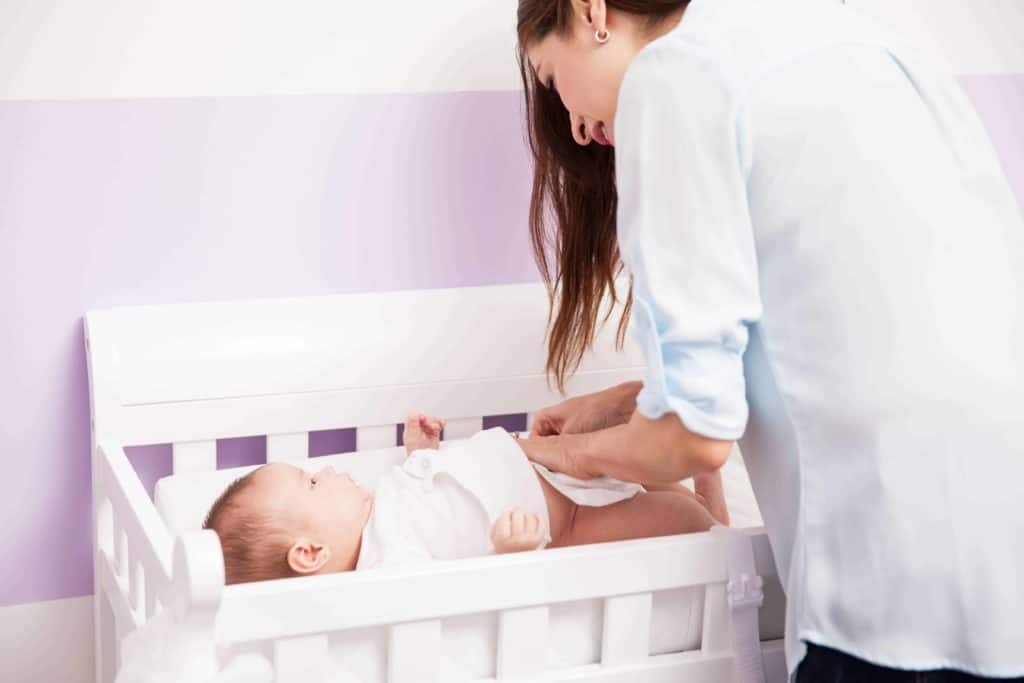 The Best Natural Diaper Rash Creams
Here's my list of the very best natural diaper rash creams for your baby. The great news is that these are affordable and easily accessible.
1) Earth Mama Organics Bottom Balm
Earth Mama Organic Diaper Balm
Made in the USA, Earth Mama Organic Diaper Balm is an herbal salve that safely and gently reduces diaper rash and redness. This is the diaper cream that we have been using since day one, and we have had great success with it!
Diaper Balm is non-toxic and contains no artificial dyes or fragrances, petroleum products, mineral oil, Vitamin E, phthalates, or parabens. Like many other products made by Earth Mama, the Diaper Balm is vegan and gluten-free.
This is the salve to have on hand for diapering your baby! It is immensely soothing and it also smells great. With healing and soothing ingredients like plantain leaf, chickweed, calendula, and lavender, I have used it on eczema with good success, and the manufacturer also suggests using it for bug bites and scrapes. A definite must-have all-natural diaper rash cream! I also love that it's 100% organic.
Earth Mama Organics Diaper Balm Ingredients: Organic Olive (Olea Europaea) Fruit Oil, Organic Shea (Butyrospermum Parkii) Butter, Organic Beeswax (Cera Flava), Organic Jojoba (Simmondsia Chinensis) Seed Oil, Organic Lavender (Lavandula Angustifolia) Flower Oil, Organic Tea Tree (Melaleuca Alternifolia) Leaf Oil, Organic Calendula (Calendula Officinalis) Flower Extract, Organic St. John's Wort (Hypericum Perforatum) Extract, Organic Chickweed (Stellaria Media) Extract, Organic Plantain (Plantago Major) Extract
Related: The Best Probiotics for Babies
2) Maty's All Natural Baby Ointment
Matys All Natural Baby Ointment
Gluten-free, cruelty-free, and vegan, Maty's Baby Ointment is highly recommended! Made with only natural ingredients such as olive oil, coconut oil, and jojoba oil, Maty's Natural Baby Ointment will protect and soothe your baby's dry skin and diaper rash.
Maty's is free of petroleum, fragrances, hydrogenated oils, parabens, sulfates, phthalates, artificial colors, mineral oils, or gluten. This ointment can also be used for cradle cap, eczema, chapped lips and more, making it an excellent multi-tasker! Also? It's made in the United States.
Maty's All-Natural Baby Ointment Ingredients: Olive Oil, Coconut Oil, Jojoba Oil, Castor Oil, Vitamin E, and Sunflower Wax. 
3) Beautycounter Baby Calming Diaper Rash Cream
Beautycounter Baby Diaper Rash Cream
Formulated with non-nano zinc oxide, Beautycounter's diaper cream is an excellent choice for a zinc-based diaper cream. Made with ingredients like shea butter and jojoba oil, it is gentle and safe for sensitive skin. I know many parents who have had great success with this product!
Beautycounter goes to great lengths to ensure safer packaging to try to prevent chemical leaching into their products, prohibiting BPA and PVC in their packaging. I'm a fan!
Beautycounter Baby Diaper Rash Cream Ingredients: Zinc Oxide, Cera Alba/Beeswax/Cire d'abeille, Silica, Tapioca Starch, Butyrospermum Parkii (Shea) Butter, Helianthus Annuus (Sunflower) Seed Oil, Simmondsia Chinensis (Jojoba) Seed Oil.
4) All Natural Boudreaux's Butt Paste
Boudreaux's Butt Paste Diaper Rash Ointment
Have Boudreaux's on hand for when you need to call in reinforcement. In the event that your baby has a persistent diaper rash that one of the above balms isn't able to handle, you may want to use Boudreaux's All Natural Butt Paste.
Its active ingredient is 16% Zinc Oxide, the same stuff that powers mainstream brands like Desitin (although in a less concentrated amount), and is made without petroleum products, BHA, and fragrances.
I wouldn't recommend using this product on a daily basis, but it is good to have this on hand. Boudreaux's also makes a Maximum Strength Formula for extreme cases of diaper rash. It's not the same formulation as the all natural paste, but it does contain a higher dose of Zinc Oxide (40%). Though if your baby has a case of diaper rash that lasts more than a few days, you might want to look into yeast rashes.
All-Natural Boudreaux's Butt Paste Ingredients: Active Ingredients: Zinc Oxide, 16% (skin protectant). Inactive Ingredients: Aloe vera, beeswax, carnauba wax, castor oil, citric acid, hydrogenated castor oil, Peruvian balsam oil.
Hopefully, your baby won't have to deal with rashes aside from occasional redness. Having one of these healthy, natural diaper rash creams on hand ensures you'll be prepared. 
Related: How to Give Your Baby a Gentle Detox Bath
---
Wondering where to create your baby registry? I recommend registering with Amazon for the widest selection of natural and non-toxic baby products, best prices, fast shipping, and excellent customer service. Start your Amazon Baby Registry now >>