During your pregnancy, you will go through many routine screenings and tests. One of the last routine screenings occurs towards the end of your third trimester and checks for the presence of group B Strep, also referred to as GBS.
While certain pregnancy tests and screenings are well-known milestones, many pregnant mamas haven't heard of GBS before their third trimester—yet the CDC reports that it affects about 1 in 4 pregnant women. GBS is incredibly common!
The GBS screening is important because the presence of this naturally occurring bacteria can be extremely dangerous, even fatal, to a newborn. If you do test positive, treatment with antibiotics is highly effective at lowering your baby's risks, but it also has its downsides.
Read on for a complete guide to group B Strep, what it means if you are GBS positive (GBS+), how it will impact your labor and baby's birth, and most importantly, what you can do to prepare.
What is Group B Strep?
Group B Streptococcus is a bacteria that is naturally present in the human intestines. In some women, the bacteria spread from the intestines to the rectum, vagina, or urinary tract. This is called colonization. Interestingly, this happens in about 10–30% of pregnant women, and many would have no idea. In most cases, it doesn't cause you any harm; it's simply present in your body.
The trouble is if GBS is present in your rectum or vaginal area, you run the risk of transmitting the bacteria to your baby while giving birth. According to the American College of Obstetrics and Gynecology (ACOG), about 50% of women colonized with GBS will pass it to their newborns, and about 1–2% of those babies will develop an early-onset GBS infection.
For newborns, GBS infection can lead to meningitis, pneumonia, bacteremia, and sepsis. All of these conditions can be life-threatening for a newborn. The CDC reports that 4–6% of babies who develop GBS will pass away. It's certainly nothing to mess around with!
How Group B Strep Can Infect a Baby
Before widespread screening and treatment, early-onset GBS disease affected newborns the most. Early-onset GBS occurs within 7 days of birth, usually within 12 hours. Research suggests that early GBS infection often begins before the baby is born. In the study, almost all of the 94 infants who developed GBS infections were diagnosed within an hour of birth.
So how does a baby become infected? The ACOG guideline reports that the majority of babies who become infected with GBS are exposed when bacteria spread from the vagina to the amniotic fluid after a mother's water breaks.
Less commonly, it can be aspirated into the lungs and cause infection this way. GBS can also infect infants when they pass through the birth canal. However, the same report states that babies who are colonized this way usually do not have complications or symptoms.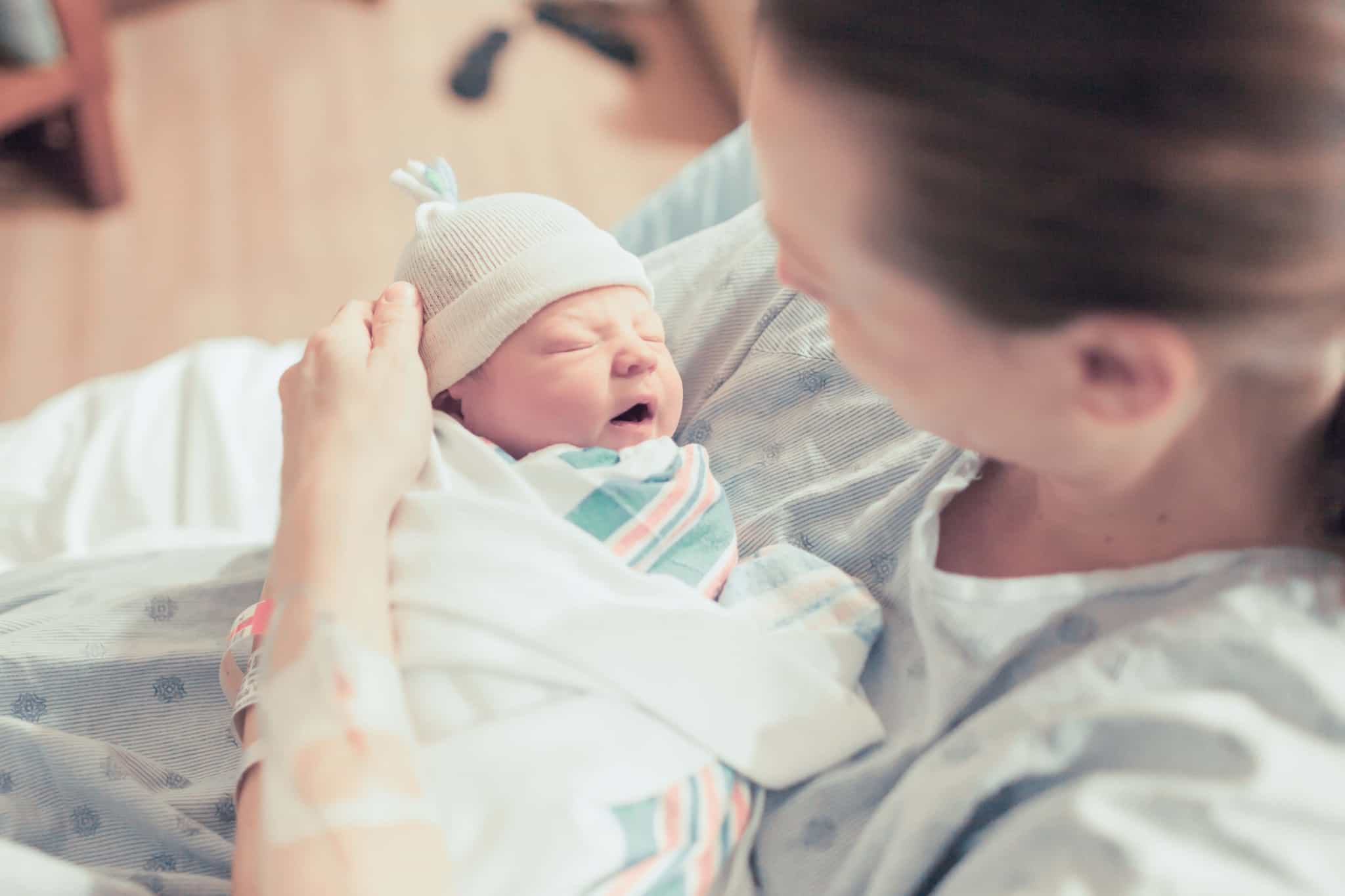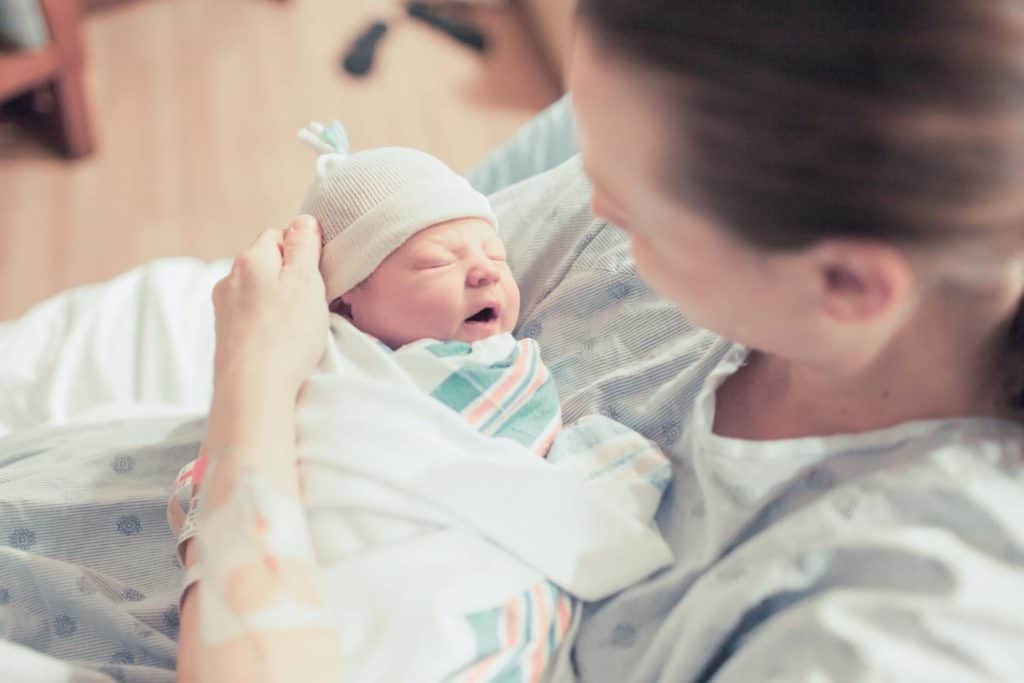 GBS Disease is Rare with Proper Treatment
Luckily, GBS screening in pregnancy is very accurate, and treatment during birth via IV antibiotics is highly effective at reducing your baby's chances of becoming ill.
Since the advent of intrapartum antibiotics to prevent early-onset infections, the incidence of early-onset and late-onset GBS is now almost identical in the US each year, and both occur very rarely. Thank goodness for this.
The CDC reports that the guidelines for prevention have had an incredibly beneficial effect on the incidence of this infection, reducing it by 80%, so that an average of only 900 babies develop early-onset GBS disease each year.
Testing for Group B Strep
In the United States, the CDC recommends GBS testing for all pregnant women. All obstetric offices perform routine GBS screening because the treatment for GBS has been shown to be so effective.
When To Get Tested
The test is done between weeks 36 and 38 of pregnancy. This is the best time to test because studies show that the results provide an accurate prediction of whether GBS will be present at birth. Also, if you were to test too soon, the bacteria could recolonize between your test date and your delivery, and you wouldn't know that you were GBS+, which is why testing is done closer to your due date.
The testing results can vary. In fact, the presence of GBS in your vagina and rectum can change for a variety of reasons. Some women who test positive during one pregnancy will test negative during their next one. Others are always positive, and some are never colonized in the first place.
How is the GBS Test Done?
The GBS test is very easy to perform. It is quick and shouldn't cause you any pain. Basically, a swab (much like a large Q-tip) is used to collect a sample from your vagina and rectum. The swab is lightly swiped from front to back and placed inside a sterile tube. The culture is then sent to a lab to be checked for the presence of GBS.
Testing Positive for GBS
Statistically speaking, up to 30% of all pregnant women are GBS positive. At a rate of roughly 1 in 4 mamas, rest assured that this is pretty common, and much is known about how to take care of this now.
Testing positive for GBS means that you carry the bacteria, or as it's often put, you are colonized. However, just because you are colonized does not mean your baby will certainly become infected at birth. In fact, the odds are in your favor.
According to ACOG and the CDC:
1 out of 200 babies born to mothers not treated with antibiotics will become ill.
1 out of 4,000 babies born to mothers who are treated with antibiotics will become ill.
An average of only 900 babies become ill with early-onset GBS disease each year.
Only 1,200 babies, on average, develop late-onset GBS each year.
However, there are some symptoms and instances where your baby may be at a higher risk of becoming ill after birth. These include:
Preterm labor or water breaking before 37 weeks
Long period of time between when your water breaks and when the baby arrives (18+ hours)
Fever during labor
UTI during pregnancy due to GBS
Previously having a baby who contracted a GBS infection
Young maternal age
If you have any of these risk factors, whether you tested positive for GBS at your screening or not, your provider may recommend antibiotics during labor to protect your baby.
How Will Testing Positive for GBS Affect My Pregnancy and Birth?
Being GBS positive means your provider will recommend IV antibiotics during labor. Unfortunately, taking oral antibiotics prior to your due date to try to wipe out GBS bacteria is ineffective because this type of bacteria grows back quickly.
Intravenous antibiotics administered during labor are highly effective against GBS. Remember, receiving them lowers your baby's risk of contracting GBS disease significantly from 1 in 200 to 1 in 4,000. For this reason, most women (myself included) opt for treatment, despite some of the negative consequences associated with taking antibiotics. And this treatment is the reason the current numbers of newborn GBS infections are now so low.
Related: How to Create a Birth Plan That Truly Empowers You During Childbirth
GBS Treatment During Labor
When you arrive at the hospital, an IV or Hep-Lock will be placed. Most often, antibiotics will be administered via the IV every four hours. Ideally, you will get at least two doses before the baby arrives. And each antibiotic treatment takes between 30–45 minutes. During the treatment, you will be connected to an IV pole, but most are mobile, allowing you freedom of movement.
Treatment Implications
There is no doubt that administering antibiotics during labor is effective against GBS.
I was GBS positive during my second pregnancy and opted for antibiotics. While it wasn't a decision I took lightly or was happy about, I would probably (reluctantly) make the same decision over again.
Not utilizing antibiotics is just too risky in my mind. And as much as I struggle with the fact that I had to make this choice, I still think it was for the best.
However, antibiotic use during labor comes with its own risks. My son and I both struggled with our gut health after his birth.
Gut Bacteria & Your Microbiome
Research shows that antibiotic treatment can delay the production of healthy gut bacteria in babies. And the longer the duration of antibiotic use, the greater the delays. The good news is that these delays seem to largely disappear around 12 weeks old, but you may want to consider giving a high-quality infant probiotic. And it's also wise to optimize your own gut health during pregnancy and take prenatal probiotics.
Thrush
Thrush is a common postnatal yeast infection caused by an overgrowth of Candida albicans, a fungus that lives on the skin, in the mouth, gut, and vagina. While the fungus itself is not harmful, it can grow and cause a yeast infection in the baby's mouth and diaper area. It can be painful sometimes but managed with specific hygiene practices and medication.
One study also showed some antibiotic use during labor can be associated with an increased incidence of a yeast infection on the breast in mamas who were breastfeeding. The authors recommended that further studies should be done to elucidate the cause of this association.
What You Can Do to Help Minimize Antibiotic Implications
There are two things you can do to help you and baby recover from the effects of antibiotic treatment during labor and delivery:
1. Take a Prenatal Probiotic
I always recommend that pregnant mamas take a probiotic. If you are GBS positive, it may be even more important for establishing and rebuilding healthy gut bacteria postpartum. For that reason, make sure you have a high-quality prenatal probiotic on hand for use during your recovery. Probiotics can be effective at preventing this frustrating (and sometimes painful) breastfeeding obstacle.
2. Practice Skin-to-Skin Care and Breastfeed
Research has shown that breastfeeding and skin-to-skin care helps develop a normal microbiome in babies born via C-section. With this information in mind, it's likely these tactics will also help your little one's gut after they've been exposed to antibiotics.
Related: 10+ Chemicals to Avoid During Pregnancy
Approach Your GBS-Positive Birth More Informed
Well, mama, I hope you are feeling more knowledgeable about how GBS can impact your labor and delivery. GBS screening in the few weeks prior to birth is an important tool for keeping your baby safe. With the use of antibiotics, your baby's risk of a life-threatening complication due to GBS bacteria is only 1 in 4,000.
While you may not be thrilled about IV antibiotics during labor, remember that there are some steps you can take to make it a bit better:
Be vocal about wanting to be disconnected from your IV fluid as soon as treatments have finished during your labor—if it is not needed for other reasons such as hypotension or anesthesia. They will likely leave the Hep-Lock (the capped-off needle secured by tape) in place just in case you need to receive IV medications or fluids again at any point.
Remember to take a prenatal probiotic (you can even take this during labor) and practice skin-to-skin care in the weeks and months following birth to help support you and your baby's microbiome. Talk to your baby's pediatrician about giving infant probiotics to your baby in the weeks after birth.
FAQs About Group B Strep
Do you have more questions about Group B Strep? If so, read on!
When should I go to the hospital if I'm GBS positive?
If you are GBS positive, you should go to the hospital as soon as your water breaks or you realize you are in labor. Always talk to your doctor about their specific protocol, but generally, doctors will want you to be in the hospital at the start of labor so that you can receive antibiotics prior to delivery.
Can you pass GBS onto your partner?
According to ACOG, GBS is not a sexually transmitted infection because anyone can carry GBS, but the bacteria that causes GBS can be passed between sexual partners.
What are the signs of GBS in pregnancy?
Most pregnant women with GBS will not have any symptoms, which is why it's necessary to be tested for it prior to delivery. Sometimes GBS can cause a UTI during pregnancy, so that is considered an indication that the woman is colonized. UTIs often have associated symptoms like fever or burning when urinating. But there are times when a UTI does not have any symptoms. That's why your doctor will screen you with a urine test periodically during your prenatal care visits.
If you do have a GBS UTI during pregnancy, your doctor will probably give you antibiotics to take at that time, and you will most likely also receive antibiotics through an IV during labor since it is now known that you carry GBS in your body.
GBS can also cause a uterine infection during pregnancy. Symptoms would include fever, belly pain, and increased heart rate. This would be another case in which your doctor would give you antibiotics.
Can GBS be transmitted through breastmilk?
It is rare but possible for GBS to spread to your baby through breastmilk. The benefits of breastfeeding your baby outweigh the rare chance of transmission. Most of the time, breastfeeding can help lower your baby's risk of getting GBS later in infancy if you have tested positive for GBS.
Can I pass GBS on to my baby after birth?
Yes, if you have GBS, you can pass the bacteria to your baby during or after birth. The most common mode of transmission is during labor and vaginal delivery. After birth, there is a small chance of passing GBS via breastmilk or other means, but it is considered rare.
What is early-onset disease?
With early-onset disease, a baby gets sick soon after birth, typically within the first 7 days. A baby with early-onset disease can have severe infectious complications such as meningitis, pneumonia, and sepsis.
What is late-onset disease?
With late-onset disease, a baby gets sick from 7 to 89 days of life. The mother can pass the bacteria to her baby if she is GBS positive, either during or after delivery, but it may also come from contact with other people who have GBS.
Late-onset disease is just as serious as early-onset disease. You should always contact your doctor if your baby appears ill, has a fever or very low temperature, or has a lack of energy, poor feeding, or is generally inconsolable.
How do I prevent my baby from contracting late-onset GBS?
There are no set guidelines for the prevention of late-onset GBS. The best thing you can do is to practice good hygiene measures such as washing your hands before holding or touching the baby, avoid putting fingers in the baby's mouth, and ensure that everyone in the family washes their hands after using the restroom.
Also, make sure you are familiar with the signs of GBS. Group B Strep International lists the notable signs as:
High-pitched, inconsolable crying
Continuous grunting
Projectile vomiting
Feeding poorly
Sleeping too much, difficult to arouse
Fever or abnormally low temperature
Red, blotchy skin
Blue, pale, or gray skin
Fast, slow, or difficulty breathing
Body stiffening
Listless, floppy
Tense or bulging spot on top of the head
Blank stare
Infection at the base of the umbilical cord
What antibiotics are used to treat GBS in pregnancy?
Typically, penicillin or ampicillin are given to pregnant women who are GBS positive. Of course, if you are allergic to these drugs, there are alternative classes of antibiotics the doctor can use.
What do I do if I have a history of going into labor early?
If you have a history of early labor, or if your situation puts you at risk for going into labor early, you should talk to your doctor or midwife about the best time to do GBS testing in your case.
What if I go into labor before having a GBS test?
You should let the hospital staff know you have not had a GBS test when you arrive at the hospital. Add it to your birth plan. Of course, if you've tested positive during a previous pregnancy, you should inform your doctor or midwife. Your treatment will be based on your individual circumstances and risk factors.
What do I do if I test positive for GBS?
If you test positive for GBS, talk to your doctor about your delivery plan. You will be advised to receive IV antibiotics during labor to keep your baby safe during a vaginal birth or unplanned C-section. ACOG does not recommend IV antibiotics for a planned C-section where the membranes have not ruptured and labor has not started on its own.
If your water breaks, after calling your obstetrician, you will probably be told to head straight to the hospital to get your antibiotics started. They are most effective when administered 4 hours before delivery. When you arrive at the hospital, make sure to tell the staff that you are GBS positive and make them aware of any medication allergies you might have. Be sure to take prenatal probiotics, and stay on your regular supplements as well.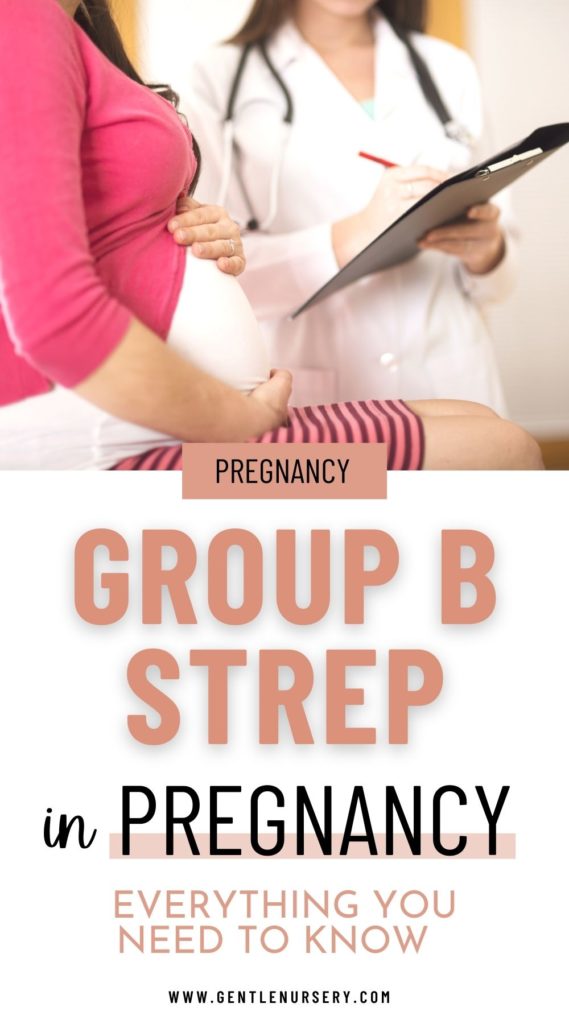 Related Reading:
r