One of my favorite things about being a blogger is getting to hear from my readers about the products they love. Sometimes, the praise is so glowing that I have to try a particular product out for myself!
That's exactly what happened with the Lovevery Play Kits. I heard so much from my readers about this toy subscription service that I had to find out what all the praise was about.
I grabbed a Play Kit to try it out for myself. And I'm incredibly happy to say that Lovevery lives up to every bit of the hype.
The idea behind the Play Kits is simple but kind of brilliant. Rather than searching for and buying toy after toy, you receive curated boxes filled with Montessori-inspired play toys that are age-appropriate for your baby or toddler.
Made from sustainable, mostly non-toxic materials, these toys are delivered to your doorstep every couple of months and are for birth up to age three.
Related: Lovevery Play Gym: Is it Non-Toxic?
Why I Love Lovevery Play Kits
There are a few reasons why I really love the Lovevery Play Kits and their playthings. If I had a little one young enough to enjoy these, I would definitely be subscribing!
At Lovevery, They Are Play Experts
Early childhood development is a fascinating field, but most parents don't know exactly what skills their baby should be learning, month-by-month. Lovevery has done precisely this type of research for you, and they've turned the results into lovingly-crafted toys that will fascinate and engage all babies and toddlers. #momwin
Lovevery's team of consultants includes experts from neuroscience, positive psychology, Montessori education, occupational therapy, and public policy. Thanks to their expertise, Lovevery eliminates all the stress associated with trying to give your baby the perfect play environment. Instead, you can rely on the toys in the Play Kits to help your baby develop the right skills for their age.
From spatial awareness, cause and effect, and creativity for babies to shapes, rhymes, art, and STEM activities for toddlers— the Lovevery experts cover all the bases. And they share this with you through the play booklets they send to you.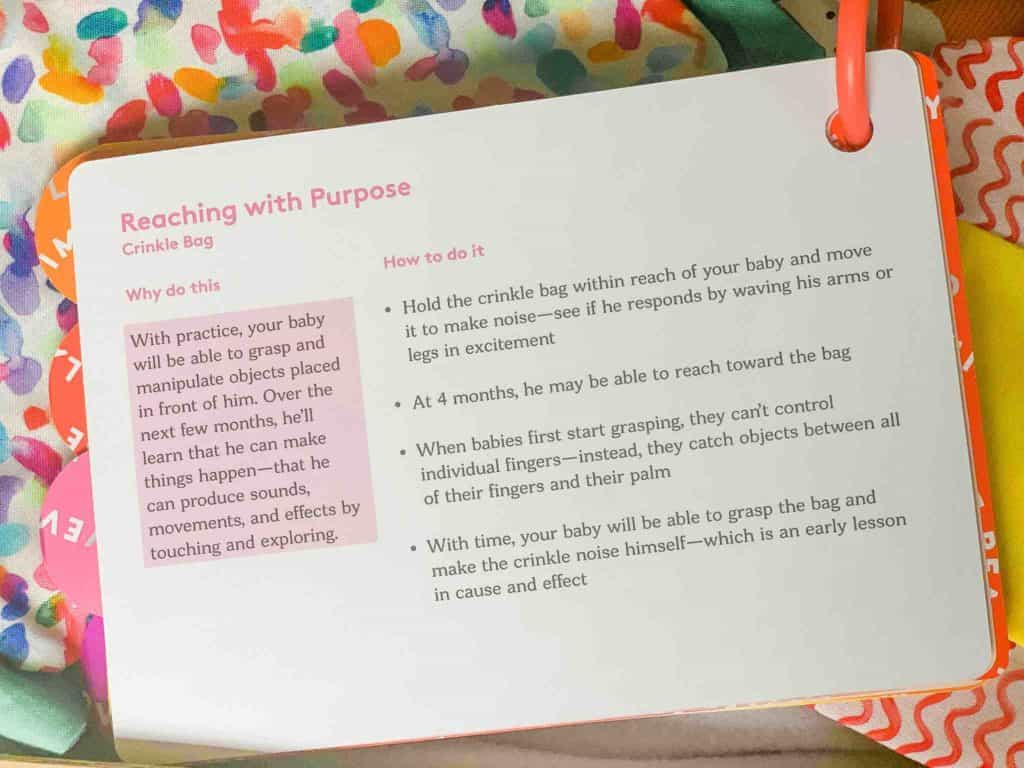 The Toys are High-Quality and Innovative
The toys in Lovevery's Play Kits are simple yet entirely original. From wooden rattles to high-contrast images and crinkle bags, they will target your baby's senses and fulfill their curiosity.
And if you look at these toys, you will see that every single item is beautifully made and has been thoroughly tested to meet (and in many cases exceed) safety standards.
Organic cotton is one of the most commonly used materials in the Play Kits, and every item is BPA and phthalate-free. Because these items are specifically designed for babies to put in their mouths, every kind of sealant used is supposed to be non-toxic. I can't fully speak to every toy they include but they are committed to using safer materials in their products. (Just remember: when in doubt… don't let your baby put it in their mouth.)
In addition to its focus on material safety, I appreciate Lovevery's commitment to sustainability. All of the wood comes from Forest Stewardship Council-certified sources, and Lovevery ensures that the company is carbon neutral by offsetting their shipping. #ecomomwin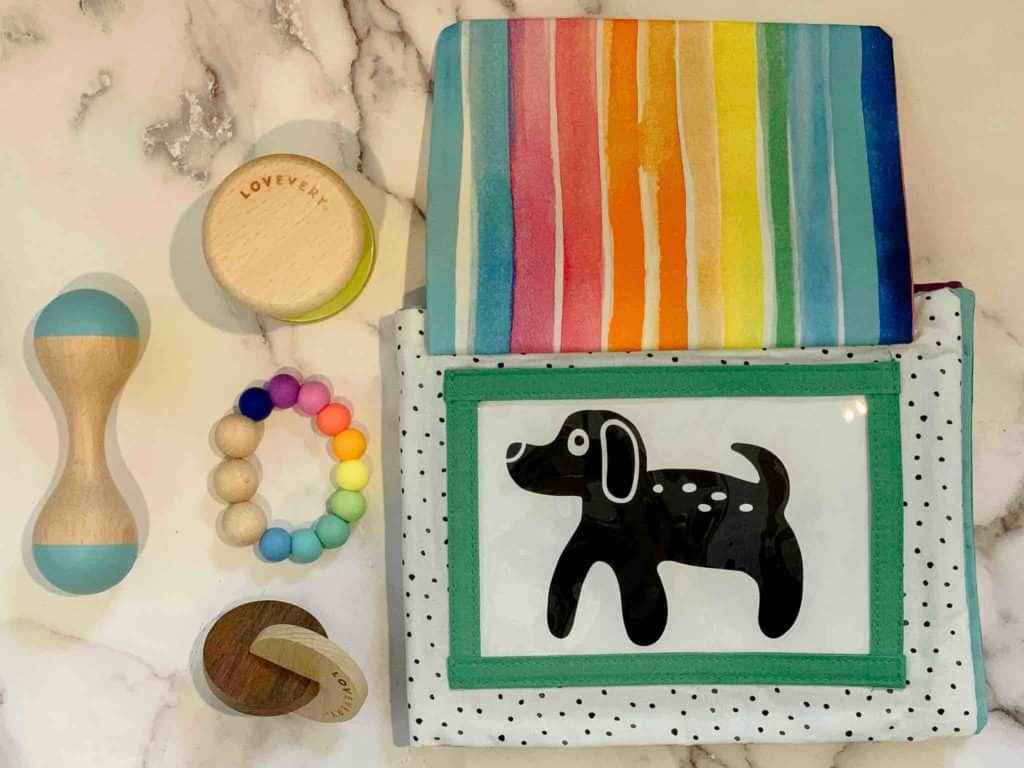 A Closer Look at Lovevery Play Kits
Lovevery's Play Kits focus on age-specific development (from birth to three years). And subscribers receive a different Play Kit every two or three months right to their doorstep.
There are six Play Kits for babies and eight Play Kits for toddlers. And each play kit has a whimsical name that corresponds to each stage of development. Examples include "The Looker," "The Senser," and "The Free Spirit." Luckily, if you're curious to see what's inside, you can see exactly what items are contained in each Play Kit on the Lovevery website.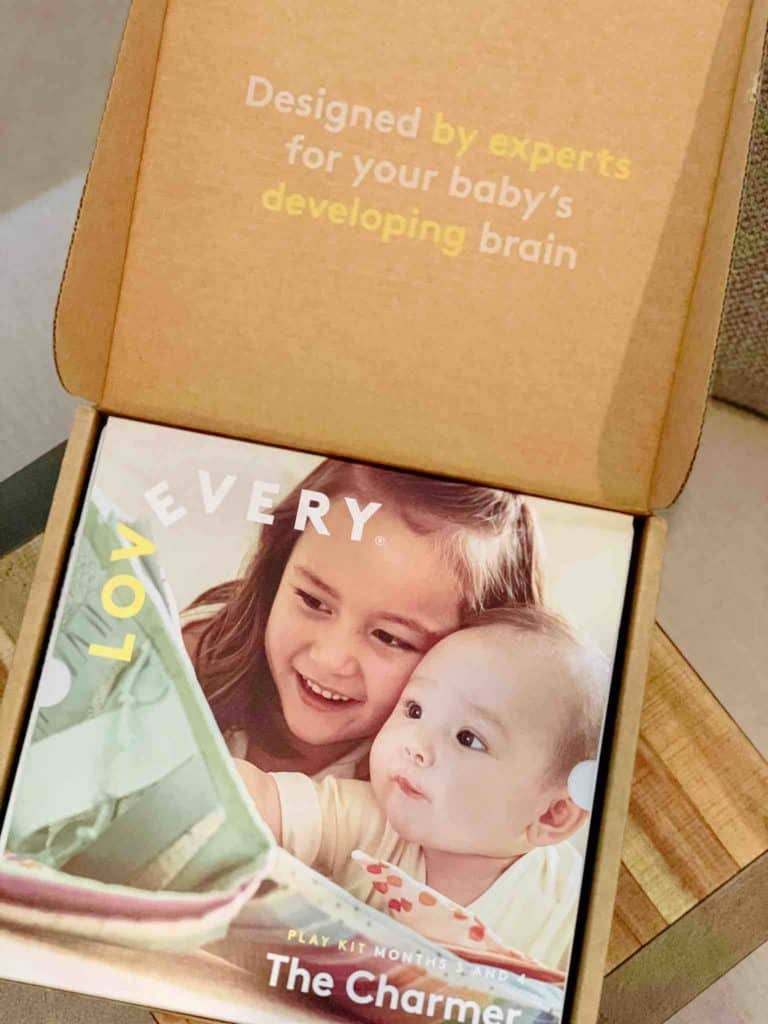 Each kit contains a set of entirely unique items, so you'll never receive the same things. You'll receive about seven or eight items in most boxes, and many of them have multiple functions.
You'll also love that each Play Kit comes with an activity guide. These guides discuss the nuances of each toy and the developmental milestones that your child will reach at that age. You will also find a video series explaining the science behind each of the playthings on the Lovevery website.
The items in the Baby Play Kits are meant to challenge your little one. You'll be surprised how much your baby learns over a couple of months with his new box of toys.
Don't be surprised if it takes time for your baby to figure out each toy. That's the purpose! For example, "The Inspector" kit for 7-8-month-olds contains a ball dropbox and a wooden ball set.
Although 7 month-olds may not be able to drop the balls into the dropbox, that's simply part of the fun. Over time, they will succeed and be more likely to relish the challenge of future activities. And, as all parents know, there's no "right way" to play.
Let your little one explore in their own unique ways and just know that each box is tailor made for babies in that age group (e.g. 0-2 months, 3-4 months, 5-6 months and so on.)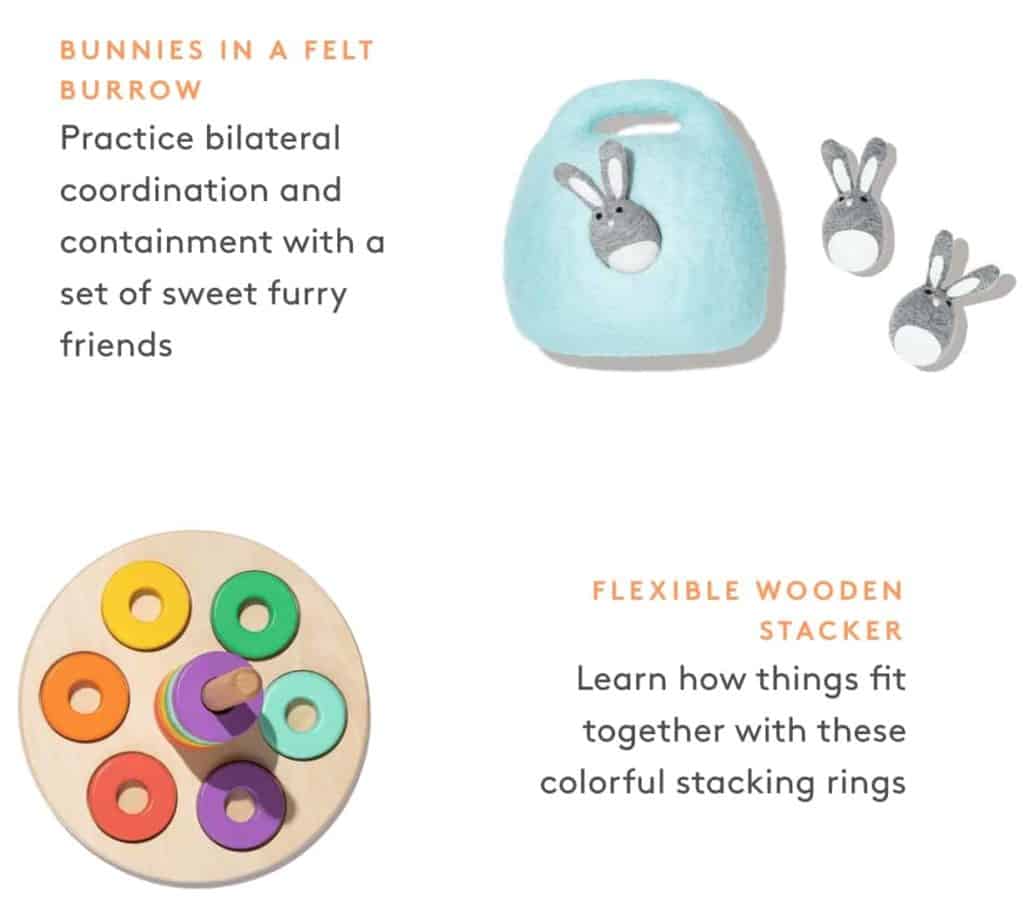 By the time that your little one is a toddler, the Play Kits become more elaborate. For example, "The Enthusiast" kit for 28-30-month-olds features a scale with pails and sliders to learn about balance and measurement. It also features a mini squeegee set, a gluing station, a sort-and-stack puzzle, a tea set, a picnic basket, and a board book. As you can see, these toys will not get boring!
One of my favorite aspects of the Toddler Play Kits is the variety of child-friendly versions of tools and appliances. It's fascinating to see which items your toddler gravitates towards, and can help you discover their personality and interests. So many possibilities!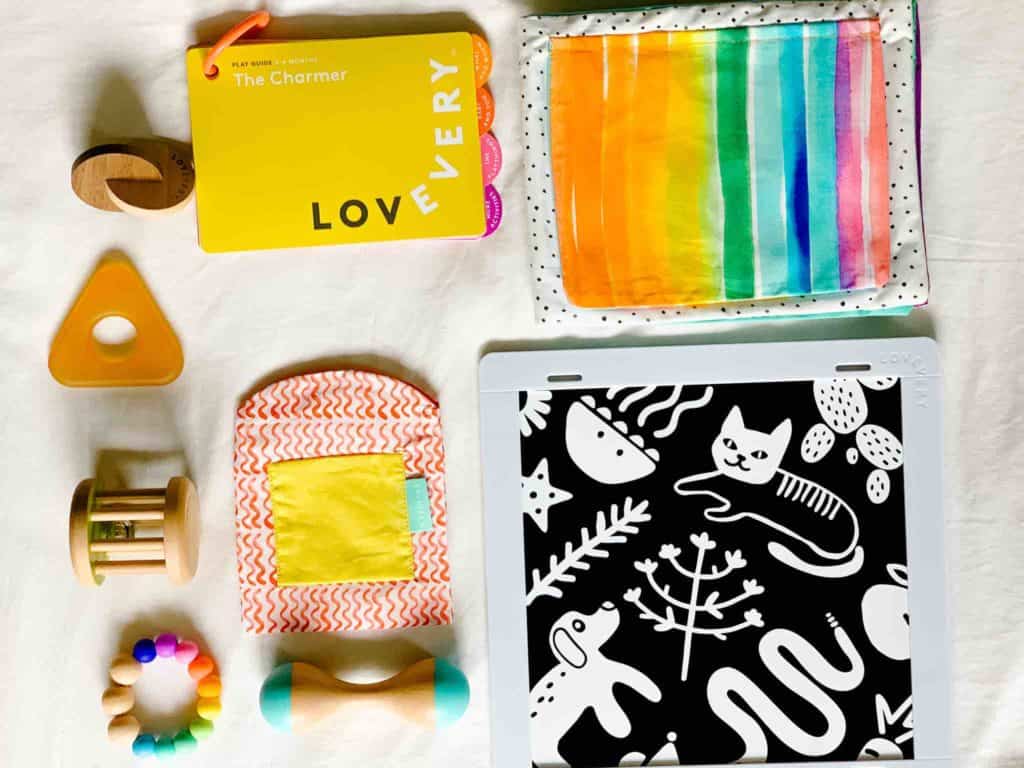 How Does the Subscription Work?
Signing up for Lovevery's Play Kit subscription is super easy. The website is straightforward — simply input your child's birthdate, and you'll be matched with the correct Play Kit for their age.
So, once you subscribe, you'll receive a Play Kit every two months for babies (up to a year old) and every three months for toddlers (up to three years old).
As your little one grows, the Play Kits grow with them. You'll see that each kit is designed to enrich their understanding of the world around them, and help them develop new skills and make new connections.
Lovevery's Baby Play Kits cost $80 each and are delivered every two months. The Toddler Play Kits cost $120 each and are delivered every three months. If you pay for several months upfront, you'll also get a 10% discount.
Currently, Lovevery is only available in the United States and Canada, but there are efforts underway to expand to other countries.
Other Lovevery Products You'll Love
In addition to Play Kits, Lovevery has a few other products that I recommend for being safe and fun for your baby.
Lovevery is known for the Play Gym, which was actually their debut product. The Play Gym is an activity space that's perfect for babies anywhere from birth to one-year-old.
I'm a huge fan of the Play Gym for a number of reasons. First of all, it's incredibly simple to set up — no tools or batteries are required, and nearly every surface is washable. Just like the Play Kits, the Play Gym is entirely non-toxic and made with sustainable materials. All of the plastic and silicone components are free of BPA, flame retardants, and phthalates.
Every aspect of the Play Gym is beautifully made. You can tell that a huge amount of thought and care has clearly gone into every stitch of fabric and piece of wood.
The Play Gym is made up of five different development zones: learning to focus, sounds, feeling, hiding and finding, and colors. Thanks to the Play Gym's design, each of these zones can be opened and closed, so your baby won't be overstimulated, and can focus on one area at a time.
There are also detachable teethers, batting rings, and a patterned organic cotton ball that never fails to fascinate babies with its unique shape and feel. Also, note that the removable play cover creates a fun play fort for your little one's creativity to run wild as he or she gets older.
Make sure to check out the Play Gym's detailed guide as well. This helps you know which accessories will work for your baby's current age and stage of development.
Lovevery's Block Set contains 70 solid wooden pieces made up of 18 different shapes in 18 gorgeous colors. Once again, the craftsmanship is superb, and every piece has clearly been designed with love.
This is certainly the only block set that your child will need throughout their toddler years. There are 20 stage-based activities described in the activity guide, but of course, your little one is bound to come up with his or her own creative ideas. There's truly an infinite variety of how the pieces can be used to develop creativity, language, spatial skills, and problem-solving with your baby.
Even the wooden storage box doubles as a pull car, which your budding mechanic can learn to construct themselves. It can also be used as the centerpiece for creative building activities. Your little one could easily construct an entire city out of these blocks!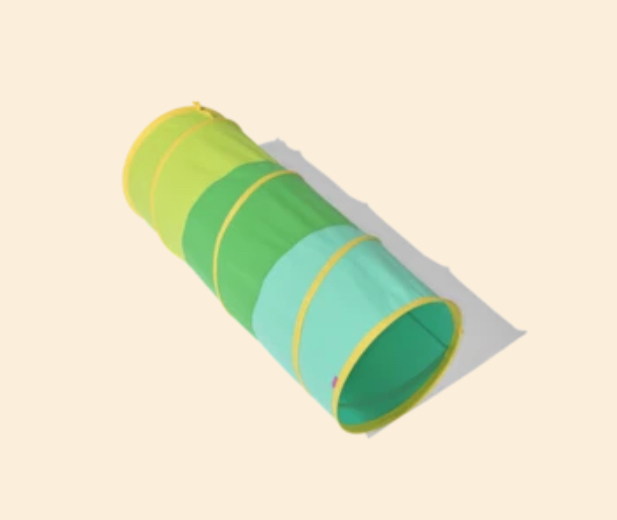 In addition to the Play Gym, the Block Set, and all of the fabulous items in the Play Kits, Lovevery also carries a few other Playthings. These are all of their own design and manufacture, including a 100% organic cotton nap mat, a stroller for pretend play, and an organic cotton tunnel. These make great add-on gifts throughout the baby and toddler years.
FAQs About Lovevery Play Kits
Are Lovevery products safe for my baby?
Yes! Lovevery makes an effort to use non-toxic materials in their baby and toddler items. They are tested by third-party labs for each material used and meet the global toy safety standards.
Where are Lovevery products made?
Like many toy brands, Lovevery's baby toys are manufactured in China, so you may want to avoid allowing your baby to put these toys in their mouth. Their manufacturing facility is one of the largest producers of sustainable toys. They manufacture, assemble, and quality check all of their products.
Additionally, all products are inspected at the U.S. warehouse for further quality checks before they are sent out.
Can I purchase one of the toys from the Play Kit alone?
Unfortunately, you cannot buy just one play item from the Play Kits. The Play Kits are designed for each toy to work together, so it's recommended to buy the Play Kit for maximum and intended value.
What are Montessori-style toys?
Montessori toys are generally natural, simple, and effective learning toys that encourage babies and toddlers to experiment. Generally, these toys are safer to mouth because they are made of natural materials. The toys also encourage your baby to manipulate objects and inspire new skillsets.
Lovevery has designed non-toxic play kits for children that are both made to learn and made to last! Did you sign up for a Lovevery subscription for your little one?
Looking for more toy ideas for your baby or toddler? Check out our other articles: