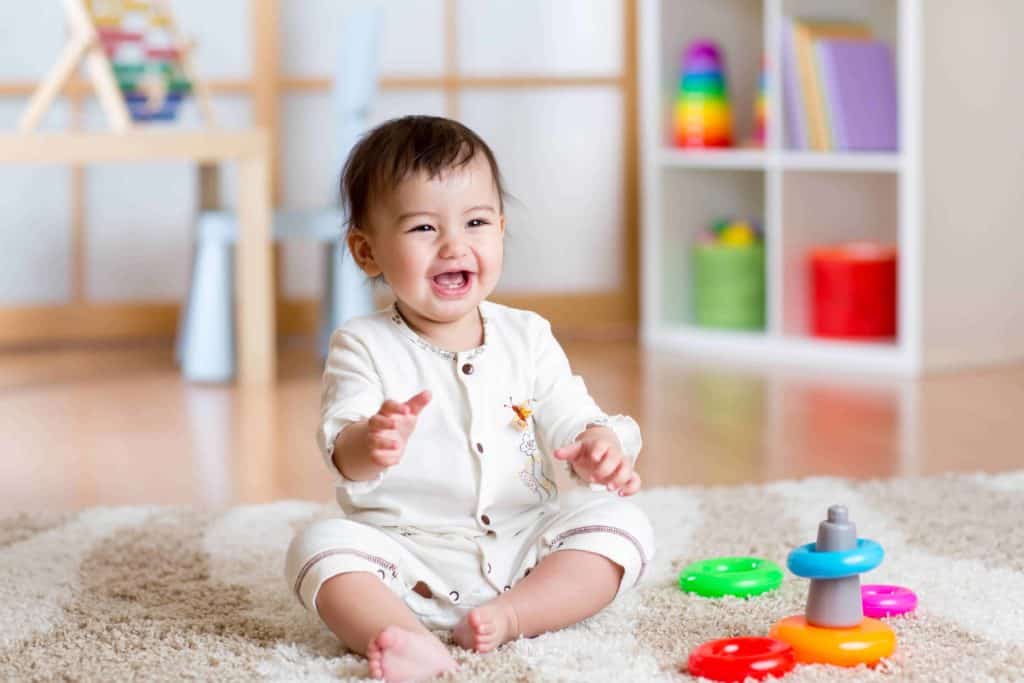 Looking for some thoughtful gift ideas for babies? Here's my list of the best non-toxic gifts for babies!
Whether it's for a birthday present, for the holidays, or just because, it can actually be hard know what to buy for a baby. A lot of times we buy toys for our kids, only to have them prefer to play with kitchen utensils instead. Or maybe you've been overwhelmed by the great toy options out there, only to find that every single thing your baby likes to play with is made with PVC or other toxic materials.
That's why I've put together this list of non-toxic gift ideas for babies.
These are tried and true toys that have been a hit with babies. And, they're made from safer materials. So you shouldn't find any BPA, PVC, or phthalates in these items. And any cotton used will be GOTS-certified. These recommendations are suitable for babies 0-18 months.
Plus, while a whopping 80% of toys are made in China, many of these are not. Please note that it was impossible to put together a useful list of good toys and avoid China altogether. So you'll find toys listed below are made in China, including some that are made by responsible companies that own their own factories in China.
Related: The Safest Non-Toxic Toy Brands
I've carefully selected these items not only because of their quality but also because they are sure to make any baby squeal with delight. I hope these non-toxic gift ideas provide your sweet baby lots of joy, too!
Non-Toxic Gift Ideas for Babies
Every baby should have this amazing wooden drum! We never get tired of ours.
Plan Toy Solid Wood DrumBuy Now
This natural rubber duck is beautiful and really well made. It's also hermetically sealed, so you don't need to worry about mold. We love ours, and use it as a bath toy. This duckie is so soft it could be played with at any age.
HEVEA Kawan Mini Rubber duckBuy Now
Related: Non-Toxic Bath Toys
Clutching toys are great for younger babies who are working on their grasp and/or who are teething. They're also just really fun to hold. This is a great gift for 0-9 months.
HABA Triangles Wooden Clutching Toy & TeetherBuy Now
These activity cubes are very popular, and offer five sides of fun play. I would get this for babies 6 months and up, though it is great for toddlers, too.
Country Critters Wooden Activity Play Cube by HapeBuy Now
Shape sorters help babies to develop their hand-eye coordination and shape recognition.
Green Toys Shape SorterBuy Now
6) Finn & Emma Play Gym (Frame made in China; Toys made in Peru or India)
Made from birch wood and featuring toys made with organic cotton. These toys also attach to a stroller or car seat, making them useful for on the go. This is a great gift for babies up to 9 months of age.
Related: The Best Non-Toxic Playmats
This rainbow stacking puzzle is a classic! There are so many ways to play with this, and it is fun for kids of all ages (making it a great pick for families with older siblings).
Grimm's Large 12-Piece Rainbow StackerBuy Now
This is the perfect ride on toy for babies and toddlers. It's a huge hit in our home. My youngest really started to appreciate this toy around the 12 month mark.
Hape Rocker Puppy Ride OnBuy Now
Like all of their stuffed animals, this cute Elephant is made with GOTS-certified organic cotton.
Under the Nile Baby ToyBuy Now
A well-crafted wooden xylophone that's fun for babies and toddlers alike.
Hape Rainbow Xylophone Musical InstrumentBuy Now
Truly non-toxic crayons that are perfect for little hands.
Honeysticks 100% Pure Beeswax CrayonsBuy Now
These bears are adorable and are made with a GOTS-certified cotton outer fabric. Both of my kids have their own for bedtime cuddles. These are appropriate for any age.
Bears For Humanity Organic Sherpa Teddy BearBuy Now
This fun baby set includes stacking cups, key rings, and an elephant toy. These are great for babies 3 months and older.
Green Toys Baby Toy Starter SetBuy Now
A wooden rainmaker toy that makes fascinating sounds.
HABA Wooden Rainmaker Colors & SoundsBuy Now15) Wonderworld 100-Piece Block Set (Made in Thailand)
Solid wood blocks are perfect for playtime. Please note that these are large and heavy, so they would make a good gift for babies 18+ months.
Melissa & Doug Standard Unit Solid-Wood Building Blocks Buy Now
Babies love to mimic what they see in the home. This tea set is a perfect opportunity for pretend play.
Plan Toy Solid Wood Tea SetBuy Now
Dishwasher-safe natural rubber bath toys make a perfect gift. We have gotten a lot of use out of these, and they have held up after months of daily baths.
BeginAgain Bathtub Pals Gift SetBuy Now
Uncle Goose makes high quality blocks in 23 different languages and on various themes. These are a great buy!
Uncle Goose Classic ABC BlocksBuy Now
These ergonomically designed maracas are lots of fun. Have a mini jam session with your baby!
HABA Wooden Musical Eggs with Acoustic SoundsBuy Now
Personalize the name and appearance of the main character in this cool personalized story book. Even babies appreciate hearing their own name.
Hallmark Personalized BooksBuy Now
These high-quality wooden name puzzles will get lots of use over the years. And they help teach kids the letters of their name, which is helpful.
Fat Brain Toys Wooden Personalized Name PuzzleBuy Now
A stacking toy that helps babies 6 months and older develop their hand-eye coordination.
Green Toys My First Stacker<Buy Now
These musical toys are a huge hit in our home. They are plastic, but they are free of BPA and phthalates. These are one of my go-to gifts for first birthdays. However, if you'd prefer to avoid plastic altogether, check out this wooden tambourine toy.
Hohner Kids Toddler Music BandBuy Now
These high contrast cards help stimulate your baby's vision, and they are easy to take along with you in your diaper bag.
Gigglespots: Entertain Your Baby's BrainBuy Now
These cogs are fascinating to watch as they spin around!
Fat Brain Toys Kids Spinagain ToyBuy Now
A Pikler Triangle is a climbing toy that can be used as early as 6-8 months of age. Popular among Montessori and RIE advocates, it helps babies develop confidence and gross motor skills. If you have the space for this, it makes a great gift!
Pikler Artisan Step TriangleBuy Now
Sensory balls are great for sensory exploration, but most popular sensory balls are made from plastic. These are made from food-grade silicone, so you won't have to worry when your baby plays with them or even chews on them. These may be a little heavy for younger babies, so you might have to use them with supervision.
If you prefer sensory balls that are not made in China, look into these.
Fat Brain Toys Sensory RollersBuy Now
This is another favorite in our home, and it is small enough to tuck into the diaper bag for playtime on-the-go. The colors are beautiful and there's just something so simple about it that makes it lots of fun.
HABA Magica Clutching ToyBuy Now
Though this will really come in handy as your baby gets closer to preschool age, I find that even babies under 18 months enjoy playing with this abacus.
Hape Rainbow Wooden Counting Bead AbacusBuy Now
My kids would always play with the bead mazes at doctor's appointments, so I finally brought one home and it has gotten lots of use.
Hape Double Bubble Wooden Bead MazeBuy Now
Like the walk-along puppy, these wooden pull toys make a fun gift for babies and toddlers alike. I don't leave these within reach because of the string, but we do let the kids play with them while supervised.
PlanToys Dancing AlligatorBuy Now
This bright and colorful 3″ sensory ball made from natural rubber makes a wonderful (and all-around safe) gift for babies.
100% Natural Rubber Sensory Ball (3″) by CaaOchoBuy Now
Books are always a good idea! Soft and literally indestructible, Indestructibles are safe for babies to play with. For more baby book recommendations, check out the top 25 books for your baby's first library.
Indestructibles: Baby Night-NightBuy Now
Too cute not to list, this duck racer also helps babies develop their fine motor skills.
PlanToys Duck Racer Mini VehicleBuy Now
These adorable stuffed animals are made with 100% cotton fabric and filling, making them safe for babies to chew on.
Under the Nile Baby Toy Scrappy Bunny Stuffed AnimalBuy Now
A tried and true favorite teething toy, Sophie the Giraffe also makes a great gift. Made from natural rubber, Sophie is a safe toy (and teether) for babies of all ages. Make sure to look for her other friends, too.
Vulli Sophie The Giraffe New BoxBuy Now
Another great classic from Green Toys, this tug boat makes a great gift for babies 6+ months.
Green Toys My First Tug BoatBuy Now
An adorable plush toy perfect for babies of any age, Organic Farm Buddies are handmade in China. They are 14″ and made with 100% organic cotton and feature a corn fiber filling. They also make an adorable matching blankie.
Organic Farm Buddies Plush ToyBuy Now
These teething beads are genius! I wish I had known about these when my boys were teething. They make a great gift for babies 3 months and older, though a newborn would also eventually get plenty of use out of them.
Chewbeads Teething Car Seat Toy and Stroller Toy Buy Now
Another non-toxic play gym for you to consider, the Lovevery gym grows with your baby. It is great for tummy time in the beginning and then is great for baby's independent play time as she grows. It comes with a free booklet with playtime ideas for babies, and the detachable toys are made from cotton and/or silicone. The mat is made from polyester, but you can always cover it with a cotton blanket or just use your own non-toxic playmat.
The Play Gym by LoveveryBuy Now
These links connect and can attach to a stroller, car seat, or high chair. They're a safer alternative to popular plastic links and would be great for most babies beginning at 3 months or so.
Chewbeads Silicone LinksBuy Now
I hope you found these non-toxic gift ideas for babies useful! It really is worth it to buy non-toxic toys whenever possible so that you can avoid BPA, PVC, phthalates, and other harmful chemicals. This goes double when your baby is putting everything in their mouth. Whether you're shopping for your baby's first birthday or for holiday gifts, I hope you found a few great toys on this list of gift ideas for babies. For more non-toxic gift inspiration, check out my list of safer toy brands.
---
Founder and CEO | The Gentle Nursery. Yasmine is a wife and mom of 2 boys, and the CEO of Biomeology, a company on a mission to end postpartum depression. She is a graduate of the University of Southern California, a doula in training, and a Functional Nutrition Coach. With a background in research, analytics, and leadership for a Fortune 100 company, Yasmine applies the same attention to detail to every article she writes and researches.