If you've already shopped for a crib mattress, you may have noticed that they can be quite pricey. They're definitely an investment that you make for your baby!
For this reason, it doesn't exactly help that babies can be pretty messy from time to time. From diaper leaks to spit up and runny noses—chances are, at some point, all of this will happen inside the crib.
To protect your crib mattress and make middle-of-the-night sheet changes easier, I suggest buying a quality waterproof crib mattress pad. (Actually, I suggest you buy at least two of them!) Not only can a mattress pad protect the mattress from baby messes and bedwetting but it can also help with irritants and allergens, keeping your baby's crib a clean and safe sleeping environment.
The Benefits of Crib Mattress Pads
We all know crib mattresses are used and abused by our little ones! They spend hours each day in their crib napping, sleeping, and playing, so the crib mattress faces a lot of wear-and-tear. A crib mattress pad is definitely a worthwhile investment especially when you look at all of its benefits!
Protects Mattress From Liquids
Liquids and mattresses don't mix well together. And your baby makes a lot of fluids in those early years! You certainly don't want diaper accidents or spit-up soaking into your brand new crib mattress. When substances like this sit on a surface, they can lead to bacteria growth, mildew, mold, and odors. And these things don't just make a mattress dirty, they actually can create an unsafe, unhygienic place for your baby to sleep. Luckily, a waterproof crib mattress pad fixes all of that!
Protects Against Allergens and Dust Mites
Using a crib mattress pad helps protect your baby's mattress from dust mites, allergens, and environmental irritants. Even if you keep a clean house and change sheets regularly, dust mites can coat your baby's sleep environment very quickly. And any environmental irritants like pollen and dust can impact your baby's fragile immune system. Babies might have itchy eyes, eczema, or even breathing issues when faced with these allergens.
Makes Clean-Up Easier
One day, if you haven't already, your child will get sick in the middle of the night or have a diaper accident. Mattress pads make cleaning up easier. Strip the mattress, toss the sheets and mattress pad into the washer, and put on a fresh set!
Preserves the Mattress (and the Investment!)
By keeping one of the most expensive items in your baby's nursery in good shape, a crib mattress can last through infancy and toddlerhood. In some cases, it can even be used for subsequent babies.
Related: The Best Non-Toxic Baby Furniture Brands
What to Look for in a Crib Mattress Pad
As with most baby items, quality is important. A crib mattress pad needs to withstand many baby messes and many washings! The good news is that plenty of companies offer top-quality crib mattress pads for reasonable prices, but not all of them are nontoxic. So, let's take a look at what to look for when picking out the best waterproof crib mattress pad for your little one.
Certified Organic Materials
Many conventionally grown and manufactured fabrics are saturated with chemicals and pesticides. Since a crib mattress pad sits under a crib sheet, your baby will be near the mattress pad for hours at a time. So, choosing a crib mattress pad that is an all-organic, or has at least a top organic layer, is a smart idea.
If you find an organic cotton mattress pad, it means that the materials have been harvested without the use of chemical pesticides, herbicides, or fertilizers. You can look for a few certifications to ensure it's made of safe materials such as GOTS, Greenguard Gold, and Oeko-Tex 100. Each of these certifications sets important limitations for the materials used in consumer products to ensure it's actually safe to use.
Not Treated with Extra Chemicals
Even if one of the components is organic, that does not mean that all of the materials used in the crib mattress pad are also organic. Check with the manufacturer to make sure the product does not contain any chemicals like fire retardants. While it is important to do your due diligence, through my own research, I've found that most crib mattress pads do not contain fire retardants simply because it's not mandated by the law in the same way other baby products might be.
Washer and Dryer Friendly
As with most baby items, you want your crib mattress pad to be easy to clean! Luckily, most mattress pads are easily thrown in the washer without issues, but always double-check the care instructions. Just like crib sheets, I suggest having at least two to three mattress pads on hand, so you can have one ready at all times. The last thing you want to do is to be stuck waiting for the mattress pad to finish washing and drying in order to put your baby back down for a nap.
Waterproofing
Most crib mattress pads are waterproof, but you will find that most waterproofing textiles are made with PVC (which is also known as the world's most toxic plastic).
If you want to stay away from toxic waterproofing materials, the options are to use a pad made from polyethylene, which is a food-safe plastic; TPU, an acceptable waterproofing barrier; or to use all-natural organic wool.
It's important to note, however, that a wool pad will not stop liquids from saturating through to the mattress. Wool is water-resistant, so while it's helpful to have some level of protection there, but it's better suited for those that are looking for something that provides a soft and breathable surface for your baby. That said, if you're quick to change messes, wool will work just fine! If you can help it, just don't let any fluids sit for hours at a time.
The Best Crib Mattress Pads for Babies and Toddlers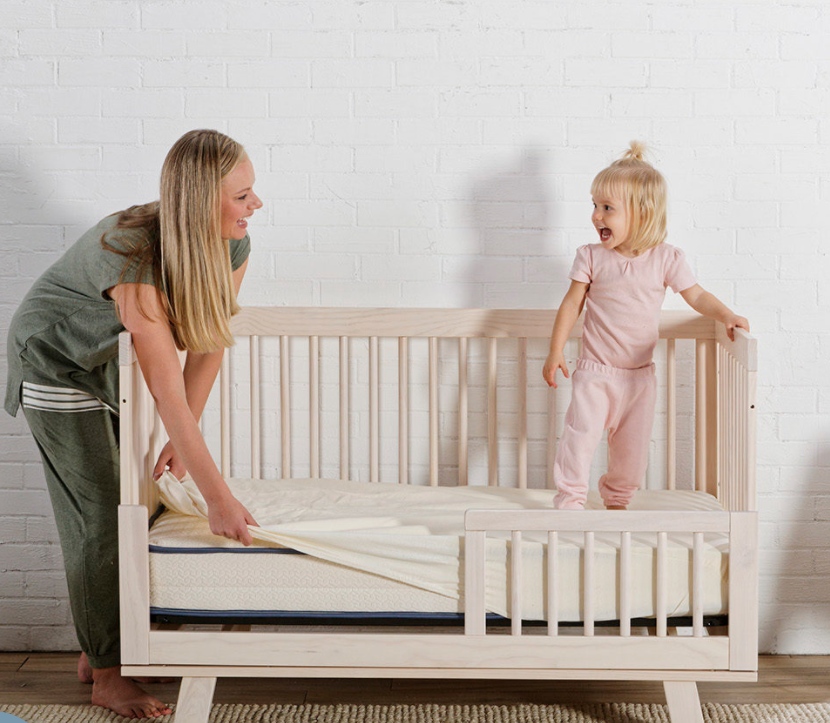 Buy on My Green Mattress
My first choice for the best waterproof crib mattress pad is by My Green Mattress. Their Organic Crib Mattress Protector provides protection for your mattress by stopping moisture, dust mites, and allergens.
My Green Mattress uses two layers of GOTS-certified organic cotton with a waterproof moisture barrier made from Oeko-Tex certified TPU (thermoplastic polyurethane), a biodegradable, non-solvent material. It comes with Greenguard Gold certification, and contains no chemical flame retardants, vinyl, PVC, phthalates, or rubber.
Because of the way it's made, it is a luxuriously soft and quiet surface and doesn't crinkle beneath your little one when he squirms. Each pad comes with a fitted organic cotton skirt and elastic perimeter to hold it in place, ensuring a safe sleeping environment.
To take care of this mattress pad, machine wash on cold or warm water with low agitation and dry on low heat. Be cautious when drying this pad as it is not pre-shrunk! Made in the USA.
Pros: Washer and dryer safe, super quiet and doesn't make noise when your baby moves around, and free of toxic chemicals.
Cons: Only comes with a one-week return guarantee, and does not come pre-shrunk.
---
Buy on Naturepedic | BuyBuyBABY
Naturepedic is a reliable company that makes both quality and safe, non-toxic products. Their waterproof crib mattress pad wraps around the mattress with an elastic hemline. Don't be fooled by the idea of it being a mattress pad; it's certainly soft and breathable, but it's thin like it should be for safe sleeping. Unlike other brands, this pad places the waterproof layer between layers of organic cotton, so your baby won't feel as if he is laying on plastic.
The mattress pad is made of GOTS-certified organic cotton. For the waterproofing, they use polyurethane. I know some parents are disappointed because of the inclusion of polyurethane, but you can be assured of its safety as the product is Greenguard Gold certified for emissions standards.
Like most baby products, it's not perfect for some people, but a perfectly safe crib mattress pad. It certainly eliminates the important toxins like vinyl, PVC, phthalates, fire retardants, pesticides, and formaldehyde.
This is machine washable and dryer-friendly (on low). Made in the USA (using imported fabrics).
Pros: Greenguard gold certified, excellent quality, and offers a tight fit for a Naturepedic mattress.
Cons: You may need to run this through an extra dryer cycle for it to fully dry.
---
Buy on Amazon
I'm a Little Teapot Organic Cotton Mattress Pad Protector is made of 100% GOTS-certified organic cotton for the cover's top, filling, and skirt. Oeko-Tex certified polyurethane is tucked inside layers of cotton to make this pad completely waterproof. Like other mattress pads I've listed, the waterproof barrier is layered inside the cotton and won't make any noise when your wiggly baby moves in his sleep.
Another reason that I had to include this product is that it comes with a 12-month money-back guarantee. Parents praise it for its affordability, durability, and efficiency. It doesn't shrink after washing, and you can wash it in warm or cold water. Made in Pakistan.
Pros: Made with GOTS-certified organic cotton, is free of toxic chemicals, and comes with reinforced seams for better durability.
Cons: This mattress pad also takes a little extra time to dry.
---
Buy on Amazon
Baby and Brooke makes a waterproof mattress pad using organic bamboo. It's incredibly soft, and it wicks away moisture better than cotton fabric, so your little one will sleep comfortably. Beneath the top bamboo layer, a TPU barrier makes the mattress pad 100% waterproof.
A unique feature of bamboo is that it is naturally bacteriostatic, so it will stop mold, bacteria, and odors from spreading on the mattress. This mattress pad is machine-washable, but it's recommended to air dry. Made in China.
Pros: Naturally bacteria resistant and helps wick away moisture.
Cons: Takes a little extra time to dry, and bamboo isn't as clean a textile as cotton.
Buy on Green Cradle
If you would prefer to avoid synthetic materials altogether, the eco-wool crib puddle pad is a wonderful, natural choice for your baby's mattress pad. Wool is naturally water-resistant, making this another excellent product to use.
Most often, parents use a puddle pad under a cotton mattress pad and a crib sheet. And typically, these are used on a non-waterproof mattress, like Green Cradle's crib mattress or the Emily Crib Mattress from My Green Mattress. But even if you have a waterproof mattress like a Naturepedic, this can still be a great option for your baby.
Pros: All natural and made without synthetic materials.
Cons: Can be on the pricey side and isn't fully waterproof–only water resistant.
3 Things to Avoid in a Crib Mattress Pad
Some crib mattress pads use toxic materials that really aren't safe for sensitive babies' little developing bodies. Three things you should avoid in a mattress pad are:
Vinyl/PVC. Polyvinyl chloride, is a popular yet toxic material used to make products waterproof. But there have been studies linking PVC to adverse health outcomes, including allergic diseases and respiratory inflammation in children and infants.
PEVA or EVA. Polyethylene vinyl acetate is free of chlorine and thought to be a safer alternative to PVC, but recent studies have found that volatile organic compounds (VOCs) in PVC products can evaporate. This process releases hazardous gases, some of which are carcinogens.
Polyurethane. Polyurethane is made from petroleum and uses a host of chemicals in its manufacturing processes including benzene, toluene, and formaldehyde. Its safety is largely determined by how it was modified during the process and what chemicals have been added to it. In general, you want a mattress pad that contains the least chemicals possible. Polyurethane is not my top choice, but if you can't escape it, some polyurethane waterproofing is Greenguard Gold certified and GOTS approved.
Bottom Line: Keep That Mattress Covered!
After a couple of babies, I know how important it is to keep a crib mattress covered with a mattress pad. My babies would have destroyed their beds if it wasn't for these covers! Trust me, buy at least two crib mattress pads: one on the bed and one in the wash. These pads will make your life much easier—and your crib mattress much cleaner!
FAQs About Crib Mattress Protectors
Still have questions about crib mattress pads? Read on!
If my crib mattress is waterproof do I still need a mattress pad?
While it's useful to have a waterproof crib mattress, having a waterproof crib mattress pad makes clean up extra easy. Without this added layer of protection, all accidents (drool, spit-up, urine) will land directly on the crib mattress.
If your mattress has a waterproof layer, bacteria can't soaking through to the mattress core, but it also won't make clean up any easier. You still need to wipe it down with soap and water, wait until it dries, and hope you've cleaned it thoroughly enough. Having a crib mattress pad ensures that your baby's bed is completely clean and hygienic. You can simply toss it in the washing machine and put a new one on!
Can I use a crib mattress topper instead of a crib mattress pad?
A mattress topper is typically made of foam, and it's designed to make a mattress softer by conforming to the shape of your body. This is not something I recommend for a baby's crib. Most importantly, this is not a safe surface for infant sleep. It's crucial that a baby's sleep surface is firm and anything you put on top of a crib mattress should not make the sleeping surface softer.
Second to this, is that foam is made of petroleum byproducts, a toxic surface that can off-gas and release toxins into your baby's sleep environment. It's also wise to remember that a crib topper does not do the same job as a mattress pad. A crib mattress pad will ensure your mattress stays clean and hygienic whereas a crib mattress topper will allow baby messes to sleep through to the crib mattress. No thank you!
Will a crib mattress pad make the crib mattress softer for baby to sleep on?
A crib mattress pad should make the sleep surface more comfortable, but it should not make the surface have more cushion. An infant safe sleep surface should maintain the exact firmness of the mattress itself. Remember a mattress pad's job is to simply protect the crib mattress!
How do I know if my crib mattress (with that mattress pad) is firm enough?
A firm surface means that it maintains its shape and will not indent or conform to the shape of the baby's head. If your baby's sleep surface creates an indentation, it will increase the risk of rebreathing air – a major SIDS risk. You can read up on safe sleeping practices in my article, Safe Sleep for Babies: 12 Important Guidelines Every Parent Should Know.
How often should a mattress pad be washed?
I always recommend washing or changing to a fresh, clean mattress pad each week. You can typically toss in the washing machine with your baby's crib sheet! Of course, wash/change sooner if your baby has an accident.
Does a waterproof mattress pad make babies sweat?
This is a big reason why you should choose a non-toxic, quality crib mattress pad! They are designed to be both breathable and waterproof. For example, Naturepedic situates the waterproof layer between two layers of organic cotton. Make sure your baby crib mattress pad is designed to have breathability and your baby isn't lying directly on the waterproof material. Always add an organic cotton fitted sheet over your crib mattress pad for extra comfort.
What's the difference between a mattress pad and a mattress protector?
Honestly, companies use these terms interchangeably. It really depends on the brand's marketing. A mattress pad might mean a very plush, non-waterproof cover OR it could be a thin, waterproof cover designed to protect the mattress. My advice is not to go strictly by "pad," "protector," or "cover," and recognize the terms are interchangeable across the market.
Do you still need to put a sheet over the mattress pad?
Yes! All mattress pads use some kind of synthetic material to create a waterproof layer. And even if the mattress pad uses organic brushed cotton on the outside layer, adding a nice soft organic cotton fitted crib sheet keeps your baby further from the synthetic material. It also creates a soft and comfortable surface for your baby!