Shopping for a baby can quickly add up.
Have you noticed just how many baby products are out there? And how expensive it all can get? I can definitely vouch for that! Even though I'm a second time mom, and I saved my son's baby clothes and baby gear, I still found myself spending a lot on items for baby #2. I spent way more than I expected to! It's true that I'm a little obsessed with baby products, but I also hate clutter and have been making a conscious effort to only buy what is necessary — and I was still shocked at how much I ended up spending.
And I think this goes double when you're trying to avoid mainstream products and choose gentle, organic products for your baby. But that doesn't mean you have to overspend! Here are a few tips and tricks for how to save money on baby gear.
How to Save Money on Baby Gear
Here's what I like to do to help reduce our baby product expenses…
1) Create more than one baby registry for extra discounts and freebies.
I have to admit that I like to take advantage of the perks and freebies you get from creating multiple baby registries. Not only do most major retailers offer you a free goodie bag (or welcome box), but they also provide you with a 10-15% discount on any leftover products that people didn't purchase for you. So, what I like to do is fill up my registry with anything and everything I will need for the baby, and then make one big purchase using my completion discount code. If you're having a baby shower, you'll want to wait until after the party to buy any remaining items that your guests didn't buy for you. You can also compare prices at different retailers, and often find products available at one store and not the other.
My main registry is with Amazon, but I also registered at Target because they offer great perks and discounts as well.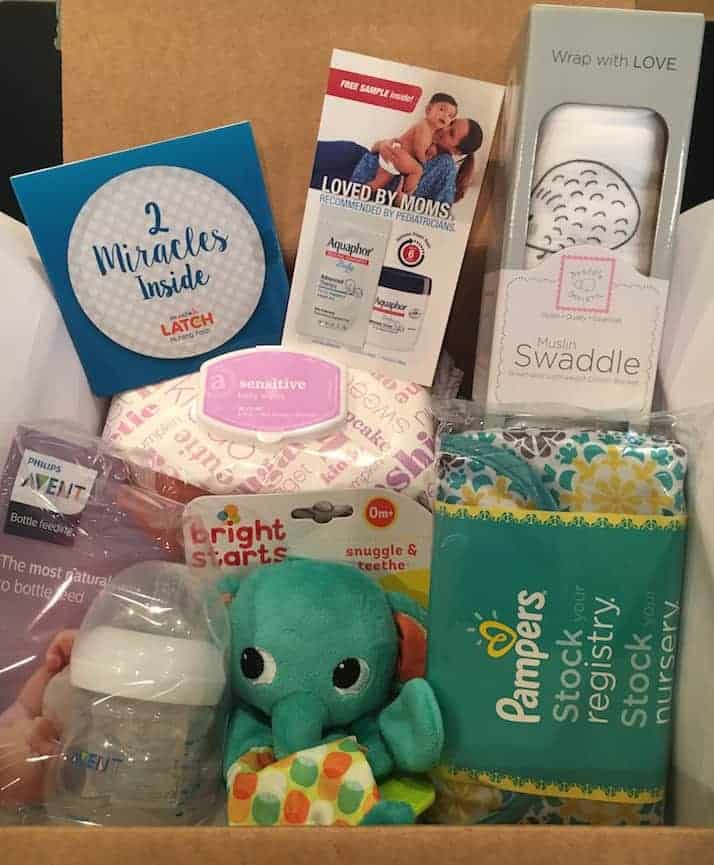 2) Join Amazon Family and get 20% off diaper subscriptions. Seriously!
Being a member of Amazon Family and using Subscribe & Save are essential in my book!
How it works can be a little confusing, but essentially if you are already a Prime member, you can sign up for Amazon Family for free by creating a child profile within your Amazon account. If you aren't already a Prime member, you can sign up for a free 30-day trial right now and begin taking advantage of all the perks:
Save 20% on diaper subscriptions
Free 2-day shipping on eligible items
15% completion discount on your baby registry (instead of 10%)
Unlimited streaming of movies, TV shows, and music
Prime costs $99 per year and in my eyes it's indispensable. To be as productive as possible – and as present with my family as possible – I am a big fan of automating as many routine tasks as I can. Having my diapers and wipes (and a ton of other household and personal items) on subscription through Amazon's Subscribe and Save program has been a tremendous lifesaver for me. Not to mention the 20% savings is hard to beat each month, especially if you are using eco-friendly diapers and baby wipes (which I definitely recommend!).
3) Open a store credit card and take advantage of discounts and savings. 
The Amazon Rewards Credit Card gives you rewards everywhere you shop, including up to 5% back on your Amazon purchases for eligible Prime members. You can redeem those points toward any purchase at Amazon, or even get cash back. I have had an Amazon credit card for several years, but I always ramp up my usage of the card anytime I know I'll need to make a large purchase. So as soon as I got pregnant, I switched most of my shopping and bill payments over to my Amazon credit card so that I could start collecting rewards. Even though I created my baby registry with Amazon and knew I would use their 15% completion discount, having a couple hundred dollars worth of points was a huge help when I made my big purchase of baby products.
The Target Red Card gives cardholders 5% off most purchases, free shipping on most orders, and an extra 30 days for returns. The savings definitely add up if you shop at Target quite a bit. In addition to carrying a lot of baby gear, Target pretty much carries everything you need and lots of great items you didn't even know you needed. 🙂 The Red Card is worth signing up for if you shop there often.
4) Breastfeed if possible, and make your own baby food. 
I believe in semi-extended breastfeeding and follow the World Health Organization's recommendation to breastfeed for 2 years. But in addition to the host of reasons that breastfeeding is beneficial for mom and baby, breastfeeding is a completely frugal way to feed your baby. Baby formula is pretty expensive and the costs add up; so much so that if you skip formula and breastfeed exclusively, you can save thousands of dollars in baby's first year.
Similarly, when your baby starts solid food, it's much more economical to make your own rather than buy jars or pouches from the store. You can store baby food in jars like these, silicone molds, or even in your own pouches. You could also try Baby-Led Weaning, which can eliminate the need to make your own baby food altogether (but check with your pediatrician first; mine wasn't on board with this approach). Whether you decide to give purees and mashes or start with BLW, you will know your baby will be getting fresh, healthy whole foods while saving money in the long run.
5) Have a baby shower. 
If you have friends or family who offer to throw you a baby shower, you should take them up on the offer! Not only is it a beautiful thing to get together with the ladies in your life to celebrate the upcoming arrival of your baby, but you will be gifted baby items as well. Bonus if they shop off of your registry, though not everyone will. Also, be sure to return any duplicate gifts, and any items that you don't plan to use.
6) Prioritize, prioritize, prioritize. 
You won't need every single baby product from day one. For example, your baby won't be in a high chair for a few months, so you can skip that purchase for now if necessary. You won't need a ton of toys for your newborn or every stroller accessory. You also won't need to go organic or natural on every single baby product. If you plan ahead, make wise buying decisions, and put your resources into buying what's necessary, you'll be able to save a lot on baby products. And? That's what I created this site for, so please visit the Natural Baby Registry Guide to get my recommendations for what to buy, what to avoid, and what you absolutely must buy natural/organic.
7) DIY when you can. 
I'm not a huge DIY-er, partially because I don't have the time, but mostly because I'm just not all that handy! But I do believe in the benefit of doing it yourself, and know that there are a lot of ladies out there that are much craftier (and more patient) than I am. If you are so inspired, you should DIY where it makes sense. Maybe that means making your own baby wipes or sewing your own baby clothes. If you're crafty, you can save a lot of money by going the DIY route. One way you can save money on household cleaning products is to use essential oils to make your own soaps, cleansers, and sprays.
And there you have it – a few different ways to save money on newborn baby products. If you have any other suggestions for how to save money on baby products, please comment below.
---
Download the Ultimate Baby Registry Checklist Spreadsheet
Planning for a new baby? Download a FREE copy of my complete baby registry checklist spreadsheet today! Make your baby registry planning process easy with this detailed Excel spreadsheet and manage your budget and actual spending, too! It's perfect for moms who like to plan and be prepared!
SaveSave
SaveSave
SaveSave
SaveSave
SaveSave
SaveSave
SaveSaveSaveSave
SaveSave
SaveSaveSaveSave
SaveSave
SaveSaveSaveSaveSaveSaveSaveSave