If you've read my post about the best places to register for your baby shower, you'll know that Amazon tops my list because of their wide product selection, free 2-day shipping, completion discount, and 90-day registry return window on most products.
Yet another reason that I love Amazon's baby registry is that they offer a free baby registry welcome box (worth up to $35) for Prime members (yes, you can get the welcome box with a free 30-day trial to Prime). Yes, Amazon will ship a box to your doorstep with baby products and samples, worth up to $35.
After creating your baby registry, there are a few extra steps to follow to claim your welcome box from Amazon. I've gotten a lot of questions about just how to do this (it's a little confusing, to be honest) so I created this step-by-step guide. Follow the steps below and you'll have your free Amazon Baby Registry Welcome Box shipped to your doorstep in no time.
What's in the Amazon Baby Registry Welcome Box?
Valued at up to $35, Amazon's Welcome Box has recently included a swaddle blanket, wipes, plastic Avent baby bottle, baby lotion, a baby toy, and more. When I received my free baby registry welcome box, it included:
1 Swaddle Designs Muslin Swaddle (46″ x 46″)
1 Bright Start Snuggle & Teethe Toy
Amazon Elements wipes (full size)
1 Philips Avent 4 oz. bottle (plastic)
A sample of Pampers Diapers & Sensitive Wipes
A sample of Aquaphor Baby Healing Ointment
A sample bottle of Aveeno Baby Lotion
Sample breast pads from Munchkin
Others have received different products and samples, so please be aware that you may not receive exactly what I received.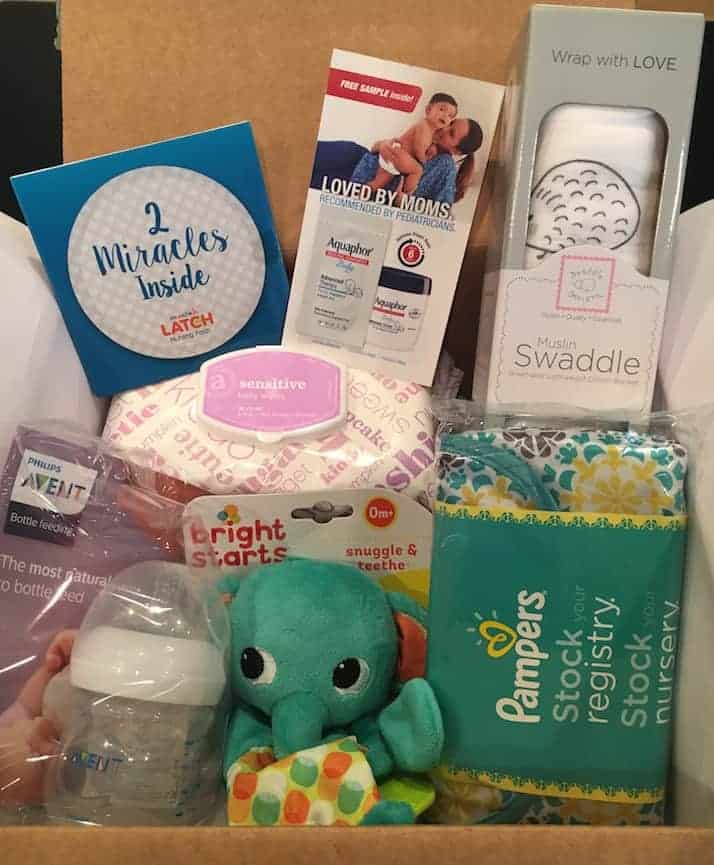 How do you Claim the Amazon Baby Registry Welcome Box?

To claim your free Amazon Baby Registry Welcome Box, follow these steps:
Purchase $10 worth of eligible products from your registry (or receive a gift worth $10)
Claim your Welcome Box and receive free baby product samples in the mail.
Follow these steps and you'll receive your Welcome Box in no time (while supplies last). Of course, you must meet Amazon's eligibility requirements, and the Welcome Box must be in stock.
Step 1: Create an Amazon Baby Registry
The first step is to create an Amazon Baby Registry, which takes just a couple of minutes.
You'll need to enter your basic information including your name, email address, baby's expected arrival date, and your shipping address. You can also do the following:
Enter a co-registrant (optional). You can add your significant other's name, if your baby shower guests or family members might be searching the registry in his name.
Adjust your registry's privacy settings. If you're not ready to publish your registry, you can keep it private by selecting "Just Me for Now". You can also make the registry Public, or make the registry available to people who are given the direct registry link.
By expanding the "A little bit more about you" section, you can also add your baby's gender and whether or not this is your first baby. Both are optional.
Add a personal note to your friends and family, which is a nice little touch.
Set your preferences, including whether you'd like to receive email notifications when a gift is purchased. (Try not to peek! It's so fun getting boxes on your doorstep and gifts at your baby shower.)
Keep your baby registry open for now, and we'll come back to this in step 3.
Step 2: Sign up for a free trial to Amazon Prime
One of the requirements to get the Amazon Baby Registry Welcome Box is that you'll need to be a member of Amazon Prime. If you aren't already a member, you can currently sign up for a FREE 30-day trial of Amazon Prime. You can cancel at any time, and if you cancel within the 30 day trial, you won't be charged the $99 annual fee.
Members of Amazon Prime save 20% on diaper subscriptions and receive additional discounts, compliments of Amazon Family. As a member, you'll also receive Amazon's upgraded 15% baby registry completion discount, free two-day Prime shipping on eligible products, exclusive coupons, free photo storage, unlimited music streaming, Prime Video streaming, and more. It's definitely worth the $99 per year! Sign up for Amazon Prime here.
Step 3: Add Items to Your Baby Registry
Ok, now let's go back to your baby registry. Amazon has a checklist covering different baby registry items, from bathtime and feeding to clothing and health & safety. Go through each of these sections and add at least one product to your registry. Be sure to follow my baby registry checklist to register for safe, gentle, and non-toxic baby products!
As you add products to your registry, Amazon will automatically check off any items you've completed. For example, when you add a baby bathtub to your registry, "Bath Tub" will automatically be checked off for you.

As you're adding products to your baby registry, you may come across categories or items that you don't want to include in your registry. For example, you may not have room in your home for a baby swing or you may already have a baby carrier. Just click "Mark Items Complete" and you'll be able to mark off any items you don't plan on registering for.
You'll notice that the checklist tool will tell you how complete your baby registry is. Keep adding products to your registry until the tool says that your checklist is complete. On your main registry page, you can check your status at any time by clicking "Check Status" in the "Welcome Box" section. (Also note: you can add anything from Amazon to your baby registry, though you may not be able to use your completion discount on products that aren't baby-related.)
Don't stress about which products to add! I've done all the research for you, so you'll save tons of time in setting up your baby registry. Here are a few of the most popular sections of the natural baby registry guide to help you get started:
Step 4: Buy $10 Worth of Eligible Products From Your Registry
After you've completed steps 1-3, the final step is to complete a purchase from your registry worth $10 or more. Of course, you don't have to do this yourself, but you can! If someone buys you an eligible gift worth $10 or more from your registry, you'll meet this requirement.
Simply add an item to your cart from your baby registry, proceed to checkout, and place your order. I recommend ordering something you know you'll need, like this life-saving product for postpartum or these mood-boosting probiotics for postpartum.
Once your item has shipped, you'll be able to order your Welcome Box!
**Note: You won't be able to order your Welcome Box until Amazon has shipped the item(s) you ordered to meet the $10 minimum. The checkbox will remain unchecked until your item has been shipped to you.
Step 5: Claim Your Amazon Baby Registry Welcome Box!
After your $10+ registry item has shipped, your Welcome Box checklist should be complete. Once you have all three checkmarks, click the "Claim Now" button to order your Welcome Box.

As you check out, make sure that the cost for the Welcome Box is $0. It's completely free, including shipping.
**Note: Make sure not to modify your payment settings. Or simply use the one-click button to make your purchase. You may have to make sure the $35 promotional credit is checked.**
The first time I tried to order mine, it was showing a $35 fee for the Welcome Box because I modified my payment preferences. I simply went back to my cart and tried again without modifying my payment details, and there was no fee. If you have any trouble with this, contact Amazon Customer Service for assistance.

Once you have placed your order, your Amazon Baby Registry Welcome Box should arrive soon! Next, you can finish working on your baby registry by choosing safe, non-toxic baby products or check out some of my popular pregnancy posts.
If you'd like to save time and money when working on your baby registry, order a copy of my ebook, The Baby Registry Handbook.
Helpful Amazon Baby Registry Links
SaveSaveSaveSaveSaveSaveSaveSave
SaveSaveSaveSaveSaveSaveSaveSave
Keep Reading: