No matter what we write in our birth plan, sometimes, birth doesn't go as planned. And that can result in having a c-section.
I know that c-sections get a bad reputation, but we have to remember to be thankful that c-sections can and do save lives every year when administered with necessity or out of emergency.
Some women have medical conditions that make having vaginal births difficult or risky. Others may have had complications in a previous pregnancy or birth. These factors can make a cesarean birth safer for both mom and baby.
If you end up having a c-section, for whatever reason, I want you to know what to expect after your c-section. Recovery after a c-section can be different than vaginal birth. While some aspects are similar, there are some key differences that all moms should know.
First, I want you to know that coming out of a c-section can be physically overwhelming. Remember, this is abdominal surgery. People often discount the recovery and expect to be able to do things as usual, but your body will need time and rest to recover from a c-section.
So, on that note, let's dive into what to expect after a c-section. Knowing these things beforehand (even if it's just in case) can make a difference in the quality of your recovery.
What to Expect Immediately After a C-Section
Before we learn about what to expect during your c-section recovery, let's look at what happens immediately after your c-section. It can be intimidating to not know what happens. It's best to discuss with your OBGYN before, so you know the hospital's policies on things such as skin to skin in the OR or room-sharing.
Women who have a c-section typically receive an epidural or spinal block. It's a form of anesthesia that numbs your body, but you can stay awake. General anesthesia is usually only used in emergencies or if a spinal block doesn't work.
After your baby is born and you get to see his beautiful face, they'll quickly clean your baby (unless you ask them not to bathe your baby) and weigh him. During this time, your partner can cut the cord, and they will swaddle your baby. A nurse or your partner brings your baby for either skin to skin or plenty of snuggles and kisses.
Skin-to-skin is vital for c-section moms to help increase bonding and facilitate breastfeeding.
Once everything is done, it's time to head to your recovery room where your baby will officially meet you.
It can take several hours to regain feeling after an epidural. Your nurses will be sure to start your IV pain relief before you restore feeling. That means it's not possible to walk or use the bathroom, so you'll have a catheter until you're able to walk.
Know that, in some hospitals, the practice used to be to take the baby from the mother for an hour in recovery. That can be difficult for your breastfeeding relationship and your mental health. Express your desires beforehand and let your partner know how to support your wishes.
In recovery, your nurses will check your blood pressure, your temperature, and any other vital signs. You should be able to get a drink of water, but you might not be able to eat until your OBGYN gives you the all-clear.
It's during this time that most hospitals encourage you to breastfeed your baby and spend as much time needed to bond and do skin to skin. You can ask for family members to come back into recovery, typically two at a time when you are ready.
After you have recovered for an hour or two, you'll be moved from your recovery room to your overnight room, or the person limit is lifted.
Related: 10 Reasons Why Collagen is Vital During Pregnancy and Postpartum
What to Expect After a C-Section
Here's a bit more about what to expect in the days that follow your c-section.
1. You Will Need Pain Medication and Pain Relief
Conventional pain medicine is likely necessary after a c-section. The pain can affect your ability to take care of your new baby. The pain should be expected after a massive incision in the abdomen.
I believe I have high pain tolerance, but it's completely different when you are recovering from surgery. Typically, doctors prescribe Motrin 800mg and Percocets or another strong pain reliever.
My best advice is to take something for pain relief if you need pain relief. Due to its inflammatory reduction properties, Motrin can make you feel better quickly without needing strong medicine. Getting in and out of bed is painful for your abdominal muscles, and you tend to ache more in the evening after moving around.
You can also try a heating pad on your incision site. That can feel good!
2. Getting Out of Bed The First Time Hurts
Without a doubt, getting out of bed for the first time hurts. Some say that it hurts more than labor contractions. It can feel as if your incision is going to tear right open. It can be scary if you aren't prepared for that feeling.
So, when you stand up for the first time, try some counter-pressure. Hold a pillow against your incision, and gradually stand up. You don't need to stand straight up, hunching over works as well. Getting up out of bed is a significant milestone because it means your catheter can come out, and your healing process can begin.
3. But You Should Get Out of Bed ASAP
Years ago, c-section moms stayed in bed for 12-15 hours, but now hospitals are encouraging moms to move within a few hours of surgery. The nurses might assist you in standing up within 6-8 hours after your surgery. Once the spinal epidural wears off, that means your catheter can come out, and you're free to start moving.
While it is painful, you need to get out of bed. Movement prevents the formation of blood clots, and c-section moms have a higher risk of pulmonary embolisms. After a c-section, women are four times more likely to suffer venous thromboembolism.
Getting up as soon as you can and moving around, even just a bit, will help you recover better and quicker.
You'll start to feel emotionally and physically better, and movement helps to get your bowels moving. You may feel some tenderness, burning, or pulling sensations as you pass gas or have a bowel movement. Many hospitals want you to pass gas before you begin to eat again, so try to move a bit, even if it's just to the bathroom.
4. Expect to Stay Longer at the Hospital
Every hospital is different with how long they require c-section moms to stay. Some ask you to stay for 3-4 days, which can be seriously problematic if you have other kids at home.
On average, most hospitals require moms who deliver vaginally to stay for 24-48 hours, depending on the birth of your baby. If your baby is healthy and the pediatrician clears him, then you can expect to stay for a shorter time frame of 24 hours.
For c-section moms, expect to stay 48-72 hours. The doctors need to watch your baby as well as your recovery. They won't send you home until they feel as if your recovery is going well.
It can be frustrating to stay longer at the hospital. You miss your bed — hospital beds will never compare — and moms report that they find it harder to relax in a hospital setting. However, try your best to use this time for ample skin to skin contact and breastfeeding on demand. Rest as much as you can!
5. Moving Does Hurt, Along With Laughing and Coughing
Moving, in general, can be painful. You don't realize how many times each day, you use your abdominal muscles. Laughing, coughing, and even sneezing uses abdominal muscles. So, if your husband, mom, or bestie makes you laugh, you will feel discomfort.
That's one reason why you should always have a pillow with you. The counter-pressure helps with the discomfort, as discussed when we mentioned getting out of bed for the first time.
Gradually increase your activity level over the next 6 to 8 weeks. Don't pick up anything heavier than your baby, and you definitely should never start exercising until your doctor gives you the all-clear.
6. You'll Need Some Help
Even if you feel like you're a superwoman, sometimes, you are going to need help. It's easy to forget that you had severe abdominal surgery, and you are at risk of developing infections. Too much activity or movement can cause you to reopen your incision. Keeping your incision dry and clean can also help reduce complications.
Ideally, you have a partner, a family member, or someone who can help you. For the first week or 2, you shouldn't perform too many house chores, if any at all. That can be problematic if you don't have a support system, but resting is vital during this period. You don't want to cause any problems with your recovery that might cause you to need to be admitted into recovery.
7. Pooping Can Be Problematic
Before you leave the hospital, the nurses must make sure that you're passing gas. Most don't require you to have a bowel movement, but they are going to recommend that you take stool softeners at home.
I'm serious. Pooping can be problematic after a c-section. Take your stool softeners and magnesium as often as you are allowed. Use topical magnesium before bed. Being constipated and having an incision feels as if your intestines might come out of your body.
It's not uncommon for the first poop to be quite an event in your life. The first few poops can be troublesome. You might also notice an increase in flatulence.
8. Try a Breastfeeding Pillow for Support
Any pressure on your incision can cause discomfort and pain, and c-sections can make it a little more challenging to breastfeed. Challenging, but not impossible.
Women who have c-sections tend to have lower rates of breastfeeding, and some of that is due to the discomfort experienced with positions and movement. Around 41% of c-section moms report having breastfeeding difficulties. More moms who have c-sections stop breastfeeding within 12 weeks postpartum than vaginal births.
I highly suggest that you have a breastfeeding pillow for support ready to go to the hospital. Even vaginal birthing moms can find help with a breastfeeding pillow.
You can also try these two breastfeeding positions, which are favorites for c-section moms.
Football Hold: In this position, you hold your baby's neck in your palm and rest her back on your forearm. Put her feet and legs under your arm and lift her to your breast.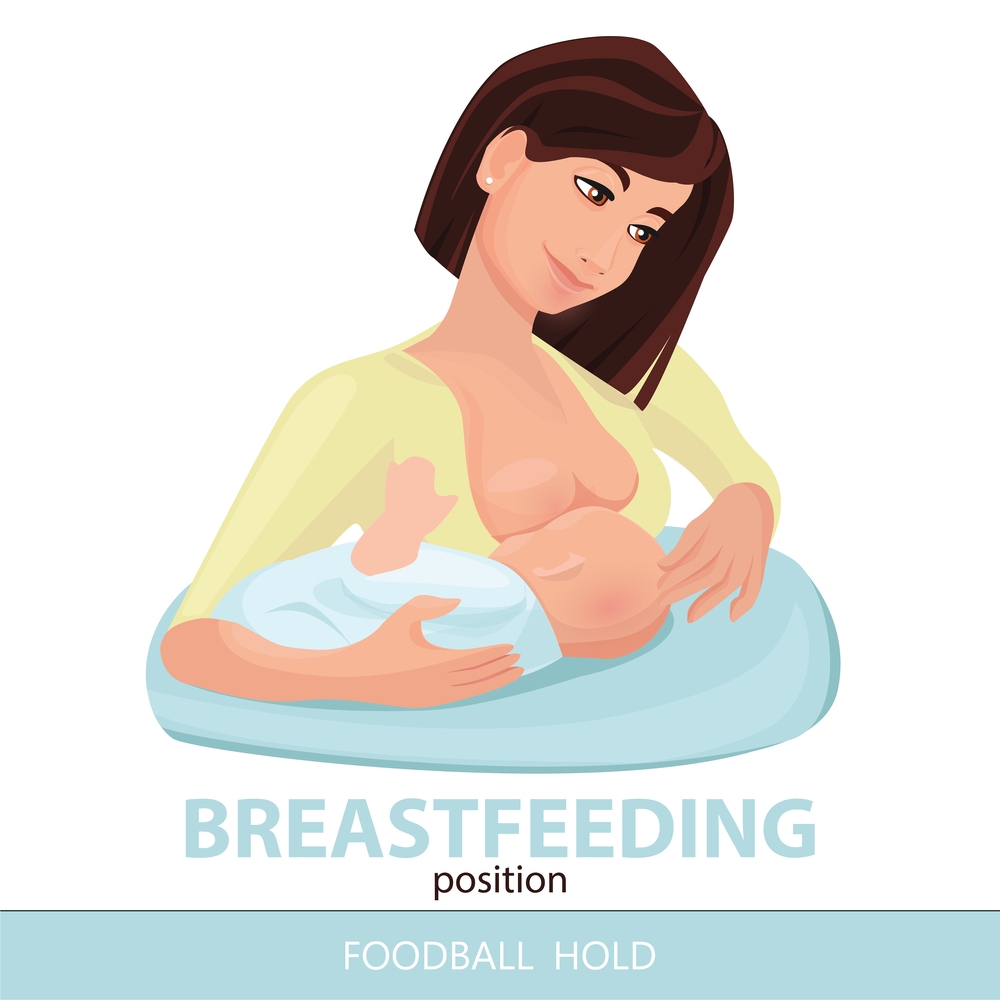 Side-Lying Hold: This hold is incredibly easy. Just lay down on your side facing your baby, and use your hand to bring your baby to your nipple. You can keep a hand or a pillow behind her back to stop her from rolling back over.
And here are some helpful tips for breastfeeding your baby after a c-section.
9. You Still Bleed A Lot
Since you don't have a vaginal birth, you might think that the bleeding will be less. It won't be at all. Moms still need to have plenty of maxi pads ready to go in your home.
All moms have vaginal bleeding for several weeks after delivery. It's called lochia, and it's the process in which your body gets rid of extra tissue and blood in your uterus that kept your baby during pregnancy.
The first few days after childbirth, you'll have bright red blood. Then, it gradually gets lighter, turning pink and then finally brown. You might even notice a yellow discharge at the end.
Expect the bleeding to increase if you have too much activity. Consider that a sign from your body that you need to rest and recover rather than go to the store or vacuum the entire house.
And if you are worried about the bleeding, definitely talk to your doctor.
10. Afterbirth Pains Are Real
Whether you have a c-section or vaginal birth, you can expect to have afterbirth pains. They feel sort-of like a mini-contraction. The purpose of afterbirth pains is to help shrink your uterus down to pre-baby size.
Afterbirth pains can last up to a week and gradually lessen. They do tend to get worse with each child. So, if you didn't have too many with your first baby, expect to have more with your second!
What Isn't Normal After a C-Section
So, now you know what to expect after a c-section and what is normal. You'll feel soreness and pain in and around your incision. This was surgery, afterall. You can have bleeding or discharge for up to six weeks after a c-section.
All of that is considered normal.
Moms need to pay close attention and watch for things that aren't normal. Then, you can give your doctor a call as quickly as possible.
Intense pain around the incision site
Redness, swelling, or pus coming from the site
Pain in your breasts
Chest pain
Difficulty breathing
Redness or swelling in your leg
Heavy vaginal bleeding
Bad-smelling discharge from the vagina
Large clots coming from the vagina
Fever of more than 100.4℉
You also need to talk to your doctor if you feel sad, or your moods don't seem to lift. If you have thoughts of hurting your baby or yourself, seek help immediately.
Final Thoughts
While all c-section moms have similar experiences, it's important to remember that everyone has different recoveries. Try not to compare yourself too much. Someone who feels perfectly themselves by three weeks isn't the norm. Focus on proper healing and taking care of your new baby during this time. Knowing what to expect after a c-section for vital for all moms!
Keep Reading: