Whether you've had a recent c-section or have one coming up, it's a good idea to be prepared. While it can seem overwhelming to undergo major abdominal surgery, it is a pretty common procedure nowadays and recovery is often smooth but you have to take care of yourself and follow the doctor's recommendations.
Once you have your c-section, there are some important things to avoid to allow your body to recover from surgery. But don't worry — these things are simple to-dos, and will honestly help you heal more quickly, too.
1. Don't Lay In Bed For Too Long
While it might seem counterintuitive, doctors actually recommend moving around soon after surgery (typically, as soon as your spinal anesthesia has worn off). So, after you do skin-to-skin, breastfeed, and settle into your recovery room, it's time to start walking.
While it might seem a little scary at first, the key is to take it slow. Begin by gradually moving your legs to one side of the bed. Slowly and carefully, you can gently put some weight on your legs (while holding onto the side of the bed). If you can, stand up and try to take a few steps. You might consider walking to a nearby chair. Once you master that, you might try walking to another point in the hospital room (perhaps to the bathroom if you haven't gone yet!), and after that, consider the hallway or something further away. Definitely have your partner or a nurse nearby for assistance. Just take it slow and take as many breaks as you need. The sooner that you get up and start walking, the better it is for the healing process.
2. Don't Wear Tight Clothing
Stick to loose, breathable clothing (like organic cotton). You will want to avoid clothing that rubs against your incision, which can be quite painful and irritating. While you're in the hospital, a nursing nightgown is best. This will allow you to feel more put together than a hospital gown, but still allow accessibility for health checks and breastfeeding.
Everyone heals at different speeds, but you should plan on wearing looser clothing for several weeks following surgery to let your incision heal properly without irritation/infection.
3. Laugh, But Grab A Pillow
Ok, laughing is always good, but when you do laugh, your abdominal muscles contract and can really hurt when you're still recovering from a c-section. The best thing to do is have a pillow at your side and hold it to your abdomen when you laugh for a little counter-pressure to offset any discomfort.
4. Don't Be Surprised by Sneezes and Coughs
Aside from laughing, sneezing and coughing also use abdominal muscles and can cause a bit of discomfort. And, just like laughing, a pillow works wonders. Again, keep a pillow by your side and hold it gently against your abdomen when you cough or sneeze to reduce the pain.
Related: 15+ Smart Tips to Help You Heal Faster from a C-Section
5. Don't Drive Too Soon
Your doctor will probably tell you not to drive, but many doctors don't make it clear why.
First, you may be taking various pain medications following your c-section. And, as with any prescribed medication, you don't quite know how it will impact you. Even if you feel fine, you may have delayed reactions. So, give yourself a week or two when you've tapered off the pain meds and you're more alert.
Second, certain driving positions can be painful. For example, turning your head and torso as you might do before you switch lanes, turn, or just check on your baby, can be super painful. After all, twisting your abdominal area (however slightly) can even rip your stitches if you aren't careful.
Try sitting on the sofa at home and practice some of the adjustments you might make as if you were driving. This can help you assess your discomfort. Press your foot down (as you would on a brake pedal) and turn to look over both shoulders. If these are uncomfortable, you're not ready to drive.
Also, consider how you will manage your baby and car seat. It's best to have someone else drive and be there to take the baby in and out of the car so you can avoid heavy lifting.
6. Don't Ride in the Car Without a Pillow
If you haven't noticed by now, pillows really do become your best friend when you're recovering from a c-section. If you need to ride in the car, bring a pillow with you. This can be useful when driving over particularly bumpy roads or if you come to a halt too quick for comfort. Simply hold the pillow against your abdomen and gently press to relieve pressure/discomfort. Note: Do not put the pillow between you and the seatbelt.
7. Avoid Gas-Causing Foods
You've got a lot going on in your abdominal region. From uterine cramps to a healing incision, you definitely don't want to add to the discomfort. So try to limit gas-causing foods, which can make your stomach feel more full, cause more pain, and just generally make it more uncomfortable. Drink plenty of water and limit intake of foods like beans, pasta, refined sugars, and gas-causing veggies like broccoli.
8. Avoid Constipation
While your incision will not break open, bowel movements may feel like it's possible to do so especially if you're constipated. Eat plenty of fiber-filled foods and drink plenty of water. Your doctor will likely recommend taking daily stool softeners, but magnesium and prenatal probiotics can also help. Grass-fed collagen may also help encourage regular bowel movements by supporting your gut health and stomach acid.
Stay away from foods that might lead to constipation, and eat as many foods as you can that have a laxative-like quality. For example, kiwi, melon, pears, bran, and prunes.
9. Don't Take the Stairs Too Often
Stairs can be a challenge after a c-section, so try to limit going up and down too many times. If you have a two-story home, it's a great idea to make sure you have necessities on both floors (diapers, wipes, baby clothing, nursing pads, etc.) When you do take the stairs, take them slowly. In the first couple of weeks, it's best to have your partner carry the baby up and down the stairs as you regain your strength and stability.
10. Don't Take a Bath
A nice hot bath may sound relaxing, but it's not a good idea. Your doctor needs to clear you before you can have a bath, go swimming, or get into a hot tub.
There is a significant infection risk after you have a cesarean. Bacteria from the water can enter your incision and/or any vaginal tears from delivery and cause a serious uterine infection. So, stick to the rules, shower, and clean your incision according to your doctor's guidelines.
11. Don't Go-Go-Go
Give yourself a break and a bit of grace – seriously.
Not only did you just have a baby, but you also underwent major abdominal surgery. Make sure to delegate chores and take all the help offered to you. While some days you may wake up full of energy and ready to take a hike with your baby in tow, it's not the time to try.
Stay active within reason and allow yourself time for self-care when it makes sense. Try short, slow walks with plenty of rest time, hydration, and baby cuddles!
12. Don't Avoid Your Incision
Some women avoid looking at their incisions entirely, which isn't best practice. Even if you're a little squeamish when it comes to wounds (I definitely am!), it's a good idea to be familiar with your incision.
It's particularly important to know if you're experiencing any kind of discharge or redness in the area, which can indicate infection.
Related: The Best Belly Bands for Your Postpartum Recovery
13. Don't Rush Yourself
If you aren't ready to visit a family member's house, don't do it. If you don't feel up for walking around the block with your toddler, don't. Listening to your body is a must-do thing. Only you'll know if something is too much. We all recovery differently and at different rates.
14. Don't Do It All At Once
Recovery is the goal; you want to get back to normal life. Each day, try to do something new. Whether you're merely loading the dishwasher or walking to get the mail, adding in small daily to-dos will help you get back to regular life at a reasonable pace conducive to healing. But don't do it all at once!
15. No Running or Adventure Sports
It should go without saying that a c-section mom must avoid running, skiing, rollerblading, bike riding, or any type of exercise involving weights. No matter how great you feel, any exercise or physical activity needs to wait until you have clearance from your doctor. It is possible to break open your stitches, internally or externally. Not something to risk.
16. Don't Take it All On: Ask For Help
Now is the time to ask for help. Don't take it all on, even if you think you can. Have dinners delivered, a friend take your toddler to the playground, or a family member fold your laundry. Hire a postpartum doula if you can and want to. Whatever it is, rely on your friends and family for help.
17. Don't Avoid Your Painkillers
I know so many people who avoided taking their painkillers and I know that it would cross my mind as well. I know that you may be concerned about the side effects, but keep in mind that you might simply need some pain relief when you're recovering from surgery.
18. Don't Have Sex
You might think that since you didn't have a vaginal birth, it's okay to have sex sooner, but that's not the case. A c-section mom must avoid sex until the doctor says it's safe to do so, which typically happens around six weeks postpartum. Having sex too soon can lead to infection and healing complications.
19. Don't Let Yourself Get Down
Sometimes a c-section may have been unexpected or not within your ideal birth plan.
Try not to focus on what you think went wrong or ruminate on whether you could have done something different to avoid a c-section. Remember that VBACs are encouraged by ACOG, so you can always seek out a vaginal birth in the future if that is something you want.
And if you do feel depressed or anxious, seek out a therapist who specializes in helping postpartum women.
Related: 15+ Realistic Self Care Ideas for Tired New Moms
Take Care, Mama!
I bet you never thought that you might want to avoid laughing, but it's a reality that c-section mamas face. These 19 things a c-section mom must avoid are real, but this stage of your life doesn't last forever. Most women are fully recovered at 8-12 weeks postpartum. You'll start to feel like yourself again and life will settle into its new routines.
Remember, birthing a baby is a lot of work. Take care of yourself and your baby and before you know it, you'll be fully recovered!
FAQs
More questions about c-section recoveries do's and don'ts? Read on!
What are some of the reasons for a c-section?
There are many medical reasons for a c-section. Most notably are the following:
Mother has placenta praevia.
Baby is breech (feet first) and the doctor is unable to turn the baby successfully.
Mother has genital infection (HSV).
Mother has high blood pressure complications.
Baby has complications (not enough oxygen, issues with cord, etc.) that necesseitate immediate delivery.
Mother has had a c-section before and does not want to attempt VBAC.
What's the best way to get out of bed after having a c-section?
You can't exactly just sit up when you're recovering from abdominal surgery. The best way to get out of bed is by turning onto your side and then slowly moving your legs over the side of the bed. Use your arms to push yourself into a seated position and gradually put weight on your legs to stand.
What is the best sleeping position after having a c-section?
The best sleeping position will be one that is comfortable and doesn't put pressure on your healing incision. There are a few positions to try that most c-section women find comfortable for sleep.
Sleep on your back: This doesn't put any pressure on your incision. You may try to add pillows for extra support either at your sides or under your knees.
Sleep on your side: This also keeps pressure off of your incision and puts you in a good position for getting out of bed. If you choose this position, you may want to use some extra pillows for support where you need it.
How long does it take to a c-section to heal internally?
It varies from woman to woman, but in general, it takes 4-6 weeks to heal from a c-section. Keep in mind it may take longer to fully resume normal activities. Your doctor should tell you where you are on the healing spectrum at your postpartum doctor's appointment.
How do I know if my c-section is healing inside?
The best way to tell if things are healing appropriately is by looking at the coloring of the incision scar. It should gradually change from red to pink. If it looks angrier and redder than it did previously, that is reason to call your doctor. You'll also find that when you touch the incision, it should become less painful and tender. If it becomes more painful or more tender or you see discharge, this would also be a reason to call your doctor.
Have you had a c-section? What were some of the things you avoided doing?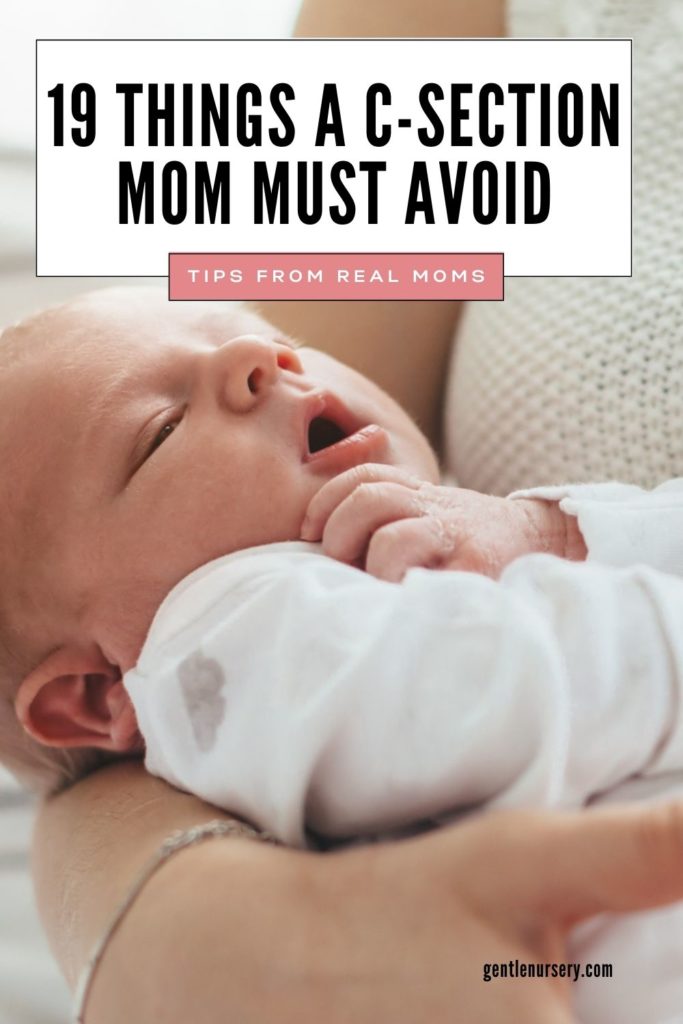 Keep Reading:
Want more support during your pregnancy?
Join PURE Pregnancy, my holistic pregnancy guide. Have your best, most prepared pregnancy… starting today!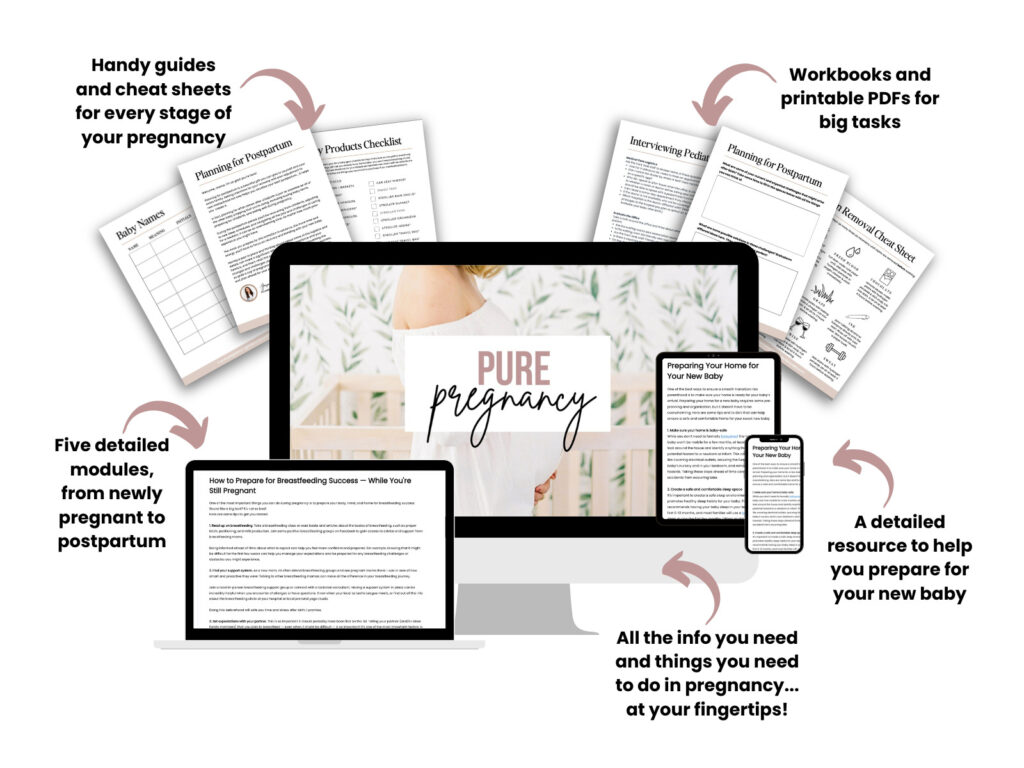 Learn More