As more evidence surfaces about the benefits of skin-to-skin contact, more parents (and doctors) push for the opportunity to have skin-to-skin after a c-section. For years, doctors and hospitals claimed it was impossible. Historically, mom and baby had to be separated in the operating room and forced to delay skin-to-skin until recovery. But more recent evidence has been brought to doctor's attention and has helped push for policy changes, making skin-to-skin possible and vital for all healthy babies regardless of delivery method.
If you have a c-section, it does not mean you can't do skin-to-skin right away. In fact, more doctors are able to accommodate skin-to-skin after a c-section right in the operating room!
Remember, you are your baby's health advocate, so ask your doctor if skin-to-skin is available to you during your c-section. Science is definitely on your side. Just check out all the benefits of skin-to-skin!
Related: The 9 Most Important Rules for Visiting a Newborn
The Benefits of Skin-to-Skin Care
Typically, after a normal, vaginal delivery, a baby is placed on the mother's chest immediately following delivery for skin-to-skin. Studies show that this immediate skin-to-skin care is incredibly beneficial, helping a baby make the transition to life outside the womb easier.
Of course, the benefits do not only apply to vaginal births. These are benefits that apply to every healthy baby and mother! Here is why skin-to-skin is so vital for infants and mothers.
Increased Rates of Successful Breastfeeding
Studies show that early skin-to-skin care significantly improved the rate of exclusively breastfeeding. In fact, newborns have the innate drive to latch by themselves if left to their own devices. If you place a newborn baby on his mother's abdomen, he will begin to make his way to his mother's breast by doing the "breast crawl."
You can see an awesome video of this here:
Babies who have the opportunity to initiate breastfeeding learn how to suckle and latch better. And, having a proper latch is essential for a stable breastfeeding relationship. Experts explain that without skin-to-skin care, breastfeeding initiation can be more difficult. A baby needs to feel comforted, warm, and close to his mother before he latches successfully. This happens more easily by doing skin-to-skin immediately following delivery.
Related: How to Breastfeed After a C-Section
Bonding Sooner
As you might guess, skin-to-skin care helps build a stronger bond between mother and baby. It's a noticeable difference; babies who have more skin-to-skin contact with their parents are not nearly as stressed, and they cry less than those who are separated from their mothers. According to experts, physical touch and skin-to-skin release the hormone, oxytocin, which helps mom feel closer to her baby.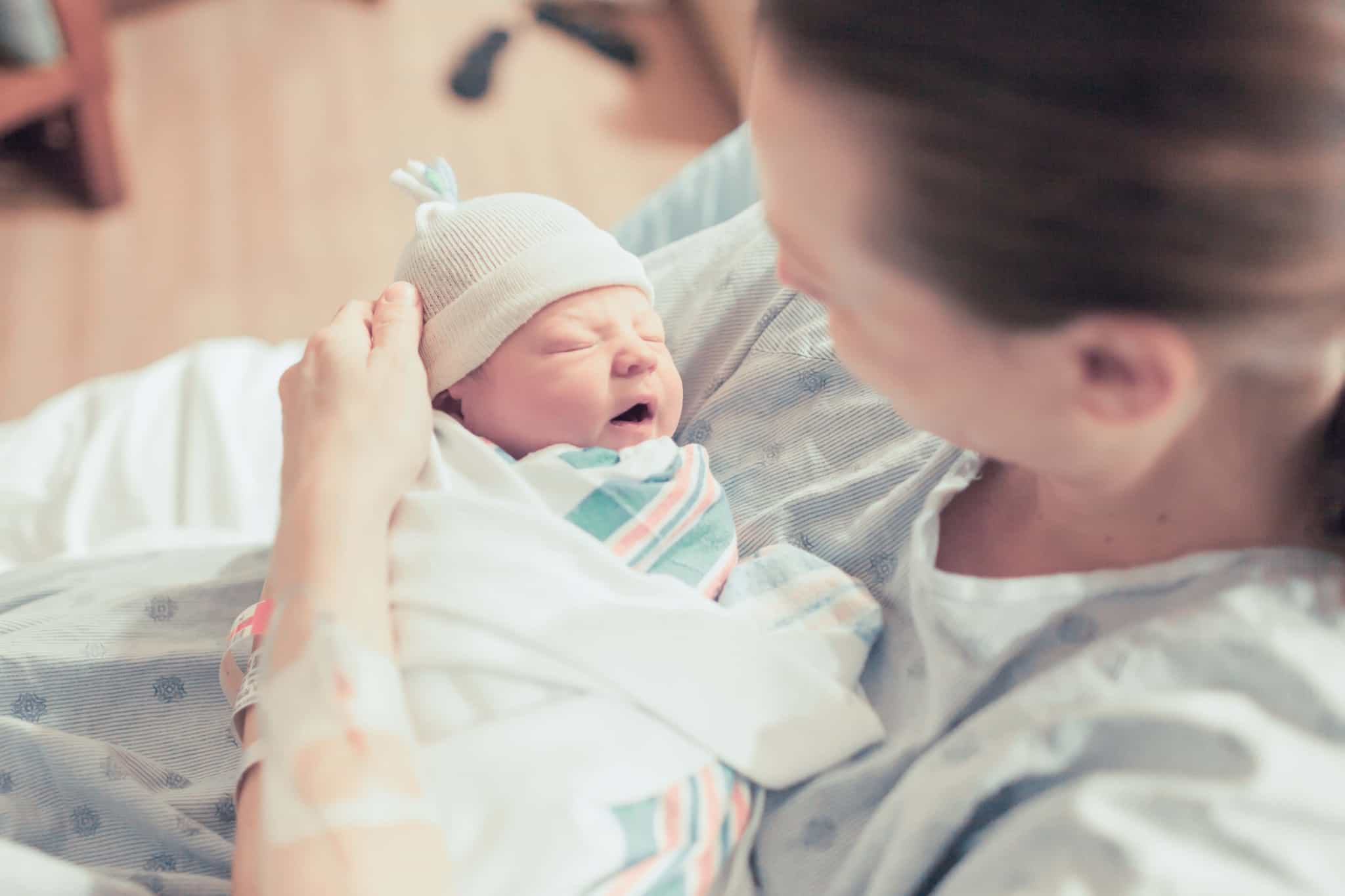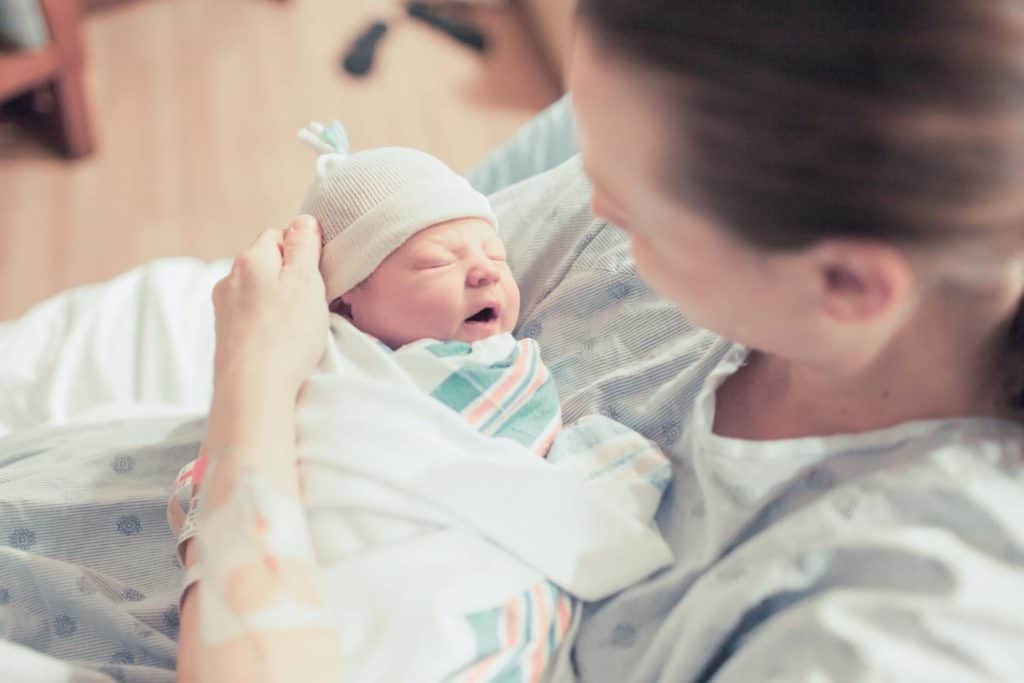 Improves Heart and Lung Function
Taking the first breath of air outside the womb is a massive transition for a baby. After nine long months in the womb, babies can have a difficult time figuring out how to breathe regularly. We also know that babies who are held on their mother's skin adapt sooner than those who don't. Skin-to-skin also tends to lead to stable breathing and healthy heart rates sooner after birth.
Stabilizes Your Baby's Body Temperature
Stabilization of body temperature is critical after birth, but babies are unable to adjust their body temperature on their own, which is why you see tiny babies wrapped in blankets, even in the summer months. So, when a baby is born, a baby can lose their body heat really quickly, especially if they have an underdeveloped ability to thermoregulate. Luckily, a mother's warmth can really help stabilize a baby's temperature. Doctors say that a mother's skin does an even better job than the warmers used in the NICU centers!
Related: What to Expect After a C-Section
Helps Your Baby Regulate Blood Sugar
Blood glucose gives babies their energy. When your baby is inside the womb, he receives glucose from the placenta. And, after birth, he receives glucose from breastmilk. If his needs, such as the need to stay warm, are greater than what he gets from his mother's milk, it leads to low blood sugar. Fortunately, studies show that skin-to-skin helps babies regulate their glucose levels, allowing them to manage physiological changes more effectively as they adapt to life outside the womb.
Sends Good Bacteria to Your Baby
Bacteria tend to have a bad reputation, but it's a vital part of our overall health and immune system. Early exposure to bacteria leads to healthier gut flora and allows your baby to fight off different diseases and bacteria as he gets older.
When a baby travels down the birth canal, good bacteria transfer from the mother to the baby. This bacteria helps the baby's gut and immune system. But, if you have a c-section, this transfer doesn't happen. Fortunately, another way to transfer this good bacteria to your baby is through skin-to-skin right after birth.
Related: Optimize Your Maternal Gut Health With Biomeology Prenatal Probiotics
Tips for Doing Skin-to-Skin After a C-Section
If you want to ensure you have skin-to-skin contact with your baby after a c-section, here are some simple tips to help you plan for it.
Talk to Your Doctor
The first thing that you need to do is talk to your doctor and call the hospital to find out whether they practice skin-to-skin in the operating room. Hospitals continue to update their policies each year, following more evidence-based birth practices, so it's likely that your hospital has changed or is considering the change.
Consider Sharing Information with the Hospital
Despite the huge steps we have made in hospital practices and policies, not all hospitals made the change, so if your hospital doesn't allow skin-to-skin after a c-section, it's time to talk to the board. Share all of the evidence-based information that you can find.
Organizations such as the Academy of Breastfeeding Medicine and the American College of Obstetricians and Gynecologists (ACOG) include tips to make this happen and why it is vital for mothers and babies alike.
Add It to Your Birth Plan
When you're writing your c-section birth plan, be sure to include skin-to-skin contact and breastfeeding in the operating room into the plan. Let the staff and your partner know that you'd like to do skin-to-skin as soon as possible.
Here are some other requests that you can add that will make skin-to-skin easier in the OR.
Don't strap down arms during the operation or remove them as soon as the baby is born.
Place the IV and blood pressure cuff on the non-dominant arm to make touching and holding your baby more comfortable.
Put the ECG leads on your back rather than your chest to make it clear for skin-to-skin.
Request that the nurses do not swaddle your baby so that he can move easily and snuggle closer to you.
Explain to Your Partner How They Can Help
It can be a bit tricky to position your baby while lying flat on your back. Your arms might feel like dead weights, and you might feel slightly groggy due to the medications.
That's why your partner must support you, helping you hold the baby and make adjustments as needed. Your partner may also want to keep a close eye on the baby's positioning, ensuring his airway is clear during this time.
Plan for Your Partner To Do Skin-to-Skin
Sometimes medical complications may interfere with the ability to do skin-to-skin immediately after birth. If this situation occurs, the next best thing is for your partner to do skin-to-skin with the baby as it can provide some of the same benefits. My husband held our babies skin-to-skin multiple times during the first hours after birth, and I believe it increased their immediate bonding and relationship.
Related: What You Actually Need to Pack In Your Hospital Bag
Try Skin-to-Skin
Skin-to-skin contact with your baby after a c-section is just as important as after a vaginal delivery, so talk to your doctor and find out if it's possible. Some doctors may let you do some skin-to-skin in the operating room while others may ask you to wait until you reach recovery. Either way, try to do skin-to-skin within the first hour of birth for optimal benefits!
FAQs
More questions about skin-to-skin during and after a c-section? Read on!
How long do you do skin-to-skin with your baby?
It's important you do skin-to-skin for the first hour of your baby's life. Your baby should have his first feed while doing skin-to-skin. After this, you can continue doing skin-to-skin for as long as possible and as frequently as possible during those first few months.
In fact, there is no particular time to stop doing skin-to-skin. It's encouraged for all young infants and has so many scientifically proven benefits. Experts recommend doing skin-to-skin care for the first 3 months for full-term babies, and if your baby was premature, they recommend doing skin-to-skin care for the first 6 months. Feel free to do skin-to-skin whenever you or your baby wants to! Even toddlers can benefit from skin-to-skin care, especially when they are upset, sick, or teething.
Should partners do skin-to-skin with the baby?
Yes, it's actually really important for dads/partners to practice skin-to-skin care. The special time can help them bond. Baby will begin to learn your partner's scent just as your baby knows yours.
How do you do skin-to-skin with my baby?
Your baby should only wear a diaper and be placed directly on your bare chest. You can drape a blanket over the back of the baby to help keep your baby warm. Your baby may breastfeed or simply rest against your chest enjoying the warmth and beat of your heart.
Does skin-to-skin increase milk supply?
It does! When you practice skin-to-skin, your body makes hormones, prolactin and oxytocin. Both of these hormones help produce breastmilk.
Is breastfeeding harder after a c-section?
Sometimes, it can be a little more difficult for your breastmilk to come in, but it's not a game-changer. If you do skin-to-skin and try breastfeeding after your cesarean section, it will help set your body in motion to produce breastmilk. Keep in mind it can take a few days for your milk to come in regardless of delivery method. Be patient, practice skin-to-skin as often as possible, and keep yourself hydrated!
What breastfeeding position is best for c-section moms?
As pain medication wears off, you may find that certain positions are completely uncomfortable. After all, you just had major abdominal surgery! So be patient with yourself and try to find a position that is comfortable for both you and the baby while breastfeeding. Many moms find that the cradle hold still works just fine, but you may want to place a pillow over your abdomen to decrease any pressure from the baby. Additionally, you might try to football hold or the side-lying position with the support of a nursing pillow. Talk to your doctor and lactation consultant to help you find the best position.
Were you able to practice skin-to-skin care during your c-section? I'd love to know!
Keep Reading: