Many women worry that having a c-section can lead to problems while breastfeeding. In some circumstances, breastfeeding after a c-section can be troublesome, but having a cesarean birth is not a reason for a woman to be unable to breastfeed. If you want to breastfeed after your c-section, understand it may come with some issues as you heal from surgery, but it's far from impossible.
I can tell you, with confidence, that you can breastfeed no matter how you birth your baby. I have a friend who has had four c-sections and breastfed all four kids up to the age of 2+.
It's possible to have a c-section and have success breastfeeding.
It might take some extra preparation to ensure a positive, supportive environment surrounds you, but breastfeeding after a c-section is possible. Women successfully breastfeed after c-sections all the time, and you can be one of them.
Here's what you need to know about breastfeeding after a c-section.
Can a C-Section Affect Breastfeeding?
Before we talk about how to ensure you have the best experience, it's vital to understand how having a cesarean birth can influence your ability to breastfeeding. Here are some of the common experiences women note.
C-Sections can cause delayed first breastfeeding.
If your surgery resulted from an emergency, the doctors might have used general anesthesia, which means the first time that you breastfed your baby would be delayed. The delay might not be substantial, but chances are you wouldn't nurse within the first hour, which is the common goal.
Even if you don't have general anesthesia, remember that this is still major surgery, and unexpected complications arise frequently. It might take longer for your operation than anticipated, which would delay when you can start breastfeeding.
You might have a sleepy baby after a c-section.
Whether it's from the pain medication taken after birth or the amounts of anesthesia used, it's not uncommon for c-section babies to be excessively sleepy.
You need to take your pain medication after having a c-section. If you're in a lot of pain, you need to take medicine, or you may struggle to heal. Your body won't be able to relax if it's continually battling pain, and it will make breastfeeding more uncomfortable.
Your doctor will prescribe breastfeeding safe medication for you, but that doesn't mean it doesn't pass to your baby. Don't stress; research shows us that babies are fine, but these pain medications can make your baby sleepy. It's not harmful to your baby, but breastfeeding a sleepy baby is a particularly frustrating challenge to face.
Here's why it can be hard to feed a sleepy baby:
Your baby might only get half of the feeding because she falls asleep as soon as she is partly full and comfortable.
That means you will end up nursing even more than you already do, which is a lot.
On the other hand, some sleepy babies refuse to wake up. At this age, babies should nurse every two hours around the clock until they're over birth weight. A tired baby can easily go four or more hours without eating. That might sound like heaven for a sleep-deprived mama, but if it happens too much, your baby will fail to gain weight.
And you'll be dealing with pain from the incision.
There is no way to beat around the bush – your incision will hurt. It makes sense; this is no small cut. You have an incision that involves cutting through layers of skin and muscle, so it shouldn't be a surprise that your incision site is uncomfortable.
Not only does the incision itself hurt, but the afterbirth pains caused by your uterus contracting back down to its average size will also cause pain. Those pains, while normal, make your uterus and stomach area even sorer than before. So, you might need to try different positions for nursing.
You might experience delayed milk production.
It's possible, but not frequently occurring, for mothers to experience a delay in their milk production after a c-section. You must bring your baby to breast as soon as possible to encourage milk production. That's why you also need to nurse as often as your baby wants, even if it's hourly, to promote your milk production.
However, c-sections often are a result of an emergency, and you might be separated from your baby for some time. If you are separated from your baby for more than 12 hours, be sure to ask for a breast pump to stimulate your breasts and start producing milk.
Related: How to get a free breast pump through insurance
It might be difficult to recover emotionally after surgery.
Unfortunately, having a c-section can be a traumatic experience for many. If the surgery was complicated or due to an emergency, it's not uncommon for the emotional toll to cause problems breastfeeding.
It's not uncommon to feel this way. Be sure to talk to others who have been in your shoes and find support. For many mothers, breastfeeding helps ease feelings of sadness, but it's individual for every woman. Brush up on what postpartum depression and anxiety look like and read up on some tips to help you recover from a c-section.
How to Successfully Breastfeed After a C-Section: 11 Tips
Now that you know a little more about what to expect after a c-section, you see that proper planning and knowing what you need to do to succeed is vital. Being able to breastfeed successfully after a c-section starts before you have your baby and continues after birth.
Here are some things you can do and consider before having your baby and right after your c-section to help make your breastfeeding experience better.
Tip #1: Pick a Baby-Friendly Hospital
The first thing that you should do is pick a hospital that uses evidence-based policies to support breastfeeding. If you can find a hospital with a baby-friendly certification, that's an ideal place to birth your baby.
What makes a Baby-Friendly Hospital so great?
These labor and maternity wards are designed to support breastfeeding. They remove barriers to encourage contact and early breastfeeding immediately after birth. Many of these hospitals limit or remove nursery services entirely to keep your baby with you for as long as possible.
Tip #2: Find a Lactation Consultant Before Giving Birth
Find out if your hospital keeps a lactation consultant on staff and if so, what their schedule is for seeing patients. For example, if you give birth on a weeknd, will you have to wait until Monday to see them?
It is also smart to find someone locally who can help you. If possible, look for an IBCLC. There is a good chance that you will need to pay for these services, but if you actively want to breastfeed, it's worth the investment.
Tip #3: Talk to Other C-Section Moms Who Breastfed
Who else knows better about what to expect than someone who has been there? If you have local mom friends, ask if anyone has had a c-section and breastfed their baby afterward.
Get their insight and ask for tips about what made it possible for them. Find women who also delivered at your hospital. This is also a great way to get recommendations for the best places to deliver, breastfeeding-friendly pediatricians and local lactation consultants.
During pregnancy, you are also welcome to attend La Leche League meetings! I wish I had taken advantage of that when I was pregnant for the first time. You can join their lactation consultant-led meetings where new moms share advice, discuss breastfeeding, and troubleshoot the challenges they are facing. This is a fantastic way to prep for breastfeeding after a c-section, especially if you know in advance that you are having a c-section. And even if you don't have a planned c-section, this is a great tip to help you breastfeed successfully.
Related: 16 Genius Breastfeeding Tips I Wish I Knew
Tip #4: Make Sure You Have a Breastfeeding Pillow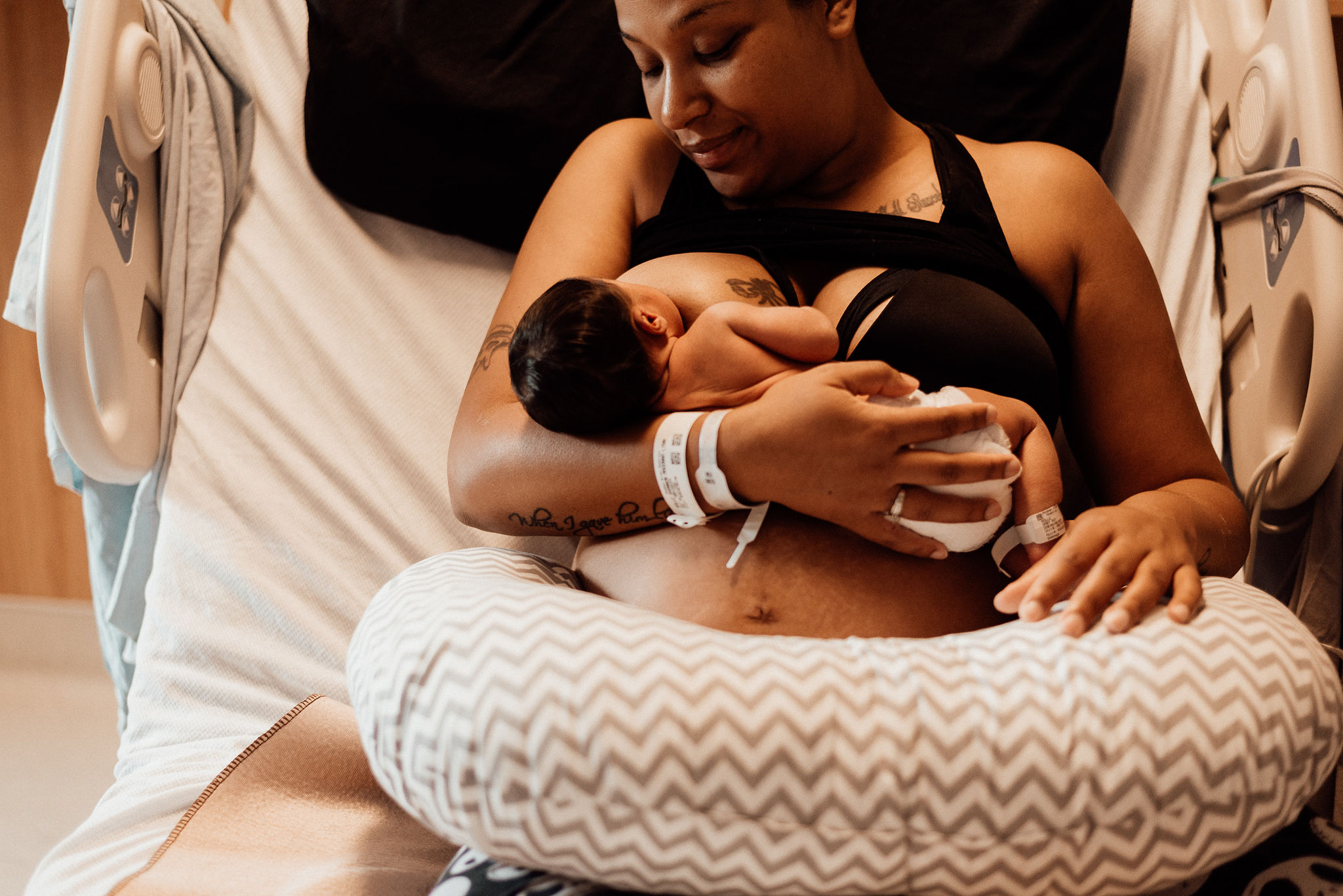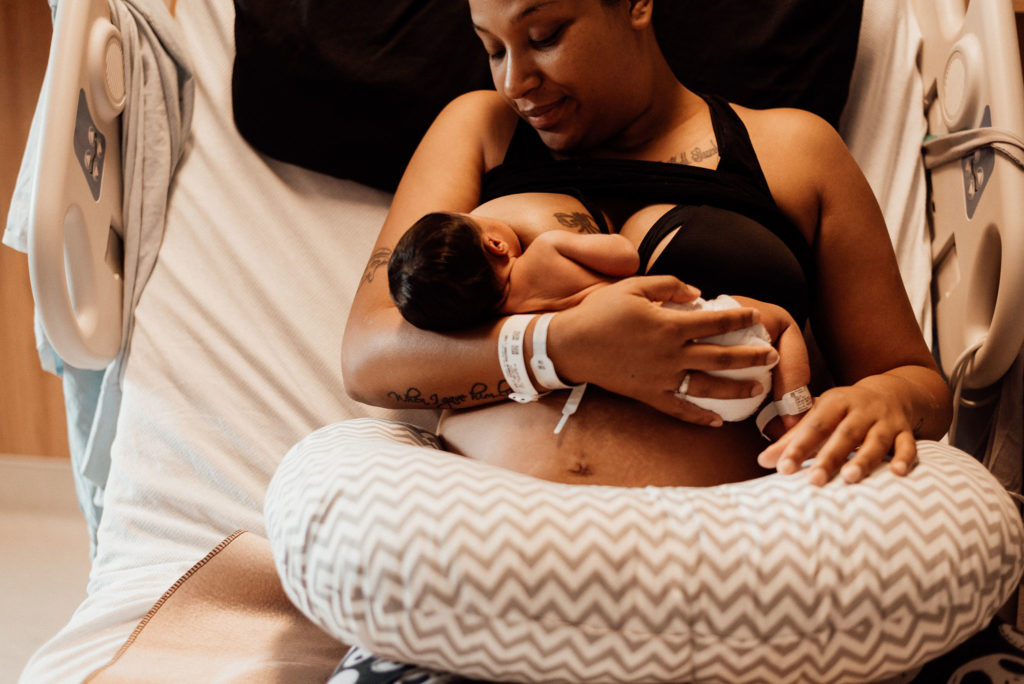 Before your baby arrives, be sure to get a breastfeeding pillow. They're an essential item for c-section moms. You can use them to reduce the pressure on your abdomen and also help to put an ease on your arms while holding your baby in different positions as you nurse.
If you're breastfeeding while sitting up, I recommend using a breastfeeding pillow over the site to protect it. Not only does a pillow reduce discomfort, but it also protects the area from accidentally getting kneed or kicked by a toddler.
Trust me, that can and does happen if you have a toddler in your home and a new baby.
Tip #5: Practice Skin-to-Skin As Soon As Possible After Surgery
Evidence shows us that skin-to-skin has a variety of positive effects on babies, such as:
Encourages bonding with the mother and father.
It helps babies regulate their body temperature.
Regulates your baby's blood sugar.
Regulates a baby's breathing and respiration rate.
Reduces how much your baby cries
Initiates early breastfeeding cues and desires.
That's not all of the benefits! Skin-to-skin contact after a c-section is proven beneficial for babies, so many hospitals now encourage mothers to do so in the operating room. Speak to your OBGYN to ensure this is an option for you, but if you found a Baby-Friendly Hospital, it should be available for you.
As soon as possible, put your baby on your chest. If you're unable to do so in the operating room, have your partner do so with your baby until you can get back to the recovery room and have skin-to-skin contact while breastfeeding.
Tip #6: Breastfeed Within The First Hour After Your C-Section
So long as you had either a spinal or epidural anesthesia, you can start breastfeeding as soon as possible after your c-section. In some hospitals, you can nurse in the operating room, but if that isn't possible, you can do so in the recovery room.
Initiating the first breastfeeding session within the first hour is an essential step in successfully bringing your milk supply in quickly. Here are some other reasons why you need to bring your baby to breast quickly.
It helps mothers recover quicker, allowing the uterus to contract down to size quicker.
Your baby has immediate access to colostrum, which is nutrient-rich and helps set your baby up for future health. Colostrum introduces good bacteria into the gut and gives your baby a way to fight off infections. (Be sure you are also taking a high-quality prenatal probiotic.)
Breastfeeding quickly helps your baby regulate their temperature.
It helps your baby's blood sugar levels stay regulated. Early breastfeeding prevents your baby's blood sugar from dropping too low, which can lead to a host of problems.
Women who breastfeed in the first hour tend to nurse their babies longer.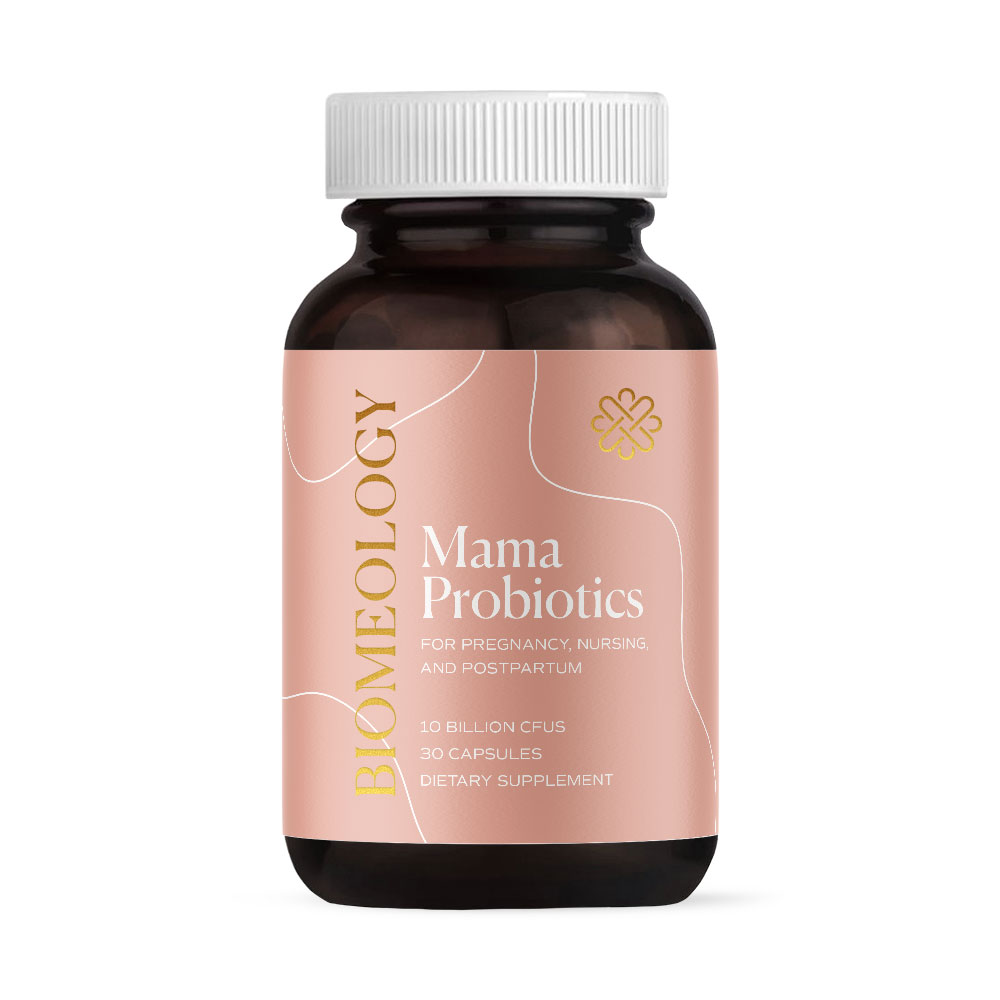 Buy on Amazon | Biomeology
Tip #7: Get Help With Positioning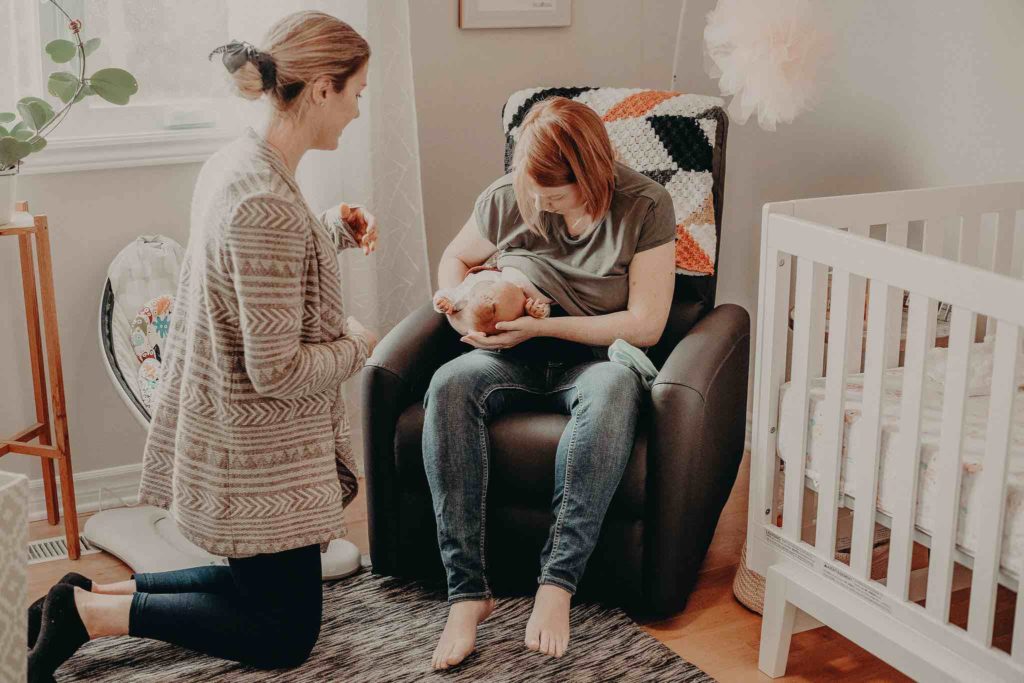 For the first few days, getting into the right position to breastfeed your baby can be challenging. Sitting up can put pressure on your abdominal incision. When you're in the hospital, you also have an IV and other things to make positioning hard.
Don't be ashamed to ask for help. Your partner can help, but the nurses and lactation consultants are there to help as well.
Tip #8: Room-In With Your Baby
Many Baby-Friendly Hospitals no longer offer nurseries because they want mothers to room-in with their baby. If you're exhausted and need help, the staff at my hospital would take the babies with them to the nurse's station to keep an eye on them.
While you are tired, keeping your baby with you helps to encourage bonding and breastfeeding. The more that your baby is with you, the sooner your milk supply will arrive. It also enables you to gain some confidence in breastfeeding before you go home.
Tip #9: Learn C-Section-Friendly Breastfeeding Positions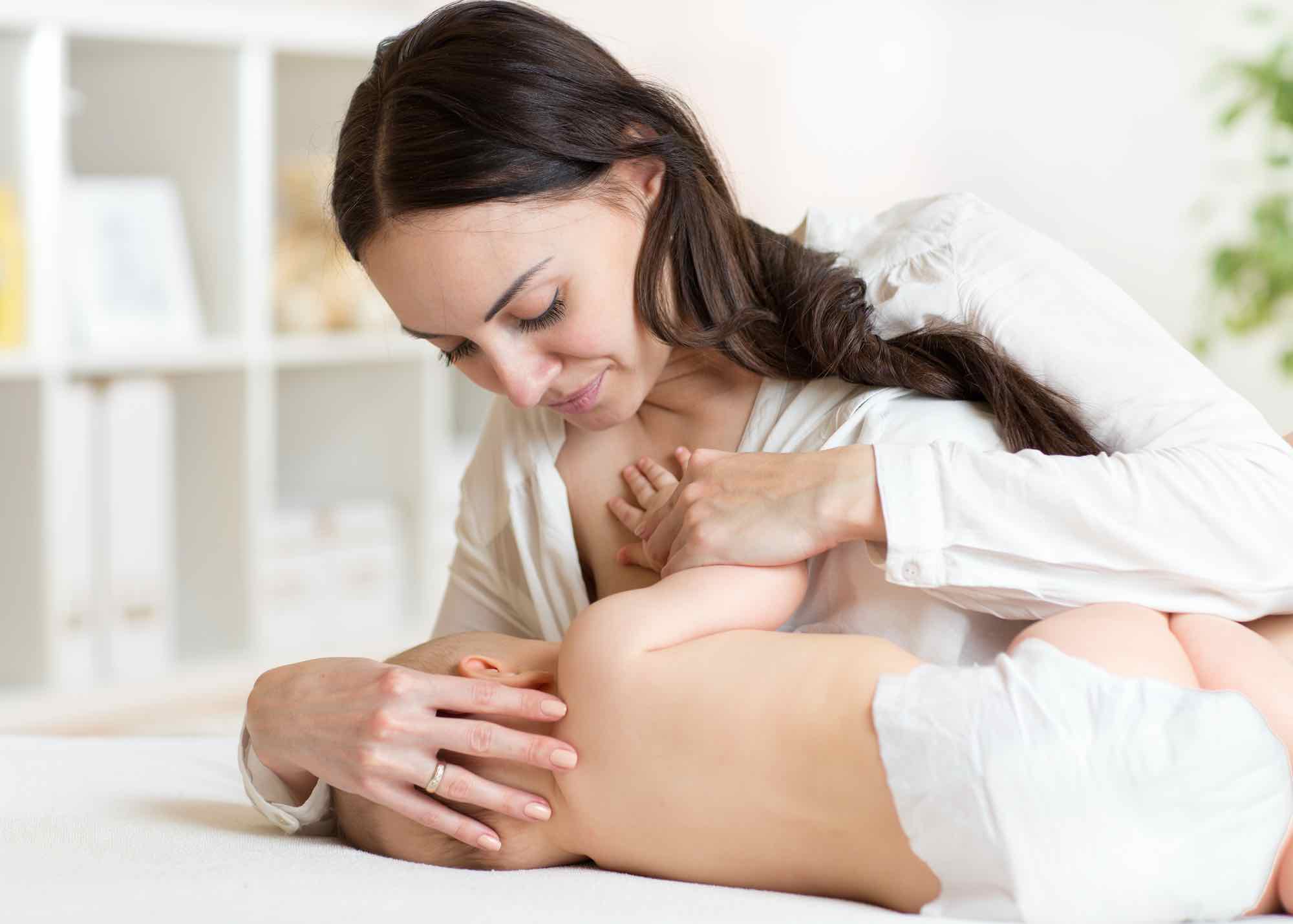 Remember how we said your incision, uterus, and abdominal area will be sore? Some positions can make the discomfort worse. That's why you need to try different ones to help alleviate the pain.
Two common positions used by breastfeeding moms are:
Side-Lying: This position tends to be the most comfortable for moms breastfeeding after a c-section. This entails lying down on your bed to nurse your baby as they lay next to you, belly to belly.
Football Hold: This is also a comfortable position for breastfeeding after a c-section, especially for times when you plan to nurse sitting up. Place your nursing pillow across your lap and cradle your baby in your arm with their body on the same side you are nursing from. So if you are nursing from the left side, you would hold your baby on the left side of your body instead of across your body.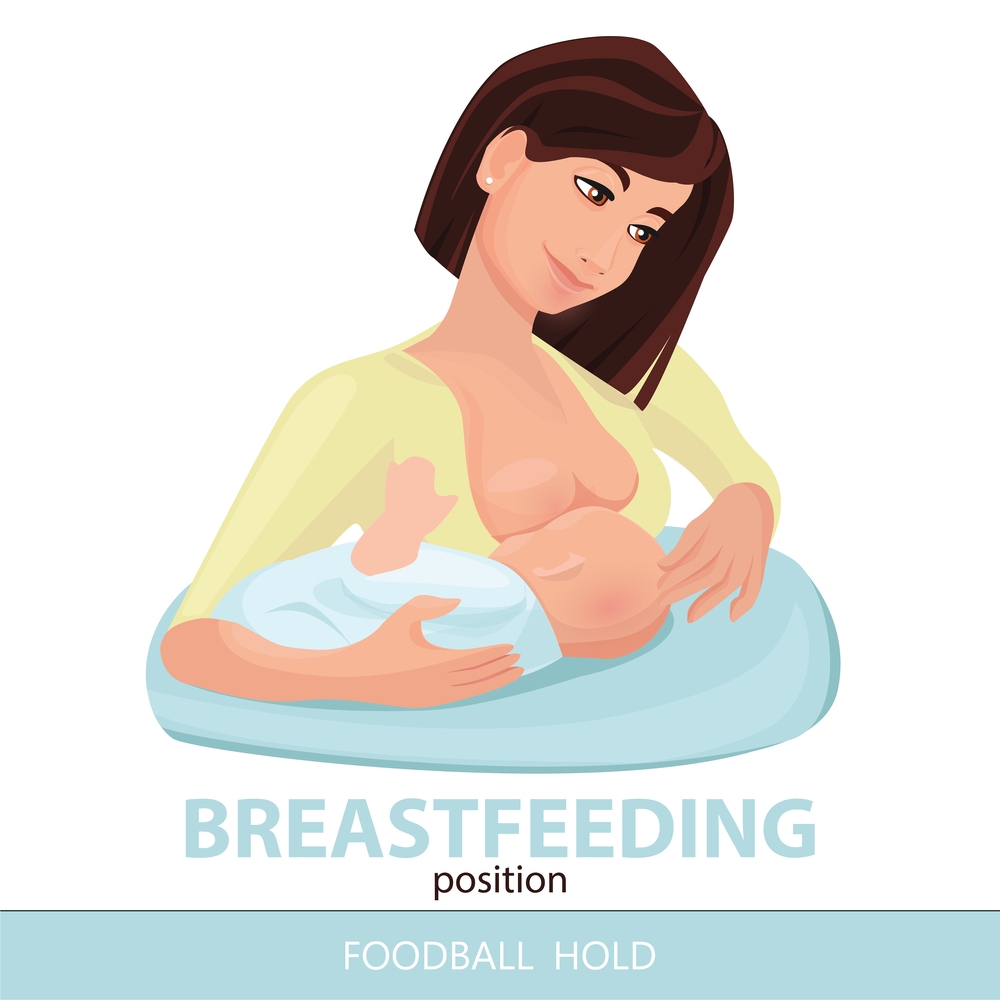 Tip #10: Breastfeed Frequently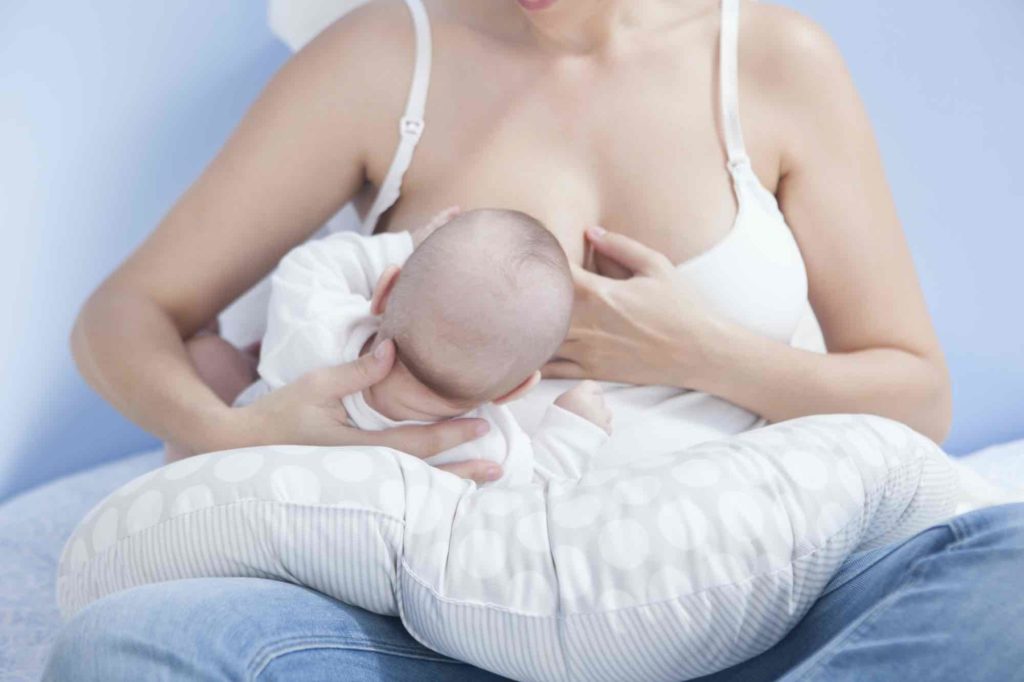 Newborn babies need to eat frequently, typically every one to three hours. On average, my babies nursed every two hours around the clock, sometimes every hour and a half. My kids never waited three hours between feeding sessions. Even though it might be uncomfortable at first, the more frequently you breastfeed, the sooner your milk will arrive. It will also ensure your baby is getting plenty of milk.
Tip #11: Take Advantage of the Extra Time in the Hospital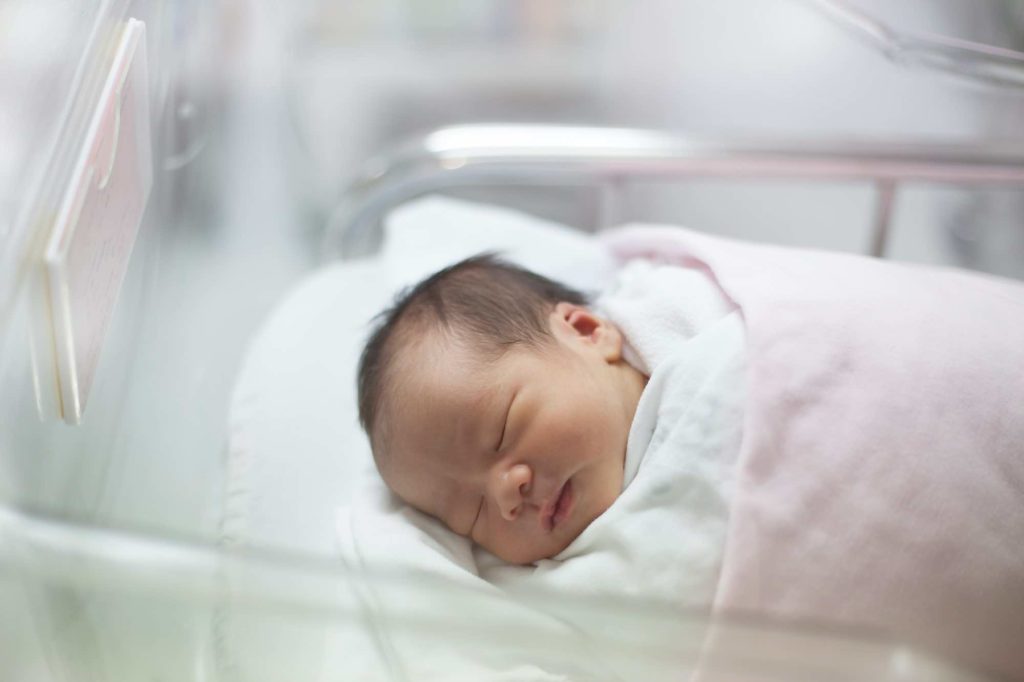 Most hospitals require women to stay overnight after surgery for 48-72 hours. At first, that might seem upsetting; you probably want to go home and start your life with your new baby (especially if you have other children at home).
However, as much as you want to go home, a cesarean section is major surgery, and sending you home too soon would be irresponsible. The hospital and your doctor need to be sure that you are healing and recovering after your surgery, and are capable of going home.
Use this time to your advantage. You have nothing else to do in the hospital, so spend the time breastfeeding frequently and doing skin-to-skin contact with your baby.
The extra time also gives you more opportunity to ask questions. The nurses will be able to help you, or the hospital lactation consultant will be able to answer any questions you have about nursing.
Final Thoughts on Breastfeeding After a C-Section
Despite it being a little the higher rate of problems breastfeeding after a c-section, it's not impossible. With the proper planning, you can be just as successful as a woman who had a vaginal birth. However, understand that you might need additional help around the house as you heal, and you need to take care of yourself as well!
Want more support during your pregnancy?
Join PURE Pregnancy, my holistic pregnancy guide. Have your best, most prepared pregnancy… starting today!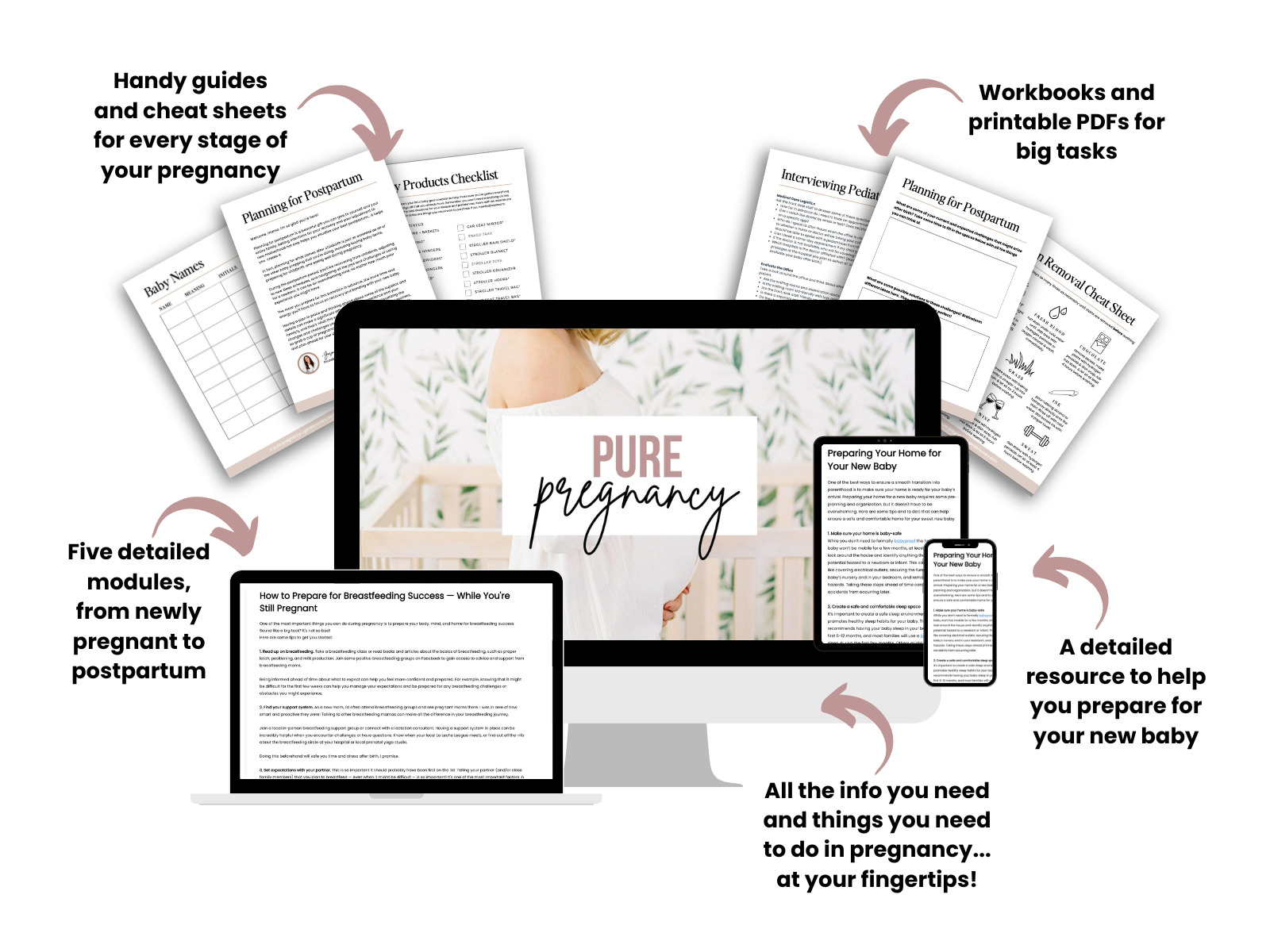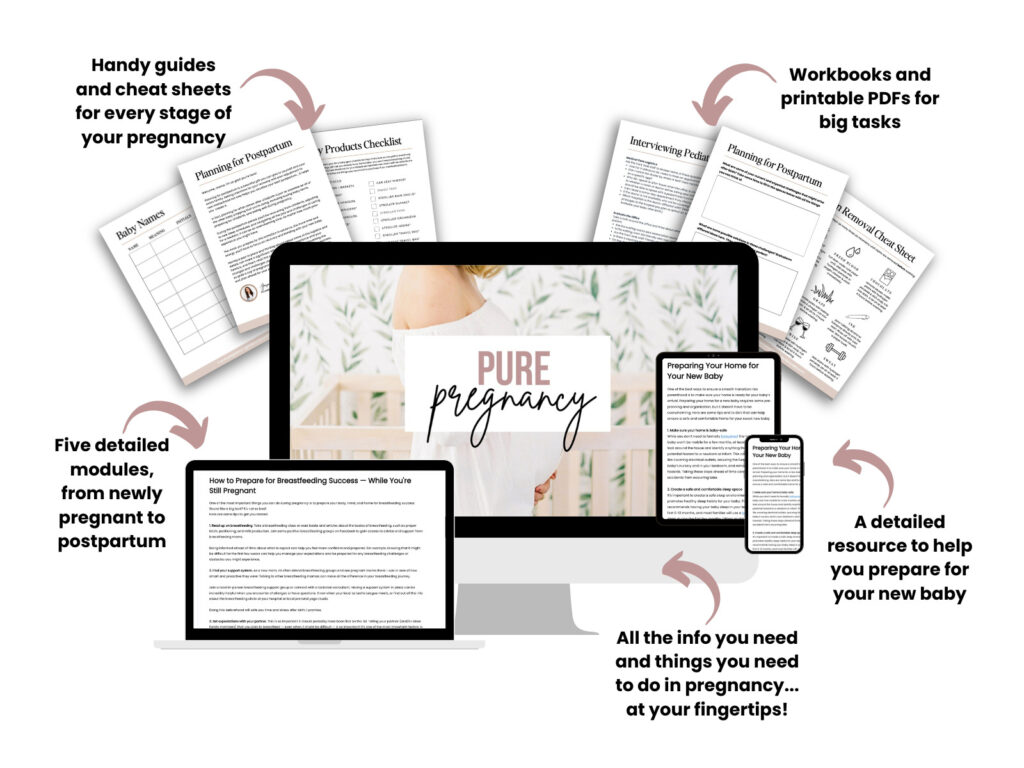 Learn More
Keep Reading: