Do you want to reduce the use of plastic in your life? What an important and worthy effort!
But it seems like everything we need or use regularly contains plastic, so it leaves you wondering how and where to get started.
Once I decided to ditch plastic in my home, I realized just how much plastic there is in our everyday environment. So trust me when I say that I've been in your shoes and I know firsthand that ditching plastic can be challenging at first. So many of our everyday items are made with plastic, and while you can learn to live without some things, getting rid of plastic in your home means you have to come up with non-plastic alternatives.
Plastic is everywhere – literally. It's in everything from automobiles to food containers and even electronics. The average American creates between 88 to 122 pounds of plastic waste at home each year. That's a scary statistic.
But it is doable. You CAN significantly reduce your exposure to plastic. And you can reduce your riskiest exposures.
No matter where you are in your plastic-free journey, I have some tips to help you continue to get rid of it out of your life.
The Dangers of Plastic in Your Home
Plastic is terrible for our air, our oceans, and our planet. That means it doesn't deserve a place in our homes. Coming to that realization is difficult because so many things in our home contain plastic simply because of its convenience.
However, research and data show that the increasing use of plastic isn't good for our health or the health of our planet. Let's take a look at some of the problems linked with plastic
BPA: Chances are you've heard of BPA before, especially if you're a parent because many products are now labeled as BPA-free. BPA is added to plastics to make them more durable, but it's known to disrupt hormones and mimic the effect of estrogen in the body. That can lead to weight gain and hormonal imbalance.
Research shows that BPA contributes to a multitude of human health concerns, such as:
Decreased Sperm Quality
Increased Risk of Breast and Prostate Cancers
Infertility
Obesity
Miscarriages
Type 2 Diabetes
Allergies
Neurological Problems
BPA leaches into your food and enters your body. It comes from plastic in food packaging. The CDC conducted a study that showed around 92% of people tested had detectable levels of BPA and other plastic chemicals.
Phthalates: Another dangerous chemical class that you can find in plastic is called phthalates. They're found in plastic and high levels in indoor air. The European Union banned the use of phthalates in 2005, but the United States has yet to do so.
Evidence suggests that phthalates do the most damage to boys and men. It can cause immune system damage, reduced testosterone, infertility in men, increased risk of testicular and prostate cancer, and other problems.
Damage to the Environment
Perhaps the most significant reason to kick plastic to the curb is that plastic is taking over our planet at a scary rate. We are witnessing a drastic rise in obesity and other animal species that have not had diet changes. Infertility problems are on the rise, and it leads one to question if all of these problems might be linked to the excess of plastic in our lives.
Do you still think plastic isn't a big deal? Here are some scary statistics to check out.
Over one TRILLION plastic bags are used every year worldwide
Every minute, one million plastic bags are used
Plastic bags can take up to 1,000 years to degrade
The U.S. goes through around 100 billion single-use plastic bags, which costs retailers around $4 billion per year
We produce over 300 million tons of plastic every year, and 50% is for single-use purposes
We dump over 8 million tons of plastic into our oceans every year
How to Use Less Plastic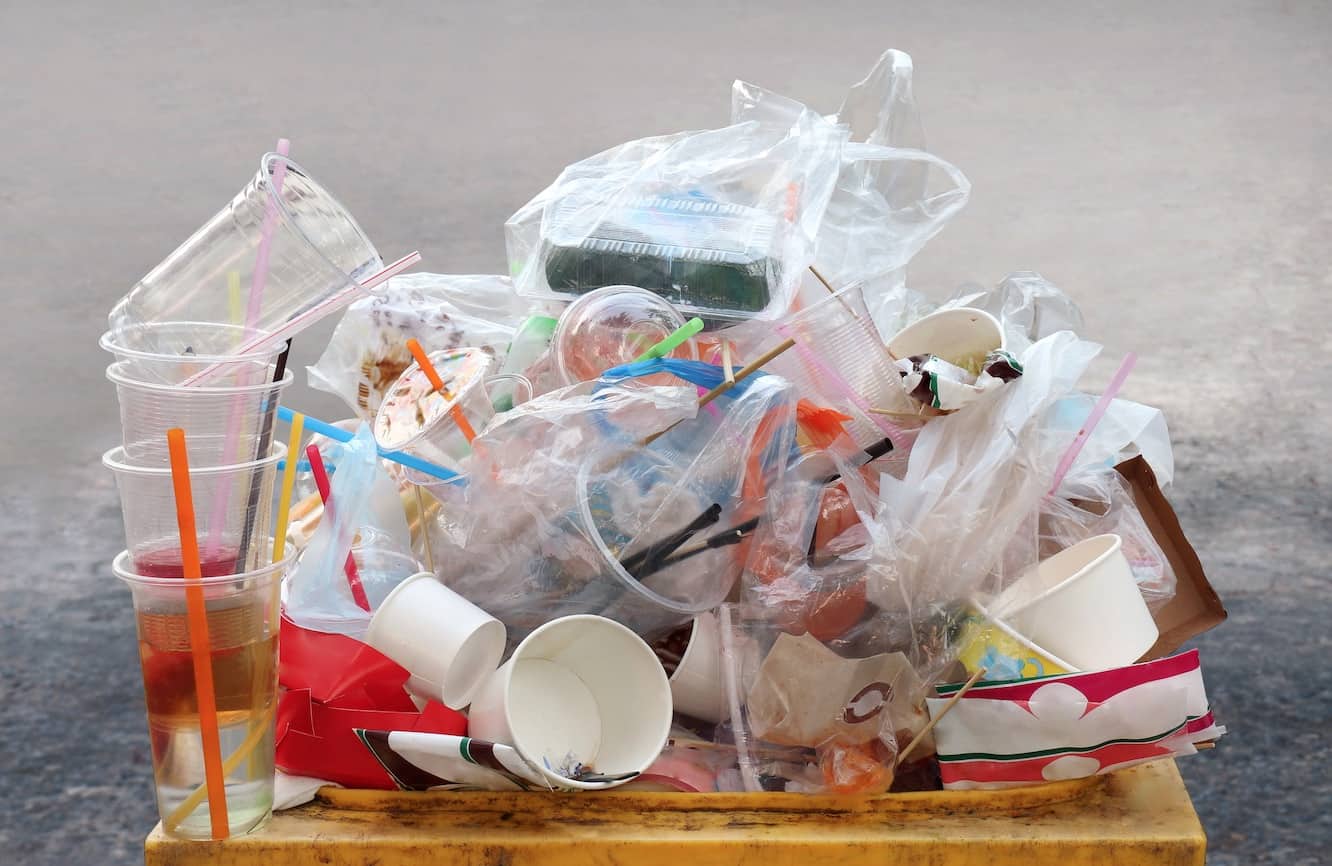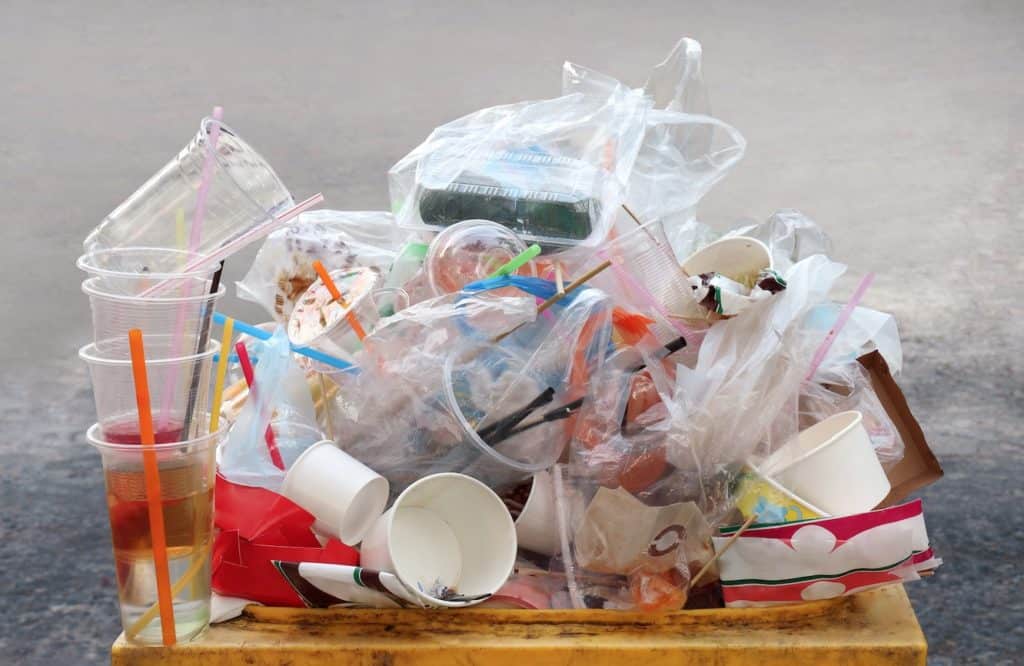 1. Decline Single-Use Straws
There is a massive movement to get rid of single-use plastic straws for a good reason. Around 500 million plastic straws are thrown out each day. Straws fill our ocean, and they're easy to replace out of your life.
If you go to a restaurant, simply turn down the straw and drink straight from the cup. Similarly, at home, just skip the straw.
If you have little kids that need or prefer a straw, simply carry your own reusable straws. I like to bring along some silicone straws in my purse. My kids prefer them to paper straws (that don't work well and may also be lined with chemicals, FYI) and they're easy to tote around. Simply hand-wash them at home and pop them back into your purse or diaper bag for next time.
You'll also find glass and stainless steel straws, but I do not use or recommend them because of a terrible accident that happened in the UK that highlighted the risk of hard straws.
2. Use Reusable Water Bottles
At one time, I bought packs of plastic water bottles to work with me and tossed them into the recycling bin several times a day, never taking into account how much waste I was generating. Plastic water bottles are a waste of your money and a source of way too much plastic in your home, not to mention a source of endocrine disruptors and microplastics.
To solve the problem, carry your own reusable water bottles. In fact, you'll usually drink more water from a straw bottle so that's another perk of carrying your own water bottle. I recommend glass bottles but these insulated stainless steel bottles are also great because they keep your drink cool for hours in the warmer months. (They're perfect for children's sporting events.)
And for your littler ones, choose from my list of non-toxic toddler bottles and cups.
Definitely consider adding a water filter to your home as well to make sure your drinking water is as clean as possible.
3. Use Reusable Grocery Bags
I think of reusable grocery bags as the gateway to plastic-free living. First, you hear about how bad plastic bags are for the environment. Then, you're tired of having so many of those bags in your house. So, you go out and purchase a few reusable grocery bags and never look back.
A simple tip is to always keep a few reusable grocery bags in your car. You never know when you will have an unplanned trip to the store.
4. Use Reusable Produce Bags
Similarly, produce bags are another waste of plastic that comes into your home. But while many people use reusable grocery bags, reusable produce bags are less common. While they're convenient, those green or clear plastic produce bags are an easy type of plastic to ditch. Instead, simply purchase reusable produce bags. They are typically made from a cotton mesh or netting material that doesn't weigh much, so it won't cost you extra when buying weighted produce.
5. Buy Food Without Packaging
This tip can be a little challenging because it depends on what is available in your area. Some grocery stores like Trader Joe's package a lot of their produce; for example, rather than walking into the store and choosing your bell peppers, they will come in a bag of three or in a carton of two for easier selling and transporting. Other stores like Whole Foods and Sprouts will sell some items in bulk (like coffee, rice, and oats) and give you the option to select your own produce for the most part. If you have a food co-op in your city or nearby, or a local farmer's market, those are also great for purchasing unpackaged foods.
6. Bring Your Own Travel Coffee Mug
Most coffee shops will put the coffee in your thermos if you ask, and some will even give you a discount for bringing your own cup. Many people think that disposable coffee cups are recyclable, but their polyethylene lining makes it hard to separate the materials in the recycling plant. (Less than 1% of coffee cups end up being recycled.) Instead, bring your own travel mug! Not only will this help reduce your use of plastic but it also helps you avoid exposure to leaching from the cup's plastic lining.
7. Use Glass and Stainless Steel Food Storage Containers
Instead of using plastic food storage containers, invest in safer, plastic-free alternatives.
Glass can be microwaved, frozen, or refrigerated. Good quality glass food storage containers (like Pyrex) are durable and long-lasting, so you'll pay more upfront for them but they'll last you much longer than a plastic container would.
When it comes to choosing glass food storage containers, you can get creative and use mason jars for food storage in your fridge and even in your pantry and you can also buy sets like these Pyrex Ultimate containers (which contain no plastic at all) or these more affordable glass food storage containers. If you like to meal prep, try these two-compartment containers.
For lunch on the go, consider stainless steel bento boxes and snack containers. You can even use insulated containers to store hot food; I used to take hot soup to work all the time in mine.
8. Buy Reusable Food Bags
Confession: I used Ziploc bags all of the time before I ditched plastic. They're just so convenient.
Then, one day, I decided to replace those food bags with reusable silicone bags and I've never looked back. Not only does this save me money and reduce waste, but they are also stronger and hold more food. You can even get some food bags that are freezer-safe for reheating leftovers.
The only downside is that you have to hand-wash these bags, and I admit it's less convenient than tossing them. But I love knowing that I am reducing our environmental footprint by choosing reusable food storage bags.
9. Stop Using Plastic Wrap
My grandma loves plastic wrap. She can plastic wrap leftovers like a boss, but plastic wrap is a waste that ends up sitting in landfills for decades to come. Not to mention, wrapping your food with toxic plastics (some are still made from PVC) is an idea that doesn't sit well with me.
Instead of plastic wrap, try using food storage containers, silicone bags, beeswax wraps, or parchment paper instead. The natural stickiness of beeswax holds the wraps in place around your bowls and you can use parchment paper to wrap sandwiches if needed (though, to be honest, I usually just store them in a bento box).
10. Rethink Your Makeup
Have you ever noticed that almost all makeup comes in a plastic container? Plus, when it comes to most mainstream makeup brands, they contain several petroleum-based ingredients and are heated and mixed in plastic containers. Instead, shop from a more conscious makeup brand like Crunchi that uses glass and paper packaging instead of plastic whenever possible. And if you haven't gotten started, read more about why you should detox your makeup bag (especially if you're pregnant or breastfeeding.)
11. Use Reusable Menstrual Products
Pads and tampons add up each month, and they both contain plastic. Consider investing in reusable menstrual products that you wash and reuse the following month.
Menstrual cups are the most popular reusable menstrual product. They're easy to use, and you can find dozens of brands with different sizes and designs, though I recommend getting a medical-grade menstrual cup. Another option is to use reusable menstrual pads that you can toss into the washer to get clean.
12. Pick a Better Shower Curtain
When it comes to reducing your use of plastic in the home, look no further than your shower curtain. Most shower curtains are made of vinyl, which is also known as the most toxic plastic; vinyl (or PVC) releases compounds into the air in a process called off-gassing. Off-gassing is a problem, especially in poorly ventilated bathrooms.
Instead, purchase natural shower curtains that aren't chemically treated and plan on washing them every couple of weeks. Organic hemp, 100% cotton, or flax shower curtains are some choices.
13. Try Wool Dryer Balls
Instead of using dryer sheets, try wool dryer balls. Dryer sheets contain polyester, which is made from petrochemicals and won't recycle or degrade in landfills. Wool dryer balls are a safe alternative. They bounce – safely – in your dryer, breaking up the static electricity and helping to dry your clothes faster by allowing more air circulation.
Related: The Best Non-Toxic and Baby-Safe Laundry Detergent
14. Don't Use Disposable Silverware or Plates
Disposable plates and silverware are so convenient, but they come at a great cost to the environment and our health. Not to mention they are a waste of money and add to the trash in landfills. Even if you purchase "paper plates," they still have a plastic lining, so liquids don't seep through to the other side. That makes it hard to recycle them.
15. Purchase Wooden Toys for Your Children
A majority of children's toys nowadays are made of plastic and made in China. Few toys are made without plastic, and that's scary considering the health effects. Plastic-free toys do cost more money, and you might have to look for custom sellers rather than common brands.
On the flip side, these toys won't break as easily and can even last generations.
16. Use Cloth Diapers Instead of Disposables
You might not think of plastic when you think of disposable diapers, but many brands do contain plastic them. Disposable diapers contain polyethylene film, polyester foam, polyurethane, and other synthetic materials.
That means you should think about using cloth diapers as a plastic-free, safe, affordable alternative. It's hard not to love cloth diapers with all of the utterly adorable prints on the market nowadays. Another choice is to try disposable diapers made from bamboo.
17. Choose Loose Leaf Tea Instead of Tea Bags
To reduce your unintentional exposure to microplastics, drink loose leaf teas instead of individually bagged teas (which were found to contain microplastics). It's easier than it sounds – all you need is a stainless steel infuser and some high-quality organic teas. Another option is to drink tea crystals.
You Can Ditch Most Plastics for Good
Plastic doesn't belong in a healthy home, but it can be hard to get rid of it. So many items that we use every day contain plastic, even if you don't realize it. That means we have to do our research, pick sustainable products, and strive to do better in our journey to ditch plastic for good. Remember, it's an ongoing journey!